How Your Dating App Can Compete with Other Popular Apps of This Type
Nowadays there are plenty of relationship-oriented apps on the market. They are of different types to meet needs people might have. However, today's circumstances make it hard to meet people. Having a constant lack of time men and women around the world still need such kind of dating services to find their partners.
An enormous amount of dating platforms proves the necessity to learn competitors to make a new app stand out from rivals.
We are all familiar with well-known successful dating services, like Tinder, Badoo, Hinge and others. What makes them so popular?
This article provides a list of best dating apps to reveal their features, advantages and weak points. Such an analysis shows the right direction for those who are eager to develop a great and reliable app for people to create relationships.
So, let the fun begin...
Tinder
There is a reason why we discuss this mobile dating app in the first place. With full confidence, we could call given the relationship-focused app to be the most popular among different existing dating services nowadays. The trick of remaining dating apps with most users is the company's continuous improvement strategy which we will discuss a little bit later.
Tinder today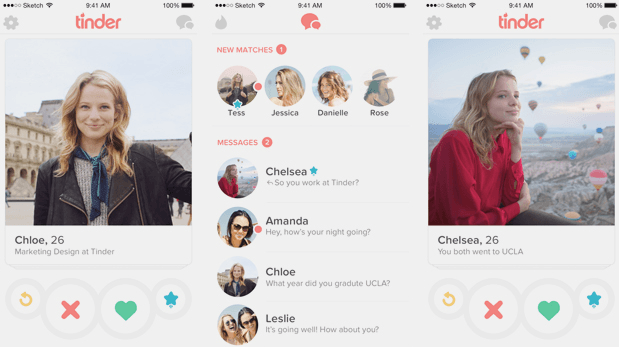 As we all know Tinder is a relationship-focused app that helps users to find their better halves and to establish long-term relationships. Presently, newcomers are able to easily register in Tinder without logging in through the Facebook account or to use it if they want to. Obviously, users shall be 18+, so this dating app is not for kids.
Being a trending dating app Tinder has a really good user interface. When subscribers' pictures are too large, the app helps to set up the profile with no pain to a new member. All in all experts rate Tinder usability with A. It is a cool dating program as there is no possibility for a person to message you if you didn't express any interest in him or her. Thus, members are free from unwelcome messages.
Tinder recent upgrades
Let's have a look at some recent improvements by means of which Tinder's creative team made their subscribers happy.
# Top Picks
This option was implemented in summer 2018 and it is available for premium Tinder Gold members only. It is a great way to increase the quantity of paid members.
A mentioned addition to an already top-rated dating app is to facilitate finding the best possible match for a person. Supplying users with a curated list, the function diminishes the necessity to manually eliminate ones who don't fit them. Given the app's algorithm is designed to join a user's profile interests and swiping behavior.
Honestly speaking, this feature came up from Coffee Meets Bagel dating service, which gave an opportunity to their audience to swipe around without swiping through an unlimited quantity of profiles. Hence, user's information like education, interests, kind of job and so on, ensures a sufficient number of potential matches.
The dating app is designed to provide users - in case they want, of course - extra Top Picks in packs of 10, 20 or 30, obviously, with an additional price. Being quite generous, developers of the given top-used dating app are happy to grant one Top Pick to all their members each day.
# Places
Such an opt-in feature makes Tinder one of location-based dating apps. Receiving great results, this functionality has been highly appreciated during initial market testing.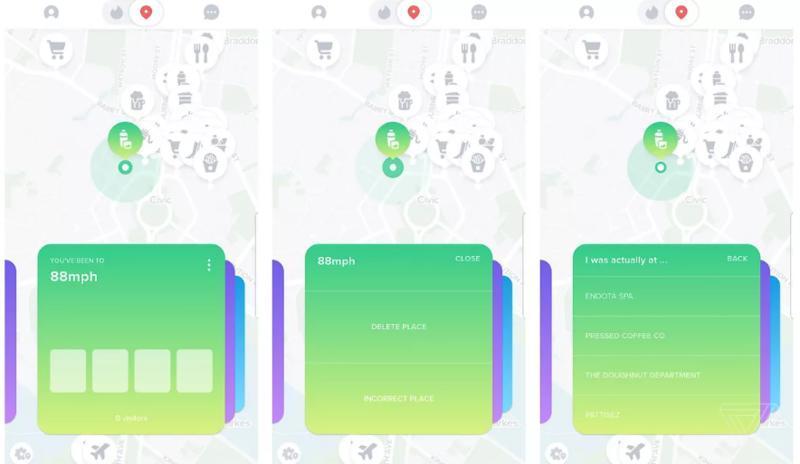 The idea is to keep track of different public places which users visit, like, grocery store, restaurant, etc., to connect people who often go to the same locations.
In a manner the location dating application is to introduce members with mutual interests, say, dog-walking, sport, cinemas. Tinder is not the first to implement the location-based principle. Other different good dating apps, like, Happn, have similar functions. The feature could be easily shut down. App's settings have an option to turn it on or off at any moment.
There is an opinion stating a little advantage that customers get with the feature since walking a dog in the same dog park doesn't mean two people shall fall in love with each other.
# Bitmoji integration using Snap Kit
Tinder integration of Bitmojis makes it the first service in the dating app industry to get Snap Kit as a partner.
Here we are talking on Snapchat who has invented a platform to allow other apps to integrate its service into their product. Snap Kit is the name of the described platform to enable customers to log in to any other apps by means of Snapchat.
The main idea of given popular dating app new feature is to break the ice in a faster and easier way. Thus, Tinder is becoming a more fun dating platform encouraging the audience to engage in a playful manner.
Important to be mentioned: customers have to hook up their Tinder accounts and Snapchat accounts. Owing to Snap Kit's guaranteed security, no one else shall have access to their profiles.
# Feed
The feature was made to help the audience show more of their life by sharing their visual and interactive experience to start communicating with those they like the most. The Feed provides you with the possibility to link to your Spotify account.
# Swipe Surge
Recently Tinder started conducting tests on a new feature among iOS users in the United States. The dating service option is designed to show the audience when more men and women are swiping in their area. It is set to send members notifications informing them on a peak of Tinder usage.
Tinder engineers expect the new feature to assist the audience to take advantage of events in real life, say, parties, festivals and so on.
Creating your own online dating app remember about Tinder example. Think of a significant difference you could make by adding several new features.
Hinge
Hinge works on a principle to help their audience find a better half with whom they have common friends. Such a relationship-focused app takes Facebook friends to present profiles for users to leaf through.
Recently Hinge decided to pay extra attention to become an even more relationship-oriented dating platform, rather than being mostly aimed at hookups.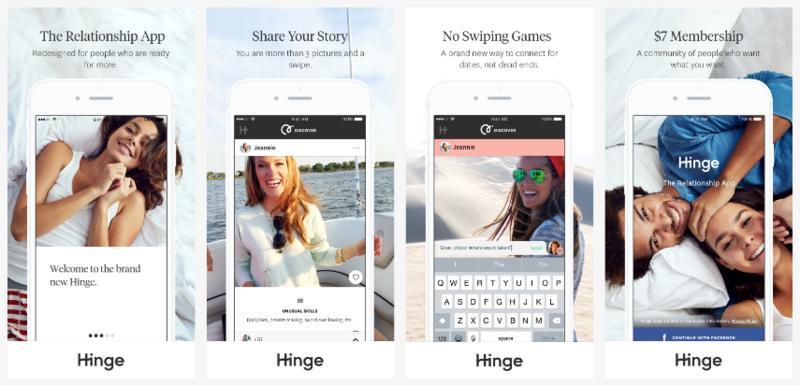 Being one of the top dating apps, Hinge creators try to make so-called "smart matches" introducing people who have something in common. The app is free and has a paid Premium version.
In June 2018 the company canceled the requirement to log into Hinge through Facebook. Such decision concerns both iOS and Android gadgets. A personal phone number could be applied as a means of verification.
You might remember the previous approach when by deleting Facebook accounts, users were losing access to their Hinge pages. It is important to be careful in here and to make it convenient for users, so they don't have to register in the app multiple times. Moreover, when the audience decides to log in through Facebook, it is not really easy to transform Facebook information and present it on Hinge the way the audience would like to.
Hinge is a video dating app as its members also enjoy the possibility to add 30-second videos to their profiles.
Hinge recent updates
# We Met
Only a few months ago Hinge launched its new feature. In such a way, they are a more effective dating app as it enhances giving recommendations. Its principle is based on whether matches had fortunate dates in the real world or not.
Hinge designers meant the innovation to solve the major challenge of dating apps, even the best ones - to see how it goes in the real world, as to get matches and online chatting is one thing, and to turn them into real dates and long-term relationships, is quite a different story.
Anyway, after users exchange their phone numbers, new update asks if they went on a date. And, if they did, "We Met" inquires if those two would like to meet again. Received data is used as a signal for the app's algorithms to improve matches in case users decided to quit the service.
# Most Compatible
The latest addition applies a Nobel prize-winning algorithm trying to predict what matches users are to choose as their top Discover of a day. The feature is available for both iOS and Android.
To find a perfect match to satisfy users, Hinger analyzes users' preferences, studying Likes and Passes, to find a match with corresponding preferences.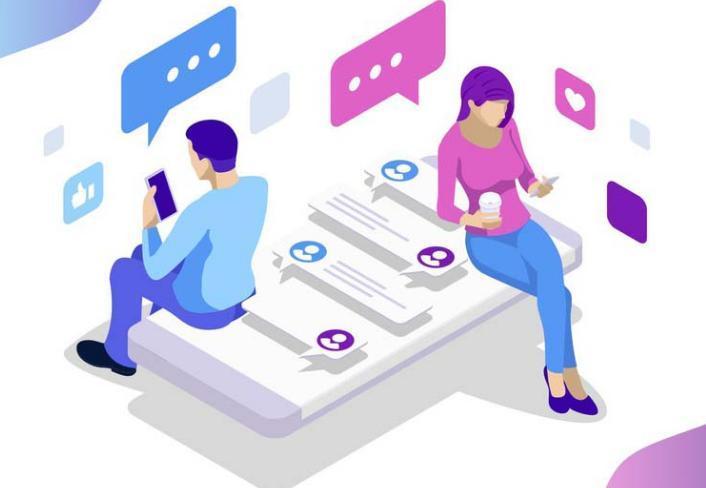 The mentioned method is known as the Gale-Shapley algorithm. Designed in 1962 by mathematician and economists David Gale and Lloyd Shapley, the given approach was to solve a stable marriage issue.
Tests on Most Compatible features have shown that users who found their matches by means of this option were 8 times more likely to set up a date in a real-world, compared with those who preferred other Hinge's possibilities.
# Your Turn
The new possibility of given trending dating app helps users decide who is to make the first step. "Your Turn" sends reminders to users when it is time they should respond.
The new thing was inspired by a focus group with help of which Hinge realized their 23% of users ceased their communication unintentionally. Focus group results motivated Hinge designers to come up with a feature to mark conversations users haven't replied to yet.
Thus, new characteristic finds the solution to the biggest dating apps' problem - conversations get started well and later just desolate.
# Hinge Matchmaker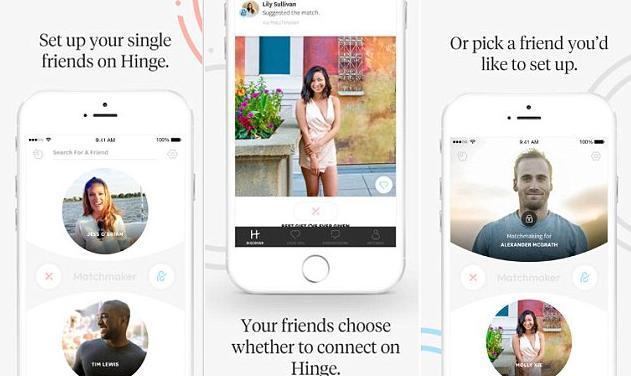 Given functionality helps people find out who among their friends are here on Hinge as well. In fact, they also have an option to recommend and suggest possible matches to their friends.
The upgrade operates by suggesting possible matches from Facebook friends. Later the matchmaker shall simply advise two people to get together by sending, say, an icebreaker message to have the conversation begin.
Coffee Meets Bagel
With certainty, Coffee Meets Bagel must be considered as one of the most popular young dating apps. Around 69% of the app's users are 25-34 years old.  
Shortly, being a free online dating app the service helps its members to make relevant connections. It was designed especially to support busy single men and women who would like to find like-minded partners or friends with little or even no efforts at all. By the way, CMB requires logging in with Facebook to set up a profile.
Struggling to be one of best-selling service in the dating app industry, this great dating platform upgraded its design making it cleaner, lightweight and more up to date. Being an app for people who are serious about finding their better halves, its new interface gives accent to user profiles. Such a successful dating service displays more of the text and provides users with the possibility to so-called "heart" the profile.
CMB came up with a great way to match people. Their approach differs from others. Every day around noon male audience gets 21 matches or so. The matches are called "bagels". Men are to decide to "pass" or to "like". Then it is time when women choose who they like, as they receive only those candidates who have already "liked" them.
As soon as "like" back is hit, a match is set up. Then each side has 24 hours to send a message, as the chat disappears later. Names are completely confidential until the moment when a match emerges.
With described philosophy, CMB may be surely considered as one of the best dating apps to women.  
Why is CMB special?
What makes Coffee Meets Bagel be one of a top-rated dating app is the option which it gives to the audience to tap a new commenting button to respond to the user's profile straight even before reaching out to each other directly to make the connection. As a result, users have a chance to comment directly on some parts of another user's profile.
Recently this popular dating app fine-tuned its Suggested and Discover panels. Now their audience enjoys easier navigation and seamless scrolling. Specified sections were refreshed to be less abundant and more minimalistic having only the most essential features to be the dating app that works perfectly.
CMB recent updates
# Rich Notifications
With such a possibility when Bagels send you a message, there is no need to open the app as you could reply to it in the notification.
The above-mentioned features are available for iOS 10 owners only.
# New Suggested feed design
There is a new way to view, Pass or Like Suggested Bagels. The upgrade is available to owners of Android devices only when downloading the latest CMB version.
After you Liked the Bagels, they won't disappear as they used to. Moreover, doesn't matter if a user Likes or Passes a Bagel, all Bagels still stay in Suggested feed till the next noon.
The Pass button has been removed. It is much simpler now - the audience is to Like a Bagel choosing the heart icon. No need to take any actions to Pass - the Bagel leaves the Suggested feed in 24 hours.
# Profile commenting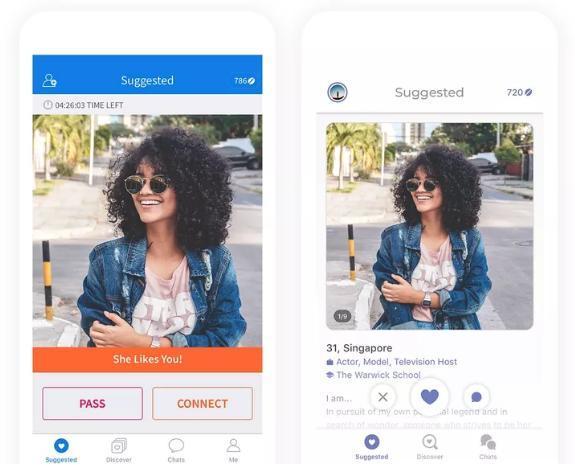 Such an upgrade gives a possibility to comment on specific pieces of profiles, say, pictures or bio. The new CMB look is more up to date. It is more clear and simpler to navigate. Hinge lets users comment on specific things, whistle Tinder asks people to match first before any chatting.
Preliminary tests have proved users to apply to comment to stand from the crowd of other possible matches.
However, Sensor Tower claims CMB to make over $25 million in gross revenue. This figure demonstrates how effective the present dating app is. The popularity of CMB dating service is proved with $900,000 spent by the users in November 2018 which is 30% more compared with the same time last year.
Now the reason why Coffee Meets Bagel is considered as one of the leading dating apps is obvious. It is your call to learn from their experience and to make your own creation be one of the most popular dating apps as well. Or maybe even to beat CMB?
OkCupid
The OkCupid platform is well known among good dating apps. More than 40 million people use it to find their partners. However, it is hard to say, how many of this quantity are active members.
Its algorithm is quite simple: the app would ask audience specific questions - about hobbies, interests, profession - to match people based on their answers. As mentioned above Tinder, OkCupid is also proud of its swiping features - the possibility of swiping away profiles users don't like.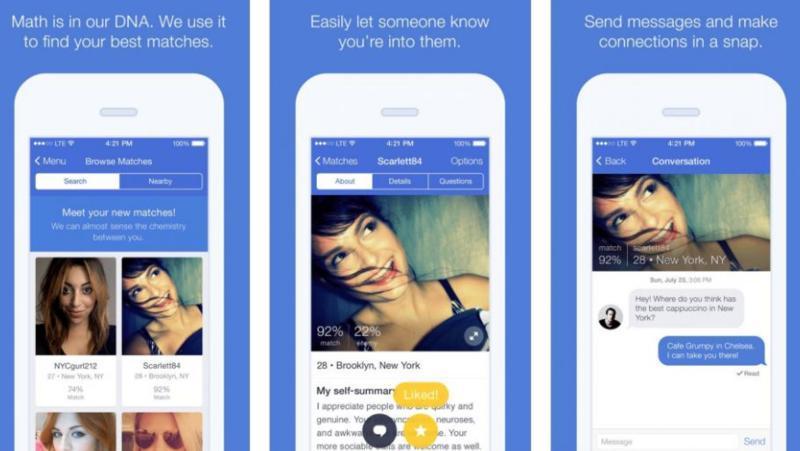 Comparing with other top-rated dating services OkCupid provides much more information on specific users, in case, of course, members devote enough time to answer questions. It is designed so there is no need to be on Facebook to sign up. If customers want, they can link their OkCupid to their Instagram page. The platform is easy to use, it is straightforward and not disruptive.
Speaking of security, in case one of the members behaves inappropriately, OkCupid moderator might delete a profile having prooves of harassment. The same is applied if an account was proved to be fake.
As of its weak points, is free to register, OkCupid sometimes is considered to be for hookups only. Moreover, many basic functions are available only for paid members. As a location dating service, the platform doesn't provide a wide range of choices in towns. In fact, some people might take multiple questions as a waste of time.
Furthermore, its users often experience technical difficulties, say, not able to log in or to download a specific page. Since users have the possibility to send messages to any members, there is a chance to end up with an inbox filled with unwanted messages.
OkCupid special features
Developers tried to create features to ensure their audience enjoying full dating experience. This good dating app is aimed at helping people find their soulmates - the most compatible ones taking into consideration interests and views.
# Match Questions
Such functionality makes the service stand out from similar successful dating apps. Match Questions asks members multiple questions about food preferences, lifestyle, politics, sexual preferences, personal ambitions, favorite movie genres, etc. The more questions users reply, the more chances to find more accurate matches.
However, if people answer only a few questions due to lack of time, let's say, there is a high chance to "match" with someone who doesn't really fit you.
# Personality Traits
After replied a sufficient number of questions, the platform gets a general picture of users' personalities. Each member receives Personal Traits results which is a quintessence of his or her character. Placing such information on the profile shall help other users understand if they would like to get to know a specific person.
# Double Take
Another name of the discussed feature is QuickMatch. It reveals deep and detailed information about a specific possible match. DoubleTake matches are being formed built on the "Looking For" section at the user's account together with match percentage, and user's location.
Being completely usable without paying any fees OkCupid still has some premium functionalities to remain among best dating services. Those extra options provide users with more control over who they see and who sees them.
Let's have a closer look at a few OkCupid popular paid features.
# A-List
The audience sees who actually has read their messages before they reply back. Basic A-List provides an effective list so the user sees who liked him before he has liked back. Premium A-List additionally ensures an automatic boost once per day in the prime time and offers the option to see and to be seen by more favorable matches.
# Incognito Mode
Users should be happy to know that as well as in A-List there are no ads here. The audience has a great option to stay invisible on the site. However, members have to be visible to Like someone or to message others. With given capability, users can easily block access to their profile to any member. Having complete control over the account, customers simply turn incognito mode on and off at any point at their own discretion.
Summing up, the reality is that OkCupid is focused on all kinds of relationships - from hookups and casual dating to in-deep relationships. Thus, you never know what other users go after here.
OkCupid developers say "Dating Deserves Better", and they try to do so using a math-based matching system to ensure the most accurate matching. The most important thing - users shall be honest answering multiple questions. And not everyone takes it seriously.
Tindog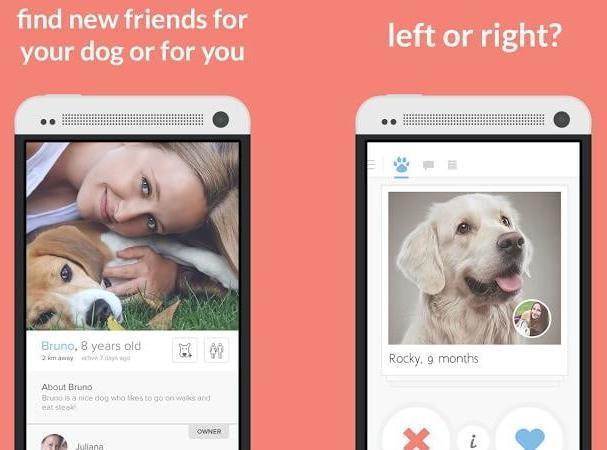 This dating app is for those who have dogs and who really love their pets. It might be surprising, but people do choose their future partners based on what dogs potential matches have. On the other hand, it could be fun, as you can find a good friend for yourself and for your pet.
The platform is free and good for both iOS and Android.
Of course, it is a kind of contradictory way of seeking better halves. Still, we decided to describe it here as such a platform is also a popular dating service. In fact, it doesn't have to be about dogs specifically. Working on the idea of your dating app, you could unite people with common preferences they share, say, modern art, sports, cats and so on.
The main challenge here is to make a great dating app that works to help people find their love. Thus, everything matters here: features, interface, price, design, comfort, security...
So how to differ?
As you realize now there is a huge number of dating apps. Thereby, when designing a brand new app or improving already existing one, it is critical for engineers to make it truly special and unique, and to make the audience enjoy its characteristics.
We would like to distinguish the following aspects to pay extra attention to make the app stand out from rivals.
Designing
Speaking on developing a new dating app, we are to take below-mentioned steps:
Research

Synthesize

Prototype

Validate
Stage 1: Research
Here we shall focus on utility testing and affinity mapping.
Utility testing is to be applied to determine the weak points of the app by answering questions like:
How convenient is it for users to deal with the layout of the Account page?

How fast is it to find the Preference page?

Are all elements on the page visible well? Is there any confusion among users?
As of affinity mapping, it is a great tool to systemize user feedback and to figure out possible pain points. Make sure you apply it to create a good dating app like Tinder and even better.
Stage 2: Synthesize
Main tasks on this stage are to deal with prioritizing needs, personas and task flow.
Prioritizing needs is to assist in evaluating business and users values. 

Creating personas might reflect possible problems which audience could face. 

Task flow is to visualize all potential actions users might take. 
Step 3: Prototype
Low fidelity mockups are to simplify navigation of the Account page, for example. They increase transparency on the chat page as well. Regarding high fidelity mockups, they adjust and improve the app's settings in general.
Step 4: Validate
Validation testing is to show how useful and usable your dating app design is. Prototyping and Validation phases could be repeated if needed.
The described four-step process shall present a better understanding of how the audience interacts with a particular dating service. Usability testing and iteration are to show what to focus on to improve the platform and to make it successful and practical.
Focus on one extraordinary feature
How to make your app stick out from hundreds of similar services? Brainstorm to select the only one main aspect to focus on. This is the way to come up with the most successful dating app.
Most probably it won't work well if you try to target everything at the same time. Each issue requires lots of your time, efforts and attention.
We are not saying, you need to abandon everything but only one single point. Decide on your special feature, make it perfect, launch your app. Then you are more than welcome to improve your program adding another super cool functionality, than another one and so on.
Security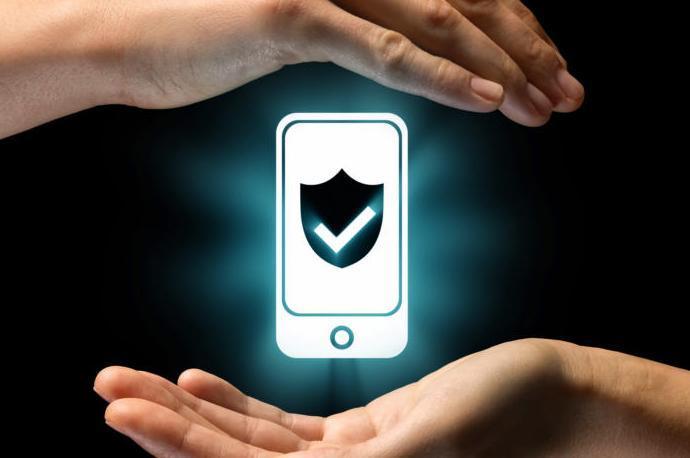 Here we are not talking strictly on data protection which should come as default. Dating apps exist in a very tender environment where people share their moments of happiness and sadness. Think of means to make such an environment comfortable and cozy for your potential audience.
You know everything about issues which could spoil the app's overall climate - multiple bots, assaulting and abusive attitude, etc. Find ways to eliminate similar obstacles from your relation focused app.
Quality
To develop a popular dating service it is essential to pay special attention to technical issues. It is so frustrating when the app constantly crashes, glitches keep freezing or downloading the page forever. Such reality is to result in a whole bunch of negative comments and poor user experience. Take preventive measures to avoid your audience's frustration.
It would be a great idea to double-check the matching algorithm used in your app to make sure your formula works as it should.
Think of a reliable verification method. Many dating apps have chosen Facebook accounts to do so. However, not everyone uses Facebook, so maybe there is another way to see if the person is real.  
Make sure you have a great team of professionals who know how to come up with a really rocking and hottest dating app. And also remember - the fun starts after the app has been designed and launched, as it requires constant support and continuous improvements to keep it up to date and to ensure it is one of top-rated dating platforms.
Don't copy!
Obviously, before you start working on your app, it worth the learning experience of others. Read successful stories on startups - what obstacles people faced and how they coped with them. This is a useful practice.
However, remember that simply copying from others won't work! It is an absurd way that leads to nowhere. Literally copying step by step the passway of some developers won't help you become as successful as they are.   
To create the best dating platform, find your own way, get your special and unique idea, come up with a practical approach to ensure great user experience. Thinking of people, taking care of their needs will make your app human-oriented, so you definitely will find your audience.
Summary
The provided review of dating apps will help you apply only the best practices and to learn from their experience. Knowing key points to consider while designing and improving your very own platform shall be fundamental to make it practical, useful and popular.
Agilie's professional team knows how to make apps work for both developers and users. You could check our projects to see our expertise.
Rate this article
15 ratings, average 4.80 of out 5