How to Build a Travel App for Frequent Travelers
Do you like traveling? And so do we! And we're not alone in this respect, there are a lot of avid voyagers around the world. Moreover, many people prefer to organize trips on their own using modern mobile technologies. So, travel booking apps are becoming a very tempting source of profit. All you have to do is to find the right approach to their creation.
The whole idea is extremely simple: travelers download apps for trip planning and, if done correctly, turn into loyal users. And these users, on their part, bring you, as the program owner, a steady income. So tourists are your target audience, and it is for them that you should create a travel app.
In the previous article, we talked about mobile and online tourism industry trends, but now it's time to think about a more specific problem. Namely, how to make a travel app and how to monetize it? What to offer users? We know the answers to all the questions listed.
What can you offer

travel app users?

In their essence, these applications are all the same, and they're aimed to help in planning a trip. But each one has chosen its own way to the specified goal.

The desire to cover every aspect concerning journey preparation is understandable, however, its implementation can be difficult. And that's why travel services usually focus on a particular task, - on the other hand, they do their job masterfully making sure the user gets everything he needs.

And if you're now in search of the proper category of travel apps, we offer several basic options:
Booking accommodation. The number one problem any traveler faces is the necessity to search for a good place to sleep and rest. Such applications help to find and book a hotel, apartment, or hostel (depending on what you prefer and are willing to pay for).

Flight search. Mobile travel bookings also include the possibility to buy tickets online. The user just needs to have a smartphone and an installed application in order to book a flight ticket he needs.

Booking tours and excursions. In addition to the apps for searching and booking accommodations and tickets, there are programs allowing the user to easily find an interesting tour or choose exciting excursions. The demand for such programs remains consistently high.

Travel guides. If the previous options don't appeal to you, you can make a travel app whose role is a city guide. Instead of offering travel booking services, these platforms provide an opportunity to navigate in unfamiliar areas and determine which sights and attractions should be visited first.

Food search. Also, travelers use mobile apps to find the best place to dine abroad because looking for restaurants and cafes in a new country becomes a daunting task. And features of travel apps of the sort allow tourists to taste and enjoy local specialties, go to interesting restaurants, have dinner in pleasant and unusual companies.

Applications for motorists & drivers. They target users who travel by car and help them make comfortable and quick trips with their loved ones or friends. Among other travel app features, these mobile platforms offer a clear navigation system and useful motorists tips: say, problem areas, refueling, and more. Besides, you can launch a travel app, which provides car rental services.

Travel news app. This isn't the most common category of travel apps, but it, too, deserves your attention. Such programs collect, sort, and provide information related to tourism and give helpful tips to a traveler.
We gave you a few travel app ideas, and now you're armed at all points. Of course, there is still much to learn and figure out, but a start has been made.
And while you're thinking about creating a social travel app and choosing its type, let's touch upon the issue of your competitors.
The сompetitive

travel app market

The mobile and online travel market is full of offers, and you should work hard to outperform your competitors. But first, let's analyze their strategies.
Triposo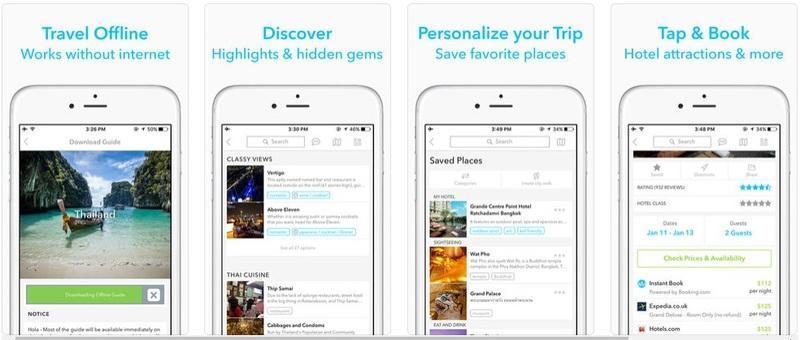 This mobile guide offers the user brief information about the country he's going to visit (or a particular city) and provides access to a database of hotels, restaurants, shops, and attractions. Each of these institutions can be found on the map so the tourist sees how to get to his destination.
In addition, using such a planning trip application, any traveler may select and book a local tour or entertainment. Undoubtedly, the app example is worthy of emulation.

If you want to make trip planning apps of a more original type, look at Couchsurfing, an international project allowing users to find new friends. The service offers residents of popular cities to take overnight guests from other countries (free of charge!) and, if desired, introduce them to tourist spots and local attractions.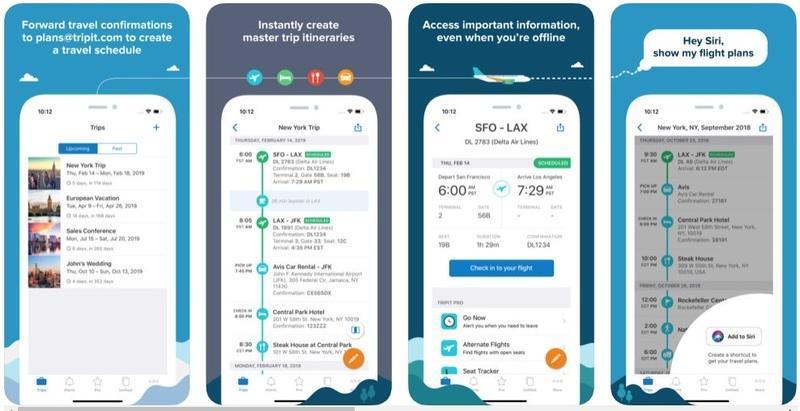 The application would be handy if a user prefers to organize journeys by himself. It contains all the key information about the upcoming trip, including data on flights, hotels, dates, and so on. What's more, the program reminds the tourist about important events, activities, and scheduled meetings abroad.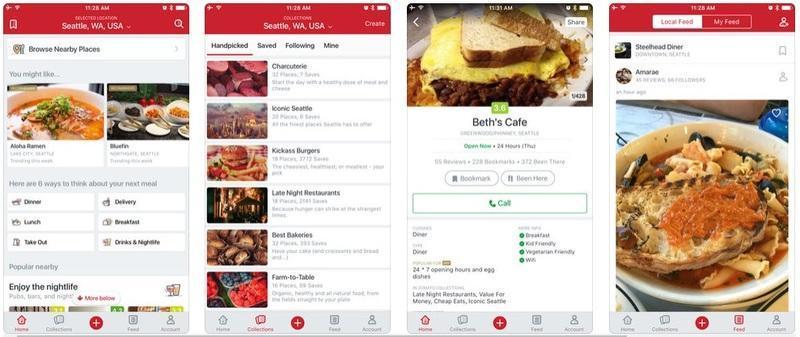 Remember we talked about apps focused on searching for restaurants abroad? Urbanspoon is exactly like that! In fact, it's the mobile base, which contains data on more than a million restaurants in the United States, Canada, and most cities in the UK and New Zealand. So, being in one of these countries and taking advantage of Urbanspoon, users can easily find a place to dine by rating, menu, or location.
And finally, another idea for those who decide to create a travel app. TripAdvisor offers advanced functionality which includes maps, reviews about hotels and restaurants, photos, a reliable booking system, etc. It's your ultimate travel companion, as the service's owners say. Moreover, they constantly develop and improve the program, providing the user with a convenient way of planning trips.
We've completed our mobile & online travel market research, and now let's talk about specifics! In other words, what features should your travel advice app have?
What are the mai

n travel app features?

What's the best travel app? Obviously, the one that has a full set of various features and trip planning tools.

So it makes sense to build travel apps, which would be helpful to the user and able to solve his main problems regarding the journey preparation. If your budget is limited, start with the MVP model and gradually expand the functionality of your service.

Okay, let's see how to make an app to keep track of your traveling!
Features travel apps

should have:
Travel booking services. A pretty obvious feature, isn't it? But the obviousness doesn't detract from its significance. The opportunity to buy a flight ticket, book a hotel, etc. is a great chance to expand the target audience.

List of things. Not having a list of things, which might come in handy during the trip, there is a chance to forget something really important. The mobile application tells what you should take along depending on the type of your journey (after the user specifies all the details: say, if he's planning a summer rest by the sea, then sunblock will do just fine).

Geolocation. The geolocation feature is needed first and foremost because the application we're talking about is, among others, the app to track travel on the map. The tourist wants to know where he is right now and what is located nearby: what restaurants, hotels, attractions, pharmacies, and more. If you're interested in how to make a GPS app, read our tips on the issue.

Ratings of hotels, restaurants, and other things. Thinking about developing a travel app, take into account that users love all sorts of ratings of institutions. Rating systems facilitate the final choice of the establishment (be it a restaurant or a bed-ground) and allow eliminating doubtful options, which have received negative reviews from hotel guests or cafe visitors.

Weather. Any tourist would be happy to know beforehand what weather he should expect in the city (or cities) he plans to visit. And although Android and iOS smartphones have default weather applications, sometimes they're not enough. That's when travel apps' features will come to the rescue. And agree, it's very convenient when all the data can be obtained in one place (namely, in your app), including the weather forecast.

Maps with the ability to build itineraries. Any traveler would be more than grateful to have such a feature. No wonder, it's so easy to get lost in an unfamiliar city! And you solve his problem by providing a detailed map, and the user just needs to specify his location, enter a destination, and choose the type of route (on foot, by car, by public transport). And travel transportation apps do the rest. By the by, it'd be very nice if your maps worked offline either.

Languages. Of course, it's beyond your ability to make your user a polyglot. But you can build a travel app able to help him overcome the language barrier by offering phrasebooks, mobile translators, and other similar services.

Booking a taxi. Of course, there are specialized applications for ordering a taxi (the same Uber) but we've already explained that it's really convenient to have everything at hand, in one place. That's why ideal travel apps work in two directions at once: they help us plan a trip and simplify the journey itself. And providing a quick and secure car booking service is a way to achieve the second goal and make the trip more comfortable.

Advanced Search. No application can be successful without the search feature, and the service with trip planning tools is no exception.

Convenient filter and sorting systems. The purpose of the feature is quite clear - to facilitate the process of finding the desired information.

Feedback. Along with the ratings of institutions we've discussed above, reviews and comments are in demand among users. Feedback can relate to both your application and the level of service of different hotels and restaurants which your program helped to choose. Don't be afraid of negative reviews, respond to each one, and be extremely polite - this is the best way to acquire a good reputation.

Mobile chat. Reviews are good but sometimes the user prefers to communicate with you directly through a mobile chat. Your task is to be in touch 24 hours a day (or you may use a chatbot while you're away).

Social media. When creating a social travel app, don't forget that users love sharing their life news with friends. So a social integration feature is a must-have either.

Emergency call. We'd like to believe your users won't have to face unforeseen circumstances. However, no one is immune to the troubles, and therefore it's useful to have the possibility to make emergency calls using the features of travel apps. Provide all the required phone numbers of the respective services, as well as an emergency call button.

Currency Converter. Among the cool travel app ideas able to attract more users to your program, this feature is not the least important one. A currency converter helps users to form their budget in advance, taking into account the exchange rate.
Sure, now you can make a travel app... it remains to find ways to turn it into a profitable service.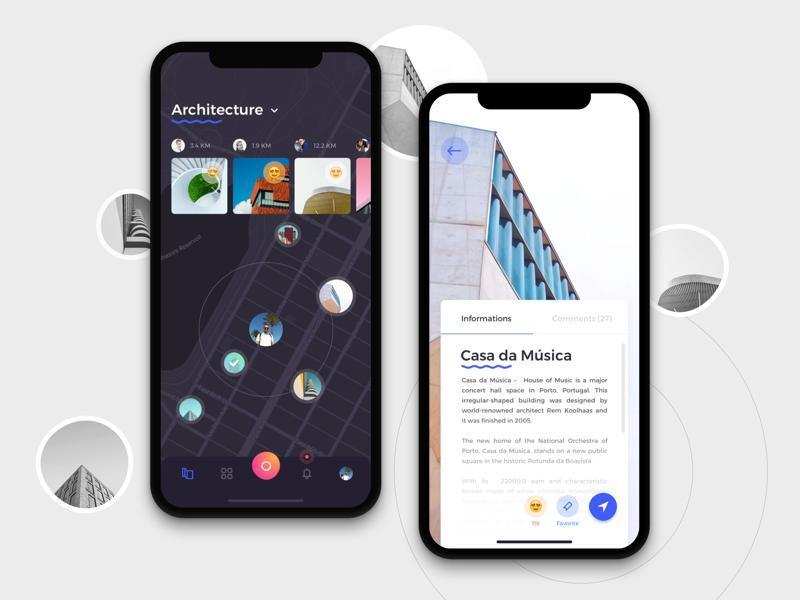 One of the travel app ideas, and it's a pretty good and impressive example, isn't it?
The best approaches to

travel app monetization

A successful travel mobile app is the one, which helps you earn an income. Your project is unlikely to be just charitable, right? So every detail should be thought out in advance.

Moreover, you need to recoup your expenses (costs to make a travel app). So it's time to think about monetization.

What options do you have?
Travel app monetization

options:
Commission. If the tourist uses your travel booking app to buy a ticket, pay for the tour, book a hotel, then you, as an intermediary, get your commission. Of course, you'll have to agree on cooperation with the relevant companies (say, the owners of the hotel chain), but we're sure you'll cope with the task.

In-app advertising. The approach is often used in popular applications, which successfully interact with their users and get a very good income!

Paid application. It's the easiest way to monetize, but not always effective. You'll have to try hard to convince the user of the advantages of your service even before he downloads it.

Lite & Pro. You offer the user a free feature set (Lite version) and convince him to buy the Pro version with advanced functionality. Such a way of travel app monetization has several types: subscription, a Freemium model, etc.

In-app purchases. You can sell anything from premium features to additional travel services - it all depends on your imagination.
Additional tips for

developing a travel app

You can launch a travel app and come up with a great way to monetize it but the only chance to really succeed and join the leaders is to take into account a number of factors.

The ideal travel app should consider:
API

. The abbreviation stands for Application Programming Interface which allows developers to use ready-made pieces of code to build an application. In the case of developing a travel app, you can get access to weather data, city maps, information on different establishments, and so on.
Augmented Reality. This feature is among the expensive options, it's not mandatory, so we didn't mention it in the previous section. However, augmented reality significantly improves the travel app market:

AR applications are able to translate street signs, restaurant menus, train schedules, newspaper headlines, etc.

Take a look at the

Wikitude app which helps you find places of interest nearby. Moreover, the "Live View" mode (via the smartphone's camera) provides the user with access to information about the places around (discounts, special events in stores, etc.).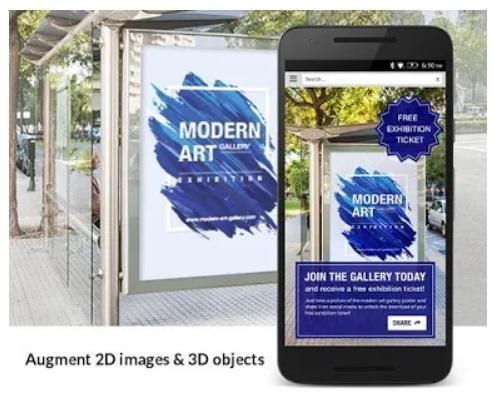 Scaling the project

. Creating a social travel app, remember that in the future you may have a desire to expand its functionality, make it more powerful. Such a possibility must be provided before the development process starts (let's say when choosing a server and so on).

The relevance of the information

. You need to build a real-time travel app application - the one which provides the latest information. Outdated weather forecasts or irrelevant data about the hotel is unneeded.

Design.

And, of course, don't forget that your interface design should be intuitive and appealing at the same time. Abandon unnecessary details in favor of simplicity and clarity. The examples below illustrate our point.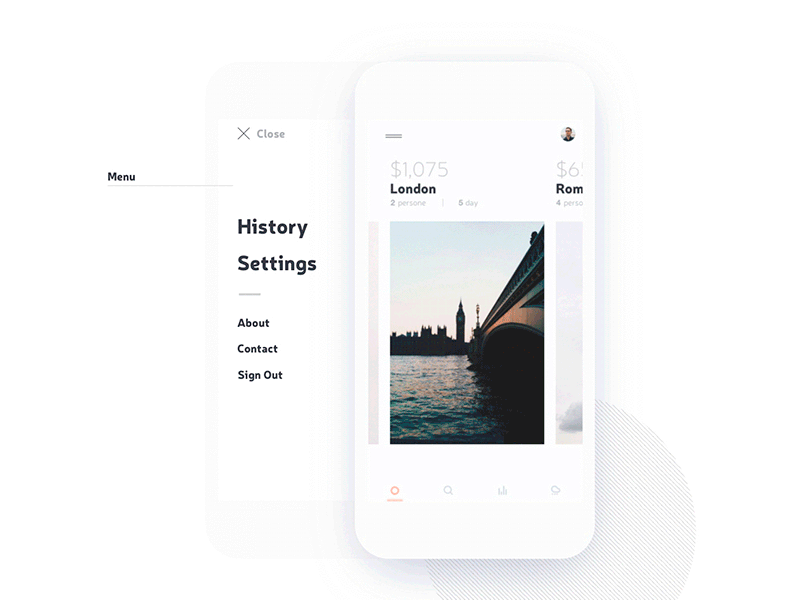 if you're looking for the idea of a mobile interface to create a travel app, this one will inspire you! A great concept, right?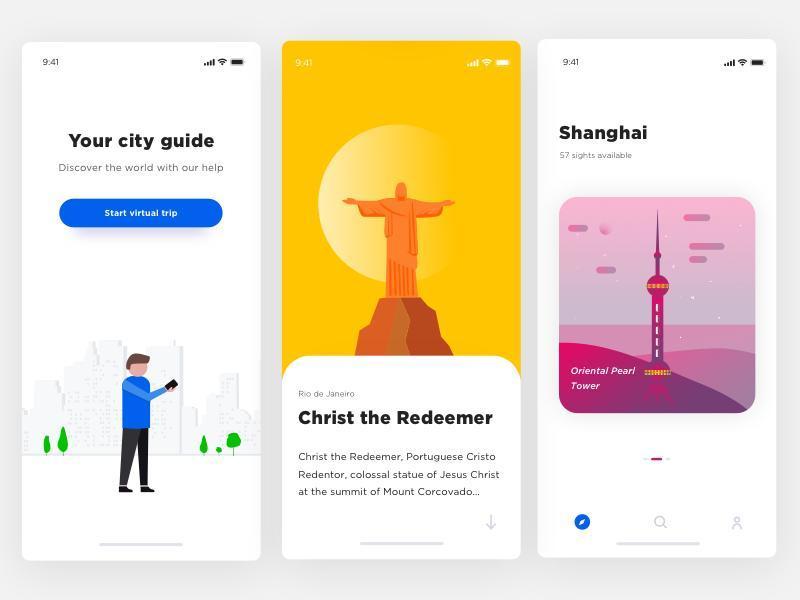 Another good example of a successful travel app design: it's clear, user-friendly, and intuitive.
Now you have all the preliminary information. Ready to collaborate? If so, we offer our professional services. Take a look at our portfolio to satisfy yourself of our expertise and vast experience in developing mobile applications and sites for various industries.
Rate this article
15 ratings, average 4.80 of out 5