How to Create a Dating Website Like Badoo?
Imagine a site that brings about $200 million in annual revenue. Sounds like a dream, right? But this dream can come true with the right approach, just as it has come true for Badoo. Yes, this resource provides its owners with an income that exceeds tens of $millions per year. And now these owners are obviously very happy to have been smart enough to build a dating website.
Really, this idea turned out to be extremely beneficial to everyone. The proof of this is that Badoo has been included in the top 200 most popular sites in the world, according to the report of Alexa Internet, and its traffic ranking is really huge: about 1.5 million unique users per day or 47 million per month. Agree, these results set one thinking! But don't worry, you are lucky: we know how to create a successful dating website, your own Badoo, so to say. And we're willing to share this knowledge with you. All you should do is follow our tips.
Contents:
Marriages may be made in heaven, but the reality is that today more and more people are looking for their soulmates in more down-to-earth places, namely - on the Internet. And that's why online dating sites are in so high demand. And Badoo understood in time how to take advantage of this demand - and now it's reaping the benefit of its own efforts!
As you may have guessed, Badoo is an awfully popular dating website and even social network which supports a lot of languages and works with users all over the world. The head office is located in Soho, London, but the company itself is registered in Cyprus.
Badoo is most in favor in Latin America, Spain, Italy, and France; what is more, in France, it is ranked 52nd in popularity. In July 2011, Badoo has risen to 59th place in the ranking of the most visited sites in the world displacing CNN portal to 60th place.
But how has this online dating website managed to achieve such great results? Well, it has his own success story, which is useful for you to study if you want to have your own Badoo clone.
The history of this success began in 2006 when the well-known Russian businessman Andreev Andrew launched a new start-up. Before that, he had already created such projects as the Internet counter named SpyLog, Mamba dating website and the contextual advertising service Begun. So it was high time to pay attention to the Western market. Badoo.com has been developed for this very purpose.
The idea was simple and obvious - a social network for dating and easy flirting. To do this, such features as chat, photo sharing, user search and much more had been implemented. During the year, the service attracted more than 20 million users, and by 2011 their number had reached 110 million.
Why is this resource so popular? Because it offers the simplest scheme of work and provides users with comfortable interaction with its services. Let's study this issue in more detail - Badoo experience will be useful to you if you are interested in how to make a dating website successful.
The basis of successful dating website development is the right functionality. Well understanding this, Badoo offers the following set of features:
#1. People Nearby
This feature allows you to see which dating site users live nearby. In the settings, you can specify who exactly you want to see here (only girls, guys or maybe both genders), and also choose the age of the candidates (ranging from 18 to 80 years old). Some profiles in the "People Nearby" tab can be displayed with a blue label. These are people whom you have crossed throughout the day with.
#2. Search
Badoo also allows seizing an opportunity of the search to find other users (from other cities and countries).
#3. Encounters
This feature displays user profiles that you might potentially be interested in. The dating service of the website selects them based on the user's personal data. To express sympathy, you should swipe right, to go to the next profile - to swipe left. If the sympathy is mutual (that is, two users have swiped right), the system sends them a notification. With the help of swipes up and down, you can also scroll through the pictures of the user, if, of course, there are more than one.
#4. Video Chat
This is a completely new feature implemented in August 2017. Now users can communicate in real time by taking advantage of the video chat. It's a helpful feature for building a high-end dating website, although, of course, it'll increase the cost of the project by several times.
And now let's discuss the user flow in great detail!
First, the user needs to specify his gender and choose the purpose of registration on the

online dating website: to find friends, chat with new people or go on a date. Next, one needs to enter his personal data, and this process can be simplified by integrating his personal data from Facebook.

To get to know new people, the user has only to fill in the profile with additional information (for example, a place of employment and hobbies) and add some of his photos.

Now a registered visitor is allowed to start using the above-described features of the

dating website: see which of the people nearby can interest him, take advantage of Badoo's offers (Encounters) or use the search bar for a more focused search. In addition, he can visit the tab which shows people who have responded to his liking or who have shown a desire to talk to him. Here a visitor is also able to see the archive of messages or start a new conversation.
Of course, the basic profile has some limitations. For example, it displays only mutual sympathy… But this issue belongs to another topic, namely - the method of monetization
$ 200 million in annual revenue is intriguing, right? But how has been Badoo earning them? This is an important question for everyone who wants to understand how to make a dating site.
In fact, the monetization system is genuinely simple - Badoo is availing itself of the freemium model. In other words, you can use the site for free, but if you want to access some exclusive features - shell out! And as statistics show, many users are willing to pay (and actually paying!) for membership.
So, for accessing which features does Badoo ask users for payment?
'Rise Up', which raises the questionnaire in the ranking
"Super Powers", which expands the user's search capabilities and allows him to see who exactly showed interest in him, etc.
Of course, there are a whole lot of other paid features that enjoy no less success with the audience.
Curious fact: Badoo allows you to earn money. True, this applies not to ordinary users, but to webmasters who use the partner program of the resource.
We explained to you how Badoo makes money, and now we will discuss your own monetization options. You should carefully analyze them and choose the ones that suit your case before you start building a dating website.
Paid membership. Of course, it's very easy to make this way, but only at the first blink. Not every user is happy to pay for membership when there are many free dating site software. That's why Badoo has chosen a freemium model.
Freemium model. Well, we've described it in detail earlier.
Affiliate programs. You can cooperate with resources that offer services that are potentially interesting to your users. For example, restaurant business, jewelry sites, souvenir and flower online shops will be happy to place their advertising banners on your web pages. Of course, you'll get your cash bonus!
Built-in purchases. Offer users the opportunity to make in-app purchases: for example, they'll be glad to buy special stickers, virtual gifts to the candidates whom they like and so on.

The base of e-mail addresses.

This is unobvious but still a good way to get the benefit and an excellent reason to start an online dating website. You will get a powerful client base which you can use for marketing purposes and for making special offers.
Summarizing, one can say that Badoo earns about $ 350K (and even more) monthly on one unique user. Of course, this income consists not only of money that paid subscriptions and built-in purchases bring but also of advertising revenue. You are unlikely to be able to immediately achieve the same strong financial performance, but there will be room for improvement, that is, you will have what to strive for.
Prefer to develop a dating application instead of creating a dating website? Then you should read how to make a dating app like Tinder.
Now, let's see how much the dating website development will cost:
Design - about 200 hours

Frontend development - 300-700 hours

Backend development - 250-500 hours

Testing - from 200 hours
To calculate the exact cost of creating a dating website, you need to decide on the developers, namely, - with their rate. So, the most expensive specialists live in the US and Canada ($ 100-150 per hour, and more), followed by experts from Western Europe (80 -150 € per hour). The East European developers offer more pleasant prices - $ 20-70 per hour.
On the average, the Badoo clone website will cost you about $ 25-50K. Of course, this is an approximate price and the exact cost of the dating website software should be calculated from the required functionality.
Surely you are interested in this question! Well, we can give a few tips:
Create an MVP model to start. Offer users minimal functionality. Having received the first income, you can add other interesting features.

When choosing a developer, decide upon specialists from Ukraine. Their services are quite cheap (no more than $ 50 per hour of work), but the quality of work is very high. All the advantages of cooperation with Ukrainians read in

our article.
We seem to have discussed all the preliminary issues, and now it's time to move on to the main one among them, that is, to figure out how to make an online dating website.
Let's start with statistics! It is always useful to have verified information for valid conclusions and competent advice, right?
As you can see, a high percentage of people are willing to pay for the use of Badoo clone. The main thing is to make sure that your resource justifies their expectations. How to achieve this?
Components of success for

online dating websites like Badoo:
THE NAME. To come up with the name of your

online dating website is a task of paramount importance. Remember, this name should be easy to pronounce and remember, moreover, it should match the dating theme… and most importantly, it must be free - unfortunately, many beautiful names have long been occupied by other web resources.

HOSTING PROVIDER. Starting the

website creation, think about what hosting is best for your goals. Not all hosting services offer the same conditions. Provide the possibility of scaling the server!

CONVENIENCE FOR USERS.

Online dating websites must be extremely clear and user-friendly. The clear registration system, the opportunity to get acquainted with the site without registering, the advanced search bar - all these factors are important for a dating site.

THE FILTRATION SYSTEM. The safety of your site visitors is prized above all else, so it is highly desirable to filter the user profiles according to basic criteria: social status, adequacy, etc. In addition, it is important to compile requirements for users of your

dating site software in order to resolve all disputes that arise.

QUALITATIVE PHOTOS. An important part of the profile is photo content. Therefore, pictures must be qualitative. It is necessary to provide this in the requirements for users downloading photos, asking in advance for a photo of a certain resolution and size.

COMMUNICATION FEATURES.

Building dating websites includes the provision of high-quality functionality for communication between users: messaging, photo assessment, winks, sending gifts, etc.

EXCELLENT DESIGN. Appealing design should also be laid to the

dating website creation.

MARKETING ACTIVITIES. It is important to regularly attract new users to the site, as the more people on your site, the more choices for dating. In order to increase traffic, we recommend a comprehensive website promotion.
And now let's talk about the features… look at the statistics.
This statistic gives a clear idea of what to consider when creating a dating website. But we are not going to be satisfied with these infographic data. We'll describe in detail what needs to be taken into account in the website development process.
Required features of the site

similar to Badoo:
Registration

. We advise making use of Twitter, Facebook and Google resources whose personal accounts are popular ways to quickly register in many services and applications.

User profiles

. The three main components of the user profile for a Badoo clone website are:

Photo

Age

A location that is determined by GPS or data received with the help of a cellular network and Wi-Fi points

Filters.

Badoo clones offer to install simple filters (location, gender, age) that help users select the people they are striving to see. Of course, this does not help to find users with some specific interests, like botany or sefing, but they are great for the initial selection of candidates.

Matching.

The human brain decides in a split second whether a person is attractive to us or not, and Badoo clone websites use this feature to their advantage. The brain decides whether there is a sympathy, and the fingers are already swiping left or right. And communication is possible only between users who have liked each other's profiles. This simple approach improves the impression of a service and creates a sense of privacy.

Notifications, or Real-time Events.

The era of unilateral communications when one had to be waiting for an answer for hours, has long since passed. Today everyone wants to know at once what is happening at this particular moment, without delays. Therefore, real-time events are an important feature that should be taken into account when creating a dating website. When a user receives a message or a mutual "Like", this information is being sent to the server. And depending on whether the user is online or offline, he immediately receives a push-notification to his device (or email).

Additional paid features.

Here, it all depends on your imagination and the planned budget!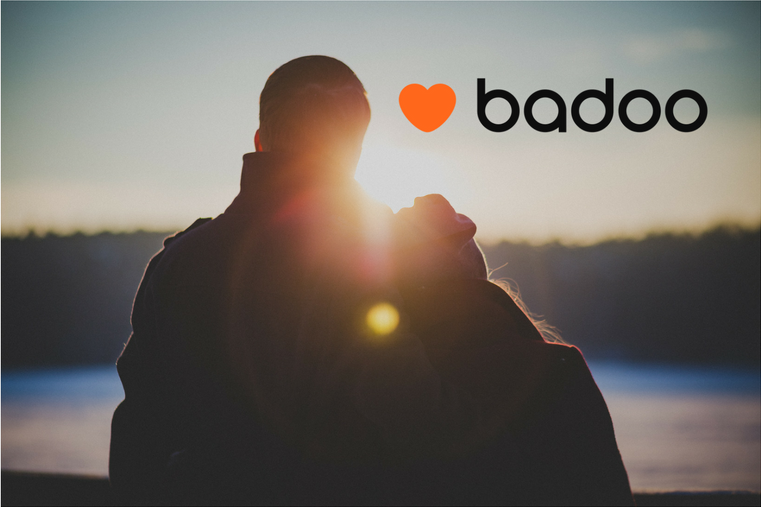 Of course, we cannot vouch for all web companies, we will simply describe how to create an online dating website in our agency (and, of course, get an excellent result):
Acquaintance with the project

. Website development begins with establishing a productive dialogue with the client and clarifying the desired result. The project manager conducts a series of meetings (real or virtual ones) during which goals and key points of the process are being determined in order to achieve maximum project efficiency.

Planning

. We develop the logic of web pages, demonstrating to the client the layout of the modules and output blocks. You can see how the dating site will look like before the coding stage.
UI/UX Design. This is the most creative period of the process of building a dating website. The designer broods over the creative idea, experiments with the forms of information presentation, and the client chooses what seems right and appealing to him.

Coding and testing.

It is one of the final stages of the dating website development when the project plan is being implemented. After that, the site undergoes a series of tests on working capacity and preparation for demonstration to the customer.

The site launching.

After the dating service website has passed quality control provided by attentive QA engineers, our Agilie team releases the web resource - that is, we put it on the Internet. Your site is hosted, it has its own domain, and it is ready to meet the first visitors.
Post-Release Solution. For each project, we have an individual solution. We provide a plan for further development and optimization of the project, as well as the possibility of contacting our SEO specialists with the goal of increasing the number of unique visits to your resource.
In addition to the question of how to make a dating website, there is another one, no less important, namely - how to attract visitors to your resource.
We suggest to consider several ways to promote online dating websites:
SEO optimization

. This is one of the best ways to improve your site so that it is highly ranked by search engines. We do not advise you to indulge in optimization yourself, it is better to find professionals.

Link directories.

Some people consider this method obsolete, but it is still "right-to-life". Find a few online catalogs that fit your own Badoo resource, and publish a link to your site there. One of the advantages of this promotion method is the opportunity to save money because many directories are free to use.

Facebook.

This is a more modern and very effective way to advertise your resource. And you can take advantage of both the free promotion in the social network and paid advertising.
Contextual advertising on Google. It's quite an obvious way of promotion, but worth attention.
Of course, this is only part of the way to attract visitors to dating sites. The best thing is to hire marketing professionals who will develop for you a detailed PR campaign.
So, you have decided to start the online dating resource. What should you do first?
formulate clearly the tasks that the future

dating site software must solve.

identify the unique advantages that you will accentuate and

the dating niche that you plan to occupy. Decide on this issue before embarking on the process of on-the-scene website development.

study your competitors. Think about what you can surpass them and what competitive advantages you should offer. In extreme cases, if you do not have any unique ideas, try to surprise users with the design or presentation of the material. Impress and try to be memorable, but don't cut it too fat.

understand the needs of your target audience. It depends on

the dating niche you have chosen. Draw a portrait of a potential user and understand: what does this person expect? What features will fetch him?

choose a company which you authorize your

website creation. We've already given some advice on this matter, but we'll add a few more tips on what to consider when searching for a developer. So, take into account:

quality of the portfolio.

Be sure to review the projects presented in the portfolio in order to see if the developers of this company know how to make an online dating website;

team personnel.

If the company consists of 2-3 people, your cooperation is unlikely to be complete and mutually satisfactory.
If you are still looking for a good IT team, we would like to offer our services for dating website development. We meet all the said conditions and ask for reasonable prices.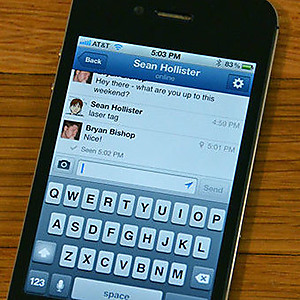 Apps for Communication
Mobile apps for communication are becoming more popular, so what to pay attention to when you make chat app (iOS chat app or Android chat app)?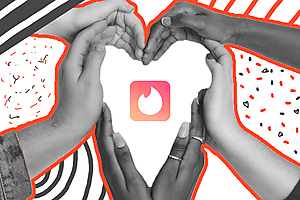 How to Make a Dating App Like Tinder: to Make People Happier
A dating app is, perhaps, one of the most romantic ways to make money. But is the whole idea so profitable as it seems at first glance? And if the answer is yes, how to make an app like Tinder? How much will it cost? Let's look at this issue in more detai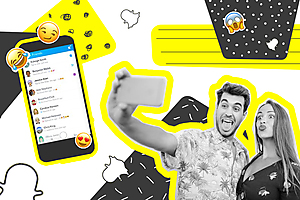 How to Make an App Like SnapChat
Interested in selfie filter apps? We know how to make an app like SnapChat. Contact us.