How to Make a Website like AliExpress?
According to the CBRE agency, the profitability of e-commerce platforms varies between 20% and 30%, while the same indicator for offline stores doesn't even reach 10%. And a striking example of online sales success is AliExpress. 
You've probably heard about this popular resource and used it to make purchases online. Did we get it right? Anyway, websites like AliExpress are in great demand today.
Aliexpress has existed since 2010, which is a significant period when it comes to online platforms. Naturally, over the years the company has experienced both ups and downs. Therefore, if you want to build a website like Aliexpress, you'll have enough information to analyze.
Are you willing to take a risk? Then you should use your best efforts to become better than your competitor. And why not? Anything is possible! If you follow our tips, you'll get a real chance to attract customers dissatisfied with the services of AliExpress.
Of course, you have to prepare properly and answer a number of questions. How Does AliExpress Work? What are its advantages? Which strategy is the most profitable?
Don't worry, we're ready to help you. Read our article and we'll explain to you how to create a website like Aliexpress, step by step.
What is Aliexpress?
AliExpress is one of the most popular B2C marketplaces (B2C stands for business to customer). It means Chinese businesses (and businessmen) sell their goods to customers from other countries.
What is so special about AliExpress?
AliExpress products are incredibly varied and include everything you can think of. What do you need? A new smartphone? Cosmetics? Most likely, you'll find the desired.

The company is Chinese, so it comes as no surprise that its headquarters are located in Hangzhou. And if you happened to be there, you would be pretty impressed. The office has a beautiful interior and offers a high level of comfort. It even includes relaxation areas, cafes, and a gym. So working at AliExpress is a sheer pleasure. And a happy and satisfied employee works better and harder. Take note of this if you are planning to start a similar business and create a B2C marketplace of your own.

The AliExpress company has pick-up points all over the world, which is a cool advantage too. 
Who is AliExpress for?
Aliexpress is geared towards the average European buyer, which is important because the Chinese consumer has different tastes. 
Still further, AliExpress continues to evolve to become intuitive and user-friendly, so its customer base keeps growing as well. More and more people are starting to trust the services of AliExpress.
Your Aliexpress clone website will have its own history, of course, but before you start creating it, let's find out what your predecessor had to face.
A Brief History of AliExpress
Aliexpress belongs to the Alibaba Group, which is headed by Jack Ma (he founded it in 1999). And this isn't the only digital product of the company, it also owns such resources as Alibaba.com and TaoBao.com.
Basically, Aliexpress was designed as a kind of "little brother" of Taobao (which we'll talk about in detail when we get to the discussion of the best alternative AliExpress platforms). Alibaba Group's goal was to provide an eCommerce solution aimed at the international market. 
The site went live in spring 2010. Initially, its owners spent little money on promoting their new product, so it gained popularity rather slowly (don't make the same mistake if you decide to build a website like Aliexpress). However, closer to 2013, the Alibaba Group changed its strategy: it improved the UI/UX of the resource, went into marketing, and offered stricter sales rules. The results weren't long in coming: the number of buyers began to grow month by month.
Today, the sales of AliExpress and Alibaba marketplaces account for at least 50% of the total online sales in China, which is quite impressive and inspires respect.
How Does AliExpress Work

?

At first glance, the principle of Aliexpress operation resembles the work of the usual online stores. However, there are some differences, and they're worth mentioning:
many product offers. To be precise, the buyer deals with numerous sellers and has the opportunity to compare products and their prices.

As we already mentioned, Aliexpress sellers are usually Chinese entrepreneurs, and not necessarily large organizations. Individuals are also allowed to sell using this website.

variety of assortment. It's not a problem to find almost any product on Aliexpress. The quality of the latter isn't always perfect, but that's another story.

long delivery process. Aliexpress buyers have to be patient to wait for the long-expected parcel. After all, it's sent from China itself, so the delivery takes up to 40 days. 
AliExpress pros:  
multilingual support (any marketplace like AliExpress should do the same);

focus on European buyers and their needs;

the ability to leave reviews in several languages and attach real product photos;

affordable pricing policy;

a wide range of payment methods;

the possibility of the direct delivery of goods.
AliExpress cons: 
AliExpress has its drawbacks, and you need to know them. Your task is to avoid the problems of AliExpress and come up with a solution to each of them.
Here's what we're talking about:
the inability to combine several products in one package (when ordering goods from different sellers);

the risk of receiving a product of poor quality, because you'll be able to check its condition only after opening the parcel;

the impossibility to sell goods using AliExpress if you are a foreigner (not a resident of China). Some find ways to get around such a limitation, though;

the difficulty of returning the goods, which sometimes becomes an insoluble problem;

a narrowed number of delivery options.
What is Your Benefit to Creating an

Aliexpress Clone Website?
No need for your own inventory of goods. You personally don't sell anything (unless you want to), you are just an intermediary. So stocking is unnecessary, which means cost savings.

Encouraging statistics. As recent research shows, an increasing number of people are shopping online (+ 20% annually). So creating your own B2C marketplace is a smart and timely move.

Trigger effect. If you attract early sellers and they manage to interest some buyers, you initiate a trigger effect. Then the word of mouth effect will work, resulting in the user base growing by itself.

Access to effective analytics. You get the opportunity to analyze user behavior on an ongoing basis and improve your platform to meet the most daring expectations of consumers and merchants.

The best target audience coverage when compared to offline sales.
Issues to Consider to

Build a Website like Aliexpress

It's highly unwise to create a 100% copy of AliExpress. If you do, you're unlikely to find any positive response in potential users. 

So just follow a few of our tips:
Make the resource special in something. Pick an interesting niche or add a couple of cool and unique features. Get creative to offer users something great and unusual and stand out from the competition.

Analyze the demand. Let's say you've come up with your niche. Before moving on to the next steps, make sure the selected type of marketplace will be in demand.

Get to know your target audience (figuratively speaking). Describe the buyers who would be using your website and the sellers who would be selling their products through it. What are you ready to propose to both parties?

Understand the legal background of the issue. To start your business, you'll probably have to issue some documents and obtain regulatory approvals. Figure it all out in advance.

Take care of monetizing your resource. There are many ways to make money using B2C marketplaces: advertising, transaction fees, premium listings, sponsorship programs, and so on.

Hire a development team. Do you know who to place in charge of the web development of the marketplace? It's high time to make your choice.

Find ways to attract sellers and buyers, such as:

take up the lead of other dropshipping websites (perhaps their strategy will work in your case too);

don't neglect social networks, they open up a lot of business opportunities;

create a landing page and advertise your future marketplace with its help;

find partners among famous people and start a joint marketing campaign.
Key Features of

Sites like AliExpress

Below is a list of the main features of AliExpress. They are aimed at performing the following important tasks:
the ability to securely and easily register and fill your account with personal information.

The entire sign up process largely depends on who the user is, a seller or a buyer;

advanced search with the possibility to indicate wishes for the product, whether it be color, size, brand, etc.;

access to the description of each product (which implies ratings and reviews too);

convenient ordering, including several payments and delivery options;

as to sellers, they should be able to add products, manage incoming orders, and perform other activities designed to sell products as comfortably as possible.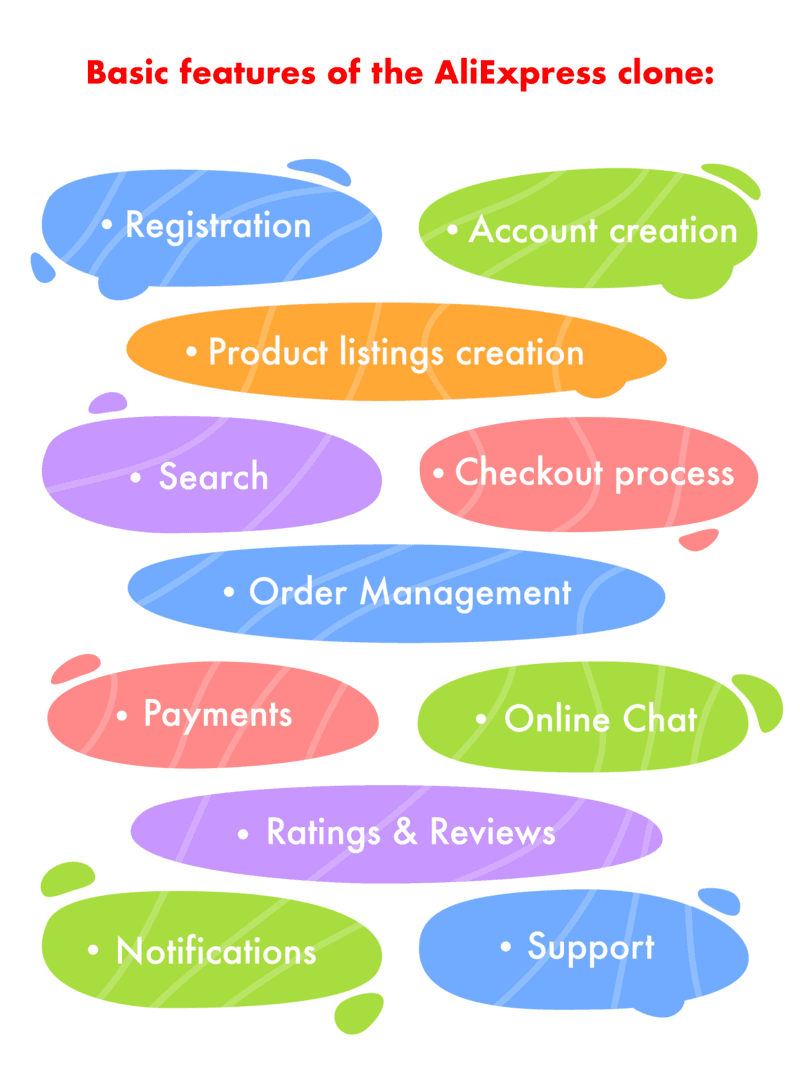 You can use the above list when creating your platform. By the way, it's time to discuss the development process at length.
How to Create a Website like Aliexpress

?

Before proceeding with the core part of the issue, analyze the following aspects:
Development approach. How do you plan to approach the development process, from scratch or using ready-made solutions? Which CMS for the marketplace do you want to choose? The questions are complex, and your developers will help you answer some of them;

Payment solution. It is best to provide users with a couple of payment options, so you increase the chances of attracting more buyers;

Site load and traffic. Keep in mind that your resource should work smoothly even under high loads;

Platform monetization. Monetization methods should also be introduced at the start of development.
You are now ready to build a website like Aliexpress, which means:
Idea refinement. You should analyze your idea and bring it into a usable form. Simply put, make a list of basic requirements, features, and so on.

A prototype of a future resource. You need to start simple. Ideally, create a prototype of your platform to visualize how it's going to work. This would allow you to see all the pros and cons of your idea and make the necessary adjustments.

MVP creation. When you've tested your idea and brought it to relative perfection, you can safely proceed to its initial implementation. Again, don't rush to develop all the features at once. Create a so-called MVP model with basic functionality. You'll have a chance to improve it later.

Improving the platform. Now you just have to constantly work to better your product. Analyze user behavior and make adjustments based on their wishes.
Technology stacks for

creating a marketplace

You cannot create B2C marketplaces without using the appropriate technology. There are different solutions, we suggest that you familiarize yourself with our list.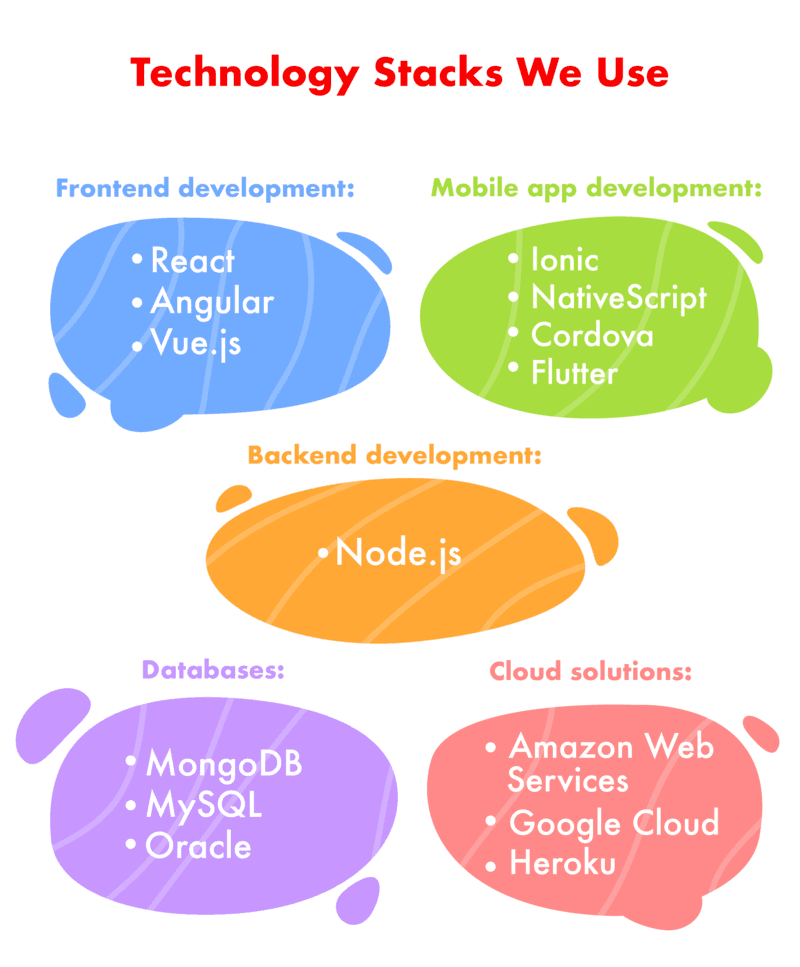 From our point of view (based on experience), it is this technological stack that will allow you to develop the desired platform quickly, efficiently, and without spending too much time and money.
BTW!
As you must understand, effective development is hardly enough to succeed. It is also necessary to make a website like Aliexpress popular, and therefore, you won't do without proper promotion. Therefore, the development price announced by your hired contractors should be at least doubled.
Cool

AliExpress Alternatives
Taobao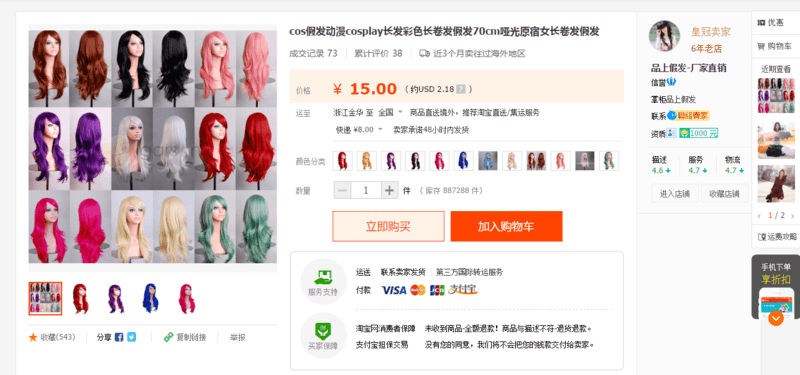 Taobao and Aliexpress are owned by the same Alibaba Group (which we mentioned at the beginning of our article).
Taobao's main difference is that it targets the Chinese market. So people from other countries have to deal with intermediaries. It's about a very popular dropshipping model. Perhaps you know what it involves, but we'll briefly describe the whole scheme anyway (just in case). After all, if you want to know how to create a website like Aliexpress or Taobao, you must get to the heart of the matter.
So, dropshipping means that the consumer purchases the product through an intermediary (a dropshipper). The supplier company sends the goods to the address provided by the dropshipper (who is the assistant in the delivery process, working for a percentage of the transaction).
What is Taobao?
Taobao offers a huge variety of products for sale (there are even more of them than on Aliexpress). And the main peculiarity is their low price. However, foreign buyers have to put up with some additional costs, such as:
dropshipping services;

shipping cost to the buyer's country.
As a result, the product price increases by at least 20%. Websites like AliExpress and Taobao are often guilty of such unforeseen expenses.
BTW!
Since Taobao is targeting the local market (i.e. Chinese), sellers pay special attention to the quality of their goods (a matter of honor, so to speak! They don't want to be caught cheating).
With Aliexpress, it's a completely different story: sellers aren't so worried about the goods offered to the purchaser; they understand that a foreign customer won't be able to check its quality as easily as a Chinese one.
That's a clear oversight by Aliexpress, which is bad for its reputation. Make sure your Aliexpress clone website doesn't have the same flaw.
Taobao pros:
the widest range of goods;

extremely low prices (even taking into account additional costs);

loyal sellers who are ready to advise and help;  

the ability to manage the delivery time;

the opportunity to find original branded items at low prices. 
Taobao cons:
the inability to find a product, which meets European standards (since it is focused on the Chinese buyer);

Although recently a lot of Chinese sellers are offering goods according to international standards;

interface in Chinese. As you understand, this is also a big disadvantage of the company;

difficulties with the delivery of goods, so the help of dropshipping companies is required.
DHGate
Unlike AliExpress, which is one of the B2C marketplaces, DHGate.com is based on a B2B (business to business) model and focused on large wholesale.
Briefly about history
DHGate began operating in the early 21st century (circa 2004). Its creator is a Chinese businesswoman named Diana Wang. By that time, she had proven herself excellently in management positions in many companies.
She implemented the gained experience in a new digital product (DHGate.com). It quickly acquired popularity among small and medium-sized businesses whose representatives appreciated all its cool benefits in no time. 
Bottom line: if you want to make a website like Aliexpress and DHGate.com in demand, don't forget about competent marketing. It was the promotion techniques that helped Diana Wang to take her platform to the market leader.
What is DHGate today?
To date, the site has more than 600,000 registered suppliers who sell various goods to buyers from 200+ countries around the world.
The product range is also impressive and offers over 20 million items. Here you can order everything from clothing and baby products to digital technology.
DHGate.com pros:
a huge collection of products, including innovative ones from China;

low prices;

the possibility to avoid dropshipping, at least, in most cases. There are exceptions, but usually, DHGate suppliers send goods all over the world without any problems;

the possibility of online communication with the seller (using the chat feature);

a detailed description of each item, including its rating and customer reviews;

full information about suppliers;

convenient search system;

the ability to track the status of the order;

refund in case of violation of the terms of the transaction.
Any successful marketplace like AliExpress or DHGate.com should have similar benefits. Also, it would be smart of you to do your utmost to avoid the mistakes your competitors made. Let's discuss some of them, okay?
DHGate.com cons:
the difficulty of product quality control;

sometimes paid delivery (it all depends on the conditions offered by a particular supplier);

too long delivery process (although not always).
Haven't changed your mind about creating an Aliexpress clone website yet? Then let's move on! We have to describe one more potential competitor of yours.
Banggood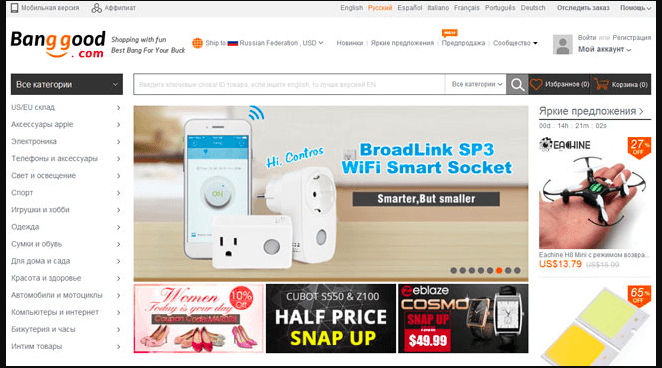 Banggood is another example of great AliExpress dropshipping alternatives. It is ranked 3.793 among the most visited sites in the world (according to Alexa). Undoubtedly, it is China's largest eCommerce portal.
Banggood started operating at the same time as DHGate.com did, namely, in 2004. It is less popular than AliExpress, but it also deserves attention. 
To begin with, customers are offered the widest and most varied selection of goods. There is literally everything China produces. And the prices are very affordable (they're among the lowest on the Internet).
How to use Banggood?
Websites like AliExpress, Taobao DHGate.com, and Banggood are similar in use. The scheme of customer actions is as simple as follows:
the buyer can only be a registered user who has indicated his personal data and delivery address. It's really easy, right?

after successful authorization, you just start looking for the desired product and study each option found;

now you can add the items you want to buy to the cart;

when placing an order, you may change its details, choose a delivery method, and even add paid insurance. What's more, Banggood offers the option to postpone a purchase until later.
Like all B2C marketplaces, Banggood has its pros and cons. Let's discuss the main ones, okay?
Banggood pros:
the diversified assortment, which we've already mentioned above. Banggood provides access to digital products, clothing and footwear, household goods, etc;

relatively low prices, which can also be considered an advantage of the platform;

convenient payment methods, and you may choose the one that suits you most;

reliable packaging, which is important for fragile goods;

user-friendly interface: it is intuitive and easy to use;

the Banggood Points feature: points awarded when the user performs certain actions (purchasing a product, reviewing a certain item, etc.). The accumulated points can be used to get a discount. 
Banggood cons:
Banggood has the same disadvantages as the above online platforms. That is, you need to accept such unpleasant things as the long delivery process, the inability to check the quality of goods beforehand, and other problems. In addition, the site is often very overloaded and therefore slow to work with.
How to

Make a Website like Aliexpress Perfect?

Surely, one can always do better, and only the sky's the limit, so to say. But we're allowed to try to achieve excellence, right? So let's do our best, shall we?
AI-powered personalization. You may not be able to implement artificial intelligence early on, but leave such a possibility for the future. Trust us, the costs will fully pay off: users would be thrilled to receive personalized offers. The number of purchases is going to grow significantly, which will lead to an increase in your earnings too (we mean the commission from the transactions made).

Chatbots. They, too, are AI-powered, and their job is to improve customer service. Chatbots work around the clock and are ready to help users at any time of the day. 

Multilingual support. Are you aware that AliExpress owners know several languages, including English? And if you want to become its lucky rival, offer multilingual support too. 

Wide range of choice. People love to have a choice, and the wider and more diverse it is, the better. So provide users with different payment options and shipping methods. This is likely to increase your chances of success.

The right set of development tools. You can use ready-made templates to create B2C marketplaces, but the result is unlikely to satisfy you. Only experienced specialists know which solutions won't deprive your resource of flexibility or limit its functionality. And speaking of experienced specialists...

Cautious team selection. Be smart when choosing your developers. After all, you can save a lot and hire a single expert to perform all stages of work, from market analysis to testing and promotion, but he won't be able to create a top-level product. Only a team of diverse specialists (each with relevant specialized experience) would bring your idea to life properly.

Acting gradually. Start small, one step at a time, okay? Wanting to get everything at once, you run the risk of not implementing the basic features.
Rate this article
16 ratings, average 4.81 of out 5