Main Points of Grocery Shopping App Development
These days our world is moving pretty rapidly, so people are striving to find specific solutions able to take care of certain day-to-day stuff, allowing us some spare time to deal with more important things. Do you consider household chores to be rather tense and hectic? Then, you'll enjoy today's sophisticated technologies which could help you out.
Speaking specifically about grocery shopping apps, individuals prefer to take advantage of them quite often. The thing is the features of grocery shopping list apps are highly appreciated by the audience since they allow drawing up lists to go food shopping, ordering grocery suppliers online, delivering foodstuff wherever required, in case a person can't pick it up at the grocery store, and much more. As you see, the owners of grocery shopping apps significantly facilitate the lives of their users in many different ways.
No wonder those services are so popular. Statistics say 79% of buyers apply their cell phones when shopping. In 2018 during holidays 39% of all e-commerce purchases were conducted by means of cell phones. 80% of customers apply mobile devices being in the stores, checking item reviews, comparing prices, and seeking other stores close by. Nowadays there are around 10 billion active mobile-connected gadgets.
So, do you have any doubts about if it makes any sense to build a grocery shopping app to manage the grocery business you run? Well, we would say, it's a resounding yes, so our task today is to figure out what it takes to come up with a new grocery shopping app to succeed.
Types of Grocery List Apps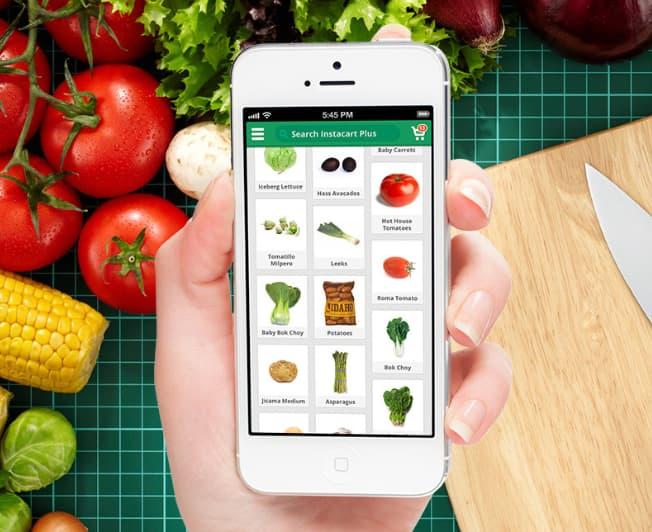 Can't wait to move towards the details on grocery app development? To maximize your project's chance of success, the primary task is to decide what exactly you are about to create. The classification you'll find below should definitely facilitate the overall process helping you define the type of grocery app you'd like to design. Let's puzzle out what options entrepreneurs usually have.
Variety of

grocery mobile applications

To distinguish the subsets of online grocery apps we need to look at the issue from the business logic point of view. Thus, there are the below-mentioned types.

# Grocery chain solutions

Walmart is a bright representative of grocery businesses. It expresses some care to its customers offering them special practical on-demand delivery arrangements. It's quite convenient, isn't it?

# Aggregating apps

Mentioned services are to provide users with generated lists of useful groceries in the area. Customers are happy to select any supermarket from a list of groceries. They only have to choose the items they need from the store product selection via a specific mobile application of a particular grocery. The amount doesn't matter. After carrying out the paying part - by the by, multiple options are appreciated - customers only have to wait to receive confirmation of their orders from the store.

After obtaining the corresponding notification, a grocery shoppers application lets the audience follow up the progress of their orders till they get it at the specified address. Remember! All responsibility rests with a particular food store since grocery shopping list apps only present a specific shop and its relevant data on their pages.

# Systems for marketplaces

The given type of grocery shopping delivery apps turns out to be pretty convenient as well. It works when a marketplace has the delivery staff to get ordered items to customers' place. Users only have to be informed on what could be delivered over a certain period of time available.

# Specific facility grocery delivering app

When you own a specific facility, one day you might see the need to realize grocery app development. Meaning, you surely have to manage various stages of mobile shopping, say, ensuring your app's proper operation, updating your online menus, dealing with in-app and in-store purchases, etc. A little bit later we'll talk about what features would be a must-have to develop an app for groceries.

As you surely realize, in such cases, owners' commissions entirely depend on the quality of specific food store business and the shoppers' list application itself.

Alternatively, if we take into consideration the interaction logic, there'll be another classification of grocery app solutions. Here it is.
Other categories of 

grocery shopping delivery apps

Top grocery shopping apps manage to engage a broad loyal clientele due to the fact those platforms provide assistance with multiple issues. While working on your system, you could choose from the below options:
Price comparison platforms;

Grocery discount software;

Food delivery systems;

Shopping list programs.
How amazing it'll be if you bring together all given platforms' possibilities in your own foodstuff program? Feel excited? Then, we discuss the greatest current applications for online shoppers, as you have to know the big sharks in your area.
Best applications for grocery shoppers
If you're curious about how to make your online service successful, the practices of front runners are your guiding star. Those full-featured programs shall give you specific ideas on what to measure up against on your way. We're to check the brightest representatives.
Flipp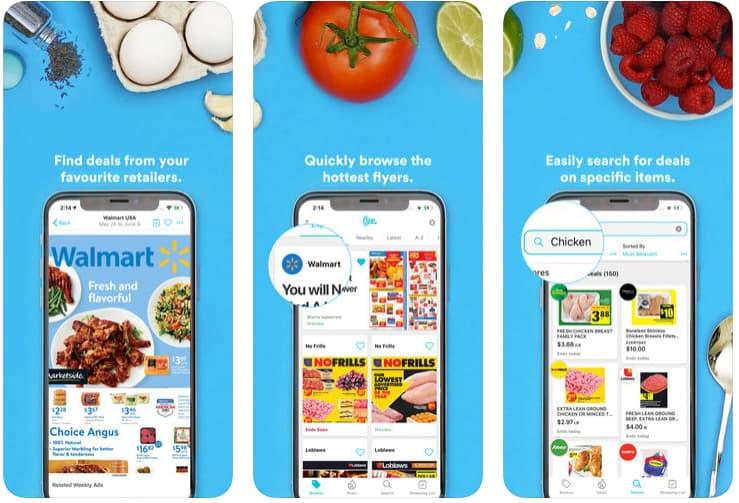 The presented program is considered to be among the most popular grocery shopping apps. It's the only software which is able to match users' coupons of multiple brands with the circular of local supermarkets. Tis service was designed to help shoppers save a few bob. Every week it provides lots of useful information and updates from multiple retailers.
Flipp helps with finding certain stores or brands easily and fastly. Its notification service is a great tool to inform users of ongoing offers and expiring clippings. Mentioned grocery mobile application provides info on each item, so buyers only have to tap and hold the needed product to see further particulars on it. The given grocery shopping app runs on all OS.
MealBoard
That would be another grocery shopping list app you should be aware of. MealBoard assists its audience with multiple activities, from dealing with the recipes to tracing what supplies consumers still have.
So, MealBoard is to keep the recipes users prepare their dishes with, plan their menus, generate relevant lists to shop in the future, synch between various applicable devices, etc. By the by, the mentioned grocery shopping delivery app has a web version. MealBoard is universal and suited to iPhone and Android systems.
GroceryPal
Typically, all customers are seeking a top grocery shoppers app to get the best deals ever. GroceryPal is one of the leading services offering users what they need. It grants access to check out all ongoing sell-offs and offers at customers' favorite stores, including non-grocery places, like, Target. GroceryPal online service offers the audience simple means to put on-sale products on the list.
GroceryPal explores all actual sell-offs at various facilities nearby. The owners of Android and iOS devices should be happy to hear tis application could be successfully applied on their gadgets. You should take a closer look at the presented platform to learn from their experience and develop a grocery shopping app of your own.
The Walmart App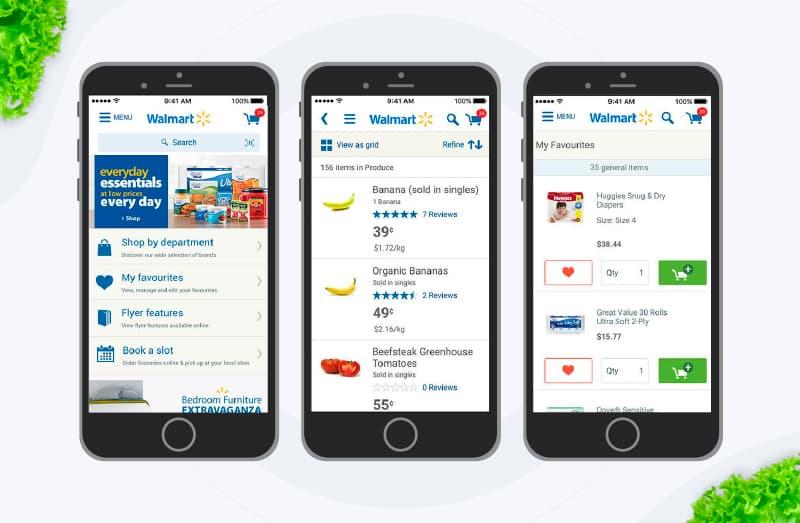 The next grocery app we're going to review is providing the audience with multiple useful tools. After having ordered the goods online and after having been notified confirming the order's ready, people should simply pick up the items from the shop.
One more great thing about the given solution is Walmart Pay which allows effecting the payments while scanning the barcode. Its great re-ordering system serves to obtain your favorite product with a single touch.
The mobile application for groceries assists with getting items fast, checking the pricing, creating supplies lists, getting information on stores, etc. Mentioned program grants special express pharmacy solutions, simplifying the shopping process. You may even send money to more than 200 countries by means of the application in question.
Given solution fits iPhone operating system, as well as Android smartphones.
GroceryIQ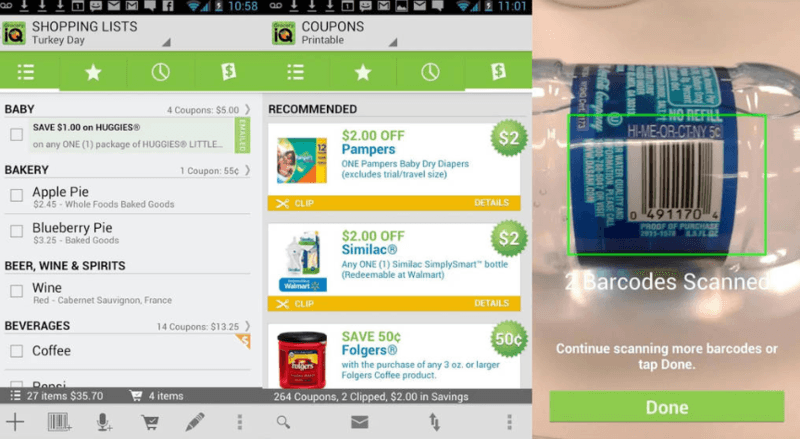 Owners of this one of the best grocery shopping apps have added "IQ" not without reason. GroceryIQ was designed so the audience could make their purchases in a smart way. Given in-demand e-commerce platform includes multiple useful functionalities, and barcode recognition is one of them. Users need easily apply their cell phone cameras to scan a specific item, and if you take a picture while being in the application, you simply include the commodity into your list to purchase in future.
One more great possibility of mentioned grocery mobile application is automatic suggestions, meaning, if you begin entering the name of a product you need, GroceryIQ shall provide you with the list of available items. Customers could find out items' specifics, like, quantity, price, and others. GroceryIQ automatically organizes all goods to simplify navigation.
Coupons might be printed and emailed immediately from given popular grocery shopping app. You may email the lists, and all applicable gadgets synch and keep them relevant. The solution fits Android and iOS devices.
Buy Me a Pie!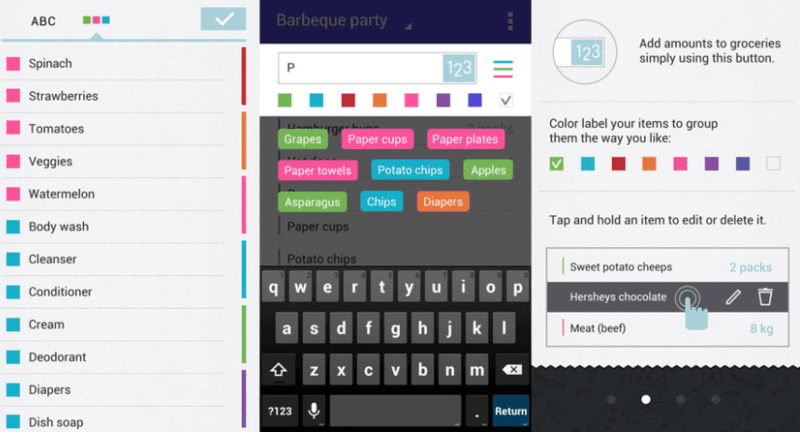 When creating a grocery delivery service of your own, it makes sense to check Buy Me a Pie!. It's designed so people make purchases easily and quickly. Among grocery app features, you'll find the ability to organize the list as per grocery store aisles. Therefore, you'll never have to go back to take items to need. Users appreciate mentioned functionality so much!
The service's owners want users to apply their cell phones to enjoy shopping list pros to the most. Given online grocery program goes along with various gadgets, thus, the audience could benefit from a convenient full-screen format to organize their shopping lists effectively.
Buy Me a Pie! also allows users to share accounts with mates and relatives, and no matter who uses what device since all data gets synched in an automatic way.
Like all previous impressive grocery shopping apps, Buy Me a Pie! fits Android & iOS operation systems.
And now it's the very right moment to enumerate the most critical grocery app features every dedicated solution is to deliver.
Features to Consider during

Grocery App Development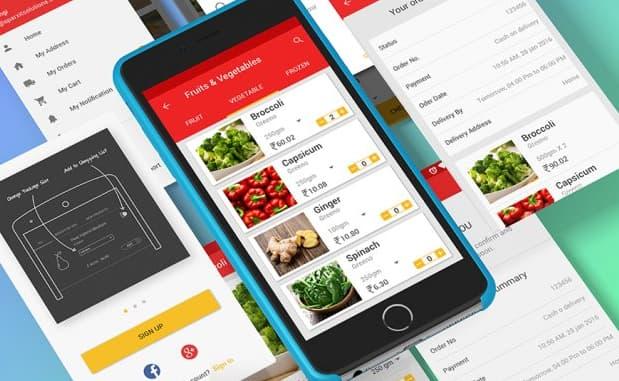 Let's specify the basic features which users expect from such kind of solutions. The audience needs them to get access to your new grocery shopping app, select the vendor, order foodstuff, as well as carry out the payment part. You don't have to limit yourself by implementing solely the below-mentioned parameters, so you might decide to provide your clients with other options, as long as you're sure people need those tools.
Profile Creation
After users find and download your grocery delivery app, they'll have to create an account. Given operation is truly mandatory since without personal profiles people won't manage to make and trace the orders, effect payments, etc.
Tis very feature is so customers could provide all the required info, as well as customize the platform to their liking. By the way, you as a business owner might want to use given data to offer more personalized service to your audience, say, sending individualized notifications, special deals, and the like.
When you develop an app for groceries, you're to show some care to your clients, so the option to get registered via popular social media is definitely appreciated.
Search Engine
Here's another critical feature to implement during grocery delivery app development. People require convenient search and filter instruments to quickly find specific products or nearest food stores. To make it possible you arrange all the items by titles, location, kind, preferences, etc.
Smart lists allow individuals to effortlessly find food they need and order it promptly. Each person should be able to look through the list of your grocery delivery application, choose the nearest vendor, and make an order.
Delivery Scheduling
To ensure greater users' experience people need a possibility to schedule deliveries for a specific day and time. We expect foodstuff to be fresh, but it might happen people can't go shopping by themselves, so having mentioned feature your online grocery app allows users to get fruits and vegetables be delivered at the most appropriate time.
Payment
After an order has been placed, it's the right time to think of payment options. Grocery app development implies the necessity to implement online payment tools. The integration with different dedicated solutions facilitates users' tasks, and every person is able to choose what option to go for, say, debit or credit card, cash upon delivery, Stripe or PayPal, etc.
Another point here is to ensure security at the highest possible level. People enter their cards' details, and such sensitive data must be properly secured.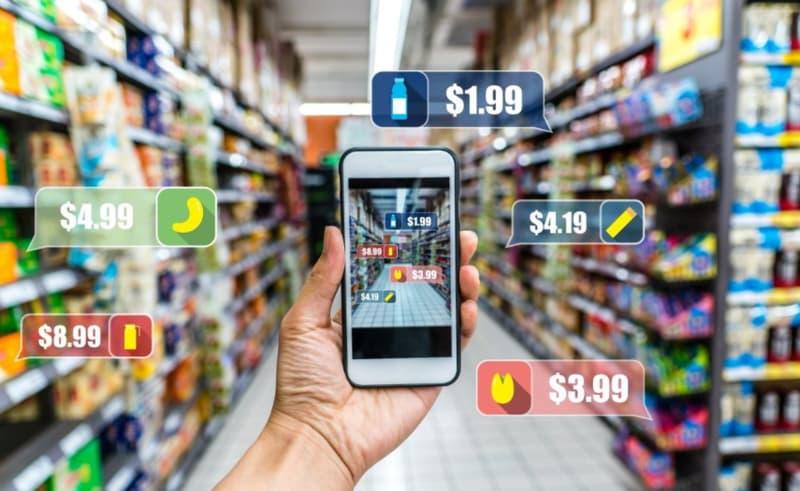 Order Tracking
To become one of the top grocery shopping apps your solution has to earn the trust of people. Some orders could be late or, on the contrary, get delivered earlier, thus, each user needs tools to track order status to keep fingers on the pulse. Firstly, it helps people calmly await their orders to get delivered, secondly, experience has shown this also allows orders to come on time.
Order Canceling
Recent research has proven users aren't really eager to apply grocery delivery applications, in case they don't allow canceling placed orders. If your service provides the presented option, your people shall trust you more. So, no wonder why given parameter is on the list of essential features of a grocery shopping list app.
Ratings & Reviews
By installing given option into your grocery shopping app your audience would be able to leave their feedback on services provided by particular food stores. The rating usually helps users choose reliable facilities to ensure favorable shopping experience. If individuals have a chance to choose the best vendors, you'll manage to gain their trust.
Notifications
The mentioned feature represents an excellent tool to inform the audience about ongoing and upcoming events and deals you offer to the users of your grocery delivery app. The tricky part here is to strike a balance and not irritate people with multiple notifications every single day. It's important to provide means so clients could manage the frequency or even an option to reject notifications completely.
24/7 Support
All best grocery shopping apps provide around-the-clock assistance, which is actually a real must these days. Clearly, in case you're planning to join the rank of top platforms, you're to ensure the given feature as well. Users might need help even in the process of product picking. In the best-case scenario, you're to offer multiple options, like, emailing, online chatting, calling, etc. Feel free to take advantage of chatbots to ensure 24-hour-a-day support.
In order to develop an app for grocery business and keep it in demand, only basic features won't be enough. Your resource must be convenient, unique, and distinctive. So, let's figure out what extra features assist you thereon.
Special Features for Your

Grocery Shopping List App

What parameters help a grocery delivery app win the audience's hearts? Let's distinguish the most valuable ones.
# Repetitive Ordering
As a rule, the majority of users have more or less the same shopping list every time they want to restock the supplies. Why not simplify the process of placing, delivering, and checking out orders? Therefore, a new grocery shopping app of yours should have order history. By introducing mentioned options, you'll manage to build a user-friendly online grocery shopping app, able to facilitate and better online shopping, making it nice and easy.
# Wishlist
Sometimes users prefer to make a shopping list to a later date, thus, it would be pretty convenient to create a so-called wishlist for future grocery shopping. If you decide to implement the mentioned feature while creating a grocery delivery service, you'll increase your chances of success.
Moreover, there could be multiple wishlists, so each of them needs a name. If you can, you should ensure those lists get generated automatically. Say, when a person mentions a B-day party, a platform puts Birthday decorations on the list, or after providing a recipe link, a service enumerates all the ingredients required to cook the chosen dish.
# Convenient Organizer
You could develop an app for groceries capable of grouping the items by categories, like, dairy stuff, seafood, fruits, and the like. By means of it, you'll definitely grow your grocery business.
# Premium Model
This very parameter serves to increase users' engagement and reinforce the loyalty of people who have chosen your grocery app. Whatever segment we're talking about, including, grocery delivery app development, regular purchasers would appreciate special treats from your side. Each person would love to feel like a VIP, and it's in your power to make your clientele feel this way.
# Speech Recognizing
Did you know people aren't fond of typing anymore? They'd rather just talk. Owing to things as voice recognition, users could enjoy grocery delivery applications with no need to type. You simply dictate the list of what is missing, and the resource takes the notes.
# Nutrition Details
Nowadays, people care about what they eat and how it affects their health. If your online grocery app is able to provide healthy nutrition specifics, you'll support your audience in leading a healthy lifestyle.
# Price comparing
Have you considered setting up a grocery shopping delivery app to be able to carry out a cross-reference comparison of local shops' prices? People would love to check some kind of chart results to see the most optimal option. Meaning, individuals could save their time and shop to their best advantage.
# Product Comparing
This feature somehow reminds the one mentioned above, but still, there's a difference between them. When product comparing tools are implemented, a grocery mobile application is undertaking research to check what items are available in the nearest stores. As a result, the audience sees what is where to make mobile shopping effective.
When creating a grocery delivery service, the above-mentioned functionality has to be carefully thought through so your business prospers.
Summary
The prosperity of a company is always characterized by a mobile application presence (or absence), in our case, we're talking about a grocery mobile application. Designing a decent grocery shopping delivery app is the right strategy to succeed. Just keep in mind experts predict each year there'll be more and more people preferring online purchases, so there'll be a demand on dedicated solutions.
Do you own a traditional grocery store? Get in touch with Agilie, and let us realize a grocery delivery app development project to grow your business.
Rate this article
15 ratings, average 4.80 of out 5