12 Features Every E-commerce Website Should Care About
An increasing number of web stores appear on the Internet year by year: some of them are brand-new and the others come online from physical shopping centers. Surely, each resource does its best to look different and attract as many clients as possible. The task is anything but easy, and therefore we decided to remind you of the must-have features of every e-commerce website willing to succeed.
But let's start with the basics, though. It's better to make sure we're on the same page and understand each other.
Why Do You Need an E-commerce Website?
If you have a physical store without its online equivalent, you're clearly left trailing far behind your competitors. It's time to amend the situation!
Not convinced yet? Then take a closer look at the main advantages of the e-commerce tools:
best sales. An online store will attract many new customers and thereby increase sales. The thing is, some people prefer to order products online, so you're unlikely to become a worthy competitor if you don't provide clients with a convenient web or mobile platform;

saving. You can completely do without a sales area and confine yourself to an online platform, delivering goods to customers with the help of special services. So you'll save on renting premises;

additional advertising. An online resource can be promoted in many ways, not the least of which is website optimization (by the by, we'll discuss the optimization issue shortly).
And in a pandemic, having an online store is just a necessity and a natural condition for survival.
Top eCommerce Website Features
Well, it's finally time to discuss the must-have features of every e-commerce website. We've prepared a detailed guide and hope it's going to be useful.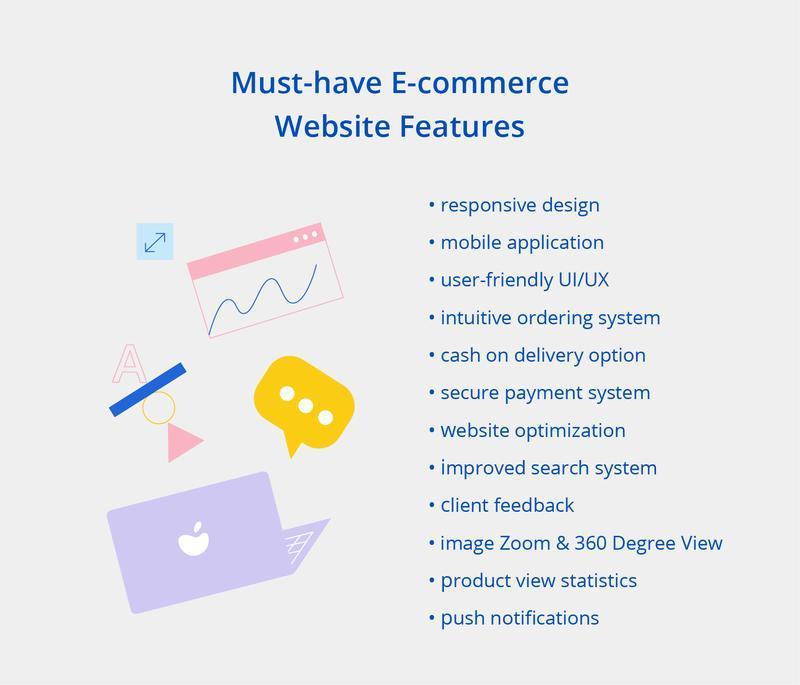 #1. Responsive Design
Internet users haven't stuck to their PCs anymore, they're taking advantage of the widest variety of mobile devices to stay connected 24/7 anywhere in the world. So if you want to increase your site audience, you should consider the RWD of your site — in such a way it would be available to more potential clients. 
Besides, Google search has changed its algorithm recently and now responsive resources are given preference when downloaded on mobile devices. So mobile-friendly e-commerce websites have a better chance to attract new customers.
#2. Mobile Application
A website is good, but it'll be even better to strengthen your position with a mobile application. It'd allow your customers to quickly and easily view products and information about them by simply touching the screen and selecting any item they'd like to see. 
Undoubtedly, the 24/7 mobile app availability makes it one of the most effective e-commerce tools.
#3. User-friendly UI/UX
Nothing can increase sales through your site more than its perfect design. The more attractive it is, the more it influences the sales conversion. 
When we talk about quality UI/UX, we mean the following:
The correct color scheme to match the company's corporate identity and your type of business; 

A clear and intuitive interface that doesn't force the user to take unnecessary steps to perform the target action;

Modern design in line with the latest mobile and web trends.
As you understand now, by making a user-friendly appealing site, you attract a lot of new clients.
#4. Intuitive Ordering System
Also, your e-commerce website must have a clear and easy-to-use ordering system. The customer shouldn't face any problems when buying the product he needs.
What should be foreseen when creating an ordering system in the first place?
the ability to change the order. Supposing a user wants to add or remove an item from the list of potential purchases at the last moment!

maximum simplicity. The fewer steps one needs to take to complete an order, the better;

the opportunity to track the execution of the order.
#5.

Website Optimization 

Also, don't forget about SEO tools to ensure proper website optimization.

We all constantly use search engines to find the information we need, get a link to an interesting resource, etc. Therefore you, as a business owner, have to be sure your site will be among the top 10 search results. So if you want to build traffic and raise sales accordingly, take care of due website optimization. 

Check your platform thoroughly and pay special attention to such characteristics as keywords, filling the pages with compelling information, and others.
#6. Secure Payment System
Of course, among the top eCommerce website features is also a well-protected, proven payment system.
Why is it important?
The fact is, before making a purchase, a client needs to be sure of payment security. Keeping in mind that account data might be stolen while paying online, many people avoid such risk-taking. It means your task is to integrate a reliable payment system into your website and ensure its security.
What is a trustworthy payment system?
Minimum steps for making a payment;

Verification of a transaction in several ways and in several steps;

Transparency of actions (namely, the user must be aware of the current stage of the transaction).
Okay, what else is inherent in mobile-friendly e-commerce websites?
#7. Cash on Delivery Option
Most customers find it safer to pay by cash. Moreover, they prefer to do it after a purchase has been handed over (so that they can make sure it doesn't have any defects and entirely corresponds to the order). 
That's why it is important to integrate a COD option into your site and thus please customers.
#8 Improved Search System
And, of course, any e-commerce website must have a good and reliable search system. Your online store cannot do without such a feature!
What is an ideal search engine?
intuitiveness: once again, we're talking about ease of use;

high speed of work. If the site is slow and the user has to wait a long time to get the search results, there is a chance of him leaving the resource and going to competitors;

filter and sorting systems. Surely, the buyer should be able to clarify his preferences regarding the product he is interested in (color, price range, brand, etc.);

the ability to compare products and find the best option.
So, we've already discussed a lot of cool eCommerce website features... but that's not all. We have a couple more tips to share with you.
#9. Client Feedback
Word-of-mouth is a great marketing tool whose effectiveness is based on other people's opinions about goods or services. It can definitely be a decisive factor to convince the client to make a purchase or, on the contrary, leave the resource. 
Reviews can be not only positive but also negative (of course!), and both types of feedback benefit the owner of the resource: 
Good feedback. Everything is quite clear, isn't it? After reading positive feedback about a product or service provided, the consumer will readily place an order. So don't be too shy and display your positive customer feedback to make your website look trustworthy and increase the users' buying desire.

Negative feedback. Bad reviews are upsetting, but they should be used as a guide to action. Analyze your mistakes and try to correct the situation if something went wrong.
So, as you can see, any feedback is an e-commerce website must-have feature. Don't neglect the opportunity to improve your online store.
#10. Image Zoom & 360 Degree View
A visitor will have a desire to buy an item on your site only after its thorough viewing from all the sides and angles, and it would be even better to watch a high-quality video. Let your clients look at the products more clearly and closely, and they'll feel eager to make a purchase.
#11. Statistics & Analytics
Let's say you've created an easy-to-use online store. And everything is going well, sales are growing... for the time being. If you do nothing, your success is going to be short-lived.
The secret of market leaders lies in their ability to adjust and improve their business strategy. To keep up with them, add analytics and statistics e-commerce tools to study user behavior and act accordingly.
#12. Push Notifications
Our list of top eCommerce website features ends with such an option as push notifications. They serve to inform your consumers about anything that may interest them, including:
change of order status (new, in processing, packed, in delivery, completed);

accrual of bonuses or discounts;

new loyalty program;

the appearance of the product from the user's wishlist;

a reminder of an abandoned shopping cart;

updating the assortment;

and so on.
Follow these simple but essential clues and your site will become a competitive online platform. And if needed, Agilie team is always ready to help you create one of the best mobile-friendly e-commerce websites. We'll take into account all your wishes and peculiarities of your business.
Rate this article
15 ratings, average 4.80 of out 5