How to Create an All-in-one Wedding Website Like Zola
A wedding is a spectacular event full of bright emotions. This day should become one of the most unforgettable in the engaged couple's life. Both the newlyweds and their guests must memorize it forever (in the best sense of the word). That's why the bride and groom spare no trouble to gain the perfect result and organize a great celebration.
Of course, the process of wedding planning requires a lot of effort and takes oodles of time. It's very easy to miss something important and ruin the whole thing... to avoid such an undesirable outcome, the plighted twosome has to be smart enough to request professional assistance.  
Previously, people resorted to specialized agencies, but today it's much wiser to make use of modern online and mobile resources... for instance, Zola, which definitely belongs among the top wedding websites.  Zola not only helps the fiancé and fiancée to join their lives together but also serves as a source of profit for its owners.
Do you want to emulate Zola's success? Then our article will come in handy! Read it to find out what turned Zola into a popular and profitable wedding startup.
Why

the wedding industry goes online

According to TripSavvy, at least 2.4 million weddings are being held annually in the United States. Moreover, the wedding registry industry is valued at $100 billion (again, in the US alone). 

Impressive, right? If you want more wedding stats, here's another interesting fact: almost 85% of wedding planning is being performed through online resources. That's what explains the demand for startups like Zola.
Benefits of online

wedding planners:
Convenience. We're used to relying on online resources for everything, and the wedding planning process is no exception to the rule.

Time-saving. A betrothed pair doesn't need to go anywhere to organize a wedding ceremony; most services are available online (meaning, you're welcome to order them remotely). And guests can also avoid tedious shopping thanks to online boutiques offering presents for every taste.

More possibilities. And finally, any wedding budget planner (because Zola helps to plan the budget as well) provides its users with far more opportunities than a regular agency is able to (employees of a regular agency are unlikely to go to buy gifts instead of your friends, and startups like Zola would do just that!).
What is a Zola

wedding website?

As we said, Zola is one of the best wedding planning resources. Let's discuss its story in more detail.
The story behind Zola
The story of Zola began a few years ago in 2013 in New York City. Its creators are Nobu Nakaguchi and Shan-Lyn Ma.
Initially, this wedding startup provided only fairly simple services (mainly oriented to help guests in choosing and buying presents). However,  the platform's functionality had been expanding step by step, and new Zola's features were added (we'll describe them in the due course).
In general, the e-commerce wedding registry site turned out to be a successful resource and managed to attract more than $140 million (also, it was estimated at $650 million).
What is Zola today?
Today Zola is completely focused on making the wedding preparation process as simple and enjoyable as possible. Among the features are the formation of gift registers, sending out invitations, assistance in managing the guest list, and the like. Moreover, there is even the possibility of creating a wedding website that will promote the exciting event of a particular couple.
How

Zola makes money

How do popular wedding websites earn? There are many ways, of course, but since we're exploring the Zola platform, it'd be smart to focus on analyzing precisely its monetization model.
Online store. First of all, the owners of Zola keep up to 40% of the profit when the user makes a purchase through its platform (say, the newlyweds buying something for a future home or their friends choosing a special gift). Moreover, the company has less overhead since it has no need to store goods (it receives them from affiliate brands right away).

Order services. A similar situation occurs when ordering services on the site, only here we're talking about a 20% commission.

Cash request. If the bride and groom want to receive cash as a gift, they should be prepared to pay a commission (about 2.5%). However, this extra money, the so-called fee, can be paid by guests (gift presenters).

Honeymoon. Zola makes money even after the wedding ceremony: though, only on the condition that the newlyweds have used the Honeymoon Planning service (which we'll discuss later).
Key

Zola's features

What functionality should your resource provide users with to get a chance to join the best wedding websites? Let's consider the issue by taking Zola's features as an example.
User account & Registry
As we've repeatedly told you, it all begins with the creation of an account (and it doesn't really matter what type of platform we're dealing with). However, in the case of Zola, everything is a little different.
The fact is that Zola offers new users to start with a small questionnaire (just click on Register With Zola) and answer a few simple questions. The answers received help the company draw up a portrait of the soon-to-be-wed couple and analyze how to make the special day of these newlyweds a completely unforgettable event.
Zola asks such questions as the name and surname of the future spouses, the planned wedding date, the approximate number of guests, gift preferences, and so on. Zola also wonders if the bride and groom had time to register in other stores. And if the answer is no, then the company assures the loving pair that Zola resource would provide them with anything they need (if you remember, this is how Zola makes money, at least, that's one of the ways).
When the questionnaire ends, Zola advises the bride and groom to create a new user account, which will store all the information about their preferences. Such data can help Zola give the betrothed pair a great wedding experience.
So, to summarize: by making a registry with Zola, users get the opportunity to simplify the wedding planning process and even make it enjoyable.
Gift lists
What comes to your mind when someone mentions a wedding? You probably imagine a white bride's dress, a weightless veil, elegant guests... and, of course, presents, a lot of them!
But how to guess what to give to the newlyweds? Where to find the perfect present? The easiest way is to resort to the help of the best wedding registry websites… such as Zola we're talking about in our article.
The thing is, Zola turns the task of choosing and buying gifts into a fascinating act. Do you want to know how it achieves such a goal? Let's see!
Clarification of the couple's preferences. Do you remember us mentioning a questionnaire, with which the introduction to Zola begins? So, one of the questions is about presents. The plighted lovers clarify what they prefer to receive: real gifts (say, bedding, dishes, or something else), cash, or both. And the opportunity to ask for a cache (if the newlyweds want to save money to be able to make a major purchase) is what distinguishes Zola from other wedding planning sites.

Gift Lists. The bride and groom are more than welcome to indicate what kind of gifts they want to get by compiling a list of their wishes. And their friends, wedding visitors, will have to choose the item they like most and purchase it.

Creative tips. By the way, Zola offers its help to the newlyweds in making the list of presents and can advise them on something unique and original.

Collective gifts. If the above list includes a very expensive present, the pair's friends can agree among themselves and buy it together.

All in one place. Zola is not just a good wedding planner; also, it provides access to the online store where guests may buy presents chosen by the newlyweds. Such an approach saves a lot of time and effort since the couple's friends don't have to go shopping; a few clicks, and the deed is done.

Notifications. And finally, Zola sends notifications, informing the fiancé and fiancée that a certain gift from the list has been purchased.
Wedding online invitation

s & Papers

The wedding ceremony is inextricably linked with papers, and Zola offers assistance in their beautiful design. The plighted twosome selects a template and makes the desired changes: adds a picture, chooses a font, etc. As a result, the betrothed pair gets custom-made wedding invitations or other papers (elegant envelopes, for example, or a letter notifying guests about changes regarding the ceremony; in 2020, such notifications were very much in demand because of coronavirus pandemics).

Zola ensures access to a vast collection of templates designs, and the prices are quite affordable (they start from $1, which isn't much).
Customizable wedding websites
How do you like the idea of ​​creating invitations presented as a web resource? Zola provides users with such a unique opportunity.
The engaged couple can build the so-called 'We're getting married' wedding website, which allows, as we've already said, sending out invitations online, and guests can reply to them in an easier way. Also, the bride and groom get a chance to use the platform to keep friends updated on wedding events and report them on possible changes.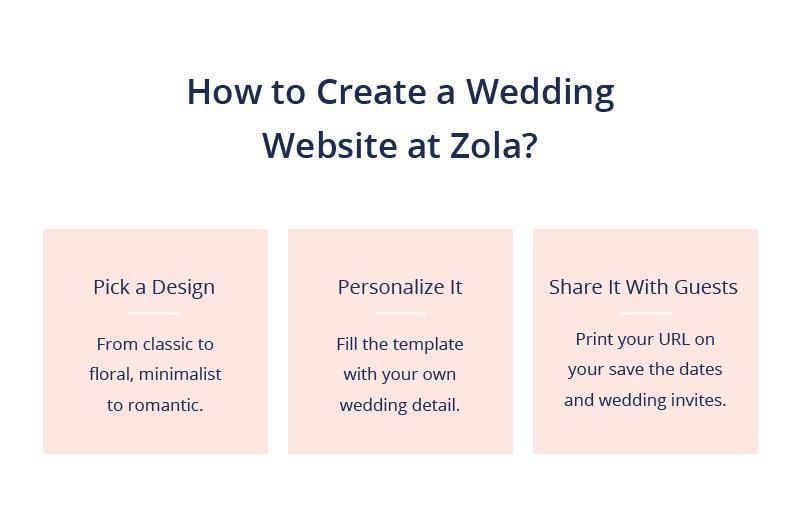 Wedding planning tools

& Сhecklists

Before the wedding, there is always a lot of stuff to do. How to get the job done on time and not forget anything in the process?

Okay, take it easy and just remain calm. Zola is ready to help the lovebirds in such a difficult, though exciting period. All they have to do is to resort to its special tech tools aimed at wedding planning online, and prenuptial chores will cease to be a nightmare.

These tools would are good at...
Drawing up a checklist of pre-wedding affairs indicating deadlines;

Providing the possibility to easily customize and update these lists;

Sending notifications when approaching the deadline;

And much more!
Perhaps, these are some of the best online wedding planning tools, don't you agree?
A good example from Zola.com
Guest lists
What is a wedding without visitors: friends, relatives, acquaintances? In the end, these are people close to you, and they're happy to be a part of such a wonderful day and share it with you. Therefore, you need to make a list of guests, write down the wishes of each one (say, their meal preferences), and take into account many other important points, so that every friend or relative feels comfortable during the wedding feast.
Zola helps to cope with the above task perfectly, for it is truly a top wedding registry service. It'll add all available data about each visitor, including his or her social status and address, and you won't have a chance to forget about any of your friends or family member.
Honeymoon planning
There are many great wedding website examples, but most of these resources complete collaboration with another couple after the bride and groom in question get married and become husband and wife. However, Zola decided to go even further and added a Honeymoon service, which usually involves planning a wedding trip: booking a hotel, buying tickets, etc. In addition, Zola provides users with an individual approach: the newlyweds indicate their preferences and receive recommendations on the ideal honeymoon.
Wedding boutique
We've already mentioned several times that Zola's wedding website content includes the possibility to make online purchases (which is very convenient for the loving pair's friends buying presents). Surely, we're talking about the Wedding Boutique feature.
And since the company is partnering with highly renowned brands, guests will face no problems choosing and purchasing the right gift. And by the by, the range of Zola stores is really huge, and it's constantly expanding.
Vendor listings
The last of Zola's features is Vendor Listings. 
Any couple can study the vendors with which Zola collaborates and take a look at their best pieces (and resort to their services if the bride and groom like what they see). Besides, Zola is ready to offer cooperation to qualified experts (photographers, caterers, videographers, florists, etc).
Tips on

creating a wedding website

How to build the best wedding registry service (or close to being the best)? We'd like to give you some useful tips to help you achieve an excellent result:
Take the process of wedding planning into stages. Remember, your task is to maximally ease the couple's preparations for their great day, to save the bride and groom from unnecessary trouble. Be sure to consider absolutely everything.

Don't save on qualified experts! The wedding website cost can be rather high (the services of good specialists, experienced developers, are quite expensive), but the game is worth the candle. All expenses will pay off if you approach the matter properly.

Forge partnerships with product manufacturers, service providers, and travel agencies. These companies will help you provide users with the following:

presents (manufacturers of goods);

new experiences (service providers);

the opportunity to plan a honeymoon (travel agencies).

Don't forget about the competition. Analyze other wedding website examples and do your best to surpass them.
Rate this article
15 ratings, average 4.80 of out 5