How to Build a Self-Care App Like Happify: Concept And Features Set
"Don't worry, be happy!" - the famous song says... and we're doing our best, we're trying to become happier, but it's harder than it sounds! Today's life is full of stress, and in these conditions, it's increasingly difficult to recover mental tone.
A logical question arises: how to help people get happier in a healthy way? Luckily, there are means to achieve the goal, and some of them can even be your source of profit. Yes, it's entirely feasible, and a striking example is the mobile application Happify.
The program with such a speaking name belongs to the popular apps that make you feel happy, and it's pretty effective. As its creators claim, people who use Happify correctly become calmer and get rid of stress and anxiety symptoms (improvements are at least 21-25%). 
So Happify is a great instance of a classic win-win situation: users learn to cope with their troubles and enjoy life, and the app owners earn money. Inspiring, right?
We guess it's time to explore services like Happify. Are they really that effective? And anyway, what makes this precise application so successful? Do we have any chance to join the number of market leaders? After all, the idea to sell happiness is rather tempting, isn't it?
Okay, let's get started!
What is a

self-care app like Happify?

According to the World Health Organization, one in four people sooner or later faces mental problems of various kinds. Moreover, a part of the population (almost 500 million worldwide) is already in a near-depressive state.

There are even more sad statistics: about two-thirds of people don't receive the help they need. Many cannot afford to resort to a professional psych for financial or other reasons (say, they might be afraid to deal with public opprobrium), and government spending on psychological assistance has also been rapidly declining. As the British Medical Association claims, more than a thousand patients have been expecting to get initial consultation for more than a year.
The modern solution to the problem
A number of doctors and coaches recommend starting work on mental health with a digital detox, but there is no way to set back the clock and reverse the development of technology. And the advice to abandon the use of our mobile devices is rather utopian. It's much wiser to seek the help of modern technological advances to cope with the problem of anxiety and stress. Of course, we're referring to apps to increase happiness, the more especially as they're increasingly appearing on the market.
Some applications of this type assist us in fighting stress, while others teach us how to meditate... or they just motivate us, which is a good thing too.
Why are apps like Happify so popular? There are several reasons:
Access to the resource anytime, anywhere. We may use any free minute to work on the program our happy mobile app provides us with.

Using digital addiction in a good cause. We live with smartphones in our hands, and it cannot be helped. But why not spend some time improving our emotional state?

A simple solution to the problem. All these applications offer very simple happiness activities to help us deal with depression and anxiety.

Affordability. The services of a professional psychotherapist are expensive while using a mobile application is much cheaper. Moreover, it won't judge you... whereas a psychologist may well because he or she is only a human.
And among the best happiness apps, Happify occupies a special place. Let's see why.
The idea under the hood of Happify app
Happiness starts with thoughts, according to the creators of Happify. In addition, these creators are confident that all the negativity comes from stereotypes of behavior and old habits. So, in order to become a happy person, one must learn to focus on the good aspects of life. This is exactly what the application promises to teach us to do.
Benefits of Happify
Game training format. Happify promises an exciting, opposite to boring experience: all exercises and tasks resemble a game and therefore entertain a user.

Scientific approach. The development of Happify involved professional psychologists and experts in cognitive-behavioral psychotherapy.

Variety of content. The application offers a lot of tools to track negative emotions and replace them with positive attitudes.

Multilingual capability. The happiness tracking app in question is available in 8 languages ​​(the list is still expanding) and being used worldwide.

Communication platform. Happify has a community of users who have a chance to become friends (maybe virtual ones, but it's a good start anyway).

Modern UI/UX. The user-friendly interface also explains Happify's popularity.

Ease of monitoring your happiness. Convenient graphs help you visualize your own achievements, monitor progress and track your emotions.

Personal approach. Users are being questioned in detail, the goal is to find out what their true problem is and offer them a perfect solution to it.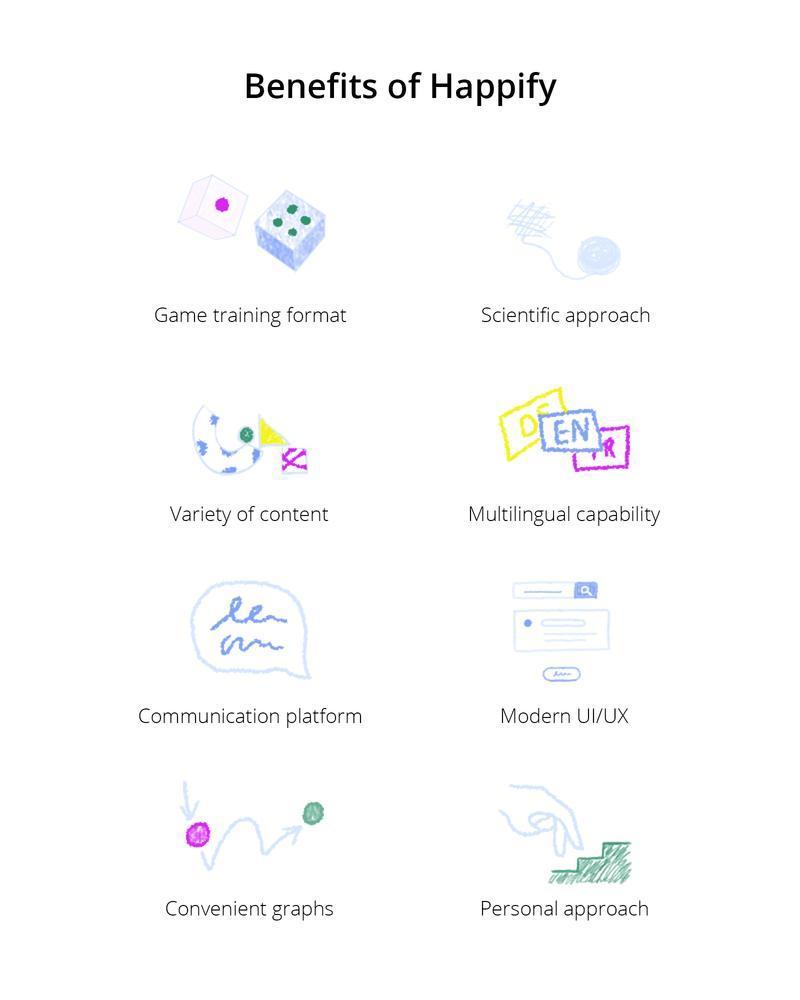 How do

happy life apps earn?

In the introduction, we talked about the possibility of selling happiness, which means your happy life app should be monetized. We've already written a lot about ways to make money on mobile platforms (read our other articles), and almost any of these methods are applicable when it comes to services like Happify.

As to Happify itself, its owners focus on the Freemium model. I.e some Happify weekly activities are offered for free, and some programs are Premium. In addition, the Happify gallery has numerous photos the user can add to his posts to make them more noticeable. Of course, most of the images are available to everyone, but the best ones are exclusive (meaning, paid). And if you want to draw the attention of other Community members to your message, don't be stingy and buy a particularly attractive picture for your post's background. In doing so, you're also helping Happify enrich itself.
Different solutions for different clients
The application has a clear segmentation of users, which allows providing the most personalized offers. And this is a good idea, which every self-care app like Happify should copy.
Happify user segmentation:
Personal access. Anyone can download the application and try to become happier with its assistance.

Corporate access. The ability to cope with stressful situations has a positive effect on all aspects of life, including work efficiency and, accordingly, our business qualities. Therefore, companies interested in their employees working better and faster are implementing Happify solutions.

Pharma segment. The application doesn't advocate self-medication: if the user has serious problems with the psyche and health, Happify will be able to recognize it and advise him to contact a real doctor. Moreover, Happify often collaborates with pharmaceutical companies to increase the effectiveness of professional treatment. 
How the user journey looks like in Happify
So, now let's take a fascinating journey into the world of Happify. We'll study the principle of its operation step by step: we're sure such a postflight analysis will allow you to create your own similar happiness app.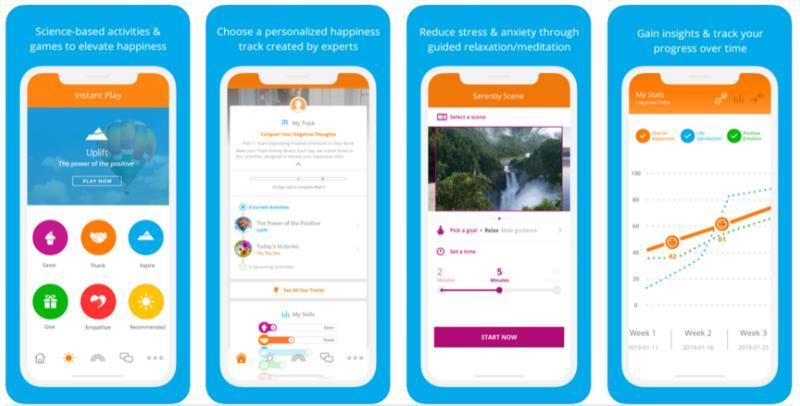 #1. Downloading and installing Happify
The first step is clear: we download the application from App Store or Google Play (depending on what devices we use, Apple or Android).
#2. Exploring the Benefits
Before allowing us to proceed, Happify suggests that we quickly familiarize ourselves with the main benefits of the program. That is, from the very first moment, we're able to find out why offered Happify activities should be included in our schedule.
However, we described the benefits of Happify at the beginning of the article when we discussed the basic concept of this happiness planner app. It makes no sense to repeat the whole thing once again, let's move on to the more interesting part, which is… 
#3. Answering Questions
So now it's time to answer Happify questions. Their goal is to get to know you better in order to offer you, the future user, the perfect solution aimed at your precise problem.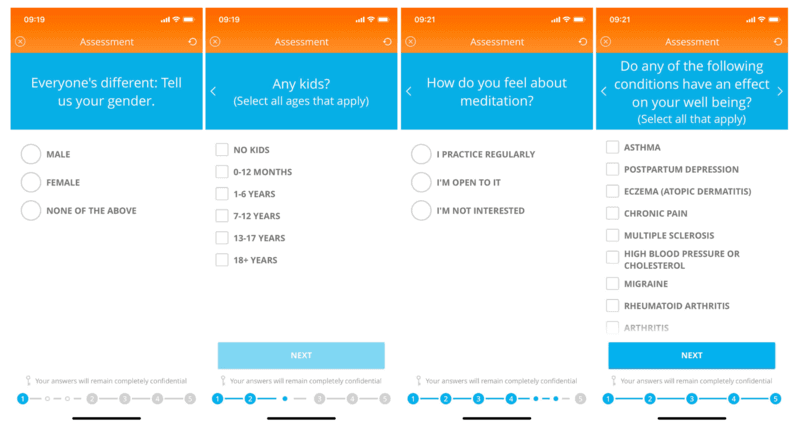 Question examples
The questions are extremely simple:
First, you're asked to indicate your gender and age. And that's an understandable request, isn't it?

Happify is further interested in the nature of your work. Simply put, specify who you are: unemployed, student, freelancer, hired employee (etc.).

The issue of relationships and having children also matters.

The next question is more sensitive. The user is asked to clarify if he recently experienced any kind of adversity.

What about boredom? Are there times when life seems too boring and tedious to you? Yes, there are such questions too.
Etc! Asking these questions, Happify gradually learns what you are fond of, what causes your annoyance or leads you to stress condition, how you feel about meditation practices, and much more.
#4. Registration
Only by answering all the above questions, do you get the opportunity to register in Happify:
The easiest way to join the users of our happy mobile app is to sign up through Facebook.

If for some reason you don't want to use option #1, you'll have to indicate your email address, come up with a username and password, and upload an avatar image.
Registration is almost complete! You just have to choose which mode suits you best: a private, where all your posts are visible only to you, or a public (community) one. The latter option suggests the ability to share your publications with other users.
#5. Choosing the track
At this point, Happify has gathered enough information about you to offer you several options for programs (the so-called tracks), specifically tuned to your needs. These tracks can be either paid (premium) or free. You may choose any of them and begin your journey, the purpose of which is to increase your level of happiness.
If none of the options offered are to your taste, use the Explore Tracks feature and select what seems most suitable to you.
And note, the programs here are different, but all of them are somehow related to the topic of emotional control. You can focus on overcoming stress, building mutual understanding with others, monitoring your happiness, or even personal growth. Whatever you choose, you'll be provided with appropriate activities on Happify. 
#6. A new batch of questions
You may already be tired of questions, but you'll have to endure the curiosity of Happify for some time to come.
These new questions are similar to the previous ones, with the only difference: now they're somehow related to the selected track (and, of course, they're also connected with your personal preferences and habits).
#7. Notifications as the last step
Before finally embarking on happiness activities, you'll have to take one more step. You'll be asked a question again, but don't worry: this time it's very simple. Happify only wants to clarify if you're willing to receive notifications. Just say yes or no, and it's as good as settled. You're ready to start using your app as often as you're willing to.
The further process of using the application is very simple, intuitive, and even fun. The track consists of several parts, and each takes about 10 days. Every day you are given tasks, and their successful completion leads to your getting points, which are displayed on the graph of your personal progress. What's more, the result of the completed exercise turns into a post: you can supplement it with any image (including from the Happify gallery) and publish it on your page and, if desired, in the Happify Community. In the latter case, you'll have a chance of receiving likes and comments from other users.
Also, you may take advantage of other features… which we're going to talk about in more detail right now.
Features set to add in

apps like Happify

Now we're ready to discuss the features your happiness tracking app should have.
Registration. The feature is characteristic of applications of any type. As you remember, we've already described the sign-up process in Happify, so let's just summarize (in case you also want to build a self-care app):

Several ways to register. Users love to have a choice, keep it in mind!

Social networks as a must-have. One of the sign-up methods should be performed using social networks (say, FB). Many people prefer such an option because of its simplicity: a couple of taps, and you're among app users. 

Personal profile, which includes brief user data, information on points he has earned, as well as posts published (both private and public ones).

Tracks. The next feature on the list is a set of tracks, each of which is a full-fledged program aimed at solving a certain emotional problem (dealing with stress, negative thinking, inability to establish contact with others, etc.). In fact, a track consists of specific exercises and practices that, when performed, will allow the user to feel happier. And by the by, some tracks can be paid (of course, they should have more advanced functionality).

User Progress. The bottom line is simple: after completing each new task and exercise, the user receives a certain number of points and improves one of his skills (the list of skills depends on the selected track's type). The feature is rather important, for it allows the user to monitor his success and achievements. 

Instant Play. It's about possible Happify activities: games, meditations, simple tasks. Again, all of these practices are aimed at improving your emotional control. The user works on his ability to perceive life positively, and he does it in the format of a fun game.

Happify Daily. Another application screen is dedicated to the company's blog. Happify Daily contains small articles and videos on the subject of happiness, self-control, motivation, and so on. Typically, these are facts of statistics, new discoveries, tips, etc. In addition, the feature is supplemented by a filter system, so that the user can select the topic of posts he is now interested in.

Community. As we've already mentioned, the results of exercises and tasks turn into posts that the user can optionally make public (by publishing them in the Happify community). Public posts are available to everyone, so other users have the opportunity to like them and leave their comments.

Notifications. If the user has agreed to receive notifications, you should remind him to do the next task from time to time, send alerts on the appearance of new types of activities, games, and the like. It's a perfect way of affordable self-promotion.

Settings. Of course, the user should be able to manage his settings. Say, Happify allows you to change your password and email, specify privacy settings, choose a language, and more.

Feedback & App Support. The last feature focuses on improving the user experience. Therefore, whenever a user has problems working with the application, he is welcome to contact the support team, which will do its best to help him. 
Other

best happiness apps

Of course, Happify is one of the top happiness apps, but it has competitors. And we'll give you some striking examples.
Vital points to

building a self-care app

If you decide to create a self-care app like Happify, you'll have to prepare properly, because these mobile services actually verge on the health and psychology industry. And we're ready to share some important tips with you.

So, you should have… 
Support of real experts. You must have good consultants in the field of psychology, well-being, and mental health. For example, highly qualified specialists have been working on Happify programs, including experienced psychology professors, psychiatrists, life coaches, and many others. In addition, the company created Happify Labs for research purposes.

Data security. You must take good care of the security of user data, especially since it's quite delicate. Therefore, pay maximum attention to protecting your users' personal information.

Interesting and effective content. Indeed, if your happy mobile application really helps users, you'll save on advertising and promotion, because the effect of viral marketing and word of mouth may work.

Minimalistic and calm design that doesn't distract or annoy the user. The overloaded interface will hardly contribute to peace of mind. 

Clear onboarding. As you remember, Happify devotes a lot of time to the onboarding process and introduces the user to its features from the first minutes.

Gamification. Boredom is the enemy of most wellness programs. Any treatment, even of a psychological nature, should be presented in the form of a fun and exciting game. Otherwise, the user will soon get tired of everything, and he'll abandon your happiness tracking app.

Artificial Intelligence Technologies. In many Happify games, a certain character asks the user questions like a coach would do and helps him realize his problems. And this coach isn't a real person, but an AI-based bot.
Rate this article
16 ratings, average 4.81 of out 5