How to Build a Money Manager App Like Digit
Each of us has our own dreams and plans. Alas, their implementation often requires money; these are the laws of our world. And in the absence of an unlimited budget, we have to start saving. That's when the Digit app goes to the rescue.
While Digit helps users save money so that they could make their dreams come true, the application owners don't show a loss too (the platform is being successfully monetized). So here we see the perfect win-win situation.
But what is Digit and how does it work? Why is it so popular? We've conducted a detailed analysis of the service and are ready to give answers to these questions.
Read our Digit app review to find out what steps the application is taking to conquer users. Perhaps you can adopt its methods and even better them to create an improved Digit clone.
What is the

Digit app?

Shortly put, we're dealing with an application aimed at helping people to create savings in the simplest possible way, without stress and hassle. Sounds interesting, right? So let's start our review by analyzing the service's benefits: knowing them, we'll figure out what makes the app competitive. We need such information to understand the key principle of apps like Digit, which means we'll be able to find the proper approach to building a similar platform.
Digit goals

and history

The history of the Digit money app started 5 years ago, in 2015, and its founder was Ethan Bloch (by the by, he wasn't even 30 years old at that time).

Though five years isn't a very long period, Digit managed to achieve tangible successes and win the love of users who, in total, have already saved at least a billion dollars with its assistance.

Today Digit works on mobile and web platforms but is available only in the United States. However, this is just the beginning, and in the future, the application may cover the markets of other countries too.
A bank app design example made by Agilie UI/UX experts.
The goal of the application is simple: it seeks to help users get extra money, without having to actually earn it.
The fact is, other cost management programs are useful only to those people who can meticulously take into account every penny spent. These people don't even need Digit to save money - they cope with the task perfectly without any aid.
On the other hand, the Digit budget app is an excellent solution for those who cannot handle their passion to spend money. The application acts by gradually transferring the user's funds from his main account to another, a special one. And the basic trick here is that these amounts of money transferred are really small, and their absence doesn't affect the everyday life of the consumer (he is able to manage without them quite well!). As a bonus, he learns to save on his own.
Digit calculates the amount of each withdrawal from the account, based on the financial habits of a particular user, namely, his history of previous expenses, current balance, etc. In addition, each transfer is being performed only with the customer's consent.
However, we'll discuss the issue at greater length when we consider how Digit works.
And now we'd like to describe Digit's pros and cons (a little spoiler: there are many more pros than cons!).
Digit benefits
What are the financial benefits of Digit (and not only financial ones)?
Digit savings bonuses. Do you want to get a 1% annual bonus on your account? Then remain an active user of the application for at least a year quarter (i.e. 3 months).

Chatbot. Digit offers the opportunity to get a true financial advisor. You give the chatbot text instructions, and Digit performs them (the main thing is to use trigger phrases such as Save, Pause, Today, etc).

Several goals at a time. We'll mention such a possibility again when describing Digit features, but for now, just keep in mind that the application allows you to set any number of financial goals.

Process automation. Everything happens automatically, the user has no need to think of how much money to set aside for a rainy day.

Constant status updates. The application keeps users informed and notifies them of important news via messaging (account status, amount of money saved, etc.)

Referral program. The essence of this benefit of Digit is simple: persuade a friend to join the ranks of Digit users and get five extra dollars to your account. Not so much, but as they say, every penny counts.

Ease of use. The application is intuitive and user-friendly.
We guess it'd be an omission not to mention several app disadvantages either. Among other things, Digit doesn't provide customers with the possibility to transfer money using the web interface. Besides, the service is paid (we'll name the Digit app cost later when the time comes).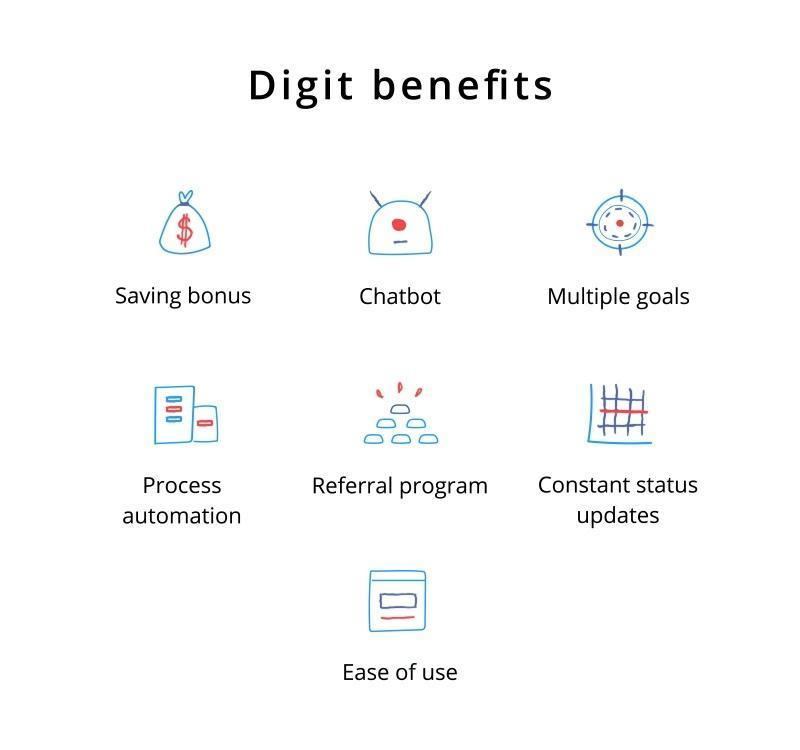 Now you see why it's wise to start using Digit (it's a really cool way to save money). But there is another burning question, namely… 
How does the Digit app work

?

How does Digit work to save money? Let's take a closer look at the issuer.

It all starts with creating an account, after which the program begins to analyze users' financial habits. The following points are being considered:
History of spending;

State of an account;

Sources of income (both regular earnings and irregular ones);

Future bills.
Work on the analysis of the user's financial behavior doesn't stop and continues all the time. Based on the data received, the application decides how much money can be transferred to the Digit account without detriment to the client. The user, however, can take part in the process too by asking Digit to transfer more or less money. But remember, the transfer amount should be between $ .05 and $ 150.
It's time to figure out what features help the Digit savings app achieve the above results, agree?
Key features of Digit
User account
After the user has downloaded the Digit app for Android or iOS, he must create his personal account (naturally!). 
The whole process is simple enough, all the customer has to do is fill out a form with information about himself, which mainly includes his financial status. However, he may have to wait a bit for the moment when his account is fully activated (because user data should be verified; in the end, monetary matters are very delicate).
Connecting the bank account
Among the important Digit features, we need to mention the connection of a bank account. Fortunately, the application works with many financial institutions, so the user shouldn't face problems when doing so.
By the by, the Digit owners plan to further improve their product to make it useful also to those people who don't have their own bank account and prefer another way to deal with money.
Goals setting
Now it's time to discuss one of the most interesting points of our Digit app review, namely, setting goals.
So, you decided to start using Digit, and your main task is to save enough money in order to be able to implement a certain plan requiring some financial investment (say, you want to pay for a child's education or go on a trip). The implementation of the plan in question is the goal you set in your application. Give it a name, clarify the deadline (if necessary), briefly describe it... and now you're welcome to begin the so-called 'saving' process to get what you want! 
The most popular goal options include:
Traveling;

Vacation;

Gift shopping, 

Rainy Day Funds;

etc.
You don't have to be limited to one goal, you can set several ones if you feel like it. And if you choose such an option, the Digit budget app will divide the amount of money being withdrawn from your account between your goals in equal parts. By the way, if one of these goals is a higher priority, you're allowed to make it boosted, and then Digit will know that more funds are needed to implement it.
And one more thing worth mentioning: as soon as you've reached your result (meaning, you've saved up a pre-specified amount of funds), the money will no longer be allocated to implement this goal (it doesn't apply to your other goals, of course).
Withdrawal of funds
Another example of app features is the possibility of easily withdrawing money from your Digit account (and without fees or commissions!). What's more, the platform provides several ways to implement the plan, including the chance to resort to the help of a chatbot (though, it's by no means the only option).
However, we'd like to warn you that transaction processing takes time, and a user has no choice but to wait until the money is returned to his main account at his request. But if the consumer doesn't mind paying $ 1, the transfer will be instant.
Overdraft protection
"What about the risk of overdraft?" You may ask. And we're happy to answer: the application offers a reliable Overdraft Prevention system to avoid the mentioned problem. The user himself indicates how much should remain in his account, and the Digit savings app won't withdraw money if the specified mark is reached.
However, if something goes wrong, and Digit takes too much money (with the risk of overdraft),  special refunding algorithms come to the aid, and your overdraft charges would be reimbursed.
Credit card debts & student loans
Unfortunately, many of us are familiar with all sorts of debts. In the end, sometimes borrowing money is the only way out. You're lucky if you have a friend able to lend the right amount of money without interest... but what if you don't have such a friend? Then the best solution is to use a bank loan. Happily, the Digit application helps to get rid of debts of this kind (including student loans).
All you have to do is turn your intention to get out of debt into one of your Digit goals and link a credit card to your application. And it'll automate the process of collecting extra money and paying them to your creditors. And remember, the main word here is "extra money": Digit is trying to help you repay your debt faster, your monthly loan payments remain unchanged.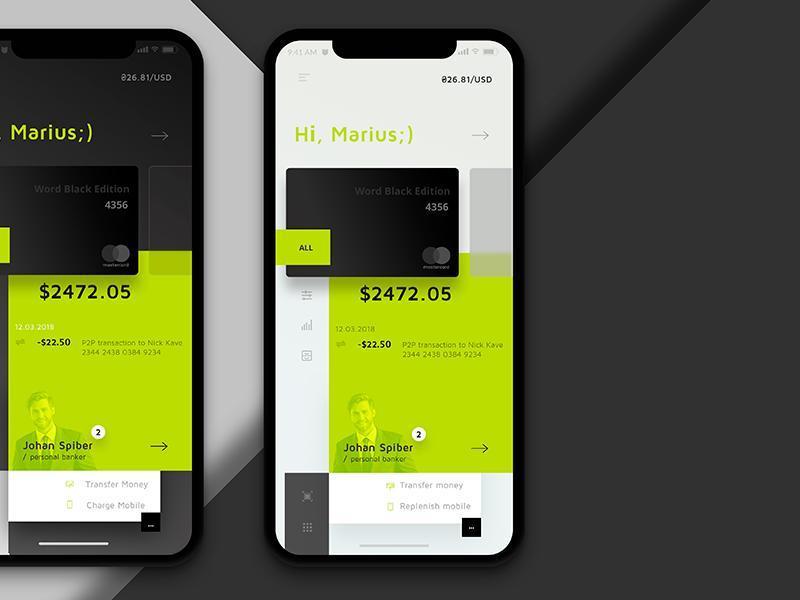 Here's another example of what a cool bank app might look like.
Messaging notifications
Key features of Digit provide the user with the opportunity to interact with the platform through text messaging. Inter alia, the program notifies him daily about the status of his account and other important things. Also, it always sends him a request to write off money (to implement the set goals). In addition, the user himself can take advantage of the messaging system to give instructions to Digit using special code phrases (we've cited a few instances of these phrases at the beginning of the article).
How does the

Digit app make a profit?

Using the Digit application begins with a trial period of a month. If the customer has appreciated all the advantages of the service and wants to continue enjoying them, he'll have to bear the thought of the need to part with 5 dollars per month. And it doesn't matter whether he uses the application or not: the money will be withdrawn from his account anyway.

The service's owners also receive interests from the user's savings, which is another way to monetize Digital and make it more profitable.

By the by, don't forget about Digit's referral system, which rewards users for convincing their friends to test the platform's possibilities (we've mentioned it when describing the benefit of Digit).
What does the

Digit application do to ensure user safety?

As we repeatedly say in our articles, any processes related to monetary transactions must be reliably protected: after all, we're dealing with extremely sensitive data whose theft can result in financial loss. And Digit is no exception. Fortunately, app owners have taken care of the security of their users.

Let's see how Digit works to ensure a high level of user protection:
Complete anonymity and confidentiality. No third parties receive user data.

The highest encryption level close to the military one. It's about 256-bit encryption.

Using architecture based on asymmetric cryptography.

Reliably secure storage of funds received on Digit account.
Summary
So, now we'll make brief conclusions about the Digit benefits:
App users. With Digit, you, as a user, no longer need to look for savings: you have a special account with constant access to its funds. 

App owners. If you're the owner of the application, then you get a constant source of income. And you not only earn but also help your customers save money to implement their dreams.
Rate this article
15 ratings, average 4.80 of out 5