7 Profitable Fintech App Development Fields for Starting a Business
Bank transfers, insurance, stock market trading, managing our own financial wealth... all these areas of activity are somehow related to monetary operations and therefore require our heightened attention. And no wonder we keep looking for ways to process financial transactions faster, easier, and safer. And fintech solutions are designed to provide us with the tools to achieve the desired goal.
That's why today fintech applications have become very popular with users. And it's up to you to decide whether you're willing to benefit from this demand by developing a finance app. The market is full of similar platforms, but you have a fair chance to succeed - with the right approach, of course.
Fintech App Development is by no means an easy process, but the game is worth the candle, as they say. And we're going to prove our words.
We'll tell why and how to invest in fintech, which fintech software fields to choose, and much, much more. Simply put, you'll learn the reasons for building fintech apps and getting the profit you deserve.
Fintech trends
Before describing fintech software development fields that may be of interest to you, as the future app owner, we'll take a look at the main financial technology trends.
Let's get started!
#1. Artificial intelligence, robotization, process automation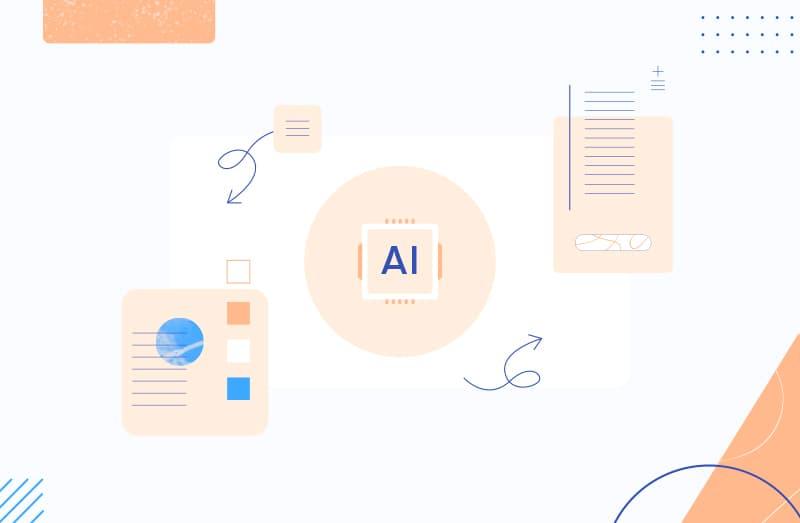 AI and related technologies belong to the key fintech industry trends.
The fact is that, according to scientists' estimates, by 2021, investment in AI will have reached almost $ 60 billion, with $ 10 billion invested by the financial sector.
And its desire to invest in AI development is quite understandable. Indeed, thanks to artificial intelligence and robotization, financial companies would be able to perform the following actions much better (directly affecting their prosperity):
predict the likelihood of certain events;

detect patterns in vast amounts of data. However, let's talk about big data below;

customize products.
#2. Big Data
Big data is also among the top trends in fintech. And it's easy to explain!
As studies show, 40% of our daily decisions are being made from habit, automatically. It means almost half of the time we perform some kind of algorithmic action. Therefore, if the company knows its customer's pattern of life, it can fit into his world, and he'll buy its product (or order its service) out of habit. The rule concerns any companies, including financial ones (those trying to persuade the user to choose their fintech payment solutions).
But in order to implement the above scheme, you need to work with a large amount of information, which brings us back to a big data trend.
#3. Data protection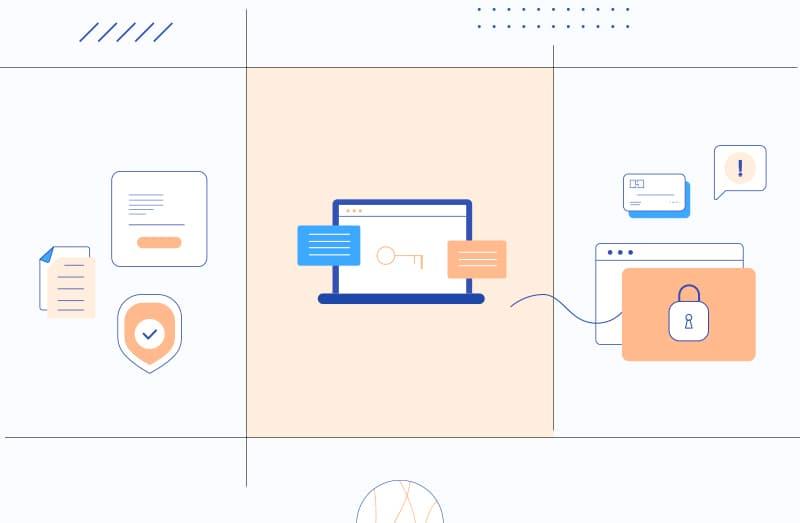 Of course, our list of fintech technology trends wouldn't be complete without the security item. And by the way, data protection has become especially relevant now, in 2019.
The reason is simple: according to the survey, 71% of companies of different profiles had their customer data stolen (or lost) at least once. And about 46% of data thefts occurred during the past year.
In such regard, in 2018, the GDPR initiative was launched (GDPR stands for General Data Protection Regulation). It's aimed at protecting the personal data of citizens of the European Union. And a lack of compliance with these rules would cost companies up to 20 million euros. Moreover, it is believed that about 80% of multinational companies won't be able to meet all the requirements.
Therefore, financial companies use innovative fintech features to combat fraud. These features and tools include biometric and cloud technologies, machine learning, process automation, and more.

By the by, do you want to know in detail how to build an effective personal finance application? Click here and read!
We've described the main fintech trends in 2019, but there are more simple examples either, such as:
an increase in the number of QR and mobile payments (as well as other types of contactless payment technologies);

more active use of instant messengers (including chatbots) by banks for work with clients;

a growing number of APIs helping to create new fintech apps;

transfer of numerous banking technologies to cloud systems.
Now that we're done with the latest fintech trends, it's time to move on to the key topic of the article and explain to you why investing in Fintech is a good idea.
Fintech App Development Fields
You cannot create your fintech app at random, you first need to analyze the market and select the type of a finance application. And we're going to help you figure the issue out.
#1. Mobile banking apps
Mobile banking involves managing a bank account using an application installed on a tablet PC, smartphone, or another similar device. And if you want to create a finance app for banks, remember: such programs must meet a number of requirements.
First banking applications began to appear almost 10 years ago. Their feature sets, as a rule, were limited to elementary services: viewing information on cards and accounts, searching for ATMs, in rare cases - the ability to make the simplest payments.
In the following years, applications have evolved, and now fintech solutions for banks provide their users with a free hand: you can make various transactions, open accounts, and deposits, order and block cards, etc.
So it isn't surprising the popularity of banking fintech platforms is growing: in 2011, their audience amounted to only 9% of the online audience, and in 2017 - about 69%. And it's just the beginning!
This is a fairly new technology in financial services, but it has already been gaining high popularity. A P2P approach is essentially the same for different areas of activity and implies an interaction between individuals, whether it is ordering services (say, Uber taxi) or buying goods (like Etsy.com). And when it comes to the financial sector, it means the possibility to transfer money between bank card holders even if they are registered with different banks and different payment systems.
Bank of America's latest report, Trends in Consumer Mobility, shows that the introduction of P2P payments affects a few generations, and even older people are increasingly using these new technologies and personal finance apps. Half of the respondents who haven't paid through P2P services yet have admitted that they would do it in the near future.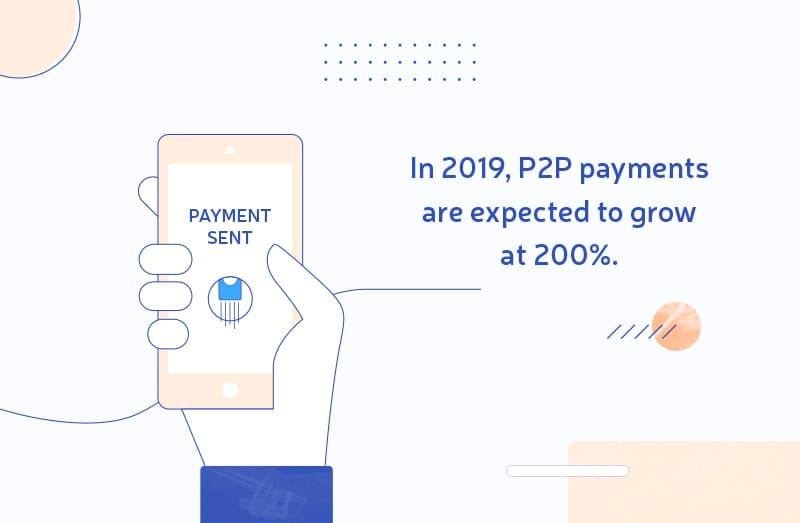 Who is interested in using P2P fintech financial technology?
people who want to be able to transfer money to each other;

small business representatives who request payment for services or goods by transferring money from a card to a card or a checking account;

non-profit fundraising companies: from international crowdfunding to local charity.

By the way, if you want to know more about P2P marketplaces, read our article!
#3. Insurtech apps
Insurance is a conservative area, which has long maintained aloofness from innovation, it didn't see the benefit from the help of insurance fintech application development. However, over the past 5 years, the number of insurtech companies has increased to several hundred worldwide.
And we know why. After all, let's face it: in traditional insurance, there are a lot of problems, such as paperwork, confusing tariffs, and conditions, obtrusiveness of insurance agents, indifference to customer needs... And insurtech startups take advantage of modern technologies to avoid all these troubles.
Such financial technology solutions include:
telematics;

artificial intelligence;

machine-learning;

big data, blockchain;

internet of things;

open API and much more.
By the by, if you remember, we discussed a few items on the above list when we talked about global fintech trends.
According to The Current InsurTech Landscape research, new market participants create effective fintech solutions and therefore successfully compete with traditional insurance companies. It means in 2019, the agencies committed to the old order will have to find a way to interact with companies, which use the innovative approach.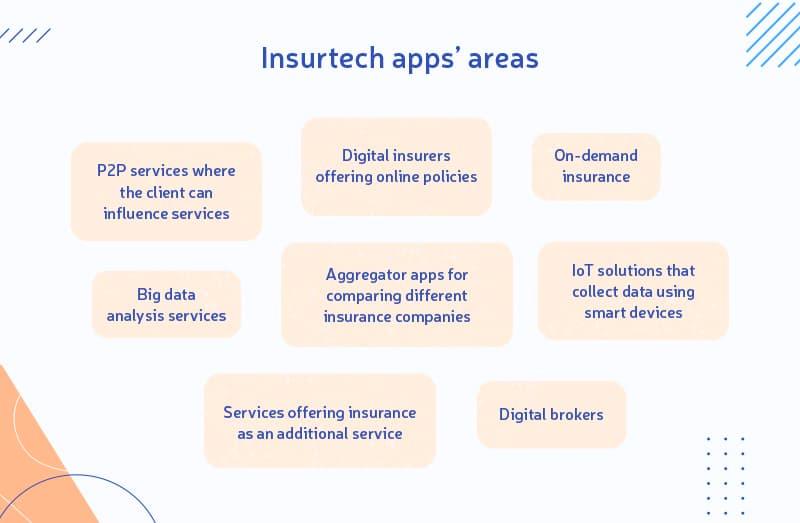 #4. Wealthtech apps
Among the best fintech applications, there are also various wealthtech apps. But what does such a strange term, wealthtech, mean? Let's see!
In fact, the name implies the term combines wealth and technology with the goal of providing efficient e-solutions to improve personal (and professional) money management & investment. It's quite simple, right?
A few

fintech app ideas (or, rather, wealthtech app ideas):
Robo-advisors, popular automated tools which take advantage of machine learning to provide their users with quality investment tips.

Digital Broker, fintech platforms that help retail investors and businesses keep up-to-date on the latest information about the stock market including their investment opportunities (and so on).

Robo-Retirement, asset management tools for retirement savings accounts.

Micro-investment resources for investing small amounts of money (on a regular basis and without a fee).  
#5. Trading apps
Online trading apps have earned their place in the world several years ago. And now all these Internet resources are actively building fintech apps - namely, mobile versions of their web portals. Fintech app development has almost become a kind of trend, which seems to be the right step since investors and traders prefer mobile devices to PCs.
Innovative fintech features aimed at trading apps must include (in addition to common features):
Real-time data exchange between online and mobile platforms;

Instant notifications of all sorts;

Streaming data.
And if you want to develop a fintech app of the trading type, you should have an idea of what you can provide your user with. Here are a couple of simple examples:
Information on the latest news in the world of finance;

stock and trades management;

financial education;

discovering cool trading ideas.
#6. Blockchain apps
Blockchain is an innovative system focused on storing and transmitting information which is represented as sequential chains of transaction blocks. And these blocks are included in a single database which is being automatically updated with each new transaction. It implies decentralization, namely, the absence of a "main server". That's why blockchain technology is used in many different types of applications.
And when it comes to financial services & technology trends, blockchain apps offer the following options:
Money management applications: people can conduct transactions on the blockchain network using its internal currency;

Blockchain applications with fintech features that integrate money with external events in the real world: say, a logistics company can determine whether the cargo has reached the port, and only then pay for transportation;

Decentralized autonomous organizations (DAO) whose members can be located anywhere in the world. DAOs work according to programmatically defined rules which determine who their members can be, what business or activity they are allowed to do, and how tokens, funds, or costs are being exchanged.
#7. Regtech apps
Among other sought-after fintech app ideas, regtech apps should also be mentioned.
The task of regtech services is to help financial companies comply with all state standards. And that's truly important, because, according to statistics, US banks spend about $ 70 billion a year just to bring their activities into line with the requirements of regulators.
Regtech programs, these rather new fintech apps, help companies automate many processes, such as verifying customer identities and their bank accounts, compiling and submitting reports, etc. Regtech services are able to analyze huge amounts of data, which allows corporations to make weighted business decisions.
These fintech applications offer a lot of useful features:
analysis of legislation and regulations

complex cloud computing

reporting and data visualization

use of blockchain technology

data encryption

cyber attack protection

evaluation of employee behavior and their KPI

activity monitoring

storage of risk data
Summary
So, summing up: if you're a user, a finance app can keep your business at a proper level, strengthen it. If you're the application owner, then it'll help you earn. You just need to find skilled and experienced fintech app developers.
We're perfectly suited to implement the task. Our company has been working in the mobile market for a long term of years, and we participated in many projects including personal fintech application development (check the Wirex app to be sure of our experience). And our qualification allows us to guarantee the best possible outcome.
Rate this article
15 ratings, average 4.80 of out 5