What Do I Need to Do to Start an Online Coupon Business like Groupon?
What could be better than an opportunity to save money? We all don't mind getting a good discount from time to time, right? That's why resources providing users with access to discount coupons are gaining popularity today. And a striking example of such a platform is Groupon. This is where the true success story is!
Thanks to aggregators like Groupon, both user groups benefit: consumers receive a product or service at a better price, and companies increase their client base. Moreover, the site owners don't remain at a loss too. And what wonder? At least 400 and even 500 thousand transactions are being made per day, so each party gets a piece of the pie.
Looking to join the ranks of Groupon's competitors? Your dream is ambitious, yet achievable with the proper approach. The main thing is to think over each step in advance.
Surely you have a lot of questions, don't you? Say, what are Groupon's secrets? Why is it called Groupon, to begin with? Is it even possible to emulate its success? And finally how to make your own app like Groupon? Where do you start?
Fortunately, we're going to answer most of these and other similar questions.
Why is

Groupon Called Groupon?

It all started with thepoint.com, the first brainchild of Andrew Mason. The site allowed its users to organize joint actions of any kind, from boycotting a new diner to group purchases in order to receive discounts. And although the project itself turned out to be unprofitable, it inspired its owner and creator. That's when Mason came up with the idea of a collective discount service.

The idea led to building a coupon website in 2008. Initially called getyourgroupon.com, it later became groupon.com, which was shorter and sounded better. The platform conquered US users, and a year later entered foreign markets.

Over the next several years, Groupon had attracted substantial investment from engaged sponsors. The funds received were used to acquire other companies of a similar type (Groupon-like websites) in India, Germany, Chile, Turkey, etc.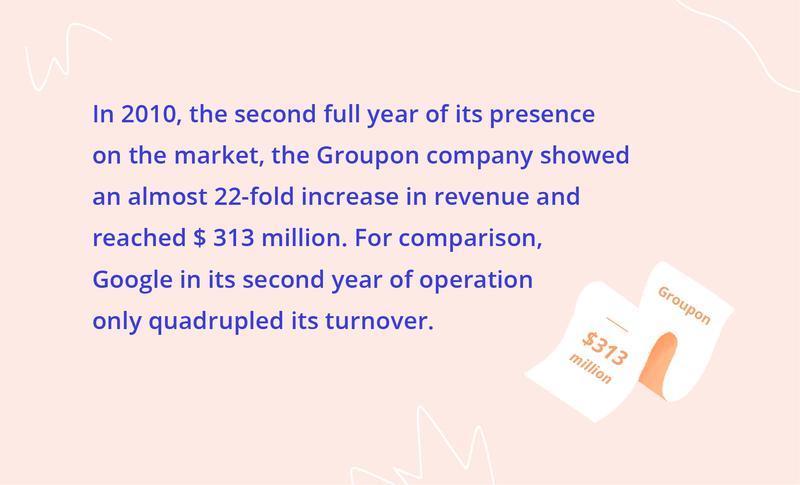 Originally, Groupon Business Model was a little different from what it is now. More precisely, users were able to activate a discount only if a certain number of people became interested in the same product or service.
Fortunately, this is a thing of the past, and since 2013 Groupon has been operating as a marketplace focused on local businesses. Shop owners, travel agencies, and other companies are welcome to post their offers and set any validity period. And by the way, they don't need to pay to do so: Groupon receives a commission only after the coupons are sold.
What Are

Websites like Groupon?

These are online intermediaries helping business owners reach new customers with discount coupons. With such a coupon, the user may expect to save from 10% to 95% when buying a certain product or receiving a service (let's say, when visiting a beauty salon).
What can you do with a

Groupon-like website?
finding virtual coupons of a specific category, be it entertainment, electronics, fashion products, etc. Also, you have the option to search by brands (Amazon, Nike, Walmart, etc.). After successful completion of the search, you just need to activate the selected coupon and present it (its electronic version) when paying for a product or service. If everything is done right, you'll get the promised discount.

the ability to print a coupon, which comes in handy too (especially if the user is old-fashioned and prefers paper coupons to electronic ones);

GPS feature. To be precise, you're able to activate coupons of establishments nearby (the application will send you a notification at the right time, or you yourself find a discount in the location you need);

Deals of the Day, web page offering time-sensitive deals, so to say.
Why are

coupon websites so popular?
Saving. First of all, these services are popular, as there is an opportunity to save money on buying a product or receiving a service. People love all sorts of discount coupons and willingly purchase them, which logically brings us to the next item on the list, namely...

An additional marketing tool. By using aggregators like Groupon, business owners would attract more customers, and it leads to higher income.

Timing factor. Discount coupons are valid only for a certain period, which means any offer is relatively short-term. And this gives it additional charm in the eyes of the user. "I might miss my chance to save money! I need to get a coupon right now!" - the user thinks and makes a purchase without thinking.

Viral effect. If your Groupon-like website is good, the viral effect won't be long in coming. Users themselves, of their own free will, advertise your resource by telling their friends about it. Consequently, the popularity of the site is growing.
Once you've decided to create your own clone of the Groupon website, you're sure to be curious about your inspirer's success story. Perhaps Groupon's example will give you a couple of useful ideas.
Find Your Niche to

Create a Website Like Groupon

Alas, your attempts to measure up to Groupon are likely to be pointless, at least in the initial stages. Of course, if you have the opportunity to attract huge investments, then it's a different story. Otherwise, it's better to launch a niche resource of some kind and therefore increase the chances of success. And the more specific and narrower your audience, the better.

Let's be more specific, though:
The most targeted niche. Stop trying to wrestle with the big picture, focus on a specific area of business. A good example is Voucher Wow, which offers discounts on medical cosmetics.

Local approach. To create a website like Groupon, capable of reaching the markets of multiple countries, you'll have to fork out a lot. So sometimes the best strategy is to partner with business owners who operate in your area. Let's say, Living Social is targeting users in Washington, DC. They can receive discounts on visits to restaurants and beauty salons.

Uniqueness. Try to find a feature to make your resource unique in one way or another. The task isn't easy, but it is in your interest to cope with it.
Surely, you won't earn billions at once. But you need to start somewhere. Anyway, you'll have the opportunity to scale your business in the future.
By the by, do you want to know what business model is used by Groupon? We're ready to enlighten you on the issue right away.
Groupon Business Model
Owners of aggregators like Groupon usually engage businessmen interested in increasing sales of their services or products (surely, if they don't mind providing discounts to loyal customers). The next task of the platform is to find the maximum number of users and convince them to purchase discount coupons (and it's better that they do it on a regular basis). Couponers' benefit is the percentage they receive from the deal made (usually the figure ranges from 15% to 45%).
To launch a site like Groupon, you should select one of the options below:
Traditional approach. In the first case, the user sees the traditional scheme: he finds a suitable coupon, activates it, and presents it at the point of sale of a product or service.

Last-minute deals. Also, you can create an app like Groupon in its early days. To be precise, your partners post offers, which are valid for a short period of time. And a user needs to decide quickly, literally here and now, which spurs the buying excitement.

Coupon drawing. Another not bad idea is to offer coupons as a prize for completing certain actions (let's say, registering in an application) or invite users to participate in a lottery.

Combined option. One more option is a combined version of the business model for the Groupon clone. Say, why not offer lottery and last-minute deals at the same time? You'll have more chances to attract users.
Now let's discuss the basic development methods. You'll learn how to get launch-ready Groupon clones (online or mobile, or better both).
How to Create a Groupon Like App

or Website?

You should start your coupon business by creating an online marketplace, which entails the following steps:
buying a domain and hosting;

choice of development method;

finding a company to do the job (which is difficult and time-consuming);

email setup;

connection to e-payment systems;

other similar work related to the development of apps like Groupon.
WordPress-based development
The easiest way is to create your own clone of the Groupon website using WordPress and supplement the resource with helpful plugins (they're needed so that the web resource has all the necessary features and performs its functions 100%).
Ready-to-use Groupon clone scripts
Of course, there are many ready-made solutions designed specifically for developing coupon websites. Sometimes additional rework is required, but you'll have the main basis anyway.
And if you think that some site features like Groupon's are missing, you can always add them.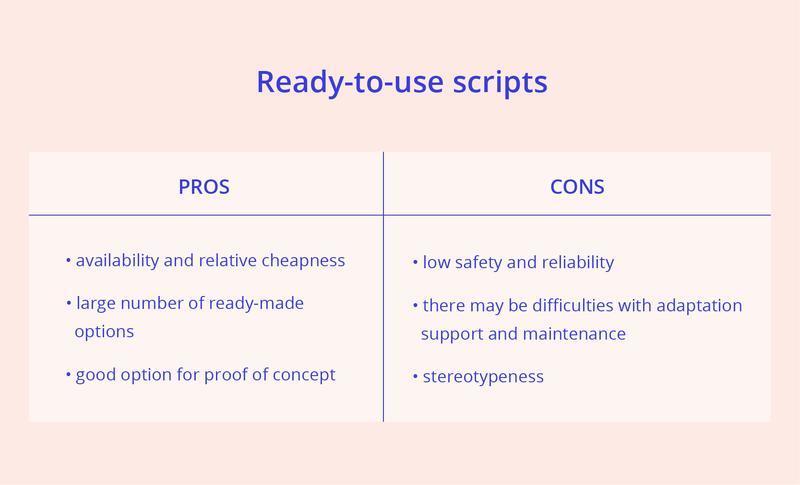 Building a coupon website

from square one

How to make your own app like Groupon perfect? Of course, it's easier to achieve your goal if you create a resource from scratch. Thus, you can take into account all the requirements of your specific project.

Surely, developing from the ground up will increase your budget but sometimes it's worth it.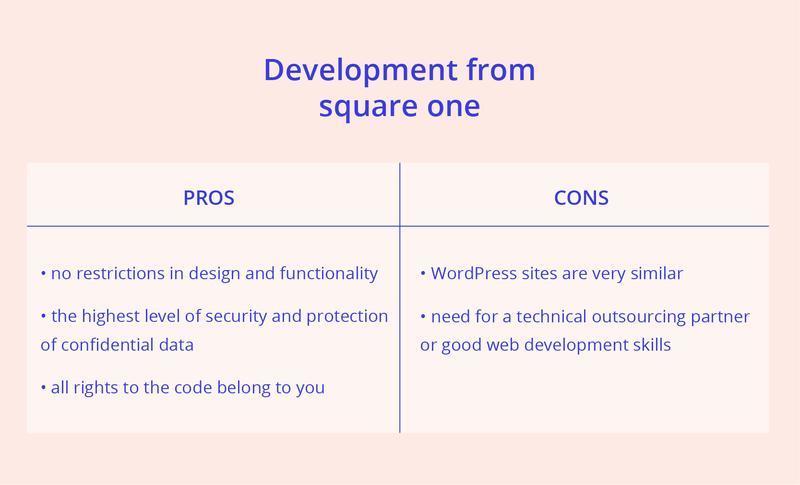 Now it's time to discuss the main site features like Groupon's.
Useful Features for

Groupon-like websites

Below we present the main features of your future website. In the meantime, let's briefly tell you what to consider when creating functionality:
your users should be able to search, view, and apply coupons. And make sure they don't have to take extra steps to get what they want;

as to business owners, they must have the possibility to add new discount offers and manage existing ones;

of course, an administration block is also required to help you manage the platform.
In general, the above is enough to start your business. But Groupon is called Groupon for a reason. And if you want to achieve the same success, add other features too, such as:
Notifying users of potentially interesting offers (coupons);

Wishlist with a list of coupons the user is ready to buy but not right now;

The opportunity to find gifts at a special price (with a discount);

More ways to promote your business.
What to Consider When

Building a Coupon Site

If you do decide to compete with Groupon, prepare in advance. Among other things, figure out what challenges you're going to face.
Main problems of apps like Groupon
Let's start with the challenges you may encounter in the development process.
High competition. Of course, you'll have to deal with competitors, but this isn't a reason to back down! Any promising business niche presupposes a certain form of rivalry, there's nothing you can do about it. And websites and apps like Groupon are no exception. You just have to find out how to attract your users.

Dishonesty of partners. Sometimes a user complains that he bought a coupon but was left with nothing. For example, he was told the coupon was no longer valid. Or he found out there were some strings attached (let's say, a coupon could only be obtained for a haircut in a beauty salon, which wasn't mentioned in the description of the conditions).

Difficulty finding clients and partners. We recommend proposing partnerships to beauty salons, shops, medical centers, travel agencies, and other organizations of the same kind. And don't forget to agree in advance on the percentage of the commission you're going to receive (which is necessary in order to avoid misunderstandings in the future).
Now we want to give you a couple of useful tips to help you improve your resource even more.
Development, Promotion, and

Design Tips for Coupon Websites
Eye-catching design. Aggregators like Groupon should attract users with a bright, expressive design. There is no need to choose flashy and tacky color schemes, just make sure your site looks catchy.

Mobile approach. According to the study, 50% of Groupon users resort to the service through a mobile application. So you should take care of creating your app too.

Inviting call-to-action. Your main task is to convince the customer to buy a coupon in order to receive a discount. Do everything you can to get your user to respond to this call-to-action. Within the framework of our article, it's impossible to describe all the tricks designers and developers take advantage of to achieve the desired effect, but we'll give you a few helpful tips anyway:

Placing price tags and discount labels in a prominent area on the site page. And it's better to indicate the amount of user savings as a percentage. The method has worked well: "Save $ 30!" sounds worse than "Save 45%!".

Time counting mechanisms. "You have 2 days left to get a 20% discount!". And also add a timer, which shows that the chance to save decreases with each elapsed second. Thus, the consumer has a desire to act immediately, without delay.

Promotion of a Groupon-like website. Without a smart marketing strategy, you can't succeed. And your strategy should include various activities, such as contextual and targeted advertising, promotion in social networks, SEO optimization, and more.
We're sure you're also interested in how to cover Groupon clones costs. Let's talk about this?
How does Groupon make money

?

To create an app like Groupon and make sure it brings you good profits, consider a few monetization options beforehand:
The percentage for coupons sold. The first item on the list is obvious, isn't it?

Freemium model. The basic functionality is free, but if the user is interested in some unique features, he must pay.

Subscription, which is a variation of the above monetization method. In this case, the user must buy (renew) a subscription monthly.

In-app advertising. The advertising method to monetize websites and apps like Groupon is also good, although it's important to follow the golden mean rule. If you add too many ads, you're likely to scare away users, whereas your goal is to grow your customer base.

Business proposals. Another earning option is to offer your partners (companies providing coupons to customers) extra opportunities to improve their business processes. These opportunities may include better visibility of a specific offer, exclusive access to the customer base, etc.
As you should see, monetizing the Groupon discount aggregator isn't such a difficult task. So the game is definitely worth the candle.
---
Get in touch
Send us your comments, suggestions, questions, or feedback.