Jewelry Business Online: How to Start
Selling jewelry online is a cool startup idea. Especially if you're fond of creating beautiful bijouterie items in your free time and don't mind making money on your unusual hobby. And if you don't have such skills and have never dealt with jewelry production before, you can recourse to a low-investment dropshipping model.
Or, here's another option: you already have your own successful jewelry business, but it still works offline. Then it's all the more time to go digital.
In short, we're dealing with a perfect win-win situation here. Whatever your position, you get a reliable source of profit. Don't you agree?
Anyway, this is what we're going to talk about in our new article. We'll explain to you what you need to consider to make your project maximally profitable and minimally troublesome.
Are you ready? Then let's finally discuss how to start a jewelry business online.
Reasons for

Starting a Jewelry Business Online

According to the latest forecasts, the value of the jewelry market worldwide will have reached more than $ 480 billion by 2025 (compared to almost $ 279 billion in 2018). The numbers are impressive, right? But is it worth joining those already active in this industry? 

To answer such a burning question, let's take a quick look at the main pros and cons of starting a jewelry business online.
Pros:
the constant product demand. It can be higher or lower depending on the situation, but there're always people buying jewelry;

a wide range of suppliers, so you won't have problems purchasing stocks;

ease of shipping. Jewelry items are quite small and therefore can be delivered fairly easily;

variety of assortment. Rings, earrings, chains, pendants, beads... the list goes on. Choose what seems to be the right options to create a jewelry website to run your online business.
Cons:
high competition, because you are by no means the only one in the jewelry market;

large initial investments required to start production or purchase in bulk.
As you can see, the pros outweigh the cons, so you have every reason to keep going as planned. But now another question arises: how to make your own jewelry store run at full capacity? The answer is to include the preliminary preparation stage in your business project implementation.
What to Consider Before

Selling Jewelry Online

How to organize a successful online jewelry business, where to start?
Knowledge of jewelry production
Firstly, you need to have certain skills and know the specifics of the jewelry market in order to competently control all the processes.
And don't worry if you have no experience in this area yet.  There are tons of good study courses out there so you have a chance to remedy the situation.
Here are a couple of ideas to help you become a successful jewelry seller (at least, in the long run):
various guides, which some online jewelry stores and other similar resources (such as Annie's Craft Store and Howcast) offer;

online schools focused on the creation of jewelry items (say, London Jewellery School Online);

and there is no reason to forget about YouTube, where you'll find training courses on any topic.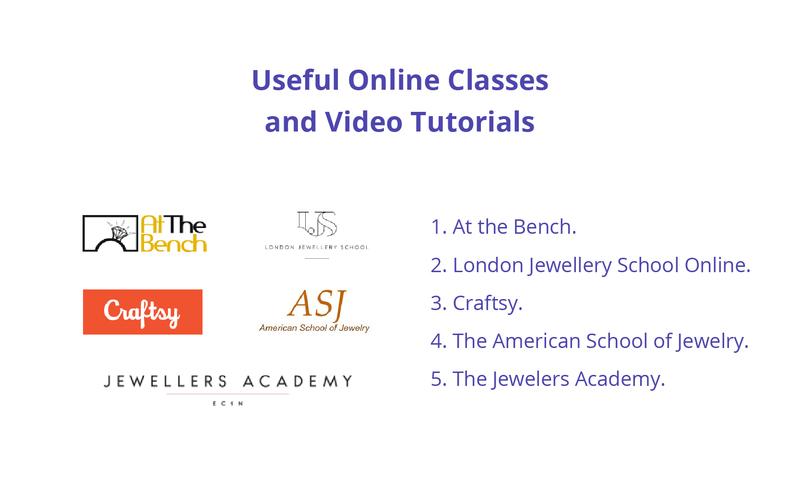 Even if you're not planning to run a jewelry production business and want to find reliable suppliers, don't ignore the self-learning phase. In any case, it's helpful to familiarize yourself with the basics of jewelry making and the terminology most commonly used. Thus, you'll be able to communicate with potential partners much more productively (at the very least, you'll understand each other better).
Jewelry market

research

Jewelry is rather expensive, and its production cost is also high. That's why any successful jewelry business is always based on market trends. Otherwise, you're likely to obtain supplies, which consumers find old-fashioned and boring, and your financial investment won't pay off.
How to do a market analysis?
The easiest way to stay on top of it is to read specialized blogs. They'll help you keep abreast of what's happening in the world of jewelry.

It's also a good idea to pay attention to what celebrities are wearing now since many women like to copy the style of popular actresses or singers (or just it girls).

And of course, include online research in your initial activities. A wonderful option is to take advantage of Google Trends. The service would show you the dynamics of the popularity of a particular query (such as "Buying jewelry online" or, let's say, "Earrings"). Simply put, you'll be able to figure out what jewelry people are looking for online.
Niche selection
Don't dream of competing with Pandora or Swarovski (never mind Tiffany) when starting a jewelry business online. Perhaps, in the future, your online store would get a chance to stand alongside them, but not immediately. Be patient.
It's best to choose your niche and achieve maximum success in it. Here are some great options to get you started:
Bijouterie (imitation jewelry), which is in fashion now. Pay special attention to vintage or vintage-styled jewelry, large and bright bijouterie items, ethnic style pieces, and more.

Hand-made jewelry. Focus on exclusivity. Be sure to emphasize that you're selling unique jewelry pieces made in one copy. 

Middle-class accessories, which is also a wonderful option, as there is always a fair chance to find a paying consumer.
Determining the target audience
After choosing a niche, it's time to determine the target audience (in the end, you must understand who your jewelry website is aimed at).
If graceful jewelry is your strong point, then young girls of a romantic nature will become your target audience. If you're planning to offer large and vivid bijouterie items, then eccentric people and creative personalities are your maybe buyers. And glass and plastic jewelry are likely to be in demand among modern people who follow the latest fashion trends. It's very simple, isn't it?
The target audience can be conditionally divided into several main groups:
Lovers of classic style;

Brides, graduates;

"It" girls and women of fashion;

Fans of ethnic motives.
Competitor analysis
Also, your preliminary jewelry website development process should include a competitive analysis. You have to find out who you'll have to rival in the hope of attracting as many consumers as possible.
Therefore, carefully analyze main competitive resources and try to understand what methods they use to drive traffic. Maybe you should even adopt some of their marketing strategies and take advantage of them to promote your jewelry marketplace too.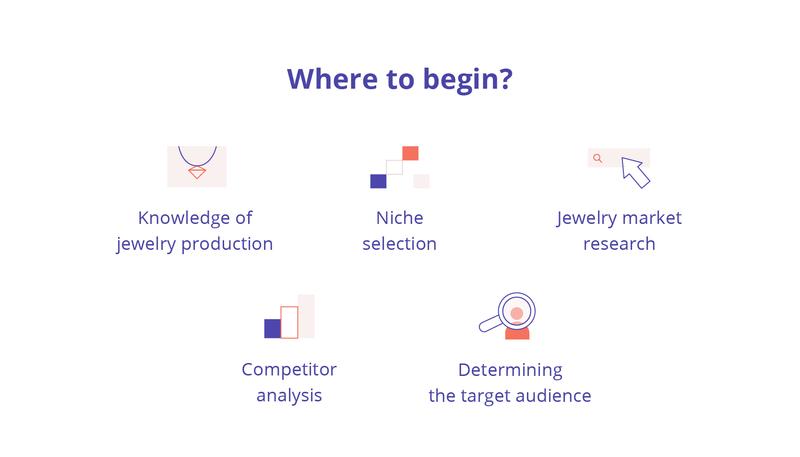 Business Model for Your

Online Jewelry Store

Before you start selling jewelry online, you need to figure out where you'll get your goods. Of course, there aren't so many courses of action: either you are engaged in your own production, or you find reliable suppliers.

Let's consider each option separately.
Sales based on a jewelry supply
This is the best option for a beginner. You don't have to invest in production and comprehend the intricacies and peculiarities of the related processes, which is a big advantage. In addition, you can purchase goods from different suppliers and thus provide an even wider product range.
What to do with a very limited budget?
If you have no money to buy even a minimal inventory (after all, jewelry is rather costly), you should resort to the dropshipping model we mentioned in the introduction. To be precise, you play the role of a simple intermediary who attracts visitors to the jewelry marketplace and turns them into buyers. Orders placed by customers are being transferred to the manufacturer of the goods (i.e. jewelry).
The model isn't bad, but it makes you completely dependent on the manufacturer. Among other things, you cannot check the quality of the goods and influence its delivery.
How do you find good suppliers?
The most obvious way is to use a search engine like Google. It'll suggest useful thematic sites and forums where you'll find suitable contacts. 

Also, you're welcome to go old-school and visit several jewelry exhibitions with the chance to do some networking.

And another good way to choose a worthy supplier is to analyze the jewelry market and competitive web resources (online stores). Your task is to understand whose services the most successful jewelry sellers use (if they aren't manufacturers themselves).
Selling jewelry of your own production
Business models based on your own production are much more expensive and require a more careful approach. Then again, you'll have the opportunity to be supplier independent and increase the profitability of the project.
Now it's time to discuss how to open your own online jewelry store and what to consider in the process.
How to

Build a Website to Sell Jewelry Online

Naturally, you can take the easy way and sell jewelry on social networks (let's say, Instagram or Facebook). However, such a method is ineffective and won't allow you to get the most of it. So our advice is to develop your own online jewelry store. 

It's high time to go big!
Ready-Made Solutions
The most hassle-free way to create a jewelry website is with ready-made solutions like Shopify and BigCommerce. These platforms allow building and customizing eCommerce marketplaces with little or no effort.
Of course, your resource will be far from unique, but you'll simplify the development process and thereby save money.
How to choose the right solution?
Ask yourself a few questions such as… 
What's your budget? Make sure you can afford the offered tariff plans.

What features does a certain solution provide? Would they help you solve your business tasks?

What about design? You need an online jewelry marketplace looking really modern and stylish.

Is there customer support? It would be nice to be able to ask the team for help if needed. Otherwise, you'll have to solve possible problems related to the operation of the online store yourself.
Jewelry website from scratch
This would certainly be the ideal course of action, but it has its negatives either.
on the one hand, you get a unique resource, which best meets the needs of your business;

on the other hand, development from scratch is more labor-intensive and time-consuming (which increases the cost of projects at times).
General tips for building a

jewelry website

Whichever way you choose to build a website to sell jewelry online, there are several factors to consider. Let's talk about them at length.
Website design. When selecting themes for jewelry stores, one has to remember to focus on the product. After all, jewelry in itself serves as a kind of decoration, isn't it? So it's better to limit yourself to 2-3 colors, which won't distract users' attention.

The ease of use. Undoubtedly, website usability comes first! Your consumer needs to make no extra clicks to place an order or find the right product.

Scalability. Any successful jewelry business is growing all the time, which means your resource must be scalable.

Testing. Don't undervalue the work of QA engineers. Their task is to guarantee the smooth and error-free operation of your web resource. It's best if they find bugs instead of your potential customers.

Start small. If you cannot afford to create a fully-featured online store, start with the MVP model and then gradually develop and update the project.
Okay, we've discussed the basics of the jewelry website development process, now let's deal with the key functionality.
Jewelry eCommerce Website Features
What features does a website need to meet the expectations of your consumers?
Online Check-in
The best strategy would be not to make registration a prerequisite for working with your resource. Provide the ability to buy jewelry online without authorization. That kind of foresight will increase your chances of inviting more purchasers.
However, registration should be possible anyway. The feature would allow you to collect a database of customers and make them personalized offers.
Homepage
It is on the Homepage that the customer usually comes first. So, your task is to make this page of your online jewelry store a selling one.
A couple of tips to enhance your homepage:
the Homepage should catch the eye and invite the user to stay here longer, figuratively speaking;

don't forget about access to all the main sections of the site so that the consumer can immediately go to the desired page, be it a catalog, a shopping cart, or a search bar;

no unnecessary details! Stick to the middle ground rule.
Jewelry Catalog
Surely, your jewelry marketplace should have a catalog. And it needs to be organized with usability in mind. Don't force users to scroll aimlessly through the catalog page in search of the desired item.
Let's say, why not divide your assortment into several groups? Here's a good way to act (though you can come up with your own ideas):
dividing the assortment by the type of jewelry: brooches, chains, rings, earrings, pendants, and so on;

division by style: classic, vintage, ethnic, romantic;

gender division: women's, men's, children's jewelry;

division by brands (if you have several).
Jewelry Search
It doesn't matter if you create a jewelry website from scratch or based on ready-made solutions, in any case, make sure its functionality includes a search option. Such a feature is a must-have for any online business, and the jewelry store is no exception.
And most importantly, power up the search engine with useful filters, which would allow consumers to clarify their purchase requirements: the precious gem, material, metal color, shape and size of the item, price range, etc.
Jewelry Details
As you can imagine, your clients won't be able to try on a piece of jewelry, be it a ring or earrings, before buying. So if you want to build a successful online jewelry business, you need to make up for this flaw with a compelling product page.
What is a flawless product page?
First of all, you need to take high-quality photographs of your jewelry. Show each item from multiple angles. Besides, it would be ideal if the jewelry is also demonstrated by models so that the consumer would see how the earrings, rings, or pendants look on a person.

Secondly, it is important to provide crucial details about each piece of jewelry, including its size, color, composition, etc.

Finally, do your best to write the flashy descriptions. You're selling not just jewelry, but emotions. Make a potential buyer want to purchase one or another product from your varied assortment.
Ordering Jewelry
Also, you cannot build a website to sell jewelry online without the ordering feature. 
What is the ideal order form?
It should be compact and contain as few fields as possible. The consumer may get bored with a too tedious and lengthy filling of information.
Try to place all the required fields on one page.
Wishlist
Let's be honest: jewelry is too expensive! And not every consumer can buy it right away. But this doesn't mean he won't have the opportunity to make a purchase later. So help him keep his intention in mind by providing a Wishlist feature.
Payment 
Selling jewelry online implies that the buyer must be able to pay for the purchase made. So it's time to take care of a reliable payment gateway. Needless to say, the solution you choose should be well-protected and secure.
And it'll also be great if you provide the user with several payment options: by credit card, Apple or Google Pay, cash upon receipt, etc.
Shopping Cart
Of course, another important feature is the shopping cart, which will display a list of selected products with an indication of the price of each.
And keep in mind, the shopping cart must be prominently displayed on the page of the jewelry website in order to catch the user's eye right away. Your clients shouldn't spend a lot of time trying to find it.
Social Media Integration
People love to share news about their lives, and shopping is also a popular topic of discussion. So it'd be smart of you to help your users tell their friends about your online store and their purchases on Facebook or Instagram. All you need to do is to include social media integration into the jewelry website development process.
Online Chat
During the shopping process, the buyer may have one or another question. And it is in your best interest to respond to it without delay. How to do that? Of course, with the help of such a feature as online chat.
Reviews & Ratings
When making purchases, people are guided not only by the product description but also by the reviews of other buyers. So the feedback feature matters a lot. And why not supplement it with a rating option too?
And by the way, if you see a bad review, don't delete it, just fix the situation and reply with comments that the problem has been resolved. This would make a better impression on your customers.
Jewelry Marketplace

Blog

Don't limit yourself to just selling jewelry online. Provide customers with the most useful content, make your store interesting in every sense. Among other things, dedicate a website section to feature articles. For example, explain how to choose and wear jewelry correctly, or describe the latest fashion trends. Thus, you'll attract more clients, and some of them are likely to become your buyers sooner or later.

Moreover, the Blog feature is also needed as a part of marketing activity. Its task is to help promote your jewelry store... however, details would become clear later. Keep reading!
Administrative Features
And of course, you need to add another block with special features to help your employees manage your jewelry business and control related processes.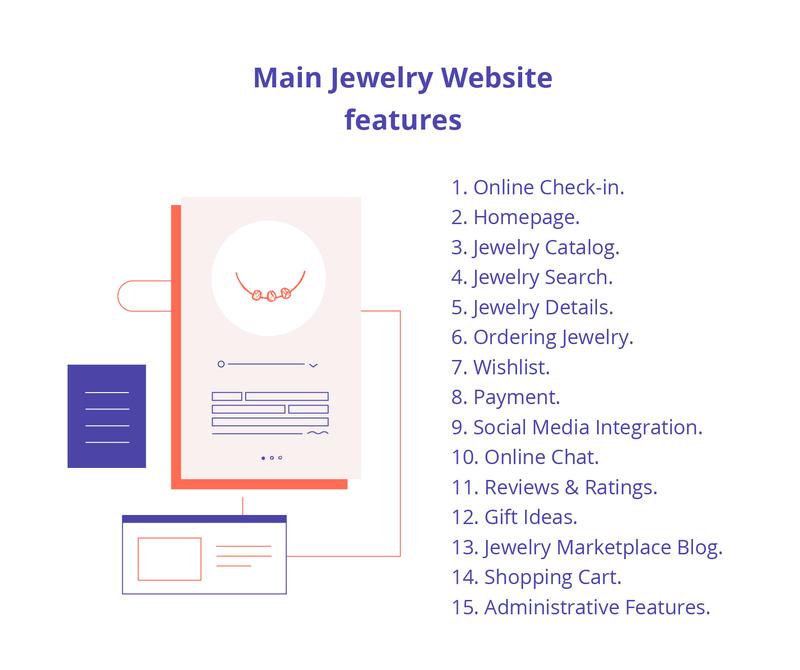 How to make your own jewelry store

successful
Naming. Be sure to give your store a memorable name. Believe us, the task is more difficult than it seems at first glance. The best names are already taken by your competitors, so you have to try hard to come up with something original.

Unique feature. The jewelry market is full of competitive offers. And you need to be brighter, more interesting than others. It's your only chance to gain popularity among potential buyers. So, you have to figure out how you differ from various successful jewelry sellers. Tell your customers why they should choose you and only you.

Competent marketing. A successful online jewelry business becomes such because its owners paid attention to the promotion. So it'd be smart of you to follow their lead and do the same. Key digital marketing activities include:

Content Marketing. As we mentioned above, your resource should include a blog with feature articles. One reason to follow our advice is the chance to implement a content marketing strategy. More specifically, you're not only writing a compelling article but also increasing traffic with it (using various SEO optimization techniques).

Social networks. Also, don't forget about social media marketing. Write emotional posts about your products and supplement the short juicy text with beautiful high-quality pictures of the jewelry.

Targeted ads, shown only to those users who, in theory, could be interested in buying jewelry.

Additional selling spots. Having your own online jewelry store is a great idea, but it never hurts to increase your income by adding a few additional selling sources. What about resorting to major eCommerce platforms like Amazon, Etsy, and eBay, for example?
Rate this article
15 ratings, average 4.80 of out 5