How to Make a Powerful Car Rental App
Published on:
April 10, 2022
Last updated:
March 20, 2023
Have you thought about developing a car rental platform? The idea should be really profitable: as statistics show, Google receives many requests from users, desperate to find a convenient service of this very type.
The conclusion is simple: there is still no perfect application that meets all of the modern requirements. It's time to finally come up to users' expectations and create a car-rental app matching a high standard of excellence. Do you want to take a chance and offer your product to the market?
Then you should start by gathering information. Luckily for you, we've simplified the task and prepared a detailed guide to the topic. We're going to provide you with tons of valuable tips so that you know how to get your application to work to its fullest. 
What Are Car Rental Mobile Apps

?

These are applications allowing you to rent a car anywhere in the world at any time. The program has an intuitive interface and shows the available vehicles nearby. To order a car, you need to make just a few simple taps. 

The car-renting market is showing steady growth today. And, according to the latest research, the trend is likely to continue: the market is expected to add 12% (the Allied Market Research report) or 13.5% (the Zion Market Research report) annually.
Drivers of

car rental app market growth: 
Customer benefits. First of all, the market growth is influenced by the benefits the consumer gets (we'll discuss them in due course).

Driverless technologies, which, according to forecasts, will soon be increasingly introduced into transportation systems. Even today a great many car manufacturers are investing in autonomous vehicles or vehicles with advanced driver assistance functions. This will affect the popularity of car rental apps as well (since it'll be possible to order a drone-based car).

Environmental (green) requirements. The ability to rent a car leads to reducing the number of vehicles, which has a positive impact on the environment. That's why car sharing and car rental are being popularized in the Asia-Pacific region.
Let's go a little deeper into the statistics in order to understand what we have to deal with.
Car Rental Industry
Studies in the United States have shown that in 30+% of cases people using car-renting services are willing to sell the vehicles they own. In addition, many of them postpone buying new cars until better times. An interesting trend, isn't it?
World data on the

car rental industry:
The United States is a pioneer in car rental, with particular demand for car sharing. And one of the most popular services is ZipCar.

As statistics claim, renting a vehicle has practically no effect on the use of public transport, but it perfectly replaces travel by private cars.

According to surveys conducted in the United States, more than 73% of people perceive a rented car as a temporary alternative to their vehicle (which they usually have).

Since 2014, car-sharing and car-rental projects have received more than $9.5 billion in investments. And they'll get even more by 2027 due to the development of autonomous transport technologies (which we've already written about).
How a

mobile app for renting cars works

Most car rental services are incredibly easy to use:
first, you have to download the application (of course!);

open the program and find the nearest car through the map or using the search engine (indicating your requirements related to the vehicle you need);

book the car specifying the purpose and term of your rent;

get the car keys in one of the following ways:

at a personal meeting, when the owner and the renter of the car intersect on a certain neutral territory. As you understand, this method of transferring a car for temporary use isn't really convenient;

remote transfer of car handling, which is the most optimal option. This is how best rental car apps like Turo and Drivy work. Of course, the vehicle owner will have to put up with additional investments to implement such a project, but the costs are easily paid off because the number of monetized users is also growing.

that's all! You're free to go about your business. 

P.S. Money is usually debited from the card after you complete the ride (or when booking a car).
Types of

Car Rental Apps

Actually, your car rental app can cover several of the options described below (or focus on just one of them). The final choice would depend on your financial capabilities and the specifics of your country's market.

Okay, let's consider the main car-rental types:
Personal goals. Do you need to resolve some of your personal issues? Then the mobile app to rent cars is at your service! Choose a motor vehicle you need and get it right away. You're welcome to use the car for the time you booked it. 

Driving around the city. The 2nd app type is similar to the above, the difference is that in this case, you plan to drive a car only within the city. Usually, it's about some small errands like a trip to the supermarket.

Payment can be varied: hourly, half-day, full day.

If desired, the user may order a car with a driver.

Business goals. If you, as a potential owner of the mobile service, want to attract a more elite audience, you should create a car-rental app, which works with executive-class vehicles. Your maybe users are businessmen, CEOs, and other people who need a representational car to impress a client (or have other business purposes in mind).

Traveling. When you travel the world and find yourself in an unfamiliar city, you'll appreciate the chance to get around by car: taxis are too expensive and using public transport is tiring and time-consuming (and time is precious, especially if you're abroad). So if you live in a touristy city, you might consider creating this type of car rental service apps.
We hope you've decided which application version you had better build. But before we get down to describing the development process, let's examine another important issue, which is… 
Benefits of

Car Rental Services
24-hour access to the service. We're talking about the possibility of round-the-clock car rental at any convenient time and for any required period. Moreover, you get a vehicle without the problems associated with using your own car or ordering a taxi (you'll soon understand what problems we're hinting at). 

Ease of getting a car. All available cars are listed in your application, and choosing one of them is extremely simple: tap the item that suits best, and it's done!

No car care. A car is no longer a luxury, but an important tool that makes our life more comfortable and successful (especially when it comes to residents of large cities). However, owning a car is by no means an easy task, as maintaining a vehicle requires funds. There are no such problems with a mobile app to rent cars! You don't face such troubles as parking, repairs, car washing, seasonal tire-changing, buying consumables, and so on. The driver has nothing to worry about. 

Independence. Independence means a lot to many people. In particular, this implies the ability to move around the city without having to communicate with another person (that is, a taxi driver). Of course, if you have your own car, then independence is ensured, but not everyone has the opportunity to allocate money for such an expensive purchase. It'd be much cheaper to rent a car whenever you need one.

Flexible pricing. Of course, a lot depends on the type of car rental service apps and the chosen monetization model, but usually, the driver has the opportunity to choose a convenient rental format: per-minute or hourly rental, use of accumulated points, etc.

Saving budget. Yes, renting a car allows you to spend your money more wisely. Let's explain what causes these budget savings:

as we said, buying a car doesn't come cheap. And if you only need a car from time to time, it seems stupid to shell out in the first place;

some people prefer taxis, but car rental is still cheaper.

The opportunity to test different car models. If the driver is thinking about buying his personal vehicle anyway, becoming a user of the car rental service app (at least temporarily) would be a good choice. By doing so, he can easily change cars and test which model he likes best.
The idea of ​​developing a car rental platform seems to be rather far-sighted and profitable now, right? However, it comes with a couple of inescapable problems. Let's discuss them and do our utmost to find a proper solution to each one.
Problems of the Car Rental Industry
Before you decide to build a car app for renting purposes, you have to consider several important problems (so as not to deal with them later, when it's too late).
Competition. You're clearly not the first to come up with the idea of ​​developing a car rental platform, you'll definitely have competitors who have already managed to win over their users. Think about whether you have a real chance of setting yourself apart from the key market players.

Car fleet. The key question is: where do you find the cars your users will rent? You have three basic options:

partnership with existing companies with vehicle fleets and various car rental service providers if they failed to create their own mobile service;

the decision to become the owner of a car-rental company yourself. You may start by buying several cars of different classes;

the last option is to cooperate with independent car owners who don't mind renting out their vehicles. And why not when it means a good extra income!

Safety. Some car owners are likely to be afraid to rent out their vehicles to other people. After all, you never know who is a potential car renter! What if he is a crook and a hijacker? And since you won't be able to build a car rental app without vehicles, you have to take care of the security factor. 

Follow suit of your competitors who have already successfully solved this problem. Let's say Turo takes responsibility for verifying the identity of the renter and car owner. And in case of theft, Turo promises to pay the value of the lost property. 

The Carsharing app prefers to use a different method of ensuring security: renters and car owners must register using social networks, and their accounts should be active.

Insurance. Also, you may need to think about the issue of auto insurance to protect the vehicle from damage for the duration of the rental. A good option is to conclude a contract with a reputed insurance company. 
How to Build a Car Rental App
Well, let's discuss the actual development renting car app process, how would you feel about that?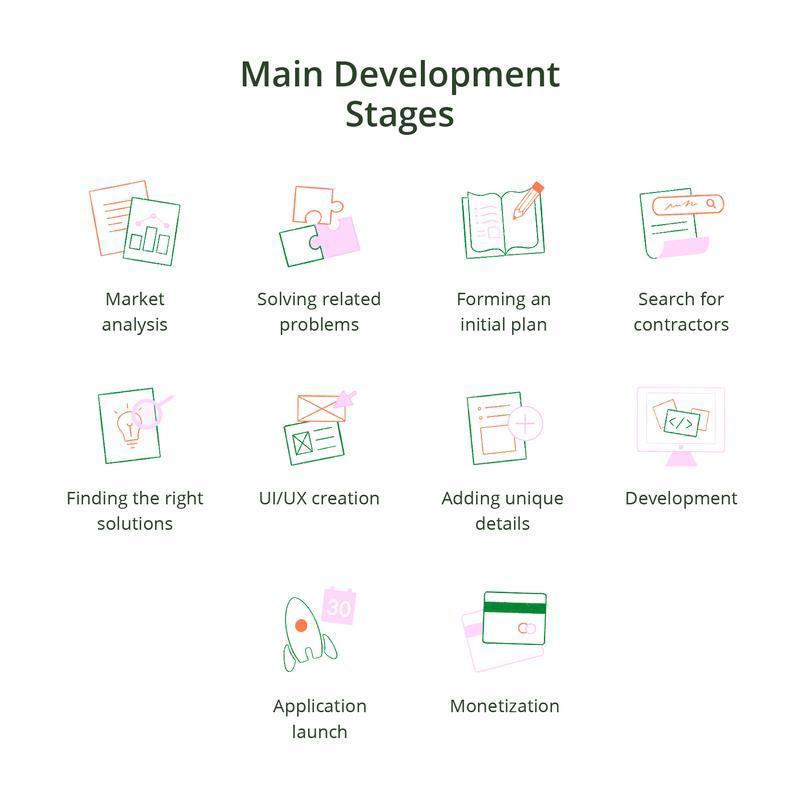 Market analysis. Of course, the first thing to do is to analyze the car rental app market. Such a study includes the following stages:

studying the preferences of your potential user. What exactly does he expect to get from your application?

analysis of the latest trends in mobile development, which will always come in handy;

competitive analysis. It's about analyzing the best rental car apps that work in the market in order to develop a competent competitive strategy.

Solving related problems. It's time to tackle the problems described above (ensuring the safety of users, searching for a fleet of vehicles to cooperate with, etc.);

Forming an initial plan. Now you have all the data you need to create your initial plan. You should take into account your budget, goals, and other factors. The task is to make a list of must-have car rental app features (in the future, some adjustments might be needed);

Hiring contractors. You're unlikely to build a car app for renting purposes yourself, so it is in your best interest to hire good experts who will take on your project.

Finding the right solutions, namely, the choice of the necessary tools, platforms on which the application will run, third-party solutions that should be connected to your system, etc. Your hired specialists must advise you on the issue and give their professional recommendations.

Adding unique details, which means coming up with original features able to make your application more interesting to the user.

UI/UX creation. UI/UX should be user-friendly, intuitive, clear.

Development. Now the most important and complicated stage comes, which is car rental app development: it's about coding, connecting the required libraries, implementing the selected solutions, and so on.

Application launch, in other words, publishing your application to App Store and Google Play.

Monetization. The problem is too important, so we'd like to discuss it as a separate item (just keep reading).
Key

Car Rental App Features

Your application should work with a few target groups:
drivers wishing to rent a car;

car owners (or a company with a car fleet);

admin(s).
Basic features:
GPS navigation. GPS in your app for car rental is being used to determine the location of the driver (the person who rented the car). Such a feature would come in handy; its goal is controlling the riding process (if necessary).

Maps and Route building. Maps are useful for planning a trip, calculating its duration, building a route. In general, the first and second features are interconnected.

Payment system. Be sure to consider integrating a payment gateway. This will allow users to pay for services (car rental) online, remotely. That being said, try to offer multiple non-cash payment methods such as Paypal, credit and debit cards, Apple Pay and Google Pay.

Ratings and Reviews. Users of your mobile app for renting cars would also appreciate the possibility to assess the level of services provided through reviews and ratings. Moreover, it is desirable that all user groups could leave reviews:

Potential renters should be able to assess the quality of the vehicle and the politeness of its owner.

On the other hand, car owners must be allowed to assign a rating to users who rent a particular vehicle too. What condition did the driver leave the car in? How did he behave while driving a rented car? All of this can be described in the review.

Chat. And, of course, a rental car application service won't do without a chat! This is the best way to perform communication between car owners and renters to discuss pressing issues, clarify details, and more.

Ability to upload documents. Car rental requires interaction with documents, be it a passport, car's or driver's license, and the like. Therefore, the driver or car owner must be able to upload the documents using the app (say, download them from a photo gallery or take a photo of them, which requires access to the smartphone's camera).

Notifications. Keep users informed about everything important related to your car rental service.

Analytics and statistics tools. The best rental car app becomes one because its owners monitor its performance and pay attention to critical metrics of success (new and active users, user retention, and so on).

Premium features. They're optional but useful to make your application more competitive. You can offer them for an additional fee (see the Monetization section):

Remote transmission of vehicle control. To implement the feature, an electronic device with a locking and unlocking mechanism is required, which can be activated using Bluetooth and/or Wi-Fi signal.

Telematics features needed to remotely monitor the state of the car, including its speed, fuel consumption, temperature, etc.

In-app voice and/or video calls. It means a user can start a phone call without leaving your application. That would make almost the best app for car rental, don't you think?

Emergency button. And finally, the last premium feature is the panic button, which the user can tap if the situation takes an unpleasant turn (it might be helpful if the person rents a car with a driver service).
Features of a user renting a car
Now let's talk about the features aimed at users who want to rent a car. What is of paramount importance to them? Of course, intuitive UI/UX, high speed of work, convenient search engine, the security of financial transactions. 
Thus, these car rental app features should include:
Check-in. It all starts with registering a user in your application. Suggest several ways to sign-up:

by email;

by phone number;

through social networks.

Personal account. Now, when the user has registered and created his account, he must fill in his page with personal information. Since car rental apps deal with financial transactions, it is important that the user provides as much information about himself as possible:

FULL NAME;

age;

driving experience;

residence address;

driver's license, and the like.

Search. As we said, these users attach great importance to the convenience of the search engine, which helps them find a car suiting their individual needs. Of course, the ideal search engine is equipped with a variety of filters that allow setting the parameters of the desired vehicle:

car model;

rental rate;

the presence of an air conditioner, a child seat, etc.

Car booking system. Let's say, the user has found the car he needs, now he has to book it if it's available. In our view, the booking system is one of the most important features of your car rental service app.

Driver service order. Do you remember our discussion of application types? We mentioned that sometimes a user needs a car with a driver. Give him the opportunity to order driver services remotely. 

The role of such a driver can be performed by both the car owner, if he has the opportunity and desire to do the job, and hired specialists. These are the points you have to think through before starting the car rental app development.
Features of a user (company) offering a car(s) to rent
Surely, you also need to think about the features available to car owners (or an owner of a car-rental company).
Main functionality includes:
Registration of car owners. If you don't have your vehicle fleet and cooperate with individual car owners, you must ensure they're able to sign up. The principle is the same as when we dealt with car renters.

Profile. There are several options, namely:

The car owner enters his personal data and provides information about his car;

If you're the owner of a car fleet (or work with such a company), then each vehicle item should have its page with detailed information about it.

Car(s) owner panel. Car owners can access information about the vehicle in order to change it if necessary: manage the schedule of availability (that is, whether the car is available), replace photos, examine statistical reports, etc.
In addition, you have to create an admin panel with special car rental app features; they're needed to help you manage users, transactions, lists, dashboards, and more.
Cost to

create a car-rental app

You're probably interested in the cost to develop a rental app (like Hertz or another no less famous application of the sort). We've prepared a detailed infographic to give you a clear idea of the budget you need to prepare.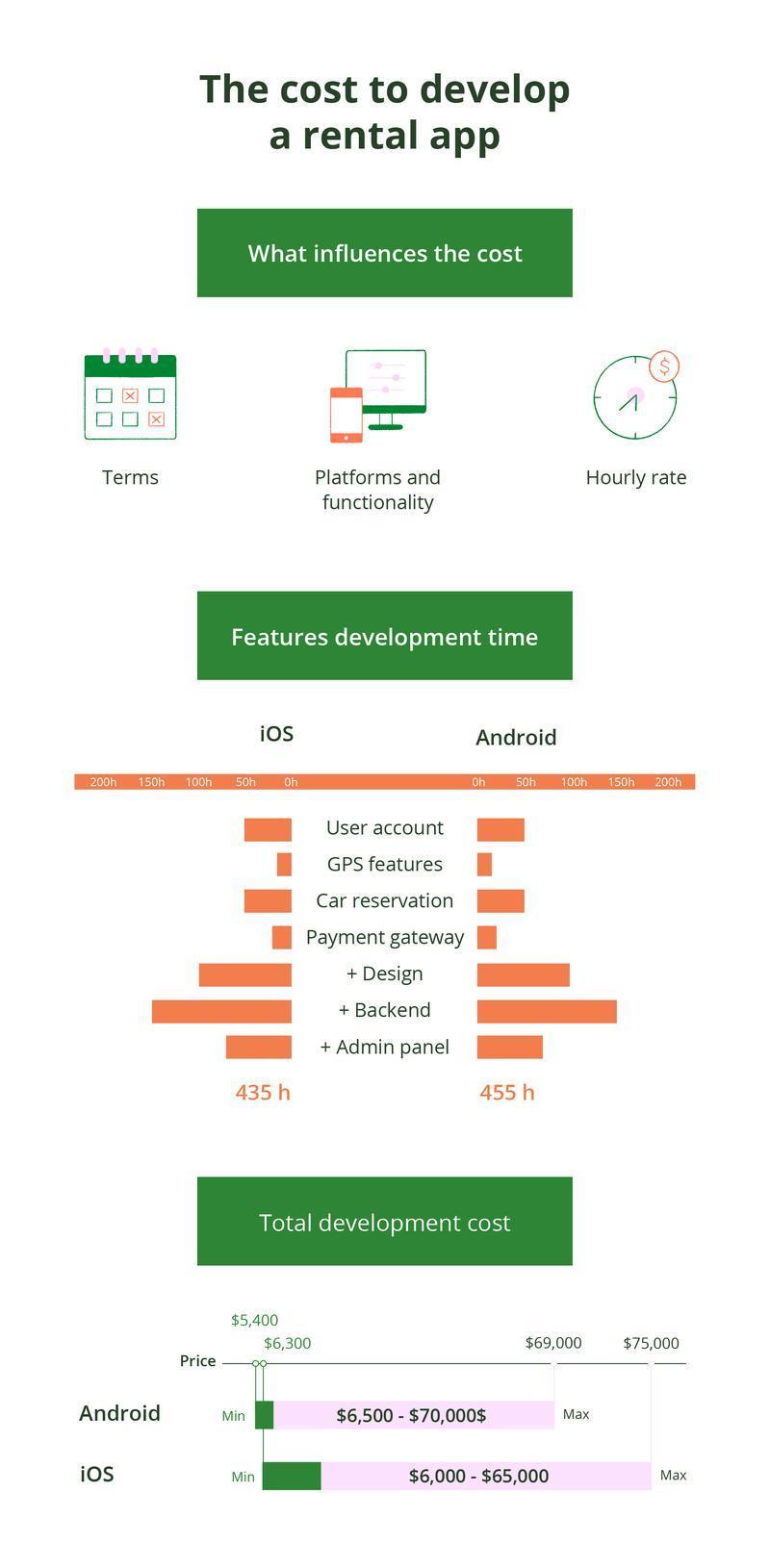 How to monetize your

car booking app service

Owners of car booking app services derive profit through the following:
Subscription. Our advice is to start by providing a free trial version (say, within a month). If a user likes your program and decides it's the best app for car rental, you'll have a real chance to convince him to buy a monthly (or even annual) subscription.

Commission, charged when booking a car (or after completing a ride);

In-app advertising, a traditional way to monetize any mobile service;

Paid features. The application is free, however, some of its features are available only after payment (we've given several examples of exclusive, paid car rental app features in one of the above sections).
---
Rate this article
0 ratings, average 0.0 of out 5
---
Get in touch
Send us your comments, suggestions, questions, or feedback.