Is There Still Room for a New Ticket Booking App and How to Build It?
Published on:
April 10, 2022
Last updated:
March 20, 2023
Everyone wants to have a chance to book tickets for events, movies, sports, and concerts effortlessly and in minutes. On the other hand, companies of different profiles wouldn't mind selling tickets to their events more efficiently either. That is, there are already two groups of users in the need for an effective ticket booking app! It's time to get down to business and build an online booking ticket system.
The task seems difficult, and so it is. There are many obstacles to success: a high level of competition, the complexity of the project itself, the necessity to create a well-thought promotion strategy, etc. However, every problem has a solution, and this particular situation is no exception.
We're going to tell you how to develop an online booking ticket platform capable of generating sustainable profits. And it doesn't matter who you are: the owner of a company that wants to attract more customers to their events or a startup willing to make money on the two groups of users mentioned above; in any case, the article will be useful to you. Read and ask questions, if any.
Types of ticket booking apps
Before discussing the problems of product development and promotion, let's analyze the types of ticket booking apps. It will allow you to figure out what's what and choose your path from the very beginning.
Transport ticket booking
Online train ticket booking apps belong to the most obvious, though not the most interesting case (of course, not only the train but also plane tickets, any transportation mode!). But you must admit, it'd be wrong to ignore such an app type completely.
International and local train/plane ticket booking apps are becoming increasingly popular, for it's very convenient to buy tickets at a distance and without unnecessary trouble, in just a few taps. And we cannot fail to pay attention to such an extensive group of users.
Moreover, we believe the market could use a new app for train ticket booking... maybe you are the one to provide it?
Booking movie tickets
Movie ticket booking apps are also in high demand. Many of us use them all the time when we feel like going to the movies. In the end, it's so simple: open a program, choose a cinema show, specify places and other details - and voila, it's done!
Take a look at the above movie ticket booking app concept! It's good, isn't it?
Ticket booking for events
Programs aimed at booking tickets for events can come in handy in several cases. Let's briefly list them:
sports events: any events involved in the world of professional sports, whether it is a football match or rowing competition;

musical events. Here, too, everything is very clear: concerts of all sorts, song contests, etc.

other types of events: these are ticket booking apps for businesses. The company can use them to sell tickets to their corporate events. Also, this includes exhibitions and a variety of product presentations.
 How do you think, can an event discovery app be a worthwhile business idea? Read our article to find it out!
Ticket booking focused on seminars/workshops
All sorts of seminars and workshops are now really fashionable, they've become a kind of trend. And companies specializing in such events can work much more efficiently if they have a booking system software to help in managing each process detail.
Ticket booking focused on plays
This application type reminds us of online movie ticket booking apps we've discussed earlier, only here we're talking about theatrical performances, not movies. The pleasure is more refined these days, aimed at elected ones, so to speak. And if you're the director (or owner) of the theater, you'll definitely need a new modern tool to attract more theater-goers. And an intuitive ticket booking software with a lot of cool features is exactly what you need.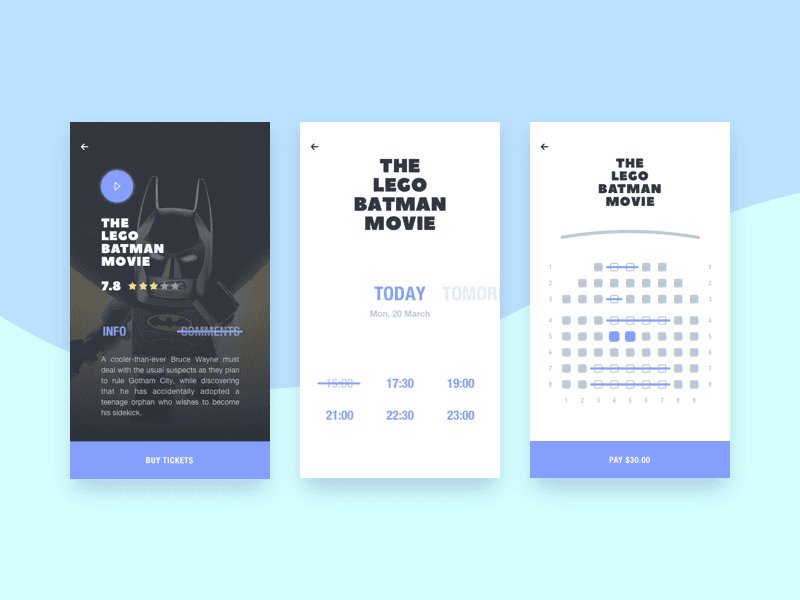 The concept works not only with movies but also plays.
Who is interested in

ticket booking app development?

We've already mentioned the issue in the preface of the article, but why not repeat it? We want to make our point absolutely clear.

There are 2 main options:
A mediator who offers a convenient platform on which companies can sell tickets to their events, and users are allowed to buy them.

A company, which wants to get an additional way to communicate with its customers and sell its services more efficiently. Let's say, a cinema owner can improve movie ticket sales.
Most popular

ticket booking apps

Let's discuss the best ticket booking apps. They are your competitors, and you need to know how they lure people into using their services. Their approach might help you in mapping out the right strategy.
Ticketmaster is the leader in selling tickets to entertainment events in the United States and Canada. More importantly, the company is the Official Ticketing Partner of the National Football League, National Hockey League, and National Basketball Association (all are located in North America). That's why many consider Ticketmaster the best app for ticket booking.
Certainly, the program has deserved the title of the best. After all, whatever ticket a user is looking for (NBA Finals, a favorite singer's concert, etc.), the application offers a great solution to buy it quickly and safely.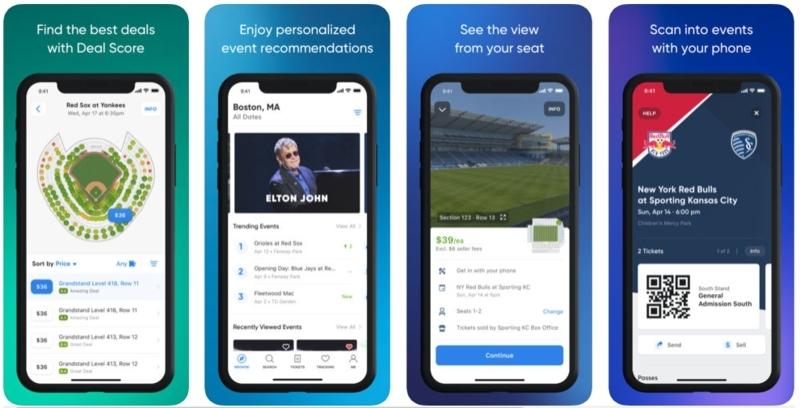 SeatGeek helps to buy tickets and focuses on people who are going to sports events, concerts, and so on. Among others, an app user gets the opportunity to buy and sell already purchased tickets (if they are no longer needed). Moreover, all tickets are confirmed by a 100% buyer guarantee of SeatGeek.
In addition, the company sponsors many YouTubers who post videos about sports, which also speaks in its favor.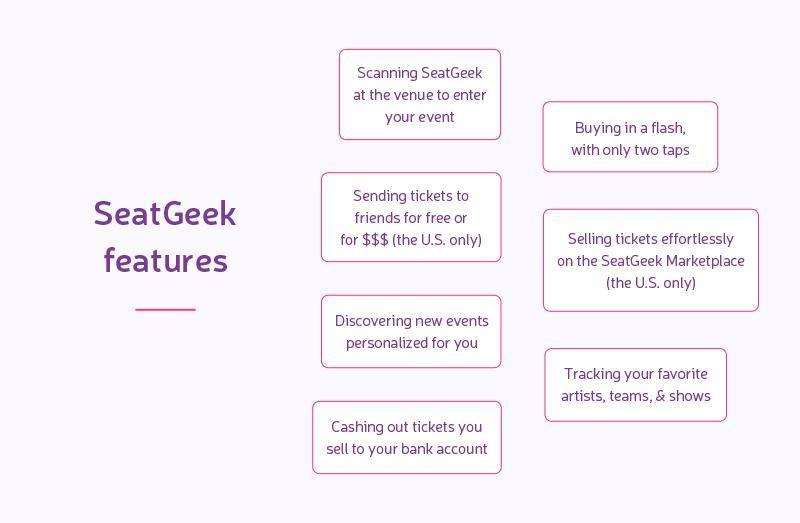 StubHub is another popular mobile solution to book tickets for events of various types. Football, concerts, theater and cinema performances - the company covers all these events.
StubHub operates in 40 countries in Europe, America, and Asia and guarantees the security of transactions. The service also adjusts to the current user location and offers the sorting of offers by interest.
StubHub is especially indispensable if the tickets have already been sold out. People who managed to stake out a place may change their mind and want to sell their "event pass". The service allows them to do it really quickly.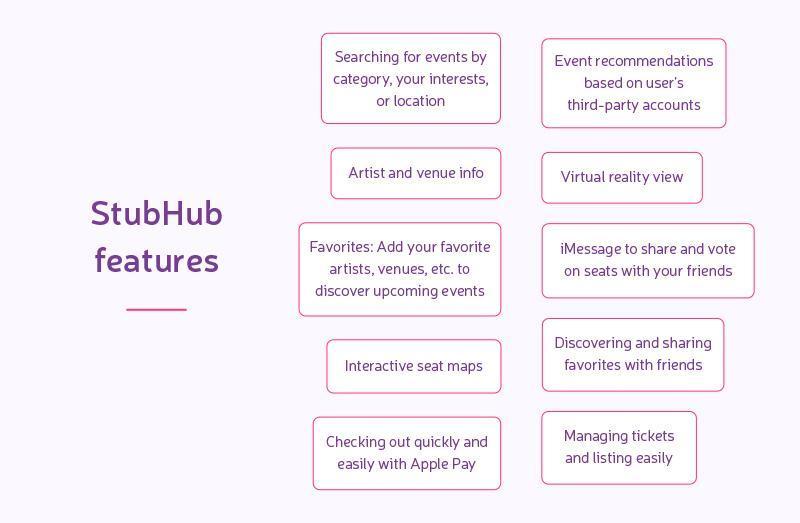 Ticket booking app features
We offer to take a look at two sets of features for online booking systems: the first set is aimed at those who buy tickets, the second one is focused on those who sell them.
The 1st set of

ticket booking app features

Here we're talking about those who buy tickets. So, what features will convince them to use the application more actively?
User account. Personal Cabinet must contain all information about the user, and if we're talking about train or airplane tickets, this may imply passport data as well. What should be remembered?

careful data protection;

integration of social networks (to simplify the registration process and provide the user with the opportunity to share information with friends).

Geolocation. Determining the location of the user is an indispensable feature when it comes to event apps and other similar mobile booking solutions. It opens up a lot of opportunities, among other things is the chance to offer the user nearby events.
 By the by, in one of the articles, we talked in detail about geolocation and mapping technologies. Click here and read more!
Ticket Search. There will be little use in online ticket booking apps without the possibility to search for tickets. And don't forget about the filters and search parameters: by category, location, etc.

List of all events. If we're talking about train or plane tickets, the list contains all railway or air flight options. Of course, as in the previous case, don't forget about filtering and sorting events according to different criteria.

Event Details. If you decide to develop an app for ticket booking, keep in mind that the user wouldn't be satisfied with just buying an "event pass". He'll want to have a chance to open the screen with all the details of the planned event: the time and place of its holding (or the train departure time), the event duration, etc. of the same kind.

Ticket booking. Of course, this is the must-have feature of the e-ticket booking app. A user chooses the event (or flight), taps, and moves to the next feature, namely… 

Payment Options. Offer users several payment options and be sure to take care of data protection.

Ticket management. Now, when a user has bought a ticket, he'll be happy with the opportunity to manage it: print his ticket, download it in PDF format, send it by mail, sell or present when changing plans, etc.

View the booked venue. Remember we talked about your competitors? These services provide users with the opportunity to have a look at the venue before (and after) booking (of course, without visiting it). Moreover, the best ticket booking apps managed to implement a virtual tour of the venue, its 3D-viewing, and so on.

The rating system and feedback from users. Only by receiving feedback from the user, the owner of the service will be able to properly improve and develop a ticket booking app, to make it better and better.

Discovery. Of course, online booking software won't cope without the discovery feature. Its essence is to offer the user tickets to events that may potentially please him (taking into account the history of the user's past choices, his location, and other things).

Chat. The chat will help the company to stay in touch with its customers and, instantly answer their questions, and comply with users' demands.

Last but not least feature of online ticket systems is the notifications. What to notify users about? Here are a few ideas:

company's news;

updated information on events that interested the user;

tips on other interesting events and tickets to them;

discount offer.
The 2nd set of

ticket booking app features 

And now it's time to discuss which features will be useful to the other party of this interaction.
Company page with all information about the organization.

Event management. The company should be able to manage events: add them, change them if necessary (say, if the place or time of the event has changed), delete, etc.

Chat. It is also a useful feature of the online ticket booking system (we've given its merits above).

Notifications. In this case, it means the possibility not to receive notifications, but to send them.

Transactions, or rather their management.

Content Management. It includes anything related to the management of the content of ticket booking software for small businesses and large companies.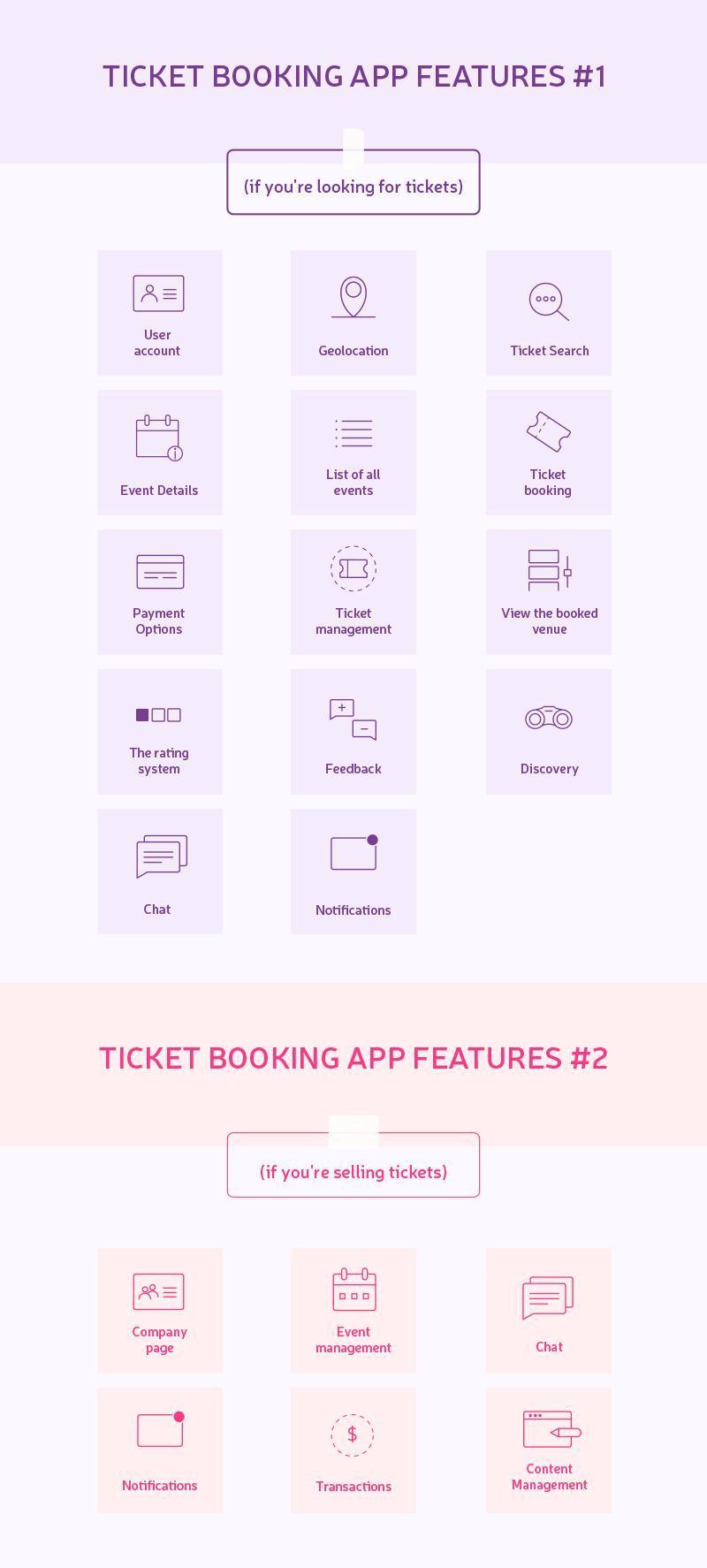 Now you know which features will help to make a custom online ticket booking software really competitive... but this isn't enough to succeed, do you agree?
How ticketing startups can disrupt the market
So you created a new ticket booking app... and now what? What is your future strategy? 
First of all, be prepared for a long struggle... success won't land on your head, the competition is too great. But with a skillful approach, you'll pay back the cost of ticket booking mobile app development - just give it some time!
And now, here are several practical tips to promote your application:
Think of the app gamification. A good option is a mini-game which starts when the application is trying to find you a ticket. A beautiful color transfusion on the screen and a slowly creeping progress bar with the words "We are looking for tickets for you" start annoying any user in about 20-30 seconds. And the game allows you to somehow brighten up the wait.

Make your booking software as perfect as possible. Moreover, involve users in the process! How to do it? There are many ideas, one of the options is testing the program before launch. So you'll know the opinions of interested users and get a real chance to finalize the product in accordance with the wishes of your future audience. You can attract these volunteer testers by offering them free access to paid features or promising to play a prize among all participants.

Pay close attention to Google Play and App Store. And keep in mind that the mechanisms of getting to the top of App Store and Google Play are not the same. App Store has minimum criteria: the number of downloads, ranking, search "weight". Google Play takes into account more factors, among which are different indicators of user activity within the application. Anyway, take the following steps:

come up with a bright, invocatory app name, preferably with the use of a key phrase.

publish a detailed description of the ticket booking app. Describe at length the functionality and benefits of the product.

publish a promotional app video and add screenshots.

and, of course, create an attractive app icon. 

Talk more about your new ticket booking app. Post information about it on the corporate website and on the social network. 

Ask users to rate and comment on the app, as this affects its position in App Store and Google Play. Use a simple trick: offer to rate in the program interface and then act in accordance with the situation. If the rate is low, ask the user to write to the developers and get their help. If he rates your app highly, redirect him to the store with a request to confirm the assessment (and, maybe, to leave a few words about the experience of interacting with your service).

Promise the possibility of free installation. The high cost of ticket booking apps can scare users away. Give your audience a real chance to weigh the benefits of your product. The developers of Pocket DJ noticed a decrease in the number of downloads by 30% when they put a notification about a premium account at the beginning of the activation chain. Everything returned to normal after transferring the notification to the end of the chain.

Minimize the size of the application. According to Scott Logic, the less the application file "weighs", the more willingly users install it. The file size should not exceed 50 MB. As statistics claims, owners of smartphones and tablets are trying to download more "heavy" applications only if they have access to Wi-Fi.
Summary
Okay, where to start your ticket booking app development? So much to consider! Among other things, you need to get access to the SDK payment system, decide which platforms you will work with, and so on in the same way. This is a very specific area, and each project is unique.
We're happy to help you figure out all the intricacies of the above process and create the best booking software. You won't regret the decision to cooperate with us.
---
Rate this article
0 ratings, average 0.0 of out 5
---
Get in touch
Send us your comments, suggestions, questions, or feedback.