How to Make a Chat App Like WhatsApp
Published on:
April 10, 2022
Last updated:
March 20, 2023
We've been spending the whole day with our smartphones at hand and with round-the-clock access to the Internet. So it's not surprising that we prefer to communicate with friends through all sorts of instant messenger software. And one of the most popular programs is obviously WhatsApp. 
According to Statista, every month WhatsApp is being used by 1 billion people around the world. In addition, it's a very sought-after application in 109 countries. But what is the purpose of Whatsapp (in global terms)? Why is it so successful? And, most importantly, how to create a messaging app like WhatsApp?
There are so many questions, and each of them requires a detailed answer. Fortunately, we have the right information, and we're ready to share it with you!
What is Whatsapp messenger

?

Let's get started with the basics… 

WhatsApp: what is it? Why and when do we need it?

In fact, WhatsApp is a mobile application helping people in exchanging short messages online. And it's not just the most successful project, it's a typical image of the American Dream come true. This is the legend of an immigrant from a poor family who managed to become a billionaire and blessed mankind with a new useful service. No wonder we want to learn how to develop an app like Whatsapp!

The essence of the application is reflected in its name which is literally offering us to contact our families or friends to find out how they feel. "What's Up, guys? Can I help you?"

WhatsApp is especially popular outside the US and successfully competes with Asian messengers. What's more, the program is in great demand in the emerging markets of Brazil, Mexico, and Turkey.

Since its launch in 2009, WhatsApp has evolved into the industry leader, available on almost all mobile operating systems.
If you want to know how to make an instant messaging app like WhatsApp, you need to consider this competitor in more detail. What is it that attracts users? 
Its popularity in the world messenger market is provided by the following key features:
Registration by phone number;

Realtime-events;

Sharing files and images;

Recording of voice messages;

Voice calls.
Also, WhatsApp allows you to download files from third-party cloud services, such as Google Drive, OneDrive, and iCloud.
Of course, we've made a very brief overview, later in our article, we'll give you much more information on the matter so that you'll know in detail how to build an app like Whatsapp. 
And right now we're going to analyze WhatsApp's marketing strategy.
WhatsApp marketing strategy
The questions like "What is a WhatsApp messaging service and how to use it?" aren't the key ones. It's much more interesting to find out due to what methods the app managed to achieve such an amazing success! What is its secret?
Let's analyze WhatsApp's history and strategy to see if we can adopt some of its ideas and tactics to build a WhatsApp clone of our own.
WhatsApp Inc was established on February 24, 2009, in California. Its creators are Jan Koum and Brian Acton.
It may be said without exaggeration that this was a story of deafening success, and many consider it to be almost a miracle. And really, there are a lot of questions to be asked. How did the application cope with the task of sweeping the market and winning about 450 million users around the world? What had been done in order to distance rivals, and the strong ones? And how did Koum, a native of Ukraine, manage to create a messenger app, which Facebook had bought some time ago (and paid about $ 19 billion)?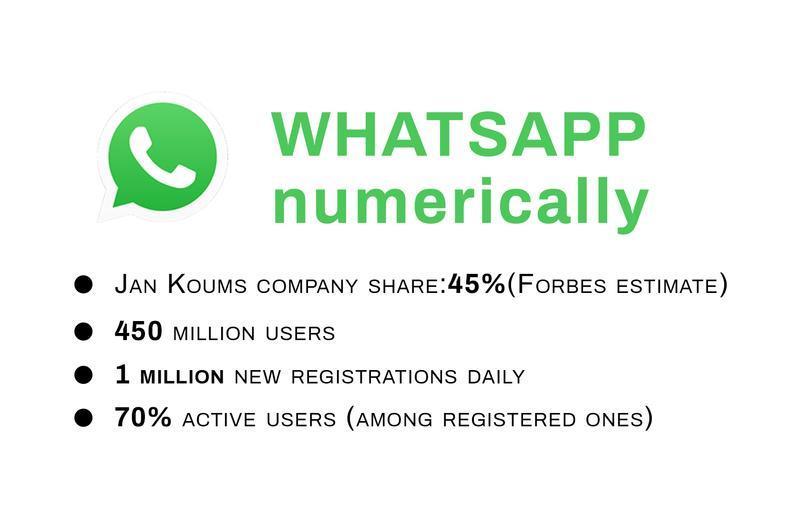 It seems to be a marvel, but it's not. There is a smart strategy, consisting of several key steps, which we'll now carefully study.
#1. The right idea at the right time
When Jan Koum came up with the idea of a service of the sort, the constant online Internet audience numbered billions of users. In such circumstances, the task to embrace an audience of several hundred million turned out to be an attainable goal. Let's just say, when AOL was being launched, only 3% of users were constantly online.
So the growth of the number of phones connected to the Network greatly helped the plans of WhatsApp's owners. Taking advantage of the existing infrastructure, the company was able to fully tap into its resources and develop a chat app offering real-time interaction, with the best user experience.
#2. Timely change of strategy
Not everyone knows that WhatsApp wasn't always among the instant messaging apps. Initially, Jan Koum designed it as an iPhone application whose task was to show the status of users in the contact list. The need to create such a "status service" became apparent to Jan Koum after one incident, which occurred in his own life. He was doing fitness in the gym when his angry boss from Yahoo! company called to find out why he wasn't at the office. And this was a moment when Jan realized the usefulness of having a special program with statuses showing the level of contact availability.
Soon, Apple launched a push notification system, and Koum took advantage of the innovation by integrating it into WhatsApp. In the new version of the application, the program began to notify users of any change in the status of their contacts.
Users liked the feature so much that they started sending notifications (namely, messages of sorts) to each other. Koum was amused to find out he had managed to create a messenger app though he didn't mean to. 
Reflecting on the prevailing mood of users, Koum had released WhatsApp 2.0 which had a lot more instant messaging app features. Thanks to this forethought, the number of users had reached 250 thousand people at a fast clip.
#3. The best alternative to SMS and MMS messages
There is no doubt that WhatsApp growth was significantly affected by the fact that using the application was much cheaper than sending SMS and MMS messages. Since WhatsApp relied on 2G and 3G technologies, users were able to bypass the constant limitations of mobile operators and the high cost of services.
Besides, WhatsApp offered features, which mobile operators didn't have: group chats, the ability to send audio and video files or share your location… Undoubtedly, the extended functionality made such an instant messaging app even more tempting in the eyes of users.
#4. Confidentiality
As you know, working with users' personal data is always a huge responsibility, and this is what the WhatsApp company had taken very seriously in the process of building an instant messaging application. 
WhatsApp doesn't collect your private information, such as name, gender, address, or age. Registration is carried out using a phone number, which eliminates the need to remember logins and passwords. And there is one more benefit: messages, after being delivered, are always deleted from WhatsApp servers. All these factors, undoubtedly, also contributed to the WhatsApp's success.
#5. No ads
To create a messaging app like WhatsApp, you must understand that your powerful competitor has provided users with maximum comfort in the process of their communication. Do you know what this is about? Of course, about advertising!
People hate advertising, but we all resign ourselves to its inevitability. That's why it's especially pleasant to get at one's disposal an instant messenger, which not only satisfies the need for communication but also doesn't irritate us with ads.
In fact, WhatsApp creators expected such a reaction. While being interviewed by Fast Companies, Koum explains that he considers smartphones to be a personal device, unacceptable for advertising purposes. He says that when you receive a message from a beloved one, you want to answer immediately, not being distracted by advertising.
#6. Reliable Functionality
As we've already explained, WhatsApp is not only managing without placing ads, the company itself doesn't spend money either on advertising or on attracting users. Instead, the service founders focused on creating a useful product.
Being intent on the improvement of their mobile program, the creators have figured out how to build an instant messaging app of the top level and the highest quality. Of course, we, users, appreciate these efforts by joining the ranks of its admirers.
#7. Cross-platform scripting
Multi-platform support is another important point of the WhatsApp marketing strategy.
Kum and Acton understood: the more users, the better. Therefore, they decided to create a messenger app covering not just smartphone users. So they needed to make their application cross-platform, accessible to a wide range of mobile devices, including the oldest ones.
Cross-platform scripting along with the support of mobile phones of outdated models allowed the service to reach a multi-million audience of users (even those who're living in less-developed countries and therefore have only old smartphones).
WhatsApp supports such devices as iPhone, BlackBerry, Nokia, as well as Android and Windows Phone. 
#8. Convenience and ease of use
There is no doubt that the WhatsApp application has an intuitive and user-friendly interface. And the obviousness of such a factor doesn't reduce its worth. Therefore, a well-thought-out and consistent interface should be taken into account by everyone who wants to know how to build a WhatsApp clone.
#9. Word of mouth
All of these factors have made WhatsApp a powerful and helpful service. And then the word-of-mouth effect did the trick: every user who appreciated the advantages of the cool application wanted to share his impressions with friends. This caused a viral effect, and it's still the main growth engine of WhatsApp.
#10. Network effect
Gradually, the WhatsApp user base reached its limits when the network effect kicked in, which led to an increase in the WhatsApp value. This is usually the case for large social networks, such as Facebook and Instagram.
Agree, if a person downloads WhatsApp and finds out that 30 or 40 people from the list of his contacts have already been using the very same instant messenger, he's unlikely to delete it. Moreover, there is a chance of him sending invitations to his friends as potential new users. So keep a network effect in mind if you want to create a chat app like WhatsApp.
WhatsApp's audience has quickly expanded to two and a half hundred thousand users. Subsequently, such rapid growth made the instant messaging app one of the most popular on the planet.
A big-time deal
Discussing what a WhatsApp chat is and why it's in high demand, we cannot fail to mention the one-time-only deal, the deal of the century.
The matter is that WhatsApp's success attracted the interest of the high and mighty ones: every big mobile market player wanted to own such a wonderful service - probably, the best instant messenger for business. By the way, Google offered a billion dollars to buy WhatsApp. But the winner was Facebook, which was willing to part with gobs of money: 19 (!) billion dollars.
So, February 19, 2014, was the day when Whatsapp became a part of the Facebook company. The big-time deal had been concluded.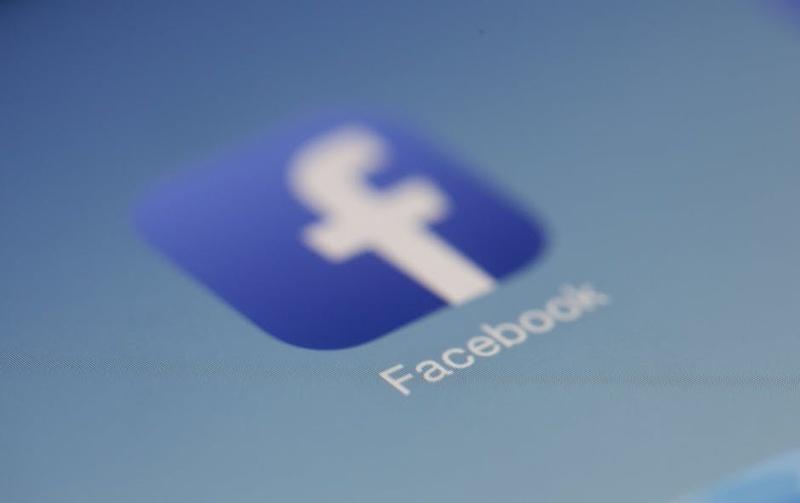 WhatsApp has a success story, and it's not finished yet. And if you want to learn how to create a messaging app like WhatsApp, try to take up its lead, namely:
Minimize annoying factors. You can hardly afford the luxury of giving up advertising, as WhatsApp did. However, try to avoid excessive importunity of ads.

Investigate the application market. What other features have instant messengers left without attention? You can use their omission to satisfy users' requests to the fullest.

Analyze user behavior. Keep an eye on the behavior of users in your application. Only because Jan Koum and Brian Acton had paid attention to the fact that users considered the notifications system as an instant messenger, they managed to develop an app like Whatsapp and achieve great success.

Remember about security. Give close attention to the matter. Hire the most reliable developers who know how to build a WhatsApp clone -  a chat application protecting users' interests.

Use Network effect. If a user has only two or three people on the contact list, the app of yours won't be of great value to him. So, you need to attract as many users as possible. At the initial stages of promotion, you can, among other things, offer certain bonuses to those users who are ready to send out invitations to friends in order to ask them to join your service.

Initiate the effect of "word of mouth". Make people talk about your program, let them discuss it. To achieve a viral effect, you must manage to create a messenger app able to fulfill the user's needs and impress people with its design, approach to the security problem, unusual functionality, etc. 
User Flow, or

What is the Use of WhatsApp?

What is Whatsapp and how does it work? These are the next questions on the list of important points, which should be clarified to create a chat application like WhatsApp.

Suppose you want to start using WhatsApp. What is the sequence of your actions?
Download and install Whatsapp (it's available in both App Store and Google Play)

Give the program access to your contacts.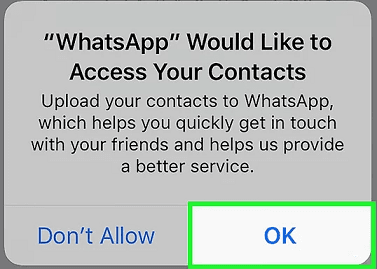 Having accepted the terms of service (the inevitable step!), enter your phone number in the specified text field and wait for the SMS message with the verification code.

Enter the verification code. Then you'll be redirected to the profile creation page of the instant messaging app.

Enter your name and upload the photo. It'll help your contacts recognize you without any problem.

If you've already installed WhatsApp, you'll be offered the option to restore the chat history.

It's also possible to integrate personal data from your Facebook profile.

As you can see, WhatsApp not only aims to simplify the registration process as much as possible, it makes the user's interaction with its system much safer. Bear it in mind while thinking of building an instant messaging application.
After the simplest registration, the user is ready to start communicating. It's quite easy:
Tap on the button to create a new message. On the iPhone, it's located in the upper right-hand corner and looks like a pencil and a notepad. On Android, you'll find it in the lower right-hand corner, the button looks like a message icon. Then you can:

Tap on the "New group" option to use multiple contacts to organize group communication.

Tap on the person you need in the contacts to start communicating with him individually.

Like all the best instant messaging apps, the program allows you to send attachments, such as:

a picture just taken (via a smartphone camera);

a photo or video file from the smartphone Gallery;

a document (a specific file stored on your phone or on the cloud service you are using - say, Google Drive);

a map with your location;

the contact information of the user from the list of your contacts.

Additional features (you should think about creating them if you want to build a WhatsApp clone):

voice messages: you can create an audio recording and send it to a friend;

phone or video calls.
What can you use to build your own user flow?
The simplest registration system;

The most advanced functionality, especially with regard to messaging features;

Security of the highest level.
We'll discuss all these problems in more detail when describing how to make an app like WhatsApp. But first, let's pay attention to WhatsApp's competitors because they are yours either.
Best

instant messaging apps

Of course, you should be prepared to face strong competition. So let's consider the best instant messaging apps for Android and iOS - the most significant players in the app market (besides WhatsApp, which we've already talked about in detail).
# 1. Facebook messenger
Many people ask the question: what is the difference between WhatsApp and Facebook messenger? Let's figure it out!
Beyond all doubt, Facebook's chat service is one of the best instant messaging apps for business and private purposes. Since its launch in 2011, it has gained popularity, comparable to the demand for WhatsApp. Its clean, light app interface is practical and user-friendly.
BTW! As you remember, in 2014 the media giant Facebook acquired the WhatsApp messenger for an incredible $19 billion and clearly didn't regret it. Of course! The number of active WhatsApp users has long exceeded a billion (1.3 billion in July 2017).
Facebook and WhatsApp are similar, but both remain popular. The main difference between them is the fact that Facebook messenger supplements the powerful social network, and Whatsapp exists as a separate app. As you can see, these programs don't interfere with each other, moreover, they now belong to one company. There is something to think about, right?
# 2. Slack
Programs providing a corporate communication platform are becoming more demanded. Since Slack was released in 2013, it has already become one of the most requested corporate messengers. In February 2017, the number of its active users reached 5 million.
# 3. Snapchat
Snapchat is another great instance of the most popular instant messenger service.
American teenagers call Snapchat a crucial application of their generation. Almost a third of Snapchat users are people from 18 to 24 years old. In a few words, Snapchat allows you to share photo and video messages, moreover, the lifetime of such a message is set by the sender himself.
Ways to monetize
First, let's analyze the WhatsApp monetization strategy.
Jan Koum and Brian Acton ignored the usual stereotypes. Instead of tracking the right audience through advertising, they decided to take one dollar for a program that doesn't collect information about the user. And such an approach proved to be incredibly effective. Despite the rejection of traditional marketing, the company experienced impressive viral growth. This is because the product has fully met the requirements of the market.
(So, the next rule of building an instant messaging application: offer what the market requires!)
Until January 18, 2016, one should have paid $ 0.99 per year, starting from the second year, for using the app. As for Apple platforms, users had to make one payment when buying an application. Now the system is absolutely free.
Subscription seems to be quite a good way to make a profit, agree? But to make use of it, you need to create a chat app like WhatsApp, otherwise, people won't be willing to pay for your service. 
By the by, WhatsApp has changed the Terms of Service and Privacy Policy recently, it happens for the first time in a few years. The company is clearly preparing to introduce new ways to monetize.
So far there have been two changes:
WhatsApp has allowed companies to send messages to users. Let's say, the airline can notify the passenger about the cancellation of the flight. The instant messaging app wants to find out whether people are able to communicate with business representatives without spam and banner ads.

Messenger has transferred data about its users to Facebook while remaining a separate service. Facebook will use phone numbers to customize the advertisement. Besides, phone numbers on WhatsApp have been combined with Facebook users' profiles.
Insiders claim that WhatsApp plans to charge companies like Uber for the chance to send messages to users (with their consent, of course). 
But you're unlikely to own a network similar to Facebook, so you need to consider more traditional ways of earning (if you want to build a WhatsApp clone with similar profitability).
There are several ways to make money using the instant messenger:
Paid subscription. As we've told, WhatsApp began its journey, charging a symbolic fee for using its services. And if such a monstrous competitor had been taking advantage of this method of monetization, you can also choose it, at least, initially.

Paid stickers and games. Many Asian messengers (like Line) are focused on paid stickers and games. It's the way they're getting profit. You can also come up with something of the sort.

Extended functionality. Viber doesn't charge a fee for using the basic functionality but you have to pay if you want to get additional possibilities. Say, you can make paid calls (Viber Out) and express emotions with paid stickers.
Instant messaging app's features
If you want to succeed, you should satisfy the needs of the target audience, giving users a clear interface and advanced functionality. Let's saturate ourselves in the subject.  
So, what should you offer your users if you want to create a chat app like WhatsApp?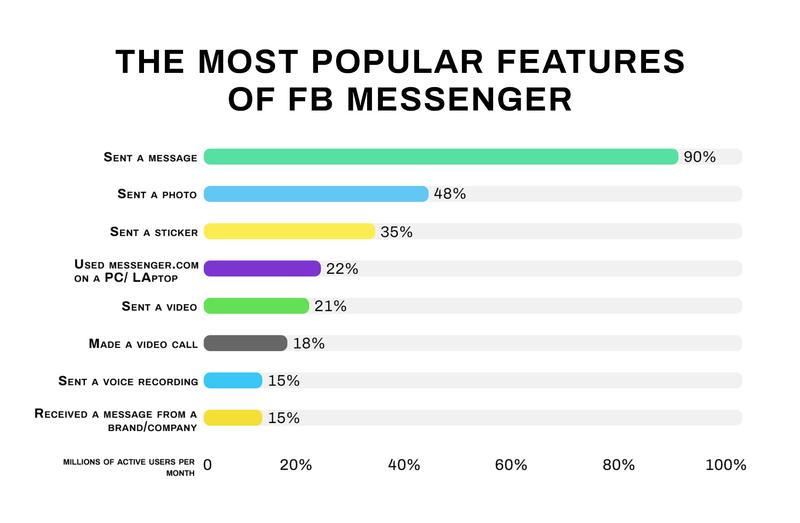 #1. Registration
First of all, you should provide users with the most convenient way to register. You can follow the example of other instant messenger services, which take advantage of the phone number for the purpose in question. 
If you want to improve the security of your mobile service, send an SMS with a confirmation code. After all, we want to know how to create a chat application like WhatsApp, and Whatsapp acts this very way. 
The security step can be implemented through a third-party solution, the so-called API (contact us, if you want to know all the details, we'd be happy to assist).
#2. Adding Contacts
An empty chat is a sorry sight. Therefore, in order to avoid your users' disappointment, allow them to integrate their phone and (if desired) Social Media contacts. However, if you're provided with a limited budget, don't go beyond the address book. It's quite enough for launching the MVP model. In the future, you'll be able to add new features to build a real WhatsApp clone. 
#3. Messaging Service
The feature is definitely the key one. In the end, you want to provide users with the opportunity to communicate in a better and easier way than they're doing it now, right?. But how to achieve the aim? The task is complicated but possible… 
When considering how to create a chat application like WhatsApp, pay attention to the following significant factors:
History of conversations. Of course, it's very important to store the chat history and provide access to it from different devices (and a user must have the possibility to delete it if he wants) - that's the way Viber has chosen. Think about making the entire process as effective as possible. For example, take a look at WhatsApp, which prefers not to use its server to store conversations.

Chats formats. To join the list of instant messengers of high competitive ability, your service needs to offer users different communication formats, namely private, group, and public chats.

Additional Chat Features. Gladden your users with extra opportunities aimed to enliven their virtual communication. There are heaps of ideas for such pleasant trifles: congratulatory stickers (or just new and bright ones), custom fonts, preliminary scheduling messages (in honor of anniversaries or something of the sort), and so on. It all depends on your imagination and the approved budget.

Data Security. Today, a lot of people are concerned about the security of personal data - more than 95% of Americans are afraid of online hacker attacks. And if you're considering how to create a chat application like WhatsApp, think about the data security issue. Among others, you may:

model yourself after Snapchat, which destroys the chat history at the end of 24 hours of storing the data;

develop self-destruct functions: for instance, Secret Chats of Telegram is designed to delete the entire history on all devices;

improve encryption technologies in order to secure users' communication.
#4. Multimedia files sharing
Modern people are used to sharing their impressions during chat sessions. And sometimes these impressions take the form of pictures, videos, animated GIF images, spectacular stickers, and other things of the same kind. So, you need to offer a feature of multimedia file transmission - it's the only way to create your own WhatsApp.
And don't forget about synchronization with different cloud servers (such as Google Drive). 
#5. User location
Don't forget to allow your users to share their location. Today, it'd be pointless to try to develop an app like Whatsapp without such a helpful feature, while your competitors, of course, have thought about it in advance. We're sure your developers will find the best way to implement it (they may use special tools provided by Apple MapKit and Google Location SDK).
#6. PUSH notifications
Push notifications are another important feature rising the chances to build a WhatsApp clone. Notifications help to keep users up to date by informing them of the latest news, messages they've recently received, and so on. You can take advantage of Google Cloud Messaging and Apple Push Notifications services to implement the notification system.
#7. Extra features
We've listed the most important features, but there are more opportunities to improve the efficiency of your instant messenger. Here is a couple of ideas:
VoIP calls. It's quite a high-priced feature, but the instant messaging app offering it will be perceived by users as a very advanced one. Its goal is to provide a possibility of making low cost (or even free) phone calls through the Internet. Thanks to VoIP calls, Viber and Skype have significantly expanded their target audience.

Video chats. Well, this is another "must-have" feature, and users will highly appreciate you for providing it.

Audio and Video streaming. Such a newfangled feature is very popular among users right now. Why not offer it to them?

Analytics of applications. The next feature needed to create an app able to join the list of instant messengers is a set of analytical tools. It's targeted at helping you analyze user behavior and build a more effective development strategy based on the data received.

In-app purchases;

Multiplatform chatting.
How to build an app like WhatsApp

? Tips and tricks.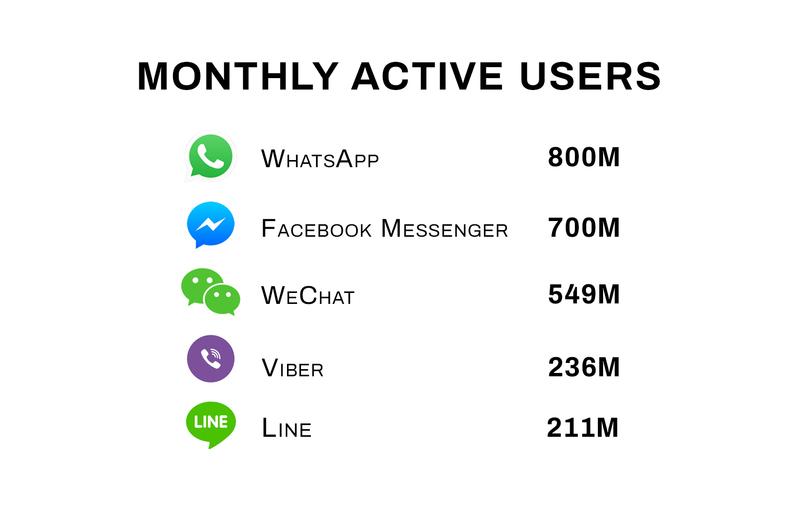 # 1. Choose the

app development format

You can:
start from square one, namely, full coding. It's a more efficient but expensive way. You'll have to find experts who would manage to create a messenger app of a high level (their knowledge should be confirmed by experience);

take advantage of online services, APIs, libraries, protocols, etc.
# 2. Determine who is going to

create a chat app like WhatsApp

Actually, there are only a few options: you either undertake this task yourself or hire professionals. We don't recommend you to economize on expert assistance. Ultimately, you'll have lost a lot of time and energy trying to implement the chat idea by your means. And in the end, your time and energy are equivalent to money. What's more, no one can guarantee that the program you've made is competitive. On the other hand, experienced developers know how to build WhatsApp clones.
# 3. Select the platform 
It would be judicious to create instant messenger software working on all types of devices: iOS, Android, Windows, etc. It'll allow you to expand the target audience and increase future profits. So be sure to order the instant messaging app development with this factor in mind (remember the WhatsApp experience?).
# 4. Choose the functionality
Previously, we've described in detail what features chat applications should have. If you don't have a huge budget and are looking for ways to save money, we advise you to start with minimal functionality and learn the user's reaction. In the future, it'll be possible to supplement your instant messaging service and software application with new possibilities interesting to a user.
# 5. Think of the

instant messenger software interface

It's a really crucial moment because we perceive the world visually and are responsive to everything that seems appealing to us. So if you really want to understand how to make an app like WhatsApp, be ready to study the latest trends in UX/UI design. To succeed, you should be modern.

The main rule of the effective interface is usability and ergonomics. Make sure there is no need to make extra clicks to get the desired result (say, when writing a message or starting a video call). Therefore, the app design has to be clean, laconic, aesthetic - and, of course, user-friendly.

If you're not sure about your abilities, find a professional UI/UX designer. 
# 6. Find a Way to Messages Exchange
If you want to know how to develop an app like WhatsApp, you need to understand the technologies of data transfer. Essentially, there are two of them, and each one is related to the client-server interaction:
messages are passing through the server (by the means of HTTPS protocol) where they're stored then;

the server is needed just for authentication. Messages are being encrypted and sent by using the "client to client" method.
If you're in doubt about which option is best to choose, check with your developers.
Costs to

develop an app like Whatsapp

The exact cost cannot be called, it all depends on the time spent and the prices of services of specialists. So, let's take a look…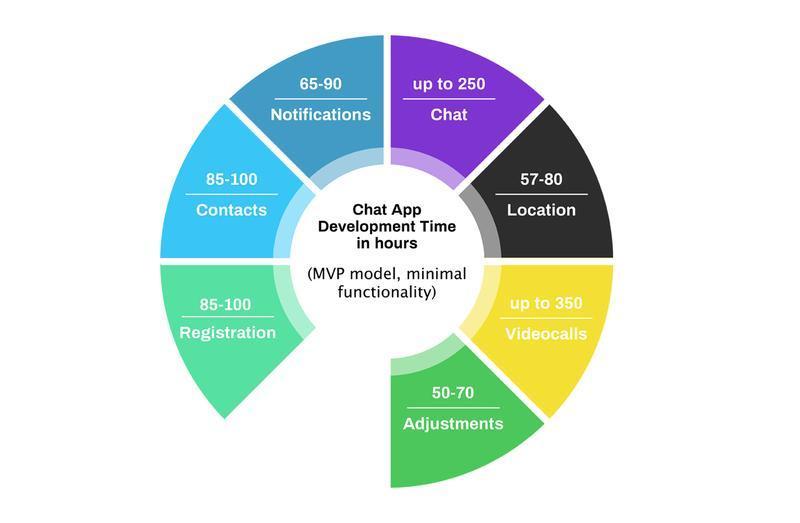 Stages of

building a modern chat app:
Prototyping 

Application development (iOS + Android)

Backend
The most expensive features:
The messaging system

Multimedia File transfer

VoIP calls
Specialists you'll need to

create a chat app like WhatsApp:

The approximate period of work execution depends on the level of the project complexity and can reach even 2500 hours. And if you have a lean budget, we recommend that you hire developers at affordable rates.
Summarizing the information on how to make an instant messaging app like WhatsApp, we can conclude:
conduct market research;

make a list of requirements;

set your budget;

find professionals who will do the job qualitatively and at an affordable price.
We offer our services! Agilie experts have huge experience in web and mobile development, and our rates are quite reasonable. We'll create a messenger app meeting the users' needs in effective communication and bringing you a stable profit.
---
Rate this article
0 ratings, average 0.0 of out 5
---
Get in touch
Send us your comments, suggestions, questions, or feedback.