How to Talk With Your Users: In-App Notifications and Messages
Statistics confirm the high potency of mobile notification systems: thanks to them, users start showing growing purchase activity  (the number of actual in-app buyers increases by 9.6 times). Another promising fact: customers receiving any kind of notifications spend 16% more time in applications compared to other users. All of these cannot but convince us of the need to supplement our online or mobile platform with such a must-have feature, right?
But logical questions arise: how does in-app messaging work? And what makes real-time push notifications an efficient marketing tool?
In our blog post, we'd like to analyze these issues at length.
Types of mobile app notifications
Above all, what are in-app notifications? Is there any difference between them and push notifications? Let's figure it out without delay.
Push-notifications
Here we're dealing with short messages and various alerts that appear on the smartphone screen, irrespective of what we're doing right now. Thus, even if the customer isn't using your application at the moment, he'll still be able to obtain mobile app notifications with the information you want to share with him.
In-app notifications
As to the in-app messaging examples, these are notifications, which the user gets only when he is using the application. Among the benefits is the possibility to vary the physical location of the message on the device screen: 
Full-screen messages. Visually very appealing, they don't always lead to an increase in conversion.

Messages in the center of the screen. They are, on average, the most sought-after, as they are more likely to prompt users to immediate action.

Bottom or top banners. Such messages are an example of very unobtrusive communication with your user. 
Text messaging notifications
Such a text message notification system may seem somewhat outdated and less effective in comparison with the previous ones, but in no case should it be neglected. The main types of these messages include:
SMS notifications;

Messages in Viber, Whatsapp, and other similar instant messengers;

Email notifications.
The difference between the above types of mobile app notifications should be clearer now, but when and what is better to take advantage of in each particular case?
Let's see!
Push notifications help in returning users to the application or informing them about important advertising offers - those that cannot wait;

In-app messages can significantly improve user experience. In addition, in-app messaging best practices provide an opportunity to figure out the reason why the user leaves the program and even removes it.

Other text messaging notifications (SMS, email, etc.) are needed when it is crucial to tell the consumer something important, but not too urgent. The user is more likely to read his email (albeit not immediately) and won't swipe it from the screen without reading.
Why take advantage of

mobile push notifications?

Later in our article, we'll look at how to build a notification system, but for now, we'll just study who and when should make use of it in practice.
Where to use iOS,

Android, or web notifications?
purchase steps & order status changes (it's about mobile app notifications for an online marketplace);

all kinds of advertising: say, a hot sale alert; 

updates. You've released a new update and are afraid that the user won't install it, right? Mobile app notifications would help you inform him about this cool feature or other improvements made;

a reminder that it's time to continue the game (if it's a gaming application);

useful statistics, including current currency quotes or stock market value. Such information should be submitted as quickly as possible, and real-time push notifications are the best solution.

online streams and webinars (push app Android & iOS notifications warn users that the broadcast will start soon so that they don't miss the beginning);

short tips. In-app messaging would come in handy as a tool to provide users with tips on how to use your application properly.
Benefits of using in-app & web notifications
And now we'll discuss what exactly you're going to get after the implementation of mobile push notifications.
#1: New communication channel
As the Statista resource assures us, in 2017, users installed about 178 million applications, and by 2020 this figure is expected to reach 258 million. It's high time to find a new channel of communication with consumers. Different app notifications can and should become such a channel: at least, experienced marketers think so.
#2: Flexible segmentation
The second benefit on our list is the possibility of flexible segmentation. This means you can send customer-oriented in-app and push notifications, which have all the chances to interest the user. As a result, they'll positively affect purchasing activity, lead to increased conversions, and so on.
To segment users correctly, you need to collect maximum data about each of them, such as:
time of maximum user activity;

product preferences;

last purchase date;

average bill;

the device in use (iOS or Android);

and so on!
#3: Automation of marketing activities
As we've said earlier, a well-customized, properly structured mobile notification system is an excellent marketing tool. And the coolest thing is that this tool helps to automate many processes. For instance… 
automatic sending of congratulations to customers on their birthday, New Year, and other holidays;

notifications of the order status;

sending triggers "Abandoned Basket";

after-sales communication;

reactivation of passive clients.
#

4. Customer retention

The ability to retain the user is the key to marketing success. That is, you need the consumer to use your application as actively and regularly as possible. Timely mobile app notifications of new features, interesting content, and other things are an effective way to achieve the above goal at a lower cost.
#

5. Convenient advertising channel

And of course, among the best practices for in-app notifications, we should mention the promotion of goods or services of a company that sends messages to users from its client base.

An important point here is deleting intermediate steps: a user taps a record and immediately gets to the target screen (say, a catalog or order screen).
What is a successful in-app &

push notification strategy?

The problem of unsuccessful mobile push notifications is their misuse by application owners (or developers). As a sad result, almost 60% of users permanently disable such a wonderful feature.

It's quite an unwanted result, right? So you need to work hard on your push notification strategy and consider the following points:
timeliness;

the ability to be on the same page with the user;

a clear call to action;

the knack to excite user's curiosity;

proper communication of important things;

active user assistance;

originality and memorability. 
But this is only a brief list of requirements. It's time to figure out more and at greater length. 
How to use

different app notifications?

If you intend to get the in-app messaging and push notification system to reach its maximum potential, you must adhere to a few simple rules. Namely… 
Be specific
The main mistake explaining the inefficiency of sending out different app notifications is that we don't describe what they are about. Namely, what do we plan to notify users of?
Typically, the user receives a message with the following content: "The application wants to send you notifications." But this isn't enough to interest him!
Conclusion: tell people what your notifications are going to be about. Say, "We want to inform you of new content, hot sales, discounts, and cool bonuses..." We think the idea is clear.
Believe us, the result will please you!
Be personalized
By collecting and analyzing data about user preferences, you can offer customers the most suitable content based on their real interests. To be precise, you have the opportunity to send personalized mobile push notifications, taking into account user gender, age, hobbies, and other factors.
For example, the Beats Music app doesn't inform the user about all new songs but focuses on his playlist. 
Be relevant
Also, remember that notifications should be meaningful and helpful to the user. In other words, tell the consumer only the latest relevant information.
You mustn't send the user various kinds of notifications about all the little things happening in your application. Acting in this way, you'll only make your client really annoyed. What's more, the user is likely to disable your notifications and even delete the app itself. 
Be located-based
It'd be an unfortunate omission not to take advantage of the location parameter, namely geotargeting, which is one of the most effective tools for personalizing content. 
There are a lot of ideas for applying a user's location factor, among other things, you can send your text messaging notifications to the consumer at a time when he is close to your store (according to GPS data).
Be restrained and well-timed
Okay, you should be restrained and well-timed… but what does it mean when it comes to real-time push notifications and in-app messaging examples? Let's see!
Right moment
Imagine: the user has just downloaded your application, and you immediately, from the very first seconds, recommend that he subscribe to your notifications. And you even told him what you were going to inform him about (on our advice #1). However, at this stage, you haven't won the trust of your user yet, do you really need to rush? Perhaps, you should first give users time to get acquainted with your app and evaluate its benefits.
A good example is the Conquest mobile game. Its creators allow players to use the application for a while and only then offer them to enable notifications. The result is impressive: most of them agree to receive these messages on a regular basis.
Proper timing
The main trick when working with various types of mobile app notifications is making sure they appear at the right time. For example, if you ask your client to take a survey when he is placing an order, he won't be really happy; nothing good will come of it. Also, few users will be thrilled to receive notifications past midnight.
Therefore, the best solution is to analyze the behavior of your user and, based on the data obtained, choose the right time to send push notifications. By the by, according to statistics, many of us don't mind getting such messages on weekdays after lunch.
Strict dosage of messages
In addition, users are very annoyed by the excessive number of notifications sent in a short period of time. Some of your customers may get so angry that they'll completely uninstall the application.
So do your best to think over a push notification strategy. If necessary, group several messages into one and send them in batches. This is the case when quality is more important than quantity.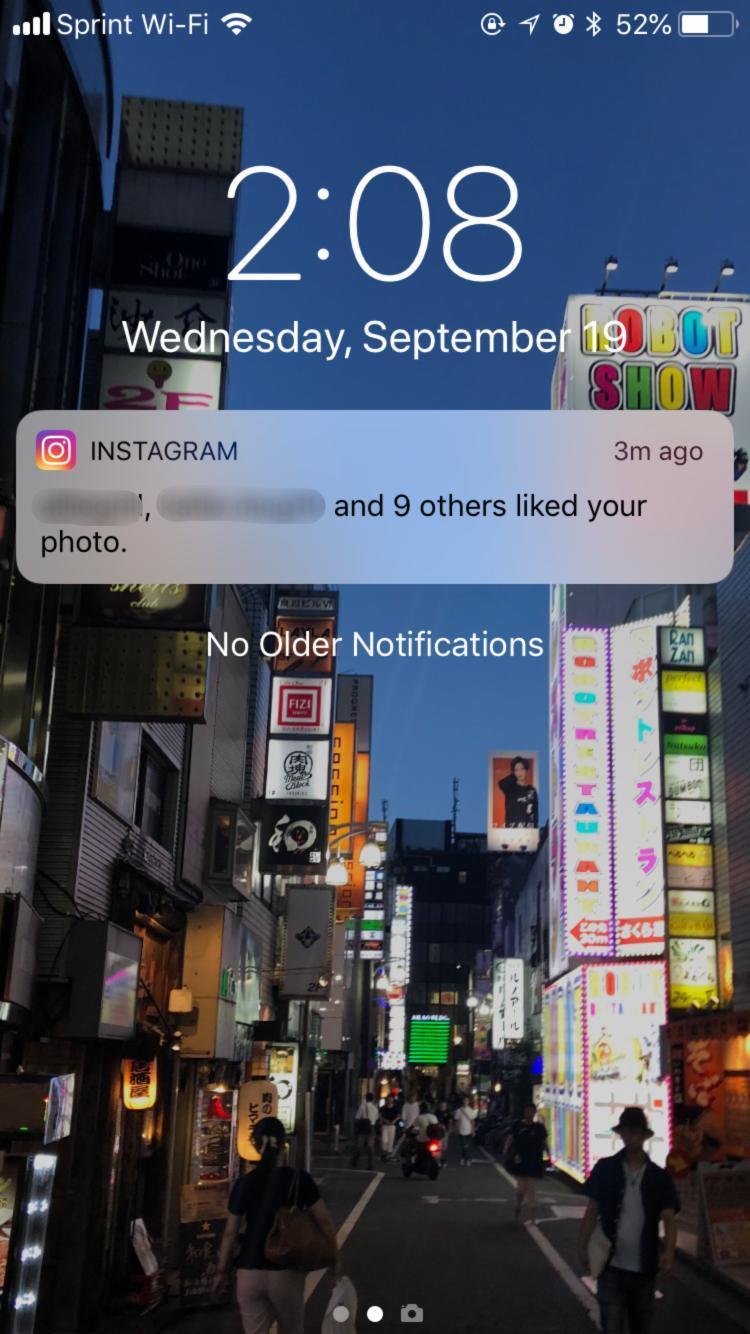 A great example is Instagram, which combines notifications if several people like your post. The application indicates the names of two users who liked your photo and specifies the total number of others.
Be organized
Be organized when planning your activities. Work out each user step in advance, think about what to tell him, where to redirect him, etc.
Say, if you refer to a certain product in your notification, then open the screen with its description when the user taps the message. Don't open the main app screen, users shouldn't do extra work to find the information you've just advertised.
Be optional
There are many reasons why users might want to turn off mobile app notifications: poor timing, irrelevant content, and much more. Sometimes it's not even your fault, it just happened, and nothing can be done.
Whatever the reason for the unwillingness of the user to receive your messages, don't stop him, it won't help you gain his loyalty. As they say, you can't force someone to love.
And one more thing: the procedure for disabling notifications should be simple and quick, without unnecessary steps.
Be safe
Be careful with the user's personal information: do whatever you have to do to protect it, otherwise, you risk losing the trust of your customers.
And don't require extra data about the user, for we, the people, share our private information rather reluctantly. And sometimes a simple request to leave the email, phone, etc. leads to the fact that a person stops interacting with the application at all. 
Be flexible
Do you know the secret to best practices for in-app notifications? The answer is simple: owners of such applications are constantly trying something new and looking for better ways to communicate with their customers.
Take an example from them and make an effort to be flexible. Among other things, test different possibilities to find the most efficient approach to in-app messaging systems (say, conduct A/B tests).
You may change your timing (namely, when to send messages), work on notifications content, follow user reviews, and constantly analyze the data received. And then you'll have all you need to make proper improvements.
Ideas for improving your

push notification strategy:
The sound of push messages. Android and iOS platforms allow you to change the sound of incoming messages. Take advantage of this wonderful opportunity to give uniqueness to your notifications, to make them more recognizable by ear.

Gamification. Try to add a gamification element to your messages. A great example is the Bussu language app (we've already mentioned it above). The application rewards any user who has shown good results with special virtual points and notifies him through in-app messaging. Not a bad idea, is it?
Be smart 
Be smart and use statistics. Analyze data to be able to constantly improve your application and improve user interaction.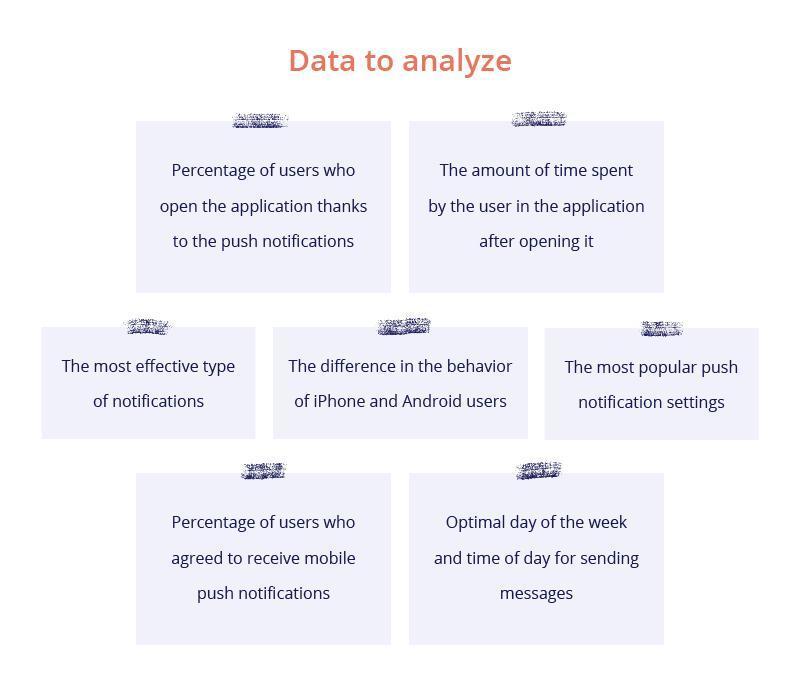 You can create such analytics yourself or take advantage of one of the push notification tools (which we're describing below).
Best practices for in-app notifications
There are a lot of instances where a well-designed list of push notifications' functionality helped the company succeed. We'll provide just a few examples of these in-app messaging best practices.
JetBlue. The app is owned by an American airline. The company uses a mobile notification system to remind users of their flight the day before departure.

La Redoute. The company sells clothing in French fashion and occupies one of the leading places in the world as a successful trading platform. This is partly due to the fact that the owners of La Redoute solved the problem of the user's refusal to purchase at the stage of adding goods to the basket. They acted simply and efficiently: they began to send appropriate notifications to such people and thereby reduced the bounce rate. 

Ticketmaster. The company sells tickets for various events and takes advantage of the geolocation and statistics of user requests to send him a message with the most personalized offer. As a result, they've increased conversion and customer confidence.  
How to build a notification system
First of all, let's see how push notification works.
The above scheme very roughly visualizes the approximate principle of push notifications. But the main idea, we think, is clear.
Push notification tools

to use

To start a mobile notification system, the easiest way is to resort to ready-made solutions. We're going to list a few of them.

Urban Airship is a top-notch service that helps you send alerts and notifications without having to create your own server. Urban Airship supports all mobile platforms, including Android, IOS, Windows, BleckBerry, and PhoneGap.

Urban Airship offers two types of notifications: push and rich ones. The singularity of rich notifications is that they can contain text, images, and links. Urban Airship also allows creating view controllers with a list of notifications sent.

Initially, the service was free, but since 2014, the trial version is available for only 45 days. The cost of the paid option should be negotiated with each client individually.

Pushwoosh is another cool tool able to help you implement such a must-have feature as in-app messaging and push notifications.

The tool works with the most popular mobile devices and has high reliability, which means it works almost without a glitch. Among the advantages of Pushwoosh is the opportunity to attach various kinds of multimedia content to a text message (let's say, pictures or video).

Pushwoosh provides a great many cool features: an unlimited number of notifications, a protected auto-configuration system, efficient geotags, convenient filters, A/B tests, multilingual and auto-notifications, etc.

 
Rate this article
15 ratings, average 4.80 of out 5