Does Your Company Really Need a Chatbot?
More than half of users expect an immediate response from the company any time of the day, any day of the week. To meet the expectations of such a demanding client, brand owners create 24/7 customer support and spend a lot of money on it. 
In most cases, consumers ask the same questions, which can be answered by a properly configured program. It's enough to implement chatbots in your business, and it's done.
And users don't really mind: at least 40% of them willingly communicate with chatbots. And if the program is correctly created, the chances of getting a positive response increase up to 90%. 
Of course, you have to fork out to build your chatbot, but your investment will pay off. Otherwise, you risk losing a client who is likely to leave your resource and go to your competitor. After all, even the most skilled manager isn't always able to respond to the user quickly enough. The human factor is still the case, alas. So chatbots would be a great safety net.
Let's discuss the topic of chatbots in great detail.
What Does the

Chatbot Concept Imply?

We bet you yourself have dealt with chatbots more than once. They greet us when we visit a particular site. "Welcome to our website. How may I help you?" - they ask us, and we can immediately get an answer to our question.

But what is it, a chatbot? Why is it needed and what is it capable of? And what are the advantages of implementing chatbots? Let's discuss all of this in order.

A chatbot is a virtual interlocutor that plays the role of an assistant. It simplifies the process of user interaction with computers through speech or writing. In essence, a chatbot imitates the behavior of a real living person.

The chatbot is able to ask and answer questions, find helpful information at the user's request, and perform other simple tasks.
Looking into the past
The idea of creating a chatbot isn't that original and didn't arise in the 21st century. Actually, the first attempts to humanely communicate with a computer robot were performed in the middle of the last century, or rather, in the 50s of the 20th century. And in 1966, Eliza's chatbot appeared, which imitated a dialogue with a psychotherapist.
However, the moment when chatbots really came into fashion was 2018, and since then they have been gaining popularity. Moreover, according to the American corporation Oracle, the world's largest software developer, 80+ % of businesses around the world are using (or planning to use) chatbots for customers' needs now, in 2021.
What are modern chatbots capable of?
You're way off the mark if you think chatbots are capable of answering only the most limited range of questions. Modern algorithms are highly advanced, so today's chatbots advise users even in rather difficult cases.
Simply put, you may ask the same question differently, and the chatbot would still understand you and be able to give the correct answer. Let's say, statements such as "Where should I pick up my item?" and "Where is the nearest pick-up point?" are equally clear to the program.
And as a last resort, the chatbot can always switch the user to a real person (account manager).
Still doubting whether it is worth the time and effort to build your chatbot? We'll try to convince you it's going to be a promising idea by describing the latest trends related to the subject of our discussion.
Chatbot statistics
According to Intercom, in 2020, business owners managed to save an average of $ 300,000 thanks to chatbot development. Not a bad example to follow, right?

As studies show, the chatbot algorithm allows finding the desired product 70% faster. This translates into 65+% sales growth (assuming 25+% of sales started with chatbot interactions).

Salesforce research also proves the effectiveness of using a chatbot for business purposes. It claims that almost 70% of users prefer to resort to chatbots to interact with the website and resolve emerging issues.

It is predicted that by 2023, 80 +% of customer communication will have been automated using chatbots and similar technologies.
Chatbot classification
The simplest way to classify chatbots is by the way they communicate with users:
text communication, which is the most popular option today;

combining text and voice, like Siri and Google Assistant. In such cases, the user's voice request turns into a text one;

voice chatbots, which are especially in demand in the United States (Amazon Echo is a prime example).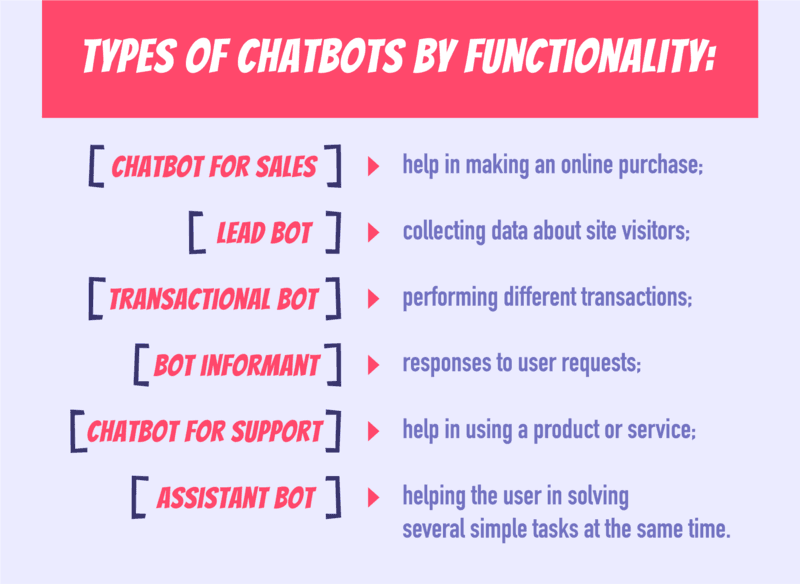 Willing to implement chatbots in your business, you must understand that there is another method of classifying these programs:
the simplest chatbots that work according to predefined commands based on a certain list of keywords. They're easy to create but limited in functionality;

self-learning chatbots. They work on the basis of Machine Learning and NLU (Natural Language Understanding) algorithms. These chatbots are rather difficult to develop, but they are much more effective in the long run. After all, they really get improved in the process of their existence.
Given the widespread digitalization and development of the IT sector, we can safely say that the future belongs to self-learning chatbots.
Though, we'll talk about this at greater length in the next section of our article.
How a

chatbot for business works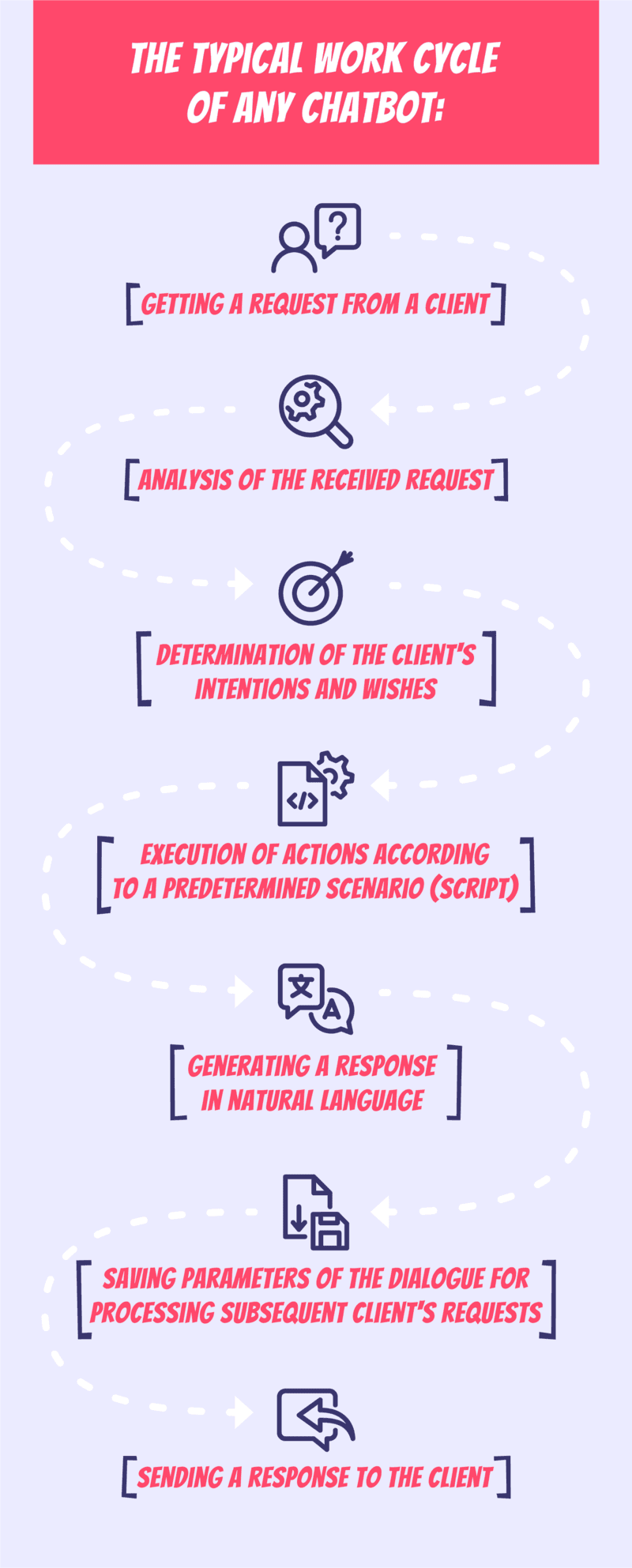 Until 2015, chatbots were created using a rule-based approach (to be precise, they were the simplest chatbots we've mentioned in the previous section). However, after 2015, the development of Big Data and Machine Learning has led to new ways of interacting with the user.
Thus, today an increasing number of chatbots are taking advantage of the latest advances in Data Science, including NLU and NLP techniques, effective speech recognition, word processing using neural networks, and other AI tools.
Basically, the modern chatbot is trying to match your question with what it is capable of understanding at the moment. And the more a chatbot communicates with you, the more it learns to help you and your kind the way you need it.
Now is the time to discuss how chatbots help businesses increase profits.
Benefits of chatbots for business
Increase in sales. More than half of consumers leave an online store while browsing through its catalog. The reasons may vary, from the user's unclear understanding of his own needs to the inability to find what he really wants. Chatbots partly solve these problems by offering the best product to a potential buyer. Moreover, AI-based chatbots memorize user preferences and drive sales.

Reducing costs. Thanks to chatbots, companies are able to serve a greater number of customers, thereby reducing staff costs. Judge for yourself: according to a study by Acquire, at least 80% of requests are perfectly resolved by chatbots. 

Automation of communication with the client. The previous benefit leads to the chance to automate certain business processes. The point is, chatbots are great at solving simple, one-type tasks, which would free up your employees' time, and they'll devote it to more expert work.

Increased customer loyalty. If you implement chatbots in your business correctly, the client would be able to get answers to his question without any delay. He won't have to wait in vain, which means he'll have no reason to be annoyed.

Maintaining customer interest. Chatbots would make your business interactive and modern, keeping up with the times. And as a bonus, you engage a young audience.

24-by-7 operation. Chatbots work without rest and days off, which is natural. So even if a client wants to contact you in the middle of Sunday night, he'll still get a response. Of course, chatbot consultation isn't always perfect, but it's better than no answer at all.

High speed of request processing. Driven by programmed algorithms, chatbots are able to quickly access massive amounts of data. So it won't take long to find the information the user needs. A human being doesn't have such skills. 

Collecting user data. Chatbot benefits for businesses also include the ability to collect detailed user data. In the end, chatbots can ask questions to users and correctly interpret the answers they receive. Thus, the company gets a lot of information on customers, which allows providing each client with personalized service.
Benefits of

chatbots for customers
Modern communication style. According to Google, more than half of users (at least 65%) don't like to make calls or communicate on the phone, they prefer to write to companies they're interested in. And chatbots are great at helping them with this;

No need to wait. As the SalesForce study shows, almost 70% of users appreciate the ability of chatbots to deliver information quickly and clearly. The manager can't provide the same level of service since he is unable to talk to several clients at once. But a chatbot would cope with such a task easily;

24/7 chatbot availability. Some of the advantages of implementing chatbots are the same for businesses and customers, and around-the-clock access is one of them;

Simplification of content search. The client doesn't need to search for the necessary information on his own, he just has to contact the chatbot and get what he wants;

Ease of use based on a clear interface. Typically, chatbots themselves invite the user to a conversation, so the client doesn't need to waste time trying to find the desired dialog box to ask a question.
Disadvantages of chatbots in customer service
If the benefits of chatbots for business are so numerous, why not all companies use them in their projects? In fact, the main reason is uncertainty about how to approach the matter correctly. But the issue can be resolved.
The reasons reflected in the above infographic are mainly due to the inexperience of businessmen and therefore are groundless. However, chatbots have several real drawbacks, namely:
A chatbot sometimes annoys the user. Say, if its dialogues are poorly thought-out, then there is a risk that instead of attracting more users, the chatbot, on the contrary, would scare them away.

A chatbot isn't always able to recognize the tone of a user's message. Imagine that a user writes to you: "Your service is disgusting!". And the chatbot, not understanding the meaning of his comment, replies something like "I was pleased to help!". Ridiculous, right?

The chatbot doesn't know how to solve non-standard tasks. Of course, the development of technology is likely to solve the mentioned problem sooner or later, but not as quickly as desired. 
Consider these disadvantages if you decide to build your chatbot. They can be easily avoided with a smart approach to the issue.
Key Industries Using Chatbots
Insurance. Chatbots could make it easier to file an insurance claim or accept a user request for service. These tasks are quite within the power of the programmed algorithm;

Fashion and beauty. We're talking about beauty salons, fashion stores, and other establishments dealing with this industry. Chatbots can advise consumers on the following issues:

assistance in choosing clothes;

an overview of the latest fashion trends;

useful beauty tips;

buying a product or ordering a service.

Telecommunications. Also, the chatbot benefits for business would help you improve the efficiency of your project if it's related to the telecommunications industry. Assign chatbots to provide initial technical support to users, assist them with funding their accounts, inform them on price changes, etc.

Public utility services. Customers dislike utilities and the companies providing them. And no wonder, there are a lot of troubles associated with these services! Fortunately, chatbots are able to bring back some of the sympathies of people by helping to solve their problems. How about sending notifications in case of emergencies and accidents? Or providing the opportunity to check debts online?

Medicine and healthcare. A chatbot would greatly simplify the work of medical and healthcare professionals either. It's able to offer the patient an initial medical consultation, make an appointment, help with finding drug annotations, and so on.

Public catering and restaurant business. If you implement chatbots in your restaurant business, you'll be able to automate many processes of interaction with customers, including booking tables, ordering delivery, paying online, and the like.

Finance. The financial services industry also needs the help of chatbots. How to use them in such a case? Here are some pertinent ideas: assistance with money transfers, currency exchange, bank card activation, or blocking.

E-commerce. A chatbot for e-commerce helps the user to complete a purchase, arrange delivery or make a payment.

Transport companies and tourism. Let's say a user is planning a trip abroad and needs some help. Chatbots are quite capable of providing it, at least at the initial stage. The chatbot would tell the user how to book a hotel room, exchange a plane ticket, plan a route, etc.

HR. As a recruiter, you'll also find chatbots highly useful: let them select suitable resumes, conduct a preliminary interview with candidates, and perform other elementary tasks.
Best Ways to Use

Chatbots in Business

What tasks can and should be solved using chatbots?
Technical support. Any site could fail, and then the user must have the opportunity to resort to the chatbot. Of course, even the smartest AI-based bot is unable to solve complex technical issues, but it's quite capable of sending links to the necessary instructions. Sometimes that's all it takes to tackle the problem.

Consultation. The second example of using chatbots is easier to implement. Technical problems might be complex, but organizational issues fall under the competence of a chatbot. And if you have questions that consumers ask the most, train your bot to answer them. Usually, it's about the terms of delivery of goods, payment options, and so on.

Finding the content the user needs. Users are lazy and don't want to figure out the site menu on their own. They prefer to ask a question in chat and get an answer. "Where is the catalog of discount products?" - the consumer asks, and the chatbot provides him with a link to the suitable website section.

Lead generation. Also, you can use chatbots for customers' data collection. In addition to communicating with clients, the chatbot will collect and analyze information about each of them. Subsequently, the gathered data might help you improve the quality of service, and therefore generate a lot of new leads.

Assistance in completing the targeted action. If your resource is related to the sale of goods, your chatbot should advise buyers and help them choose the right product, notify them of the order status, and the like.

Getting feedback. To meet customer expectations, it's important to get feedback from users. Let chatbots ask them how satisfied they're with the service provided.
How to use

chatbots in business without annoying customers?
Don't disguise the chatbot as a human. Sooner or later, your trick is likely to be revealed, and the client might be disappointed. But if you do decide to resort to this course of action, think carefully over all dialogues and automated responses (if not, you risk losing customer loyalty). 

Always provide an option to switch to the operator. And if there is no operator, leave a special form with a request for user contacts. Promise that he'll receive a response as soon as possible.

Don't make up dialogues from imagination. The best way to build your chatbot and achieve good results is to create a set of Q&A based on real-life dialogues between a manager and a client. This way, you'll find out what issues potential customers care about and what answers they want to get. The more natural the dialogue between the user and the chatbot looks, the better.

Assign only routine, simple tasks to chatbots. Don't expect miracles from the program, difficult questions have to be solved by people.

Analyze the results. Don't let things slide, analyze your strategy. Have your sales improved after the chatbot implementation? What do customers say about your service? Maybe something should be improved or changed? 
How to

Implement Chatbots in Your Business
Setting goals. It always starts with understanding your own needs and tasks.

Analysis of the target audience. The second stage is incredibly important because you must understand what language (literally and figuratively) to communicate with your consumer in.

Determining the actions the chatbot should automate. If you were reading our article carefully, you've realized what advantages of implementing chatbots exist and how they might help you improve your business. And now you need to decide on the functions your virtual assistant is going to perform. Will it help clients understand the site menu? Or should it take care of the sales process?

Creation of a scheme of interaction of a chatbot with a consumer. Mostly, it's about writing possible dialogues between a user and your robot.

Choice of a communication channel. What platform are you going to use the chatbot on? Website, app, both?

Setting KPIs. These indicators are needed to track the effectiveness of your strategy.

Development and testing. The last stage is the most difficult and important, and we'll discuss it separately.
You have two options to build your chatbot:
A ready-made solution. The first choice is simpler and more affordable, but the result isn't always perfect. Here are some suitable solutions and visual bot builders:

Flow XO. The service is aimed at creating advanced and complex chatbots. 

Morph.ai. A couple of clicks, and the chatbot is ready to go! However, keep in mind that it is paid. 

Botsify. And this solution is free and easy to use. But, alas, the chatbot will be rather limited in functionality.

Botkit is a good option if you want to test the service with a demo first.

Gupshup is another wonderful solution with natural language processing capabilities, which opens up a lot of great prospects.

Chatfuel: a cool chatbot building platform with intuitive functionality and the ability to integrate with Facebook Messenger. The company has several tariff plans, so you'll easily choose the package to suit your budget. 

Full-fledged chatbot development. The second option is expensive and time-consuming, it consists of several stages, including design, development of the API and the chatbot itself, testing, and launching.
Inspirational Examples of

Chatbots in Business
renowned clothing brand H&M has created a self-learning chatbot that asks users about their preferences and offers outfit options to choose from. The collected data forms the basis of the customer profile and helps to provide a better service.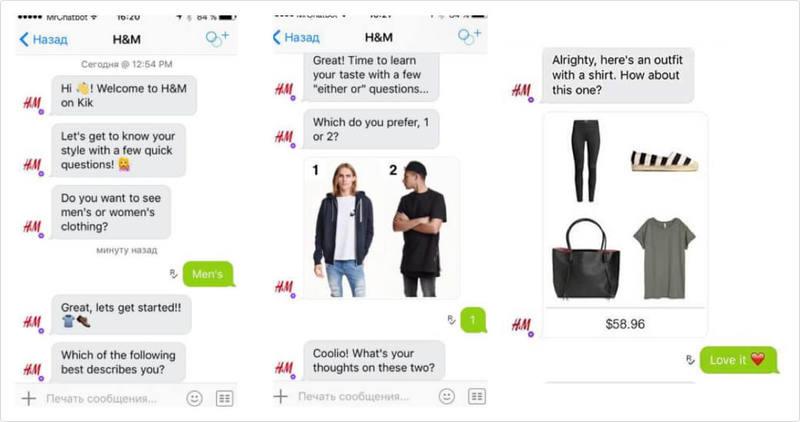 telecommunications company Vodafone uses an AI chatbot named Julia. It can perform simple operations and thus save employees time. Moreover, sometimes Julia advises clients on rather complex tasks such as technical support.
Bank of America also has an artificial intelligence chatbot named Erica. Erica sends notifications to users, shares money-saving tips, provides balance information, helps pay bills, and the like.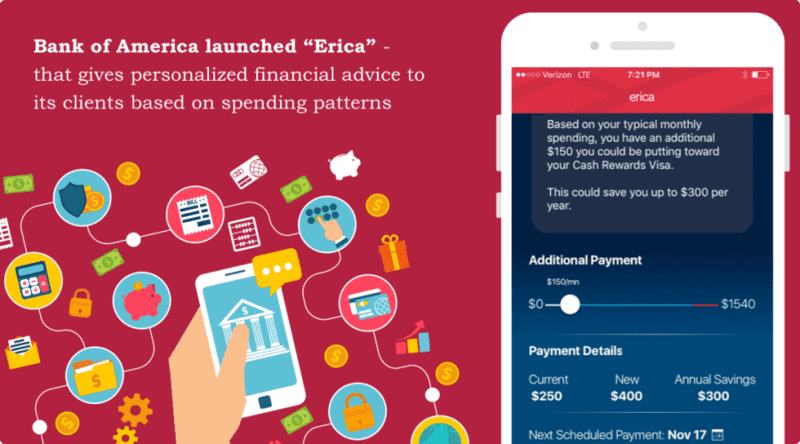 IKEA, too, decided to use the chatbot benefits for business purposes. Its chatbot ORC collects customer data and asks them to share their contacts. The bot formulates questions concisely and clearly and supplements them with cool emoticons.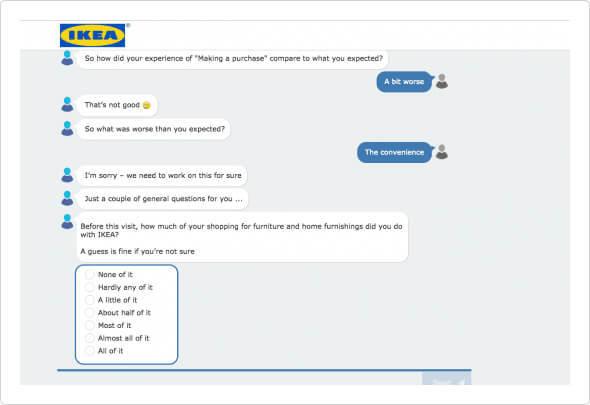 Car manufacturer Škoda has created a learning chatbot, Lucy. Customers discuss their needs with Lucy, tell it what kind of car they need, and receive advice from the chatbot on the most suitable Škoda model. 
Dom Pizza Bot also helps the company's employees by taking orders from customers of the Domino's Pizza chain.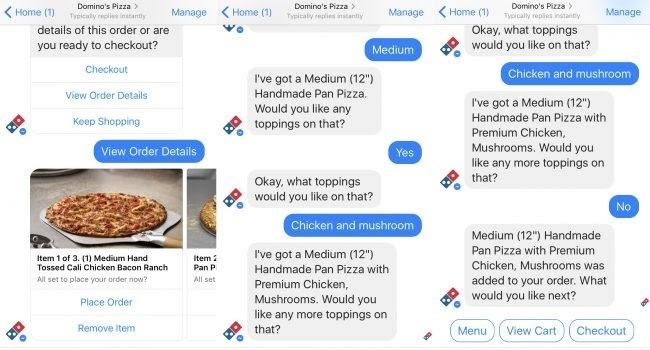 Rate this article
15 ratings, average 4.80 of out 5