Top 5 Ideas in the Travel App Development
Traveling around the world is one of those pleasures that has recently become a popular trend. Among other things, we owe thanks to the current progress in the mobile area, for technology improves the travel industry and allows simplifying the process from A to Z, from booking the tickets to the convenient tour search. Of course, we're talking about apps for vacations and trips.
Businessmen are well aware that tourists are an excellent target audience able to bring good profits. And you don't even need to open a tourer agency, just think about travel app development.
In the meantime, while you're wondering about this issue and summing up its pros and cons, we're going to give you a couple of ideas for mobile trip planners and describe the most promising travel trends.
Perspectives and

technology trends in the travel industry

45% of respondents surveyed believe that in 2019 they'll be able to plan a trip using a smartphone, and more than 55% think they'll more often take advantage of mobile apps to arrange a journey. So it makes sense to consider travel application development. It's clearly a promising investment area, which appeals to many people and can give you a constant profit.

But first of all, we'll analyze the key trends for the travel industry, as well as users' needs and our capabilities to meet them.

As the statistics claims:
At least 30% of people feel comfortable when a smartphone plans an upcoming trip instead of them, based on the history of their journeys (so they don't mind that the application compiles travel information).

50% of respondents believe that trip offers, selected by a travel-planning app according to their individual requirements, motivate them to book the most beneficial tour (even if they didn't plan a journey).

50% of people are willing to communicate with the chatbot if it answers their questions and helps to organize travel-related issues (such as booking tickets, finding an apartment, and other simple actions which don't require a creative approach and therefore are available to chatbots).

84% of tour companies are planning to actively invest in travel mobile app development (and it conveys a great deal!).

More than 80% of spontaneous and unexpected bookings are done using our smartphones.
As you see now, according to the above statistics, the travel app industry is still evolving. People need new travel products, which means such mobile programs will be even more in demand in the near future. You should use the opportunity and create one of them since these development costs will pay off with interest.
But if you really want to succeed in your endeavor, you have to understand the consumers' expectations. So let's discuss the issue at length!
T

rends in the travel and tourism industry in 2019
Augmented reality. Some more statistics: about 64% of respondents would be happy to make a virtual tour of the accommodation facility before booking it. So you need to take advantage of the AR technology. All the best travel apps have AR or VR features. It's not a cheap option but sometimes the game is worth the candle, and this is exactly the case.

Artificial Intelligence and Machine Learning. Thanks to these technologies, tourists are going to increasingly use travel-related smartphone apps which can become a kind of assistant able to anticipate their desires.

Comfort with pro-travel features. Travelers are more and more interested in technologies making their trips especially comfortable: for example, real-time luggage tracking via an application (57% of users would like to see such a feature of travel mobile apps implemented).

Useful tips. Also, users would be pleased with all sorts of tips, which business travel products can provide them with. Among these tips, we'd name the advice on easy overcoming the syndrome of jet lag or the possibility to avoid queues when going to the tour highlight.

Smart messages. Tourists don't mind using a smart instant messaging system, which takes into account their personal habits and preferences and helps to solve various issues in real time.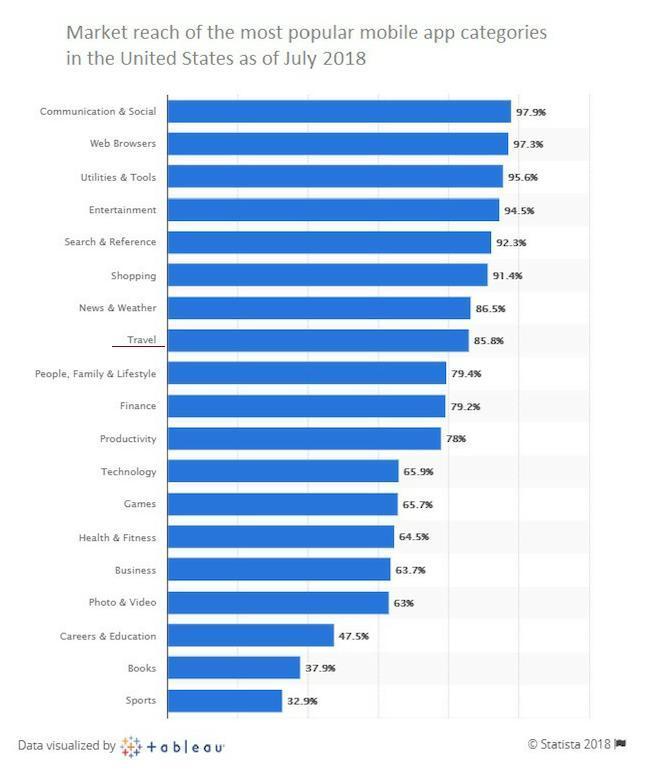 Based on the graph above, we summarize: travel smart products are a really popular app category (more than 85%).
As you can see, there are demand and development prospects, therefore, the market is promising and deserves investments. And to better convince you of our point, we provide a list of the best travel apps of different types. Perhaps, they'll come in handy as inspiration ideas.
Tours search
Some people prefer to plan trips on their own: book accommodation, buy excursions, and so on. However, other travelers have no desire to organize anything at all and shift the responsibility to professional tour operators. And travel-planning apps can be very useful in this very respect.
As you realize, there are a lot of tour operators, and each one is full of ideas regarding felicitous trips, and it's not easy to decide which one is better. And mobile travel products focused on the tour search can give a detailed analysis of all existing offers and provide the opportunity to opt for the one you like most (and to do so in a couple of taps). By choosing what suits you best, you create a new trip inside the app and plan your journey from beginning to end, without further ado.
To understand the whole process, take a look at the examples below.

GetYourGuide is a German startup focused on finding and booking tours in all countries of the world.
The application works on the principle of the P2P model: the supplier connects to the system, enters data on the available tours, the user selects and buys the best option, and GetYourGuide receives its commission. It's a perfect win-win situation!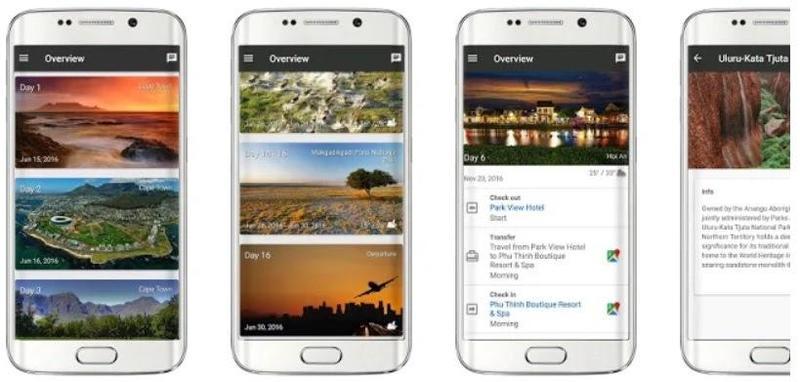 The company offers 2 travel products:
Search for tours, accommodation, restaurants, etc. The application is focused on tourists and helps them in organizing the comfortable conditions of their journeys. Among other things, there is such an option as tour search.

Assistance to tour operators. There are a lot of mobile and online sources for travelers, but not so many for tour operators, and Wetu decided to fill a want and created a special program. It helps tour operators to interact more effectively with clients by offering them a maximum of options of possible tours.
The concept of the tour search application
Booking accommodation
A long trip involves an overnight stay, which means you need to find the best accommodation. And sometimes such a problem becomes a true headache!
And since one of the mobile and online travel industry trends, as we've already mentioned, is a guarantee of comfort, applications compete with each other, providing their users with a seamless accommodation search: be it a hotel, a hostel, an apartment, or just a room.
These trip planner mobile programs help the user to choose the perfect option, even if he has specific or non-standard requests - that's what they are aimed at! Each of them is a kind of a travel search aggregator and comparison app.
And again, take a good look at the examples below. Maybe, they'll inspire you to create something of the sort.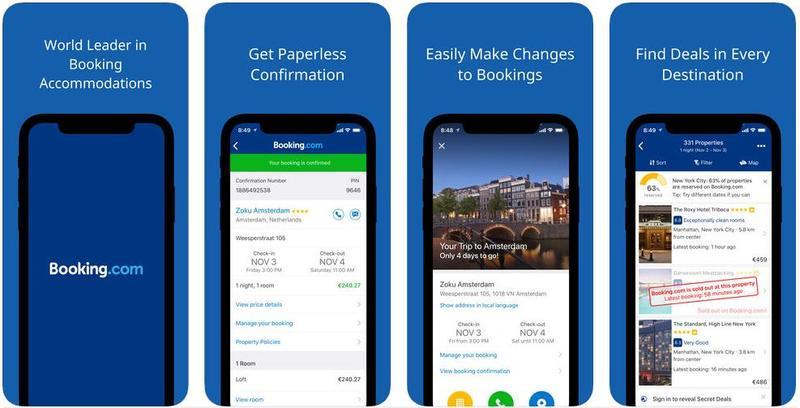 The application name speaks for itself: the program is focused on booking. Undoubtedly, it's one of the best travel planning apps which belongs to the most well-known platforms aimed at booking accommodation. It also uses the P2P business model which is very popular today.
The service contains information on more than 450,000 hotels, and the list is still growing. Convenient filters help users choose the ideal option without spending too much time searching.
Probably everyone has heard of the Airbnb program, another obvious market leader which is similar to Booking and having the same purposes (namely, the accommodation search).
Airbnb stands for Air Bed and Breakfast. The name arose after two guys from San Francisco, being in a difficult financial situation, allowed several guests to share a home with them (and took a fee, of course). The fact is that an important global event was taking place at the time, and all the hotels were overcrowded. Such a curious incident led to the founding of the Airbnb site, followed by the mobile application.
Today, the platform offers mediation services for the placement, search, and short-term rental of private housing around the world.
One of the secrets of Airbnb is to constantly follow web and mobile travel trends. The ability to keep up with the times and remain relevant is an important rule of business success.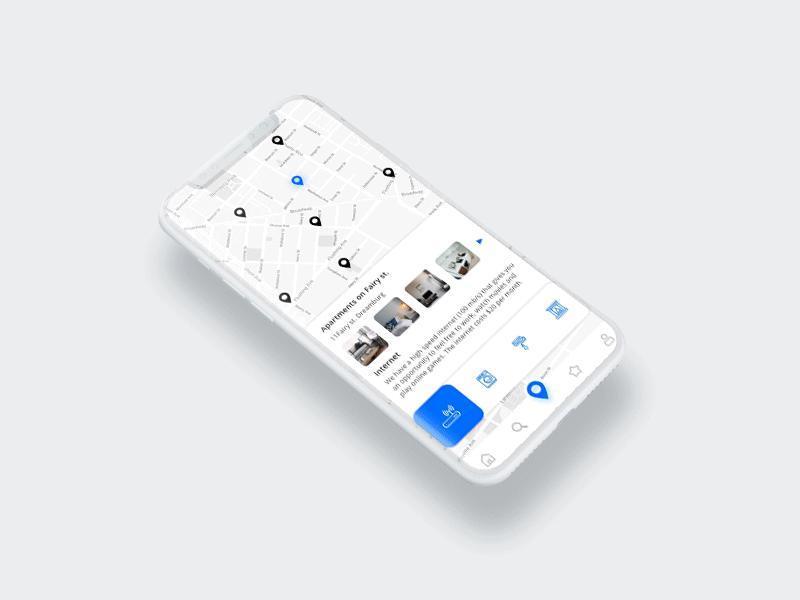 An appealing booking accommodation app might look like the above example.
Flight assistant
Another uneasy task is the need to find good flight tickets. And again, the travel-planning apps can come to the rescue: after collecting information and offers from various companies, these programs sort and filter all the options and provide the users with the results of their efforts.
Thus, by choosing the right direction, date of travel, and adding other important data, a person is able to find and book reasonably inexpensive tickets.
And, as always, here are a couple of examples of real-life applications of the sort.
Skyscanner is a large-scale system that contains information on almost all world airlines. The application allows finding several flight options on the same route, comparing their prices and conditions, and, as a result, choosing the best and most comfortable one.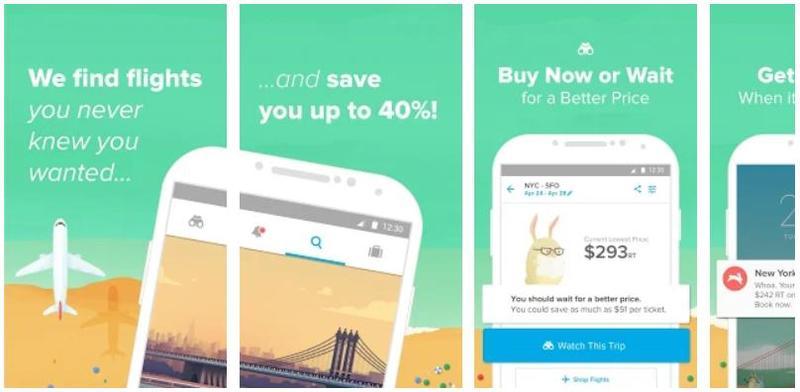 Hopper would be useful to those users who are looking for the most affordable tickets. The described travel-related smartphone app not only collects a huge number of offers from airlines from around the world but also provides users with a system of push notifications, which suggest the most convenient moment to book a flight. According to the owners of the service, such an approach helps a person save up to 40%.
In addition, Hopper prides itself on its extremely clear and intuitive interface which ensures that the user only needs a couple of minutes to find and book the desired flight ticket.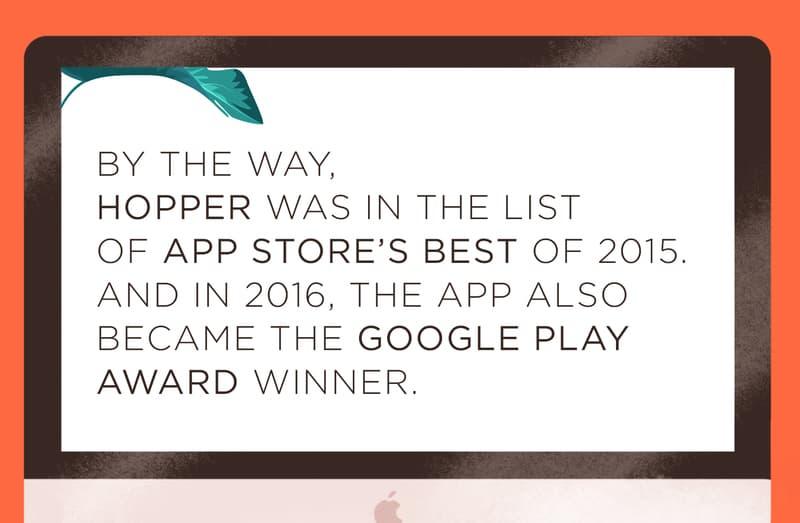 City guides
So we've got to our destination safely, and now new questions arise: where to go? What sights to see? How to navigate in an unfamiliar city? Today, users are able to figure all this out with the help of guide applications which help to organize itineraries without unnecessary trouble.
To illustrate our words, we'll give the best travel guide apps' examples.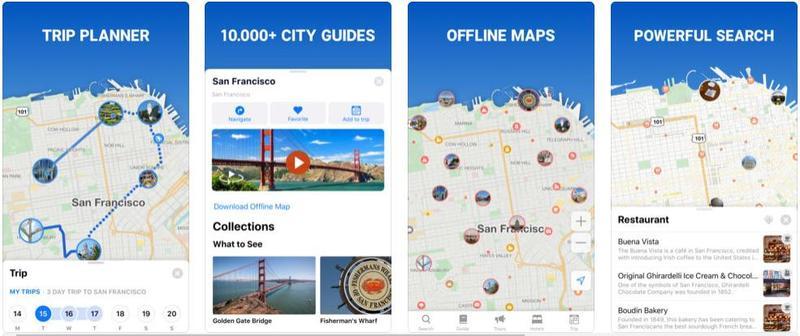 Sygic Travel is positioning itself as an application that suits those who decided to undertake a journey without planning anything, just spontaneously. In fact, it's a universal planner which organizes your trips and can be an excellent city guide: it'll find the most interesting destinations and offer a lot of attractions and sights.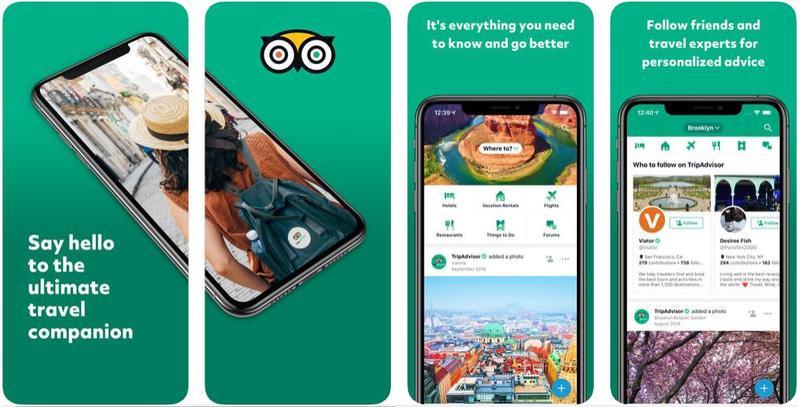 TripAdvisor has a number of innovative travel products helping to arrange a comfortable holiday abroad, and TripAdvisor City Guides is one of them. It's a handy application, which can replace any city guide.
The program provides detailed information about the country, including descriptions of local attractions and upcoming events, offers a phrasebook, and many other cool features. Such a service would be useful to all independent travelers.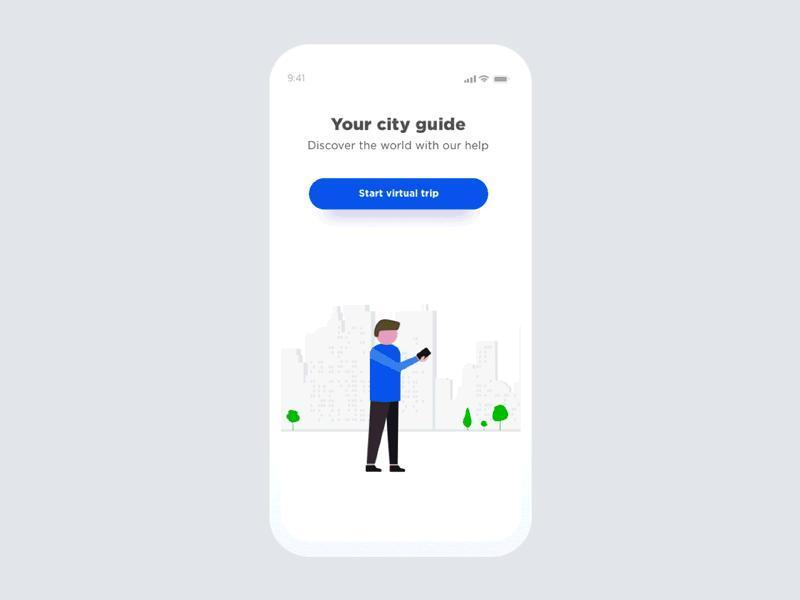 It's quite a nice concept of such a city guide, agree?
Car rental
Being abroad, sometimes we don't really want to be on our two feet all the time and don't mind renting a car. And apps for vacations and trips are able to help us choose the best option and make a safe and pleasant journey in a rented car.
SixT is a popular car rental service. It has a stylish, expressive interface and is available in many European languages. Arriving in another country, the user can choose a car from a list of suggested ones and rent it without any problems in a few minutes.
Turo is mainly focused on tourists from Canada, the USA, and the UK. The service is very user-friendly and offers a wide choice of available cars: from simple ones and SUVs to premium options. The user selects the desired car, focusing on his financial limitations and personal needs.
An important point: Turo manages a countrywide network of car owners, which positively affects the efficiency of the application.
Summary
Okay, we've told you about the latest trends in the travel industry and described innovative travel products, and now you're ready to meet a situation head-on. But we can help even more by consulting you in detail or creating a mobile trip planner app according to your specific requirements.
Rate this article
15 ratings, average 4.80 of out 5