How to Build a P2P Money Transfer Mobile App Like Azimo
As statistics claims, in recent days we could see a significant increase in the popularity of P2P electronic money transfers performed non-cash, from one card to another, even if they belong to different banks. This is due to the fact that people figured out how to make P2P payments, and in what situations the service could come in handy. And they began using the system in question very actively, influencing the growth of its demand.
And we guess it's high time to think about p2p app development.
Interested in the issue? Then read our article reflecting the key benefits of Azimo, a famous P2P payment service. Also, we're going to explain to you how to follow its lead and join the ranks of top p2p apps.
Key Takeaways
You provide services, but you are not an entrepreneur. You decide to sell something. You need to pay off your credit card debt or use a debit card. Here is just a small list of those situations when you need to transfer money from one person to another. In general, there are several options for transferring money: giving in cash, money transfer systems, making a payment through the internet, and other operations. Each method is good in its own way, but the cards still rule!
Peer-to-peer solutions are an alternative to cash payments and are a simpler approach to payment than traditional methods such as check payments or bank transfers. P2P transfers date back to PayPal and have been widely used thanks to Venmo; many other money transfer applications exist today, including the Cash App, Zelle. Google Pay and Apple Pay are digital wallets and online payment systems. With them, you can easily make local business payments or
P2P money transfers (from card to card) in local currency. Azimo's goal is to make instant transfers the industry standard in p2p payment apps. If you would like to create a money transfer application such as one of the best payment services, Azimo, Agilie development team, and other professionals can help you to build the best solution accordingly to your business model standards! A free consultation is available.
But, of course, we'll start with the basics, namely…   
What are

P2P payments?

There are a great number of types of payment apps but p2p money transfer services are clearly among the most fast-growing programs of the sort. It's no surprise because they offer the most convenient payment methods!

Let's see what the P2P type means and provides us with.

P2P stands for person-to-person (or peer-to-peer), that is, without the participation of various financial intermediaries (namely, without the intervention of third parties). Everything seems to be pretty clear, right?

But what is the essence of peer-to-peer international money transfers? Why are they so good?

Agree, sending money as is usual (through online banking or at a bank branch) requires a lot of effort. You need to know the complete list of details of the recipient, correctly indicate the purpose of the payment, and so on, stuff like that. Finding out such information takes a lot of time, which could be spent more efficiently.

As for the P2P payment system, it's devoid of these disadvantages. If that is the case, you only need the data of both cards; moreover, sometimes all you have to know is the recipient's phone number (however, we'll talk about such a useful feature later in the article, when describing Azimo).
Benefits of

peer-to-peer payment systems:
the chance to get or send a payment anywhere, subject to the availability of the Internet;

reduced transfer fees;

the need to know  the minimum amount of information about the recipient;

the opportunity to send money to any card; all you have to do is take advantage of a special web resource (or a mobile app to transfer money from different banks);

the ability to conduct money transactions through any device (if the Internet connection is available);

simplified access to transaction history;

the accessibility (the service work in a 24/7 mode).
When can

peer-to-peer payments come in handy?
accepting money to your bank card. The P2P payment service allows its user to send money to another bank cardholder (if they're both registered in such systems as Visa or Mastercard);

payment for goods and services: if you need to settle up with a team of builders, buy goods in an online store, and so on;

personal transactions: financial assistance to parents living in another city or children (say,  students), lending money to friends, etc (it's the so-called person to person payments);

nonprofit fundraising. Also, these mobile payment apps are helpful if you're thinking of charity collection;

new approaches. And, of course, there are original ways to make use of peer-to-peer money transfers. For example, a restaurant can create a mobile peer-to-peer payment app to improve its service level: if a large company dines, each person may send his own part of the total cheque amount to the restaurant card.
Why do you need to build a p2p payments app, to begin with? The fact is that you, as an intermediary (application owner), receive a commission. And the user won't be in a loss either since he gets a convenient and safe mobile service.
Now we'd like to consider how to develop a payment app like Azimo. But, of course, for starters, we'll tell you what this system is and why it is so popular.
What is Azimo?
As you already know, Azimo belongs to demanded P2P payment solutions. 
The company was founded in 2012; since then, it has been developing with the financial support of investment funds such as Silicon Valley Bank, TA Ventures, Polish MCI Group, Asian giant Rakuten, e.ventures, Frog Capital, and GR Capital. Azimo's headquarters are located in 2 cities, namely London and Krakow.
Today, Azimo is a financial and technology organization professionally engaged in money transfers in almost 200 countries worldwide. It has its own website, as well as Android & iOS applications. And since our article is devoted to the question of how to develop a P2P payment app, we should say a few words about the Azimo mobile program.
Azimo:

money payment apps
Azimo is a striking example of a smart mobile app. It has a user-friendly intuitive interface and is additionally protected with biometrics in order to increase the security factor (which is not superfluous, given that we're dealing with local and international p2p payments).
Use the Azimo app if you want to… 
financially support your loved ones;

pay utility bills (especially if you live abroad);

do your business internationally;

pay mobile Internet/phone bills;

pay for a trip or moving abroad;

and much more.
How P2P payments work

in Azimo's case

Everything is as simple as possible because ease of use is the main rule of Azimo. No extra action is required.

So, the user just needs to follow some simple steps:
Choose a method of delivery of money. There may be several options:

bank account or card;

cash (at special Azimo cashpoints);

mobile wallet;

targeted delivery;

mobile phone account;

SWIFT payments.

Enter the recipient's data (say, the card number);

Indicate the transfer amount and payment methods (by card or from a bank account).
That's all! Your p2p money transfer has been completed. And the speed of its processing depends not only on Azimo but also on a variety of factors, including location, method of delivery, and more.
An innovative way to

make P2P payments

Azimo owners came up with one more way to make the life of their clients easier: though, this only applies to users of mobile applications.

We're talking about an innovative way of peer-to-peer money transfer. Imagine the situation when you need to financially support your friend, but you don't know his card details and cannot get this information in the near future. And you're in a hurry! What to do? With Azimo, you're able to send money using only the recipient's phone number. Yes, Azimo made it possible.

In fact, there is no miracle, which, however, doesn't lessen the idea's genius. So, you select your friend in the contact list, indicate the transfer amount, and your job is done! Your friend will soon receive an SMS with the offer to install the Azimo application, after which he'll be able to get your money. He'll specify his bank details himself (he does know them, doesn't he?). Moreover, subsequently, you and your friend, as Azimo users, will have a chance to financially help each other through this P2P payment service any moment you want.
Key advantages of Azimo
P2P payment system
Minimum fee. P2P money transfer services are cheaper than traditional bank solutions, and Azimo is no exception! Well, they can afford to lower their fees: they don't need extensive staff or renting an office, which means fewer costs.

Maximum transaction speed. As we told you earlier, not everything depends on Azimo, but the company does its best to speed up the whole process as much as possible. And it succeeds in most cases!

Optimal rates. Azimo assures that their company offers excellent exchange rates, which cannot but please its users.

Worldwide transaction support. Azimo supports transactions in 190 countries around the world, including peer-to-peer international money transfers.

Highest security. Security comes first, Azimo thinks. And the company is making every effort to protect the money transactions of its users. Later, we'll talk more about the specific measures the company is taking.

Great customer reviews. Satisfied users are the best proof of the app's success, and Azimo has it. The impressive number (several tens of thousands!) of five-star grateful reviews speak for itself, right?

Earning opportunities. Well, the image of the effective peer-to-peer payment service is completed by the provided opportunity to earn when using Azimo. If a person wants to receive a cash bonus, he must persuade his friend(s) to join the number of Azimo users. Pretty simple, right?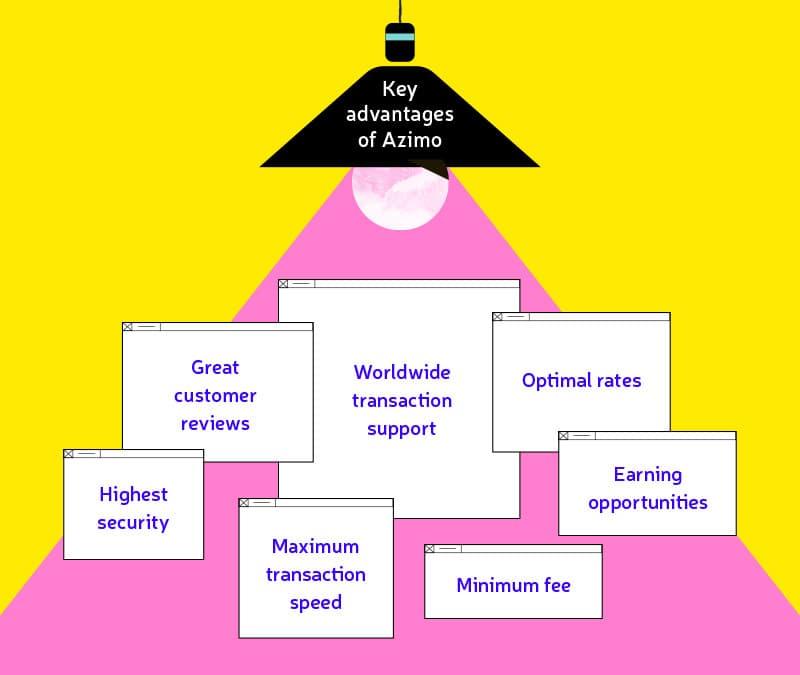 Azimo Competitors: other

money transfer apps

Any service in demand has competitors, Azimo has them too. Of course, we're talking about various apps that can transfer money. 

Let's take a quick look at some of the most powerful market players because they're your potential rivals too.
Currencies Direct Transfers. The app name is very eloquent and reflects the principle of the program. Users are promised the possibility of unhindered, simple transactions anywhere in the world without paying commissions.

OFX Money Transfer. The application is focused on providing round-the-clock global-scale transaction services. The company promises the most favorable exchange rates, guarantees ease of registration and use, and also offers other interesting features.

TorFX. Like the apps described above, TorFX ensures convenient exchange rates, ongoing support, and more like that. The application functionality is quite extensive and constantly updated with new interesting features.
P2P payment app features
It's time to pay attention to Azimo features. Perhaps they'll inspire you and tell you how to develop a payment app like Azimo so that it becomes as popular as it is.
Sign in/Sing up
The registration process is usually very simple, and when it comes to Azimo, it doesn't require much effort either. However, there are several factors users should keep in mind, namely:
Real name. You can come up with any nickname for your social networks, however, with the Azimo app, you have to be honest. Use your real name because Azimo cares about account security... which logically leads us to the next item.

ID confirmation. Account security is only possible if your identity is verified. So, the user has to prove he is exactly who he claims to be (through ID data, including visual ones).

The only one. Even the desire to have a few accounts on Facebook might have undesirable consequences, let alone P2P payment solutions! The presence of several accounts in Azimo leads to the blocking of all of them.

Business account. Azimo also offers the opportunity to create a business account. In this case, the user will be required to briefly describe the activities of his company and provide supporting documents.
Adding a card or bank account
As we said, you can send a payment using your card or bank account - whichever suits you best. In both cases, you'll need to enter the relevant card or account data. And don't forget about the process of verifying the information you provided, which is sure to follow! Azimo prefers to play it safe.
By the way, Azimo accepts three types of cards: Maestro, Visa, Mastercard. However, this may change in the future, as the application keeps evolving.
Electronic money transfers
We've already explained how P2P payments work, it makes no sense to repeat the whole thing once again. Just bear in mind: with Azimo application, you can also receive transfers from other users - remember, we talked about the possibility of transactions through a phone number? That's it!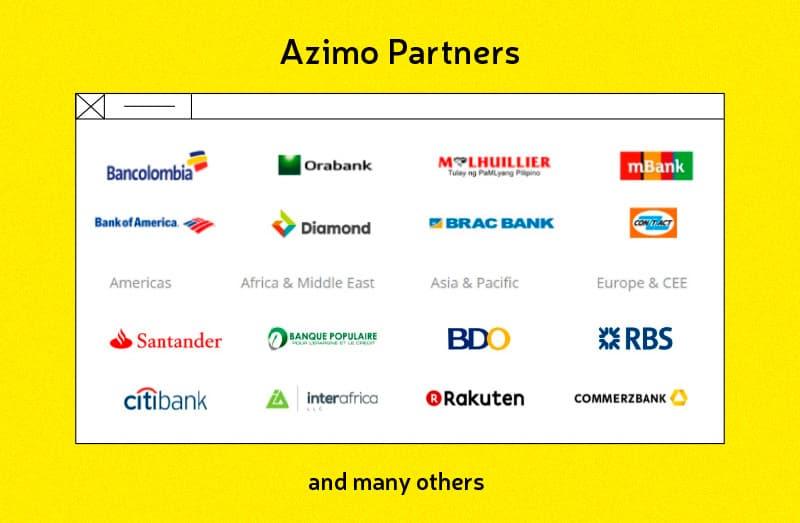 Mobile wallet
The list of Azimo's P2P payment app features also includes the service of a mobile digital wallet, which makes it possible to manage your own money using your smartphone (surely, in a non-cash way). And that's quite convenient because our gadgets are always at hand.
Money tracking
As we repeated several times, applications related to payment processing require a special approach because people worry when it's about their money. That's why Azimo offers the ability to track the payment status: the user can find out the location of his money at any time he wants.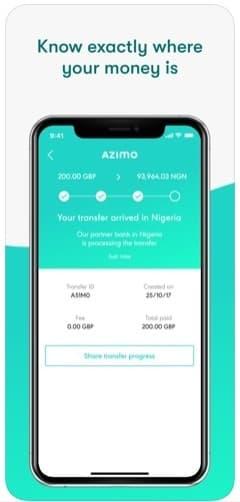 Real-time notifications
Most applications have push notifications, and the user is free to either agree to receive them or refuse such an opportunity. But in the case of Azimo, notifications are an especially helpful feature that allows getting relevant news, somehow coupled to P2P payments. Such as:
Transaction status changes. As we said in the previous paragraph, you can go to a special screen to see what stage your transfer is at. However, with notifications, even such a simple step isn't required! As soon as the status changes, the user gets notified.

Not received the transfer. If the money has been successfully delivered, but the recipient is in no hurry to obtain them, then the sender gets a notification (after a lapse of 5 days). 

Convenient exchange rate. Azimo also notifies its users about the update of the exchange rate.
Face ID and Touch ID security
The biometric app protection, which involves the use of fingerprints and facial recognition, has significantly reduced the level of global transaction fraud. And Azimo, of course, makes full use of this feature. Only the owner of the smartphone will be able to seamlessly open the program and make a p2p money transfer.
24/7 chat support
Azimo stays in touch with its customers in a 24/7 mode, around the clock! Any user can send a message to the support team and get an answer to his question related to using the application.
How to make your

p2p money transfer app secure?

The cost to create an app like Azimo is quite high, and for the expenses to pay off, you need to be sure you provide users with a first-class service, the one your clients would really love. And when it comes to international p2p payments and other money transactions, it means, first and foremost, security.

Let's take a closer look at what allows Azimo to guarantee the security of user accounts:
FCA. Firstly, Azimo is under FCA regulation. FCA means 'Financial Conduct Authority'. Its main goal is to maintain the integrity of the UK financial industry, including overseeing the activities of all subordinate companies and monitoring their customer relationships.

3D security. Azimo also introduced 3D Secure, a technology developed by the international payment systems: MasterCard (MasterCard SecureCode) and Visa (Verified by Visa). Designed to improve the security of online payments, it allows verifying the cardholder's identity, thereby reducing the risk of fraud.

Non-stop monitoring. All transactions are being constantly monitored and analyzed. If one of them causes even the slightest suspicion, Azimo suspends the payment until the situation is clarified.

Biometrics. We already wrote about Face ID & Touch ID security, but let's repeat it again. The fact is biometric features belong to the most effective ways to protect money transfer apps.

Extra protection. Azimo is additionally protected by SSL protocol and a special certificate, which increases the security of user data.
And remember about PCI DSS, Payment Card Industry Data Security Standard. It is a list of criteria that should be met by any service (including P2P payment solutions) dealing with such things as the card number and more.
FAQ
1. What are P2P payments?
Short for peer-to-peer or person-to-person, this type of payment involves money transfers from one person to another person (as opposed to a merchant or organization).
2. How do P2P payments work?
After you decide what P2P app to choose, you install it and register an account. You need to connect your card or bank account to the app in order to start making payments. So you will have an e-wallet
3. Who prefers peer-to-peer payments?
P2P payment systems choose people who want to avoid going to the bank or ATM and the hassle of regular banking transactions, especially when it comes to repetitive ones.
4. Are P2P transactions secure?
P2P services are provided by software developers in fintech companies with customer data encryption, identity verification, and authentication. P2P money transfer software is the most secure.
Summary
All of the above seems rather complicated... you're unlikely to know where to start, right? No reason to worry, though! We're here to help you. Our experts know how to develop a P2P payment app and make it competitive.
Rate this article
15 ratings, average 4.80 of out 5