7 Reasons to Choose Spree Commerce for Your Online Store
The number of e-commerce sites is growing by leaps and bounds. And the best chance to stay on top is to make sure your online store is powered by the most efficient platform: flexible, scalable, intuitive, and customizable. Pretty obvious requirements, right? And Spree Commerce fully meets them.
Do you want to know why you should choose Spree Commerce for business purposes? Then read our article! We describe in detail all the advantages of this high-featured eCommerce platform and share our own experience in its use.
What is Spree Commerce

?

Spree Commerce (also known as Spree) is an open-source framework targeted at e-commerce resources. In essence, this is just a free codebase that web developers can use to build beautiful online stores of any complexity.

The platform was created by Sean Schofield in 2007; since then it has managed to gain great popularity: the number of Spree Commerce developers is increasing year by year (along with the number of framework downloads). In July 2011, AOL and True Ventures invested $ 1.5 million in Spree, and their financial contribution served as a new breakthrough for the project.
The arguments in favor of

Spree Commerce development:
more than 500 active authors, thanks to whom Spree eCommerce solution is in the top 50 open source projects (among about 3 million);

no less than 230,000 platform downloads;

over 20,000 successful Spree Commerce stores;

no licensing restrictions: Spree is an open-source platform;

modularity (the possibility of customizing the product, which we'll talk about later);

the possibilities of language localization.
Well, it's time to move on to a more detailed study of the system. Ready? Then let's get started!
Overview of

Spree Commerce Features

In more detail, we'll consider the rich functionality of the Spree Сommerce platform in the next paragraph when discussing the system's advantages. In the meantime, we offer to study infographics below to see what exactly the solution provides us with.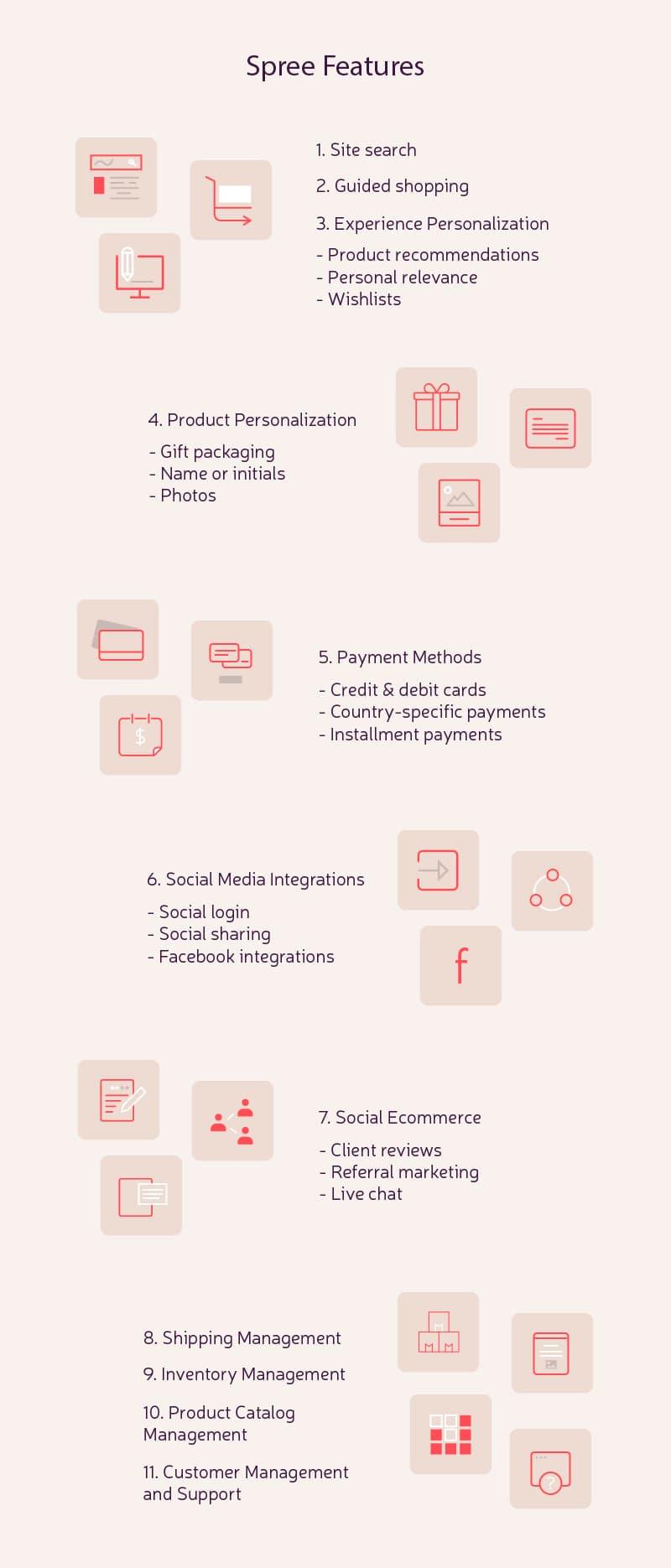 That is, Spree Commerce allows you to create an online store with the possibilities of advanced search, personalization of the offered content, convenient payment, and other great features, without which a successful customer experience is impossible.
Moreover, any open-source project is supported by the developer community, and Spree Commerce is no exception. Spree developers are busy solving various applied problems and ready to provide information on all relevant issues. Community members are always available on Spree mailing lists or GitHub.
Spree Commerce Benefits
The choice of eCommerce platform is very important, and now we're going to list the reasons explaining why selecting Spree Commerce for your stores would be a good idea.
#1. Customization
As we've already mentioned, Spree Commerce is a modular platform. It means you can upgrade and improve it as much as you like. Thereby, you get a personalized solution tailored to your specific requirements.
You see, the "out of the box" version is unable to take into account everything, this is just a basis. Fortunately, a good Spree developer can change such a basis to suit the client's needs by using the wide range of provided extensions. In addition, the creation of new personalized extensions is also possible, and with a minimum of effort (especially since RoR is a guarantee of a high-quality result).
#2. Integration Flexibility
Online store development should provide for the possibility to integrate third-party solutions, including payment gateways. Happily, Spree ruby on rails eCommerce platform supports integration with the most popular among them: Paypal, Stripe, PayU, Authorize.net.
Haven't found the option you're interested in? No problem, adding a new payment gateway is, too, very easy.
However, Spree Commerce features aren't limited to payment tools and allow the integration of other third-party solutions either. Such as…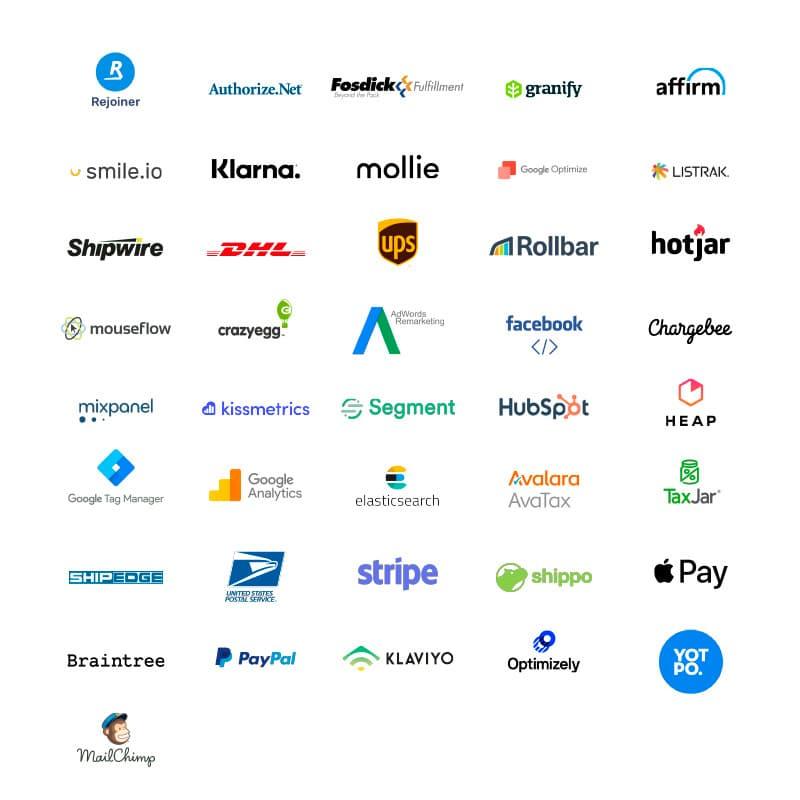 #3. Scaling
Even if your online store was originally designed to be simple (with a small database of goods and an insignificant customer flow), you should take it only as the beginning. You must always consider the possibility of future business development.
How does this affect the eCommerce hosting solution, you may ask? The fact is that business development leads to your project scaling. And your web resource must be ready to withstand higher loads. If your chosen platform isn't powerful enough, you run the risk of getting a lot of problems.
Using Spree Commerce, on the other hand, will help you avoid such an unwanted outcome. The technology allows you to seamlessly expand the resource, and it will grow with your business.
#4. Mobile-First Approach
Perhaps, today it's obvious to everyone that a successful eCommerce resource should work well in all browsers - and, of course, it must support the mobile version. Mobility is a must-have for today's business.
Spree Commerce was created with a mobile-friendly approach in mind. Therefore, the solution initially ensures UI intuitiveness: you get the online store with responsive design right out of the box.
#5. Marketing Opportunities
It's not enough to create an appealing online store. You have to promote it to attract as many visitors as possible. And the rich functionality of Spree offers a lot of marketing-focused features. Among them are:
integrated search engine optimization;

the ability to connect coupons;

advanced user analytics;

the possibility of A/B testing;

the opportunity to manage loyalty programs (discounts, gifts, promotions, etc.);

additional means of communication with shoppers;

simplified campaign management;

high-level email marketing.
#6. Omnichannel
An omnichannel approach is a logical product of the eCommerce evolution. The successful omnichannel strategy puts the client in the spotlight and provides him with ideal shopping conditions. Any channels, platforms, and devices are being used to ensure the best customer experience. Everything should be taken into account, from the store itself to the manager's call.
Spree Commerce platform implements an omnichannel scheme by offering you all the eCommerce possibilities, from A to Z, to grow your business. One of the interesting features is the one allowing you to serve the most capricious clients through remote guiding (say, if you need to help them in choosing a product from the catalog).
#7. Faster Development
As you know, Spree is built with Ruby on Rails, which leads to high development speed. And high speed makes Spree Commerce for developers and their clients a wonderful choice.
To your note: Ruby on Rails is a full-fledged framework based on the Model-View-Controller (MVC) architecture and focused on creating web apps. And practice shows that the speed of developing projects on RoR increases by 30–40 percent in relation to any other programming language. This is due to the extensive RoR toolkit and a lot of ready-made solutions. Besides, the Ruby language is simple enough to write in it.

Interested in developing an e-commerce site, but have no idea of the budget you need? Our article will answer your questions!
Now you understand why there're so many positive Spree Commerce reviews. However, another key question remains, namely… 
When should you

choose Spree Commerce?

You must build an e-commerce store with Spree Commerce if...
you want to launch an online store with a bunch of various cool features and the possibility of customizing it (to make the store meet your specific requirements);

you're striving to evolve your business and therefore see the need to scale the project (by expanding the assortment, increasing the client base, improving functionality, etc.);

you're interested in creating an exclusive and effective trading platform.
We don't want to seem unfounded, and thereby we'd like to share our own experience in using this technology. In addition, we'll give you a few more Spree Commerce examples.
E-commerce sites

built on Spree Commerce

Let's list a couple of successful Spree commerce stores.

The resource is devoted to a delicious lifestyle with southern coloring. Here you'll find everything from recipes of traditional dishes of southern cuisine to kitchen utensils, with the help of which you can bring the most refined culinary idea to life. Of course, you'll get kitchen utensil only after your purchase it, but recipes are free to use.

The site owners chose Spree Commerce because they were convinced of its effectiveness and reliability, and it was the right move!

The site creators believing that the luggage of most tourists looks too boring decided to solve the problem by offering them an alternative solution: high-quality and stylish travel bags at an affordable price. Of course, building such a resource requires the use of a proven featured eCommerce platform, and Spree Commerce is exactly what one needs.

And, of course, we'd like to mention our Spree development experience. We're talking about the online store dedicated to men's fashion that we've created. 

We always carefully analyze the initial requirements to find an individual approach to each project (given the specific situation). In the case of the YEAH store, we made a very high opinion of Spree Commerce benefits and realized that this technology would be the best choice.
Summary
If you build an eCommerce store with Spree Commerce, you get a customizable multi-functional system that, moreover, is easy to use and manage. The framework is just perfect for creating scalable online stores.
And we, in turn, would be happy to help you with your project. As you already know, our team has experience in Spree Commerce development, and we offer our services with confidence in a quality result.
Rate this article
15 ratings, average 4.80 of out 5