Main Points of Grocery Shopping App Development
Today more than ever everyone goes after solutions for saving their resources, say, money or time, managing their daily routine. Taking care of multiple housework issues could be pretty stressful, thus, advanced technologies are pleased to assist.
People enjoy apps with grocery shopping list features, as, when it's necessary, such platforms are to draw up lists for food shopping to get supplies. Persons who don't have possibilities to shop around will gladly enjoy online applications for groceries. Grocery shopping apps with delivery options shall be indispensable for those who cannot pick up what they've ordered from the supermarket. You see now in how many ways you can support your users in facilitating their lives. There's so much space for your imagination and creativity!
No wonder that such services are so popular. Statistics says that 79% of buyers apply their cell phones when shopping. In 2018 during holidays 39% of all e-commerce purchases were conducted by means of cell phones. 80% of customers apply mobile devices being in the stores, checking item reviews, comparing prices and searching for other stores close-by. Nowadays there are around 10 billion active mobile-connected gadgets.
So, do you still have any doubts about whether to develop an app for your grocery business or not? The answer is a resounding yes, so we shall tell you what it takes.
Types of grocery apps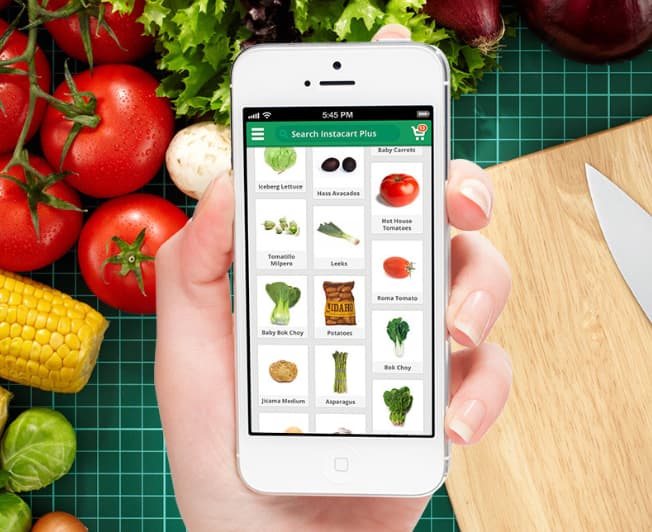 Before getting down to grocery app development, the key task is to decide what exactly you are about to build. The presented classifications shall help you in making your mind regarding the type of your future grocery app to design. Well, let's review what options developers have.
Variety of

grocery shopping apps

To distinguish the subsets of grocery mobile applications we shall put business logic in the first place. Thus, there are below-mentioned types:

# Apps of grocery chain stores

Walmart is a bright representative of such grocery businesses. It expresses some care to its customers offering them special practical on-demand delivery arrangements. It's quite convenient, isn't it?

# Aggregating apps

Mentioned services are to provide users with generated lists of useful groceries in the area. Customers will be happy to select any supermarket from such list of groceries. They only have to choose the items they need from the store product selection via a specific mobile application of that grocery. The amount doesn't matter. After carrying out the paying part - by the by, multiple options are appreciated - customers only have to wait till the store's confirmation of their orders.

After obtaining the corresponding notification, a grocery shoppers application lets the audience follow up the progress of their orders till they get it at the specified address. People shall remember that all responsibility rests with a particular grocery, since such grocery delivery applications only present stores and relevant data on their pages.

# Marketplace solutions

Given online grocery apps turn out to be pretty convenient as well. It works when a marketplace has the delivery staff to get ordered items to customers' place. Users only have to be informed on what can be delivered over a certain period of time available.

# Specific facility grocery delivering app

When you own a specific facility, one day you might see the need of developing an application for your groceries business. In such a case, you surely have to manage various stages of mobile shopping, say, ensuring your app proper operation, updating your online menus, dealing with in-app and in-store purchases, etc. A little bit later we'll talk more on what features would be must-have to develop an app for groceries.

As you surely realize, in such case owners' commissions will entirely depend on the quality of specific grocering business and the shoppers list application itself.

Alternatively, if we take into consideration the interaction logic, there'll be another classification of online grocering services. Here it is.
Classes of

apps for groceries shopping

Popular applications for grocery shoppers attract more and more clients, because people can perform so many actions when applying them. While working on a service for grocery shoppers you have such variants, as:
Grocery delivery services;

Price comparison platforms;

Shoppers lists programs;

Grocering discount applications.
How amazing it'll be, if you bring together all given platforms' possibilities in your own grocering program? Feel excited? Then we shall discuss the greatest current applications for online shoppers, as you have to know the big sharks at your area.
Best applications for grocery shoppers
If you're curious about how to make your online grocering service successful, practices of front runners shall be your guiding star. Those full-featured programs will give you specific ideas on what to measure up against on your way.
We're to check the brightest representatives, shall we?
Flipp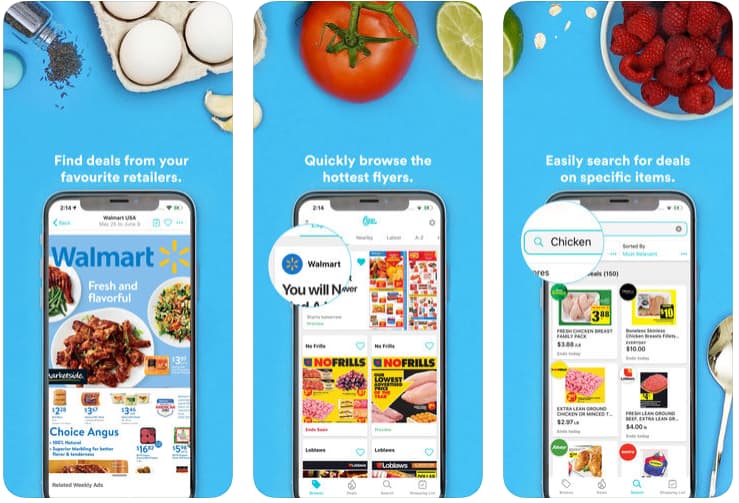 Flipp is considered to be among the best apps for grocery shoppers. It's the only program matching coupons of various brands with the circular of local supermarkets. Flipp was made to help people save money during shopping. Every week it provides lots of useful information and updates from multiple retailers.
Flipp helps with finding certain stores or brands easy and fast. Its notification service is a great tool to inform users on close-by offers and expiring clippings. Such grocery mobile application provides item details - customers only have to tap and hold the product item to see additional info on it. Pretty handy, right?
The grocery application is good for both iOS and Android devices.
MealBoard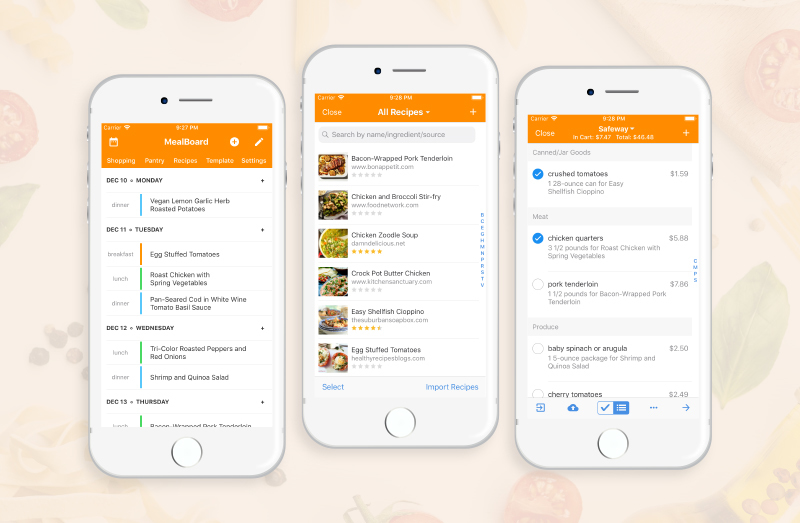 Given popular grocery shopping app is an amazing full-stuck service. MealBoard will do everything for its users from taking care of recipes to saving grocery lists and tracking down what food supplies customers have.
So, MealBoard shall store users' recipes, plan their meals, generate relevant shopping lists, synch between various gadgets, etc. By the way, mentioned grocery shopping list app has a web version, so users can enjoy it as well.
MealBoard is universal and great for iPhone and Android systems.
GroceryPal
Typically, all customers are looking for a top grocery shoppers app to get the best deals ever. GroceryPal is one of the leading services offering users what they need. It gives access to check out all possible sales and offers at customers favorite shops, including non-grocery options, say, Target. Such a platform provides users with a simple way to add on-sale items into their shopping list.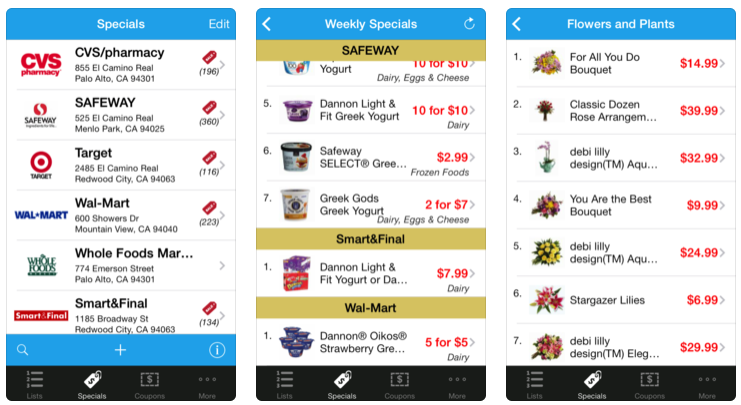 This is how such a grocery app looks like on the iPhone. GroceryPal will search for all possible sell-offs at various facilities nearby. Owners of Android will also be happy to hear that service in question is also applicable for their systems.
Do you want to use a similar solution while building your own app for grocery shopping? Consider such perspectives!
The Walmart App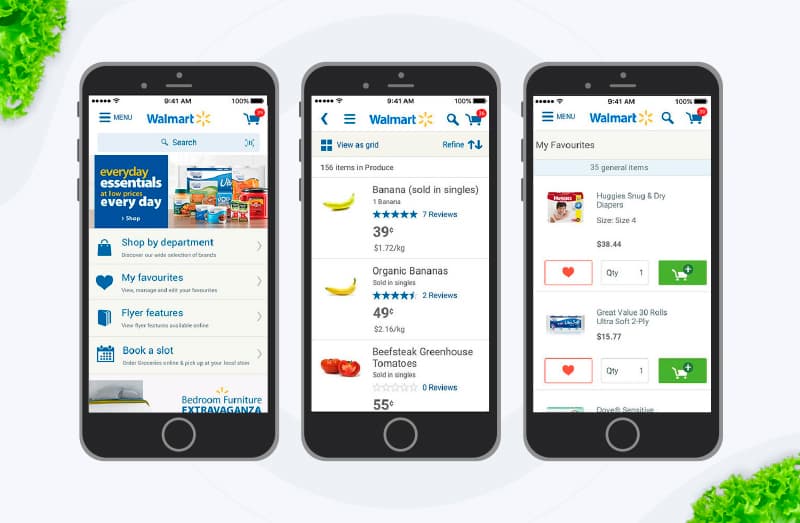 Given popular service for grocery shoppers offers its customers diverse functions. After ordering goods online and after receiving a readiness notification users can simply pick it up in the store. Walmart Pay option allows making the payments while scanning the barcode. Great re-ordering system serves to obtain your favorite product with a single touch.
The mobile application for groceries assists with getting items fast, checking the pricing, creating supplies lists, getting information on stores, etc. Mentioned program grants special express pharmacy solutions, simplifying the shopping process. You can even send money to more than 200 countries by means of the app in question.
This grocery service is available for iPhone operating system, as well as for Android smartphones.
GroceryIQ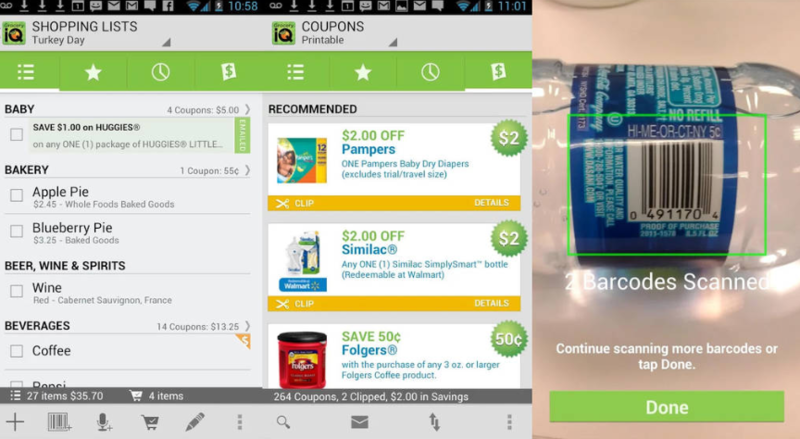 Owners of such amazing online grocery application have added "IQ" for a reason. GroceryIQ was designed for the audience to shop in a smart way. Such in-demand e-commerce platform includes multiple useful functionalities, and barcode recognition is one of them. Users can easily apply their cell phone cameras to scan a product. If you take a picture in the service, you simply include that product into your future shopping list.
Another great function of this grocery shoppers list app is auto-suggestion, meaning, you begin entering an item name and the service provides you with grocery product list available. Users can add item details, like, quantity, price, etc. GroceryIQ automatically organizes all goods to simplify the navigation.
Coupons can be printed and emailed immediately from such online grocery service. Grocery lists could be emailed, and all gadgets will synchronize the lists keeping them up-to-date.
Such a grocery platform is for iPhone and Android devices.
Buy Me a Pie!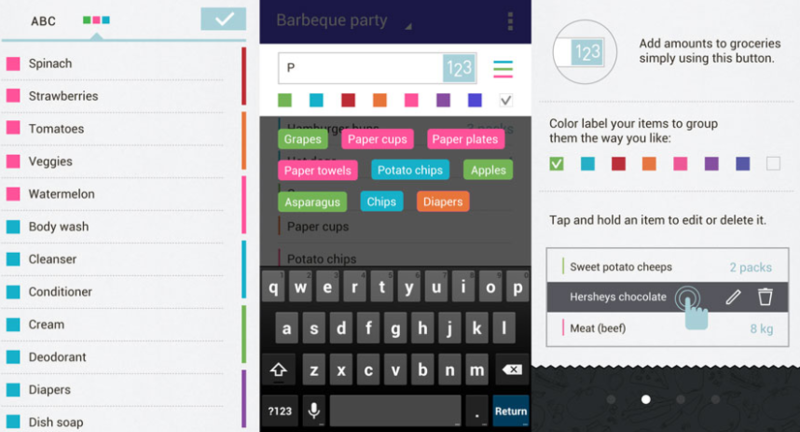 When developing a grocery shoppers app take a look at Buy Me a Pie! Its goal is to make users shop in a more efficient way. One of the great grocery app features is the ability to organize the list as per grocery store aisles. In such a way, you'll never have to go back to take items to need. Users appreciate mentioned functionality so much!
This service's owners want users to apply their cell phones to enjoy shopping list pros to the most. Given online grocery program goes along with various gadgets, thus, the audience can benefit from convenient full-screen format to organize their shopping lists most effectively.
Buy Me a Pie! also allows users sharing accounts with relatives and friends, and no matter who of the family members use what device, all data will get synchronized automatically.
As all previous best apps for grocery shoppers, Buy Me a Pie! will fit iOS and Android operation systems.
And now we are to distinguish the most often-observed features of apps for grocery shoppers. Shall we?
Common features of

grocery applications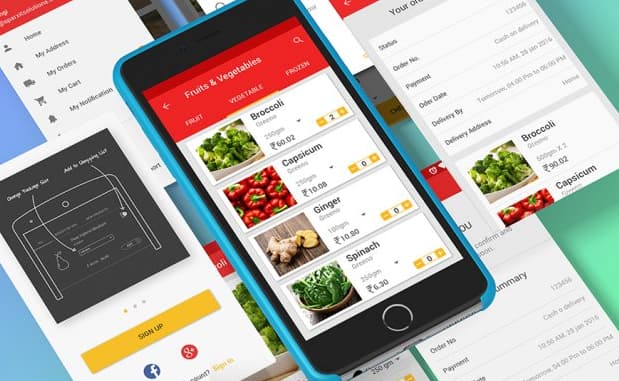 To figure out how to make a platform for grocery shopping be successful, firstly, we shall recognize the classic functions which you should consider during the development of your grocery application. Here they are…
Identification issues
Registry and profiles of users
Registry page is critical, since this is the first time the audience interacts with a specific service, including your application for grocery shopping. And the registration is followed by a personal profile creation.
The idea is to meet your customer obtaining all data needed. Some developers choose the solutions to be able to sign up by means of various social networks. The owners of best services for grocery shoppers show some care to their audience and build user profile interface being easy to manage.
The details of personal users' profile will come in handy to send personalized notifications, and we shall speak of which later.
Developers who know the business think through plan B in case users forget their passwords. Verification emails or phone numbers usually work for such purpose.
Operational functionality
Those are the features to ensure favorable users' experience of shoppers. Developers do their best to arrange all possible conditions of a smooth process. People appreciate having a range of filters. Some people appreciate searching suggestions, thus, they prefer platforms that have such assistance.
Searching goods options
The searching goods possibility is extremely significant. Such grocery apps with shopping list solutions serve for users to browse through diverse product categories looking for certain goods. And this is exactly what people are looking for.
People love various discount coupons possibilities. When functionalities, say, Shopping Cart, are presented, such grocering apps turn out to be highly demanded.
Paying possibilities
Programs having multiple paying alternatives contribute to grocery companies' growth. Few paying variants in your mobile service will help clients pay easy and fast. If a service offers a great selection of such possibilities, the audience is super happy. There could be electronic wallet options, say, Paytm. Stripe and PayPal shall be perfect as well. Debit-credits cards and internet banking will also work.
Customization
In the process of developing your grocery delivery app, it's critical to provide clients with such options, as address searching, users' localization, etc. Creating a great grocery delivering service every developer should do everything possible to meet customers' expectations and help users enjoy online shopping.
Users' engagement
It also matters. App owners seek to retain the audience they have and to attract new users. To make it happen the service shall be of the highest quality providing customers with a great diversity of products. This is what the best grocery shoppers app is about.
Organizing items
Such a feature helps users double check product list right before paying. It's to make sure that the list includes everything needed and nothing extra.
Notifications
Speaking of must-have functions Push Notifications are one of them. Various notifications on great deals or discounts, beneficial coupons will keep the audience posted. In such a way grocery shopping apps shall increase sale volume of the grocery business. The service uses data presented in users' profiles to personalize those notifications.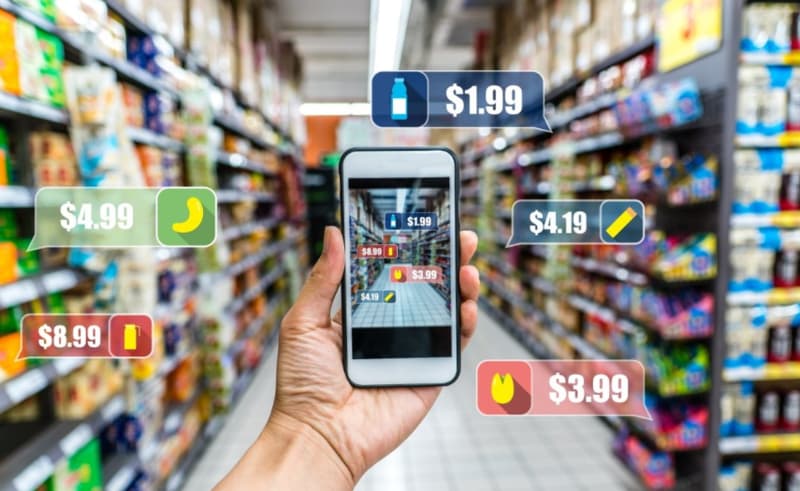 Delivery solutions
Delivery planning
Users' convenience is a priority here. Some users choose having certain time intervals before they pick up what they ordered. Others would rather enjoy express delivery solutions. The top grocery shopping delivery apps have all variants.
Tracking orders
The audience loves having the possibility to monitor the delivering process. Moreover, they feel more comfortable having a reference person who could answer all their questions on delivery.
Cancelling options
The audience feels more confident to apply grocery delivery apps with possibilities to cancel orders, thus, it's a handy functionality to remember about while developing applications for the world of grocery business.
More of common features for grocery services
Feedback and comments
Continuous development and improvements are what you should always remember about striving for having a popular app for grocery shopping. Hence, comments and reviews could become a great source to learn your app weaknesses, if any. Developers don't limit themselves and come up with diverse ratings of everything - the service itself, the quality of purchased goods, the service of the shipping staff, etc.
Helpdesk
24/7 support and assistance is what users hope for nowadays. Thereby, every grocery shopping list and delivery application should better have it. Sometimes users really require some advice while goods selection.
Top grocery shopping applications have everything: online texting, telephone calls, emailing. Applying chatbots would be a great approach to answer users' questions on-line.
To strengthen the positions of your retail grocery platform you'll need more than only common functionalities. We shall discuss extra parameters so you could develop the best grocery shopping application.
Additional features for making the perfect

grocery app

So, there exist more functions which are to improve users' shopping experience while applying your grocery app. Here are some of them.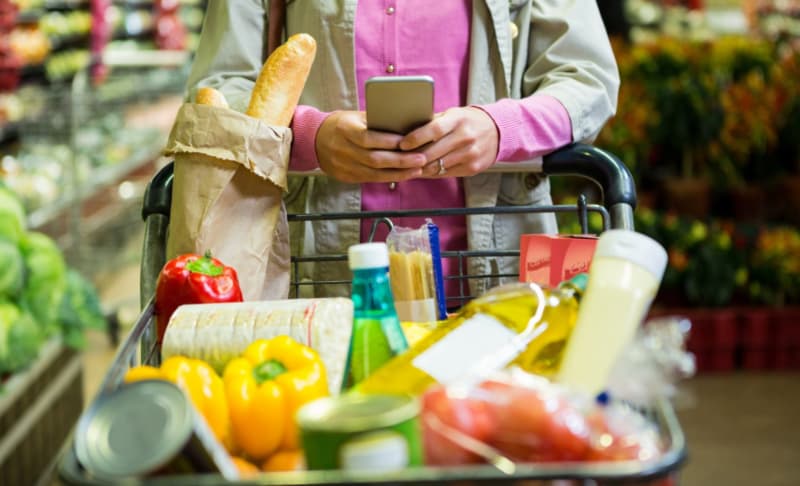 # Repeated orders simplification
Repeated orders could be easier shipped and checked out. It works when customers have a chance to choose systematically bought products using previous Purchase History. Given the feature of a certain grocery shopping app shall definitely enhance users' online shopping, and the process will go smooth and fast.
# Premium package
That's a reliable approach to increase customers' loyalty. Frequent buyers deserve some treat. There's a great variety of means to make your users feel like VIPs. Be creative!
# Wishlist
The possibility to add items to the cart is a critical grocery app feature. It's for users to include an item they'd like to purchase later. We're sure you agree that such an option is convenient.
Users will also enjoy the possibility to name their lists. The option to set reminders would be precious as well. What else would be great is to set up automatic list generation - when users get the list of products after sending a recipe link, or when specifying a certain theme, say, Birthday party, the app suggests buying balloons.
# Voice recognition
Given the function of grocery shopping list apps managing the list without typing anything. Users only have to say it! It's much faster and more convenient than typing.
# Smart organizer
That's to bring benefit to your grocery app. All products could be grouped, say, fruits, vegetables, etc. The audience will definitely appreciate such a touch.
# Healthy nutrition info
Your grocery app will get only better, in case it gives some additional nutrition details. Thus, the service will also help users stay healthy.
# Prices comparison
Grocery mobile applications could be designed to compare pricing of the supermarkets nearby presenting the audience the most beneficial options. Hence, users don't need to waste their time looking for better offers.
# Product comparison
Such functionality is pretty similar to the previous one, since it conducts a quick analysis of goods from diverse stores looking for best options.
While making your grocery shopping app, consider those aspects seriously.
Summary
Any business prosperity, including a grocery one, is characterized with an app presence (or absence), in our case, a grocery one. Designing a decent shopping service is the way to succeed. Simply remember that with every passing year the number of online shoppers is increasing considerably.
Do you own a usual grocery store? Contact Agilie, so we'll guide you along your grocery app developing process.