How to Create a Live Video Streaming Website Like Twitch and Get Your Revenue
Nowadays the most sagacious people are thinking about how to create a video streaming website. And they're quite right, it's a really profitable business because a live streaming website can become a great way to make money.
Today both users and organizations are being increasingly interested in the possibility of conducting webinars, video conferences, master-classes and live interviews. Users want to have fun through live video streaming, and companies are looking for new efficient ways to reach their customers. That's why live broadcasts are gaining popularity every day. A good example is Twitch resource that, according to Similarweb, records about 300-500 million visits a month all around the world. For example, in December 2016, this index has reached a number of 524.4 million. And these impressive figures characterize not only the demand for this site but also the high earnings of its owners!
Isn't it impressive? Certainly, it's worth considering how to make a live streaming website, right? Lucky for you, we can help!
Contents:
Video demand is very high right now, for it's a convenient and modern way to communicate. And if there is a demand, you need to provide a supply, that is, a site with content of high video quality. That's exactly what Twitch has done by offering a great and successful live streaming solution.
Moreover, Twitch has taken one more step forward and attracted the most hard-to-reach audiences - gamers! Yes, that's right: today leading world brands know perfectly well that Twitch.tv is a platform not only for online broadcasts but also for effective communication with gamers' audience. Websites like Twitch provide brands with a possibility to reach users who put the entertainment industry of games before all other things including reading, watching TV, etc.
Although games are not the only scope of use of live video streaming resources. You can - and should! - find your unique niche. And our tips will help you with this matter.
There are heaps of examples of using a live stream website:
live video streaming of competitions, football matches, video games;

live broadcasting of events: speeches, conferences;

a user's own video channel;

IP or home web cameras broadcasting;
Now let's take a more attentive look at one of the most successful live streaming video websites, that is, Twitch!
People have been playing games for centuries, and during these centuries the games had spectators. And new time dictates a new format of games, namely - professional e-sports which is experiencing a period of its rise. Giant leaps in technology, as well as an increase in the number of people online, have led to the fact that some gamers collect hundreds of thousands and even millions of spectators by just playing online at home. Broadcast games have become so popular that it would be foolish not to offer the optimal solution able to simplify the entire process! And Twitch suggested such a solution.
In fact, Twitch is a video streaming website that allows users to watch or broadcast live or previously recorded video of the streamer's game process. Twitch broadcast often includes a player's audio commentaries and a chat for viewers, and the streamer is involved in the discussion too.
Games that people broadcast can be very different, from little-known indie games to the most popular ones. You can find streams with the most famous Minecraft, StarCraft, World of Warcraft, simulators like The Sims, shooters such as Halo or Call of Duty, fighting games, and races. Sometimes you can even find old school games. There are no restrictions!
Twitch also supports e-sports events, matches between cybersports which are being covered by professional play-to-play announcers. The video is often being broadcast from events dedicated to games such as E3, BlizzCon, PAX East and PAX Prime.
That's why in the USA, powerful FMCG brands are actively engaged in promotion through Twitch website using gamers activity. We can name Old Spice (Procter & Gamble), Coca-Cola, Mars (Snickers advertising campaign) and many others.
Today, Twitch has 100 million viewers monthly, and more than one million streamers are constantly broadcasting live. On average, one Twitch viewer has been watching about two hours of video content per day. And the most popular streamers are able to collect about 25-30 thousand viewers at a time.
By the by, according to the statistics of 2016, 75% of the Twitch audience are men (73% of them have a purchasing age of 18-49 years).
But what is the history of Twitch? Believe us, it is just incredible!
It all started in 2011 when a small company (Justin.tv) had received $ 8 million of venture investments for future development. At that time, the service was a small platform for live video streaming which was mainly broadcasting events from the life of one of the founders of the service - Justin Kahn. Then the project had been joined by Gideon Yu, former financial director of YouTube, who began to monetize this service. It is to this man that the Justin.tv team owes its success.
Of course, the project had to be reorganized. So, not too popular Justin.tv was divided into 2 parts: a service for video games streaming named Twitch (although Justin Kahn did not believe in its success) and more promising, according to businessmen, Socialcam project. This last application for uploading videos to the Internet seemed to entrepreneurs more interesting than the service for broadcasting games. Nevertheless, the public has had its say!
As you know, a live streaming video website turned out to have become extremely popular among game players. Nobody expected this level of success! Initially, the authors of the Twitch project believed that users would arrange a reality show from their own everyday life, but the demand for games was (and remains) so high that all other ideas were abandoned, for they would only distract attention from the main task of this successful live streaming resource.
A bit later, Twitch had released its first application which made itself known at the world's largest gaming exhibition called E3 in 2011. The first reviews showed that users cared about quality - that's why the service had quickly been redesigned providing the maximum number of tools for streamers. More new useful features attracted even more players.
Today, in addition to ordinary players, Twitch has thousands of official channels owned by major game developers. And Blizzard was the first among them when started using the live video streaming service in order to arrange the broadcast of its championships, BlizzCon festivals and professional games from developers.
Nowadays the service boasts 15 own data centers equipped with everything one needs. Each month 55 million unique users are taking advantage of site's benefits. On average, a visitor has been watching the broadcasting video for an hour and a half without a break. Moreover, the Twitch network does not impose any restrictions on broadcasts and allows users to output video in high resolution and at a good speed.
In a word, Twitch is a real find for businessmen. A billion income without much effort! A true success story... There is something to learn if you want to know how to create a live streaming website.
Before proceeding to the methods allowing us to build a live streaming website, let's see how Twitch interacts with a user.
One can view most of the content by just going to www.twitch.tv from any device connected to the Internet. After registration, a user will receive his personal page, such as twitch.tv/user_name.
As in many social networks, each channel has its own design including a profile image, channel name, and short description. There are standard icons for sharing, and the streaming status is indicated by OFFLINE or ONLINE inscriptions (if there is a broadcast occurring or the channel owner has left the video for viewing). Also, you can see the statistics of how many people are watching the channel right now.
On the left is the navigation bar, and on the right is the chat window. Many streamers like to communicate with other users through this chat box. This is the level of interaction between the streamer and the audience which puts Twitch to a fundamentally new level of social interaction, as opposed to simply viewing someone else's game.
This video streaming website allows you to easily search and find channels by name or in a hit-and-miss fashion. You can also look for a video archive (videos are being deleted after a few days unless the owner marks them as those that worth being kept).
There are lots of ways to access Twitch and view its content: through a computer, game console or mobile device. Twitch has a number of convenient applications for Android and iOS which are easy to get used to. Among the devices on which you can watch Twitch, we should mention the following ones:
PlayStation 4

Xbox One

Xbox 360

Ouya

Nvidia Shield

Laptops and personal computers

Tablets and smartphones
But, of course, examining how to create a video streaming website, you're really want to know "how to make money live streaming". So let's take a look at this issue more closely!
The popularity of the video website is the first step to good earnings. That's why Twitch owners made the advertisers interested in their service so quickly. Twitch gathered a huge niche audience that was ready to consume advertising and enrich the corporation.
Today Twitch is being monetized through advertising and paid subscriptions. Though this resource also offers an option of extended paid subscriptions, basically, the membership is free. And you can view the Twitch content, communicate with people and stream your video live for free. Advertising starts immediately when you begin watching the video and periodically pops up during streaming.
For a small monthly payment, users can become a Turbo Subscriber whose membership allows them to get rid of most of the advertising and gives other benefits, for example, more colors in the chat and unique user emoticons.
Finally, the players themselves can start earning - the affiliate program provides them with decent payments for each attracted user who has viewed the advertisement placed on their channel. Some of the partners can also collect fees from subscribers for access to high-definition streams and videos archives, for exclusive chat sessions, and so on. And if you want to develop a video streaming website like Twitch, think about your own ways to interest users with additional benefits for active participation in the life of your resource.
Surely, websites like twitch make a great deal of money! Wanna become one of them? Let's take a look how to achieve this difficult aim.
So, how to make a live streaming website that is able to bring you high earnings?
Working out a video streaming business model, you should consider 2 main steps…
The most important thing is to create a product that will attract users' attention and interest. You need a website like Twitch! So…
Find a

great idea. It's the most significant thing to think about if you want to know how to develop a video streaming website living a successful life. For example, Twitch offers a first-class web resource for gamers. Choose your own (and maybe unique) target audience. Which users category do you want to reach and embrace? Be sure you're taking a deliberate balanced decision, for this issue is too important to hurry.
Think of creating a reliable web resource of really high video quality. Ask experts for help if you need one, don't save on quality!
Use marketing tools for efficient promotion.
Follow these simple rules, if you're going to build a live streaming video website of Twitch level and quality.
Assuming, you've got a really awesome idea of your future resource. Now it's time to find out how to create a video streaming website that makes a constant profit. We offer the following options:
advertising. It means a site can be used for free while you're getting your profit from advertisers. This monetization method has been chosen by Twitch. And if you want to follow its example, think over a good promotion. Because it's easy for Twitch to make money this way since it's a really good advertising platform giving an access to a very specific target audience of gamers. You'll have to make much more efforts to win advertisers' attention.

paid subscription

. Users should pay a subscription in order to be able to publish their streaming videos. And we recommend you to offer a free trial subscription during a certain period, for example, three months (as Netflix does). In addition, you should offer different service packages, cheap and expensive ones (again, take a look at Netflix).
!Do you want to save with Live Streaming? Read this article to find out all the details!
How to start a live streaming website? First, we'll figure out what video streaming is.
Data streaming means that media files are being compressed, divided into parts (packages), and sequentially transmitted to a user. The size of packets is determined by the bandwidth of the network section or the communication channel between a client and the server transmitting the video signal. Having accumulated a sufficient number of packets in the buffer, the client program starts to play back one of them. Simultaneously, it's receiving and performing decompression of the next packages. The main purpose of the buffer is to ensure smooth and continuous playback of the video signal.
Thus, there are three main components that

live streaming requires:
The video encoder

(Flash Media Live Encoder, Telestream WireCast, Haivision KulaByte Encoders, Microsoft Expression Encoder Pro, Flash web app);

Media server

(Adobe Flash Media Streaming Server, Wowza Streaming Server, Red5 (free), Erlyvideo (free), Microsoft IIS Media Services, RealNetworks Helix Universal Server);

Player

(Flash media player, HTML5 video player, VLC player; video codecs: H.264, H.263, VP6; audio codecs: MP3, AAC).
Live video streaming

features:
Data transfer protocols (MPEG-TS (UDP), RTMP, RTSP / RTP, HTTP);

Video resolution.

Codec;

Delay in playback;

Bitrate flow.
If you want to know how to create a video streaming website of the highest quality, we advise that you use multi-bit or adaptive broadcasting technologies. In this case, the bit rate varies depending on network characteristics or other similar conditions.
There are two ways of playing back remote media files:
using a computer or other device capable of working with local and network files. In this case, it's enough to find on the network and play back the desired file. It will be played through the network file system that the certain operating system's using. Usually, it is SMB (Server Message Block) running on the upper layers of the TCP/IP stack.

using a media server and a streaming protocol that will deliver the media stream from the server to the player. In this case, RTP and RTCP protocols running over UDP are being used.
Of course, the main problem of streaming is the quality of the product being played back. Therefore, we must correctly approach this issue and figure out how to make a live streaming website.
The live streaming market is oversaturated, so you should consider all the details of creating a video website and offer a really incredible product. We'll try to help you by giving a few tips.
So, you've decided to learn all about how to create a video streaming website. What should you do next?
Access

. First of all, determine who will be allowed to make video streaming. In fact, there are three possible options:

You're the only one having such an access;

All registered users are able to create

streaming videos for free;

Users can create live video streaming content if they have paid for the subscription (after free trial use as we've explained earlier).

Functionality

. If you want to know how to create a video streaming website that will make you a good deal of money, remember: your resource should satisfy the consumers' needs! So, it must:

have a live-chat feature

. This is an indispensable condition for attracting users to websites like twitch!

provide each streamer

with his own video channel;

protect each channel.

You should ensure that only the owner accesses to it;

allow streamers to customize

the video content they're adding.

Licensed help. A user can create his video broadcasting through different devices and receive a file of different formats. But in any case, you should ensure that this video is shown on the site in higher quality. Fortunately, you don't have to puzzle how to implement this task properly. The solution already exists! We recommend you Wowza Technology from Amazon EC2. You can use the free trial version to start, and then choose one of the licensed options able to guarantee your site scaling up as your company's developing. In addition, Wowza Technology is very convenient and easy-to-use.

Think ahead of time.

Considering the issue of how to build a video streaming website, think in advance and provide a perspective for the server scaling. In other words, you should develop a website which will scale. Otherwise, in the future, you'll face a number of problems. Of course, if you're not planning to create a project of Twitch level, you can cope on your own, but if you do want to compete with Twitch, we strongly recommend using CDN. You may have to pay a license, but such expenses are justified. Using the CDN provides many advantages, not least of which is pre-caching of video files, so that the user doesn't need to download them, and localized data centers.

Powerful hosting.

Choosing a reliable hosting is always difficult, but this issue becomes more burning for those who're planning to create successful live streaming video websites like twitch! Imagine: if you succeed, you'll need enough bandwidth power allowing 2.500+ users to watch the same video simultaneously! This factor should be taken into account from the very beginning. Ideally, choose VPS or SSD-hosting, they'll provide you with a lot of bandwidth for live streaming websites.
Expressive design. Don't use ready-made solutions if you want to get an effective web tool for making good money. The unique and modern design is half your success! That's why we advise you to order services of experienced UX designers and front-end developers. It's not the time for parsimony!

Storing video archives.

Of course, it's very important to save your video and store archives received. This task is more difficult than it seems at first glance. Why? There are two reasons. First of all, a video content should not be distorted or mutilated during the process. Secondly, you have to make sure that the video can easily be "taken out" on the user's request and displayed correctly. We may advise you to create two dedicated storages: a powerful SSD-store including the most popular (that is, with high demand!) files, and a cheaper one containing all the rest. Such a system is the most effective and economically advantageous.
We discussed in detail how to make a video streaming website. And another important question is…
Everything has its price, and your aim is to make future incomes exceed initial expenditures and investments. So, having a detailed instruction on how to make a video streaming website, you also need to know about the inevitable attendant costs.
The exact price cannot be named. It all depends on the cost of each of the following development stages:
Market research aimed to find a way to build a perfect business model.

Drawing up the specification and prototyping (about 75-120 hours of work, depending on the complexity of the task).

The site design. At least, 100 hours (or even more).

The development stage (more than 580-670 hours for building the platform).

The subsequent support (about 15-20 hours per month)
Now you know what budget you should draw up if you want not only to know how to create a video streaming website in idea but really implement this plan. As you can see, this job is more complicated than it might seem. If you think you can do it - full ahead, try yourself! But if the task exceeds your ability, do not give up the idea itself! There are always ways to solve the problem…
As you could see, in order to develop video streaming web resources, you need a lot of hours of coding, searching for inspiration for cool UX design, testing and performing other similar steps. Moreover, you're likely to face a great number of inevitable problems. Only when you have written all the lines of code you need, when your site is done and testing is finished without unpleasant surprises, you can say "I did it!". But it's quite difficult, isn't it?
Therefore, if you are really serious about building a professional web resource with streaming videos, give up the idea to create a video website yourself. Hire a team of experts who will perform all the work quickly and efficiently. You'll have nothing to do but relaxing and waiting for a perfect result.
We offer our services that means we're working, you're resting! We know all about how to create a video streaming website like Twitch so ultimately you'll have a topnotch product: a powerful resource capable of providing you with a constant profit.
We have a fair amount of experience in developing various applications and know all the details about the live streaming apps development for mobile platforms! Among other things, we have also worked on a video app named b.live. Undoubtedly, we can guarantee you getting the desired result for the best money.

We hope you liked our article about how to create a live streaming website. If you still have any questions, feel free to ask. Happy to cooperate!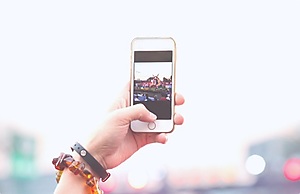 Live Video Streaming Services Comparison
Live video streaming apps are a hot trend right now. Here's our comparison of different types of such services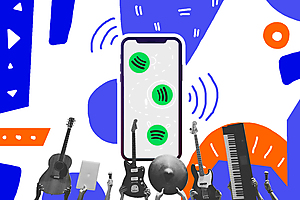 How to Make a Music Streaming App Like Spotify?
Spotify company has managed to turn free music into $10 billion in profits. About 140 million people have been taking advantage of the Spotify service, and more than 50 million of them belong to paying subscribers. Impressive, right?
Live Video Streaming Solutions for Business
Giving the entrepreneur a possibility of narrating more about the promoted services or a solution, the enlightenment approach builds a good ground for stable sales and conversion rate increase in the future.