How to Make a Music Streaming App Like Spotify?
Published on:
April 10, 2022
Last updated:
March 20, 2023
Spotify company has managed to turn free music into $10 billion in profits. About 140 million people have been taking advantage of the Spotify service, and more than 50 million of them belong to paying subscribers. Impressive, right? 
Would you like to follow the lead? We'd be happy to help! 
We will give you a comprehensive guide on how to make an app like Spotify. So, let's go deeper...
Why Are

Audio Streaming Apps a Good Investment?

Music streaming apps continue to gain popularity. The level of profit they bring to their owners has already surpassed the number of sales of music tracks on physical media. However, this news is unlikely to have surprised analysts - a year ago, Warner Music Group reported that revenue from streaming services had exceeded the earnings received due to the standard downloads of musical compositions.

Streaming revenues cover about 45% of all digital sales

And such a stunning success is quite natural! The streaming model of content distribution remains one of the most convenient for users who appreciate its easy-to-useless. And this leads to increasing the audience of similar services - and hence, profits. It is a solid reason to think about how to create a music streaming app, right?

In the US, audio streams consumption has increased by 95% in 2021-2022

To date, Spotify tops the list of most famous music streaming apps. Let's look at what makes Spotify so special! 
What is the

Spotify App?

Spotify is a unique music streaming service, which in some ways turned out to be a pioneer. Oh, yeah, it was Spotify that gave us the opportunity to listen to music in the most convenient way, online... and we no longer need to download songs to our devices and thus overload their memory. It's undoubtedly an advantage.

So forget about pirated versions of your favorite tracks, this is no longer accepted in good society. Enjoy your music in an honest (legal!) and affordable way (sometimes free of charge at all).

The Spotify music player works in the US, in most European, and a few Asian countries. And it's quite popular in Australia and New Zealand. Spotify has clearly set itself the goal of conquering the whole world, which is almost achieved.

Spotify provides access to streaming music services like Pandora, as well as the ability to buy tracks on iTunes. The music app covers more than 30 million songs, and the number is growing every day.

But how did it all start? It's another story, and a very exciting one! You need to know it before you begin to ponder how to develop a music streaming app like Spotify.
History of

Spotify app

Spotify has an impressive history. Its creators, the company founders, are Martin Lorenzson and Daniel Ek. They became acquainted in the distant 2005. It was in Sweden. Being annoyed that despite the rapid development of technology, downloading worthwhile content is still very difficult, they came up with the idea of a unique streaming music system. It was then that they thought about how to create a streaming app.

October 7, 2008, is a momentous day when the great story of Spotify has finally begun. The project was funded by Horizons Ventures and Wellington Partners (they had invested more than $ 21 million in the startup, which proved successful). 

Look at the data below to be certain that success was just a matter of time:
In the early fall of 2010, the Spotify service was already providing users with access to 10+ million songs (while the iTunes catalog included no more than 11 million at the same time).

By the winter of 2012, thу music program in the discussion had managed to gain the sympathy of more than 20 million users: that's how many people had used it to their satisfaction (and 5 million of them were using its fee-based version). And 2 years later the figure became even more impressive - 50 million people. The number of paid subscriptions was 12.5 million.

In 2013, Spotify was valued at about $ 10 billion (not so small an achievement).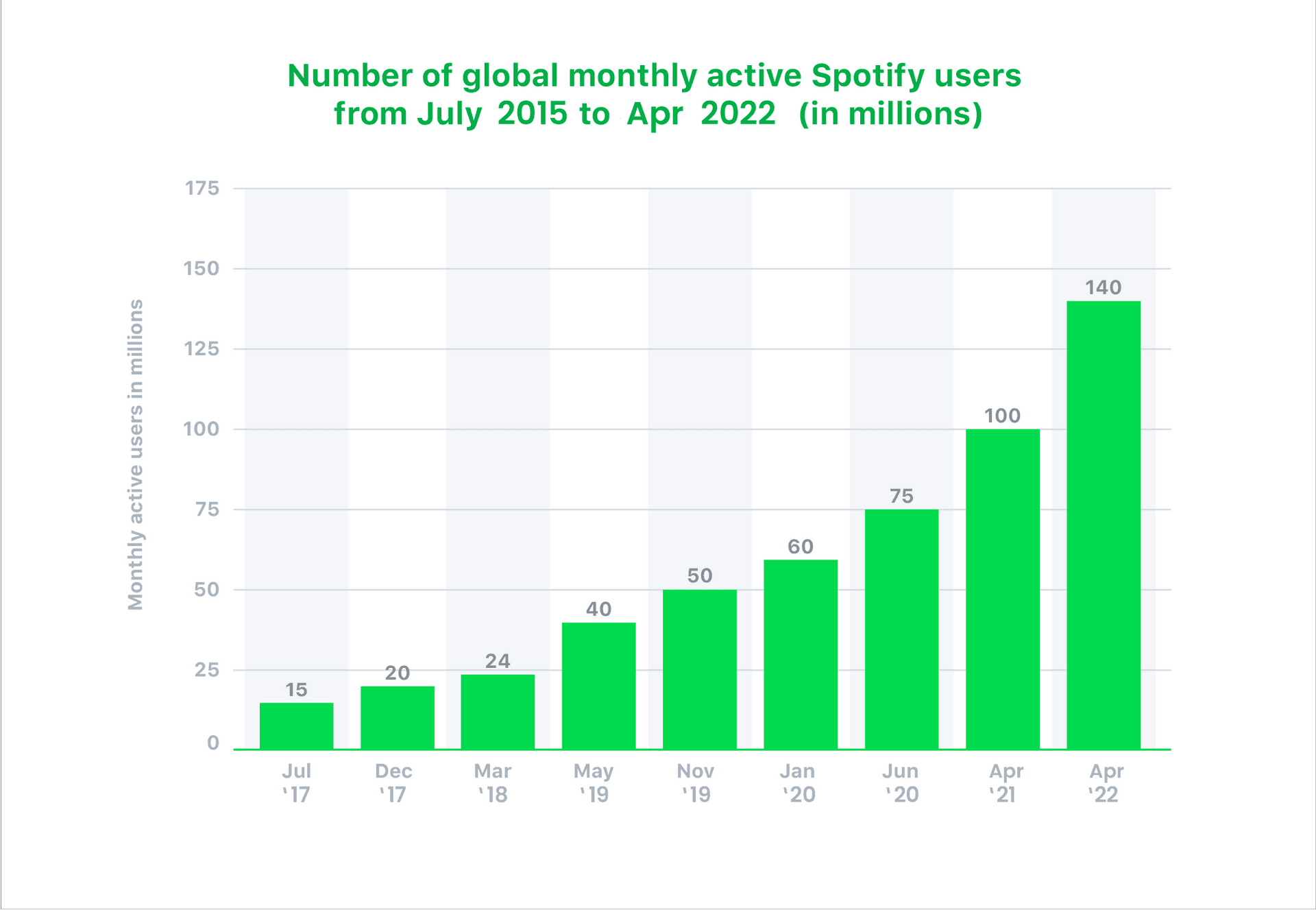 Let's agree that the above data is convincing enough and make you think about music application development.
Spotify is a Swedish company. That's why this innovative software had been launched in Scandinavia first. Then France, Spain, and Great Britain joined the list. In 2011, music streaming conquered the US and, later, numerous European countries. Talking about Japan, the service entered its market only in 2016.
Would you like to know how to create a music app similar to Spotify? As is often the case, it all starts with a great idea! And Spotify is not an exception to the rule.
A unique idea 
People have been listening to music not just for years and decades, but for centuries, and Spotify decided to use the love for music in its favor… moreover, it has changed the approach to the whole process and improved it completely. 
It all started with access to music on demand, and such an enterprise proved its success. However,  there's always room for improvement, and only the sky's the limit. So by the end of 2011, Spotify had expanded its functionality and offered a radio named Pandora, which made it possible to turn any song or album into a real radio station. At the same time, the system was carefully collecting information about the music preferences of a person: later, based on the data received, Spotify could offer a user other audio tracks he might like. All this contributed to the spread of Spotify among a wide range of music fans. Definitely, Spotify music app features have had a lot to do with the success of the service.
Do you want, in turn, to develop a music streaming app like Spotify? It's quite possible, just ask yourself a few simple questions: what does your user need? What services does he expect to access? Perhaps other apps of the same type are missing some important features, and you'll have a chance to use these omissions to your advantage.
By the way, Spotify tries to do its best to avoid such omissions and respect the interests of users; in the end, these interests are a keystone of the music app creation process. That's why Spotify… 
launched a browser version of Spotify at the end of 2012, and such a step made the service available to those who cannot install the program.

created a mobile app in 2009.

removed restrictions on music streaming duration (until January 2014, such restrictions existed).

did a great job to make the sound quality as good as possible. 
All these factors made the service more convenient and pleasant to use, which had got full users' approval, No wonder Spotify had topped the list of the most popular music streaming apps in a short time.
Okay, we've got to move on. How about studying the process of the interaction in greater detail? It's highly important if you're willing to build a music app like Spotify.
How Does Spotify Work?
The Spotify app is compatible with many modern devices and runs on different operating systems including Windows, macOS, Linux, Android, and iOS. Users may take advantage of the search bar to find their favorite artists, albums, playlists, and labels. Among other things, the service allows users to create, edit and share their playlists with each other. 
How can one start using the Spotify app? Take a considerable look at the whole process, because such a small analysis would come in handy if you decide to make a music streaming app - in this case, you'll need to find out the best way to organize a user flow.
Web-version:

A user must visit the Spotify website and register via Facebook or email. 

It is necessary to choose the format of using the service because in addition to the free Spotify version there are 2 paid ones. A free account has a number of limitations.

The user can now download Spotify to his computer. This action will save him from having to visit the website every time he wants to use Spotify. 

Spotify app:

The user is welcome to visit the application store (iTunes or Play Store) and download the streaming music application following the instructions.

The user does not need to have the downloaded application on the mobile device if there is a Wi-Fi connection. He can listen to music right from the website. 
And now let's see what features Spotify provides to its users! You may copy and improve some ideas when planning to develop a music app?
Spotify music app features

:
Search for music. Using the search bar, you're able to find the songs of almost any artist. 

Radio. Start by choosing your preferred music genre. Spotify will offer you a suitable type of radio station, and you can listen to its songs in a mode you find convenient: scroll through tracks, stop playback, and so on. Remember about such a cool feature if you want to make an app like Spotify in demand among users

Sharing music through Facebook. Also, the user can always "follow" the tastes of the artists he likes in order to choose the music they listen to with Spotify.

Music search. When you listen to certain artists or certain radio stations on Spotify, similar tracks start to be suggested to you as the ones you might like.
How is Spotify Making Money?
If you are considering the question of how to create a music streaming app, you'll be probably interested in exploring possible ways of its monetization. Spotify solved the problem through the Freemium model - a fairly popular business strategy to make a profit.
Speaking of the mentioned strategy, we mean users have a choice: they may use a free service with reduced functionality or pay for the opportunity to take advantage of the application to the fullest. And it's a pleasant variety compared to how things were before when people were forced to buy a separate track or an album (namely, a CD)... well, they could also use pirated versions of the product. Now it's much easier: pay once and enjoy your favorite music in full!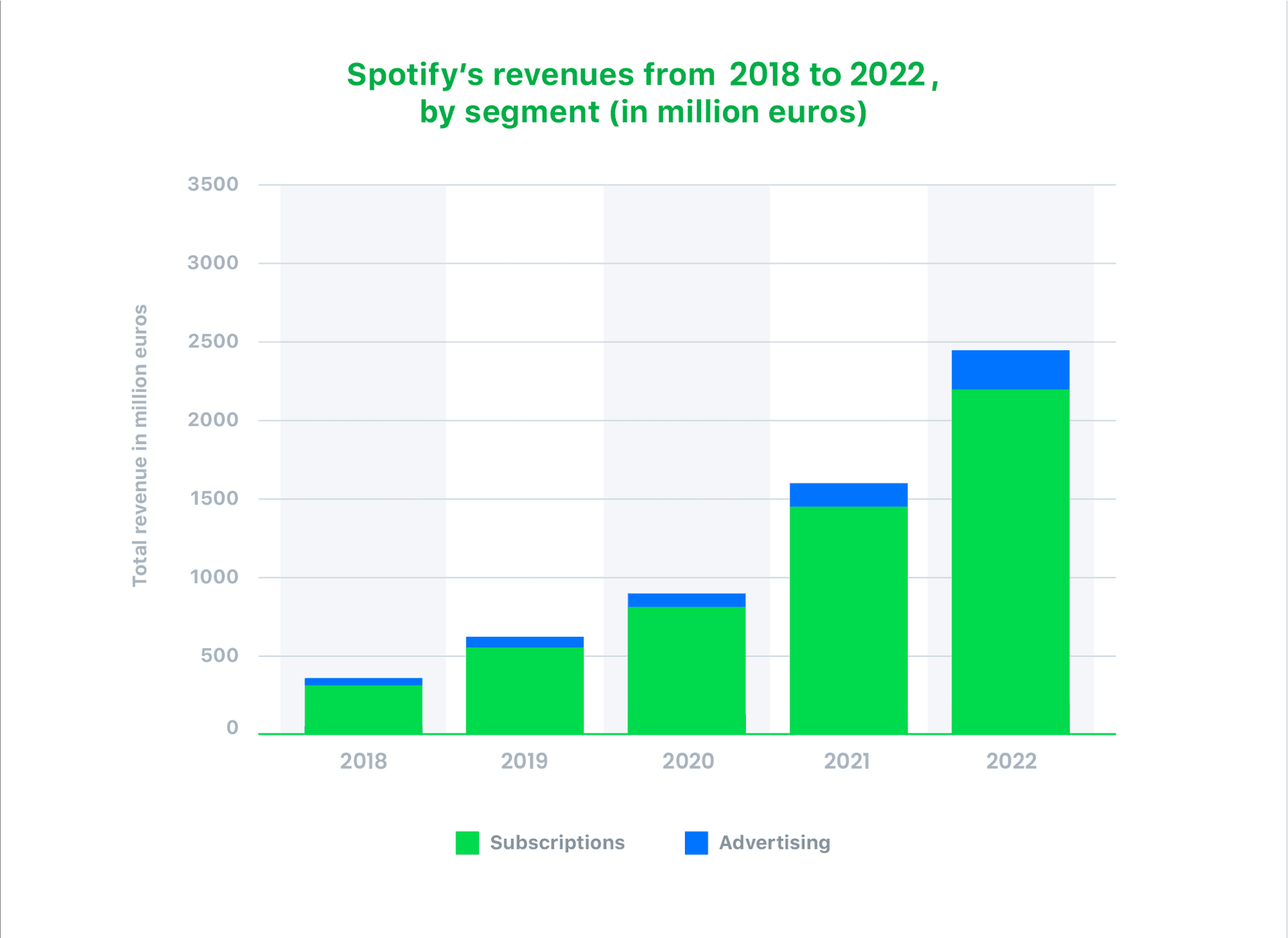 Spotify provides two payment options (although  there were 3  such methods before)
The free version is supplemented with advertising and has limited functionality;
Almost 950 million people are willing to use ad-supplemented music streaming services.
Premium account: people can enjoy their favorite compositions whenever and wherever they want. Moreover, exclusive features give a wonderful opportunity to improve the bitrate in offline mode. Extra bonuses:

forget about advertising, enjoy Spotify without annoying ads!

the first month without payment (so you have a chance to try the program)

are you a student? Spotify has good news: you can pay less!
Spotify has two main sources of funding: paid accounts and advertising in free ones. Which of these sources is more important? Spotify is betting on paid users, a lot of money comes from this very resource. And that's why the company is doing its best to prove to people that an exclusive version of the program is what they're dreaming about.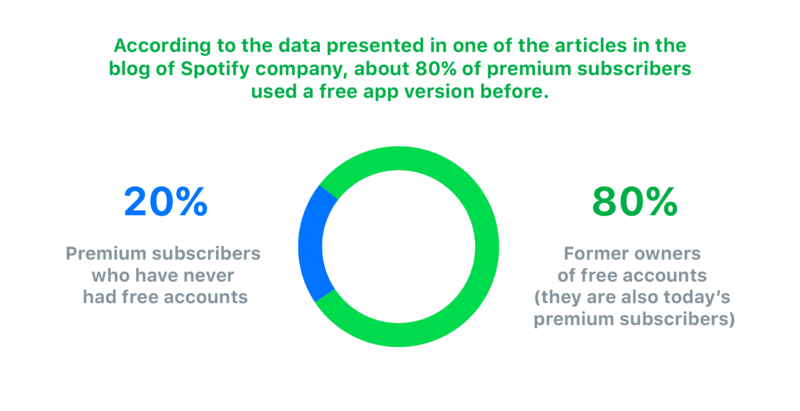 How to Make a Music Streaming App like Spotify

?

Okay, now you obviously need detailed instructions on how to create a music app. And we're happy to provide them. Follow our tips, and you'll be able to get the desired result.
Basic App Functionality
First, let's discuss what features music streaming services like Spotify should have to live up to the users' expectations.
#1. Registration & Authentication 
Think carefully about the Registration and Authorization options. The main rule in this regard is maximized simplicity. No extra taps or unnecessary clicks!
Today most apps of all types offer the possibility to register via social media, and we think such an approach is a great solution. 
#2. User Account
After registering, the user gets access to his personal page with all the important information about him (or her): name, sex, age, location, interests and hobbies, and, of course, musical tastes. The last point is paramount considering what audience the Spotify app (and its various clones) is targeting.
#3. Personalization
Apps similar to Spotify must use AI and machine learning technologies. These techniques are needed to analyze user behavior and offer everyone something he or she might be fond of. 
Basically, you teach your application to guess the musical preferences of your audience and advise listeners on the new tracks (the ones they're likely to enjoy and include in their playlists).
#4. Varied music collections
You'll hardly be surprised to learn that one of the main features of Spotify is all kinds of musical selections and collections. And you, too, should add a similar functionality option to your service (you do want to know how to develop a music streaming app, right?).
#5. Search System
Of course, you can't do without a search engine. Users will resort to it if they'd like to find a certain music track. So don't forget to supplement your feature with a filtering system (by genre, singer, and other relevant parameters).
#6. Push Notifications
Besides, an app like Spotify would benefit greatly if it has a notification feature. As an application owner, you'll be able to inform your users about new tracks (potentially interesting to them), discounts on some albums and songs, and much more.
#7. Instant messaging
The communication option isn't the worst thing either. Mobile chat will make your application even more attractive to your users.
#8. Social media integration
If you want to create a music app and replicate your competitor's success, follow its lead wherever possible. Among other things, add integration with popular social networks (Facebook, Instagram, Twitter, etc.).
Spotify has had this feature since the fall of 2011. And many loved the chance to share the app's news and Timeline actions on their Facebook pages. The proof is the sky-rocketing number of new users (+ 1M within several days is something to be proud of, right?).
And, of course, social media integration simplifies the registration process, which we've already mentioned above.
#9. Additional app features
To make an app like Spotify truly in demand, you have to work really hard. For example, you need to think about updating the functionality of your program and adding cool new options to it from time to time. Your task is to guess and satisfy the wishes of your users.
Take a look at a few Spotify music app features to get inspired:
the "Following" feature, introduced to the public in March 2013. Its essence corresponds to the name and implies the ability to get more information about the activity of other users of the Spotify application (those you follow).

the Browse feature, aimed at finding playlists created by other users, even celebrities. Maybe, some tracks from their music collection would inspire you to listen to them.
Factors to consider:
#1. Uniqueness comes first
We've already written about how important to come up with a bright idea. Don't rush, give the Idea factor maximum attention. It's significant because you're striving to learn how to make a music streaming app with a real chance to become a source of high income.
#2. UI/UX
The app interface plays a key role in improving the efficiency of the streaming music program. The factor of visually appealing design allows for attracting and retaining the people's attention.
The perfect interface is: 
user-friendly

intuitive

laconic

modern
Our Agilie experts are well-versed in efficient and appealing UI/UX design. Proof of our team's high expertise is these examples of wonderful UI/UX designs of music applications (players). Look, enjoy, and be inspired!
This new Player is appealing and easy to use: swipe left to see additional features; swipe up to get the pop-up list. And when you're visiting other pages, the current track is displayed at the screen bottom.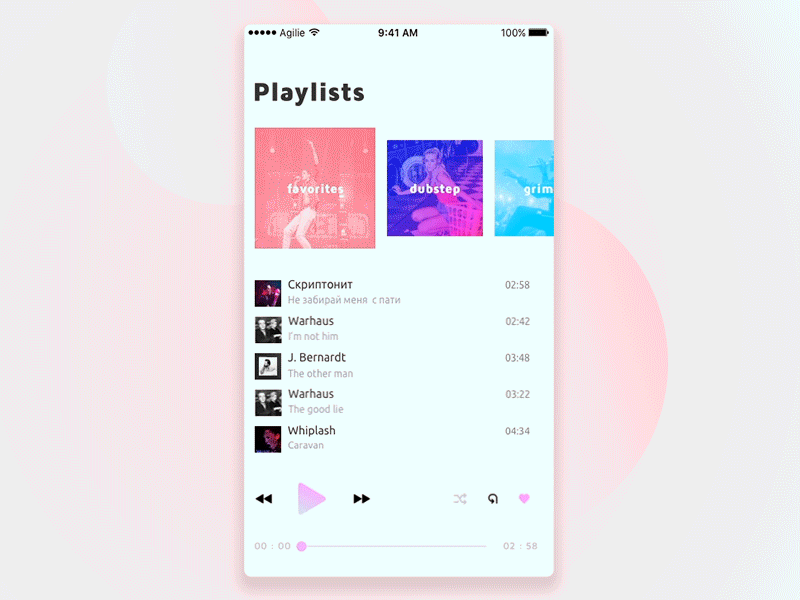 We also want to share another music player app concept made by our design team (in Agilie, we are excited about music).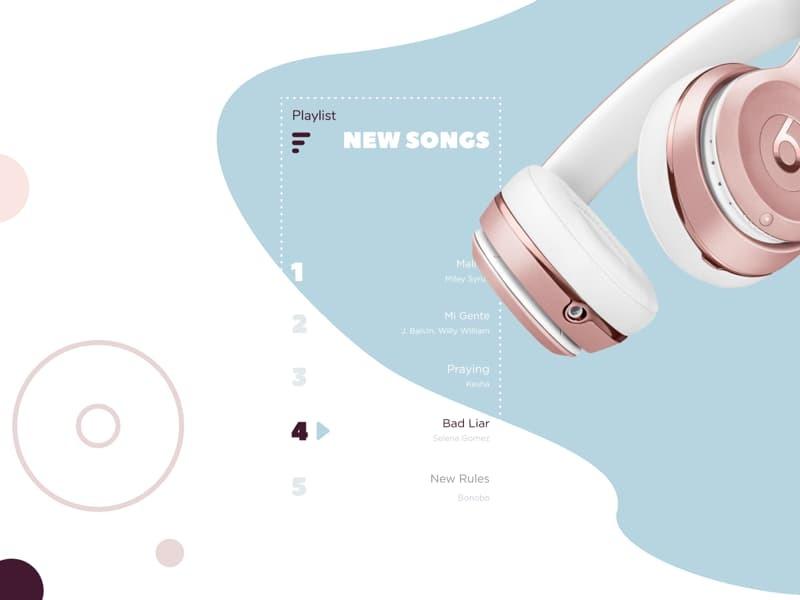 And here is FIDO, a very nice example of a music player, the result of the work of the imagination of our talented UI/UX specialists. The concept is made in the style of minimalism and looks clean, and appealing. Soft forms flow into each other and create the effect of oil paint and seem as though liquid.
And, finally, for the last bit, the music player animation where we've also used a liquid effect.
We hope these design pieces are able to encourage you to create something equally perfect and appealing for your music streaming app.
#3. Copyright & Legality
We all want our services and talents to be paid for and we hate if the result of our labor has been stolen. Artists are the same people, they also find such a state of affairs desirable. Therefore, since you're going to make an application like Spotify, remember that your music content should be legal. Not even Spotify itself was spared. Yes, it retains about 30% of incoming revenues, and the remaining 70% are being distributed among the rightsholders. The distribution is influenced by the origin of the track, its rating, and much more.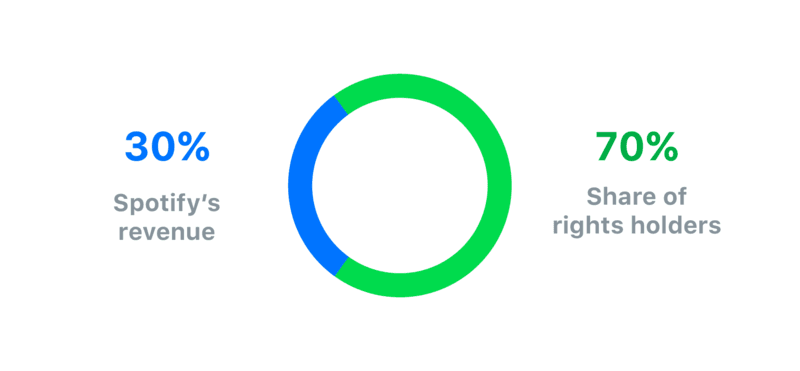 #4. Monetization
If you're serious about converting your music into a source of income, find your own way to monetize the Spotify app clone. Don't feel like creating the Freemium model? Think of something else! 
#5. Advertising method
Take a pattern by Spotify! 
Before launching a US version of the product, Spotify owners diligently warmed the curiosity of Americans. First of all, they took advantage of the same principle which came in handy when they tried to win the loyalty of Europeans. The principle is quite simple and, in general, obvious: opinion leaders, agitation among active masses, enthusiastic reviews... all these techniques proved to be effective, but Spotify was not sure that such tactics would be enough in the case of the Americans.
Therefore, Spotify broke out the "big guns, it did not neglect any detail, even a special promotion website had been created. And, of course, the brightest major brands had rendered invaluable service, among them: Coca-Cola (a real jackpot!), Chevrolet (yes, it is!), Motorola (not so bad too), Reebok (great, yeah?), and The Daily (it's impressive either). A good set of names, right? 
It was a true struggle for every American, and the Spotify app became a winner. And how could it be otherwise?
You can not completely copy the Spotify approach (you are unlikely to get a similar budget), but you should adapt the general direction of action.
#6. Platforms
When there is only a limited budget at your disposal, you can first develop a music streaming application for one platform of your choice. Though, if you really want to succeed, that's not enough! Wait until your mobile program starts to generate revenue, and continue its further improvements. And if you initially worked with the iOS platform, later you'll need to think about covering Android devices either.
It would be best to illustrate our words with example from real life. As you should know, Spotify began the happy journey of climbing to great achievements with a web platform. But in 2009 (to be more specific, in the fall) the company released iOS and Android apps - at first, only premium account holders had access to the cherished mobile variation of the music service, but at the end of 2013 the situation changed for the better. Now every user can download Spotify from App Store and Google Play.
Experts you need:
Of course, you can not do without outside help. It is unlikely that you have the expertise and skills to develop a music app without extra assistance, just on your own. It's a too time-consuming multi-step process. 
So, you should hire the following specialist:
Project Manager to oversee the entire music app development. He or she'll become a go-between for you and the company.

UX/UI designers whose task is to make an intuitive and user-friendly app interface.

Developers, who must think through the structure of the program and write clear and understandable code. Ideally, you'll need iOS, Android, and web experts.

QA engineers, needed to test your audio streaming app and make sure of its trouble-free operation.

Marketers, able to compose a smart marketing campaign designed to promote your Spotify app clone.
Stages of

music app development:
Market research

Preparation of technical specifications

Prototyping

UI/UX Design

Music application development

Testing

Music app release and support

Now you understand how to develop a music streaming app. But the price issue still remains. So… 
The Cost of Developing Your

Spotify Clone

Now we have to think over the cost to create a music app. Of course, we cannot show you a catalog or tell you how much you should pay (at least, with certainty) because the price is not a universal one, it doesn't work this way. To determine the potential cash investment needed to implement music app development, one has to think through a lot of different details including experts' rates, the project complexity, etc. 

But there is also good news: nobody forbids us to list all the pricing aspects and try to figure out the limits of your music application development expenses.
#1. Minimum Viable Product (MVP)
You have various options to reduce your spending on app creation, one of them is a Minimum Viable Product (at least, as a preliminary step). What does it mean? It's quite easy: create a product with simplified functionality, such as:
Registration

Profile

Updatable music database

Search by database

Musical advice based on the user's tastes (Spotify app calls it "Music Discovery")
#2. Location of your

app development company

When choosing the agency, try to find specialists who have sufficient experience to make a high-level application. However, experience is not the only factor, which forms the final price of the company assistance. The location of the experts is of great importance too. The diagram below visually explains what we mean, it'll help you sort the issue out when planning your app development.
As you see, Eastern Europe seems to be the best option. Of course, you may apply to Indian developers, but, unfortunately, their code is often unclear. 
Now let's summarize the budget ceiling needed to create music apps similar to Spotify.
MVP model: from $50.000 to $80.000

Support for different platforms:

iOS: from $80.000 to $120.000 (or even higher) 

Android: from $95.000 to $150.000 (not a limit, though)

both platforms: $150.000 - $190.000. Andб again, the price will increase as the functionality of your Spotify app clone becomes more complex.
Now you have all the necessary information about the cost to create a music app. Use it wisely.
Summary
According to Statista, music streaming has all the chances to cover 86% of the Digital Music Market in Europe by 2022. What's more, streaming profits have already jumped 98%. You should think about it seriously! Maybe it's time to take action and join the ranks of leaders while it's still possible. 
Just find out how to make a music streaming app, and you'll be okay. We hope our article was helpful in this respect, and we're happy to provide you with an even higher level of assistance.
Our experts have wide work experience, as you'll see by visiting our portfolio. In addition, we are able to compromise and ready to meet the challenge of any complexity level!
---
Rate this article
0 ratings, average 0.0 of out 5
---
Get in touch
Send us your comments, suggestions, questions, or feedback.