How Much Does It Cost to Make a Fitness App?
Today, fitness apps belong to the most popular type of healthcare mobile services. It means, they can become an excellent source of constant income! However, there is still a question of the price, that is: how much does it cost to make a fitness app? We are well versed in the matter and ready to cover this issue for you.
So, what app development budget do you need to have?
Fitness app development strategy
Pricing depends on a thoughtful strategy. Therefore, considering how to develop a fitness app for affordable money, take into account the following points:
The application type

. We will discuss this issue below and explain to you what types of apps exist and why it is important to know them.

Functionality

. Complex functionality leads to a higher app development cost. On the other hand, a greater number of different features will allow you to attract more users and earn more money!

The

app development company. Of course, in order to make a fitness app of high quality without overpaying, you need to hire skilled experts with a moderate rate. Further, in the article, we will give you some useful tips on this matter.

Advertising

. It's not enough to build an app, you should promote it, make it popular! Alas, any advertisement requires money.

Support.

You may think: "I want to make my own fitness app, then I'll have everything I need!" But when your idea is implemented, you realize that it's only the beginning. "A mobile app keeps being in demand… everyone loves using it…" - that's what you need now, right? This dream can come true if the app owner is ready to be taking care of his mobile service by supporting its work, adding new features and doing all the rest of it. Therefore, when planning the budget, be sure to consider the cost of application support.
Let's discuss this list in more detail!
Types of fitness applications
Let's start with application types, for this is the first factor that influences the fitness app costs.
# 1.

Workout applications

Workout apps are designed for sports training and remain very popular right now. They come in different formats:
Personal

workout apps, ideal for those users who prefer to do sports at home; these services offer sets of exercises of varying complexity: video lessons, audio tips, 3D models, text descriptions and much more. It's up to you which format of information to choose, just make sure that your user can easily figure everything out.

Workout scheduler apps

. If you want to make the app focused on fans of gyms, choose this option. Such a fitness app can provide a user with features that help him plan his sports activities, register personal successes, etc.

Fitness tracker apps

compatible with devices for wearing in gyms. You can also build an exercise tracking app that will help users control the progress of their training sessions (for example, counting the completed sets, the "passed" steps, etc.). Among other things, it is useful for synchronizing personal devices with specialized equipment of smart gyms, so that a gym-visitor can see all the data relevant to the exercises on his own screen. It's a very popular type of mobile service, given the level of fitness app development.
# 2.

Healthy eating apps

The task of this application is to enhance the positive impact of physical exercises that are ineffective without a good diet. The service can exist independently or supplement the workout app. Thanks to it, the user controls his water schedule, counts the calories consumed, makes up the menu and so on.

The app development cost can be very different in this case, it all depends on the complexity of the project. For example, a simpler option is to allow users to enter data on food products (composition, calories, etc.) on their own. The sophisticated version provides an updated database containing all this and other information about nutrition.

Another valuable feature of these applications is a barcode scanner that enables customers to analyze the products they buy. Despite the higher cost, such a mobile solution will attract additional users, which means that you will have better earnings. And it's up to you to decide what is preferable in the long run!
# 3.

Fitness activity tracking apps

This fitness mobile app is not intended to control the workout process, its main purpose is to monitor any physical activity of a person; it includes a pedometer, sleep quality analysis, calorie counting... For people who look after their health and keep figure, such indicators are also very important.
Fitness mobile apps

' features

Of course, each fitness app type should have its own set of features. But we can always fantasize a little bit…

So, if you want to develop a fitness application, think about…
User profile

. When it comes to developing fitness apps, the user profile contains information of the same nature, including age, weight, height, gender, etc. This baseline of data will help analyze the user's achievements correctly.

Tracking different physical and vital signs

. It's about measuring the number of steps, counting the sleep hours, monitoring the pulse and arterial tension, and so on. You can implement this feature even without connecting to external devices: HealthKit and Google Fit can provide you with the information on a series of health indicators so that you may use this data for your purposes. But if you want to develop an app of a more complex type, we suggest that you, nevertheless, consider ways to interact with external devices (for example, a Bluetooth connection).

Push Notifications

. For fitness applications, this feature is especially important. For example, if somebody has not been using your program for a while, remind him of his omission: tell it's time to measure his pulse, visit the gym or perform another similar action.

A game element

. If you want to find out how to make a fitness app that will become your source of money, you need to understand not only how to attract new users, but also how to keep those who have already downloaded your program. And socially-game elements are the best way to achieve this goal because people enjoy all kinds of entertainment. So there is nothing wrong with the idea to provide users with the chance to mix business with pleasure! Show your imagination and come up with interesting options for this gamification feature. For instance, build a fitness app with conditional levels of progress, each of which will characterize a certain user's achievement. And, of course, be sure to reward those who have reached a new level (through bonuses, discounts, etc).

Integration of social networks

. Today, this feature is an indispensable condition for the success of the app creation due to the fact that almost all people are constantly using Facebook, Twitter, Instagram, and other resources. We are absolutely sure that users will be happy to share the results of their sports achievements in social networks.

Diet features

. A feature that helps to follow the diet complements any app for fitness, even one that is focused on workouts. The simplest version (for example, the elementary calculation of caloric content of food) will not affect the fitness app cost greatly; moreover, it will attach weight to your service. Ultimately, you will be in pocket!
Of course, this is far from all the features that you will need. Functionality largely depends on the fitness app development cost you are willing to pay. In order to decide what else should be added to your mobile service, consult with the app developers that you have chosen, they will help you to compare your budget with your requirements.
How much does it cost to make a fitness app?
If the price issue is not a question of principle for you, then this article is not meant for you either. But since you have read this far, you are probably interested in how to create a fitness app as economically as possible.
And if it's true, we offer you to follow this simple plan which includes a few significant steps…
#1 The

fitness app idea

Of course, the cool idea of the fitness apps cannot affect the cost factor, but it will help make the app capable of becoming a leader in the market, which means that your business will pay off!
#2 Self-dependent market research
This is a very important stage. Why? The answer is quite obvious: in order to understand how to make your own fitness app, you also need to know what a typical user is expecting to get today. And if you do not have the means to hire a professional company, try to conduct your own self-dependent market research. Your task is to find out:
What is your target audience?

What does your future user expect?

What type of

fitness mobile service is the most profitable?

What are your competitors? Whom should one beware of among them?
#3 The list of requirements
A list of requirements implies a set of features. You cannot create an app without imagining which result you want to get.
You can start with minimal functionality and then gradually expand it, analyzing user behavior. The advantage of this approach to building fitness apps is that you can focus on the user's wishes instead of your assumptions and add those features that the client really wants.
#4 Search for

fitness app developers

The mobile app development stage is the key and expensive one. It is important to consider the price-quality relationship (that is, a quality portfolio for an affordable price). We guess the good option is outsourcing to Ukraine.

When choosing an app development company, think about the following points:
Ideally, your

apps for fitness should work on all devices. Make sure that experts you've hired are skilled to build fitness mobile service for different platforms because iOS and Android apps are both important.

Provide a laconic and appealing app interface. It is especially significant to pay more attention to design if you have a minimum

app development budget and cannot allocate a lot of money to create a fitness app with complicated functionality.
#5 Promotion
Now that the development process has already been completed, it's time to think about the app promotion. If you are limited in means, use simple methods, such as social networks, push notifications, discounts, etc...
#6 Ways to monetize
In addition to thoughts on the cost of the fitness app, you need to think of ways to earn money. The best option is a freemium model when you allow using mobile apps for free, but tempt your customer with special paid features.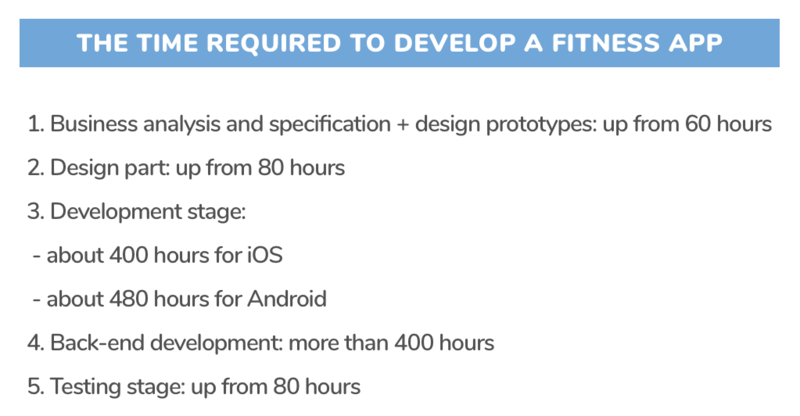 So, we've told you a great deal about how to make a fitness app and how much such an app costs. Want to know more? We're more than happy to answer your questions!
And by the way, we have extensive experience in developing top lifestyle apps for iPhone and Android, so we can be useful to you in this respect either.
Anyway, contact us right away!