What Type of Restaurant App Is Best for Your Business
You have two ways to enter today's restaurant mobile apps market. 
The first way works if you're running a restaurant business and want to extend your services online and on mobile platforms: you develop a standalone branded app for your restaurant. The second way is building a platform-like app to partner with restaurants and provide table booking and discovery services.
Regardless of what your business objectives are, you should, first of all, understand the state of restaurant apps market and build your business strategy according to it.
In this article, we'll first make a breakdown of restaurant apps' market, and then explore what problems such apps - if done right - can solve both for restaurants and for guests.
What apps for restaurants exist on the market now
1. Restaurant discovery and booking platforms
OpenTable is the world's largest table booking platform partnered with tens of thousands of restaurants around the globe with the focus on the US market. Through its website and mobile apps, OpenTable allows users to discover restaurants filtering them by cuisine and location, reserve a table, read reviews from other visitors, and collect loyalty program rewards. Restaurant owners must pay a subscription fee to stay visible on the platform.
Operating since 1998, OpenTable makes most of the income from selling POS (Point-of-Sale) hardware that allows restaurants to integrate with their service. Their revenue from subscriptions, while being impressive, is only a secondary income.
The success of OpenTable led to the appearance of similar apps on local markets all around the world.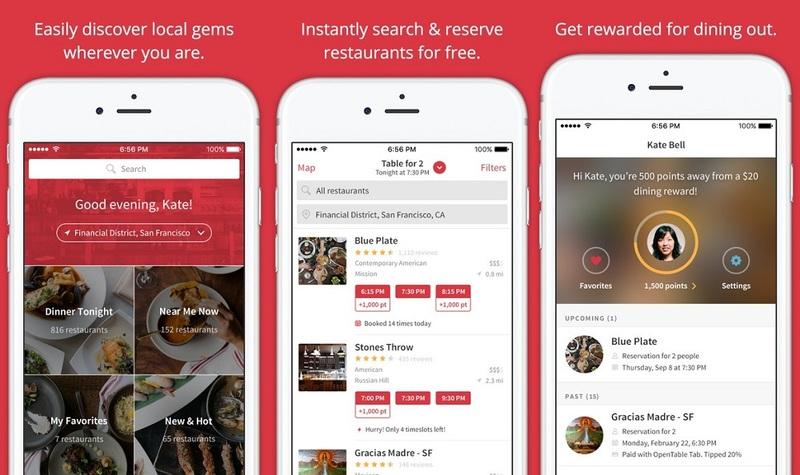 OpenTable app for iPhone
Bookatable is an alternative to OpenTable in the UK. The service offers restaurant discovery and booking via their website and mobile apps for iOS and Android platforms. A unique feature that can be highlighted about Bookatable is their promoted hand-picked deals.
Dimmi is the largest restaurant reservation service in Australia and is basically a local OpenTable. Diners can use the website and mobile apps to find a restaurant, book a table, and get rewards. 
Zomato is another global platform for restaurant discovery and reservations with headquarters in India. After the acquisition of a successful Seattle-based startup UrbanSpoon in January 2015, the company got access to the markets of the United States, Canada, and Australia. Aside from that, Zomato operates in 23 countries. Zomato offers a wide range of services, especially focusing on the discovery of restaurant and food delivery services. Their app is available for all popular platforms, but the table-booking feature is fully accessible in a web version only - the mobile apps allow to reserve only in select locations.
As you can see, all these platforms spin around the same stack of services: discovery, booking, rewards and user reviews. However, there are restaurant booking startups that try to change the usual formula.
LocalEats, for example, focuses on offering reservations in a hand-picked list of US's best independently owned restaurants. The app works with local restaurants only, avoiding country-wide chains.
AllSet app lets not only to reserve a table but also to preorder food. The startup targets at business people who have a busy schedule. AllSet provides booking via mobile apps for iOS and Android and is also one of the first booking services who implemented reservations via a Facebook Messenger chatbot.
Resy and TableSavvy are popular US's platforms providing last minute reservations with discounts. Resy is currently offering service in New York, Los Angeles, Miami, Washington DC and San Francisco, while TableSavvy operates in Chicago area only.
Tock is a startup launched in 2014 and currently available only as a web service. Tock's unique selling point is discovering the most unconventional restaurants in the US.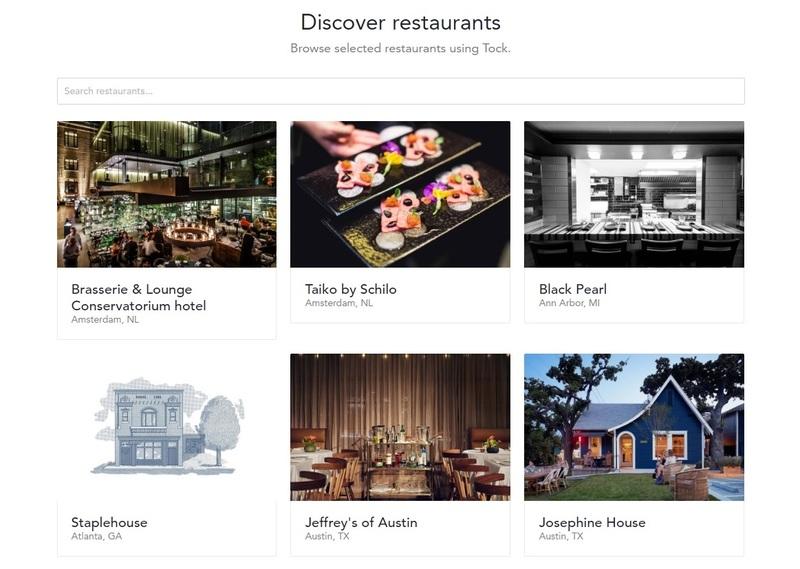 Tock offers to discover the most unusual restaurant experiences
2. Branded restaurant apps
However, not all restaurant owners are excited about the idea of partnering with table-booking platforms like OpenTable. That's why some seek more visibility and enhancement of their services via a standalone restaurant app.
According to the research by Arc from Applause, 45 out of the top 100 restaurant brands don't even have a native mobile app. Sure, most of them have at least a responsive website, but they often lack the convenience and simplicity a mobile app for iOS and Android can provide.
In the same research, Applause suggests that the restaurant apps that enjoy the most popularity (according to app store user reviews) are those offered by casual eating and pizza places.
Panera Bread is one example of such apps. The app allows users to search for nearest locations, order food and instantly become a reward program member. Among the additional features for iOS users are integration with HealthKit to count calories and a companion Apple Watch app.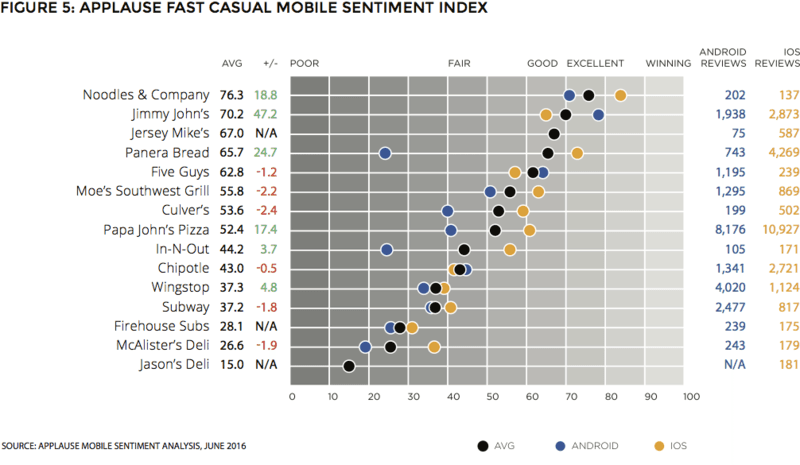 The most highly rated casual dining apps. Source: Applause
One of the most successful branded apps (if not the most successful one) out there is Starbucks Coffee Company's one. The app has burst its way to the market thanks to a convenient mobile payment system and an automatic reward program. With the latest updates, they brought engaging gamification elements to their loyalty system, including reward points called stars and informative dashboards.
Starbucks has experienced the continuous rise of mobile payments after the introduction of a mobile app. Source: Bloomberg
Momofuku's Ando is another app worth being mentioned here, even though it's rather a food delivery app. Yes, Ando is actually a food delivery app, but its example illustrates perfectly how a successful branded delivery-only restaurant app (or an app-only restaurant, as Ando is positioning itself) may look like.
At Agilie, we have some history with restaurant app development. We've developed two branded apps for local restaurants: Reporter and Coast. These apps allow visitors to book a table, study the illustrated menu and read news about the latest deals. Both apps also feature 3D tours to promote restaurants and their branded interiors.
Coast app by Agilie
What should you focus on when planning your own restaurant app
At the end of 2014, TechCrunch has published an article titled The Greasy Underpan Of Restaurant Tech written by a technology entrepreneur and investor Bryan Menell. The article was focused on analyzing the reasons why most tech startups spinning around the restaurant business tend to fail.
The focal point of most such failures is this: not everything that may appeal for restaurant goers is also good for the owners, especially when it comes to small restaurant businesses.
But that doesn't mean restaurant apps are useless. The examples of apps like Starbucks and Panera Bread are suggesting the opposite. To succeed in a restaurant app market, you need to consider the pitfalls that cause restaurant apps' failures and low ROI and plan your app having the successful cases in mind.
The following are some of our thoughts on what should you consider planning your restaurant app, whether it's a discovery and booking platform, or a branded standalone app.
1. Table booking isn't necessarily the problem your app should focus on
Many restaurant apps position table booking as the main feature of their app. However, on the markets occupied by OpenTable, the table booking feature can't be a unique selling point. Moreover, reservations are absolutely customer-centric and don't ensure restaurants from ROI losses caused by guests' no-shows and cancellations.
Either way, if you have nothing to offer other than reservations, visitors would rather prefer the acclaimed table booking platforms like OpenTable over your app (if you offering a standalone app), or will seek for more valuable features in standalone apps (if you are considering running a booking platform).
That won't be a deal only if you don't have any competitors at all. Otherwise, your app must provide additional value to your target audience.
2. Focus on enhancing guests' experience
You can not only offer guests to reserve a table but also to place an order in advance, as the app AllSet does. That would be a valuable feature for busy people who don't have time to spend being in a restaurant's waiting list. Enabling app users to store and customize recurring orders will make dining at your place even more convenient.
Not all people love the very concept of eating out, but that doesn't mean they aren't the target audience of modern restaurants. You can reach out to these people by adding the possibility to order food with the on-demand delivery - just like Panera Bread or Momofuku's Ando. As a restaurant owner, you also should take a closer look at this concept, since on-demand delivery helps reduce the customer load in your place and serve more people at the same time.
Mobile payments are surely a valuable feature from the guests' perspective, and they can be a great extension of services when implemented in a branded app (and done right, like, for example, in the Starbucks's case). However, restaurant owners may dislike this idea if mobile payments service is provided by a booking platform since it would mean more additional fees that may have a negative impact on the ROI.
The same goes for loyalty programs. Most OpenTable users love the platform for its reward program, but if you're planning a booking platform, be ready that some restaurant owners won't like the idea of third-party-provided loyalty programs.
For a dedicated app, on the other hand, a loyalty program is one of the major selling points. Apart from retaining guests, you can use it to encourage people to use your app's additional services rewarding them with more bonuses for, say, making food delivery orders or using mobile payments system.
Finally, aside from features and services, there is another important thing that enhances user experience: clean design and simple menu navigation. Comprehensive information about meals and beverages with filters, tempting images, and easy order placing functionality is another bunch of reasons why diners would prefer your app over a website, or another app or platform.
3. Restaurant app can be an effective promotion tool as well
A standalone restaurant app can also be effectively used for increasing the restaurant's visibility and marketing your services. Here's how you can make your app a promotion tool:
Start a referral program rewarding users with discounts or loyalty points for inviting friends to the app or for a diner.
Geolocation services implemented in the app will provide better discovery of the nearest restaurants.
Encourage app users (rewarding them with loyalty points, for example) to leave reviews that will be displayed in the app or on a website, thus promoting the quality of a restaurant's services.
Show off your place and meals using appealing photos.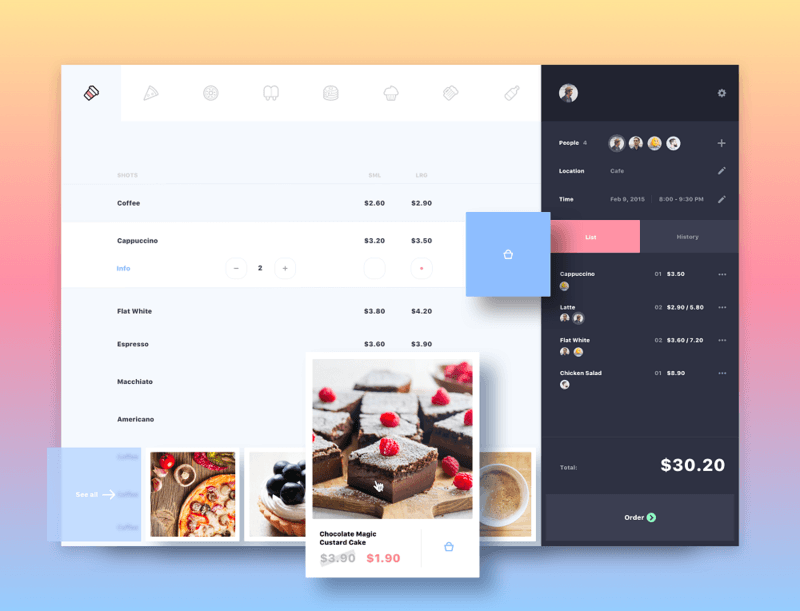 Invite friends and order meals together: a cafe app concept by Alex Volk, a UI/UX designer at Agilie
Utilizing mobile technologies and expanding restaurant guests' experience via convenient food ordering and delivery systems and fair, simple loyalty programs is the winning strategy for any restaurant app, be it an OpenTable-like booking platform or a branded standalone app. But before you decided developing one, you must define the needs of your target audience and know exactly what problems your app will solve - both for restaurants and for diners.
Contact us and get more information about restaurant mobile app development, or visit our services page and learn more about technologies we can implement in your app.
Rate this article
15 ratings, average 4.80 of out 5