How to Create an App for Your Restaurant and Bring Home More Bacon
As statistics show, cafes and restaurants can increase profits by 10-20% by using mobile applications. Agree, it's a wonderful reason to think about how to develop an app for your restaurant.
Given a great number of existing places to dine, the market is really oversaturated, and you have to use all possible advantages to promote your restaurant and, therefore, stay on top. And an application belongs to these advantages - it's an effective tool to attract new clients to your establishment.
In our article, we'll cover all the details of the restaurant application development. We'll explain how mobile apps help restaurant businesses and their owners significantly improve their financial situation, so to say, bring home more bacon.
A few words about

apps for restaurant owners

A restaurant application is a beautifully designed program, which is constantly at hand of your client, - on his mobile device. It's very beneficial because, as the statistics claim, we take advantage of our favorite gadgets at least 127 times a day. So, having your own app, you'll be constantly in touch with your customer. In other words, every time a person uses a mobile phone, he sees the logo of your institution.

 By the way, the app logo is an important factor in the success of any mobile service. Wanna know more? Read our article.

You should build a restaurant app because:
customers order more often. And why not? They just need to tap a button on the smartphone to order, and it's done!

you can serve a greater number of visitors at the same time - a mobile application speeds up the work of waiters, and they spend less time accepting orders;

applications

promote restaurants and provide additional marketing promotion by raising awareness about the establishment among the paying audience;

such an app is able to motivate customers to visit your institution more often. Though, you must

build a restaurant mobile application with the right functionality, of course. However, we'll talk about the functional a bit later;

restaurant app development

is also a chance to create a client base, study statistics, learn preferences and use these data to make your business grow.
So, you decided that you need to make a restaurant app. But what should such a service be like to bring you maximum benefits? We'll discuss the issue in detail in our article.
Ways to attract more customers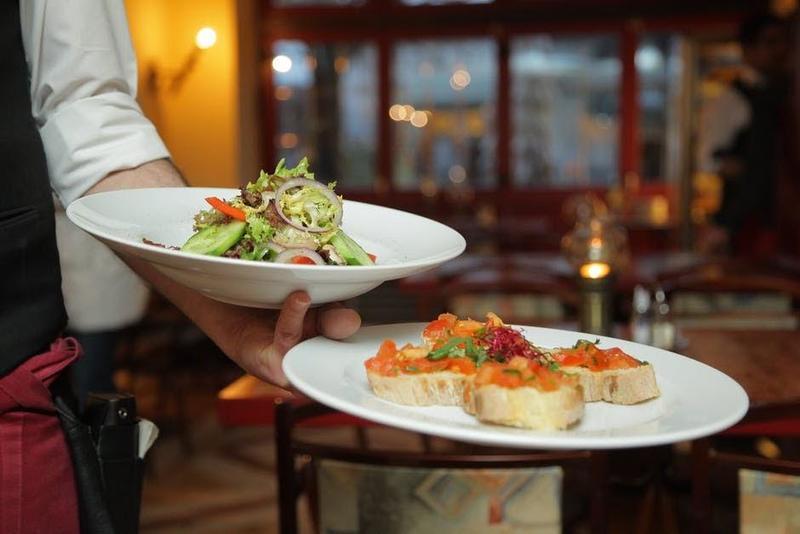 To create a restaurant app that would be efficient, you must first think of its functionality.
Each restaurant has its unique target audience which, in turn, has its special interests. However, apps for restaurant owners often either do not meet the users' needs or do not help in solving their urgent problems. The result is the same: such an app is not in demand.
Therefore, before considering how to create an app for a restaurant, figure out who you are and what your customers really want.
Fast food chains

People drop into such institutions when they need fast, substantial, and tasty snacks and chat with friends. So, your TA will need to have a possibility to…

make an order quickly

order food at home

order food to go

get bonuses

participate in interactive activities

do not get lost in the menu

Comfortable Restaurants

You offer refined cuisine to guests, conduct banquets, weddings, organize masterclasses from the chef… So, you need to create a restaurant app that allows clients to:

learn about new dishes and recipes

book a table online (with privileges)

learn about events in time

make pre-orders

Club restaurants

It's, rather, a club than a restaurant or a fast-food establishment. However, people can also have a tasty snack and a drink here... Among other things, clubs often conduct musical events, concerts, creative evenings, etc.

Your Target Audience would be interested in:

learning about events and plan the weekend

sharing announcements with friends

getting bonuses

ordering a table and pre-order online
We've listed the minimum set of features, which would be useful to your clients. However, to get a person to download your program and use it, you need to come up with something especially helpful.
You must build a restaurant app able to interest the person, only in this case, he or she won't delete the service immediately after installation. The application should be super-useful. And such usefulness depends on the functionality…  
Key features of your restaurant service
Before embarking on the mobile app development for restaurants, you need to understand what features your service should include. We can offer a few options to consider.
#1. Interactive menu
First of all, don't forget to create a beautiful interactive menu.
The menu should display all information about the ingredients and the size of portions and contain good images. A large order button would also come in handy.
#2. Delivery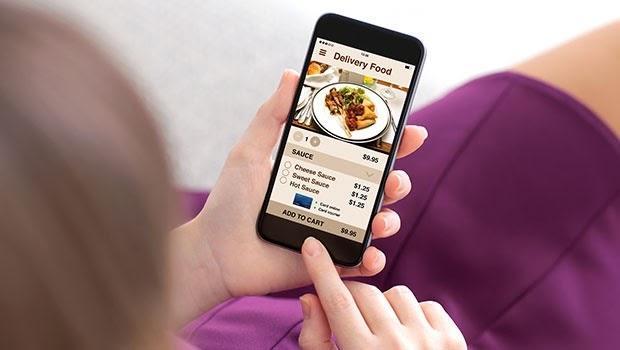 The home delivery feature is another prerequisite for a successful restaurant mobile app development.
And remember, many users would like to track the order and have the option to abandon it. Do not be afraid of losing profit. On the contrary, you'll be able to identify your weak points and solve the problem, which will positively affect your business.
#3. Pre-order
Time is a valuable resource, and the possibility to make the pre-order will help users not to waste it in vain. So it's definitely a "must-have" option, especially if you're going to build an app for your restaurant where visitors, as you know, should usually wait to make the order (and they wait in line).
By the way, the pre-order feature has been efficiently implemented in the Starbucks application.
#4. Table reservation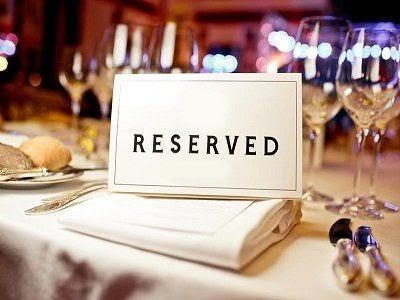 If you think to create an app for a restaurant, don't forget to include such an option on the mandatory list. Your visitors will appreciate the chance to book a table in advance, without having to make a call.
#5. Call the waiter VS Order through the app
Such a feature can help you save significant time for the waiters so that they can serve tables instead of taking orders. Moreover, perhaps, you can do with a smaller quantity of attendants - visitors will make orders using the application, especially since such a format of interaction is becoming more popular day by day.
Also, this feature is a chance to greatly improve the loyalty of people used to having online communication.
#6. Bonus programs
Loyalty systems cannot surprise anyone. But agree, it's not convenient to carry around a mountain of bonus cards. On the other hand, a mobile application is always at hand. With its help, it is easy to accumulate bonus points and use them.
But remember, the main scheme of obtaining bonuses should be clear from the very beginning since the restaurant app developer must write complicated code with its logic to implement the idea.
#7. Restaurants nearbyї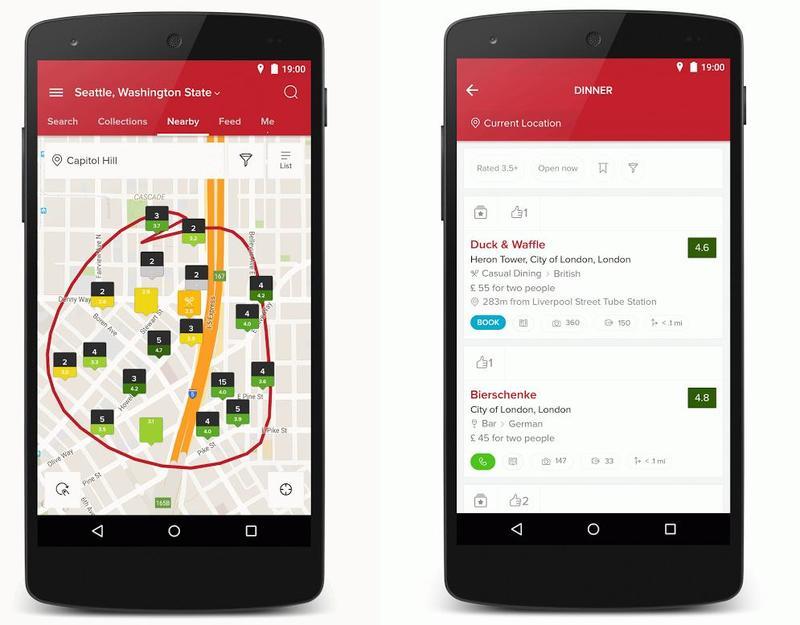 If you'd like to make a restaurant app of a high grade and attract the maximum of visitors, consider the feature that helps users find places to dine in their location.
You may add extra data to the option: the availability of dishes in a specific restaurant, the fullness of the institution at the moment, promotions, and events. Also, such a geolocation feature helps to invite a client to lunch if he is nearby.
Of course, if your restaurant business is limited to only one outlet, the feature won't be useful to you.
 A lot of apps may need the geolocation feature. See the details in our article
#8. History of visits and payments
Not all apps for restaurant owners have this option since it is not always clear why to display such information to the visitor.
In fact, it's quite simple. If a user has a certain taste (say, he always orders the same sushi set), then he'll be glad to get quick access to the previous order and repeat it.
#9. Interaction with social networks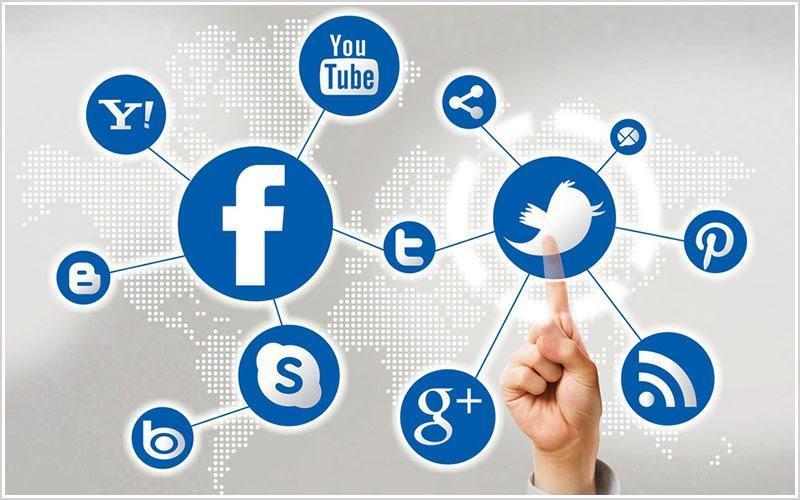 Today social media courses have become an integral part of our lives. And it's important to build a restaurant app which will easily integrate social networks. Among other things, it's a great way to register a user in a matter of seconds: all personal information can be extracted from FB or another similar resource without any delay.
#10. Interactive Elements
Some large fast-food chains actively take advantage of the interactive elements in their applications: unpretentious games, getting bonuses for social activities, and so on. This approach helps to increase user engagement in brand culture. And we advise you to follow the lead and make a restaurant app able to entertain your clients (not just "feed" them).
Such an interactive element can be anything that comes to your mind: from simple game action to a complex quest logic, which requires the use of modern processing techniques (like augmented reality and computer vision).
#11. Order a taxi
Ordering a taxi does not belong to the "must-have" functionality, so you can create a mobile app for a restaurant without it. On the other hand, such an option would increase your chances of succeeding, as your customers might like the possibility to get to the institution by taxi at an affordable cost.
By the by, Zomato company, an online service aimed at finding restaurants nearby, has partnered with Uber. Now a user who has chosen one of the restaurants can call an Uber taxi from the Zomato website.
#12. Push notifications
Push messages would help inform clients about interesting offers, discounts, and events, thus motivating people to visit your institution more often.
Factors to consider
What should you consider during the app development for a restaurant?
Carefully study the competitors and your target audience.

It would be nice to conduct marketing research to have an idea of why attracts people prefer visiting your cafe (or other institution). Pay attention to these advantages if you want to build a restaurant app in demand.

The application has to work accurately.

The app logic should be simple. Most often, the restaurant solves the problem of hunger, and it's an urgent task. The client does not want to wait to get what he wants, namely, the chance to eat tastily and quickly. If a restaurant app design is too complex, and a user has to spend a lot of effort navigating the application, he is likely to delete your program.

The application must be clear for employees

who process orders. Therefore, you should create a restaurant app integrated with all internal company systems.

Think of the budget:

how much are you willing to spend to create a mobile app for a restaurant? In addition, it is worth thinking about the profit that you want to get due to the mobile program. If your expectations are high, then, believe us, ready templates are not your choice. So, you have to hire skilled restaurant app developers.

Think of the future.

Today, large retail and restaurant chains publish statistics, which show that online sales will soon exceed offline ones. Therefore, sooner or later you'll have to think about how to create an app for a restaurant. And it's better to start today.
How much do

restaurant app development services cost?

The price of the restaurant app development is not universal. It all depends on your requirements, app functionality, and technological capabilities. On average, in order to build a restaurant mobile application with a minimum of features, one should pay about $ 10,000. A service of an average level of complexity would require costs of $ 30-70,000. And if it's a complex application, then prices can reach any level. Say, if you want to provide your service with an AR feature, you'll have to fork out.

If you want to save money, it'd be smart to make a restaurant app of the simplest type. In other words, build an MVP model with minimal functionality which can then be supplemented with various features depending on the users' interests. This is the approach that such giants as Starbucks and McDonalds take advantage of.

The cost of the MVP model varies between $ 10-25,000. Its development usually takes 400-450 hours (plus 200-300 hours of backend development). Of course, these are very approximate calculations.

If it is a more complex restaurant application (but, again, moderately complex), then we can offer such figures:
The user version of the application: $15-20,000;

The staff version: $10-15,000;

The owner version: about $5,000.
Of course, you should build a restaurant app which will include and combine each of these versions.
All the estimates given are valid only if you hire restaurant app developers with moderate rates (usually, they're from Eastern Europe). If you use the restaurant app development services of American experts (or specialists from Western Europe), you'll have to pay much more money (and the quality will remain the same).
How to develop an app for your restaurant

?

The mobile app development for restaurants and cafes should always start with business expertise. Competition in the area is huge, so the Internet marketer must first study the market, competitors, the target audience, their expectations, and needs.

Then, it is necessary to formulate a clear technical task and create a prototype of the future application. The next stage is aimed at getting a restaurant app design solution - one should make the app interface using the corporate style of the institution. Next comes the coding itself, which turns the idea and sketches into a working mobile program. Besides, the application is constantly tested all the time to ensure its correct operation.

The last step is to launch the application to start life in the mobile services market.
Stages of the

restaurant application development:
Analysis and requirements gathering

Drawing up a technical task, a prototype

Application Design

Coding and testing

Launching and publishing application
So, as you can see, almost any successful restaurant enterprise is actively using mobile technologies. And if you have not created your own application yet, it's time to take this very step.
Of course, it is very important to find the right restaurant app development company: a team that has huge experience and expertise.
When choosing experts, pay attention to:
company portfolio

a number of employees. The company should employ such specialists as:

experience (how many years do they exist on the app market?)

willingness to answer your questions clearly

examples of design work. After all, the restaurant application should not only work well, it should be attractive visually.
Here are examples of the restaurant app designs our experts created: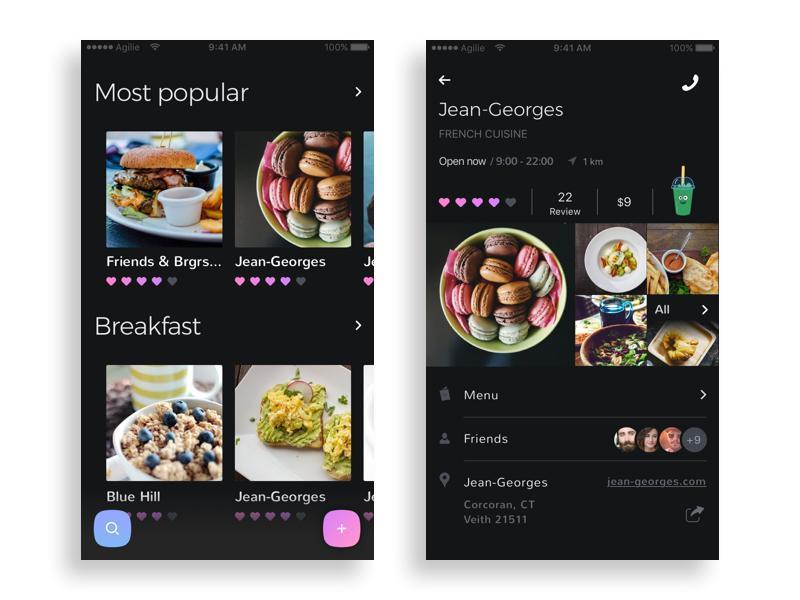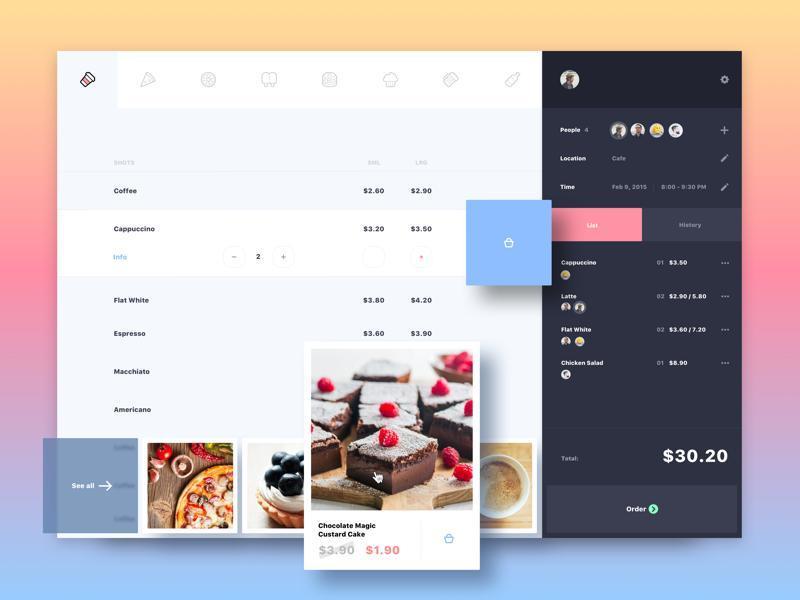 The Agilie team fully meets all these requirements and is ready to offer high-end restaurant app development services. We'll help to increase the profit of your business by implementing effective and innovative mobile solutions.
And believe us, the costs to build a restaurant mobile application are minimal in comparison with the benefits that it brings - with the right approach, of course. And it's another reason to hire us: we definitely know how to develop an app for your restaurant.
Rate this article
15 ratings, average 4.80 of out 5