What is Staff Augmentation and How it Works
If you own an IT business, you probably know how difficult it is and how long it takes to recruit in-house IT specialists. Especially those with a Middle or Senior level of expertise or some with very rare tech skills. This could become a real nightmare if your project needs experts just right now.
What to do in such a case? 
The smartest move you can take is to opt for a staff augmentation model that helps expand your team for a specific project extremely fast. Still don't know what this helpful model is? In this article, we will explain to you what staff augmentation really is, when it is best to use it, as well as give you all the cons of this model. 
But let's start with some basics.
Key Takeaways
Staff augmentation is a flexible and cost-effective solution for companies that need to scale their workforce quickly. By extending their existing team with external talent, companies can access a wide range of skills and expertise without committing to the long-term costs associated with hiring full-time.
There are different models of staff augmentation, including time and material, fixed-price, and dedicated team models. These models offer varying degrees of flexibility and control, allowing companies to choose the model that best suits their needs.
Staff augmentation enables companies to access the skills and expertise they need to complete projects more quickly, ultimately leading to improved business outcomes and success.
Among the most popular cases of team augmentation use are when a company needs to meet a tight deadline, requires specialized skills, or wants to maintain its core team's stability. By leveraging staff augmentation, companies can quickly access the talent they need to meet their business objectives, without the long-term commitment of hiring full-time employees.
By adopting a staff augmentation model, companies can access a pool of skilled talent, reduce costs, and remain agile and responsive to changing market conditions, ultimately leading to improved business outcomes and success.
What is Staff Augmentation?
When you first hear about IT staff augmentation services, many people would immediately think of an augmented human from a modern cyberpunk movie. Are you one of them? That is understandable. 
In reality, IT staff augmentation is not about it at all. The word augment itself means to make something larger — in size, number, strength, etc. Augmented in the IT sphere means a bigger team. But having bigger teams doesn't mean becoming more effective. It can sometimes be quite the opposite, as bigger teams are quite difficult to manage. Staff augmentation can help you enlarge your team while ensuring that this staffing remains efficient.  
To put it simply, staff augmentation is an outsourcing hiring strategy where a business temporarily hires one or several outsourcing IT experts for a certain project. 
Wait, so is it that simple? And you won't need to pay for time-consuming recruiting or consulting services? 
Yep, you can find numerous staff augmentation providers that will do the job instead of you and hire excellent temporary engineers for your project very fast. Besides, skilled talent is hired to cover only the necessary positions temporarily, permanently, or on-demand. The hires are added to the in-house team and collaborate with them on a specific project which enhances the capacity of your team and organization. 
Why is staff augmentation so popular? 
Staff augmentation has become a widely used practice worldwide with $490 billion of revenue annually. One of the main sources for staff augmentation is freelancing, which has become very popular recently due to the rise of numerous freelance platforms. Just imagine, in the US solely, about 34% of workers are freelancers, and this number grows each year.  
But why has staff augmentation become so popular? 
It is obvious. Many companies today choose IT staff augmentation for a bunch of situations, including talent shortage, high cost of IT professionals, and many more. This model helps businesses minimize operational costs while skyrocketing their efficiency. It also helps quickly scale your IT department once you need it and add more employees to keep up with the demand. 
Staff augmentation can, undoubtedly, help you enhance both the quality and speed of your projects, because by hiring professionals in various fields, you get the expertise that your in-house developers may lack. This could be extremely helpful if you have complex IT projects and you need a senior level of expertise.
Last but not least, staff augmentation service can present your workers with excellent training opportunities. Your in-house staff can share the experience with your in-house team, allowing them to learn and grow throughout the whole development process.
Types of staff augmentation
Today, IT staff augmentation can be divided into three main types, each with its own peculiarities:
This type of augmentation is long-term with a full-time contract. All the resources of the business are shared with another company and the core team works full-time at the hired company while paralelly working in their own company. The roles and responsibilities of the core team are stated in the contract.
This type of augmentation is short-term with temporary staff for a specific project. Usually, companies prefer the temporary augmentation model if they lack the resources for covering all their projects. Temporary augs can increase the number of people to handle multiple projects.
This type of augmentation involves contracted employees working temporarily on a specific project. The main difference between core and functional augmentation is that the latter doesn't have an indefinite duration.  
Use cases of staff augmentation
Before applying this cooperation strategy, it is crucial to know its best use cases. Here are some of the most common uses when you should consider opting for staff augmentation:
Reinforcing your in-house team: yes, you may already have a developer team that works in-house. However, when you launch new projects or release new products or services, it is better to improve your expertise by augmenting your existing IT team with temporary personnel. This way, you will get a better outcome.

When you have short deadlines: the process of recruiting new employees is a complex process with lots of stages. But if you don't have time and patience for it, you can take advantage of staff augmentation. You can get programmers from any part of the world very fast and meet the needs of your project, no matter if it is short- or long-term. 

If you need specific expertise: if you need to get a specialist with a certain skill set over a short period of time, this cooperation method will help you out. 

If you need to bridge a gap: you can always hire temporary workers for short-term projects while looking for permanent candidates.
The Difference between Staff Augmentation and Delivery Teams
When learning about staff augmentation, you may also come across the term delivery teams. These two terms can even be misused sometimes. 
But what is the difference? And is there any? 
As we already found out, staff augmentation is the process of hiring one or more temporary tech specialists. So, when you have more demanding projects that need constant support through all their stages of development, staff augmentation might not be a good fit for you. 
In this case, you need a delivery team that usually consists of a skilled project manager, several software developers, and quality assurance specialists. Such teams work on projects autonomously and need little or no supervision from your side.  
Benefits of IT Staff Augmentation
Just like with any other cooperation strategy, staff augmentation comes with a bunch of pros and cons. Here is the list of some of the benefits you can get when opting for this model: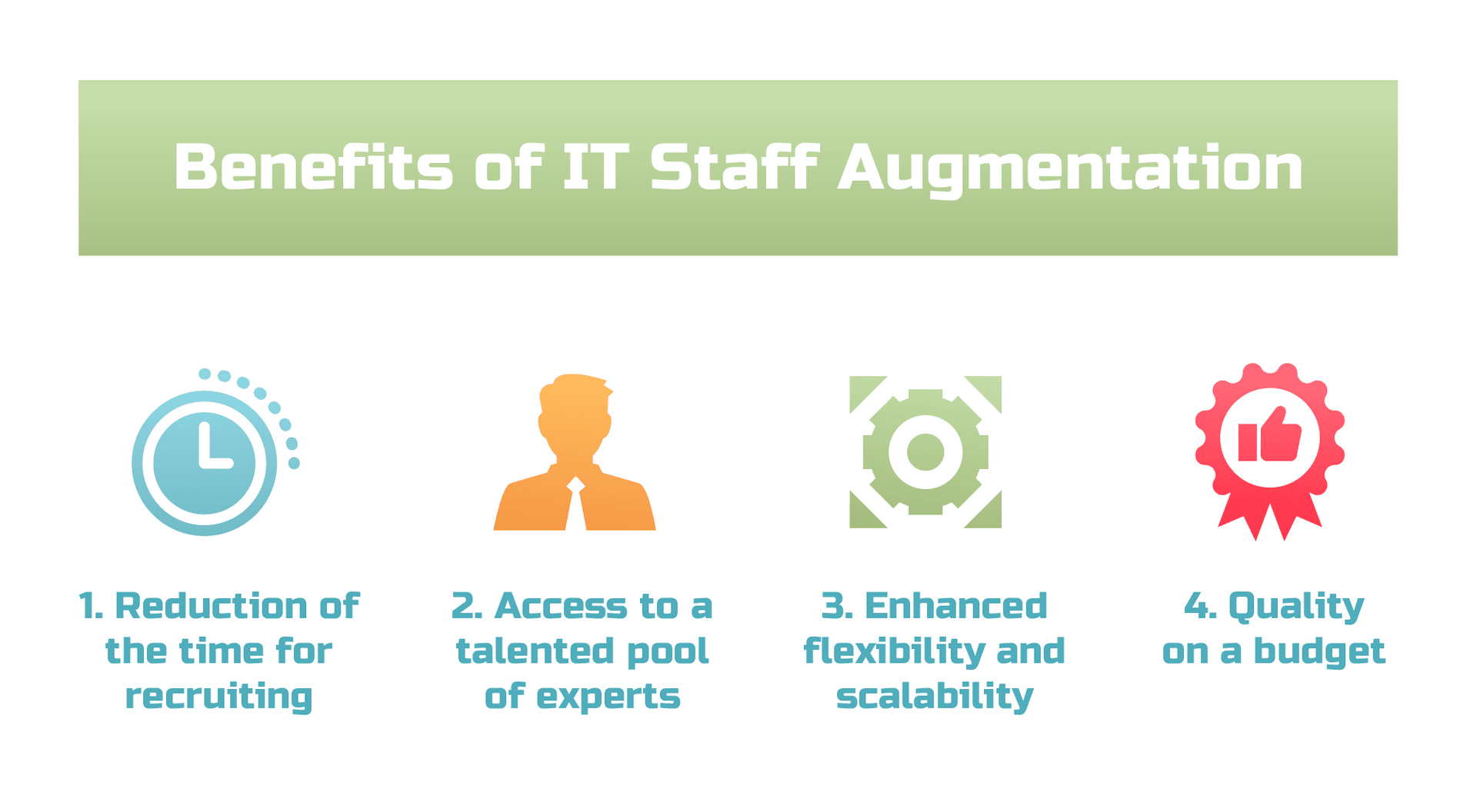 1. Reduction of the time for recruiting
Organizing a well-functioning recruiting process takes time and energy. You need to create job descriptions, place them on the job portals, interview candidates, and do many other necessary steps. And even all of them do not guarantee fast and successful hiring. 
But what if we say that staff augmentation will eliminate all these stages, especially if you get help from a staff augmentation company? It will do everything instead of you and staff your business very fast with new full members of your team. 
Besides, having temporary workers will help you fight another issue called overstaffing. When you have already delivered the project, you may not need the same number of workers anymore. And with staff augmentation, you won't face the problem of firing gifted tech talent. 
2. Access to a talented pool of experts
When you need a candidate with a certain technical skill set, the staff augmentation company will offer you good fits without wasting your time. Besides, you can select experts from any part of the world to meet your business goals if you do not have matches in your region. 
With staff augmentation, you can use both internal and external resources while saving your time on onboarding and training of the new employees. 
3. Enhanced flexibility and scalability
This model is extremely flexible and scalable. With IT staff augmentation, you can easily both upscale or downscale your development team, which is more comfortable than hiring full-time employees. What is more, when the project ends, you can end the partnership with temporary staff or revive it in the future if you need help again. This won't ruin your brand image like firing your employees. 
4. Quality on a budget
If your business has a limited budget and payroll, staff augmentation is just for you. You don't need to pay any extra costs as you do with full-time staff. However, you can always add some bonuses to improve their happiness and performance. 
Moreover, small businesses benefit a lot from temporary placement on a short-term basis with no long-term commitment as you do not need to pay taxes or insurance. 
But does this mean that the quality is lower, too? Of course, not. Staff augs deliver the same quality and quantity of work just like your full-time employees. 
How to Succeed with Team Augmentation
If done the right way, staff augmentation can significantly improve your bottom line and enhance productivity. Here is a step-by-step guide on how to successfully implement this strategy in your business: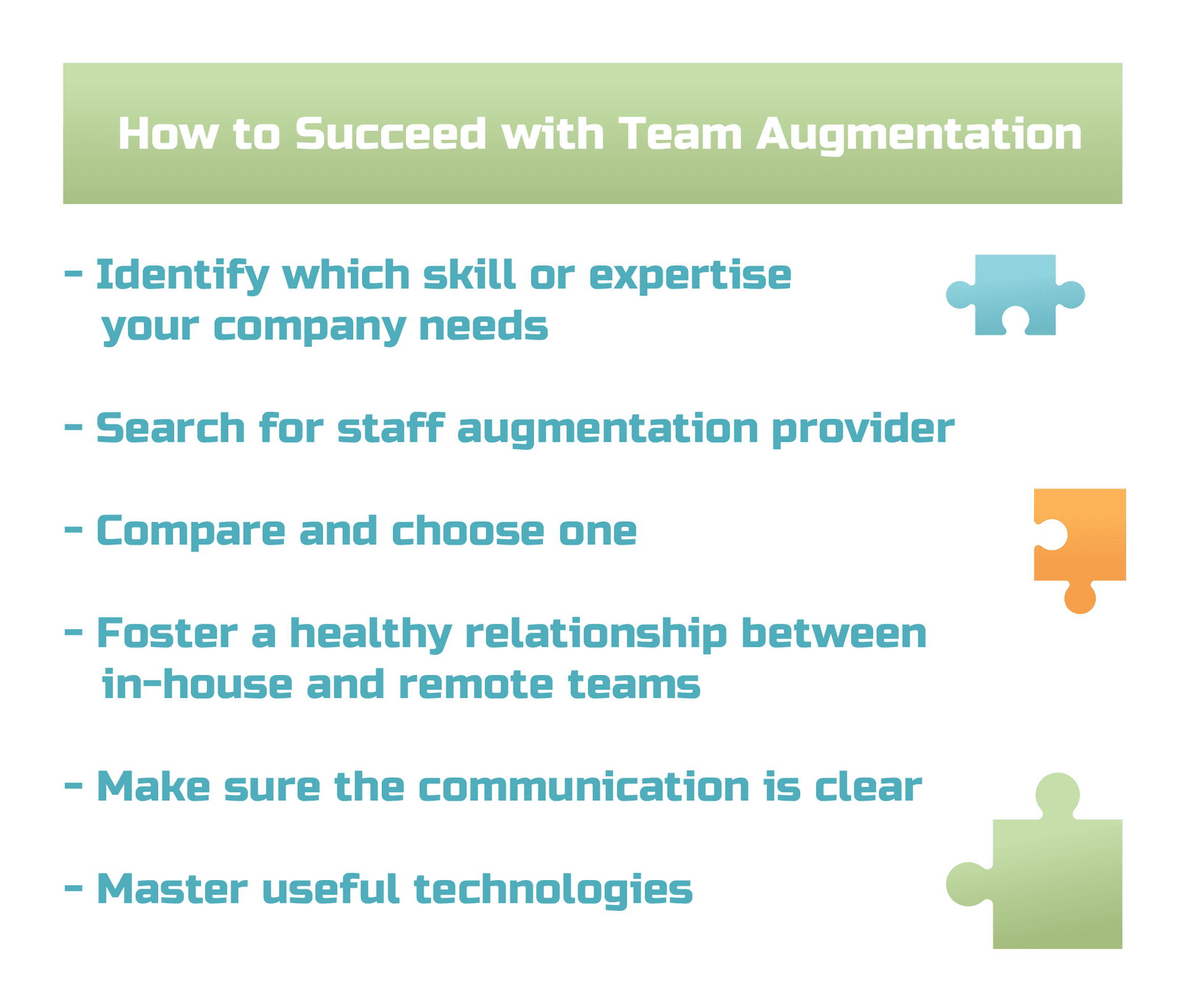 Identify which skill or expertise your company needs
The first step of staff augmentation adoption is identifying which tech expertise you currently need by conducting a detailed analysis of your business operation. You can also assess your projects requirements and your personnel audit outcome and find out which gap you have and whether the acquisition of the temporary employees will help you out.
Search for staff augmentation provider
When you are looking for a staff augmentation vendor, you should always keep in mind your requirements as different staff augmentation companies have different approaches to recruiting. Conduct the research, assess their credentials and offers, and track records. Make sure to find someone who aligns with both your corporate and operational cultures. 
Compare and choose one
You don't need to choose only one staff augmentation provider as each of them has unique offers to consider. Try to multisource, select several of the most suitable vendors, compare them, and select the one that is the best fit for long-term cooperation.
Foster a healthy relationship between in-house and remote teams
No matter if you work with in-house or remote teams, you need to force a healthy environment in which everyone is happy to work. How? You need to communicate with everyone and ensure that each of the teams is in sync. For example, when you are holding a meeting, ask about your team's interests or hobbies to figure out what they have in common. This will also help in building a healthy relationship in the team. 
Make sure the communication is clear
Did you know that your bottom line can be improved with the help of clear communication? How so? It is obvious. Your entire team needs to understand your business vision and mission as well as all project requirements. It is also very important to ensure clear communication so that everyone who takes part in the development and administration process can contribute to it and buy into decisions.
Master useful technologies
Always master technologies and tools that might be helpful for you. Such team collaboration tools like CRM system, Slack, JIRA, task management system, or Basecamp help to share comments from team members as well as project statuses. Be careful as the lack of communication may result in miscommunication. And this can affect your entire project negatively. Many modern tools can do the contrary; they enhance the communication and collaboration within your team. 
Conclusion  
Undoubtedly, a staff augmentation strategy allows you to focus on your core business objectives and stay competitive in this fast-paced world. By adopting this cooperation solution, you get several benefits, like decreasing time and cost for recruiting and employment, improved efficiency of your team, and extreme flexibility and scalability. 
If you often need employees for short-term projects, then IT staff augmentation is surely a must for your firm. And the abundance of staff augmentation providers on the market will ensure that you hire only skilled developers whenever you need them and won't spend too much time and money on recruiting.
Rate this article
15 ratings, average 4.80 of out 5