Top 7 Best Siri-esque Apps
Voice assistants are becoming more and more popular, and their number is growing every year. And although their purpose is the same, each one has a unique set of features. All you, as a user, have to do is choose a solution that suits you best.
One of the top virtual assistants is, of course, Siri: an Apple service with an enchanting voice and numerous AI-based capabilities. Alas, only iOS users can take advantage of its wonderful benefits, as there is no official Siri app for Android (at least, yet). 
But what about those who prefer Android devices? What should they do? Well, Android users will have to make an effort and find a great alternative to Siri. And this is quite possible, especially with our help!
We've analyzed the voice services market and are ready to offer you a list of the best Android assistants with a description of the pros and cons of each one. Surely, you'll be able to choose the most suitable option.
The main trends in the current

voice assistants market

Before describing how to get Siri on an Android phone (or, rather, find a Siri-esque app), let's briefly discuss the market situation in general.

According to the eMarketer study, in the US there are at least 45 million devices equipped with virtual assistants today. Moreover, as the US Census Bureau predicts, the number of such devices will have reached 7.5 billion by 2021 (which is not the limit!).

As other inspiring statistics show, voice assistants are increasingly trusted by users. And if earlier they were used mainly by the younger generation, now the situation is improving. Today no less than 45% of US residents aged 22-37 resort to these services when shopping online.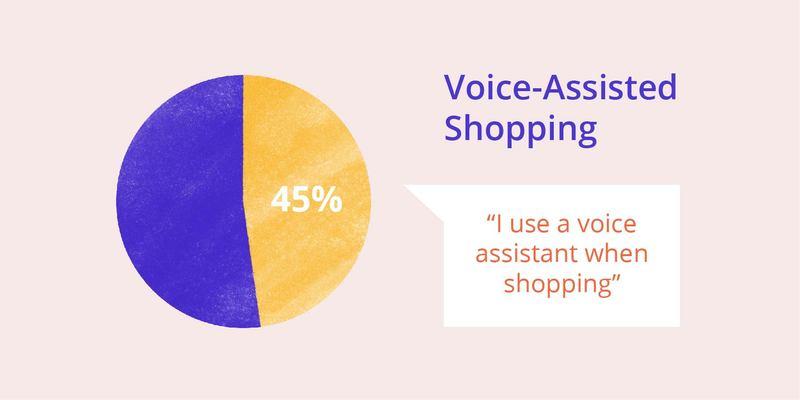 According to a report by Kleiner Perkins Caufield Byers, 60% of the time users turn to the smart assistant when their hands or eyes are busy (if one is driving or cooking). And 22% of people take advantage of these voice solutions just because "it's really fun".
Also, many virtual assistants are integrated with different equipment and home appliances, which is needed to make all these things voice-controlled. Among others, Leviton creates smart switches and sockets, and customers can access them with Alexa or Google Assistant (both are useful Android assistants, by the way).
Rating of

voice assistants

Major tech companies have long developed their own smart 'little helpers': Apple (Siri), Alibaba (AliGenie), Amazon (Alexa), Samsung (Bixby), Google (Assistant), Baidu (DuerOS), Line (Clova), Microsoft (Cortana), Xiaomi (Xiao Ai), Yandex (Alice), etc. We'll look at some of them closer when exploring the list of the best Android assistants.

As to the rating, the situation is as follows:
Siri from Apple is still in the lead. According to Futuresource Consulting, the smart service has been installed on 35% of the devices on the market in question.

Siri is, oddly enough, followed by Microsoft Cortana (which has a solid 22% position);

The honorable third place belongs to Google Assistant (9% of the market);

Amazon Alexa rounds out the top list (4% market coverage).
As you can see, Siri ranks first in the list of in-demand virtual assistants. And that's all very well, but what should Android users do? Which analogue to Siri for Android must they choose? Let's finally figure it out!
7 best

alternatives to Siri for Android

Well, it's time to tell you what the modern market offers. Read our detailed analysis of the most popular Android voice services.
#1.

Google Assistant

The answer seems to be obvious, doesn't it? Google Assistant is the most natural and obvious choice. It's the first thing that pops into our head when we're trying to find something like a Siri app for Android. 

Google Assistant hit the market in mid-summer 2012. The founding company is, of course, Google.

The service is very easy-to-use: activate it with the "Ok Google" phrase and feel free to proceed with your instructions. The program will fulfill your order to the best of its ability.
Benefits of

Google Assistant:
performing simple tasks. Of course, the service is capable of performing all simple tasks such as making calls, writing messages, setting alarms and reminders, converting currencies, opening applications, and more.

route planning. Need to plan a route? Well, Google Assistant is at your service!

providing information. Also, the program is able to answer user questions by obtaining the necessary information on the Internet.

access to smartphone functions. Google Assistant works well with your music player, calendar, camera, and is even capable of turning on a flashlight. And any user would find all these features very handy in many situations!

processing a chain of questions. Naturally, we mustn't forget about the wonderful ability of Google's smart helper to handle interrelated questions. Let's say the user asks where a certain artist (writer, politician, etc.) was born and gets the answer from Google Assistant. Now he can continue asking questions about the same person, and the voice service will understand who he's talking about, even if the user doesn't mention his name again (the name of the artist, to be precise).

multilingualism & ultra-platform. Google Assistant supports at least three dozen languages and works on multiple platforms (Android, iOS, and the Chrome browser). 
The service seems to be the perfect voice assistant. Alas, it has its drawbacks too... Luckily, there are not so many of them.
Disadvantages of

Google Assistant:
imperfect personalization. The virtual service from Google, unfortunately, doesn't always guess the user's preferences and may show him irrelevant content;

low level of humanity. Other Android assistant apps speak in a more human voice;

unrequired activation. Sometimes Google Assistant comes to life without the user's desire: it usually happens if one says something sounding like a passphrase ("OK, cool" and so on).
So our conclusion is simple: if you want to find a voice assistant for Android, which would help you with managing your smartphone content and planning your day, Google's service would make the best choice.
Otherwise, keep looking!
#2. Microsoft Cortana
If you remember, Cortana ranks second in the list of the best Android assistants. And its fame is well deserved!
The service was created by Microsoft more than five years ago. It was first announced to the public during the Build Conference held in the spring of 2014 in San Francisco. And only a year later, Microsoft Cortana became available to all users.
Initially, the Cortana assistant only worked on Microsoft's personal computers and laptops. However, the company continued to improve its development, and now the service also supports Android platforms.
The smart assistant from Microsoft is based on artificial intelligence, which helps it analyze user behavior and anticipate his needs. Of course, if the user wants Cortana to be able to provide him with personalized content, he must give it access to his data (address book, email, search history, etc.).
Benefits of

Cortana assistant:
Cross-platform capabilities. Cortana is a special linking service designed to synchronize data between your Android and Windows devices. The advantages of such a cross-platform ability are obvious: let's say, if you missed a message on your smartphone, you'll receive a warning notification while working on a PC. To be precise, the information will be updated in real-time, regardless of the platform you are dealing with right now.

A set of standard features. Cross-platform capabilities are cool and useful, but you probably want to control your smartphone with your voice, right? And Microsoft's analogue to Siri for Android is really good at it, it'll easily help you manage your apps, get access to smartphone functions, check the news, and more!

The high level of personalization, ensured thanks to the AI elements Cortana contains.

The creation of unique commands. Microsoft Cortana is a very useful Android assistant and a real helper able to make your daily chores easier. If you want, you can create certain unique commands (instructions), and Cortana will perform them when certain conditions you set are met. A prime example: if you want your phone to go silent at the beginning of the workday, Cortana will fulfill the task automatically on a regular basis.
Disadvantages of

Cortana assistant:
unrequired activation. Like Google Assistant, Cortana may be activated at the wrong time. And if the user says something like "Montana," the program might react and come alive.

another search engine. This isn't a real drawback, but some may dislike the fact that Cortana uses Microsoft Bing to find information on a user's request (instead of Chrome, which Siri and Google's voice service resort to).
BTW!
Did you know that Cortana is the heroine of the popular Halo computer games? It is in her honor that the voice service from Microsoft was named.
Okay, let's discuss one more great alternative to Siri… which is rather popular and in-demand too. And rightfully so!
#3. Amazon Alexa
Amazon is known all over the world. It seems its activities have taken over the entire digital space: successful e-commerce, a huge number of Internet servers, sophisticated cloud computing... and much, much more. No wonder the company once decided to create its own virtual assistant.
Alexa was originally the "voice" of Amazon speakers and quickly won the love of users. They liked to communicate with a smart assistant, especially since it talked to them in an almost human way. In those days, this kind of "humanity" was a rare thing for such services. 
Today, not only speakers but also our mobile devices can get Alexa's voice. 
But why is Alexa so good? Let's see!
Benefits of Amazon Alexa
Simplification of daily tasks. Alexa acts like a Siri app for Android (it provides the user with the latest news, turns on his favorite tracks, calls a taxi, sets reminders, etc.)

Smart home control. If you have a smart home system, Alexa will become even more indispensable assistant: the service from Amazon would help you manage "smart things"  in a simpler way, just by using your voice (open doors, turn lights on and off, etc.). 

Getting information. If the user wants to get some information, he should also recourse to Alexa, and the service will help him find the required content (which it draws not only from Amazon resources).

Access to smartphone functions. Like other Android assistant apps, Alexa is able to manage the settings of your smartphone (say, if you need to change the screen brightness and so on).

Useful skills. Alexa is an open-source service, so third-party developers can, if they wish, add more features to it (so-called skills); now there are more than 15K of them.

Continuous improvement. Amazon continues to evolve and update its service to make it better and better every year.

Multilanguage support. Alexa supports many languages, including English, French, German, Japanese, Italian, Spanish.
Disadvantages of Amazon Alexa
Activation by mistake. Unfortunately, in one respect, Alexa is no different from other voice assistants and sometimes starts up by mistake. Among the phrases the user should pronounce carefully so as not to activate the Amazon's helper are such words as election, unacceptable, letter.
In general, users speak of the Amazon voice solution with great sympathy and leave very positive reviews about it… which means a lot! People are rarely generous with their praise.
#4. AIVC (Alice)
Another great duplicate of Siri for Android is AIVC (Alice Intelligent Voice Controller). Alice works on Apple devices too, but we're interested in useful Android assistants, right?
AIVC is the development of a Russian company named Yandex. Having appeared on the market in the fall of 2017, the service has managed to win a loyal audience in a short time of its existence, which is confirmed by statistics (see below).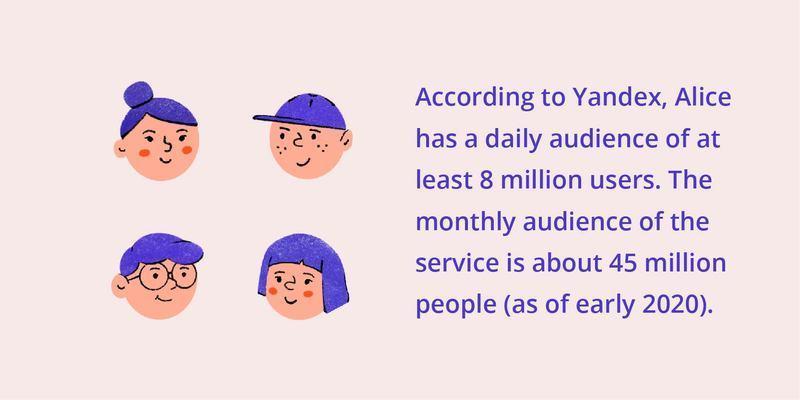 Benefits of Alice:
AI elements. AIVC is created on the basis of a neural network and has the ability of machine learning, thanks to which it is constantly being improved.

Basic skills. Alice is doing everything that Siri, Google Assistant, and other services of the sort are capable of: in other words, it helps the user manage his phone with his voice;

Yandex services support. Yandex has many useful services (taxi, music and video content, search engine, etc.), and AIVC effectively interacts with them;

High level of humanity. If you compare all the voice assistants, Alice turns out to be one of the most "human-like": "she" knows how to improvise and even joke. No stereotyped phrases!

Entertainment. Alice doesn't mind playing with you, so to speak. Sometimes such a skill can come in real handy: say, if you are bored and don't mind having some fun.
Disadvantages of Alice:
Confused answers. Sometimes AIVC fails to give the user a specific answer to his question and gets off with vague phrases;

Sarcastic nature. As we've already said, Alice is very smart and resembles a real person. The service can even be mistaken for a woman with a good sense of humor! However, this woman is a bit sarcastic from time to time; not all users would be fond of it.
#5. Robin
Robin was developed to compete with Apple's voice service and offer a great alternative to Siri. And the idea of ​​its creator, perhaps, was a success!
The assistant is based on AI and focuses primarily on drivers, which makes it unique.
So, Robin's target audience is people behind the wheel. What is meant by that?
It's rather simple: the driver is able to write SMS, make calls, check the route, and get access to other useful phone functions without taking his hands off the steering wheel. Not bad, isn't it?
Let's see what other benefits this voice assistant for Android (and iOS, actually!) has.
Benefits of Robin:
Performing traditional tasks, including searching for news, checking new messages, and so on.

Help on the way. Since Robin is aimed at drivers, it mainly helps users along the way. Finding the right place, be it a restaurant, pharmacy, or gas station, informing about repairs on the roads: all this and much more is available to Robin. 

Transcription. Another feature making Robin one of the best Android assistants is its ability to transcribe. The service records the user's speech from his dictation, converts it into text, and then sends it in a message. And we must say, Robin is really good at it!

Convenient navigation. And again, let's repeat: Robin's main target audience is the people behind the wheel. Is it any wonder that the service does everything to simplify the process of driving a car? Among other things, the user doesn't need to close the program to access the navigation features. He may well open the map right in the application itself. 

Sense of humor. Do you know what is the coolest thing about our hero, an analogue to Siri for Android? The fact that Robin can joke around and knows a lot of funny phrases and amusing stories. And its creators have a good sense of humor too... which is confirmed by the video below.
Disadvantages of Robin:
Robin's focus on drivers can be its downside too. After all, we need a smart assistant in different situations, and driving is just one of them.
#6. Lyra
Lyra is a good Android assistant, but quite simple. It's obedient to the user's commands and has no unnecessary features.
Benefits of Lyra:
Sufficient efficiency. Yes, Lyra may seem too simple in terms of functionality, but it copes with the main tasks perfectly. And in this respect, the service is no different from other alternatives to Siri for Android.

Ease of use. Lyra is user-friendly and has an intuitive interface. It won't be a problem figuring out how to activate the assistant and how to give it the desired command.
Disadvantages of Lyra:
Mediocre functionality. Alas, Lyra doesn't offer the user anything original and, moreover, unique. The functionality is quite good, but not amazing.

Unimpressive UI. The design of the voice application isn't very spectacular (if you compare it with the interfaces of other Android assistant apps).

Poor language support. Yes, it's really poor! However, the situation may be retrieved in the future (after all, the service is gradually developing).
#7. Xiao Ai
Xiao Ai is another smart assistant we should definitely mention. The credit for its creation goes to a popular Chinese brand (have you heard of Xiaomi devices? That's it!). 
Xiao Ai can be compared to Siri and Google Assistant, all three services have similar features. However, Xiao Ai may even surpass its competitors in some ways.
Benefits of Xiao Ai
Control of smart technology. Xiao Ai is part of the Mi Home system (smart home) and allows you to control appliances with even greater comfort.

Transcription. Like Robin, which we talked about above, Xiao Ai is good at recognizing the user's speech and turning it into text messages.
Disadvantages of Xiao Ai
Alas, Xiao Ai is initially focused on the Chinese user and doesn't support all services created by development companies in other countries.

At the moment, Xiao Ai only works with Xiaomi devices.
Android assistant apps

: what's the risk?

Virtual assistants do help us… but the process of interacting with them is still far from ideal. And even the most perfect voice assistant may meet with failure.

Here are a few examples of the sort (some of them are really funny):
As you've already understood, these services sometimes don't understand when the smartphone owner addresses them, and when he is talking to another person. As a result, the voice program comes to life unnecessarily.

On the other hand, even the best Android assistant has a chance to fail when recognizing the user's command and remain inactive when it's really needed. It happens infrequently, but the possibility of such a course of events shouldn't be completely ruled out.
Virtual assistants may cause curious situations, such as…  

Turns out the Cortana assistant doesn't understand the non-American accent. It was revealed under very delicate circumstances when Microsoft CEO Satya Nadella tried to give a specific command to his digital assistant ("Show me at-risk opportunities!"). However, Cortana decided that he had asked for something completely different, namely: "Show me to buy milk at this opportunity". And it all happened at the presentation! Can you imagine the outcome?

Also, smart assistants are able to initiate political battles of some sort. A good example is a few German media outlets (Mitteldeutsche Zeitung and Frankfurter Allgemeine Zeitung, to be exact), which have strongly condemned the fact that these services speak in a female voice. "Isn't that sexism?" - they asked.
Despite such failures, voice assistants keep growing in popularity, and developers continue to actively improve them and introduce new cool features into them. Among other things, the Americans taught them to diagnose heart problems of the smartphone owner and notify emergency services if necessary.
Moreover, in the future, voice control may be used everywhere. And forward-thinking businessmen are trying not to miss the chance and start taking advantage of these solutions right now.
Rate this article
15 ratings, average 4.80 of out 5