The Best Way to Build a Real Estate Site Like Zillow
Given the ever-growing level of competition, real estate market players have no choice but to strengthen their positions through modern digital solutions. Among such solutions are powerful multi-functional web platforms. Most often, they are special marketplaces that have recently been in high demand due to their undoubted advantages.
Resources of the sort are beneficial to all parties to the process: agents, buyers, sellers, each of whom is increasingly using provided digital assistance. And these people can become your potential customers and bring you financial benefits. You just need to create a decent example of real estate listings websites and popularize it.
The task isn't easy, and it's better to have a look at existing examples of successful web development for real estate. How about Zillow, for example? Its achievements are truly impressive and might serve as a great source of ideas and inspiration. After all, let's agree: one should always follow the leaders. That's exactly what we offer you to do.
But how to make a real estate website (and app) like Zillow? Is it even possible? We'll see!
To be added to the number of the best real estate websites like Zillow, you need to know the basics. Namely, what is so special about Zillow? What is Zillow's history? What have its owners done to succeed? And so on!
What is Zillow?
For openers, Zillow is one of the most popular real estate sites today.
However, this is only the tip of the iceberg. Zillow is not just a marketplace, it is a true social network whose audience is made up of everyone involved in the real estate market. You can:
put your property on the market (and advertise it);

find the house of interest on the map and study information about it (photos of the building, data on location, number of rooms, cost, rental rate, and other details);

rent a house (apartment) in the desired area or, conversely, act as a tenant;

learn all about Home Loans and use online calculators to determine the cost of a mortgage, refinance, amortization, etc;

choose the real estate professional you need (agents, home inspectors, builders, and so on). Or, if you are the specialist in question, you have a chance to promote your own services;

use the Zillow advertising platform (let's say if you're a broker, agent, lender officer, etc).
So, are you impressed? Does the above list make you think of real estate software development? We're hardly surprised! But before we go any further, let's take a look at Zillow's history.
In the end, the project took time to achieve great results and become what it is today. And it would be interesting and useful to know the details of such an incredible transformation.
Moreover, we believe Zillow's story will help you understand how to create a real estate website: you'll see that the main thing is to think through each step and be patient. As the phrase goes, nothing must be done hastily but killing of fleas.
Back to the past
Today Zillow belongs to the top real estate websites. Tens of millions of potential home buyers, sellers, tenants, and agents visit it in a daily manner. They look through the ads, select profitable mortgage offers, and perform other similar actions. The site owner is the Zillow Group, which publishes data on real estate on behalf of the world's largest brands. In addition to Zillow, the company manages platforms such as Trulia, HotPads, and StreetEasy.
But this is how things are now. And when and how did it all begin?
Zillow Group, Inc. was founded in 2006 by former Microsoft executives named Lloyd Frink and Rich Barton. At first, the site was much simpler than today, but its owners gradually improved its functionality. We won't list all the details and confine ourselves to the key factors so that you'll get a clue of what made Zillow the most successful real estate platform:
At the end of 2006, Zillow introduced several new features to its users:

the ability to place homes for sale and set a "Make Me Move" price;

access to clear aerial images taken not from a satellite, but from airplanes. The feature had been implemented jointly with Microsoft and based on Microsoft Virtual Earth.

Since December 2009, Zillow services include rental offers. Such a step significantly expanded the number of resource users.

In 2009 Zillow began to cultivate the mobile app market (since the web version is not always enough to succeed).

In 2017, Zillow added a new feature of 3D tours. And from that moment, users got a chance to view 3D 360° photographs of the houses they are interested in buying or renting.

In 2018, Zillow signed a partnership with Century 21 Canada. So we may safely say Zillow entered the international arena; now it works not only in the United States but also in Canada (and we believe this is only the beginning).
Benefits of

building a great real estate website

So, the hero of our story works with several consumer groups: sellers, buyers, agents. Let's talk about how each of these groups benefits from Zillow real estate websites.
Sellers
We'll start with the sellers. Here are a few of the benefits they obtain:
loyal target audience. You, as a seller, get an excellent opportunity to study your client and make him personalized offers.

simplified customer search. You no longer need to puzzle over finding buyers. The site solves your problem (at least, it helps to solve it).

effective advertising. As you already know, Zillow is, among other things, a convenient advertising platform. And a seller is allowed to promote his property.

better targeting. Features of a website like Zillow allow you to adjust the targeting system. Therefore, you can choose the right person at the right time to make him an offer he won't be able to refuse.

convenient seller-buyer interaction. Thanks to the site, the buyer and the seller can easily find all the information they need, get expert help on any issue, and go to the right government agency. Even an agent isn't needed!
Buyers
What do buyers get with the best real estate websites like Zillow?
convenient search system. Zillow was one of the first resources to open the listing to everyone. Before its existence, such information was privileged: only realtors and agencies knew about those who wanted to buy or sell real estate.

geolocation capabilities. The use of geolocation data allows potential buyers to find the best real estate options based on their specific case. However, we devoted a separate section to the issue of geolocation. You'll learn more on the subject a bit later.

the ease of use. You can use the site with all its features whenever and wherever you want.

reliability. The system of reviews and ratings that other users give to agents and sellers of real estate will help you rent or buy housing from reliable people.

efficient seller-buyer interaction. We've described this advantage earlier, and buyers would find it relevant either.
Agents
And now it's time to discuss the benefits focused on real estate agents.
simplified work. Top real estate websites not only provide access to listings of objects, but they also serve as a connection point between all the parties involved.

improved targeting. As you might remember, we've mentioned targeting when discussing sellers. Real estate agents will also appreciate the possibility of more accurately targeting potential customers.

advanced analytics. User behavior analytics tools help agents work more efficiently (provided they're smart enough to draw the right conclusions).

marketing tools to effectively promote your own services (we've discussed it in the first section of the article when describing the capabilities of Zillow).

a greater number of successfully closed deals. In summarizing, we can say that Zillow real estate websites are an excellent tool, which agents use to maximize the effectiveness of their work.
And here are two more benefits useful to all users:
Websites like Zillow seek to involve experts in the transaction process (if the buyer and seller don't mind). Thus, the site doesn't exclude any of the parties.

A real estate site should protect its users from fraud. Say, only carefully verified sellers should be allowed to put objects on the market.
First steps in the

real estate website development process

Now let's talk about the most important thing. Namely, how to start a real estate website? What should you consider in the first place?

We'd like to offer a few simple steps without which you have no chance to achieve the desired results and join the ranks of market leaders. Some of our tips may seem obvious, but each one is crucial. And if you're aiming at successful real estate website development, pay the closest attention to every single stage (even if you're not sure why it matters so much).
Market research
The first stage of real estate software development is market research, which, in turn, must begin with a study of the target audience. You need to understand the users' problems you can solve - and do your best to actually solve them!
In the case of Zillow websites for real estate, you should consider the following needs of your future users:
The buyer wants to:

find a property that meets his requirements and is in the right location;

see the location of the house (or another object) on the map;

examine information on the object;

make a virtual 3D tour of the property;

compare prices.

The seller wants to:

evaluate the real estate object (for sale or lease);

find out real estate market trends;

advertise his object;

calculate all tax (and other) payments.

The agent wants to:

get a chance to advertise real estate;

seek clients and offer them his expert assistance;

use advanced analytical and marketing tools.
After analyzing the target audience, you need to study the market requirements and the achievements of your competitors, and then, ideally, create a higher-level product.
Business model
Your goal is to recoup real estate website costs and all the development expenses and, when the task is completed, to receive a source of constant profit. So you should think carefully about your business model.
Since we took Zillow as an example, it would be logical to figure out which model of project monetization the company uses.
So… 
Premier Services, focused on real estate agents. Premier Agent is a paid service that brings the largest revenue stream to the company. Among the benefits of becoming a Zillow Premier Agent are exclusivity, wider audience reach, and greater visibility. As a result, the agent is more likely to receive a full sale commission.

Selling Promotions to Real Estate Management Companies. In addition, Zillow makes money by providing property management companies with a promotion platform to advertise their listings. The platform called Zillow Rental Network includes various websites: Zillow, AOL Real Estate, Trulia, MyNewPlace, Yahoo! Inc. (YHOO), Hotpads, MSN Real Estate.

Sale of advertising to mortgage lenders and other companies. Zillow also sells advertising space to mortgage lenders and other businesses willing to interest maximum Zillow consumers. These other businesses are interior designers, home organization retailers, and general contractors. Mortgage lenders pay Zillow based on cost per click (CPC) or cost per thousand impressions (CPM).
Geolocation 
Among the features of a website like Zillow is always this one. And Zillow, of course, has it too: say, you can find out the price of an apartment on the street you're walking around now. 
What does geolocation give to real estate listings websites? It's a chance of… 
buying or renting real estate in a specific location;

finding out the price of real estate in the area of ​​interest;

getting directions to a specified place

finding more customers using geolocation

searching for free agents to view real estate in your location;

obtaining information on the area (since neighbors, infrastructure, crime rates, the presence of schools, and other similar things are more significant than the cost and condition of the property). 
We've described only part of the geolocation ideas for real estate web development. In fact, there are many more opportunities to use such features.
Commercial real estate website design 
Commercial design is aimed at effectively selling your services. It doesn't matter what you like or what seems attractive to you... it's important that your resource can get into the top real estate website design examples! This is by no means a guarantee of financial prosperity, but still, getting into the tops will indicate that you're on the right track.
But don't go too far! Believe us, over-creative real estate websites (creative in terms of design) aren't always the most successful. The best solution would be to put your trust in proven experts... which logically leads us to the next step.
Real-estate Website Developers

Search

The final stage of the preparation process is the selection of high-skilled professionals: experts who can create a website that will meet all your requirements, both functional and visual. We advise you to pay attention to real estate website dev & design companies employing diverse specialists: web and mobile programmers, UI/UX specialists, QA engineers, and so on.  And, of course, make sure they have the appropriate experience.

And remember, it's not just about creating the best real estate website design (which we talked about above), but, more importantly, about developing an effective scalable resource. Because project scalability is a factor playing a greater role than it might seem, especially with a limited budget. And if you plan to start with the MVP model, you should initially consider the possibility of the future expansion of the site's functionality.

But let's discuss the MVP model in more detail.
Real estate listings website: MVP

model

The answer to the question "How to build a real estate website like Zillow?" is more or less clear - in general terms. But what should you do if you cannot afford everything at once? What are your options if the cost to develop a design for a real estate site (and the resource itself, of course) is too high for you (at least, for now)? Then start small. Besides, if you remember, Zillow was also in no hurry and had been moving towards the cherished goal in careful steps. Do the same!

To start small means creating a simplified version of websites like Zillow. Such a version is also called an MVP model.

So, it all depends on the functionality. First, write down all the features you want to see implemented in your future site, and then divide them into 2 categories:
must-have features (those that are mandatory);

secondary features (all the features you can do without at first).
Start real estate software development using the first list, and then, when the site pays off and becomes profitable, begin supplementing it with the secondary features. A nice bonus: you get an informational occasion to remind users about yourself once again (by notifying them of the introduction of a new feature). Thus, you make it clear to users that the site has been developing, evolving. In addition, there is a chance to take into account their preferences before making any decisions.
Now let's see what features you need right away… 
#1. Listing System 
Listing is information about specific real estate objects. Though, at the start of the project, you, of course, won't have a large database with needed data. Therefore, you'll have to take it from somewhere.
There are a few options to create a real estate database:
connect to existing listings (i.e. enter into an MLS contract)

uniting with other real estate listings websites, companies, agents;

tracking FSBO (For Sale By Owner) offers;

buying a base.
In our opinion, the best option is MLS. You'll get access to a satisfactory database of real estate, which won't lose its relevance for a long time. Such a pathway was chosen by Zillow and Trulia: they combined their databases and thereby gained 70% of the share in the US real estate market.
By the by, today Zillow has data on 110 million buildings throughout the United States, and not all of them are exposed to sale.
#2. View of Real Estate Objects
The ability to initially inspect an object using images or 3D models is one of the main features of a website like Zillow. Thanks to it, users would be able to filter out about 90% of potential options. And remember, the visualization of real estate should be at the highest level. Obscuring photos with the wrong scale will do you no good: they'll only annoy your users.
#3. Property Search 
The search feature is necessary so that the user would find in your real estate database the option which suits his needs.
For starters, you can do with a simple search. But be prepared to gradually increase its accuracy. In the future, you need an Advanced Search, which allows filtering the results by more precise criteria, such as the number of bathrooms, minimum and maximum area, etc.
These are the prerequisites for launching Zillow real estate websites. Later, when you promote your resource and start making money on it, you may add other features. 
Future of

real estate development software

Although forecasts regarding online audience growth rates vary widely, market experts agree on one thing: it will increase anyway. According to recent studies, every year people are more and more willing to use sites like Zillow to search, buy, rent, and sell real estate objects. But in order to compete worthily in the global real estate market, one must take into account which technologies are expected to be in demand in the near future.

We cannot give a 100% accurate answer, but we suggest a little discussion on this topic. So… what is going to be popular? In what direction are technologies developing?
Maximum visualization of real estate. If earlier real estate visualization was limited at best to 360° photographs, in the future this won't be enough. And you need to think about:

3D panorama allowing you to comprehensively examine the exterior of the object before visiting it (through 3D video, as in movie theaters, and 3D-panorama - a computer model of the object).

3D tours of apartments and houses. The feature is already in use by Zillow, and this is only the beginning.

AR/VR. These technologies allow supplementing the property with a different layout of premises or furniture. Today, good VR glasses are relatively inexpensive, in a few years, their price will decrease even more, which will help them conquer the mass market (as it happened with smartphones).

Advanced data analysis. As McKinsey&Company found, data analysis is more effective than intuition and even experience. Great examples of using data analysis:

WeWork has trained a neural network whose goal is to predict the loading of meeting rooms. According to them, the system they created copes with the task 40% better than a person.

Zillow has a special Zestimate calculator that estimates property values ​​using statistical models, neural networks (machine learning), and big data. It gives approximate accuracy with an error of 5% (at the start it was 14%). Zestimate is considered one of the best sources for calculating the value of the real estate in the USA and Europe. And, of course, these are just a few illustrative examples of how top real estate websites use data analysis to stay among the market leaders.

Blockchain technology. The International Blockchain Real Estate Association (IBREA) has been working on implementing blockchain technology in the real estate area. Among various options to use it, there are such possibilities as creating contracts in the so-called intellectual format, making a land registry based on a blockchain, digitize financing, etc. Sweden has already started taking advantage of this technology and created a digital cadastral register.

Proptech, a digital transformation of the real estate market. It includes all the promising existing in the industry: IoT space, software to replace staff, business planning with an investment component, and so on.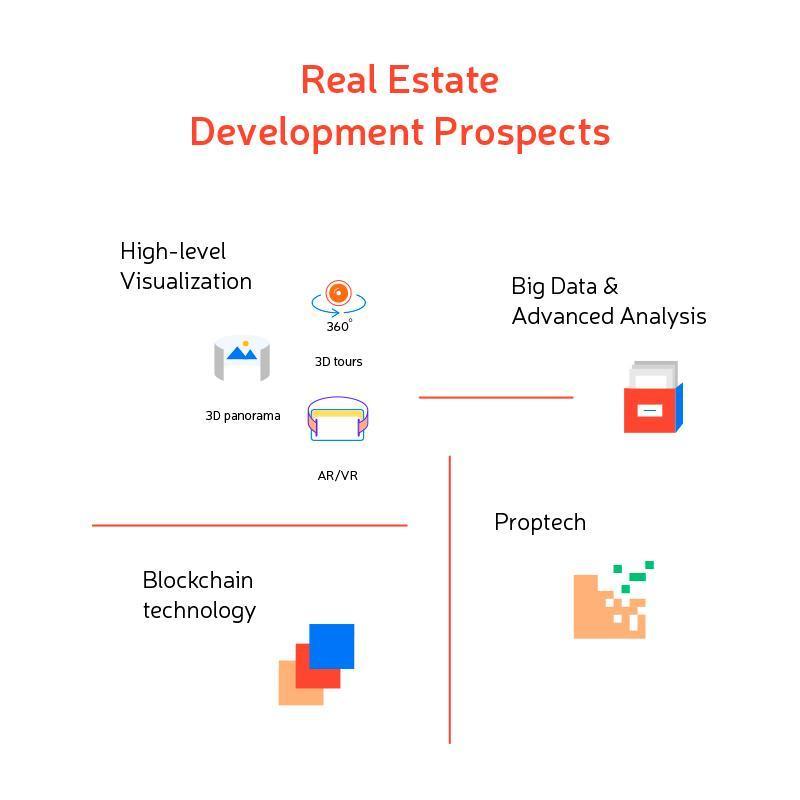 Well, we've told you everything worth considering, and now you just have to decide on a real estate website development company.
Summary
Let's suppose you have cool ideas for real estate web development, and you're in need of qualified experts who can bring them to life. If so, we will help you! We have vast experience and know how to create a website like Zillow. We're not afraid of challenges and ready to undertake even the most complex projects. 
Rate this article
16 ratings, average 4.75 of out 5