Online Laundry Service: The Most Successful On-Demand App Examples
"I want it here and I want it now!" - we, the modern people, are used to requesting. That's when various on-demand services, so popular today, would come in handy. They help us get the desired results without unnecessary hassle and effort. After all, we just don't have time to do these boring chores on our own! And why should we if the world of the 21 century offers so many opportunities to simplify and better our life? We may well demand that the work be done, and it'll be done, thanks to digital innovations.
This model applies, among other things, to dry cleaning and laundry services. Its essence is really simple: your clothes are picked up straight from home and returned clean. Such an approach promises quality, clearness, safety... which is especially important today, given the pandemic (alas, we have to be careful and limit our communication with other people).
So the time has come to consider creating an on-demand app for laundry service and cleaning. And if you're a laundry owner, you have all the more reasons to go digital with your business.
But first things first. Let's discuss the matter properly.
What is an

On-demand Laundry Mobile App?

In fact, we're dealing with the opportunity to order laundry services here and now, that is, wherever you are at any given time. You don't need to stay off doing your usual things. Just open the application and make a few taps. The rest will be done without your participation.

But what about application owners? What options do they have? Or should we say "YOU have", since you're likely to become one?

Frankly, there are only two basic ways to act:
Suppose, you own the dry-cleaner or you know such an owner and can start a joint business with him. In this case, your mobile program offers a feature of ordering services online, as well as provides the possibility to organize the pick-up and drop off of clothes (so that your customers don't have to leave their homes).

However, another business model is more sought-after today, namely, a mobile app acting as an intermediary and connecting clients with the various dry-cleaner service providers available in the city. That's what we usually have in mind when speaking of on-demand laundry mobile apps.
Whichever business model of laundry service you choose, you'll need to cooperate with couriers. Again, you have several options in this regard:
taxi service assistance;

partnership with a courier company;

attracting independent couriers who should register in the mobile laundry service application as delivery men to be able to generate additional income.
Modern market data
The above data is impressive, but it needs updating, so the growth rate is expected to be even higher (and $180 billion would seem like a ridiculously small amount of money). The reason is the coronavirus, which has set new trends in the world of disinfection, among which are environmental friendliness, technological innovation, and on-demand services (something similar to Uber for Laundry).
There are not many examples of online laundry services operating on demand yet, but they do exist. Among them is the British Laundrapp, which has been working since 2014, as well as a number of American projects (FlyCleaners, Cleanly, etc.).
What is driving the rise in popularity of on-demand apps?
Let's figure out why on-demand applications have become so popular (and we're talking not only about laundry but also about any other similar services, be it shopping, walking the dogs, cleaning the apartment, etc.).
Total digitization. We all strive to digitally present our services to customers. There is no point in starting your business without a website and a mobile application in mind.

High busyness. Today we are too busy and don't have enough time to complete our daily household chores. So the on-demand app for laundry service and cleaning would become a great time-saver.

Safe payments, which are also a good argument in favor of on-demand programs.

Pandemic. And the last point is the coronavirus, which caused the need to adhere to social distancing. With on-demand apps, you can stay safe and still have work done.
Maybe it's time to discuss how Uber for Laundry works, what do you think? The topic definitely deserves our attention.
How

on-demand laundry service apps operate 

As you've already understood, these applications work according to the Uber model. After all, what is an Uber taxi? It's maximum convenience: the user doesn't need to call the operator, he just opens the app, indicates his address and destination, and waits for the car. It's pretty simple, isn't it?

It should be the same with the on-demand laundry service application: you open the program and place an order that one of the dry cleaners accepts. The app finds the closest courier and sends him a notification about a nearby delivery order. The courier comes to you, picks up your clothes, and takes them to the dry cleaning. Sometimes, the receiver arrives with the driver too (to assess the state of clothes). Though it's optional, there may be other ways to assess the initial state of wardrobe items.

After washing, cleaning, ironing, and steaming, the clothes are packed and you're notified of the order's status. Now dry-cleaning workers are ready to send your belongings back to you, also using the help of one of the couriers nearby.

As to the payment, it can be charged both before the start of work, and when the order is completed.
Benefits of Online Laundry Service

s

Let's start with the benefits laundry business owners receive:
Full business control. Using mobile platforms, you'll be able to manage your business in a more efficient way;

More clients. Another advantage of on-demand laundry service applications is the ability to get and attract a great many new loyal customers;

Profit growth. The above advantage leads to an increase in profits (in the end, the more customers, the more money);

More free time caused by partial automation of business processes;

Brand promotion. Mobile applications are a kind of advertising platform to promote local laundry services in your region, which means improving the organization's recognition in the market;

Convenient reporting system and a large number of analytical tools;
Now we should talk about customers of dry cleaners and the reasons why they have to become application users:
Availability. Best laundry apps run on multiple platforms and are generally easy to install.

Wide choice. Users have a huge selection of dry-cleaners at their disposal, the list of which is available in one place. Such undisputed convenience is a big advantage, don't you agree?

Positive consumer experience. Users are able to order cleaning and laundry services anytime and anywhere. The only thing required is a mobile app. The work of delivering and dry cleaning the clothes will be done by other people.

Safety. And finally, today we mustn't forget about the threat of infection (covid-19 has made us reconsider our habits!). Therefore, the opportunity to order any services remotely is a wonderful chance to keep you healthy.
By the way, we offer to briefly compare online and offline laundry services so that you are finally convinced that the game is worth the candle (which means your laundry app development costs will be paid back).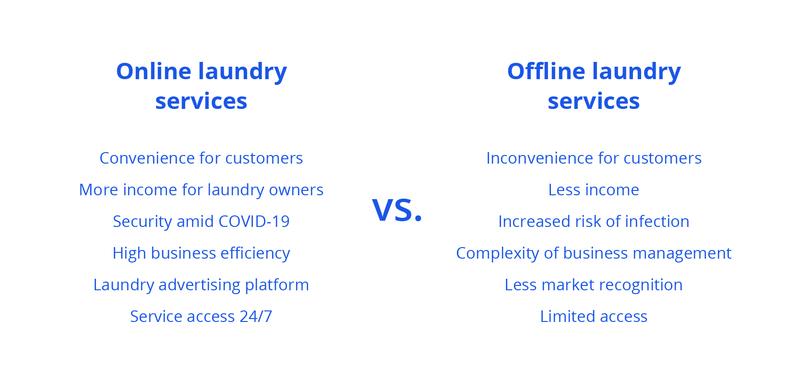 Features of Laundry Delivery App

s

Let's discuss the key features of an app for online laundry service and divide them into three basic blocks.
Features focused on customers:
Check-in. To start using the laundry marketplace app, a customer has to sign up and create his or her personal account. The easiest way to sign up is through social networks.

Personal profile. Now the user fills in the created personal account (aka profile) with information on himself: full name, contacts, profile photo, etc. If registration was performed through social networks, all this data can be obtained from the user's profile on FB, Instagram, etc.

Search with filters. Okay, a person has registered in your mobile laundry service app and now wants to use it to its destination. Surely, he opens the program and resorts to a search mechanism, using filters to specify the parameters of the ideal laundry. A possible list of filters could include:

price range;

type of service (say, some accouterment items require a special approach during dry cleaning);

location;

institution rating.

View information on the laundry. The user has found what he needed and wants to know details about a particular laundry, such as:

contact details;

working hours;

location on the map;

specialization;

price policy;

loyalty programs.

Placing an order. The prospective client studied the list of offered cleaning and laundry services and chose what seemed the best option; now he'd like to move on to the next stage, right? So offer him the opportunity to place an order and perform all possible operations with it, such as:

pre-ordering;

confirmation of order;

change of order details;

order cancellation.

Favorites section. If the user is satisfied with the cooperation with a particular laundry, he can add it to his favorites so that in the future he'll be able to order its services in a few taps.

Courier selection. Do you know why an on-demand app for laundry service and cleaning is so good? Because it provides you with the opportunity to get the job done while staying at home. A courier comes, picks up your clothes, and delivers them to the dry-cleaning company (and then brings them back cleaned). Therefore, your application should have a courier selection feature to help organize all this.

when ordering a courier service, the user should be able to specify a particular time and date of picking up and dropping off and leave a comment regarding delivery (which may contain the address data and the phone number of the person to be contacted);

It'll also be great if the user can track the movement of the driver (courier) with his order online.

Monitoring the order status. Okay, the user orders the required services without leaving his home. But it's not enough: in addition, he must be able to monitor the progress of the work (remotely, of course!). The order status will change depending on the stage of dry cleaning of his clothes.

Cost calculation. Also, the functionality should offer the ability to calculate the indicative price of cleaning and laundry services. The cost factor can be influenced by such things as the number of items of accouterment, the type of clothing and fabric, and so on. With this option, the user has a chance to determine in advance how much money he'll have to pay to get the work done.

Order payment. If you decide to build an on-demand app for laundry service, be sure to add the payment feature. Your users won't have to worry about cash, they'll be able to pay with their bank card.

Reviews & Rating. It'll also be great if the consumer is able to express his (her) opinion about a particular dry-cleaner. But how to implement such a feature in practice? Of course, the easiest way to leave feedback about laundry services is to resort to ratings and reviews!

Order history. Such a functionality option would help the user recall the history of his previous orders.

Chat. And of course, the best laundry apps necessarily offer a chat feature so that the client can communicate with the representatives of the dry cleaner online: discuss general wishes, express complaints, etc.

Notifications. One of the ways to inform the user about a change in the order status is to send him or her a notification. Among others, you can notify users about updates to the application's functionality, loyalty programs, and so on. And you also have an opportunity to remind the client that he hasn't opened the program for a long time.
Features focused on laundry owners:
Registration. Laundry representatives should also register their establishment in the application and provide basic company data. Thus, their clients will be able to find out in advance whether it's worth ordering services from them.

View customer data. The mobile laundry service application should allow dry-cleaning workers to view the details of the potential customer whose order they're going to accept.

Client database. Surely, every laundry company, which uses your application as a customer search platform, gradually forms its own customer base with all the necessary contact information. 

Work with an order. Simply put, laundry workers must be able to accept and cancel an order, view its details, update its status, and calculate the cost. The more order management options, the better.

Push notifications. Naturally, features of laundry delivery apps must include notifications to inform dry cleaning representatives about important news (application updates, the appearance of an interesting order, etc.).

Acceptance of payment, and it is desirable to provide several options to provide money (cash, bank transfer, credit card, bonus, prepayment, etc.).

Loyalty programs. Also, online laundry services are good for organizing flexible loyalty systems (personalized discounts, cumulative bonuses needed to reward loyal customers, sales and promotions, and so on).

Chat: an important feature, the value of which we've described above, in the subsection dedicated to laundry customers.

Analytics and reporting system. And, at last, the on-demand app for online laundry service is a great opportunity to get the latest statistics data in the form of detailed reports, analytical charts, and more.
Features focused on couriers:
Registration: a feature common to all types of users.

Orders Search, a functionality option allowing the courier to find the pickup, drop off, and delivery orders nearby.

View earnings for a particular ride or a specified time period.

Request management. The courier should be allowed to accept the delivery order, refuse it, change the status, and so on.

GPS integration focused on tracking orders and finding an address on a map.

Chat: without it, the list of features of laundry delivery apps will be incomplete.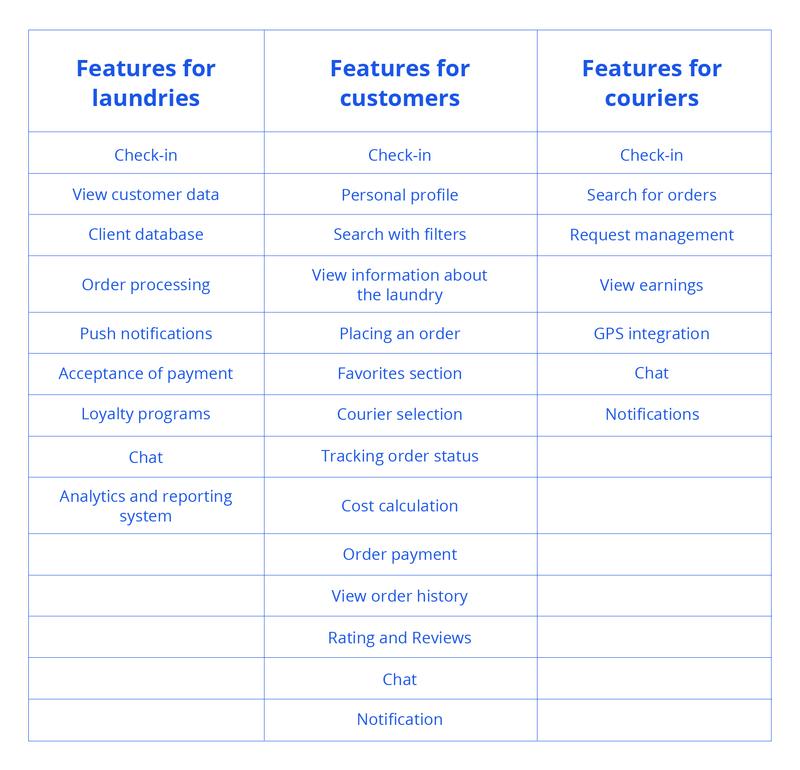 How to Make an On-demand App for Online Laundry Service
First of all, make sure you have a combination of several key conditions:
Understanding that offline options are limited. If dry cleaning owners are satisfied with the old-fashioned way of doing business, you'll find it difficult to persuade them to register with your application.

Useful contacts. Let's say businessmen are ready to use digital technologies but do they want to cooperate with you? Start by making useful connections and helpful financial tie-ups, and only then move on to the next steps.

Development budget. Yes, the laundry app development costs can be quite high so don't think you would get by without a proper budget.

An experienced development team capable of bringing your project to life.

Marketing plan. Without the right promotion, even the coolest app, of any type, is doomed to fail.
Now let's discuss the stages of the development process itself:
Market analysis. In other words, as we've explained above, you have to figure out if your local laundry service market needs an on-demand application.

Drawing up a preliminary plan. The plan should be based on the received analysis data and your financial capabilities.

Finding high-skilled developers. And bear in mind, the task is more difficult than it might seem at first glance.

Finalization of the initial plan. The team you've hired must tell you how realistic your ideas are and help you correct them, if necessary. In addition, you should discuss the optimal development approach.

UI/UX. We perceive the world with our eyes, so interface design plays a significant role.

On-demand laundry service mobile app development, which is the most laborious and time-consuming part of the work.

Publishing and Marketing. The application is ready to start its life in the market.
What is the perfect

on-demand app for online laundry service?
Quick start: the app should be easy to install;

User-friendly UI/UX, namely, a simple and intuitive interface;

Cloud data storage, which gives access to the user from any device;

Integration with popular third-party services (such as payment solutions);

High protection of customer data (no extra explanation required!);

The possibility to contact the support team, which will help solve the problem related to the operation of the application.
The

Cost to Develop an On-demand Laundry Mobile App

We've explained to you how to make an on-demand app for online laundry service, but we're unable to name the exact amount you need to have to start such a project. We can only explain what affects the formation of the development budget.

Let's see… 
Platform(s). It all depends on your financial capabilities:

you can build an on-demand app for laundry service, which works on all types of platforms. The option is more expensive but certainly better;

you may limit yourself to just one OS if you know which devices your customers prefer (iOS or Android, to be more precise). This will save your budget;

the last option is a cross-platform application, which has both pros and cons (it is worse than a native app but better than a program focused on a single platform).

Development approach. Also, the cost to develop an app like Cleanly or, say, FlyCleaners is influenced by the development method chosen by you:

creating an application from scratch. You'll get a product, which fully meets your requirements (but such an option is rather costly);

the use of ready-made solutions. The option is more affordable financially, but it limits you in functionality;

"out of the box" solution, roughly speaking. Scaling and customization options are close to zero.

Project level. You may start by developing an MVP model, which includes only the most basic features of laundry delivery apps. In this way, you'll get the opportunity not only to save money at the start but also to test your product on end-users. 

Developers' rate. Well, of course, the rate of the team you hire affects the cost of the project either. The rate, in turn, depends on the reputation of the company, its experience, prestige, and even location.
Okay, we've figured out the cost to develop an on-demand laundry mobile app... but what about your competitors?
The

Best Laundry Apps

As you already know, there are relatively few on-demand laundry mobile applications, and each one can make you serious competition. That's why you had better study what they offer and draw up a competent development strategy on this basis.

Cleanly, FlyCleaners, Tide Cleaners are applications, which are very popular in their niche, therefore they're your strong competitors. They allow ordering laundry services online and get clean clothes effortlessly.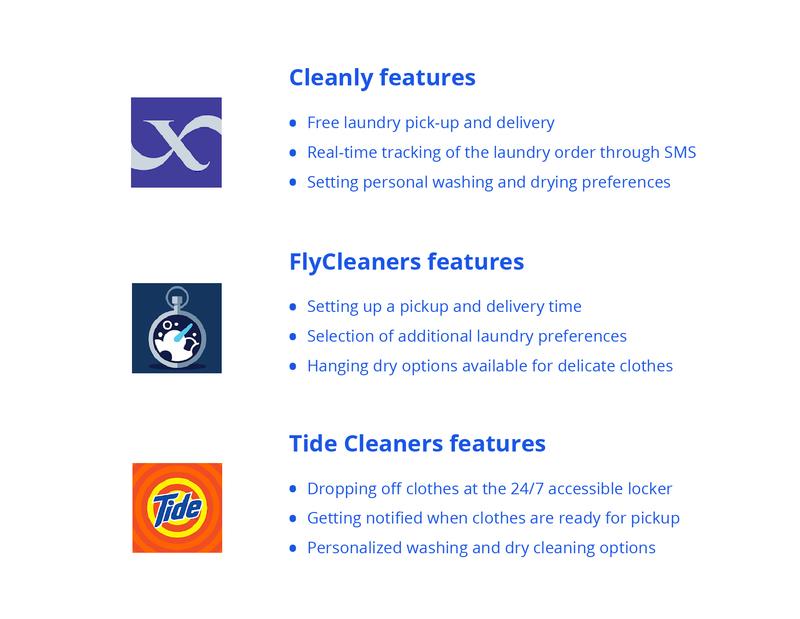 Let's explore the benefits of online laundry service, which these three apps have in common:
Ease of use. These apps are easy to learn and use; what's more, they don't force users to make extra taps to order the desired service.

Personalization. Application owners strive to meet the needs of their customers. Therefore, the user can clarify his wishes regarding the cleaning of his clothes.

Convenient time frames. The user is allowed to specify the delivery time he prefers most.

Tracking the order and receiving notifications when its status changes.

Safety. And the most important thing is the ability to stay at home, safe.
Summary
We hope we've convinced you that the laundry app development costs are worth it. With the thought-out approach to the project, you'll get an excellent platform, and it'll become the source of your profit.
Rate this article
16 ratings, average 4.81 of out 5