How To Create An On-Demand Medicine Delivery Service Like Capsule or CVS
The world is actively digitalizing and going online. Video meetings, webinars, remote employee management, online shopping are becoming an everyday reality and no longer surprise us. What's more, drug delivery is nearly as popular as grocery delivery.
But why is that?
First, remote ordering of medicines is convenient. Nowadays, no one wants to stand in a long queue at the pharmacy to find out the drug he needs isn't available (in the end, he can get all the data via the medicine delivery app in just a couple of seconds). Secondly, medicines are a prime necessity and may be required by each of us (alas, no one is immune from diseases).
So if your pharmacy business only works offline, you are losing a big deal of money. And if you want to add a decent percentage of the possible income to your earnings, you have to amend the situation. In other words, it's the best moment to develop a medicine delivery app and website. Online pharmacy sales keep growing (as the statistics show), which means your expenses will soon pay off.
We guess we should delve into the issue to prove our point.
What is a Pharmacy App

?

We've already explained to you why these apps are so popular. In short, they are easy to use, available anytime, anywhere, and provide access to new opportunities.

How about purchasing drugs from the comfort of your home? Or checking the availability of medicines online? Discounts, fast drug delivery, secure payment, and sometimes even the possibility of a remote consultation with a pharmacist are what the user of such on-demand medicine delivery solutions gets. No wonder they are so wanted!

In fact, we get an around-the-clock online pharmacy, which stays in touch with the client 24/7. Even if the drugstore's working hours are over, its virtual version still operates, and the user is welcome to find out the price of a certain medicine, check its availability, place an order, etc. even at midnight.
Medicine delivery app market

statistics

As the latest research data show, the medicine delivery app market has been growing steadily from year to year, and this trend is likely to continue for a long time to come.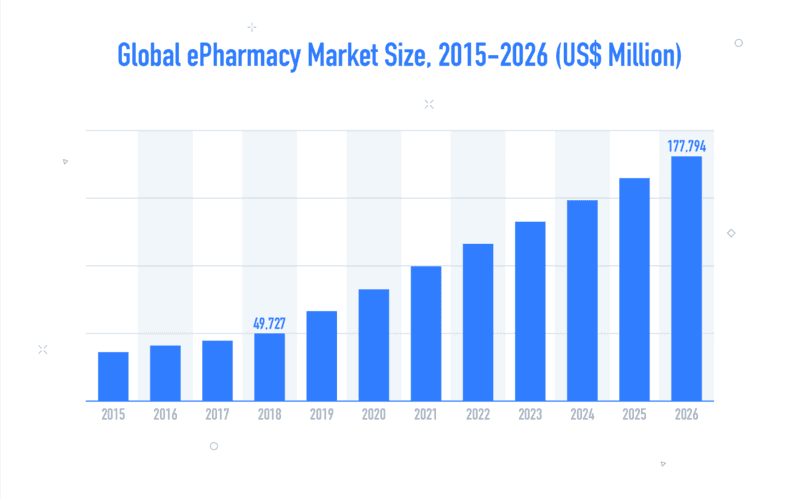 As you can see, the predictions are impressive, right? But there are even more inspiring ones. Thus, according to experts from Statista, the market will have reached almost 333 billion US dollars by the 25th year of the 21st century.
ePharmacy Market growth drivers
Logical development of high-tech. The world is still developing, and this process cannot be stopped! And why should it? 

Pandemic. Perhaps it was the coronavirus that initiated the active development of telemedicine, mHealth technologies, and so on. Among other things, on-demand medicine delivery software has become especially popular.

Comfort and simplification. We want to live comfortably and in pleasure, and we're used to simplifying and automating everything we can. Say, why should you do the routine work yourself, if there are digital algorithms capable of performing the same task even better? And why go shopping somewhere if it is quite possible to order the desired item online? 
Basic

Types of Medical Apps: What Should You Choose?

Before creating an online medicine delivery app solution, you need to choose a suitable business model.

Actually, there are only 2 basic options (types of pharma apps to develop):
Strengthening the pharmacy business. If you are the owner of a pharmacy (or pharmacy chain), you need to create a website and an application to popularize your brand and sell goods through another channel.

The role of the intermediary. If you don't have your own pharmacy, you may establish cooperation with different pharmacies. You become an intermediary between them and drug buyers. So it's about a marketplace where drugs from different pharmacies are being sold.
And now let's discuss the advantages of an on-demand medicine delivery app. The topic is really worth our attention!
Main

Benefits of a Medicine Delivery App
Convenience to the maximum. First of all, application users, whether they are customers or employees of a pharmacy, get the opportunity to make their life easier (at least in one aspect). The fact is, the app offers simplification of many routine processes, including buying medicines and managing a drugstore (depending on who uses the service). It may not be that much, but it matters too, right?

Safety in a pandemic. Remote purchases are not only convenient (of course), they are also safe. Today, many of us are trying to distance ourselves as much as possible, and if there is a chance to buy and sell online, why not?

Better business management. The pharmacy owner can run his on-demand medicine delivery business more comfortably and at the lowest cost. Some of the tasks that people used to perform are now transferred to special software (which doesn't need to be paid a salary!).

Personalization. Digital technologies are able to collect data about users, analyze it and draw up detailed reports. And these reports can form the basis for personalized offers to users. A win-win situation: the customer gets what he needs, and the pharmacy owner increases his sales.  

In touch with the client. Being able to timely find out what your customers like and dislike about your pharmacy is an opportunity to avoid a lot of problems in the future. You'll keep the whole thing under the radar and adjust your business strategy so that your service fully meets the expectations of the consumer.

Winning customers. Don't give your customers a chance to forget about you and your pharmacy service. Remind them of yourself from time to time by sending messages about discounts, bonus systems, sales, and so on. Just don't overdo it, stick to the middle ground.

Increasing brand recognition. Another reason to contact the medical delivery app development company is the desire to get a mobile service with a personalized interface design, which matches the corporate style of the whole pharmacy chain. So in addition to improving business processes, you're working on brand recognition.

Digital promotion. Use the created mobile platform as a marketing tool. Access to analytics, initiation of advertising campaigns, communication with the user, and other features will allow you to effectively promote your business.

Implementation of technological innovations. Technology is emerging every year, and you can embed it in your application to make your business stronger. Speaking of what exists today, we should mention Big Data, user geolocation tracking, AI elements, etc. 

Improved competitiveness. There are a lot of players on the pharmacy delivery market now, and you'll have no choice but to compete with them. And digitalization is a great way to do so more successfully.

Monetization. If you don't have your own drugstore and you're just an intermediary, you're hardly interested in increasing the competitiveness of the pharmacy chain. But you can monetize your service and make a profit (read on to learn more).
Best

Features of Medicine Delivery Apps

Your application is going to be used by different parties to the process: a buyer, a pharmacy store manager, a delivery courier. And everyone should get access to a special functionality set.

But instead of detailing the features one by one (the meaning of some of them is rather obvious without explanation), we'll just describe each set separately and specify basic aspects of app operation (including user flow). This way, you'll be able to grasp the key idea.
Customer's App Features
We'd like to start with the customer-focused features of medicine delivery mobile apps.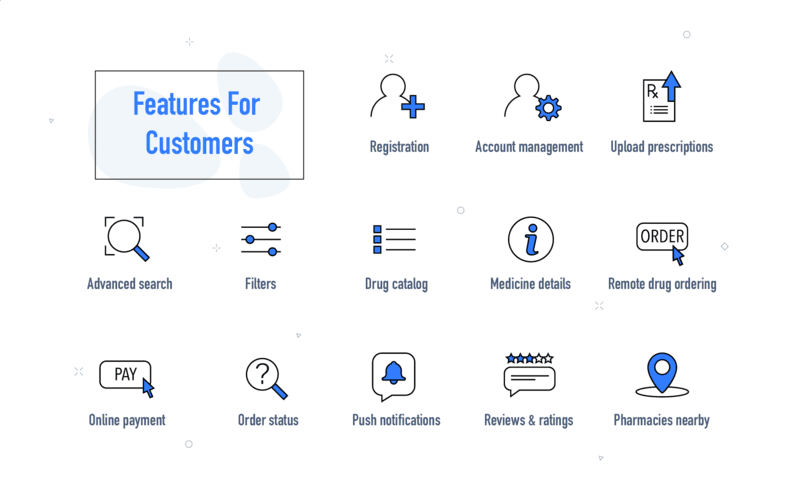 In this case, we're talking about a potential buyer: a person who is interested in purchasing drugs with or without a prescription. And your task is to facilitate the process of his buying medicines, to make it as convenient (even comfortable) as possible.
Okay, what does such a user expect to get?
Optional registration. We usually say that the signup step is a must-have, but this isn't the case with on-demand medicine delivery applications. Let registration be optional. That is, the user can, if desired, register and create his own manageable account, but he's also allowed to buy the medicine online without it.

Detailed catalog. Of course, a potential buyer expects to have access to an expanded range of medicines and an easy-to-use search engine to help him find the desired drug. 

Remote purchases. Let's say the user has found what he wanted. What's next? Now offer him several simple options:

booking the selected product; placing it on hold, so to say (in order to be able to pick it up at one of the pharmacies);

home delivery order;

delivery of goods to the chosen pick-up point.

Up-to-date information. Naturally, some users aren't fond of notifications informing them about promotions, discounts, replenishment of the range of drugs, and so on... however, there are many people who would be happy to receive timely information of the sort. The notification feature would help them plan the budget properly (and save it too!).

Prescription management. Not all medicines are freely available, some can only be bought with a prescription. That's why the best medicine delivery apps provide customers with the possibility to upload an image of the prescription and use it to purchase required drugs.

Access to reviews. Many of us make a purchase only after we read the reviews for the selected product. And drugs as a commodity are the same story. So adding Reviews & Ratings is a smart idea.

Pharmacy location map. It'll also be useful to create a map of pharmacies so that the user is able to find the closest one (or build a route to the pharmacy of his choice).
Thus, the user registers in the application if he feels like it, searches for the medicine he needs (or the nearest pharmacy to buy one), makes an order, or continues searching. It's up to him! Your task is to make sure he achieves his goal whatever it might be.
Drug Store App Features
Also, when developing on-demand medicine delivery solutions, you need to create a set of features focused on the pharmacy itself (or rather on the people who run it).
These users expect to gain access to such capabilities as illustrated above. Here are some examples:
integrated order management. We're talking about receiving notifications on a new order placed, the ability to change its status (accepted, packed, sent), tracking the parcel, etc.;

payments. It is also important to add a feature of accepting and managing payments. After all, many consumers will be happy to pay for the order online (although provide users with the option to pay upon receipt too);

other features. Actually, everything depends on the specific mobile service and the requirements of the pharmacy management. Above, we've proposed several interesting drugstore-focused features, and they would allow you to get a decent result.
To make a long story short, all these features are aimed at improving the quality of services provided and increasing the efficiency of your on-demand medicine delivery business.
Courier's App Features
If you plan to cooperate (or have already been cooperating) with one or another courier service to deliver the goods ordered online to the buyer, you need to offer a special set of features (for a delivery guy, so to say).
As you can see, in this case, everything is simple, even elementary. The courier receives a notification about the new order, accepts it in execution, delivers the package to the buyer... and that's all!
Admin Features
Don't confuse the admin set of features with those geared towards pharmacy employees.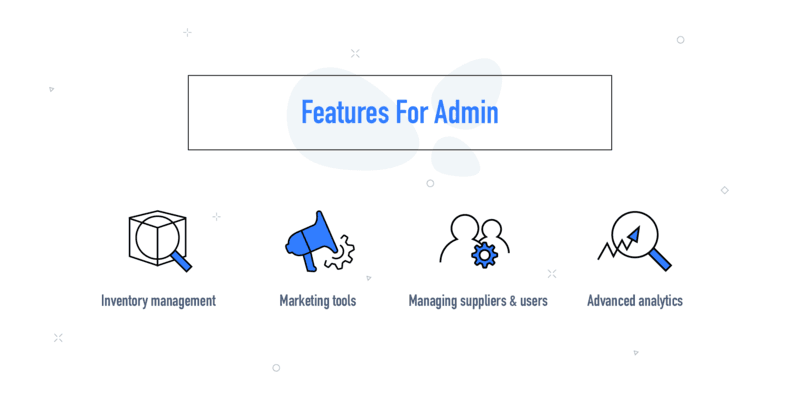 Admin features are helping to manage the application itself (not the pharmacy!). It's very important to understand in order to create a medicine delivery app properly.
Extra Features
Now let's talk about features that are optional but desirable to ensure the success of the application. You can add them later when your mobile service starts generating profit. And why not make some of them payment-based (or available only to registered users)?
So, what features will make your on-demand medicine delivery software unique, special, not like competing apps (better than them)?
Favorites. Suppose a user has found the drug he was looking for, but he's not ready to buy it yet. Give him the option to add the item found to Favorites, he'll deal with it later.

In-app scanner. Above, we talked about the importance of prescription management. Improve the feature by adding the ability to scan a prescription with a camera and thereby upload it to the application.

Product information with barcode. The user brings the barcode on the medicine package to the smartphone camera and receives all the information about the product: price, instructions, presence in pharmacies, etc.

Electronic Health Record support. It'll be great if you can develop an online medicine delivery app, which supports user EHR. The information stored in such records will be delivered to medical institutions (and returned back updated). Of course, the feature won't increase drug sales, but it'll make your service attractive to consumers, which means they'll use it on a regular basis.

Loyalty program, or, pure and simple, a digital analog of a plastic card for accumulating bonuses and receiving discounts. All the data you need is stored in your smartphone, at your fingertips. Plus, it's pretty eco-friendly.

Search for medicines on the map. Earlier we mentioned a map locating pharmacies, but this feature works in a slightly different way. Its purpose is to help you find out which nearest drugstore has the medicine you need.

Expert Advice. Imagine how popular your on-demand medicine delivery application will be if the user can resort to it to ask some questions to medical experts. Of course, you'll have to partner with these experts, which also costs money.

Medical reminders. In the case of health care and medicine delivery services, it is mostly about reminding the user to take the medicine, renew the prescription, and so on.

Labs nearby. In addition to the pharmacy map, offer the user a map with the localization of testing labs. For each, he can get detailed information just by clicking on the icon (or tapping it).

Multi-support. If your dream to rank your service as one of the successful online pharmacy delivery apps comes true, you'll have to make sure your software supports a lot of languages and currencies.

AI & Chatbot support. Implementing elements of artificial intelligence means making your service learnable, capable of evolving (you've heard of machine learning, haven't you?). 

A great example of AI elements is chatbots able to communicate with users and answer their questions (the more complex a chatbot, the more difficult the question it can answer).
How to

Develop a Medicine Delivery App?

First, we'd like to list the main steps of the development process; then we'll explain to you what you should pay attention to and what challenges you may encounter.
Initial analysis. You should never start a project (of any kind!) without accumulating all the information. You must know in advance the possible pitfalls, market expectations, and the needs of the target audience. So start with market research and data analysis. Pay attention to competitors (what are their strengths and weaknesses?), your future users (what do they want from your mobile service?), technological advances, and so on. Analyze the problems that may arise during development and figure out how to solve them (if necessary).  

Primary concept. Of course, it's too early to create a complete concept of your medicine delivery application, you still have too little data to work with (despite the analysis). So, draw up a rough action plan, pick up a list of features (why not use our tips above?), choose a business model. So far, these are just your ideas, and they'll be finalized and corrected more than once.

Search for developers. Now is the time to find a company to partner with. And make sure these potential partners have relevant experience (like us, as we at Agilie have successful on-demand medicine delivery app development projects).

Prototyping. Your pre-built concept is now turned into a working prototype. You discuss your ideas and wishes with the hired team, make the necessary improvements (on the advice of experts), and create a prototype to see (at least, on general lines) the final design and functionality of the application. If the prototype is interactive, it'll give you an even better understanding of how the future digital product is going to work.

UI/UX. A prototype is hardly a real app design. Therefore, at the next stage, you need to work out in detail the UI/UX of your mobile service. We wish we could say designers are welcome to show their imagination to the fullest and create something cool and original... However, this is the very case when we have to deal with certain limitations (which we write about below when discussing a few development challenges). 

MVP. If you're on a tight budget, start small and create a medicine delivery app with basic functionality (it is the so-called MVP model). Believe us, MVP is enough at first. Subsequently, you'll be able to update your product and add extra features.

Functional testing. We don't mean testing the correct, smooth, and uninterrupted operation of your application (QA engineers should have already done this kind of work when creating the MVP). Now your task is to test your finished software (albeit in its stripped-down version with a limited number of features) on end-users. Have you considered everything? Do you need to improve something?

Marketing plan. Before launching your program to the medicine delivery app market, take the time to plan your marketing activities. Think over a promotion strategy. How are you going to advertise your product? How will you make it popular?

Publication. And finally, the long-awaited moment has come! Your application appears in App Store and Google Play. You are ready to welcome your first users.

Keep working. Surely, your story is just beginning, you have to work on your project further. Analyze user behavior, identify necessary changes, and update the product.
Of course, these are basic steps. The medical delivery app development company you hired will tell you at greater length what needs to be done in your particular case.
Supported platforms
As you certainly know, application users are divided into those who choose Apple products and those who love the Android platform. This means you need your software to work on both iOS and Android devices.
What options do you have?
the creation of two native applications (iOS and Android): the process is longer, more expensive... but the result is usually better.

creating one application, which works on both types of devices. Sometimes such an approach is more reasonable because it requires less money and takes less development time.
Medicine delivery app development

: what tech stack is used?

Of course, we're only talking about the technologies with which our team is used to working. We consider them the most suitable for the digitalization of on-demand delivery services.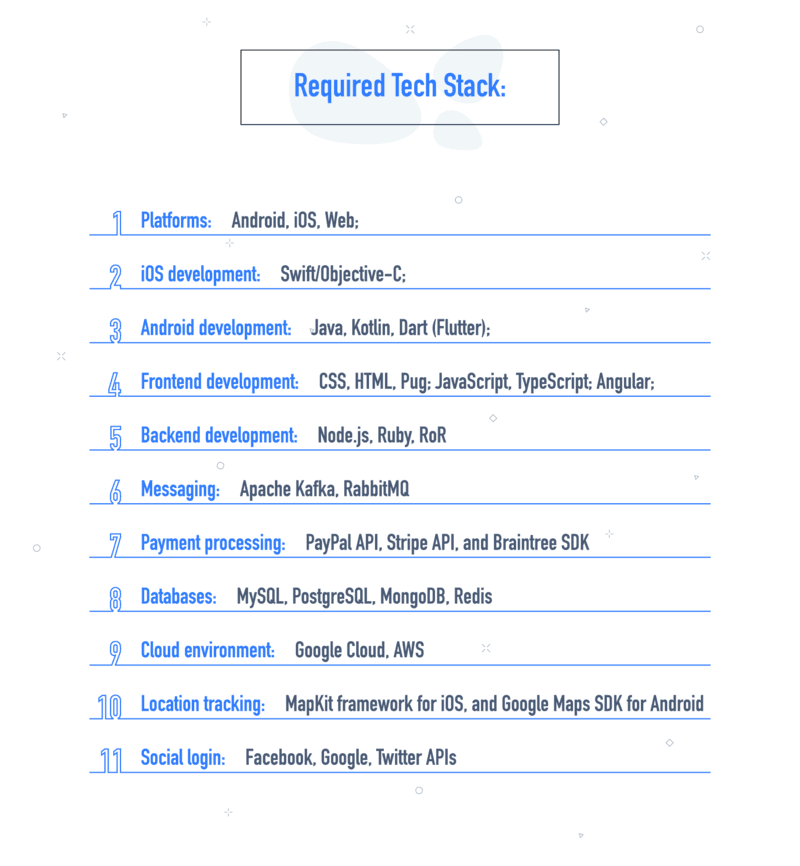 Challenges related to medical mobile app development
We've already mentioned the existence of challenges healthcare developers have to face. Now it's time to bring you up to date.
No creativity
By the end of the 20th century (in the 96th year), a special law was passed in the United States to protect the personal information of a medical type. The law is called HIPAA (Health Insurance Portability and Accountability Act), and it, among other things, describes how the process of healthcare development should proceed.
It makes no sense to list all the requirements (there are too many of them, so click on the link if you're interested), let's just say the HIPAA law doesn't leave much to the imagination. You have to follow certain rules in design, technology use, and so on.
Highest security
Another HIPAA requirement, which we decided to discuss under a separate item, is improved user data protection. Of course, information security is always important, but in the case of mobile and online medicine apps, it becomes US law. So the responsibility of IT developers increases significantly.
Dealing with FDA
HIPAA is by no means the only challenge created by official structures. There is also the FDA that you've definitely heard of. 
FDA monitors the quality of various types of products, including medicines, and therefore affects the pharmacy business as well. And before embarking on your project, you had better figure out how US law allows you to work with medical information.
Fighting conservatism
Many healthcare facilities are very conservative and reluctant to change. And even if you're eager to grow and evolve your pharmacy business, you alone aren't enough. You'll have to partner with some old-fashioned representatives of the healthcare industry, which is a pity... but unavoidable. Make sure you know what you're going to face.
How to Monetize Your

Medicine Delivery Mobile App

Listing the benefits of a medicine delivery app, we focused on the owners of pharmacies and the bonuses their business will get after the introduction of innovative technologies. But what if you're not running your own drugstore, but acting as an intermediary? Of course, your advantage is the chance to monetize the project (however, pharmacy owners can also use some monetization methods to maximize the profitability of their business).

How to make money on your application?
Commission. You sell drugs and get a commission from pharmaceutical companies (so you both earn some money).

Search recommendations. When you enter a query in a Google search engine, the first lines are occupied by recommended (paid) ads. Use the same approach too, a lot of pharmacy business owners would be happy to part with some money to get into the featured products section. 

Advertising. Featured products are one thing, in-app ads are another. And you can combine both monetization methods to benefit from your project in a better way (taking a pattern by the top medicine delivery mobile applications).

Paid placements. This monetization option only suits online marketplace owners (i.e. intermediaries). As such, you can post the goods of suppliers (pharmacies) for free, or you can resort to the paid model. Of course, as a newcomer to the pharmacy delivery market, you'll find it difficult to persuade healthcare companies to pay you money to list their products on your platform, but why not give it a go?

Paid functionality. As we wrote earlier, you're welcome to make some extra features (which don't belong to must-have) paid. So, if you have any ideas on which options are worthy of being premium, go ahead!
The

Cost of Developing a Medicine Delivery App

Let's try to determine the approximate price of your project (very rough, because the exact cost cannot be named without a long analysis).

Ask yourself the following questions (and answer them):
What platforms will your service support? Are you planning native or cross-platform development (when you create just one application and it works with both OS)?

What development approach have you selected? Developing on-demand medicine delivery solutions from scratch or creating an application using ready-made solutions? The 1st option is rather costly, but the result will ideally meet your requirements.

Have you already made a list of the features you want to implement? The more features and the more complex they are, the more expensive the project will be.

And most importantly, have you already chosen the development team? If price matters to you (which is often the case), you should pay attention to IT experts from Eastern Europe. They work to high standards, and their rates are usually in the range of $ 35-55 per hour (compare it with developers from the US and, say, the UK, where rates reach $ 150 per hour and sometimes even $ 250+ per hour).
Summarizing the above, let's conclude: an on-demand medicine delivery app (MVP-type, with minimal functionality), developed with cost savings in mind, would cost approximately $ 15,000 - $ 40,000 (we're talking about Eastern European developers). Of course, such an application might lose in its parameters to more sophisticated analogs, but this is a good start anyway. In the future, you'll be able to expand and perfect your project.
If you want to know the exact price, feel free to contact us. We'll discuss your project in detail.
2

Top Medicine Delivery Mobile Applications

There are a lot of medical applications of all sorts, but we'd like to explore just 2 of them: namely, those that are stated in the title of our article.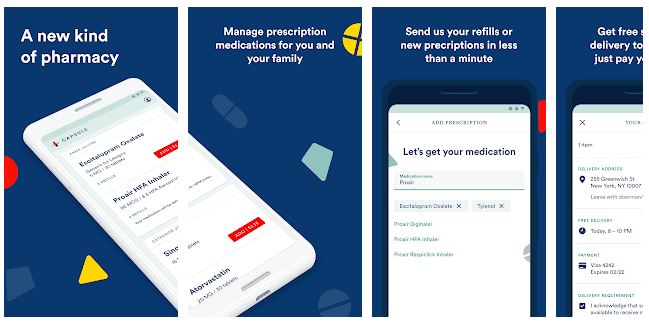 In the first example, we are dealing with a medicine delivery mobile application whose creators don't have their own pharmacy. The project is focused on ordering and home delivery of medicines to US residents. Moreover, medications are ordered by prescription (its electronic version), which comes from a doctor.
Capsule pharmacy delivery app has been on the market since 2016. The period isn't that long, but over the past several years the company has achieved significant success.
Among the benefits of a medicine delivery app in question are the free use of service and the possibility of a remote consultation with a pharmacist. Both options sound cool, right?
Capsule was created by Eric Kinariwala and Sonia Patel. They wanted to make the drug buying process as easy as possible. The user just registers in the application and, when visiting a doctor, indicates the Capsule app instead of his usual pharmacy. The received prescription together with the data on the user's health insurance is loaded into the system automatically. Then it's up to choosing a medicine, ordering it, and waiting for its delivery.
When discussing the types of medical apps, we explained that forward-thinking drugstore executives should have their own websites and applications. And CVS Pharmacy is a prime example of how mobile software improves a company's profitability.
As a drugstore chain, CVS Pharmacy has existed for more than half a century, although its name was originally different.
CVS stands for Convenience, Value, and Service. And the company tries to live up to its motto and does its best to make the customers happy. That's why the CVS Pharmacy website was created, followed by a mobile app. It works according to the traditional scheme and offers users the opportunity to buy any medicine remotely.
Now you understand how to develop an on-demand medicine delivery solution for the pharmacy business (or will it be a marketplace, who knows?). Think over everything you've just learned and determine whether the game is worth the candle in your case.
Rate this article
16 ratings, average 4.81 of out 5