How to Make a Time Management And Productivity Platform
Efficiency is the main guarantee of success in any business (and not only in business). And digital time management tools help us reach the desired and become as effective as possible. That's why such programs are in great demand right now. So, it makes sense to build productivity apps of our own and start making money on them.
Interested? Then feel free to read our article where we tell you everything you need to know in order to create and monetize your time management and productivity platform.
What is a productivity and

time management platform?

Inherently, time management is a real science focused on the competent allocation of hours, which is necessary to achieve a particular goal. And such a goal can be both the fulfillment of professional duties and getting a certain personal result (say, the desire to lose weight is also impossible to implement without proper planning).

And if earlier we had no choice but to resort to paper planners to correctly organize all the processes, now, in the digital era, we're welcome to take advantage of the special software. Of course, we mean time management tools that allow us to work more efficiently on our tasks and correctly prioritize them. 

Let's give a few examples of the most popular programs of the sort so that you can clearly understand what we're talking about.
Best productivity apps
So, which time management platforms are the most on the market today? In the end, if you intend to make a great productivity product, you need to know your main competitors.
We begin our brief competitive analysis with Trello's description. Trello is an easy-to-use task tracker aimed at managing commercial, social, as well as creative projects. Besides, the service is convenient for personal use if you're interested in proper planning, self-monitoring, and structuring information.
Trello belongs to the business and personal productivity apps that have found their original way of interacting with the user. The tracker abandoned the standard and somehow boring solutions and added an element of gamification to the time management process. Key elements of the system include:
Boards: the main visual space in which the lion's share of the work is being performed.

Lists: one of the elements of the board. It is on the boards that cards are located.

Cards. Usually, each card is a separate task.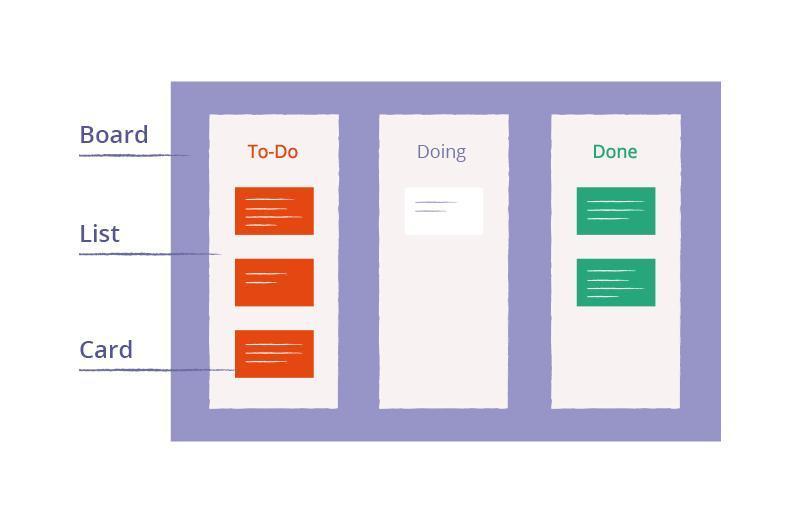 This time management & productivity platform offers both paid and free versions. What's more, there are several paid options, and everyone can find a solution, which suits him the most.
By the way, Trello is being successfully used not only by startups but also by the giants of the National Geographic, Google, and Kickstarter level.
Now we'd like to discuss another example of the best productivity apps, namely, Todoist. The service allows users to plan their affairs correctly and provides the opportunity to resort to any convenient device, such as a smartphone, computer, or tablet (whatever you want!).
Main Todoist features include:
The use of priority color levels;

Breaking down tasks into projects and subprojects;

A convenient way to attach files;

Joint project management;

Adding tags, comments, and the like;

Productivity tracking, presented in the form of a visual graph;

Using templates to simplify project work;

Notifications;

Integration with well-known systems such as Slack, DropBox, and Zapier.
Some features of the productivity app in question, including reminders and adding tasks by email, are available only in the premium version costing $ 3 per month. Although the basic application functionality is, too, quite enough to manage time and projects.
And another particularity of Todoist: the brand has developed specialized solutions for both business purposes and personal use. However, we'll talk about this in more detail a little later.
Asana is a time management platform that is likely to appeal to relatively small teams working on cooperative projects.
What is Asana good for?
Working offline. The next time you connect to the Internet, all current tasks will be immediately synchronized on each device;

Convenient access to the to-do list;

The possibility to quickly add a task or even an idea, so as not to forget it in the working process;

Advanced projects' search;

Free access to the program's functionality, provided that the team size doesn't exceed 15 people.
Of course, Asana also has more familiar features, such as setting deadlines, uploading files, and leaving comments and notes.
Are you ready to compete with the above services and build your productivity app? Then learn the answer to the following question, namely… 
Who is interested in these

productivity tools?

As you probably already understood, such applications are useful to all businesses and businessmen (as well as ordinary people) who want to manage their time more effectively and thereby increase the productivity of their own actions.

First of all, these time trackers and productivity apps would come in handy to… 
Large corporations;

Small businesses;

Startups;

Social projects;

Government agencies;

Various project teams;

Self-employed experts.
However, the target audience can be divided into 2 main groups.
#1. Business

productivity apps

Primarily, such platforms are extremely useful to businesses of various sizes: both small teams and large corporations. And this is understandable because the inability of employees to manage time properly leads to a decrease in the productivity of the entire company, which negatively affects sales schedules.

What do users of business productivity tools expect to get?
The chance to organize a workflow management process in one space;

Full data synchronization on all devices;

Advanced functionality;

The ability to assign tasks to other employees and monitor work performance;

Access to features of productivity apps on any device the team uses;

Enabling several people to work on a joint project;

Improved notification system;

Increased security.
That is, the main goal of such services is to allow business owners to manage their team without stress, safely, efficiently, with the possibility to visualize the productivity of each employee. Sounds great, right?
#2.

Personal productivity apps

Now let's pay attention to the mobile personal productivity market. After all, such applications would come in handy to individual users either: freelancers, self-employed experts, and just people who want to increase the efficiency of their routine duties and ensure that their everyday actions bring maximum results.

What do users of personal productivity tools expect to get?
Easy addition of new tasks;

Possibility to set recurring deadlines for completing tasks;

Management of the added task;

Prioritization of tasks;

Access to the Favorites section;

Smart notification system;

Visualization of personal productivity;

Ability to view completed tasks.
Todoist (the app we've discussed above) takes advantage of this very approach to cover all the users. To be precise, Todoist owners decided to build productivity apps for each target group (business and personal use). You may well follow its lead; it has proven effective. Another option, more affordable, is to select a specific group of users and focus on it. It's up to you to choose the right strategy.
Key

features of productivity apps

We've reached the most interesting point, namely, a description of the functionality of the business and personal productivity tools.
#1. User panel
To begin with, we'll analyze what features a particular user needs, whether he is an employee of a certain company or a man resorting to the program for personal purposes.
Profile
Any app always starts with a user profile, which is quite natural. It's about a personal account containing all the main information about a person: gender, age, profession, work experience, hobbies, social status, and more.
You can offer additional fields to be able to get the maximum data about the user.
Boards
As you remember, we've mentioned boards when describing the best productivity apps, namely, Trello. Of course, you're welcome to name this section in another way or come up with your own special approach to its design. We're just giving an example.
In fact, such a board is nothing more than a workspace allocated for a specific project, group, or company's department, depending on the needs of a particular organization. The user (or company management) is free to create several boards devoted to different topics.
Each board (i.e. each similar section) must include:
Name. The user should be able to name the board (say, Project 1 or the Marketing Group). It'll allow employees to understand exactly what they're working with.

Clear structure. Think over the structure of your board, which is also the main working field. Trello, for instance, offers a convenient system of lists and cards. As to the Jira program, it structures the workspace according to the type of issues (all, open, done, etc.). 

Board style. It'd be useful to provide the opportunity to customize the board style: change the background, choose the type and color of fonts, and so on. By the by, not all time management tools offer such a feature, so you have a chance to get a good competitive advantage.

Team. In other words, give the opportunity to specify the team working on the project.

Privacy settings:

Private boards, available only to selected users.

Command boards, which are similar to private ones with one difference: in this case, access is granted to a separate group of employees (say, a project team).

Public boards. These boards are available to any user.

Tasks' Search. It is advisable to provide a search with the ability to filter by words, deadlines, tags, team members.
Tasks
The next item on the list of features of productivity apps is full-fledged task management (in Trello, they're called cards). 
Each task should have the following characteristics:
Labels. Using special labels (such as colored marks), the user can break down tasks into specific categories. Red marks may be responsible for urgent tasks, yellow ones will correspond to tasks of medium importance, etc.

Status. Of course, the status of the task is also very important. We offer a few simple options:

New task;

In progress;

Completed task;

Ready to be checked;

Postponed task.

Deadline. In project management, the timing is crucial, which means your productivity platform must provide the possibility to set deadlines for each task.

Assigned people. In addition, the manager should be able to appoint people responsible for the performance of a particular task.

Description. Here we're talking about the description of the task: after reading it, an employee of the company must immediately understand what is required of him (what he needs to do).

Added files. Sometimes a task description isn't enough, and therefore it's necessary to introduce the possibility of attaching files to the task, be it a text document, an audio file, or an image.

Comments. The next item in the list of features of productivity apps is the ability to leave comments on the task.

Share. Users would also be grateful for the opportunity to share the task with other employees (which can be helpful in the work process). A good option is to automatically send a link to a task to the email of the selected colleague(s). 

Task management. Well, finally, don't forget about managing the task, namely: creating, copying, archiving, deleting, updating status, moving from group to group (from the list to list), and so on.
Calendar
Do you want to make a great productivity product? Then don't forget to provide a Calendar feature.
Say, pay attention to Trello, which allows enabling a special calendar mode. Thanks to this, the user can see the cards (i.e. tasks) distributed on the calendar grid, and thus analyze his and/or other employees' productivity.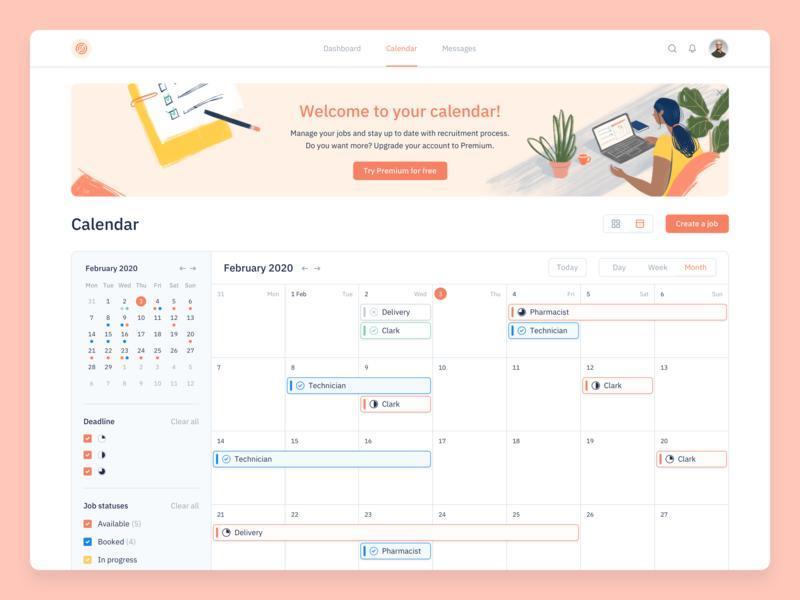 Our designers like to offer cool solutions for productivity platforms, such as the above example.
Time tracker
Naturally, productivity apps cannot do without such a feature as time tracking. That is, each user should be able to log the number of hours he has spent on a particular task on a given day. This will provide an opportunity to track how quickly and efficiently he works.
Notifications
Notifications are also a must-have feature targeted at both business and personal productivity apps. 
These reminders and alerts are needed to notify users of the approaching deadlines, new tasks assigned to them, receiving feedback, and so on.
Notifications can be of several types:
notification on the phone (or PC) screen;

warning email;

SMS notification;

message sent using instant messenger (Viber, Slack, WhatsApp).
Support
The user may encounter a particular problem when interacting with the time management and productivity platform, in which case he'll need help. And a support team would be the perfect solution.
#2. Admin panel
We've discussed features that ordinary employees need. Now it's time to talk about users with a higher level of access - namely, admins.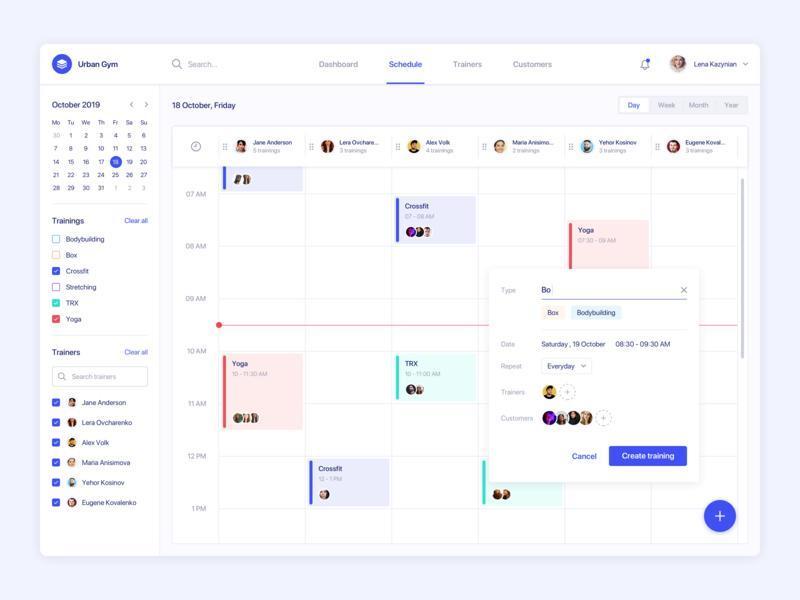 Take a look at the above example of a fitness app-oriented admin panel.
Managing users
Firstly, the admin must be able to manage other users of the productivity platform (not all of them, of course, but only those that belong to a certain group - let's say, they work in the same company).
By user management, we mean the possibility of…  
adding new users;

deleting irrelevant ones;

assigning them a certain level of responsibility (the higher the level, the greater the user's access to the application's functionality).
Managing subscription & payments
In addition to users, the admin has to be able to manage payments and subscriptions. This is a very sensitive issue (like everything related to money transfers), and therefore it's important to consider the security factor.
Access to archive
When describing task-oriented features of productivity apps, we mentioned the possibility of archiving. And admins should have access to these archives and be able to manage them.
Support
Like ordinary users,  admins may face a problem when working with the app, the solution of which would require contacting the support team. So make it possible!
#3. Integrations
To create a truly strong, competitive, successful product, you need to ensure the possibility of its integration with demanded third-party services. It'll facilitate the process of user interaction with your time management platform.
For example, Trello integrates with…  
MailChimp, a popular email marketing service;

Slack, a corporate messenger;

Dropbox, an advanced file hosting system;

Evernote, a kind of electronic notebook;

Google Drive: no explanation is needed, right?

Typeform, a service focused on the creation of appealing online forms;

GitHub, a social network targeted at developers.
And this is only a small part of the list of possible integrations needed to improve your time management and productivity tools.
#4. Multilingual support
If you expect to reach a wide audience of users living in different parts of the world, then your application or site will undoubtedly require a multilingual interface.
If you have a limited budget, though, start by supporting one language and gradually add new options.
#5. Offline mode
Offline mode also increases your chances to rank your web or mobile service among the best productivity apps. After all, access to the Internet isn't always available but your users need to work anyway. Follow Trello's example: the program can store data on a local device, which allows users to view boards even without a network connection.
Monetization of

time management platforms

Why build productivity apps, if not with the intent to monetize them? If you have the same opinion, the next section of our article will be of use to you.
Light & Pro
It's about a freemium model, as well as a subscription. Both approaches are identical in their essence: there is a free (Light) version of the time management platform with limited functionality and a paid (Pro) option with access to all features (moreover, there may be several paid options at different price tariffs).
Trial period
The second method of monetization resembles the previous one with one exception: the user is offered to enjoy the fully functional program for free, but after a certain trial period (usually, it lasts from 1 to 3 months), he should subscribe. Otherwise, he'll have to abandon the further use of the service.
Advertising
The advertising method is less popular in the case of productivity apps, but it has a right to exist anyway. By the by, it might be a good idea to combine monetization using advertising with the freemium model: concretely, the user must pay to get access to the full-fledged, ad-free application.
In-app purchases
Surely, the time management tools have nothing to do with game programs, which can provide their user with a lot of cool purchasing options (such as opening new game levels, buying armor, etc.). However, the situation isn't hopeless, and if you have imagination, you can come up with a few great ideas. The same Trello, which we've already mentioned more than once, offers users a gallery of backgrounds to improve the design of boards, but some of these backgrounds (the best of them) are paid.
Tips on how to differ from competitors
Your application will have to compete with many successful mobile and online productivity tools. How to succeed in such a rivalry?
We'll give you a couple of simple tips:
Ease of use. Your application should be intuitive and user-friendly. This applies to both its functionality and interface.

The generality of the program. The condition is obvious, but we'll mention it anyway - just in case. Keep in mind: time management and productivity apps must work with different operating systems so that the user can choose any device he finds convenient.

Uniqueness. Of course, you cannot create a completely unique product, but a standardized program that resembles its competitive counterparts as a twin has no chance to succeed. So, find your approach to developing personal productivity apps. Let's say, Trello uses the original visualization of tasks and projects, and Asana has found a special way to attract small teams (by offering them favorable price rates).

The solution to real problems. To implement the previous item and make a great productivity product with unique features, you have to understand the needs of the user and be able to solve his real problems. Therefore, start work on your application project by studying the market situation and the requirements of the target audience. In the future, after the app launch, don't stop improving your program and constantly analyze user behavior. The data obtained will help you solve customer problems even more efficiently.

Security. Protecting your users' personal data should be your top priority.

Proper marketing. It's not enough to build a productivity app, you need to be able to correctly promote it and make it popular in the market. Your marketing strategy should include:

the use of social networks (publishing posts about your application on the pages of social networks);

the viral effect, which is based on the word of mouth method (the program should be so interesting or unusual to make users want to spread information about it on their own);

constant contact with the user. Respond to his comments, be active, and stay in touch. People love it.

Interface design. Make sure your platform has a modern, clear, appealing interface. In addition, it must be adaptive, in other words, equally displayed on screens of any resolution.
Here is a good Tasks Animation example.
Rate this article
15 ratings, average 4.80 of out 5