How to Make a Newspaper and Magazine App
If you own a newspaper or magazine, you've probably noticed falling demand for paper publications. People haven't stopped reading, not at all... it's just time to digitalize your project. And today it's not enough to create a website, the market is ruled by full-fledged newspaper and magazine apps. Whatever one may say, the bulk of traffic comes from mobile devices. 
So the most reasonable thing to do is to order a magazine or newspaper app development service. At the end of the day, your job is to make the process of reading articles and browsing the news really comfy. Do your utmost to keep up with the times, okay? 
This is a daunting task, but we're happy to explain the best way to approach it. Let's start with the basics.
Main

Types of Newspaper Applications
Android and iOS applications that belong to the periodical press, be it a magazine or a newspaper;

Aggregators, collecting news content from different websites;

UGC services (namely, services with User-Generated Content).
And although each type of magazine application has its own significance and is attractive to the user in its special way, we're going to focus on the first case in our article.
Why Do You Need to

Build a Magazine App?

So why should you consider news app development? What benefits will you get as a newspaper or magazine owner?
Staying in touch with the reader 24/7

. Any modern newspaper app offers a ton of features to keep in touch with its audience, including push notifications, reaction to comments, online chat, and so on.

Expanding your readership

. Young people rarely read paper books, newspapers, and magazines, they've switched to their digital analogs. So a mobile app is a wonderful opportunity to increase your readership.

Better reader engagement

. By bringing your magazine online and mobile, you engage your readers in an active dialogue; you can communicate with them through comments, feedback forms, online chat, etc.

Timely improvement of product quality

. Better user engagement means, among other things, your awareness of the reader's needs. And you have a chance to remedy the situation in a timely manner if you notice someone's dissatisfaction. Paper magazines won't help you with this (at least at the same level).

Competitive advantage

. Not all of your competitors have managed to build a newspaper mobile app, so you'll be able to join the number of market leaders, which is always good.

Additional monetization.

Later in the article, we'll describe the basic app monetization strategies, and you'll find that almost any mobile application is a great way to get the most out of your magazine or newspaper.

Environmental friendliness

. The application replaces a stack of magazines, which has a positive impact on the environment.

Increased reader loyalty

. As a consequence of all of the above, you increase the loyalty of your audience.
Existing

Top Newspaper and Magazine Apps

Now let's look at your successful competitors:
The New York Times

. There is hardly anyone who has never heard of The New York Times, the American daily paper. It has existed since the mid-19th century: impressive, right? It would seem that a company founded so long ago would be conservative, but its owners understand how important it is to keep up with the times. Wanting to attract a young audience and captivate the reader, they follow the latest trends and put the most relevant ones into practice. Among others, they're active on social networks, have their own website and, of course, an application. Free access to its content is quite limited, but the subscription price is rather affordable. 

HuffPost

has a completely different history and a much shorter one (more precisely, it has existed since the early years of the 21st century). The company is primarily aimed at the Internet audience and offers users an online news publication. Initially, HuffPost targeted the American market, but gradually conquered France, Canada, and other countries. In addition to the website, they decided to build a newspaper application as well, and it's free.
The Washington Post is another American daily founded, like The New York Times, in the 19th century. The Washington Post focuses on breaking news and reporting, which makes the mobile app a must-have. After all, paper publications cannot claim the same speed of information transfer.
Basic

Features for Newspaper/Magazine Apps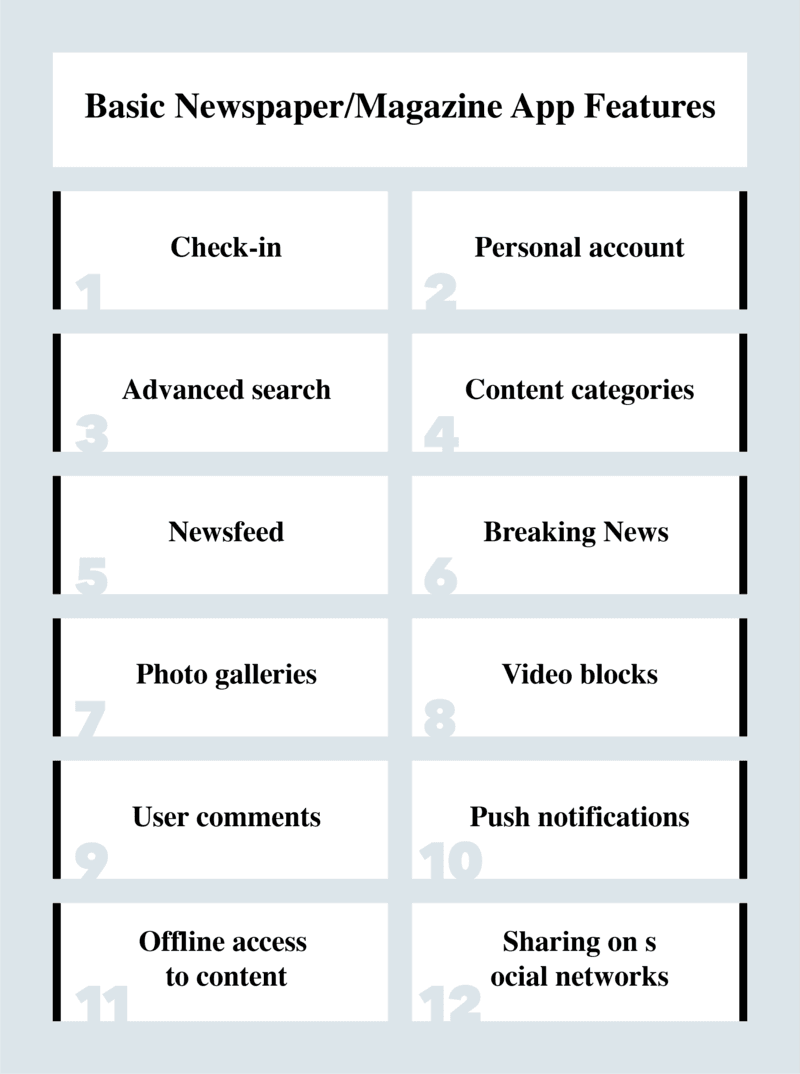 Check-in. Of course, you cannot do without registering a user. Don't complicate this process, let the reader sign in using social networks, he'll be grateful to you for making the whole thing simpler;

Personal account

, which contains all information about the user;

Content categories

. Perhaps the user is interested in a particular section of the newspaper or magazine. Give him the opportunity to easily choose the content category he wants.

Breaking News/Top News

. Be sure to create a special category with the most relevant, breaking news;

Advanced search

. If the categories failed to help the user to determine the section of interest, he should be able to resort to advanced search, improved by the system of filters and sorting;

Newsfeed

. Here we're talking about the general feed of posts and news, shown to the user in order of their novelty, received likes, and other factors.

Sharing on social networks

. Also, features of any modern newspaper app should include the possibility to share your favorite content with friends on social networks;

Photo galleries

. A newspaper and magazine in both paper and mobile versions will benefit greatly if supplemented with vivid visual content;

Video blocks

. It would be ideal to add video blocks too.

User comments

. The feature will increase user engagement by making readers discuss your content and react to it.

Push notifications

. Do you have a new article coming out? Or has your app functionality been updated? Inform the user about this using notifications!

Offline access to content

. If you allow users to read the newspaper via apps even without Internet access, the audience's interest will grow dramatically.
With limited funds, these features are just enough to get you started. But if you're ready for a bigger investment, you can build a newspaper mobile app with more advanced functionality. 
Advanced app features
AI-powered content personalization

. The more accurately you guess the user's preferences, the more personalized content you'll be able to provide to him or her. Therefore, you have to study the behavior of your readers using AI technologies.

Instant translation

. The feature will allow you to cover the markets of different countries (even without adding multilingual support).

Voicing the text

, or text-to-speech transformation.

Improved Statistics & Analytics

. For your application to be successful, you need to continually improve and develop it. Collect reading statistics, analyze user behavior, and make adjustments to your strategy. 

Night & Day modes

. Also offer your users two reading modes, night and day, so that they would enjoy your content with maximum comfort.
Now is the best time to discuss the details of the newspaper and magazine app development process.
How to Develop a Newspaper/ Magazine App

?
Formulation of the

idea for newspaper/magazine mobile app. First, decide on the type of magazine application and your requirements for it. You must understand what you want to get as a result. Later, you'll have a chance to adjust your initial strategy and make the necessary improvements (say, after performing market analysis, which we're going to discuss in more detail right now);

Thorough analysis

. In the second step, we recommend conducting a competent analysis in order to know which product is likely to win users' attention and loyalty (which means a quick return on costs). If you aren't confident in your abilities, recourse to professionals who will perform the research with high quality. But if you plan to do the analysis yourself, keep in mind that it should include the following stages:

research of the modern market. What is it and what are its latest trends?

analysis of consumers and their needs and expectations. If some of your ideas won't be in demand among users, abandon their implementation at the very project start;

study of competitors, their strengths and weaknesses. Your task is to offer a product of no less quality, but devoid of your rivals' drawbacks.

Platform selection

. So, the analysis has been carried out, and the strategy has been adjusted according to the data obtained. What's next? Of course, you have to decide which platforms your application will support: Apple, Android, or both? And if both, you need to choose the preferred development method (native or cross-platform). However, don't rush to answer, your developers will tell you the pros and cons of each approach and advise you on the best solution in your particular case.

Choosing

features for newspaper/magazine apps. By understanding user expectations, knowing the market requirements, and analyzing your competitors, you have all the data you need to make a list of application features (again, this list can be supplemented and changed any time you want);

Finding a development team

. You're unlikely to cope with the development on your own, the best option is to find specialists with the relevant experience and a portfolio of successfully completed projects of the same type. These experts will know how to develop a newspaper/ magazine app able to meet your specific requirements;

Project cost estimation and strategy development

. So far, your strategy is based on your own research, but this isn't enough to make it work. The team you hired should provide additional expert advice, as they are well versed in IT technology. 

Firstly, you should correlate your budget with the project needs and come up with a plan to satisfy all the parties concerned.

Prototyping

. The stage involves the creation of an approximate sketch model of the final product. The prototype shows the app's behavior, so to say. That is, you see the functionality of the future application without coding.

UI/UX

. The next step requires a detailed drawing of each application screen. You get the full design of your mobile service (without the software part).

Magazine/

Newspaper app development. Now developers you hired should turn these drawn application screens into a really working, modern newspaper app. It is this stage that takes maximum time and money.

Testing the project

. Imagine that you released an application to the market without first checking it works smoothly, and users find that it keeps crashing. An unpleasant situation, isn't it? That's why you need to involve professional QA engineers who are good at digital product testing.

Application launch

. Okay, you've managed to create a magazine application and checked it works. Now is the long-awaited launch time!

Project support

. And of course, don't forget that any app resembles a living body and needs constant care. Don't leave it unattended and update its functionality on a regular basis.
How to Monetize a Newspaper Mobile App
Paid application

. The easiest and most obvious way to monetize newspaper and magazine apps is to make access to them paid. But remember, such products are downloaded less often than free ones. And if you decide to follow this path, think over a proper promotion strategy.

Subscription

. Another drawback of the above monetization model is the one-time payment. It's much better to get paid all the time, albeit in small portions, right? If you agree with us, offer the user access to the app functionality on a monthly or quarterly subscription basis.

Freemium model.

It's an alternative to subscriptions: there is a basic set of features, which are enough to make the application perform its key functions at a decent level. If the user wants more, he needs to fork out.

Trial version

. If you want to persuade a user to subscribe to your app, but have no idea of how to achieve such a goal, start with the trial model. Simply put, you offer the consumer free access to the application for a certain period of time (from a month to three), after which he needs to decide whether he wants to remain among the users.

In-app advertising

. If you don't overdo it and choose the right brands to advertise, an in-app ad model would give you a decent profit.

There are different ad models, pay per click, lead, number of impressions, and more. The topic is too complex and worth discussing separately.

In-app purchases

. It's not always easy to come up with a digital product to sell through an app, but if you have a few ideas in mind, feel free to bring them to life.

Sponsors and partners

. The last item on the list of possible app monetization strategies is cooperation with companies, which are ready to promote their products or services through your online newspaper or magazines. This is a more native type of advertising than the one described above because you're promoting your partners in a very unobtrusive way.
If you want to successfully compete with the top newspaper and magazine apps and even join their ranks one day as a market leader, you need to find a way to bring your mobile service closer to the ideal. And we know where you should start.
How to Improve

Newspaper and Magazine Apps?
Well-structured navigation

. The fewer clicks a user has to make to get the desired effect, be it accessing an article or commenting on a post, the more chances you have to turn a casual reader into a regular one.

Multilingual support.

If your magazine or newspaper is being published in different countries, adding multilingual support is your must.

A smarter approach to push notifications

. We discussed push notifications in the section on the features for newspaper/magazine apps. And believe us, notifications are extremely effective... but only if you stick to the golden mean. If you bombard the user with notifications 5 times a day, he'll soon delete your application.

Perfect user experience

. First of all, the user experience depends on the personalization of the content. Make sure your readers can enjoy your articles with comfort and pleasure.

Correct user portrait

. Your task is to build a newspaper application focused on the average reader. There is no point in targeting an idealized user, some kind of "superhero", figuratively speaking. Be honest with yourself.

Application style

. Of course, the app design should match your corporate style, but don't be too formal. Your goal is to keep the reader in high spirits, so don't let users get bored.

Marketing activities

. Finally, don't forget to devote time and effort to a competent professional promotion.
The

Cost of Building a Newspaper/ Magazine App

If you decide to create a magazine application, you are probably interested in knowing the cost of such a project. Alas, we must disappoint you: there is no definitive answer, the price depends on a number of factors, including:
The complexity of the project

. The more complex the project, the more money is required for its implementation.

Development approach.

Are you going to build a magazine app using ready-made solutions or planning to start custom development from scratch? The second option gives the best result but costs more.

Functionality

. And we're talking not only about the number of features to implement but also about their type and nature. Not all of them are easy to develop.

Developers' rate

. A high rate doesn't always mean the same quality, so be guided by the experience of experts and their qualifications. 
Our company offers a flexible pricing policy and guarantees high-quality services. We've been working in the mobile applications market for over 10 years and have completed many projects of various complexity levels.
Rate this article
15 ratings, average 4.80 of out 5