How To Create An App Like Uber/OLA
An increasing number of people prefer to travel around the city in a taxi. And we are also among them: after all, public transport proves a real torment, and maintaining your own car in a proper state is expensive and time-consuming (not to mention the need to constantly look for free parking spots).
Be that as it may, the demand for taxi applications is growing by leaps and bounds. And enterprising businessmen are doing their best to create a high-quality taxi app and get their share of the profits.
Usually, everyone takes lessons from Uber, but it's too popular, almost legendary. What about Ola? This cab booking service is lesser-known but equally cool. What's more, developing an app like Ola is easier, which means you'll have a better chance to succeed.
Wanna details? Here they are!
Uber &

OLA Taxi Booking Apps: Are They Equal?

There are a lot of players in the taxi booking app market today, and one of the undoubted leaders is Uber. It has achieved tremendous success and set an example for other startups (in the end, many has realized that the idea to invest in taxi app development is a smart one). 

However, Uber is hardly the only case of the sort. There are others too, such as Ola. Initially a purely Indian project, the company is confidently moving west and conquering Europe (which is discussed below).

But what do cabs like Ola and Uber give you from a business perspective (or, rather, not the cabs themselves, but applications to order them)? Look at the main benefits startups would get (if they approach the issue properly):
the possibility of simple earnings: all you have to do is to create an application, attract users (drivers and passengers), and start making your profit;

minimum overhead expenses. Of course, the Ola-like app development costs aren't going anywhere (and you'll have to prepare a marketing budget), but when you're done, you can relax. You don't need a fleet of cars or the like, you're just an intermediary between drivers and passengers;

development opportunity. The digital market is growing and evolving, which opens up a lot of cool prospects for your project.
 As far as user benefits are concerned, everything is pretty clear: passengers get a chance to order a taxi with a couple of taps (and round the clock), and drivers receive a digital tool to process orders in a simplified way. 
We've discussed the very basics, now let's talk about taxi mobile application development like Ola: costs, benefits, unique features, and much more. Then we'll look at the same regarding Uber. At the end of the day, you'll have a full picture.
OLA's Story
The cost to build an app like Ola is quite high, so before you proceed with your startup, you should analyze the situation and see if the investment is worth the potential benefits. And we'd like to help you figure it all out by telling your competitor's story.
OLA entered the Indian market more than 10 years ago (in 2010). The original purpose was to solve the problem of poor quality of public transportation (which is typical for many cities in India, at least, it was so in those days). The creators of OLA wanted people to be able to reach their destination with comfort and safety and without hassle. And the development of a digital car booking platform seemed like a smart move.
At first, the company founders had no choice but to be thwacked together in one room, but today everything has changed. OLA services are available in more than one and a half cities in India, but there's more. The company, as we mentioned at the beginning of the article, conquers Western markets: Australians and New Zealanders began taking advantage of OLA in 2018, and the year later residents of the UK joined the number of lucky OLA users too (which is quite an achievement!).
The bottom line is simple: if you want to create the OLA app, don't be afraid to start small. Success is inevitable if you pursue your goal persistently.
BTW!
Today, many cool venture funds have a stake in the company (including Softbank), which proves its prospects and profitability. 
New Markets & Services
Being too smart to stand still, OLA continues to scale and grow in different directions, conquering the associated markets. Among other things, at the very end of 2017, the company became the owner of the Indian delivery service called Foodpanda. A short time later, it acquired the public transport ticket operator Ridlr. In addition, Ola has partnered with Apple Music and a couple of other similar apps (like Sony liv). All of the above is designed to attract more users (and it did attract them, actually).
The bottom line: if you want to return what you've spent (and therefore make the cost to develop a taxi app like Ola a forward-looking investment, not a foolish move), evolve your project constantly, never stop perfecting it.
OLA Inspiring Statistics
As of fall 2019, Ola was valued at over $ 6 billion.

For more than 10 years of its existence, Ola has attracted at least $ 4 billion in investments.

Ola receives over 150,000 taxi orders a day in India alone. Still further, its service covers more than half of the market in this country.

If it were possible to line up all the cars of the OLA drivers in a row, then its length would reach about 2,420 miles.
By that time, you've probably gotten interested in the cost to create an app like Ola, right? We'll talk about it later, though, so keep reading. After all, we still have a lot to share with you.
How does the

Ola app work?

OLA is an incredibly intuitive application, which is its undoubted advantage. And using it is a real piece of cake.

You just indicate where you need to get (your location is determined automatically), add special wishes, and ask the service to find you a car. When it's done, you look at the driver's rating, his car brand, the ride fare, and the estimated time of arrival. Are you satisfied with what you see? Fine! You're welcome to wait for your taxi cab.

When the driver is near your house (or wherever you are now), you'll receive a special notification. As to the payment, it comes in both cash and cashless way. 

And when the trip is successfully completed, you can rate the driver (and remember that he also rates you).

That's the whole process of using OLA. Simple as that.
OLA pros
First mover advantage. Apps and cabs like Ola are hardly unique today, but the market wasn't overcrowded back then (in India, for sure). So Ola became a kind of pioneer, which allowed it to get ahead of its competitors. The company managed to accumulate considerable experience: by solving all sorts of problems, it now provides its users with a high-class service.

Recognition. Ola isn't just another faceless service in the taxi booking app market. On the contrary, it's a real brand with a recognizable corporate identity.

A wide range of related services. As we said earlier, Ola realizes how important it is to constantly develop and evolve. And therefore, the range of its services has expanded in recent years and offers taxi services (including local rides and out-of-town trips), car and bike rental, grocery delivery, and more.

Low maintenance costs. As we've already told you, Ola doesn't have too many post-development expenses (such as the need to maintain a fleet of vehicles). And this is true for your business too. Can you handle the initial Ola app development cost for iOS or/and Android (we'll explain to you which OS to choose a bit later) and start a marketing campaign? If the answer is yes, everything else will fall into place.

Latest technologies. To create a high-quality taxi app, you need to use the most innovative technologies. And Ola does just that, thanks to which the service works at the top-notch level. As a result, the Ola application analyzes the incoming data and predicts the demand in a particular region based on it. 
Do you want your on-demand transportation app like Ola to be even better than the original? Explore the cons of your competitor and find a way to avoid them (or reduce their impact on your reputation).
OLA cons
Internet dependence. Ola doesn't work offline, so any Internet unavailability means there is no way to order a car. The situation can be amended only with the help of a staff of operators, which is costly enough.

No control over drivers. The on-demand model is very easy to use and financially beneficial, but it has its drawbacks. In particular, the owner of an online taxi booking app like OLA is unable to control his drivers, which means they can damage the brand's reputation with unseemly behavior. Ola also faces this problem too and has to deal with its unpleasant consequences from time to time.

Fake orders. Another result of the impossibility to control the drivers is false orders. To be precise, drivers convince passengers to create the so-called "fake rides" (to the benefit of both parties, only Ola's company loses).

Poor support. Ola has many advantages, but support isn't one of them, alas. The company is inactive in responding to user complaints. And that's what you can beat your rival at when developing an app like Ola. Provide full 24/7 support (why not create a chatbot to avoid hiring people?) and both riders and drivers would be more willing to use your service.

User conservatism. Indians are more conservative than Europeans and less adept at using all kinds of mobile apps. They prefer to act the old-fashioned way. However, you're unlikely to have such a problem too (let's hope your target audience loves digital technologies).
Features for Ola App
Ola application consists of three parts, each of which is focused on a specific group of users.
Riders
First of all, Ola is targeting passengers. Take a look at the list of features offered by the service (just above) and see if you can implement something similar to create the OLA app of your own. Your task at this stage is to make the taxi ordering process as simple as possible.
Drivers
Now let's discuss the Ola app for drivers. The program is designed in such a way that taxi drivers can find more orders and fulfill them with greater ease, ultimately making more money. 
Admin Panel
The admin panel is an optional (but desirable!) part of almost any application. Your Ola clone app will work without it too, but less efficiently.
The thing is, the admin is the link between the driver and the passenger. He helps to sort out controversial situations, can ban a user, manages payments and notifications, monitors the number of orders, and performs other similar functions.
And What About Uber?
We said that the cost of a taxi booking app like Ola is high, but believe us, Uber is no better in this regard. However, its success is truly inspiring and indicative, which means the efforts and expenses are justified. 
Anyway, Uber needs no introduction, you clearly know a lot about the company in question, and you probably used its services (and its application) more than once. So we'll just give you the highlights.
Uber seems to have conquered the whole world (literally the whole world, almost without exaggeration). Wherever you look, there is this renowned and beloved resource. Moreover, the concept of the Uber For business model has recently appeared, the essence of which is the provision of various services on user demand. 
By the way, an on-demand transportation app like Ola is, too, a good example of the aforementioned business model.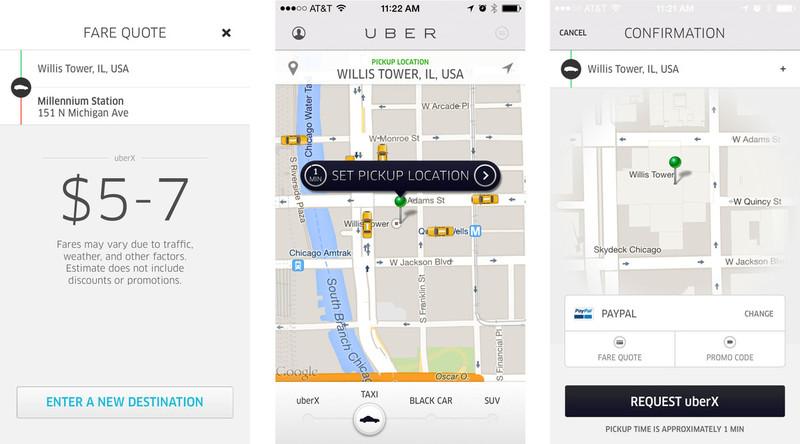 With the Uber app, you can do the following:
If you're a rider: 

automatic determination of your location (it is also possible to mark the desired point of car arrival on the map);

the choice of the type of vehicle you need (say, you want to travel in a high-class car);

connecting a bank card to the taxi booking service to pay online

receiving information about the estimated time of arrival of a taxi;

tracking the movement of a car on a virtual map.

If you're a driver:

automatic creation of a navigation route;

calculation of the distance and cost of the ride;

the ability to manage orders;

receiving payments in a cashless way. 
4 little-known Uber Features
We've done a pretty good job with detailing features for the Ola application, so there is no point in talking so much about Uber functionality as well. Firstly, Ola and Uber are similar, and secondly, we're sure you used your Uber app just the other day and you know everything you need. Thus, we'll limit ourselves to describing 4 cool Uber options, which could have gone unnoticed by you.
Do you want your friends to see you move (or rather the car you ordered does)? Uber knows how to do it. A special feature will allow the people of your choice to monitor the movement of your taxi (for your safety or other reasons you may find important). 

Need to make a few stops on your way home? No problem! You can plan your route as you like and add any number of stops.

Are you traveling in a taxi with a big company and don't know who will pay (considering you'd like to do so cashless)? Divide the taxi fare among all of you with another Uber feature.

Are you a fan of planning everything? Again, Uber will assist you in this. If you want, you can pre-order a taxi even a month ahead of you (cool, isn't it?).
How to Create an App like Ola

/Uber  

We'd like to focus on the OLA taxi booking app creation process... after all, the success of OLA is easier to emulate. But if you're more interested in Uber, keep in mind that the development steps are just the same.
Comprehensive analysis
There is no point in starting any project without initial (and verified) data. And to get this data, you need to conduct a market analysis.
What is meant by market analysis?
Firstly, you have to evaluate market trends in general. Next, see what the modern consumer (your potential user) expects to get. And finally, don't forget to analyze your main competitors. 
With such information (not just made-up, but collected and processed), you can build a plausible concept of your service.
Technological planning
Suppose the analysis has been carried out and the team has been found (the experts who know how to create an app like OLA). Before they start the actual development, they must take some opening steps and clearly outline the goals of your project.
We're talking about technological planning, which includes:
Determining the architecture of the future mobile service, building a diagram of the internal hierarchy of its components. Your development team needs to come up with a working application structure. The task is to make the program work as efficiently as possible.

Thinking over the functionality of your Ola application. It's mostly about drawing a list of features that meet the requirements of your project.

Determination of the maximum project load. You and your hired team should determine the load your application is likely to have to handle. Why is it so important? We'll explain the significance through an example. Imagine that you expect to have no more than a thousand users... and in fact, you get a million! Sounds good, huh? But there's no guarantee your system will be able to withstand such an influx of unplanned users (unless you take appropriate measures at the start of the project).

Selection of development technologies. There are many ways to implement your project and create the application you want. Some of them allow you to get a better-customized result, but also require a more expert approach: accordingly, the development takes longer, which increases the final Ola-like app development cost. Others are based on the use of ready-made solutions and templates (and therefore cheaper, but devoid of uniqueness). Which one to choose depends on your budget and project objectives.  
The logical conclusion of this stage is the creation of an application prototype, which will illustrate how the service must work and what screens it should consist of.
UI/UX
Once the prototype is approved, the IT team starts building the key element of your mobile service, namely UI/UX. The goal is to create an interface (UI) providing the best user experience (UX).
There are a lot of nuances to consider when developing an interface design (in particular, there are certain trends inherent in apps like Ola cab and Uber), and experienced UI/UX specialists have all the necessary knowledge to achieve an excellent result.
Development
An interactive prototype will remain just a moving picture, and a carefully drawn UI/UX design, no matter how perfect it looks, won't come to life until a coding expert is involved in the app creation process.
The development is too complex to describe at length, and you don't need all the details anyway. Let's just say you have to be patient and trust the professionalism of the team you hired. 
By the way, the aforementioned dev complexity is the main reason why the cost to build an app like Ola is usually quite high. As they say, nothing comes easy (and therefore cheap).
Testing & Release
Before publishing your application on Google Play and App Store, make sure it works perfectly. Of course, you yourself won't be able to check its performance, testing is the responsibility of QA engineers (all IT companies must have such a department; ours does have it). They'll run a series of tests to prove your Uber/Ola clone app is bug-free.
Post-launch activities
Do you really believe that completing development means your work on the project is a thing of the past too? We hate to break it to you but the answer is no. A digital product is profitable only if the owner gives it the proper attention on a constant basis: updates its functionality, reacts to user feedback, and so on. Besides, why create the OLA app, to begin with, if you're not up to the challenge?
The development process described by us is just an approximate outline. In fact, IT teams no longer act on the waterfall principle when one stage strictly follows another. Nowadays, the most commonly used approach is an Agile one. In simple terms, a large-scale product is divided into logical parts, which leads to repeatable development cycles (the so-called sprints). This ensures greater flexibility.
What to Consider When

Developing an App like Ola or Uber?

Before we analyze the cost to develop a taxi app like Ola or Uber, we'd like to give you some additional useful advice.
iOS vs Android for Your

Ola Clone App

Which of these systems should you choose for your project? Let's figure it out!
Android development
Android applications are very popular, which is proved by the statistics below.
That is, the company's share in the application market is huge: seven out of ten users have Android devices. And you have to attract them, don't you agree?
iOS development
iOS has a smaller audience for one simple reason: this OS is compatible only with Apple products, while the Android platform is available to all smartphone manufacturers.
And although there are fewer iOS users, they are more solvent. Hence, it may be easier to monetize them. So don't miss a chance to attract these promising customers, okay?
But bear in mind that if you choose to target your on-demand transportation app (like Ola or Uber) to iOS, you'll have to deal with a rather thorough process of moderating the service when publishing it. Apple wants to ensure its applications fully meet all of the requirements set, so it keeps its time checking them.
So what will it be?
Surely, taxi apps like Ola cab have to be available to both Android and Apple users (which is even more true when it comes to Uber). If you can't budget for native development, choose a cross-platform approach: it's easier to implement and less costly. 
Synchronization with other systems
It's not a matter of brand-new startups delivering on-demand transportation services. It mostly concerns long-standing taxi companies with some established business processes.
It covers cases where a certain offline taxi provider wants to increase its profitability using a mobile platform. Such a company clearly needs synchronization with existing online systems, IP-telephony, website (if any).
And you need to pass all these requirements to the development team before starting the project.
MVP approach
If you dream of making money on cabs like Ola and Uber, but your budget is very tight, start with MVP. This is better than nothing and allows you to fit into your price range (and test your idea on end-users at the same time).
BTW!
To develop a mobile taxi app's MVP means to release a mobile service with the most reduced functionality (you'll be able to improve it with new cool features any time you want).
Uber/

Ola App Development Cost for Android/iOS

What about budgeting, in the end? We're pretty sure you won't mind getting some specifics on the matter, right?

Alas, it has a lot to do with your wishes and project requirements. On the one hand, the simpler the taxi application, the less time it takes to create it, and the less you'll pay. On the other hand, if you want to implement all the features for Ola apps, your contractors will have to work harder, longer, and their services are going to show a boost in prices (which is only natural and fair).

And then the developers' rate comes into play. The more money a company asks for an hour of work of its experts, the higher the cost of the project (yes, it's that simple!)

And speaking of rates… Much depends on the reputation of the team, its experience, and even its location. American developers will hardly work at the price rates Indian or Eastern European companies have, and vice versa. Thus, if you cooperate with an IT agency from the United States, the cost of a taxi booking app like Ola/Uber is likely to increase exponentially (see the picture below).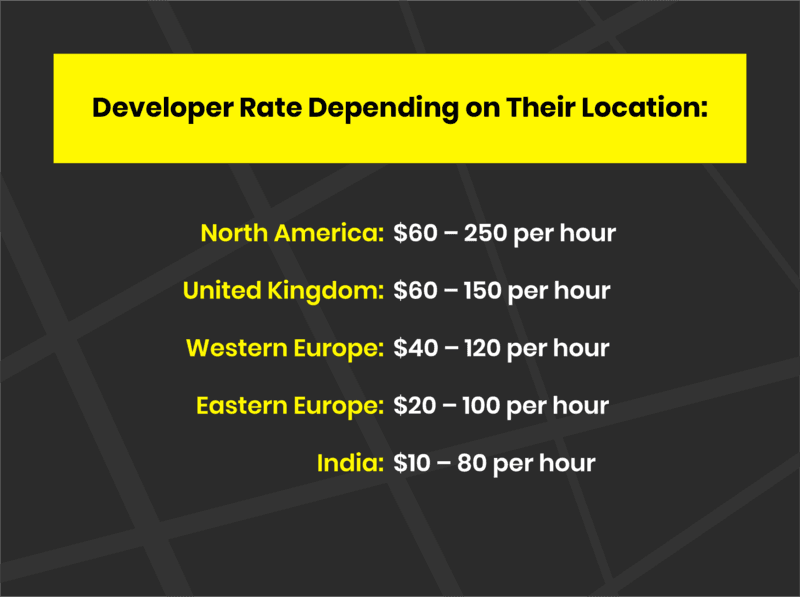 The best ratio of quality and cost of services is offered by Eastern Europe. And it is here that our company is located, by the way, with all its consequences: moderate rate, solid experience, excellent expertise.
To be convinced of our skills and achievements, visit the page providing more information about Agilie, the mobile app design and development company. 
Our Development Experience with

Apps like Ola Cab

We've been on the development market for over 10 years, which in itself is proof of our expertise (if only because our customers are happy with the result of cooperation). Moreover, our portfolio includes the Shark Taxi project, so we do know how to create an app like Ola. Or more to the point, we've already created at least one in practice!

To learn all the details of the project, follow the link. You'll find out what challenges we encountered in the development process and how we overcame them, read what features the Shark Taxi project has, and get a lot of other cool information and insights.

 
Rate this article
17 ratings, average 4.82 of out 5