Local Taxi Booking and Ridesharing Apps vs. Uber: Market Landscape and Opportunities
The market landscape of taxi services changes rapidly. Especially, since Uber came to the stage and turned the market upside down by popularizing the idea of peer-to-peer (p2p) mobile taxi booking and ridesharing.
This variation of sharing economy for taxi services has different names (ridesharing, ride-hailing, carpooling, private taxi services) and shapes (booking of cabs, private cars, personal chauffeurs, buses), but the idea is always the same: instead of traditional taxi services with dispatchers, car fleets and hired drivers, apps like Uber offer the format where passengers deal with drivers using the booking service only as a proxy.
Uber had not just disrupted the market. They had kickstarted the emergence of the new ridesharing marketplaces. And even though the concept of apps like Uber is often questioned and criticized by traditional taxi services, such apps are now taking over local markets across the world. Even in the US, Uber is facing competition presented by Lyft and - until recently - Sidecar, a company that co-pioneered the mobile ridesharing business. 
What does it all mean for app developers, drivers, and taxi services? Let's see how different ridesharing and private taxi services achieved success in their local markets and try to answer this question.
Lyft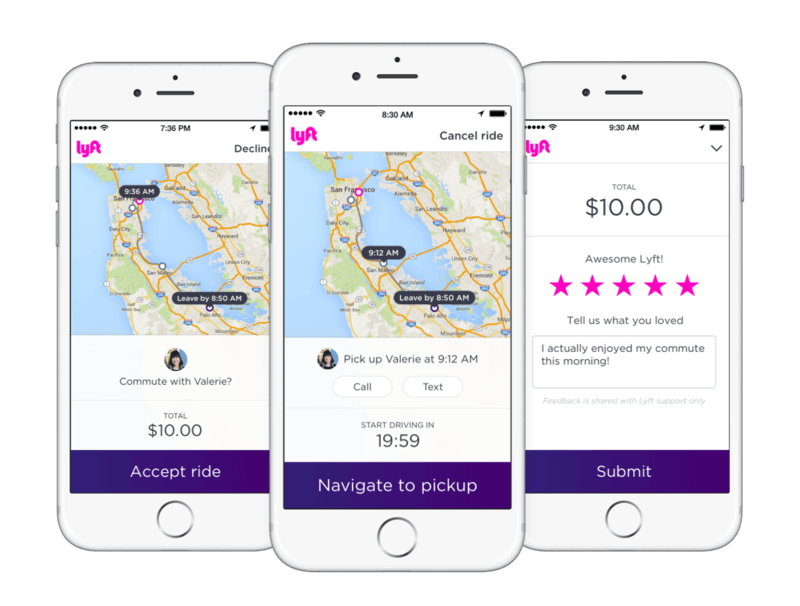 Source: Forbes
Lyft started as a US-only peer-to-peer ridesharing service in 2012 and eventually evolved into a hybrid between p2p rideshare and taxi booking formats. As for 2016, it has increased its market coverage significantly by partnering with other market giants from all over the world: Grab (former GrabTaxi, Southern Asia) and Didi Chuxing (China).
Although Lyft is far from Uber's domination in the US, it has become an honorable (however still a distant) No. 2 on the market, having their own peachy market share and continuing to expand.
myDriver
myDriver is a Berlin-based subsidiary from Sixt, a large European multinational car rental company. myDriver was launched in 2013 as an alternative to conventional mobile taxi and ridesharing services. The company's main idea is to provide quality limousine and chauffeur services for both corporate and private clients with competitive fixed rates.
Today, myDriver extends Sixt's services offering Android and iOS users chauffeur, limousine, and private car services, as well as airport and exhibition transfers. For group business trips the company provides business-class vans and SUVs.
The service is operating in the majority of Europe's large cities and keeps expanding to Japan, South Africa, UAE, and other countries around the world.
Didi Chuxing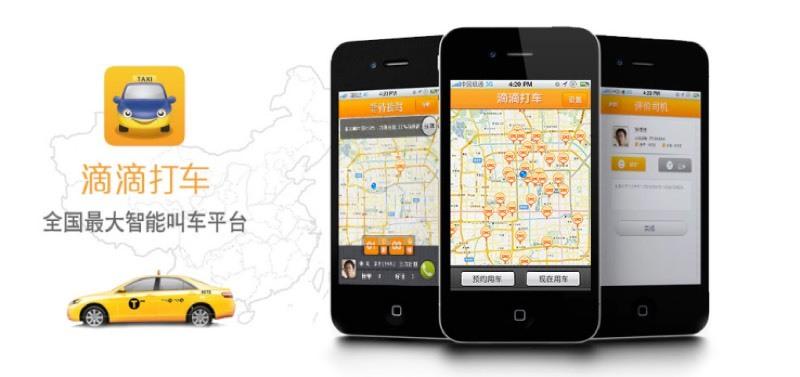 Didi Chuxing (formerly Didi Kuaidi) is China's largest taxi and vehicle booking company that formed after the merger of two rivals, Didi Dache, and Kuaidi Dache. In May 2016, the company got $1 billion of investments from Apple.
Didi has been building international partnerships with Lyft and India's Ola to strengthen the competition with Uber in the US, India, Southeastern Asia and China until in August 2016. That's when Didi and Uber China announced their merger: Uber basically sold its regional subsidiary to Didi Chuxing. Was it a truce? A surrender? That - as well as how this merger will affect China and another big local market - is yet to be seen.
Grab
Source: Tech in Asia
Grab, formerly known as GrabTaxi, is the largest Southeastern Asia's company providing taxi booking, vehicle booking, and ridesharing mobile services operating in 30 cities throughout Singapore, Malaysia, Vietnam, Thailand, Indonesia, and the Philippines.
Grab is operating in Southeastern Asia since 2011 and now, partnering with Didi, Ola, and Lyft, they can expand their reach to more markets.
Ola Cabs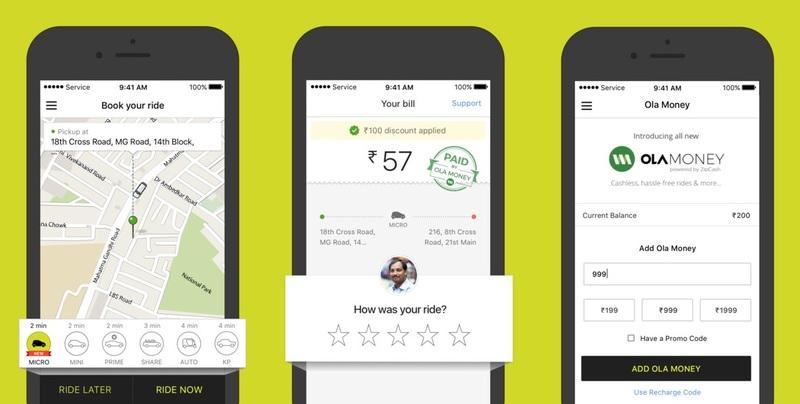 Ola Cabs is the leader in India's taxi booking app market - Uber is only second to it. In 2015, Ola reasserted its domination by acquiring a taxi aggregator TaxiForSure.
After the Uber-Didi merger in China, Ola has reasons to worry about the reignition of their rivalry with Uber in India. It's even possible that this rivalry will end up in another merger. Otherwise, it may become an opportunity for smaller players in India's taxi booking market, who could use this clash of giants to their advantage.
GoCatch and ingogo
GoCatch and ingogo are two small taxi booking apps that emerged on Australia's market as alternatives to Uber X which appeared there earlier. As a selling point, GoCatch uses more affordable pricing and ingogo offer fixed fares to their passengers.
Although the two apps have instantly got their own audience of ride-booking Australians, they couldn't disrupt the local market already occupied by Uber. According to SimilarWeb's research, after some initial growth in Q3 and Q4 2015, both apps saw a decline in active app users over the first two quarters of 2016.
Shark Taxi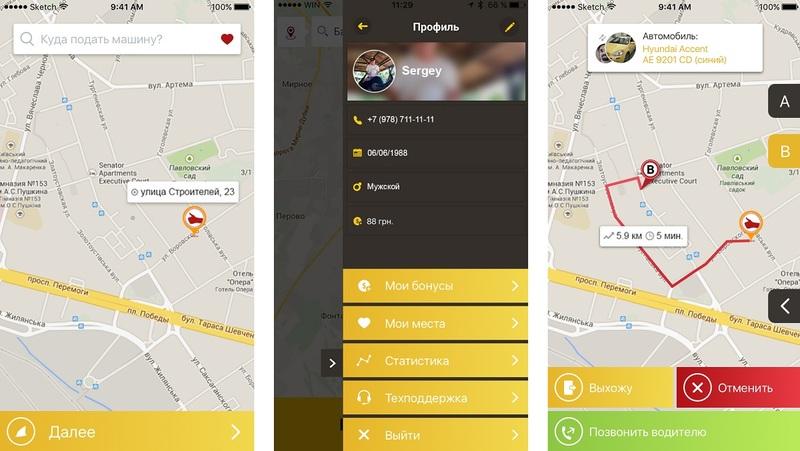 Shark Taxi is a private taxi app for iOS, Android and Web platforms developed and being supported by Agilie. Operating since 2013, Shark Taxi constantly expands its presence on Ukraine's mobile taxi booking/ridesharing market, appearing in more and more cities and metropolitan areas all over the country.
Uber hasn't yet stepped on the markets of most developing countries. In Ukraine, Uber X has been launched just recently - in July 2016, - and it's now operating only in the capital, Kyiv. For Shark Taxi, which has already established itself in other regions, the hype around Uber X's launch became a marketing booster that only increased the number of the app's active users.
Is there still room for new mobile taxi booking and ridesharing apps?
Yes, there is. And the biggest advantage has the local services operating in the territories still uncharted for Uber and other big companies. The success of apps like Uber has raised people's interest in mobile taxi booking and ridesharing services (and even beyond them, as we can judge by the "Uber for X" phenomenon), and those who fit the niche before Uber's arrival have more chances to succeed. Otherwise, they might not be so lucky - as we see from the experience of Australian apps GoCatch and ingogo.
The key to achieving success for taxi booking apps that operate on a local level is applying Uber's experience and its way of doing business, at the same time, making their services more affordable to customers. 
Specifically, they should focus on three key points.
Placing an order. The benefits of mobile don't go down to the possibility to book a car "anywhere, anytime". Mobile technologies allow using a device's GPS capabilities for a faster search for the closest car, the shortest route, and online payment services for paying for a ride in advance. All this helps to eradicate the unnecessary lags in passengers' experience.
Payment processing. The integration of mobile payments has become a must in almost any type of apps. However, for taxi apps - especially for those operating in local markets - it's important to support all popular types of payment processing: online payments, plastic card payments, and the old good cash.
Building trust between passengers and drivers. Uber is notable for its approach to partnering with the trustworthy drivers, as well as for its rating systems that allow both passengers and drivers to learn who will they interact with and what riding history these persons have. This is not the flawless way to build trust between passengers and drivers, but it works nonetheless.
Transportation service companies must act now and adopt mobile app technologies. It's a perfect opportunity for them to partner with the established local mobile services or consider developing their own mobile taxi booking app. On the other hand, entrepreneurs should, too, consider fitting this market before other companies will do that. One way or another, it will lead to the enhancement of the taxi services' quality and the emergence of new successful marketplaces. 
If you're interested in taxi app development, check out our Shark Taxi case study, and contact us for further collaboration.
Rate this article
15 ratings, average 4.80 of out 5