How to Create a Photo-Editing App that will Pay Off for You
Instagram, Facebook, and other social networks are gaining popularity day by day. And their content, as you must know, is mainly based on all sorts of images including selfies. Of course, users want to look as best they can in their pictures, and therefore they need effective tools to edit photos.
Instagram provides its own filters but they are obviously not enough (especially since Instagram isn't the only social network we are interested in). That's when mobile applications for image correction come to the rescue. Such programs are increasingly in demand from year to year, allowing users to enjoy high-quality edited photos, and service owners - to enrich themselves. Interested? Then keep reading!
In our article, we're going to describe the proper way to create a successful photo-correction app - the one which will definitely pay off and bring you maximum profit. You'll find out why the game is worth the candle: in other words, why the cost to develop a photo-editing app is a profitable investment.
The growth of the

photo editing mobile apps

According to statistics, if earlier we focused on celebrities as standards of beauty, nowadays our own edited photos fulfill such a role. And picture editing apps turned out to be a powerful tool for our makeover.

We've already mentioned the popularity of Instagram, which leads to a demand for online mobile photo editor effects. Here is the data in a visualized format: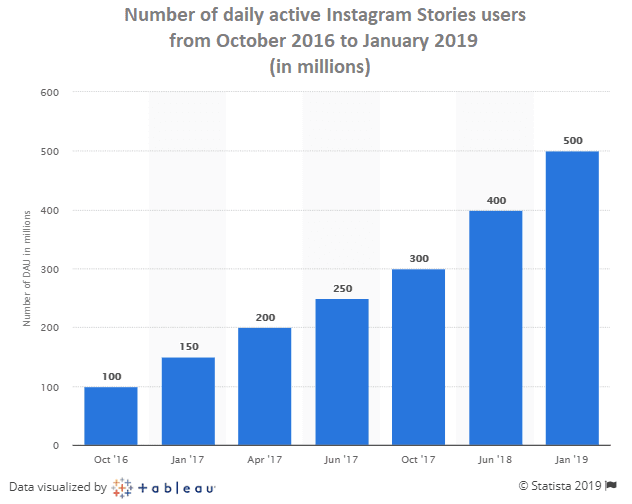 Impressive, right? To further increase the impression, we'd like to add that about 95 million pictures of all kinds are being downloaded to Instagram daily… and most of them require improvements, modifications, corrections of any sort. So you should understand why building a photo editing app is a beneficial idea.
The functioning principle of the photo-editing filters
To create a photo editing mobile app, you should understand its functioning principle. Or rather, the functioning principle of its filters (obviously, they're the key and most effective tools to edit photos).
We won't go into unnecessary details (you don't need them), we restrict ourselves to a general description.
In fact, we're talking about two basic principles:
Pixel processing. The impressive part of working with photo editing is related to color correction. Any image, being saved in a digital format, consists of pixels, and each pixel contains certain data about a specific point in the picture (including information on its color,  saturation, contrast, and so on). And the crucial task in this regard is a thorough change in the color range of the specified pixels.

Layers processing. To give the image a new character, overlaying PNG layers is often used. These layers are the same images representing some kind of gradient or decorative "noise"... anything to create the desired effect.
That's all you have to know about the functioning principle of photo-editing filters.
Variations of

picture editing tools:

Let's imagine what filters and tools photo editing mobile apps can provide in order to correct the picture qualitatively:
Alignment

Changing brightness and contrast

Adding various online mobile photo editor effects (gradient, grain, color attenuation, lightening, etc.)

Playing with sharpness and color temperature

Color saturation

Adding shadows

Blur effect
Of course, this is only part of the possible options to improve the photo. By the way, our Agilie guys created an interesting open-source library - AGImageControls. It allows processing images by using filters, adding titles and descriptions, applying new layers, and performing many other similar effects-related actions.  
A shortlist of

top photo-editing apps

And now let's analyze some of your competitors. This will help you in creating an image editing app and forming a strategy to attract more users.

We've compiled a list of the most prominent photo-editing apps and invite you to carefully read and learn it at length.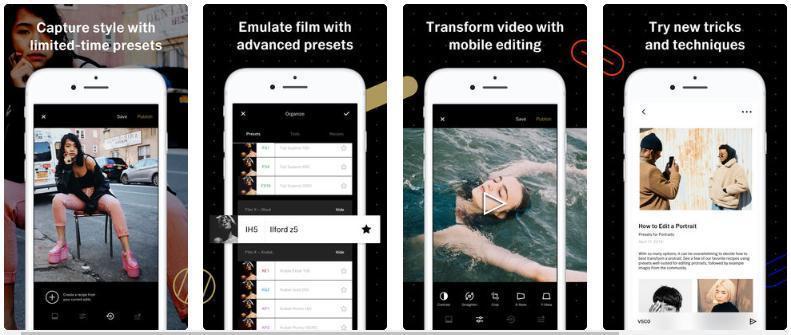 VSCO is one of the top photo editing apps for iPhone and Android. In terms of image processing, the service is something more than Instagram; though, in some aspects, it ranks below Google Snapseed (which we'll discuss below).
The company that created VSCO specializes in image processing tools aimed at programs such as Adobe Camera RAW, Adobe Lightroom, Aperture. Years of experience in this field have a positive effect on the VSCO functionality: the application offers a wide variety of filters and other useful features to create images (and correct them, of course).
VSCO key features making the online photo editor for mobile devices so special include:
More than fifty built-in filters to create stunning photo effects;

The ability to work out in detail each aspect of image correction: changing the exposure, contrast, position, adding sharpness, transparency or color saturation, etc.

Great camera. The program follows the trend of the built-in camera app and previously was even called VSCOcam. And this is not surprising since the number of its camera settings is amazing: ISO, shutter speed, white balance, manual focus adjustment, etc.

Library and Photos Feed. VSCO allows creating your own albums, posting your images on your public page, saving favorite photos of users, and so on. In addition, you can share all this with your friends using such social networks as Instagram.

Discover. VSCO acquaints users with interesting photographers and constantly makes digests of the best pictures of the week. The Discover section is divided into 4 groups: Grid (best shots of photographers), Journal (best photo stories), Feed (tracking photos of favorite photographers), and also search by users, pictures, and photo histories from the Journal.
However, this photo editor software for mobile platforms has its drawbacks too, the main of which is energy consumption: VSCO stores both original and processed images, and therefore consumes a lot of memory. Also, the most beautiful filters are only available in paid mode. However, we'll discuss the issue of paid filters again when talking about the use of monetization to recoup the cost to develop a photo-editing app.
Retrica is a photo editing app for iOS and Android. It allows users to apply a variety of filters to their photos (just like Instagram does). However, unlike Instagram, Retrica will help you process images in real time, so you can see how the picture will look before the photo is taken.
Retrica has a simple interface: everything you need is easily accessible, picture editing tools are literally at hand and can be activated in one tap. Due to such ergonomics, as well as enhanced functionality, the program is indispensable for users who want to get original and beautiful images using their phones.
Some features the photo-editing app in question has:
More than 100 exclusive filters to create unique photos (mainly in vintage style);

Availability of a preview mode;

Timer shooting to create consistent photos;

The possibility to apply filters before and after shooting;

A wide selection of logo designs to mark images taken in the photo editor app;

Creation of collages using a variety of templates;

Selection of a photo effect at random;

Saving images in a separate folder with the ability to view them in the standard gallery.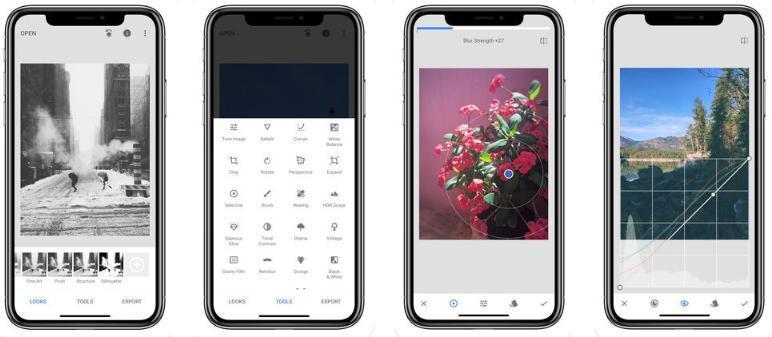 Snapseed is a Google product, it's a full-featured image editing application, one of whose pros is point correction.
The program works on the iPhone/iPad and Android platforms and offers a simple, intuitive interface. Each tool is stored in a separate layer and can be changed or deleted at any time.
This is an analog of VSCO, and it's focused on using the HDR effect. HDR means High Dynamic Range Imaging: it's a technology to work with images and videos, the brightness range of which exceeds the standard ones.
VSCO will especially appeal to Photoshop fans, however, other users can easily grow familiar with the mobile photo editor too. The advantage of SnapSeed over VSCO is that it independently determines the genre of the picture (portrait, landscape, etc.) and prompts the user with possible tools for the job.
The VSCO functional consists of two parts:
Effective tools to edit photos. They allow working with color and light, applying masks, painting with a Dodge & Burn brush, and working with a healing brush (the same patch from Photoshop).

Filters, ready sets, each of which contains a particular effect, texture, and settings. Filters suit users with little knowledge of image correction.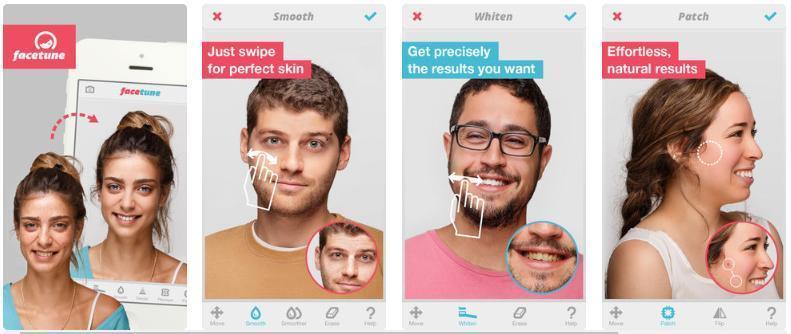 Facetune is the best photo editing app for iOS and Android — at least, in the opinion of many popular bloggers and celebrities who are used to improving their photos with its help. The program differs from other photo correction applications by providing the Liquify filter which allows shifting, moving, expanding, or narrowing of the pixels of an image.
Features of the program help to change the picture beyond recognition: lengthen the legs, narrow the waist, improve the shape of the face. The image itself can be brightened, darkened, smoothed, enhanced by a suitable effect.
In addition to the usual mobile photo editor, Facetune has a built-in Facetune Selfie function which automatically lightens the skin on the face caught in the lens, makes the lips plumper, the eyes - bigger, and the teeth - whiter. Sounds like real magic, right?
Facetune features help users to:
whiten your teeth;

remove skin defects;

lighten dark spots under the eyes;

change eye color;

paint over gray hair;

correct the structure of the face;

add makeup;

and much more.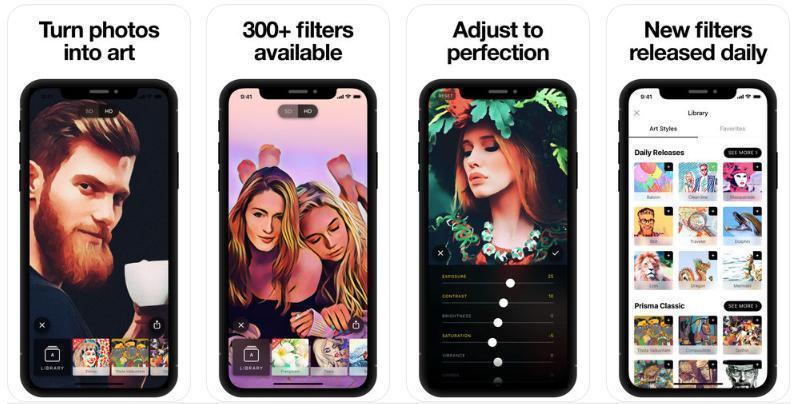 Prisma is one of the cool picture editing apps with an original approach to image correction. Simply put, it combines the technology of neural networks and artificial intelligence. It's able to redraw any image in the style of the classics: Munch, Levitan, Picasso, or Van Gogh.
The program is compatible with iOS and Android platforms and works quickly and clearly: the selected image is uploaded to the cloud and processed using special algorithms; then the final photo is returned to the device. The procedure takes on average 10-15 seconds (which is a great indicator!).
The scheme of work with the mobile application for image correction is extremely simple: choose an existing photo or make a new one, select the desired style, apply an effect, and publish the result on Instagram or another social network (or just save it to your phone).
Prisma features:
A huge number of art styles and special filters for every taste.

Daily updated collection of filters. The feature encourages users to open the program every day, assuring that they'll find there some new interesting effects to improve their photos.

Fine-tuning for maximum image enhancement.
Basic

features of the photo-editing app

And now we're going to discuss the main features to create images with unusual effects.
Creation of account. All applications urge users to register and create a personal account, and photo editing and sharing apps are no exception to the rule. And account creation is followed by filling out the profile with user data... which brings up the next item on the list.

Social networks. Integration of social networks is needed for two aspects:

simplified registration procedure. Eliminate the user from the need to manually enter personal data, all the necessary information is probably stored in his social network account;

the ability to share edited photos on the social network. This is, after all, the main purpose of the user of picture editing apps, right? He wants to make and correct a photo and share it on Instagram (or Facebook, it doesn't matter).

Camera. It's also a good idea to provide your users with the possibility to take pictures directly from the photo correction app (which will require access to the camera of the smartphone). And it wouldn't be superfluous to give them a chance to see how the final image (with the effect imposed) will look like, even before it's been taken.

Uploading photos. In addition to the possibility to take a photo, users should be able to upload images from their photo gallery.

Photo Correction. Obviously, this is another example of features the photo-editing app must have. The correction assumes processing the picture in all possible ways: using filters, effects, layering, etc. in the same way. In fact, it is for this very purpose we've started creating an image editing application.

Settings. Of course, one cannot do without the settings section, in which the user can specify all his preferences related to working with the program: say, where to store the edited photos and so on. Here a user would also find information about the image editing application, settings for displaying data, links to social networks, licenses.

Creating albums. Albums are needed to store edited photos. And don't forget to ensure the opportunity of sharing the album with other users and adding unfinished photo corrections to the cloud in order to continue the process later (on any device convenient to the user).
What else to add to your

photo editor app

We've described the basic features to create images, and they're quite enough to launch the MVP model. However, it might be worth thinking of how else you can enrich your photo correction app.

Read our article to find out how your startup can reduce development costs with an MVP
Here are a couple of nice ideas:
Gamification. All best mobile photo editors turn the image correction process into a kind of exciting game, thus involving users in a closer interaction. By the by, in many similar applications, it is possible to provide a transformed (that is, corrected) picture to participate in the "competition of the day" and receive votes from other users. Such an approach makes photo editing and sharing apps more attractive to the target audience and helps to go one better than other competitive mobile services (and there are quite a few of those, as you've already seen).

Communication. There is no point in converting an image editing application into something like an Instagram network, however, adding a moment of communication between users could come in handy. The opportunity to share impressions with like-minded people would encourage users to take advantage of your program more actively.

Unusual filters. There are a fair number of amazing picture editing apps which became famous for providing unique features. Say, recall the Prisma program that we've mentioned when describing top photo-editing apps. Its creators added the possibility to transform photos into real paintings, thus standing out in the competitive environment.

The ability to create stickers and GIFs. Allow users to show imagination by creating unusual stickers or bright gifs from their own photos. The chance to be creative, as well as other items on our list, strengthen user engagement.

Inspiration. You can also follow the example of VSCO to create a section for the inspiration of users. In this section, a person can admire beautiful photos taken by other users of the mobile photo editor. By the way, VSCO calls it Discover (as you might remember).
How to make money with

photo editing applications

To recoup the cost to create an image editing mobile app, you need, among other things, to know how to earn using the developed program. We're happy to discuss various options to make money with an application.
In-app advertising, a very common and easy way to monetize mobile photo editor apps. All you need to do is find advertisers ready to promote their products using your service. Of course, advertising is sometimes annoying to users, but you can offer them an alternative: a paid premium account without ads. So you kill two birds with one stone.

Paid features which may include special filters, exclusive frames, and other picture editing tools. For instance, VSCO has its own store with various filter collections (with a detailed description of each filter, examples of the use of these online mobile photo editor effects, etc.). Prices for filter packs are different, from $ 1 to $ 3 (and even more).

Paid account. We've already mentioned a paid account in the 1st item of our list. In addition to the lack of advertising, a premium subscription should offer something special: access to interesting filters, unique offers, etc. It all depends on your imagination!
We advise you not to limit yourself to a single way of monetization, but to combine several ones. By acting so, you're likely to most quickly achieve the desired result. In the end, you want to build a photo editing app to make money, which is the main goal (in addition to helping users correct their selfies).
Summary
Now you have all the necessary knowledge on the creation of photo editing mobile apps. You understand how to increase the program's profitability and what features to supplement your service with. And all that's left to do is find the photo-editing mobile app development team.
Why not choose us? We have a lot of experience in developing web and mobile platforms of various levels of complexity so we're much versed in how to create a photo editing app that will definitely pay off.
Rate this article
15 ratings, average 4.80 of out 5