The Ultimate Guide to Educational App Development
They say education is a guarantee of your future professional success. And we don't mean a diploma in itself, we're talking about mastered skills. So, the main thing is to find the best way to obtain the knowledge you need. And educational apps may well become one of them.
On the other hand, these mobile training services can be a source of good income for a farsighted businessman. One just needs to know how to create a learning app and make it profitable.
And we're going to help you hunt down this question.
Learning services

: what is this all about?

So what is it and why is it so popular? Why is the education market full of various tutoring apps?

Let's see!
What is the service of learning

?

Later in the article, we'll describe types of mobile learning services in more detail, and now it's just important to seize the point.

So, educational apps for distance learning are mobile services aimed at helping users of different ages and with different skills master certain academic disciplines.
Benefits of service learning

apps

Education is now in trend. All sorts of good educational apps have taken the first lines in App Store and Google Play, so they're in demand by hundreds of thousands of users. The following infographics are the best proof of our words.
Undoubtedly, educational apps for adults and kids are becoming more popular every day. But why? There are several reasons explaining such a level of demand. And if you're still exploring the possible profitability of a mobile learning service, read the list below very carefully.
Reasons for the popularity of

services with learning opportunities:
Always at hand. Learning apps are especially convenient because a person can use them at any time and anywhere! So, by developing an educational app, you provide users with the opportunity to study subjects they want on a convenient schedule.

Modernity. You must create an educational app if you want to offer a service that perfectly meets the needs of the community. In the end, modern users choose modern ways of solving problems, and mobile apps are just what they really need today.

Efficiency. Undoubtedly, high technologies expand opportunities to obtain knowledge most effectively, qualitatively and with comfort.

Saving. It is about saving time and money on teachers.

Analysis of the effectiveness of training. An educational app for learning provides statistics on achievement dynamics and user level.
Main trends of educational apps
When thinking of own app for learning, you should consider the main trends in education in the mobile area. We offer to pay attention to 5 of them.
The essential role of certifying organizations. It means providers of educational courses and learning services will have to carefully select lecturers and take care of their reputation.

Video content as a must-have in training programs. According to forecasts, by 2019, videos will generate 80% of global Internet traffic. First of all, entertainment content is going to be in demand, but the trend will affect the mobile education market.

Training in a game format. Such an approach works not only with children but also with grown-ups. Educational apps for adults (those created with the game in mind) guarantee a high level of involvement and interaction: emotional perception increases the absorption of information by 9%.

Microtraining. The average person is willing to devote 1% of his time to additional training. So next year the use of short videos, small text or visual materials will be in trend. Keep this in mind when creating educational apps.

Increasing interest in virtual and augmented realities. Now, VR technologies have become more accessible, they're being actively used to study historical events, train medical professionals, etc. Such a method provides complete immersion in the learning process at an emotional level. The use of AR in training looks more realistic. In this case, it's enough to download a suitable educational application, without need in additional accessories such as a helmet or something of the sort. AR has a lot of advantages, like these ones:

visibility: the technology allows you to see the smallest details, bring a certain object closer and create the illusion of interaction with it;

security: you can get into the essence of things without fear of breaking or spoiling something.
Read more about AR in our article.
Types of educational applications
Before thinking of how to make an educational app, you need to find out what types of mobile learning services are most in demand.
#1. Apps aimed at apprenticeship courses
These educational applications usually accompany a certain training course, they supplement it and thereby increase its effectiveness.
That is, there is a real course of tuition on a certain subject, the program of which provides students with the possibility of additional independent learning through a mobile program. So developing an app for education will come in handy.
#2.

Educational apps focused on kids

It'd be very smart (and beneficial) of you to make an educational app focused on children (say, the one which teaches reading, pronunciation, and other useful skills). Such learning services are very popular among parents who aspire to give their daughters and sons all the best.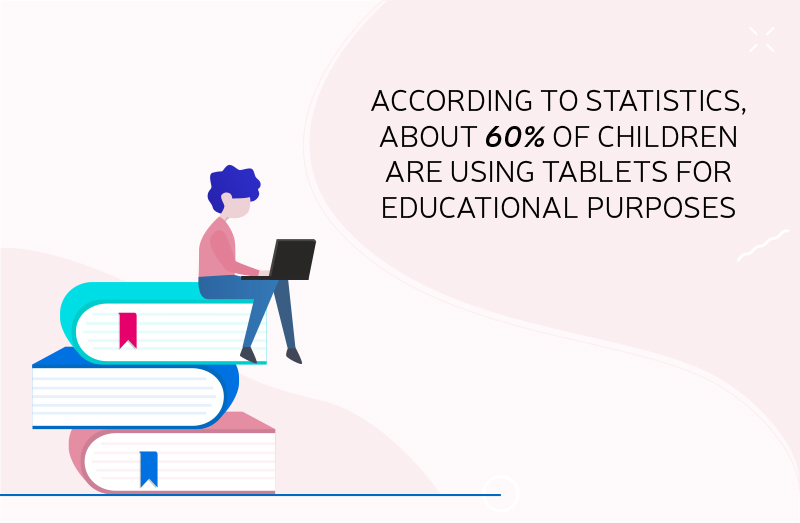 #3. Classroom

education apps

You can also create an educational app for teachers and students of all kinds. These mobile programs are usually being used during lessons within a classroom. Such a type of software serves as a tutorial material which facilitates the whole learning process. And if we talk about the benefits to teachers, educational apps of the sort can help them give instruction in their subjects more effectively.
#4.

The grading learning apps

Among other things, learning app development can be aimed at testing students. A mobile application is a convenient way to evaluate their knowledge and give a proper estimation.
#5. Reference

tutoring apps

The purpose of developing an educational app of this type is to provide users with a comprehensive educational resource, including encyclopedias and dictionaries.
#6. Niche markets apps
Now we're talking about apps for educational purposes of a specific course such as driving lessons, medical programs et alia. The most popular programs in this regard are, of course, learning foreign language apps.
Although besides language learning apps, there are other alternatives: say, mobile services teaching to play the guitar or explaining anatomy (a vivid example is Anatomy 4D), and so on. There are many cool services with great learning ideas!
#7.

An educational app for teachers

Of course, you shouldn't ignore the teachers as well. And in such a case, educational app development must be guided by other criteria, namely, assistance in making up programs of instruction, and improving the effectiveness of the teaching process.
Educational app features
Let's suppose you're determined to make an educational app and have already chosen its type. Now it's time to think about the features of your mobile service.
If you have any doubts, we're ready to help you find out what is most important to consider when creating educational apps.
User profile. Of course, every user of your application must have his own personal profile, where information on him and his success in learning will be kept. We advise you to provide the simplest system of registration (read about it below).

Social networks integration. Today it's impossible to imagine a mobile app without the implementation of such a feature. In fact, it has several tasks, namely - to allow the user to…

register in your own app for learning with a few clicks by integrating all the necessary information from the social network profile;

share his achievements with friends.

Learning material such as:

interactive exercises to test knowledge and consolidate the material;

audio and video materials with explanations of the lessons and exercises.

Categorization of lessons. Make sure your lessons are sorted into different topics: shopping, travel, work, family, etc.

Push Notifications. This is another mandatory feature of the modern mobile app. Push notifications are an unobtrusive way to remind of oneself and increase the user engagement factor. What should you notify about? There are a lot of occasions: prolonged non-use of the application, the opportunity to get a discount, new interesting features, etc…

Feedback. Reviews are sometimes negative and even aggressive, but they are also a great way to improve your application in accordance with the wishes of your users. Do not miss this wonderful opportunity!

Scheduling system. Effective learning involves a systematic approach. Therefore, consider a convenient scheduling system when thinking of how to build an educational app. Break the learning process into a few logical levels and give the user a tool to plan his training.

Search system. The feature will help the user navigate within the application easily and find the information he needs without unnecessary efforts. And the faster the user gets the desired result, the better the chances that he'll keep your educational application.

Interaction with friends. If your app becomes popular, you can turn it into a kind of miniature social network with the ability to add friends, communicate, share successes. Therefore, create an educational app with this factor in mind.

Statistics on the dynamics of learning. We've already spoken about it when discussing the benefits of service learning apps. By the way, you can even think of rewarding especially talented users (say, by providing them with bonuses or the like).
Of course, this is only a short list of educational app features. You can expand and supplement the functionality of your program at your own discretion.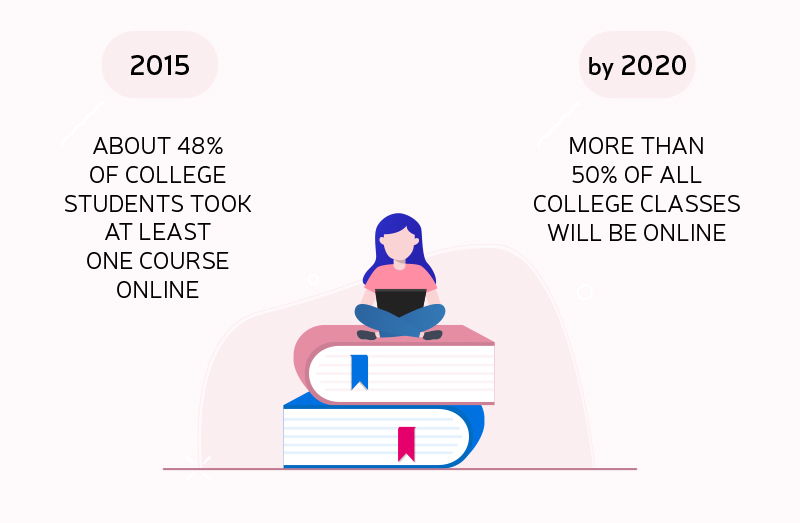 How to build an educational app
We give you a simple scheme which would allow you to build an educational app of high quality; of course, you'll need additional help from outside, and we know what to offer in this regard. However, one step at a time.
#1.

Educational app ideas

It all starts with a bright idea which is undoubtedly half the success. So don't spare the time and energy, try to think up something special and original.
#2. Market research
And now check the originality of your idea. Don't be discouraged if it's not unique, such a result is almost inevitable! In addition, competition indicates the relevance of your future mobile service.
To avoid the possibility of getting lost among competitors, do your best to find a way to stand out among them. What can you offer to catch the user's attention?
#3. Testing

educational app ideas

Test your idea among representatives of your target audience, whether kids, students or teachers. Ask if they are interested in your service. And if so, how do they see it, how should it look like? Use their tips when developing an app for education.
#4. Hiring

educational app developers

This is an important stage which should include the following steps:
prototyping (creating a screen flow)

UI/UX design

development stage

testing

release assistance
We'll discuss the issue in more detail below.
Useful tips on

educational application development

But it isn't enough to know how to build an educational app, you need to know how to improve its profitability.

We'd like to give you some useful tips:
use real teaching methods. Education should be efficient! If you yourself don't understand the pedagogy, don't stint on the expert advice.

game elements. Remember we discussed the main trends of educational apps? It's time to put the knowledge into practice. I.e, learning apps can (and should!) be implemented as exciting games. And if we're talking about educational apps for kids, then this condition is especially necessary!

user-friendly interface. It must be simple, nice, and clear. And again, when it comes to children, the simplicity of design is paramount.

compatibility with different devices. You don't know which platforms (iOS, Android) your users prefer, so you should consider all the possibilities. But how to create educational Android and iOS apps? If you know nothing about coding, you'll need to hire a team which employs all desired experts.

use bright graphics and interesting sounds. At the same time, ensure that the sound effect can be turned off in order to accommodate the needs of all customers.

offer a free version of your mobile learning service to entice users: a trial program or a Light option (with the possibility of acquiring a full Pro service).

lessons should be clear, short, useful and rewarded. If a user has to spend too many hours doing the task, he'll get bored, and boredom is dangerous when it comes to mobile training services. And, of course, don't forget to reward the learner if he (or she) has successfully completed the task. We guess a bright greeting sticker with a cheerful musical accompaniment would make a great reward and please the disciple.

keep an eye on competitors and follow the main trends in education. This rule is quite simple and clear: you should always be among the leaders and know what is in demand right now.

user experience comes first! Among other things, it means thinking of the user's needs... say, some users have devices with very small screen sizes. So, when creating educational apps, you need to ensure that your content is readable on the screens of any resolution.

MVP model. If you have a lean budget, but you still want to make an educational app, start with the MVP model. Later, you'll have the opportunity to improve your mobile service.
What to consider when

developing an educational app?

So, what should you think about if you want to build an educational app? Of course, about finding highly qualified educational app developers! It depends on them how much quality and effective your mobile service will be.

What factors should you pay attention to first of all?
Turnkey solutions. There is no point in hiring several teams to create an educational app. Find a company which offers a full range of desired services.

Work examples. Analyze the team's portfolio. Do they have enough experience in educational app development?

Reasonable prices. Of course, educational application development cannot be cheap, but a high price doesn't always lead to high quality. Find the golden mean!
We offer you our services with certainty that you'll be satisfied with our mutual cooperation, as Agilie team fully meets all the requirements described. To make sure of this, take a look at our portfolio and get acquainted with the experience of our experts. Undoubtedly, such a small study will arouse a desire to join our clients.
And if we've convinced you of the benefits of mobile technology in education, contact us without further delay!