How to Create a Successful App Logo?
The app logo seems to be an insignificant detail, but this is it that catches the user's eye in the first place. So, its creation is a top priority task for anyone who wants the mobile application to gain popularity.
Indeed, it's top priority, for you have to make an app icon, that is, a capacious graphic symbol which users will interact with every time when dealing with your mobile service. In the end, we all understand that a beautiful, recognizable and memorable icon can lead to your application success, while a "lame" one may become the reason for the failure (at least, one of them).
But how to design an app logo able to become really effective? Are there any rules or secrets?
Yes, there are such rules, and we are happy to share them with you. Enjoy our article, for we've illustrated all our tips with bright image examples so that you don't have to guess what we're talking about - you can see it.
Contents:
Before deciding how to make a good app icon, it would be nice to understand what it is, an icon for a mobile application, to begin with.
In fact, it's a small image that represents an application on Google Play and App Store, as well as in the user's device. And this small picture should visualize the essence of your product in the best way - be your brand "face", so to say. That's why it's not enough to create an app logo with a beautiful design - you need it to reflect the nature of your mobile service and emotionally express the idea you'd like to communicate to your customer.
Some mistakenly confuse the application icon with the company logo. Of course, there is something in common, but the difference is significant: in the approach to work, in tools, in the design process and, therefore, in the criteria of success.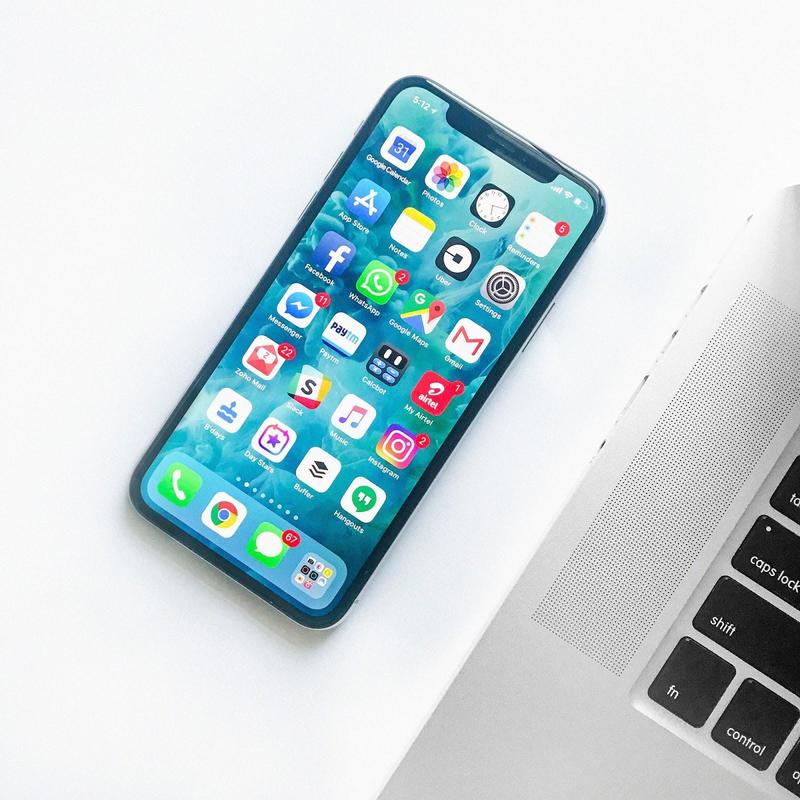 The company logo is a scalable vector branding element that is used on letterheads and billboards. And icons are images of a square shape, which are adjusted to specific sizes and usage contexts: in the App Store and Google Play, in the device settings panel and on the home screen. A hired designer usually develops a whole set of PNG files of different sizes - from small (29x29) to large ones (1024x1024).
You can create app icons in any graphics editor such as Photoshop, Illustrator, and Sketch. But, of course, only a professional designer knows how to make a good app icon that will win the sympathy of users.
AppStore and Google Play have a lot of boring and banal icons. Yours must be different because it is your visual asset and the strongest connection with the user. An app logo is not a makeweight, that is, the last thing to remember about; conversely, it's an important part of the entire application development process.
Therefore, you should think carefully about how to create an icon for the app. Though if you are not convinced yet, we will give a few more reasons…
Why are app logos so important?
Your additional communication channel.

Studies show that people perceive images better than text. And by developing a good and effective logo, you help customers better understand what your application is oriented to. Thus, the icon is a powerful channel of communication with your consumer.

The ability to stand out from the competition

. If you managed to create an app icon that stands out among the competitive counterparts (and for the better!), you can be sure that you've gotten some users on your side. And that's good enough for a start.

A way to strengthen customer loyalty.

Thanks to figuring out how to design an app icon that will broadcast a positive image of your service, you can get a tool to increase the loyalty of users. This is natural: every time a user sees the logo of your service, he experiences positive emotions and associates them with your company. It means you have the asset that constantly works for you.

A marketing tool

. All the above reasons to create an app icon of high level lead to this one, namely, to the fact that you are getting another marketing tool that will help you to successfully promote your mobile service in the application market.
Now let's move on to the next important issue, tthat is
Of course, we cannot, within the compass of this article, teach you how to draw icons on a professional level or how to use Photoshop. However, we can give you some tips that will be useful to anyone who wants to know how to design an app logo.
#1. Analysis of associations
Before you make an app icon for your project, you need to identify keywords that characterize your mobile service and find symbols that are directly related to each of them. In this way, you can choose the right images which will be intuitively understandable for a user.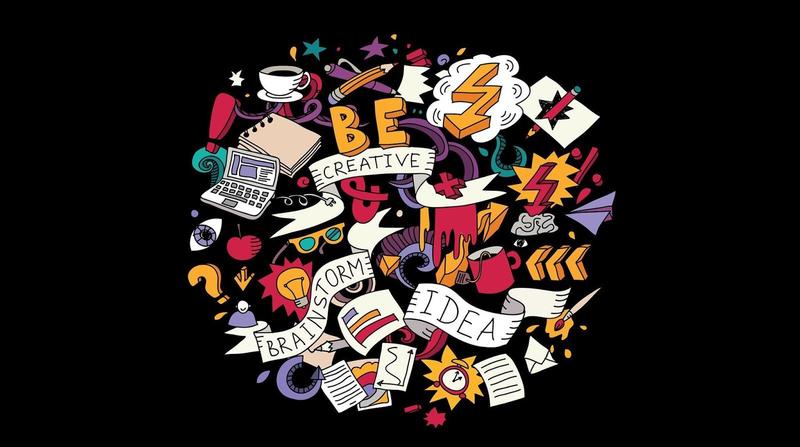 #2. Research of competitors
Your application will closely coexist with other similar ones, and it's important to create the app logo that will stand out among them, attract user attention, intrigue and impress. But to achieve this, you must first understand what the competitive market is offering now.
#3. The main purpose
To figure out how to design an app logo, in which style, you should understand how it will be used and what its functions are. That is, you need to describe in detail why you want to develop your mobile service, what it will give your user, what problems it will solve. All this information will come in handy when a designer starts working on your project.
#4. Learn your audience
The application icon for the local organization, for example, the food delivery service, will differ from the icon for the company that wants to enter the international market. In the latter case, you need to be sure that you're using universal symbols that will be equally perceived by people from different parts of the world and do not offend anyone's feelings.
#5. Determine the priority of the size
There are two approaches to the development of the logo. The first one is to make an app icon in large size with maximum detail and work out smaller versions based on it. The second approach: you should create an app logo of the most commonly used size, and design other size versions by adding or subtracting the details.
Decide for yourself which way to choose, both options are working ones. Or hire a professional designer, and this problem will burden him.
#6. Need a few logos? Create a set!
We suggest that you create app icons at once and in a single style if your project requires more than one of them. Build a whole set with all the logos designed in the same way (color, details, contour thickness...). So you can ensure a harmonious and memorable interface design.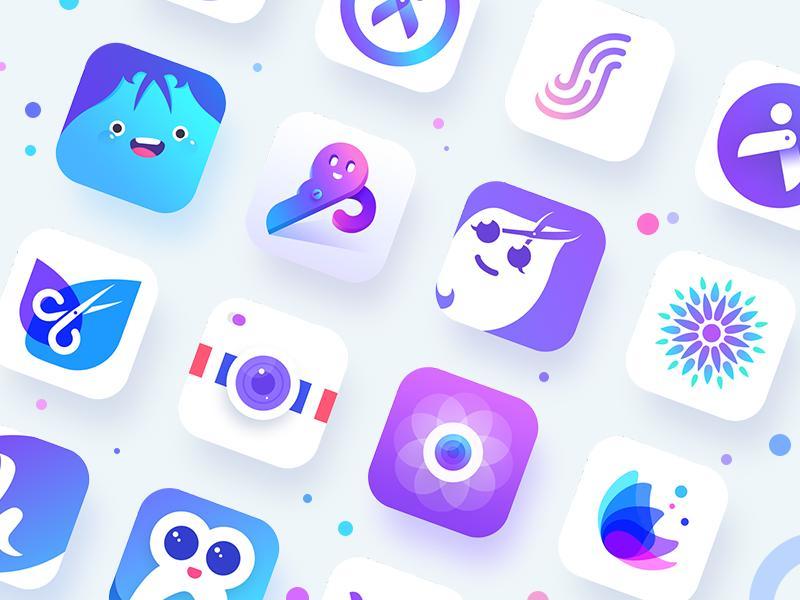 #7. Decide on the platform and follow the guidelines
Logos do not exist by themselves and should fit into the interface. This means that, while remaining unique, they should not look alien alongside the icons of competitive applications. Therefore, the question of how to create an icon for app starts with a study of the system manuals:
Material Design for Android. Here you can read about the style, animation, components, patterns, layouts and usability, as well as download materials to help the designer.

The

iOS Human Interface Guides from Apple are useful if you want to make an app icon for the iPad or iPhone.
If you need to create an app logo for different platforms, you can take one version as a basis and just make the necessary stylistic adjustments for others.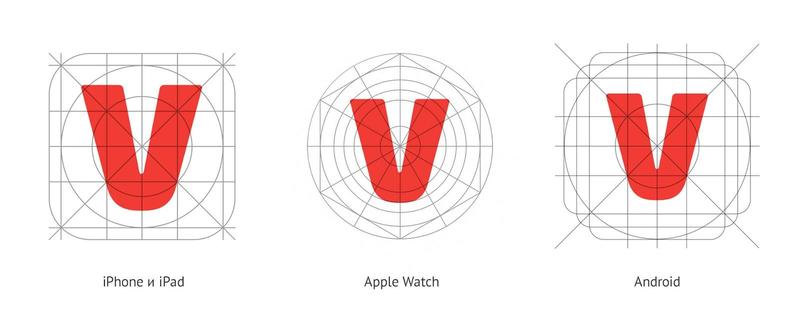 All icons, detailed and simplistic, creative and ordinary, have something in common: they all try to stand out from the competition and attract the attention of the user.
How to achieve this aim? We have prepared a few tips for you…
It would seem that the small size of the icon does not leave room for imagination, but this is far from the case. Among the logos, you can see real masterpieces that boost the desire to install applications.
But how to make an app icon of such a high level? Well, here are a few key points to keep in mind…
#1. Scalability
If you've decided to create an app icon, remember: it will have to work in different conditions and transfer the essence of your service regardless of the size.
The application icon should be scalable, that is, it should look good in different resolutions.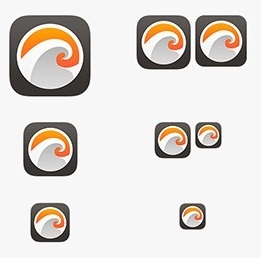 Too complex icons, overloaded with details, usually do not scale well. So the next advice logically follows from this one...
#2. Minimum of details
Sometimes designers who make app icons add a large number of details that do not perform any function, except decorative, adornment one. However, the logo is not a photo, excessive detailing is superfluous. In addition, with a small image size, some parts are simply merging into a shapeless mass.
The icon should be something like a symbol - quite simple and understandable. Minimalism is your best friend.
Focus on just one single object; let it be a unique shape or element that retains its properties when scaled.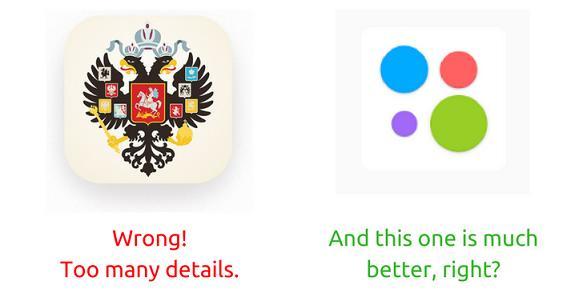 #3. Uniqueness & Recognition
The logo must match the type of your application and (at the same time) be unique without repeating other brands' ideas.
In other words, it is important that your icon be creative, interesting and accurately conveying your intentions. In the end, your logo will fight for the user's attention with thousands of similar symbols of the same size and type...
There is no universal advice on how to design an app logo that will be unique and recognizable. But we can provide some useful tips that will help you in this matter:
Make sure that you do not copy the logo of another company. If you've seen the idea that you liked, do not repeat it "from alpha to omega", try to adapt it to your needs. That is, go the other way, find your own approach to the issue.

Tasteless and overloaded icons can hardly become recognizable, for it's difficult for a human brain to remember so many details, especially unimportant ones. Therefore, reread tip#2 and review our recommendation once again.

Create several different design concepts and then compare them. Note which aspects are drawing your attention and making the logo unique.

Color is a great way to

create app icons in a new way, even if their design looks familiar and typical.

Try to analyze the icons of competitive (and successful) applications and figure out why users like them so much, what is so unique about these logos.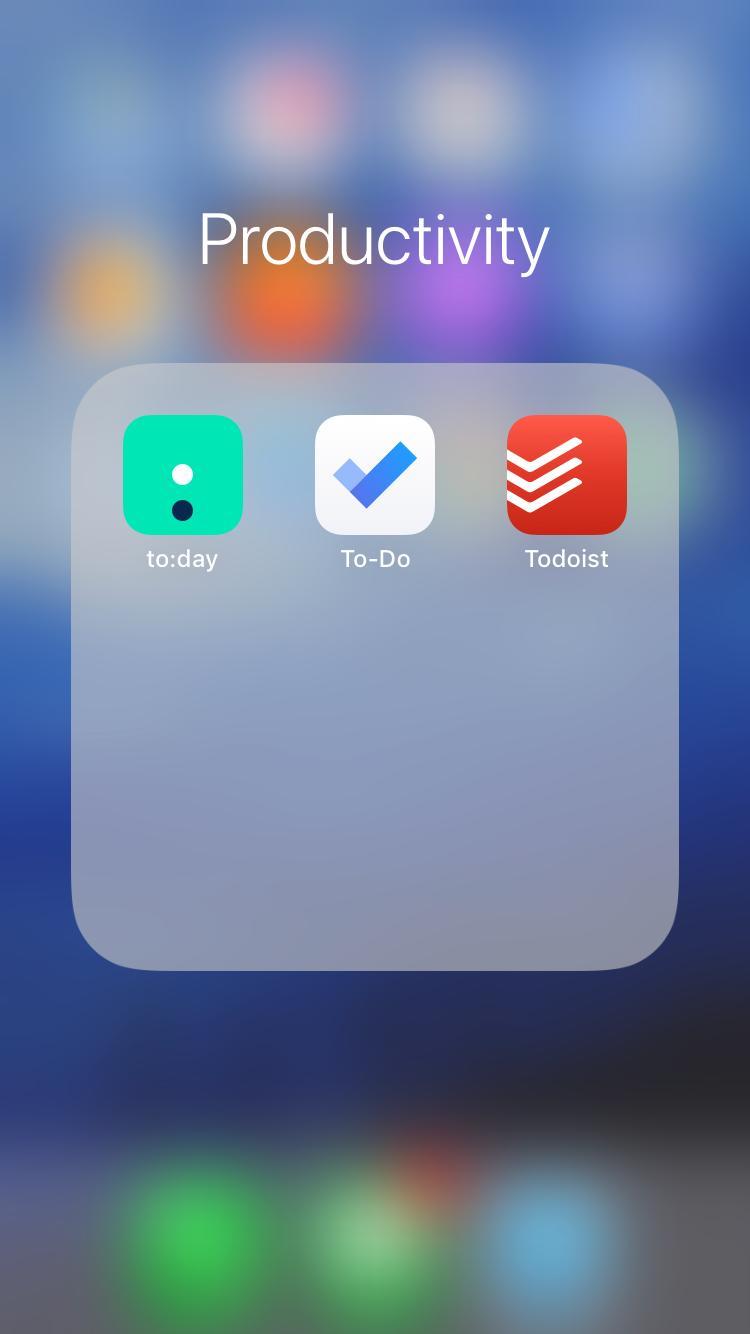 #4. Less talk, more work!
The next important point is the uselessness of words. Believe us, the logo should not include the app name, it will be written in the user interface anyway (as shown in the example below). Better pay more attention to creating a cool graphical concept. Think about how to make a good app icon, how to make it special?
An effective app logo does not require words to communicate with users. Moreover, as the size of the icon decreases, the text becomes unreadable and resembles just a color spot.
Of course, this is not taboo, and in very rare cases you can create an app logo using text as a part of the concept. Mostly, however, when words and images are mixed, the result is overloaded and defocused. The user is more difficult to grasp the idea of such an application.
#5. Color is significant
The right color choice also determines the perception of your logo. Try not to use more than two contrasting colors if you want to make an app icon that'll be effective.
How to choose the color of the logo? To get the answer, you should ask yourself 3 questions:
What color emphasizes the individuality of your brand?

What colors characterize your application?

What color do other applications in your area use? It is advisable to be off the beaten track and choose something different from competitive counterparts.
By the way, Google has set conditional restrictions and even developed sets of combined colors in Material Design. Use them if, of course, you want to understand how to design your app icons that can compete in the application market.
#6. Do not forget about the background
In the application store, the icons are usually displayed on a light background, white or gray. But the desktop wallpaper of the user's device can be any color. So do not forget to check how attractive and noticeable your app logo is being placed on this or that background.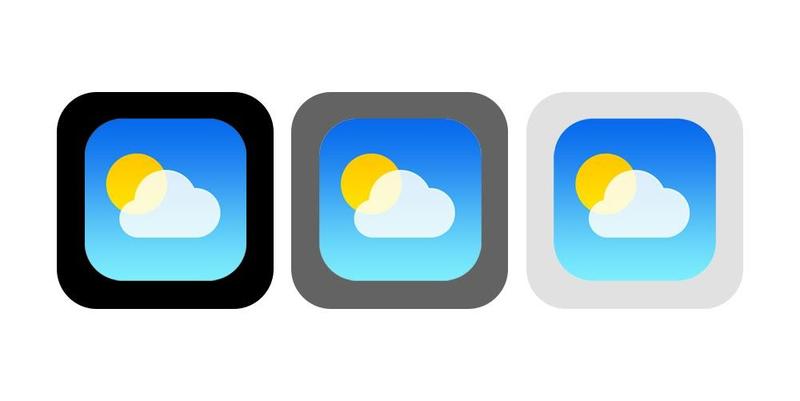 #7. Informativeness
How to make an icon for the app that will be as effective as possible? It's very simple: such a logo visualizes the main function of your service. Thanks to this approach, the user will understand what your product is for, even before he reads its description.
For example, icons for music players use images of instruments or note symbols. For cameras or graphic editors, one can choose the picture of the camera lens. A good choice for a chat application is the symbolic clouds of messages. Do not mislead users, on the contrary, let them easily identify the app content.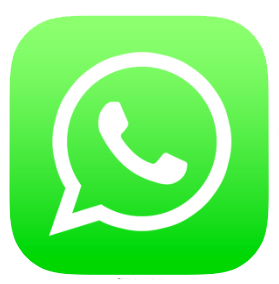 #8. Use the perspective effect
To create an app logo using the perspective effect is a bold step, but it can justify itself by making the icon even more noticeable. Of course, this approach should not violate the general impression.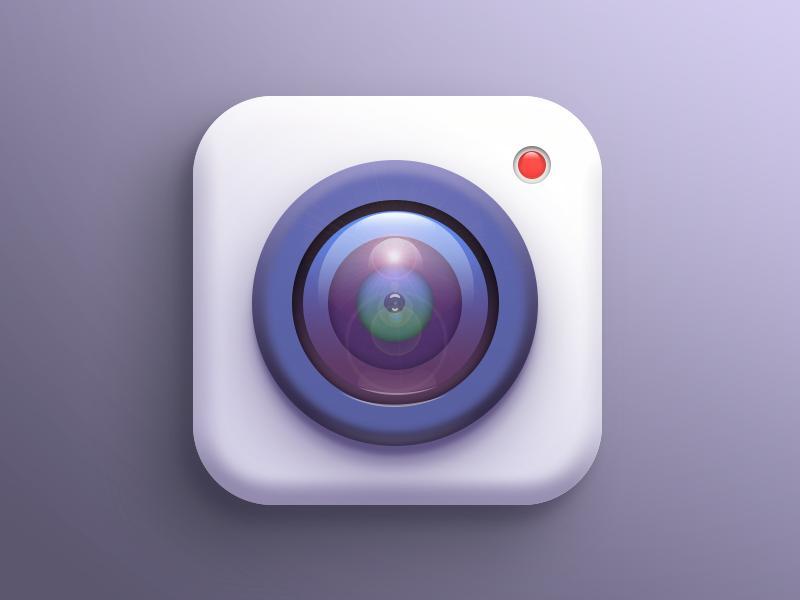 #9. No photos!
If you decided to surprise everyone with colorful photos, then we warn you: your idea is no good. Using photo images to make app icons is completely unacceptable.

#10. Consistency and harmony
This principle logically completes our reasoning on how to make a good app icon. Yes, your logo should be unique, memorable, scalable… but most importantly, it should form a single, holistic image of the application in the minds of users. When the icon is consistent with the interface of the application itself, it visually reinforces the idea of your brand, and also helps to retain existing users and attract new ones.
One way to achieve consistency between the application and its logo is to stick to one color palette. For example, the lilac interface can be supplemented with a lilac icon.
Another way is to recall our tip #8 and make an app icon using symbols related to the functionality of your service.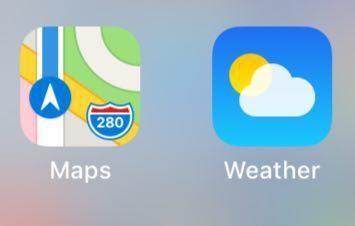 The network provides us with a great many of free services that help create app icons. But this option is not always acceptable if you want to understand how to design an app logo that will really surprise the user (in a good way).
On the other hand, you can take advantage of resources like thenounproject.com where you're free to buy a logo, and quite cheaply. But this option is for those who need to saves, even when it is unreasonable. The correct choice is to hire professionals who know how to make an app icon of any level of complexity.
Of course, do not expect to get the result in a few days after ordering the service. Usually, the process of building a logo for an application is multi-stage, and the timing depends on many factors.
But most importantly, remember: in order to create an app icon you want, you must both give the designer maximum information about the content and target audience of your mobile service and detail your wishes.
How to design an app logo that will look good among others and increase the conversion? First of all, it needs to be subjected to 2 stages of testing:
testing on the audience;

technical testing.
#1. Testing on the audience
Before launching the application, check the icon on the group of people that corresponds to your target audience.
You have 2 options:
A professional approach

, for example, focus-groups. Focus-groups allow for a qualitative study of consumers, which is a semi-standardized interview that takes place in the form of a group discussion. The main purpose of such opinion polls is to obtain information about how and why people perceive certain objects or products. Of course, you can not do on your own in this case.

An affordable option

. If you have a limited budget, ask your friends for help, that is - let them be your target audience. Do not show your versions of the logos separately: surround each one with icons of competitors. Ask friends to choose the one that attracts more attention. In addition, you can create an anonymous poll and place a link on your social networks or blog.
#2. Technical testing
Another way to find out if you have succeeded to make an app icon of high level is to conduct technical testing that consists of the following stages:
testing on various devices (to see how the icon looks on screens of different sizes);

testing in different sizes (to see how the icon looks being very small and extremely large);

testing on different background options (testing the icon on white, black, gray and other backgrounds);

testing among competitors (to check how the icon looks among other applications).
Well, as they say: it's not enough to create an app logo, you have to make sure that it's effective, and so far, no one has come up with a better way than testing.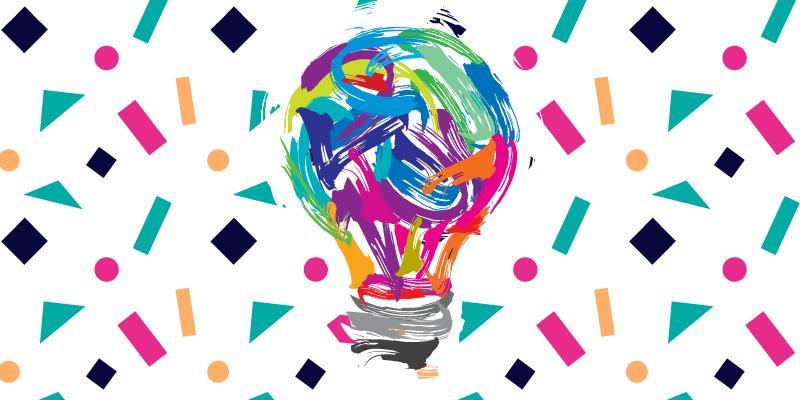 As you can see, building such a small element as an icon is a responsible task which should be approached thoughtfully. A successful logo can even draw the attention of a user who came to AppStore or Google Play having another application in mind.
That's why we do not recommend you to figure out how to design an app logo on your own. Free resources and inept attempts to master Photoshop is an inexpedient way when it comes to the future of your mobile service. Only a professional can cope with your task at a high level.
Of course, the app icon design cost, in this case, will be higher, but these financial investments will be justified. One wrong step can lead to failing all your hopes of making a profit with the help of mobile commerce. So do not skimp on hiring UI / UX experts.
We offer you our services. Our company specializes in mobile development, and therefore we are thoroughly versed in the creation of applications, which means that we can make an app icon that will become an effective key to your future success. Examples of works of our designers are the best proof that we approach any task creatively and meaningfully.
If you do not have an application yet, we are ready to offer you a turnkey service, starting with market research and ending with the publication of the service in App Store and Google Play. However, if you are not interested in developing the mobile service, we are more than happy to just create an app logo for you - perhaps, this will be the first stage of our mutually beneficial and fruitful cooperation.
We assure, our UI/UX experts know quite well how to design app icons that will be just like you dreamed of.