Best Pharmacy Apps to Inspire You in 2020
Prescription delivery applications, pill trackers, drug guide programs, pharmacy discount apps: all these mobile platforms help us increase the effectiveness of the treatment process in one way or another. Moreover, such resources are useful to both doctors and their patients: thanks to them, the first ones cure us better, and the second ones get a chance to recover faster.
Surely, various kinds of nursing apps are beneficial to their owners either (with the right approach to the development and monetization issues, of course). And we discussed this intriguing topic more than once in other articles (how's that for a reason to follow our blog?). Now we'd like to acquaint you with the market leaders: we think their examples might inspire you.
So, meet the med list of applications, which are rightfully in great demand among pharmacists, medical professionals, healthcare companies, and patients.
Medical reference app

s

The content of these applications usually includes a list of diagnoses, methods of treatment, symptoms of diseases, descriptions of drugs, answers to popular medical questions, and so on.

Such programs are really sought-after right now, as any clinical professional understands the convenience of having helpful reference materials on portable devices - therefore, they're always at hand. And the patient can take advantage of the information these services provide him with to better resist the disease: figuratively speaking, he uses them as a kind of treatment planning apps.

The name speaks for itself: the application offers the latest, up-to-date healthcare information and aims at both professionals and ordinary people. By the way, medical college students also find it useful.

The service is replete with proven clinical data helping in answering most medical questions, including those related to drugs. Small wonder that UpToDate has become one of the best nursing apps: nearly 2 million medical experts worldwide trust this great source of healthcare knowledge.
Patients receive
The patient should take advantage of UpToDate if he wants to:
better understand the symptoms of his disease;

find out which doctor to consult;

ask the proper questions to the physician he has chosen.
Medical professionals receive
Thanks to UpToDate, medical experts are quicker in finding answers to questions and can treat their patients faster and more efficiently.
Clinics receive
Clinics and other pharmaceutical companies would also benefit from the use of such a medical reference app. Among other things, they get:
the possibility of supplementing their working content with verified med data by integrating UpToDate with their EHR system;

the chance of improving the work of employees (medical experts);

better coherence of strategic decisions.
Benefits
Proven effectiveness. The application has been repeatedly, more than 30 times, studied, and the conclusions are encouraging: the positive impact of UpToDate on the treatment process and the work of healthcare institutions is certain;

The opportunity to find answers to most critical medical questions. And users can resort to both the online and mobile versions of UpToDate;

A chance to constantly develop your abilities as a medical specialist (through CME/CE /CPD credit possibilities).
Price policy
Of course, we shouldn't forget about the price issue of our first example of popular nursing apps.
In fact, UpToDate can be downloaded for free, but full access to all information requires a subscription (approximately $ 499 / year and more).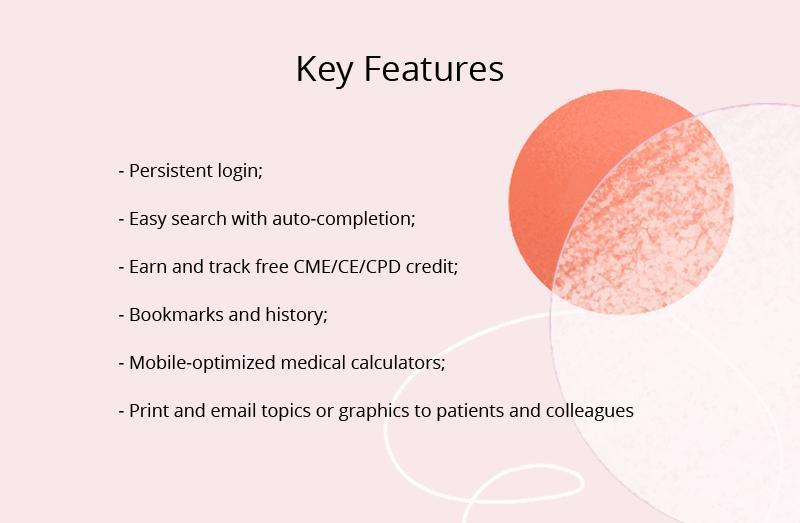 Epocrates has a long history dating back to the last century (to be precise, 1998). Since then, the application has been actively developing and gaining popularity: the number of its users has managed to exceed 1 million.
Today it's the gold standard of medical reference resources and the clearest instance of best nursing apps. And its glory is recognized by the most experienced doctors who use Epocrates to check important clinical information, find new providers, calculate values ​​such as BMI (body mass index), etc.
Benefits
Proven reliability. Take a look at these inspiring indicators: every second US doctor trusts Epocrates and uses it in his work. Speaking globally, not less than a million professional physicians from all over the world take full advantage of the application in question (and they find it highly efficient);

Constantly updated database. Information is being constantly updated in order to stay relevant;

Useful tools. The medical reference app offers a variety of useful solutions able to interest both professionals and ordinary people (potential patients);

The possibility of free use (all the details below);
Price policy
As we wrote above, most of the app content is provided for free. Payment is required only if a user wants access to extra features: detailed laboratory manuals, alternative medications, and so on. In such a case, he should subscribe to Epocrates Plus ($16.99 per month).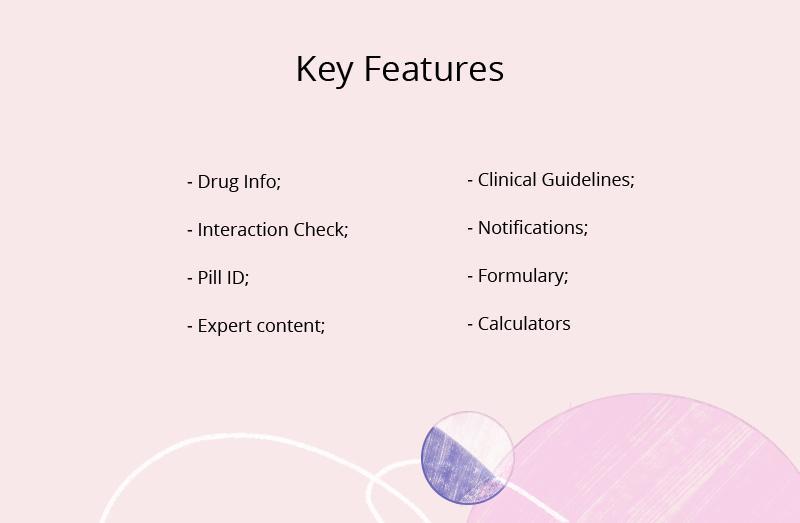 Skyscape is another multipurpose medical reference app, a sort of clinical handbook where one can find any information on healthcare topics, from the anatomical guides to practical treatment recommendations. There are also a huge number of monographs and built-in calculators.
Benefits
Huse experience. The application exists and thrives on the market for more than 20 years;

The gained trust. The program has been chosen by at least two and a half million medical professionals, and they didn't regret their decision.

Reliable partnership. Skyscape selects partners very carefully: there are more than 35 highly qualified experts among content creators.
Price policy
Skyscape works according to the Freemium model: basic content is available to everyone, however, there are additional premium features, and they're paid.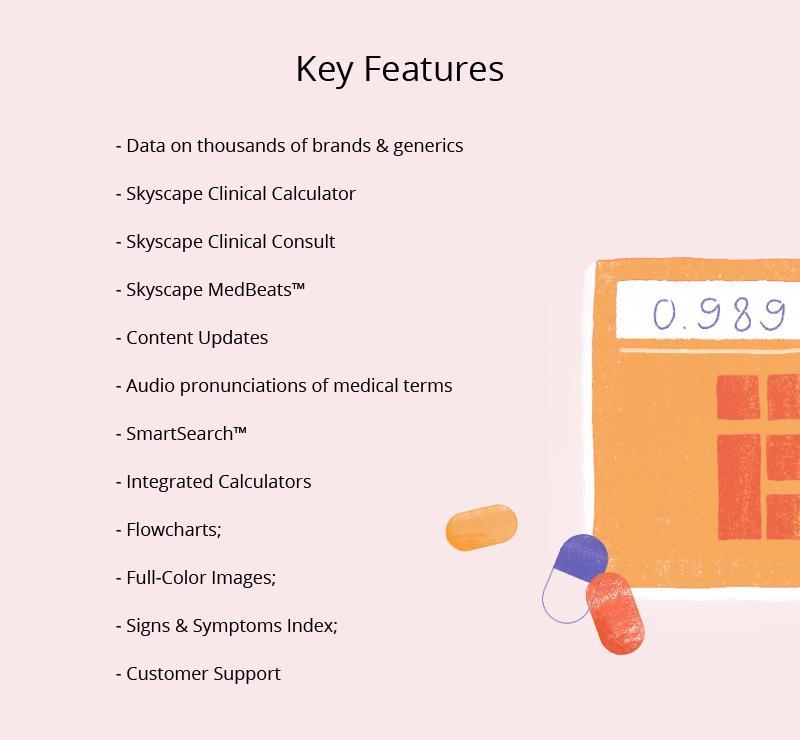 Drug guide apps
These are applications whose content offers the most detailed descriptions of medications. The approach is very convenient since all the necessary information is stored in one place.
The app was built by MobiSystems, a well-known developer of several other mobile med programs. All of them are secure and easy to use, and I.V. Drug Handbook is the best proof of our words.
In fact, here we're dealing with one of the drug guide apps targeted at healthcare professionals. It contains a detailed description of more than 350 medicines, and the number keeps growing.
Benefits
Convenient navigation. Everything is aimed at providing flawless user experience. In particular, the list of drugs is displayed on the main app screen in alphabetical order. In addition, there is a search engine, which further simplifies the process of finding a specific medicine.

The possibility of customization. Users are free to customize application settings: say, resize text or perform other simple actions helping to perceive information in an easier way.

Comprehensive data on medicines. The description of each drug contains a lot of parameters, such as dosage, side effects, interaction with other medicines, special aspects of the use, etc.
Price policy
I.V. Drug Handbook has several trial versions: one-day, 7-day and 30-day.
These free versions have the same functionality as the paid one has. Their goal is to convince the user of the benefits of subscribing to the application.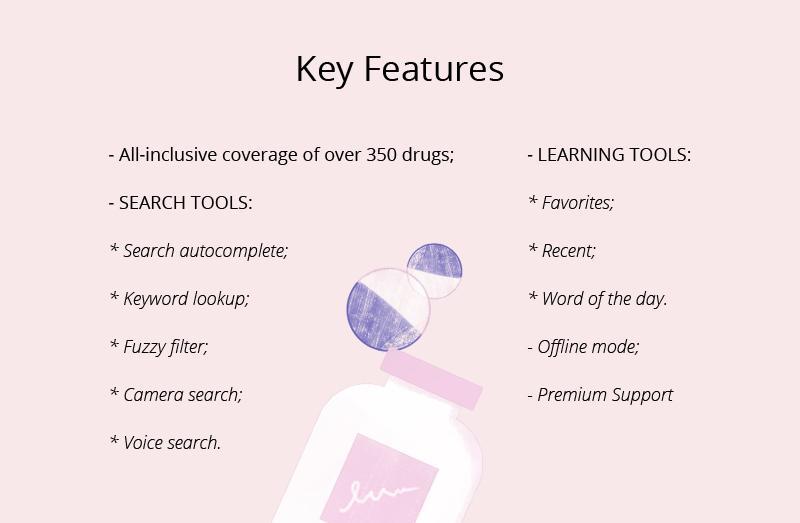 Medscape also belongs to the drug guide apps and offers detailed information on medicines, including annotations, compatibility tests, etc.
Among the app, users are both doctors and non-specialists.
Benefits
Recognized respect. Medscape has gained recognition from successful practitioners around the world.

Great UI/UX. Medscape has an intuitive user-friendly interface and provides a convenient search option.

Huge database. The application offers more than 7 thousand reviews on medicines.

A variety of content. Although Medscape focuses on drugs, its content also includes a large number of monographs on medical topics, video tutorials, clinical images, and more.
Price policy
The app is completely free and requires only the creation of an account (however, also without payment).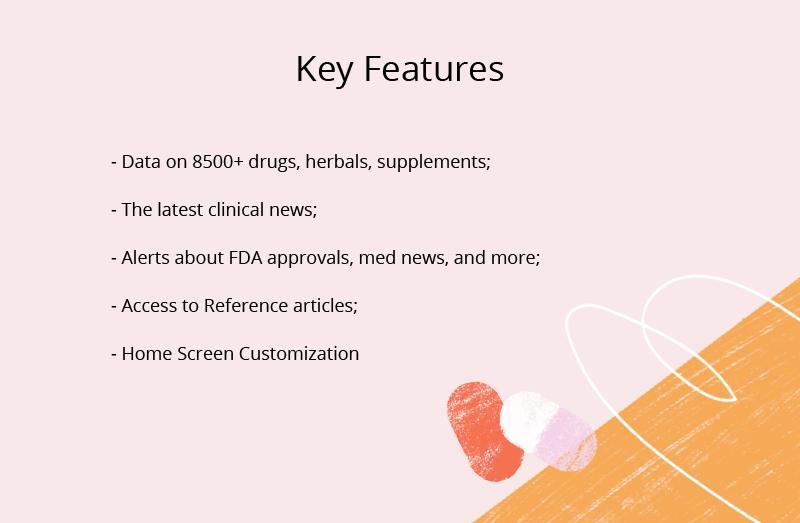 And now it's time to discuss programs, which partly resemble drug guide services, but with a significant difference. It's about prescription savings apps.
Prescription drug apps
As you know, some medicines are only dispensed on a doctor's prescription. You can't just go and buy such a drug, even if you're sure it'll help you. You still need your physician's permission, otherwise, you won't get what you want.
As to the sale of such drugs, there are also a few nuances, which is why special prescription price apps are required.
Healthera deserves our attention in the first place since it's one of the best prescription discount applications (at least, considering the fact that the app is recommended by representatives of the National Health Service). Its main objective is to help users take prescribed medications with maximum comfort.
Benefits
Ease of use. All the user needs to do is add his prescribed drug, place an order, and wait for delivery.

Minimum hassle. Healthera allows avoiding tedious queues, unnecessary calls, and the like.

Nice bonuses. Owners of the application delight users with various bonuses: say, free delivery and constant updating of the order processing status.
Price policy
Healthera is free to use (which is a great example of app benefits either, by the by).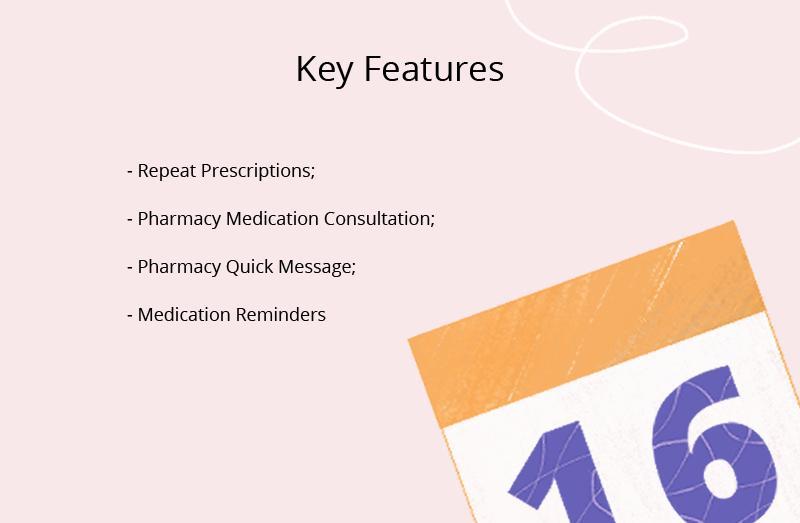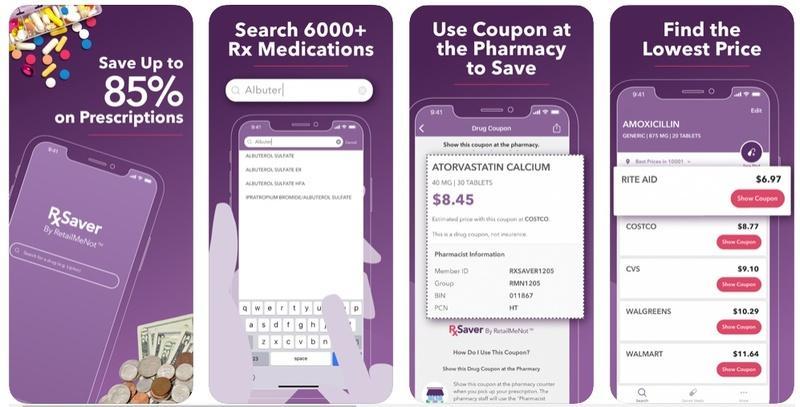 If you need cheap prescriptions, this app would obviously come in handy: it is primarily focused on finding maximum discounts (of course, those related to medicines).
Benefits
85% savings, which implies finding the lowest prices for the prescribed medicine: a couple of seconds, and you've got it cinched;

Wide user reach. To take full advantage of RxSaver, you don't even need medical insurance.

Discount Rx coupons. RxSaver provides loyal users with special discount coupons valid in most major pharmacies in America and Europe.

Pet-oriented medicines. RxSaver offers a convenient (and affordable!) purchase of the prescribed medicines your pet might need. The thing is, there is sometimes a chance to find fitting options among human-oriented drugs (in some cases, these drugs may be suitable for cats and dogs too).
Price policy
Since RxSave is absolutely free and requires no subscription, it'd be a good prescription app for doctors and patients.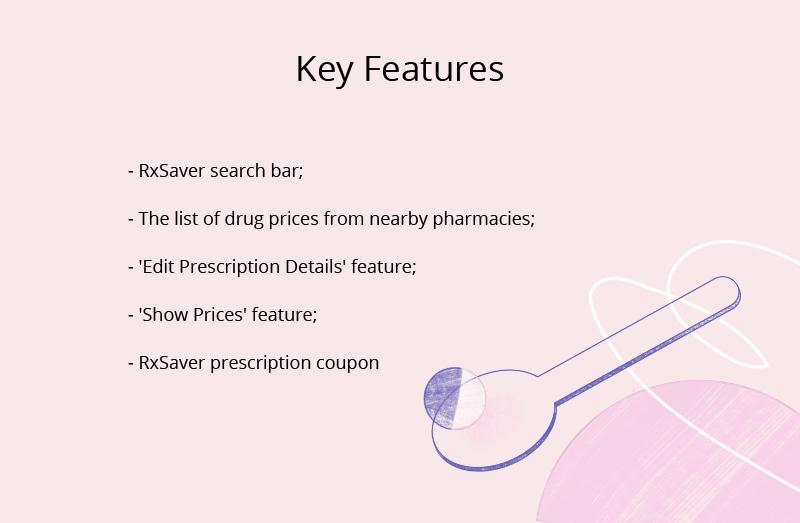 Treatment planning apps
The process of recovery directly depends on the ability to plan your treatment. And medicine tracker applications are excellent helpers in this difficult task. It's enough to download the drug regimen to start receiving notifications and various kinds of reminders about the need to take another pill, measure your pressure, etc.
Medisafe is a free pill tracker app. It managed to gain considerable popularity among users, which isn't surprising: the application significantly helps people suffering from serious diseases (diabetes, heart disease, etc.). After all, it's really crucial for them to take medications on time, and that is what Medisafe is focused on.
Benefits
Syncing with HEALTH: The application is easy to integrate with HealthKit, which allows you to store all health data in one place.

Family access. A unique feature of MediSafe is the ability to add your relatives to the list of users and help them keep track of the timely medication intake.

Medication reports. Medisafe not only allows you to take drugs on time but also provides you with a tool to create PDF and Excel reports. These reports can be sent to your doctor so that he could better control the treatment process.

Convenient medication reminders. The application will send you a reminder even if your phone is in a sleep mode. In addition, Medisafe supports changing time zones, which makes your journeys really comfortable (in the end, sometimes we have to resort to using our medication tracker app even on vacation or business trips!).
Price policy
As we've already said, the application is free. However, if you wish, you may purchase Medisafe Premium and get access to exclusive features, such as:
the ability to add as many family members as possible to the number of users;

access to over 20 health dimensions;

more ringtones to make your reminder special;

and so on!
The application with such a "delicious" name (Mango Health) has an extensive audience of loyal users. Its main difference from other items on the med list of nursing apps is the game approach to the treatment process. That is, Mango Health, too, helps the patient to form healthy lifestyle habits, but it acts in a fun way.
Benefits
Gamification. The user earns points after completing the tasks assigned to him (taking medicine, checking blood pressure, etc.) and loses them if he shows laziness and negligence. Moreover, earned points can be exchanged for gift cards or donated to charity.

Useful warnings. The application sends warnings to users: say if the patient is going to take two drugs that interact poorly with each other. However, the feature is only available on the US market.

The convenient setting of reminders. Mango Health allows users to customize notifications and reminders to their liking.

Deserved fame. Famous resources such as Self Magazine, CNN, the Los Angeles Times, etc., talk a lot about the achievements of Mango Health.
Price policy
Mango Health is completely free to use, which also makes it a welcome choice.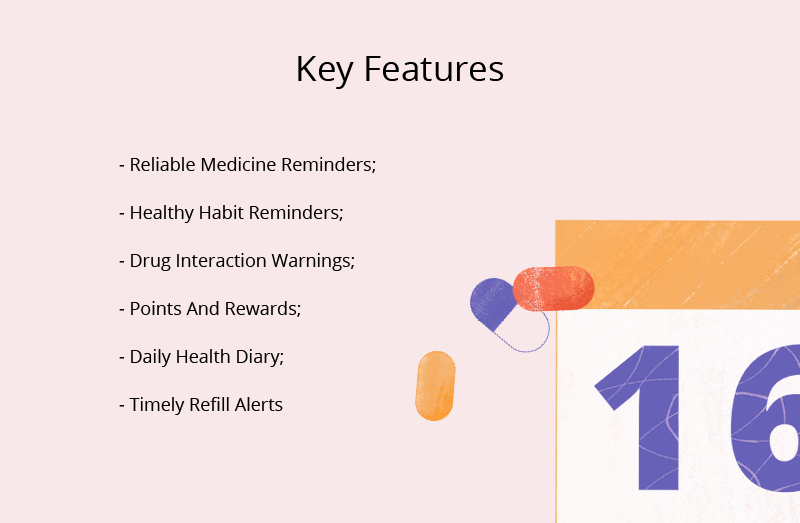 Medicine delivery app

s

These are regular mobile drug stores, and they come in several types:
pharmacy discount applications (if the pharmacy wants to increase its sales through the online channel);

aggregators collecting information from various resources on the Internet;

p2p marketplaces, an intermediary between sellers and buyers.
Now let's take a considered look at some of the best pharmacy apps and mobile drug aggregators on the current market.
PharmEasy guarantees users the most simple, affordable, and comfortable way to purchase drugs, even those that can only be received at the physician's prescription.
This is a really good app to deliver medicine: it offers a ton of great features, including tracking of the order status and free drug return.
Benefits
Excellent user experience. PharmEasy has taken care of maximum ease of use: a couple of taps and the order is done, it remains to await its delivery.

High speed of delivery. No more than 48 hours is required to deliver the order to the user (usually the process takes even less time, within 24 hours).

A wide range of healthcare products. In addition to medicines, PharmEasy offers users diverse med goods and equipment.

Additional health services. Also, PharmEasy provides the opportunity to order medical services: preventive body examinations, diagnostic tests, etc.

Good discounts. And on top of that, the medicines home delivery app offers wonderful discounts to its users.
Netmeds promises the simplest possible process of ordering and delivering the right medicine. Just a couple of clicks is required to get the desired drug.
Benefits
A wide range of drugs. The application offers various drugs, from cough medicine to products a pregnant woman might need;

The round-the-clock operation: orders are being accepted in a 24/7 mode;

The convenience of payment. Netmeds provides users with several payment options, and he is welcome to choose what suits him best.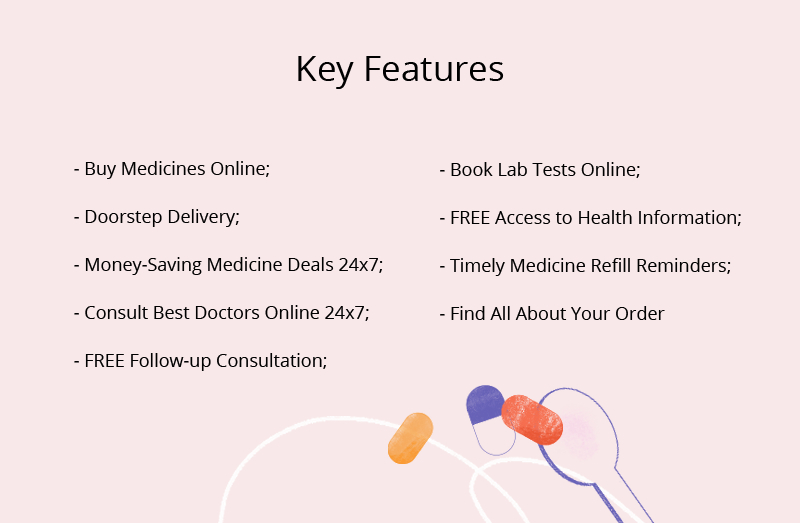 Pharmacist apps
It's very important not to confuse these programs with pharmacy applications. The latter type relates to the previous section, it's a supporting tool for drugstores. And in the 1st case, we're dealing with platforms, which might be useful to pharmacists themselves in their everyday work.
MPR fully meets the pharmacist's medical information needs. Evidence of the app effectiveness is the following fact: more than 800 thousand clinical staff are willing to use the application on a regular basis. Impressive, right?
Benefits
A variety of medical content, including drug data, clinical monographs, etc.;

Drug notifications and up-to-date medicine reminders and alerts;

Simplified navigation with quick access to your favorite app sections;

Useful medical solutions, calculators, and other similar healthcare tools.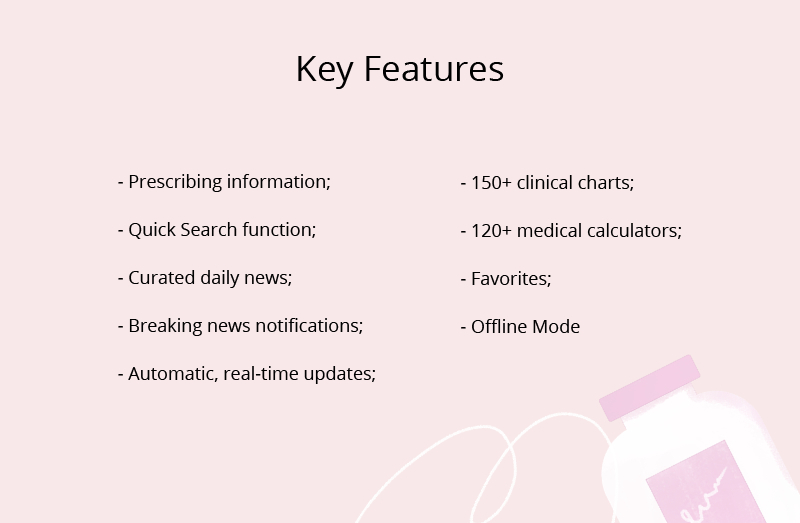 Our med list of apps ends with a program called Pocket Pharmacists.
The application is mainly focused on the United States and the local (American) medicines. However, the pharmacies of other countries will find many useful things here too.
Benefits
Clear presentation of information. The app content has been prepared by professional pharmacists, and therefore the language of presentation is very clear, there is no feeling of reading abstruse encyclopedic works;

The long history. The application has been on the market since 2010;

The objectivity of the data provided. The Pocket Pharmacists app doesn't advertise any medical company, and thus its information is accurate and objective.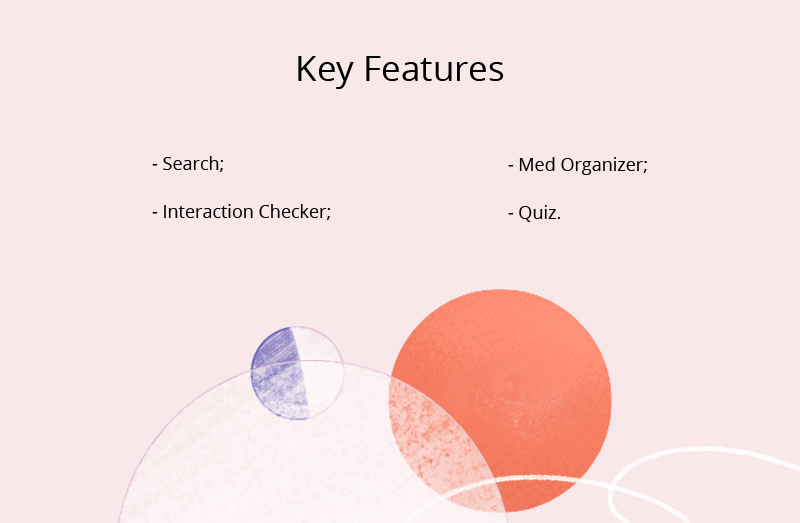 So, we've told you about the best nursing apps. And we hope you're now quite inspired to create your own application of the same type.