Why You Need to Build an E-learning Platform in 2021
Online learning is no surprise today. At least 20 years have passed since it became a normal part of our daily life. And it's a small wonder! After all, distance education offers a convenient and effective way of obtaining new information without leaving your home.
However, a year ago, only the most advanced educational organizations provided students with the opportunity to acquire knowledge online. 2020 has changed the situation, and today even old-fashioned universities and other similar institutions (devoted traditionalists) have no choice but to resort to various sorts of e-learning platforms. The pandemic and quarantine resulted in a huge number of online courses, which are now not a modern trend, but a justified measure of our safety. 
And we're pretty sure that the increased popularity of remote education resources must serve as a call to action for visionary businessmen. Certainly, they should give it a go and create an e-learning startup of their own. Such a project has every chance to be a profitable financial investment.
If you're one of such forward-thinking entrepreneurs, we recommend reading our new article. We'll explain to you in detail why and how to build an e-learning platform.
What is an e-learning platform?
These resources can be created either as websites or as mobile apps (or both, which is the best option). Their goal is to store educational materials and provide access to them anywhere in the world and at any time.
What do

e-learning platforms provide us with?
Users of these platforms get a great way to receive an education, develop a new professional skill, improve their qualifications, and more.

Resource owners have their benefits either, depending on the purpose for which they decided to make an online learning website or an educational mobile app:

on the one hand, such a resource allows reducing the cost of training employees;

on the other hand, educational platforms can and should be monetized, which makes them an additional source of income.
Before figuring out how to create an e-learning platform, let's plunge into the history of distance education to see how it all started.
A brief history of distance learning
Did you know that the idea of ​​remote learning first appeared over a hundred years ago, in the distant 18th century? In those days, the American scientist decided to organize correspondence stenographic courses: of course, he couldn't resort to the Internet technologies, so he had to content himself with newspaper publications.

The second stage in the improvement of distance education was the introduction of audio and video recordings. They had brought more tangible benefits to remote students.

But the most decisive leap in development occurred thanks to information technology (of course!). In particular, the appearance of the first local networks, which consisted of several interconnected computers, helped. Such networks allowed university professors to automate and therefore simplify the educational process (which caused a whole bunch of eLearning courses).

Well, the last (at the moment) step of the development of digital education is due to the emergence of the Internet. And it's only the beginning!
Why is the

e-learning industry so demanded now?

Any HR manager would confirm how difficult the task of finding the right specialist might be. And sometimes the heads of companies have no choice but to improve the qualifications of their employees and help them master new skills. That's why large corporations in the USA,  Europe, China are readily investing in corporate education of their staff (the market volume of which exceeds the $ 366 billion mark today; moreover, it shows annual growth). 

But it isn't just about corporate training! Representatives of the higher education system are also worried about increased responsibility, as they have to teach and prepare people who will work in the digital economy. 
So there is no doubt that both businesses and universities are in dire need of a radical change in the training process. 
Different popular e-learning platforms come to the rescue in this case. And they're already being actively implemented by companies in various fields of activity (for example, eminent banks in Europe and America successfully use electronic systems to train their employees).
And if earlier some businesses doubted whether the game was worth the candle, the 2020 pandemic got us to reconsider our attitude to remote training and education. The price of building an e-learning platform can be high, but neglecting digital technologies means paying even more in the long run. So yes, the game is worth the candle (at least, under quarantine).
Benefits of

e-learning platforms

First, let's figure out why to develop your e-learning website or application. In other words, how would you attract your users (to monetize them later)? What benefits do they get?
Reduced risk of infection. Today many schools, universities, and other educational institutions are switching to the remote learning format. Quarantine forced us to change our way of life and adhere to social distancing.

Business benefits. We've already mentioned the importance of corporate training. So, the integration of e-learning platforms will greatly improve the quality of the work of employees.

Availability. Online courses are available anytime, anywhere, from any device. This implies the possibility of learning on the job, at home, and even on the road (if you have a mobile Internet).

Creation of a single knowledge base. It's about your great chance to store educational materials, be they books, videos, eLearning courses, or tests, in one convenient, all-accessible place.

Simplified control of the education process. Apps and websites give educators access to detailed statistics. So they can easily find out what materials users are studying, what points they are getting, and how much time they spend on a particular lesson.

Keeping pace with the times. Traditional learning processes are slowly becoming a thing of the past, and the e-learning market is growing rapidly. So there is nothing wrong with wanting to do whatever you can to take your place in the sun (while it's still possible).

Saving. Online learning website development is a good option for those who want to provide a good educational product at no extra cost. After all, remote training doesn't require renting premises or other overhead costs.

The flexibility of the learning process, namely:

The ability to divide each course into shorter modules. 

The chance to create personalized courses of any complexity and for any audience.

No time-binding. Education in schools and universities forces you to follow a certain schedule, which isn't always convenient. However, the Internet offers more opportunities. You deliver eLearning courses to online students, and they're welcome to take them at their own pace.

And finally, the listener chooses the approach to his education independently, focusing on his or her capabilities and needs.

Instant feedback. We're speaking of chats, instant messengers, and various feedback forms: all these eLearning features allow us to communicate with other students, ask a question to teachers, get the information you need here and now.

Taking into account the requirements. Each company, university, or other educational organization has its own ideas about what the optimal training course should be. Fortunately, digital solutions can be adjusted to suit specific needs.

Updating materials. Scientific works are often updated, new information appears, which requires changes to the curriculum. Apps and websites provide this opportunity. You can build e-learning software and change it at will or as needed.
What is a perfect

e-learning platform for your business?

Now is the time to think about how to create an e-learning platform, which will be perfect in every way. Surely, reaching the ideal is next to impossible, but the more your product matches the benchmark, the more chances you have to monetize it.

So, a competitive learning site or app has to meet the following requirements:
Proven educational practices. This isn't something worth saving on! Often, it is the use of outdated educational methods that becomes the main reason for mistrust in e-education and dissatisfaction with its results.

Extended functionality. Flawless online education platforms must have the functionality, which maximizes the quality of the learning process. However, we'll discuss the basic features of the e-Learning platform later in the article.

High stability of work, i.e. the application or website should work without failures under any load, regardless of the degree of user activity.

Ease of use. Mainly, of course, we're talking about the platform's intuitive, user-friendly interface. To be precise, users should have no problems when they first interact with the service.

An optimal ratio of time and price of building an e-learning platform. You'll have to invest money to develop your e-learning website, but no one needs the unnecessary costs. Therefore, try to find the optimal solution to the problem (which one, we'll tell you later).

Multimedia. Make sure your platform offers educational content in different formats: text and image files, audio and video tutorials, 3D graphics, etc.

Scalability. The system must be flexible and scalable to withstand any level of load (remember list item 3?). After all, at first, there will be few students and online courses, but the number of both is likely to grow. So your task is to build an e-learning website (or application), which is ready to rise to such a challenge.
Types of e-learning platforms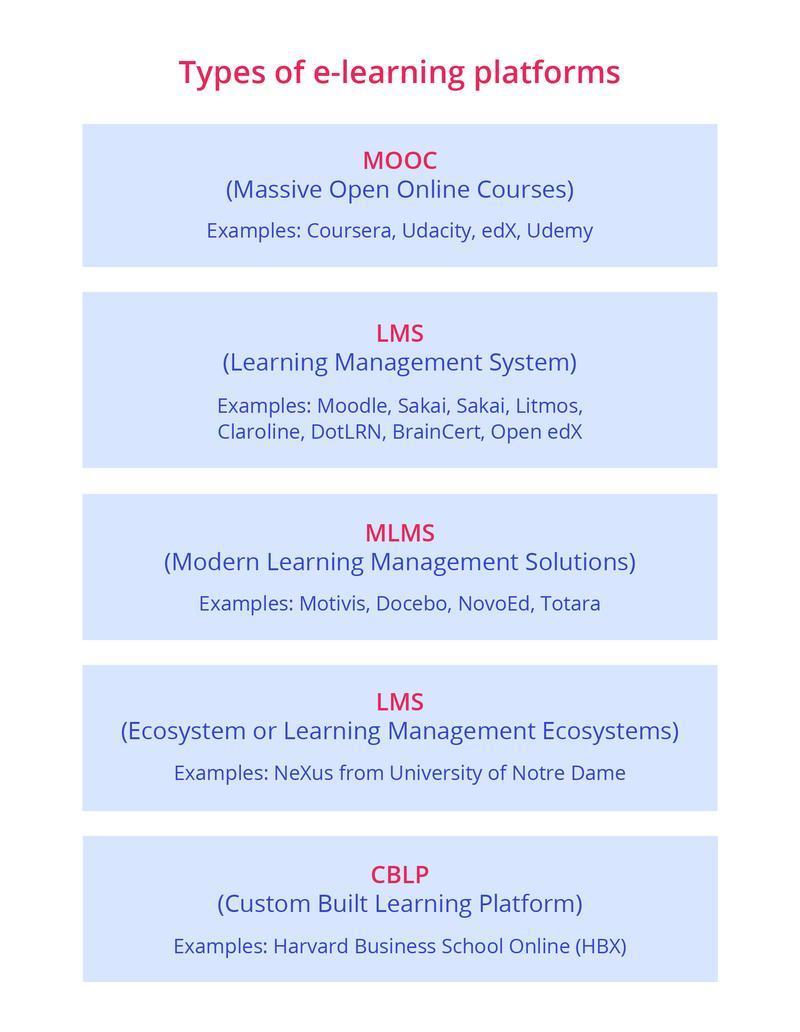 MOOC. In the 1st case, the platform's e-learning model resembles a marketplace like Amazon, with the difference that educational content acts as a product. Anyone can participate in the creation of this content, including professors, teachers, universities, etc. And, surely, everyone is welcome to take advantage of the opportunity to study online using these MOOC solutions. 

LMS. LMS websites and apps have some basic eLearning features needed to manage educational content, namely, create, edit, store, and delete it. There is also functionality allowing users to access online lessons, remote courses, and other education options.

One of the varieties of these services is open-source LMS platforms. On their basis, developers can build e-learning software and adapt it to their own requirements.

MLMS. We, again, mean LMS resources, but the intriguing prefix "modern" has been added to their name. Concretely, educational content is being created using innovative algorithms. Also, these very algorithms help to manage the learning process more efficiently.

LMS Ecosystem. The same LMS services sometimes combine the best point-to-point distance learning solutions into a single ecosystem. In this instance, they become LMS Ecosystems or Learning Management Ecosystems. A striking example is the NeXus resource of the University of Notre Dame developed on the basis of Open edX.

Custom Built Learning Platform. And the last point is the option when you need to create an e-learning platform meeting specific needs. Let's say, the HBX platform (see infographic above) is designed specifically for Harvard Business School.
Features of the e-Learning Platform
These services are targeted at three user groups at once:
the administrator who manages the platform;

a user studying a particular subject online;

a teacher who monitors the learning process.
And each user group should be provided with its own set of features.
eLearning Features

, shared by all:
Check-in. Of course, every user, be it a student or a teacher, must register. It would be a good idea to simplify the registration process as much as possible and allow logging in using social media accounts;

Integration with various services. To implement the above feature in practice, you need to ensure integration with social networks: Facebook, Twitter, Instagram, LinkedIn. In addition, integration with payment systems won't be superfluous (so that users can make purchases and pay for services online);

Unlimited cloud storage. One of the important advantages of such sites or applications is the ability to store all eLearning courses in the cloud. So everyone is able to access them anytime and anywhere.

Messaging. Also, don't forget about enabling users to communicate with each other. Here chats and forums would come to the rescue.

Feedback, reviews, ratings: all features helping users to share their opinion about a particular course or teacher.
Instructor-oriented features:
Creation of online courses and training programs. First of all, the instructor must be able to create online courses, lessons, think over training programs, etc.

Course management. There is no limit to perfection, and online lessons are no exception. It means you'll have to edit and improve your courses from time to time.

Tracking the learning process. Of course, it is very important to monitor the progress of learners (students, schoolchildren, or company employees willing to improve their qualifications). So you need to make an online learning website with special tools for tracking student statistics both in general and individually. 

Conducting webinars. You should present eLearning courses in different ways, and one of them is video conferencing and webinars. Ideally, webinar recordings must be saved.

Testing. Of course, you can't do without testing learners to determine their progress. Fortunately, digital platforms provide many testing options. Say, why not create a sort of quiz to add a game element?

Issuance of certificates. The last item in the list of features of the e-learning platforms is the ability to issue certificates confirming that the disciple has mastered a particular course.
Features targeted at online learners:
Search, which implies the possibility to find a course or lesson of interest to the user.

Information on each course or teacher. Before starting training, the learner has the right to know what a particular educational program offers.

Access to lessons. Let's say a user has found a cool course and wants to start learning. Therefore, he should be able to get access to it (the access can be both free and paid, depending on the types of e-learning platforms and the monetization model you choose).

Watching webinars. Naturally, the disciple should also have an opportunity to connect to a webinar or video conference. If he fails to watch the webinar during the broadcast, he'll be glad to get the chance to access its record.

Testing. Also, the student-oriented eLearning features should include the testing option (it's about the possibility to get tested).

Achievement statistics. Not only will the instructor be interested in learning about the progress of their students. Listeners, too, would be glad to get an idea of ​​their learning achievements.

Payment if needed. We recommend that you include a payment gateway integration step in your e-learning website development process. Payments can come in handy in many ways, such as:

payment for a subscription (if provided by your monetization model);

in-app purchases;

paid access to selected online courses.
Surely, it's also imperative to create a block of features focused on helping the administrator manage the site or application: add and remove users, control payments, and perform other similar actions.
Now let's discuss the specifics of e-learning platform development, its main steps.
How to build an e-learning platform

?
e-Learning market analysis. When conducting your analysis, pay attention to the following aspects:

the needs of the e-learning industry: what is currently in demand by potential users?

target audience: based on the above item (user needs), you should determine who to focus your platform on. Moreover, when choosing a target audience, remember that your resource can be either universal (online courses on any topic) or specialized.

your future competitors: study popular e-learning platforms and find out how they attract users.  

Functionality. Now is the time to choose the features of the e-learning platform. What should you provide the representatives of the selected target audience with in order to make them your loyal users?  

Intuitive UI/UX. Interface design is like a candy wrapper. Agree, no matter how delicious the sweet treat is, if its wrapper looks boring, the desire to buy it will be lower. The same goes for mobile and web development. Therefore, give the UI/UX stage as much time and effort as possible.

The design of e-learning platforms should contain certain "motivating" colors. Say, blue is associated with trust, green speaks of harmony, red evokes a feeling of aggression and pressure, etc.

Remember that UI design has to be user-friendly, simple, clear. Don't distract the student from the education process with intrusive advertising blocks and unnecessary interface details, even if they seem beautiful to you.

Development. This is the stage when, in fact, a site or application is being created. Usually, it is the most labor-intensive and time-consuming step.

Testing. Let's say you managed to build e-learning software. But it's too early to publish it. First, you need to make sure that it works flawlessly.

Launching an application (or site). That's it, your platform is ready to launch.
So, we've learned how to create an e-learning platform. However, we have something else to say about the issue.
Things to consider in the

e-learning website development process

Before we wrap up our conversation, let's discuss a few more important points. They'll make the e-learning platform for your business more efficient and, therefore, successful.
How to

make an online learning website highly competitive?

By taking the development steps described above, you'll build an e-learning website capable of fulfilling its key tasks. But this isn't enough to successfully compete with the most popular e-learning platforms on the market. If you want to improve your competitive strength, consider the following:
Specialization. Try to pick a single-purpose niche that targets a specific target audience. Say, how about business courses for senior managers or improving the economic literacy of immigrants?

The advantage of such a strategy has been proven over time. Famous companies like Amazon and Google once started their path to success by choosing a certain niche, and then expanded their sphere of influence.

It is best to choose a specialization based on the demand, payment ability of users, and other things. 

Notable examples of the implementation of the strategy in question include Udacity (business & technology), ExchangeCME (medical education). 

24/7 support. It's not enough to develop your e-learning website, you must also constantly support it (ideally, in a 24/7 mode).

Gamification. When people talk about learning anything, we usually get bored. However, digital technology makes learning fun and exciting! You just need to add an element of gamification.

A good instance is Duolingo, which has turned the process of learning foreign languages ​​into a fun game. 

Artificial Intelligence. Gamification isn't Duolingo's only advantage. Basically, this app is a great example of how to create an e-learning startup. The point is, Duolingo is powered by AI and uses machine learning technologies. This allows the application to analyze user behavior and provide the most personalized product. Do your best to follow Duolingo's lead.

VR, AR. And of course, don't forget about augmented and virtual reality. That's a great opportunity to go bigger and show your imagination! VR, AR allow you to visually demonstrate to students how certain processes occur, thereby converting traditional learning processes into an exciting adventure.
Website or mobile development: what to choose?
Earlier in the article, we mentioned that the best option is to create an educational resource in two versions, mobile and web ones. However, what if you can't afford to build an e-learning website and an application at the same time? Website or mobile development: what to choose?
Answer yourself the main question:
What devices do your potential users prefer? Smartphones, tablets, PCs? This will be your main reference point.
Though, even if you decide that web development would be the ideal solution, pay attention to the latest statistics.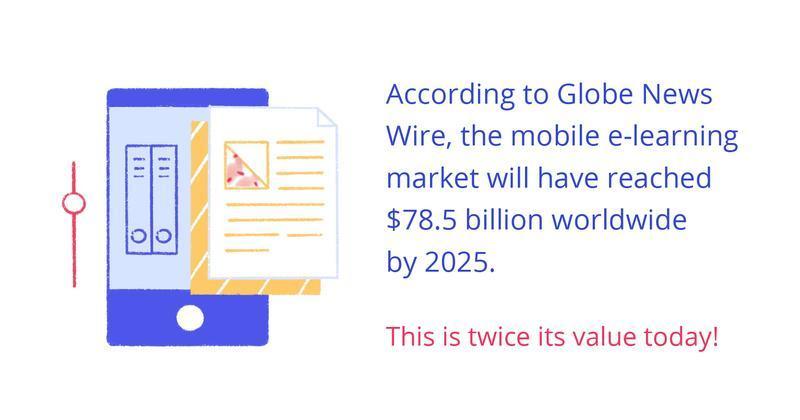 As you see, a mobile app isn't something to be neglected. Don't forget about it when planning your development budget. Speaking of which...
How much does it cost to

create an e-learning startup?

It is impossible to name the exact price of building an e-learning platform. But we're ready to give you rough guidelines.
Now let's cut to the chase.
The cost to build an e-learning website. Website development takes about 1050-1300 hours. Impressive, isn't it? And this time must be paid.

The cost to build a mobile e-learning solution. If we're dealing with an application, then developers will need at least 950-1250 hours to implement such a project.
Everything is extremely simple: multiply the development time by the rate of the company hired to create an e-learning platform and get the price you need.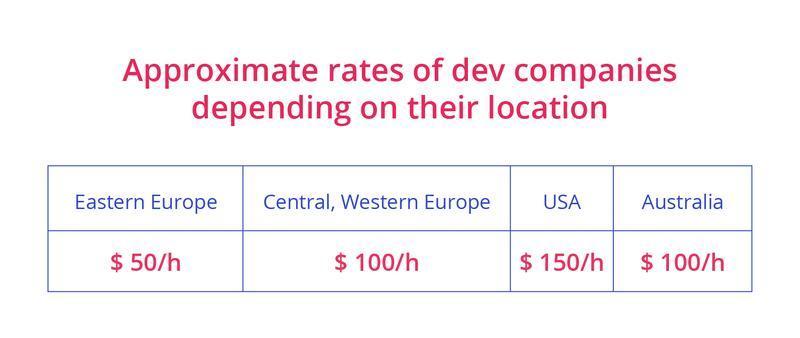 Rate this article
15 ratings, average 4.80 of out 5