Udemy Development: How To Create An LMS Like Udemy
They say knowledge is power. Moreover, experts have noticed that companies investing in corporate staff training increase the profitability of each employee by 200+ % (not so bad, right?).
And one more thing: offline learning is no longer popular. We're used to living online, and education is no exception. That's why Udemy-like digital platforms have come to the top. They allow us to study in a convenient mode, wherever, whenever, and whatever we want.
So the benefits of Udemy clone app development are rather clear, which means LMS projects are a good startup idea. If you find the right approach to creating your Udemy clone and attracting students and teachers to the ready-made resource, you'll get a real source of profit. 
But how to develop an app like Udemy? What should be considered first and what mistakes must be avoided? Let's figure it out step by step.
As usual, we'll start with the basics.
The Global Online Learning Market: Its Current Status
Almost $ 330 billion... Sounds impressive, doesn't it? According to analysts' forecasts, the volume of the global online education market will have reached this very mark by 2025.
One may wonder why it's happening and what influences the popularization of digitalized education. We're ready to offer several explanations:
interest in affordable learning courses (online education platforms often provide cheap or even free services);

attempts to find flexible educational systems (and the online format offers a lot of opportunities to be flexible!);

demand for corporate training;

pandemic and the resulting widespread transition to remote (online) mode.
Most profitable users
Who brings the most profit to online learning platform owners? Which users are easiest to monetize?
Experts answer the above questions as follows: the most profitable (financially) users are corporate clients. They are interested in platforms like Coursera and Udemy because they are looking for the simplest and most convenient way to improve the skills of their staff. Moreover, there is evidence that the digital approach to learning increases the so-called "retention of knowledge" by 20–65%. 
So it comes as no surprise that a lot of businessmen are eager to learn how to create a Udemy clone. They believe once they create it, they'll start making a great deal of money. And so they will if they act with due reflection.
What is Udemy?
As you might have already guessed, Udemy provides access to online courses on any topic. And when we say "any topic," we're not exaggerating at all. IT, knitting, drawing, math, business... you'll find anything here!
Still further, everyone is welcome to join the ranks of course authors. You just need to register on the site and create your account. Another inviting opportunity is to choose and buy a course and start practicing it in order to develop a particular skill. There are many other wonderful features of Udemy too (surely!), but we'll discuss them later.
BTW!
The name "Udemy" is a two-word neologism: You (U) and Academy. So it's "Your Academy" or "Academy for You". Whatever you like best…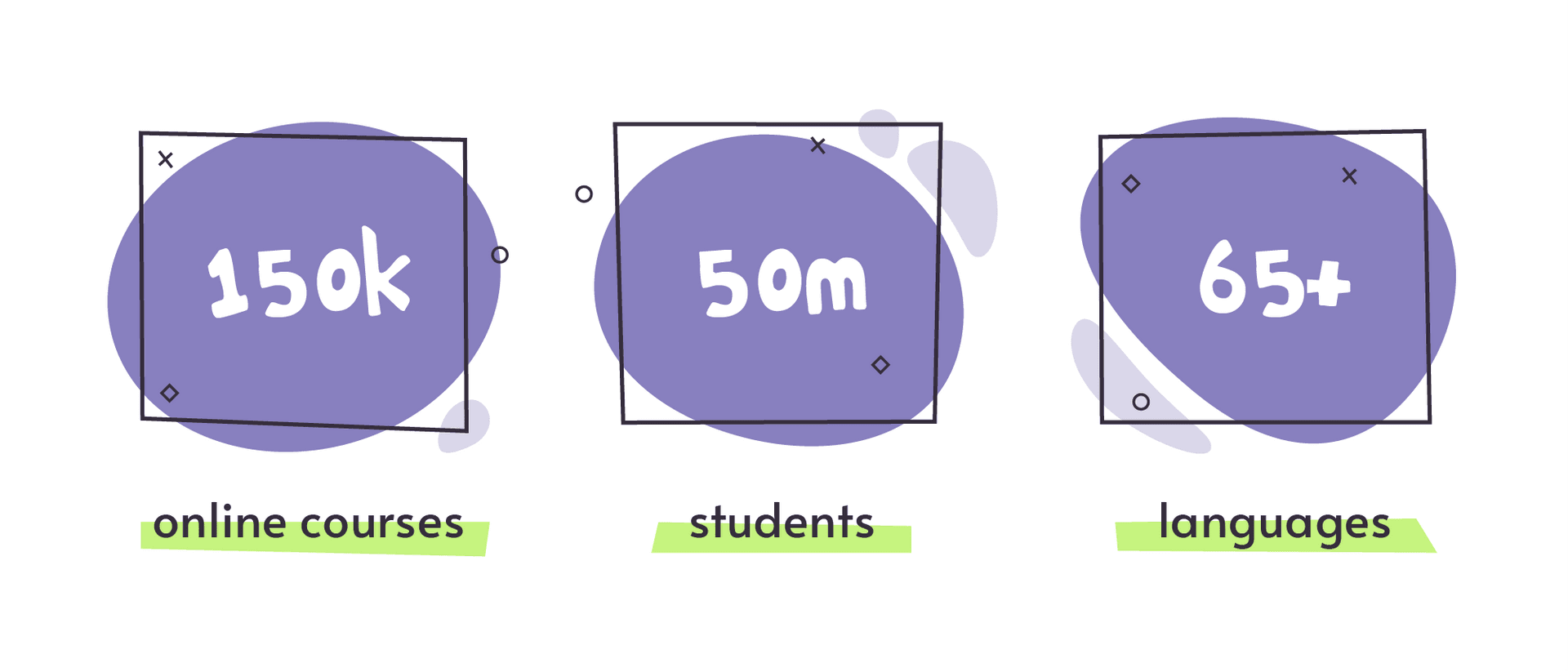 Udemy courses differ not only in their topics. Other parameters often vary as well. In particular, courses are short or long-term, expensive or budgetary. Some offer homework assignments, while others focus on self-study skills.
What makes Udemy a unique online learning platform?
Udemy gives users practical knowledge, which can be applied in everyday life. The platform doesn't cooperate with renowned universities, so the goal is to provide students with helpful skills (instead of just diplomas, which may look pretty cool but are useless on their own).
How to use Udemy features?
On average, courses last from one month to several. Usually, these are collections of video lectures, many of which are available for download (if you want to watch them offline).
The process of using Udemy itself consists of a few simple steps:
Initially, you have to create an account and start looking for the course you want. You can use the Udemy catalog or the search engine (which is perhaps more convenient).

Let's say, you've found a few options, and they seem more or less suited to your needs. Now you have to decide which one to choose. 

To make your choice, you should read the description of each course, get information about its author, and take a look at the rating and reviews (by the by, all these features are crucial if you, too, want to implement a successful Udemy app development project).

To be sure the first impression wasn't misleading, watch the introductory video, which will show you what the course is all about. Do you like the presentation of information? Then you can safely make a purchase and start the learning process.

Upon completion of the course, you'll have to pass a final exam and receive a certificate. Of course, this is hardly a diploma from an eminent university, but it confirms that you've acquired a new skill of some kind anyway.
As you can see, using Udemy is simple. Do your best to analyze the whole process properly. This may come in handy when creating your Udemy clone. 
What if you want to create a course?
Suppose you want to become a course author. What should you do in such a case?
You need to start by understanding your expertise. In what area are you a true pro? What experience would you like to share with users? What knowledge can you turn into video lectures? Your lessons must be useful, interesting, and effective (otherwise they won't be published).
The best thing is to read the section dedicated to creating a course on the Udemy website. It tells you in detail how to record your video lectures correctly.
Educational app creation in the smallest detail… sounds interesting? Then read our article with a full software development guide.
To truly understand how to create a clone of the Udemy site, you need to know its history. In Udemy's case, it's a story with a moral.
What is Udemy's story?
Although today Udemy's headquarters are located in the United States, the story originally began in Turkey. It was there that in 2007 a young man named Eren Bali launched the first version of Udemy... and failed. No one was impressed by his project.
Three years later, Mr. Bali, accompanied by several of his friends, went to Silicon Valley to achieve his cherished goal anyway (he was persistent and determined).
At first, they didn't succeed: investors were uninterested in the idea, which the guys enthusiastically described to them. However, Eren Bali and his friends didn't give up and decided to implement the project on their own.
So, closer to the summer of 2010, a marketplace with remote courses appeared on the American market. And there was only one thing left, the most difficult one: to find a way to attract students and teachers to their online learning platform.
"Let's try to call different people and convince them to become users of our new resource!" they decided. But this approach brought no results.
After a little consideration, Eren Bali and his team resorted to another way to get educational content:
they got access to a collection of free courses with a Creative Commons license. Having published them on their website, the guys began to advertise them as lessons from renowned US universities (which they were, so Eren Bali and his friends didn't lie).

they created their own paid course, which described the ways to invite venture capital investments.
Then marketing initiatives got involved, and things went faster and better. And in the end, the guys achieved their goal: the first users appeared, and they began to bring money. And after a while, the investor became interested in the project too (which has made a real difference, as you can imagine).

Now is the best time for educational website building. Why is that? The answer is in our article.
Our conclusion (as well as the story's moral) is simple: when creating your Udemy clone, don't expect success too soon, and don't give up on the first failure. The winner is the one who is willing to make new attempts to achieve the set goal, even if the previous efforts didn't work out as expected. And the history of Udemy is a striking example of our words.
As Nike says, just do it! But before you start doing it... let's figure out WHY you should do it, to begin with.
Benefits of Udemy Clone App Development 
First, we'll discuss the pros and cons of Udemy. You'll be able to understand which mistakes you should avoid and which Udemy features are useful to implement.
And then, of course, we'll make a short summary to help you get the substance of the matter.
What do students love about Udemy?
An incredible selection of courses compared to other educational platforms. We've already mentioned this above, but let's repeat it once again: any course idea coming to your mind is likely to exist on Udemy. Try searching and see for yourself!

Multilingual support. The site offers courses in the most popular languages (over 60), so the user doesn't have to know English to learn a new skill.

Access to courses forever. A student buys a course like any other product; access to lectures won't disappear over time.

Refund. Any site or app like Udemy inevitably encounters dissatisfied users from time to time. And these users need to be cajoled and buttered up in some way. That's why Udemy is ready to return the money to the user if he or she is disappointed with the purchased course (although the rule is valid only for a month, so the student won't be able to get his money back if he bought the course six months ago).  

Udemy course preview. To avoid the aforementioned need to bother with refunds, Udemy invites the user to carefully study the course chosen and only then buy it. And this kind of study includes, among other things, viewing previews to get an idea of what a particular Udemy course is about. 

Access anywhere, anytime. The advantage is pretty obvious, but it cannot be ignored. After all, the ability to take a course anywhere in the world and at any time is a great one, and it helps to promote the service in a better way.

Worldwide coverage. Students have the chance to listen to lectures from experts from all over the world.

Decent teaching material. As you'll soon understand, the user (the possible Udemy teacher) won't be allowed to publish a poorly prepared course, which means students don't risk getting low-quality content.

Convenient corporate courses. Udemy provides companies (teams of 5+ staff members) with special packages of corporate supervised courses (Udemy for Business).

High-quality playback of video lectures, which also matters a lot. You should think about high-quality video and audio playback at the very start of the project (when choosing development tools and a type of platform to create a Udemy clone).

Multiple platform availability, in other words, you can take training using any device, be it a smartphone, tablet, or desktop computer.
What do students dislike about Udemy?
Search difficulties. Yes, the large number and variety of courses is an undoubted advantage... which leads to a disadvantage, namely: choosing the right one takes a lot of time.

Non-influential certificates. Being able to get a certificate is great, but it won't help you find a good job. Diplomas from Udemy have no weight in any market as they almost never mention well-known universities.

English as a must-have. Remember when we told you about Udemy supporting many languages? It does support them, but the best courses are in English anyway.

Possibility of outdated courses. Online education platforms must offer the most relevant content, and Udemy does its utmost to keep up with the latest trends. Alas, sometimes incidents happen. In particular, some students complain they've found outdated courses with old-fashioned, inapplicable concepts.

Little teaching feedback. Unfortunately, not all Udemy courses offer feedback from their creators, which impairs the effectiveness of the learning process.
What do course creators love about Udemy?
Passive earnings. The user just needs to create a course and publish it on Udemy to start making a profit. It's not always high, but it's more or less regular.

Variety of course topics. A potential teacher is free to choose absolutely any topic to offer a training course. The main thing is to be well-versed in it (and be able to convince the Udemy moderators of your qualifications).

Flexible pricing policy. The author of the course sets the price of his creation himself.

No promotion costs. Udemy advertises and promotes its content itself, course authors don't need to do this. 

By the way, you won't escape a similar fate either. Udemy app development is only the beginning of your journey, and platform promotion would have to become your constant responsibility (if you're serious about succeeding in your venture).
What do course creators dislike about Udemy?
Deleted courses. Suppose, a user has published a course… there is a chance that after a while he'll find it deleted without giving any reason.

High requirements for the courses. Moderators carefully check the content and don't allow the publication of low-quality training material.

High competition. Course creators compete with each other and it isn't easy to reach the top.
And now, as promised, let's briefly summarize all of the above.
Reasons for creating your Udemy clone
The reason is quite simple: these online services offer their owners a good income. Of course, the cost to build an app like Udemy is high, but your expenses are justified if you approach the issue with a real plan at hand. Actually, our article is intended to give you an idea of how to draw up such a plan (if it doesn't work out, we're happy to help you in practice; sometimes theoretical tips aren't enough).
So, your task isn't just to understand how to create a clone of the Udemy site; you have to find a way to attract your first users (students and potential teachers).
Explain the following to your target audience (to make it interested in your newly created platform): 
Why should students choose your service? Here are some reasons:

they get access to a huge number of courses (of different types or one direction, depending on the strategy you've picked);

they have a real chance to improve the necessary skill without wasting time, effort, and money;

the online format allows taking lessons anytime, anywhere. One can study at home in the middle of the night or at lunchtime in the office;

companies get an opportunity to initiate convenient corporate training (which can be completed without interrupting the work process). Therefore, company CEOs perfect the efficiency of their employees.

Why should course creators choose your online learning platform? 

popular courses online are a wonderful opportunity to promote yourself as a teacher (or advertise your online school);

course creators start making money on a permanent basis;

they have the chance to establish communication with company representatives and sell them their corporate training courses (which is a real goldmine!).
Now let's discuss features of the site for selling Udemy courses (or more precisely, your courses created on the same principle).
Features of Udemy-like Platforms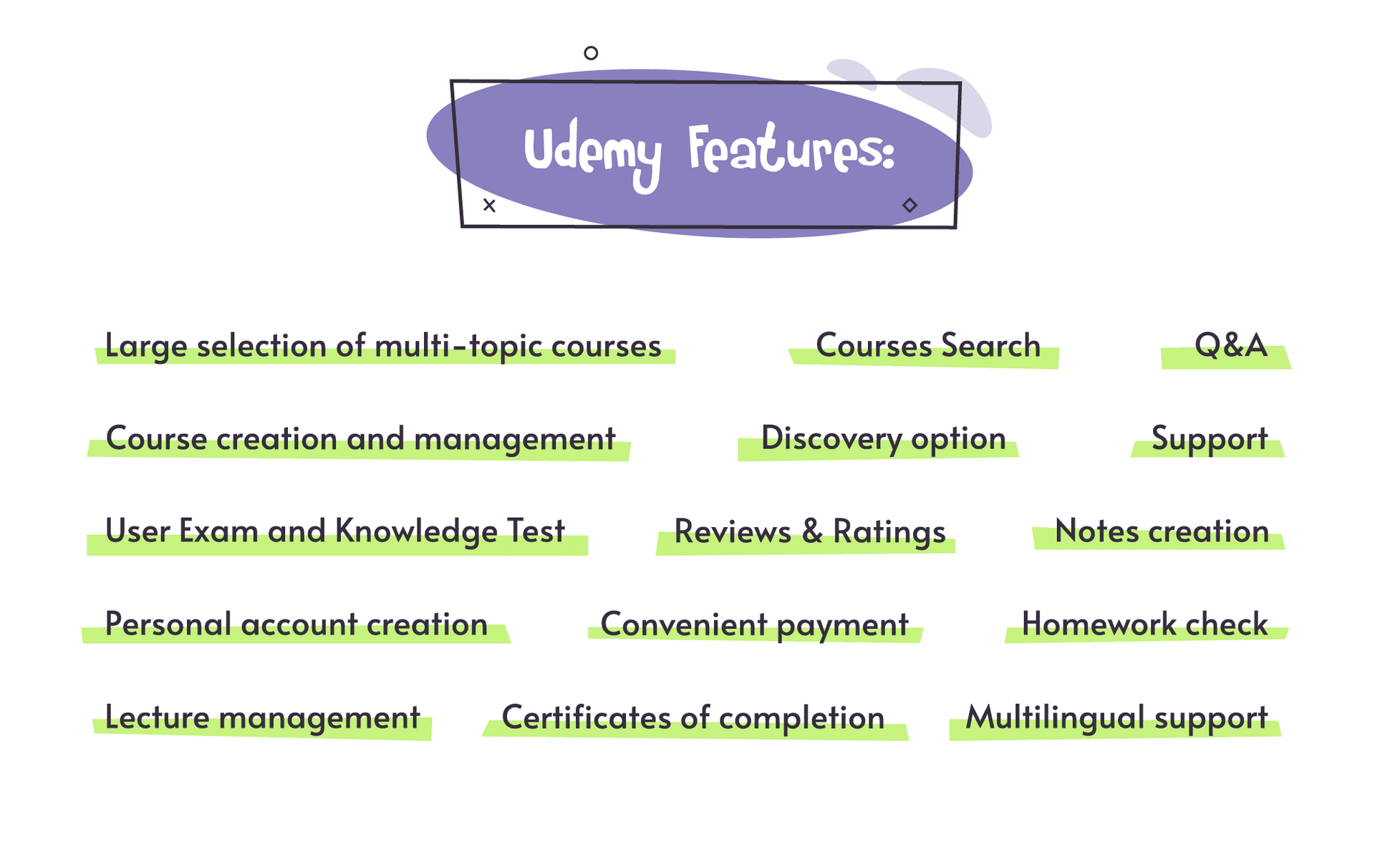 Personal account creation. Surely, you cannot do without the registration stage and creating a personal account. The user must have his own virtual page with access to basic features, whether it be playing a lecture bought or modifying a created course. 
In addition, the personal account should contain key information about the user (which is especially important for those who want to create courses; potential students might want to learn more about the author).
Course creation and management. If you want to replicate Udemy features as much as possible, be sure to offer the user the opportunity to become a course author. 
Large selection of multi-topic courses. We've already spoken in detail about the variety of Udemy courses. Should you follow its lead and provide courses on different topics too? Well, it's up to you, of course! But if you want to get our professional advice, keep reading. Below, we're discussing which strategy is wiser to choose in your particular case.
Course search. The search feature is also a must-have. Even if your collection of courses is still small, add the search option, otherwise, there is a risk of frustrating your user (and the frustrated user leaves the application or site). 
Discovery option. Wanna know how to make an app like Udemy even more interesting to the user? Implement the Discovery feature. Your service will analyze user behavior and offer him courses he could potentially like.
Lecture management. It's mostly about controlling the playback process: the ability to stop a video or audio lecture, rewind or forward it, remember the place where the playback process was stopped last time, etc.
Notes creation. Controlling video playback is cool, but Udemy went even further and offered the opportunity to make personal notes while listening to the lecture (a kind of lecture notes). Why don't you provide your users with something similar?
Homework check. Of course, not all course authors would be willing to supplement their lessons with homework. But the most responsible teachers (who want to attract a larger audience) will definitely use the Homework Check feature.
User Exam & Knowledge Test. Whether or not to add homework is a teacher's choice. However, a course completion exam is compulsory. How else to understand if a student has learned his lessons?
Certificate of completion. Among the features of Udemy is the possibility of obtaining a certificate. You also need to provide students with a document of the sort. And don't worry that it might be considered null and void: Udemy's certifications, as we explained above, don't impress employers either.
Convenient payment. Considering that the platform's functionality includes paid course features, you need to take care of a secure online payment system. Luckily, the modern IT market offers a great many reliable solutions, which allow implementing this very function without much effort on your part. You just need to choose the best option.
Reviews & Ratings. A user is unlikely to buy a course if he cannot see the rating of its author and read the reviews of other students.
Support service. We'd like to believe your audience won't face any problems when using your resource, but this is rarely the case. Some questions arise sooner or later, it's only natural. So don't forget to provide proper support (you can add a chatbot with the possibility to connect a human operator if needed).
Q&A. Not all user questions are original, some are often repeated. Collect them into a separate Q&A section to make the work of the support team easier.
Now it's high time we discussed how to develop an app like Udemy.
How To Create a Udemy Clone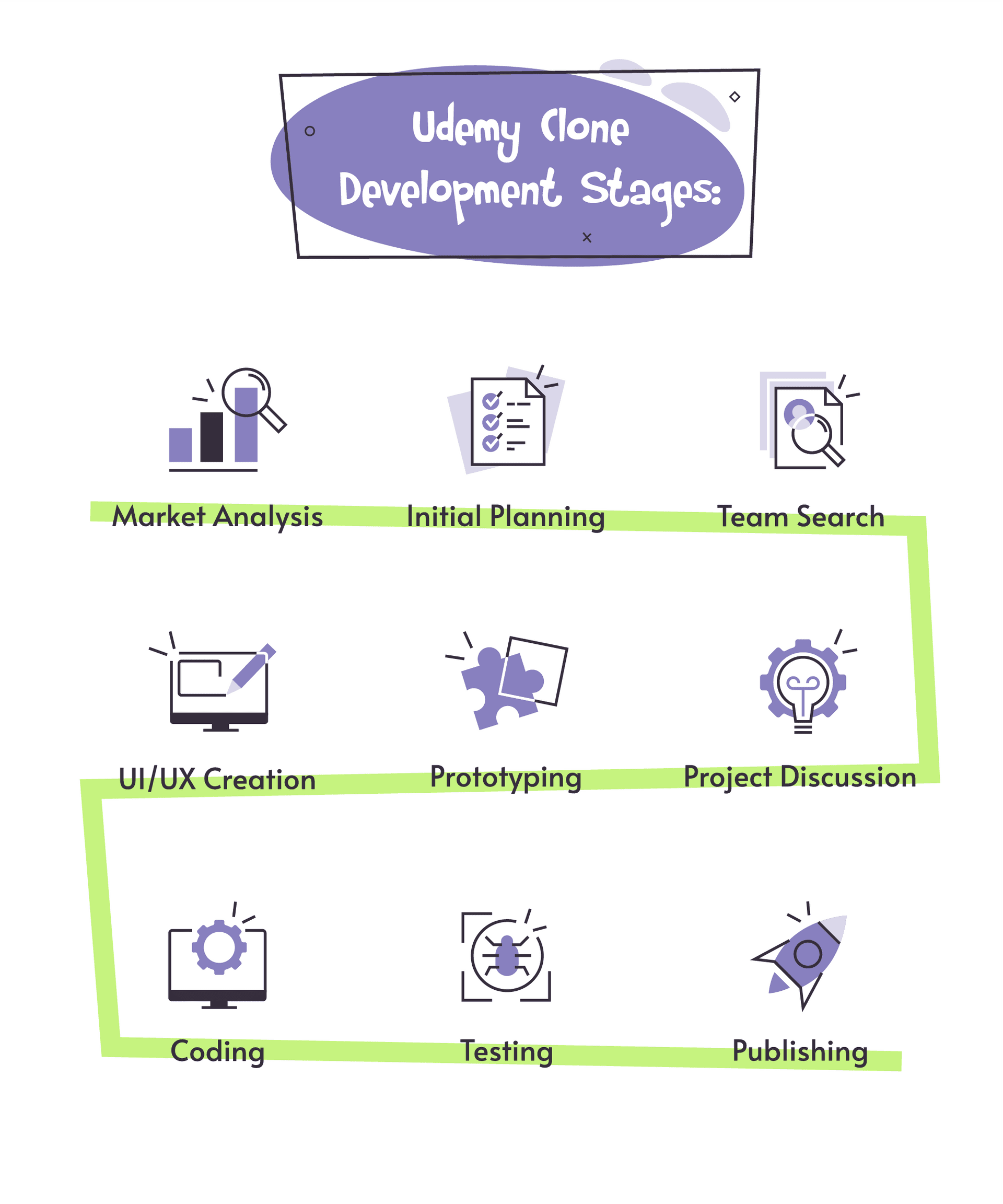 Udemy is based on PHP and Python languages with Nginx as the webserver, MySQL as the database, and Elasticsearch for the search engine. However, you can build your Udemy clone using other tools, the main thing is to get a good result.
To increase your chances of success, follow these simple tips.
Choose Your Niche
We promised you to cover the issue of the variety of course topics. Is it worth copying Udemy's strategy in this regard? Or is it better to take a different approach to the project? 
That's a very controversial subject. On the one hand, the more courses on different topics are available, the more users can be attracted (which means more money too). But keep in mind, you'll have to compete with other online education platforms, many of which are already rather popular.  
To avoid failure, start with just one thematic direction. For example, focus on courses on copywriting, marketing, web programming, or another topic in demand. It'd be much easier to promote such a resource.
You'll be able to expand your project without any risk, as soon as your audience brings a steady profit.
Pick the type of platform to create a Udemy clone
The most convenient way to create an educational resource is using the LMS approach.
LMS is software designed to organize a remote learning process and manage educational content. These systems are often used by companies willing to implement corporate training.
LMS can be created from scratch or using ready-made solutions (the second option is cheaper but less customized for the needs of the project).

In our other article, we detail the LMS issue from A to Z. Follow the link to read it.
Also, when thinking about how to create a clone of the Udemy site, you may come across the MOOC concept. Many consider it to be an LMS analog... which isn't entirely true. 
MOOC means the following:
Massive. In other words, a very large (in theory, unbounded) number of students is involved in the learning process, and without any geographical limitation (from anywhere in the world).

Open. The learning process is available to everyone (usually it's free and requires no payment).

Online. As we said above, the student is not limited by his location. The educational process takes place anywhere and anytime.

Course: it's about a structured presentation of information on a specific topic.
In other words, MOOC provides well-organized online courses set up by universities and high schools. In addition to the learning material, MOOC offers the possibility of continuous remote communication between students and professors.
Let's summarize. LMS is a platform (software) that can be used to implement an online course system, which is sometimes based on the MOOC model (as MOOC is by no means the only option). Do you see the difference?
Select relevant features of Udemy clone app development
The experts carefully analyzed the feedback from students about their experience of taking online courses and reached a certain conclusion. In particular, they found out that the main disadvantage of LMS is considered to be their poor or incomplete functionality. Don't make the same mistake!
BTW!
The Udemy features we've described earlier are quite enough to satisfy students and make them loyal users.
If you're on a tight budget and can't develop a complex, full-featured platform right away, start with the MVP model. Simply put, release a project with a minimum number of features and add new options later, whenever possible.
Build an app like Udemy to strengthen your position
Udemy prides itself on the fact that its system works on any device. That's why, in addition to the website, the company has released a mobile application, which exists in two versions (iOS and Android).
If you don't want to lag behind the market leaders, replicate this practice.
Hire a professional development team 
The most important thing is to hire experienced professionals. Don't choose the most expensive team on the market if you want to save money. You just need to make sure the experts you find are on top of their job and know how to develop an app like Udemy.
Make sure your teachers are good
Your platform should be curated by administrators (moderators). It'll be their responsibility to review the courses to determine if they are suitable for posting on your site. Don't allow low-quality content to be published, this will destroy the reputation of your entire project.
How To Make an App like Udemy Profitable
Commission. The main way to monetize the Udemy platform (or one of the main ways) is a percentage of the money paid by the user. The student buys the course, and his money partially goes to the owners of Udemy (although the author of the video lectures gets the most of it).

Corporate clients. More than 75% of employees of American companies successfully participate in training camps held by Udemy and Coursera (and corporate clients are always more profitable, as we've already written about).

Advertising. Of course, ads are also a great way to monetize a website or app like Udemy. To avoid getting the opposite effect of what you expected, follow a simple rule: first, ads must be relevant to the resource topic. Secondly, don't overload the website page (or app screen) with advertisements and commercials.

and here's another idea of monetization associated with advertising: offer users to buy a subscription to enjoy your service without annoying ads (like YouTube and other resources are doing).

Paid features. You can sell paid access to certain premium features. Just make sure they are really premium and not part of the basic functionality without which your platform won't work properly (otherwise it might look like cheating).

Paid promotion. If desired, the author of the course can pay money so that his lectures appear at the top of the list in the search results (provided they meet the search criteria specified by the user).
Other Successful Online Education Platforms
Let's take a closer look at the main competitor of the Udemy resource, and then briefly mention other platforms.
Coursera is based on the MOOC model we discussed above (scroll back if you missed that part of our article). In other words, it uses content provided by higher education institutions.
Coursera was created in 2012 by Stanford University professors. They wanted to offer students some kind of free and open online course available to everyone. And their idea was a success.
Coursera initially partnered with Princeton, Stanford (of course), and the universities of Michigan and Pennsylvania. Today, the platform collaborates with nearly 120 higher education institutions around the world. 
Alas, you're unlikely to be able to make the same connections, so creating your Udemy clone (which doesn't require partnerships with Princeton and other similar universities) will be easier than trying to build a second Coursera. However, the Coursera experience is still useful to you.
Coursera Business Model
Most of the courses are free, but a couple of years ago Coursera started offering some paid specializations (rare and unique ones).

If a student wants to receive a certificate of completion, he must pay a certain fee (and pass the exam to prove he has successfully mastered all the lessons). 

Coursera diplomas include the names of the universities, which granted them, so employers respect these documents.

Oftentimes, companies want access to information about gifted and talented Coursera students. And this access requires payment too (and why not?).
Well, we've figured out how to create a clone of the Udemy site and found out who its main rival is. Now let's mention a few more popular educational resources that may be your potential competition, and that'll be it.
Other platforms like Coursera and Udemy
Skillshare. Its specificity is creative courses. It contains lectures on interior design, cooking, graphics, photography, and more.

As with Udemy, you don't need to be a pro to post your lessons on Skillshare. It's enough to follow the instructions on the website.

Codecademy. As the name suggests, the resource focuses on teaching users interactive programming. And most importantly, the learning process is completely free!

Pluralsight. Pluralsight doesn't want to be limited to just one direction of education and, like Udemy, tries to cover as many learning areas as possible. The company is based in America but operates all over the world (and has been on the market since 2004, which is a great achievement in itself)! 

Anyone could post his educational content on Pluralsight... provided he managed to pass a rigorous selection of moderators. But if he does manage it, he gets a chance to deal with a huge number of corporate clients (who love Pluralsight).
Our team knows how to develop an app like Udemy and has vast professional experience. We're happy to discuss your idea and suggest the best ways to bring it to life.
Rate this article
16 ratings, average 4.81 of out 5