Top 7 Crypto Wallet Apps
People are increasingly joining the ranks of happy cryptocurrency users (surely, Bitcoin is still the top option). Though it isn't enough to buy bitcoins, you need to find where and how you're going to store them. So you can't do without a special crypto wallet, regardless of whether you plan to invest in Bitcoin or spend your funds right away.
The task is more difficult than it seems at first glance. One wrong step will result in all your crypto money being lost! That would be awful, wouldn't it?
So we decided to help you a little with our expertise. We've compiled a list of the best Bitcoin wallets and detailed the pros and cons of each solution. You now have a lot to choose from.
By the way, if you yourself are planning to create a cryptocurrency wallet app, don't ignore our article too, take some time to read it. The examples we're sharing with you will inspire you even more.
What Is a

Bitcoin Wallet?

The answer to the above question is extremely simple: the wallet in discussion is a special space intended for storing (and sometimes managing) digital crypto savings.

There are different wallet types, but they basically consist of two critical elements:
The public key, which is an analog of your bank card number. The analogy is complete: the card number is needed to send and receive money, and the public key performs the same functions only in relation to cryptocurrency.

A private key, which is a password providing you (and only you) with access to your coins.
As you understand, the public key doesn't need to be hidden, after all, it's just the address to send the cryptocurrency. The situation is more complicated with the private key: if third parties know it, your savings will be in danger.
A few more things to remember:
A single digital wallet can have multiple receiving addresses generated by its public key (which is different from a traditional bank account).

The loss of the private key leads to you losing your crypto funds too (or rather, your access to them). That's why best crypto wallets offer to generate an additional (backup) key, just in case.

As studies say, at least 20% of all bitcoins in circulation (worth billions of dollars) are inaccessible due to a lost private key.
Cold or Hot Wallets

: What is Better?

Digital wallets fall into 2 broad categories, namely:
Cold wallets, considered to be more secure (since crypto tokens are stored offline).

Hot wallets with constant online access to your crypto funds. While these services are very user-friendly, they're vulnerable to security issues. Among others, there is a high risk of wallet hacking and data loss.
These two main types of crypto wallets can be divided into narrower subcategories. 
Cold wallet options
Paper wallet. In the first case, everything is extremely simple: you just go to a special site, generate your keys, print them, and store them on paper (they exist as a QR code). As you can imagine, using such a wallet is inconvenient, but data security is guaranteed. The main thing is, don't give your precious piece of paper to anyone.

Hardware wallet, which is a removable medium with a cryptocurrency wallet application stored. These devices aren't always convenient to use, but they're completely safe (unless you manage to lose yours, of course).

Professional storage. An average user doesn't need such storage space, perhaps, because it's very expensive to use. However, some companies are better off resorting to such "wallets", which, in fact, are nothing more than special safes.
Hot wallet options
Online wallet. Quite simply, it's just a website with access to your wallet. All you need is a computer or other device and a working Internet.

Mobile wallet. Here we're dealing with an application installed on your gadget (say, smartphone). Working with such a wallet also requires Internet access.

By the way, we describe several examples of the best mobile crypto wallets below. Their advantage is that they're always at hand, wherever you go.

Exchange wallet. It operates under a specific online cryptocurrency exchange (usually owned by the same company).

Software (desktop) wallet. The user downloads a special program and installs it on his computer.
What to Consider When

Choosing a Wallet?

To pick the best crypto wallet app (or create it yourself), you need to answer a number of questions:
Where will the wallet be stored?

How important is an intuitive and user-friendly UI to you?

What cryptocurrency are you planning to use?

How many coins are you planning to store?

Do you need increased coin security?

How much are you willing to spend to keep your crypto wallet running?

What features do you want to have access to besides storing cryptocurrency?
Have you answered these questions? Then it's time to skip to the next, key section of our article.
Best Crypto Wallets
Exodus is a top-notch, multi-cryptocurrency, highly personalized wallet. It is considered one of the most user-friendly solutions on the market today.
It doesn't belong to online crypto wallet types and is a software (desktop) product (which is, as you should remember, a program installed on your computer or another similar device)
History
Exodus doesn't have a long history so far, it was created just a few years ago, in 2016. The money for its development was received thanks to a successful crowdfunding campaign.
By the time Exodus appeared on the market, the latter had already been full of similar apps (too many of them, frankly speaking). To succeed, one had to offer users something special, and the creators of the new product did it (take a tip from that if you want to invest in Bitcoin applications either, by the way!). They built a cryptocurrency wallet app with maximum personalization and usability in mind. In other words, the focus was on a flawless user experience.
The goal was set and achieved, which's why Exodus managed to find and gain the loyalty of a large number of users in a short time.
What about data security?
Alas, Exodus isn't the safest bitcoin wallet (although it is quite secure), which is easy to explain:
If you lost your laptop with Exodus installed on it, there is no need to worry about the cryptocurrency stored in your wallet. You can still access it (Exodus offers a few easy ways to accomplish the goal)... which is good, right? However, let's face it, such an approach, while convenient, isn't very secure when it comes to data protection. 

According to users, Exodus lacks some data protection features (and the best bitcoin wallets usually have them).
However, don't think Exodus is risky to use. It's just that the service will always be inferior in safety to cold wallets, that's all.
Exodus pros:
The ease of use, which we've already mentioned. It is truly incredible (compared to other cryptocurrency wallets).

Support for a huge number of cryptocurrencies like Bitcoin, Aragon (ANT), Ethereum (ETH), WeTrust (TRST), and many, many others. The list is very long!

Automation of the commission, which greatly simplifies Bitcoin transactions. If you haven't dealt with cryptocurrencies before, such a feature would be handy.

Excellent user support. Did you know that the key disadvantage of most crypto wallet apps is the lack of quality customer support? So, Exodus doesn't have the problem in question.

By the way, before contacting customer support, you had better start by studying the detailed and numerous articles on the Exodus site. They contain a lot of useful information.
Exodus cons:
a certain vulnerability in terms of data protection;

high commission.
Since Exodus is so easy-to-use, clear, and intuitive, it'll be the perfect choice for those new to the crypto world. They'll have a real chance to adapt to it quite easily.
Coinbase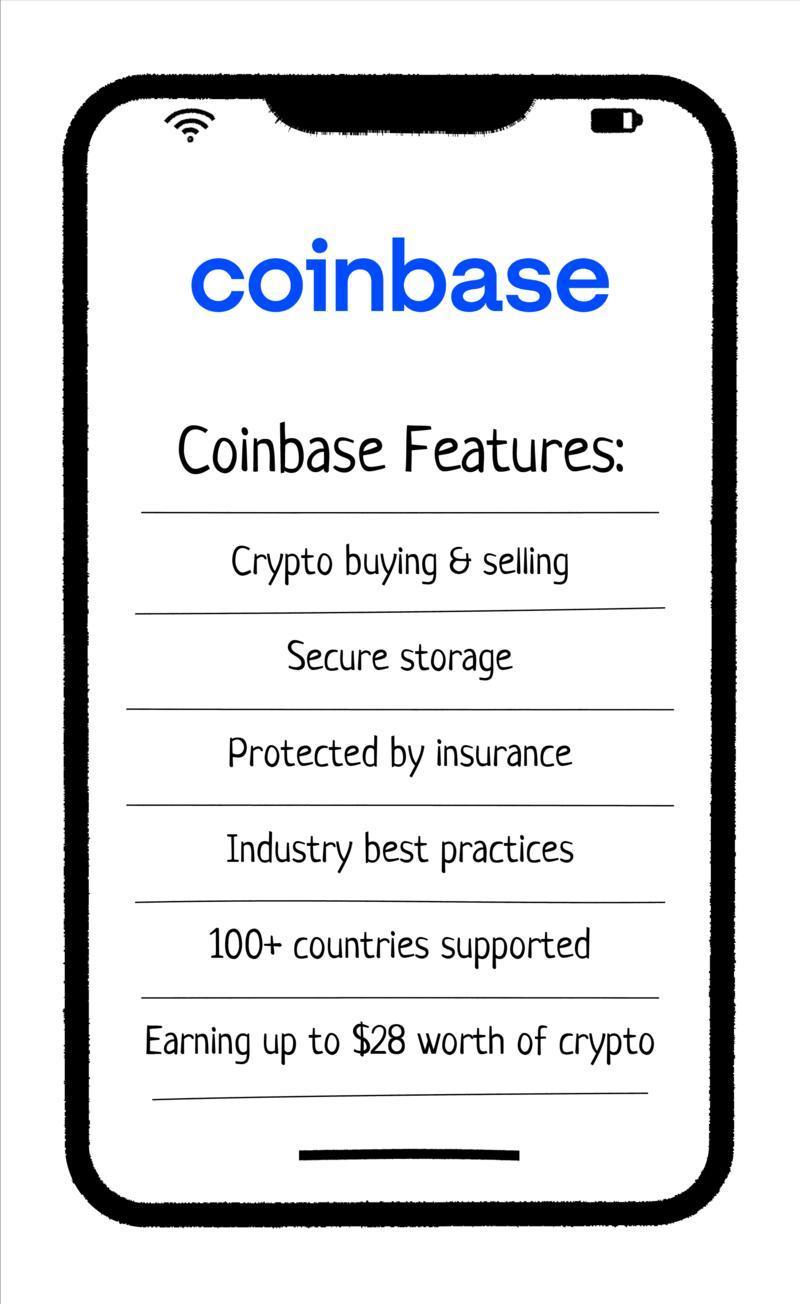 The second item in the list of the best Bitcoin wallets (not only Bitcoin, of course) should be taken by Coinbase. The service today exists in two formats: 
an online wallet, which supplements the cryptocurrency exchange of the same name;

mobile app.
Alas, the crypto exchange is unavailable in some countries - say, those that belong to the post-Soviet region, - however, as an online or mobile wallet, Coinbase can be used anywhere in the world. And this is the most important thing, isn't it?
By the by, some users consider Coinbase the best mobile crypto wallet, which says a lot, right? 
History
Coinbase was released into the cryptocurrency market when it was just starting to evolve. More precisely, the service appeared in 2012 in San Francisco (California). 
The original goal was to provide a product able to compete with the Blockchain wallet (which was the best wallet for cryptocurrency at the time).
But over time, the company has expanded its line of digital solutions. And today the crypto wallet is no longer the only product, there are also a cryptocurrency exchange, a venture fund, and other similar services. 
Coinbase pros:
Support for a large number of cryptocurrencies. We won't name all the items in the list, as it may change.

The ability to manage cryptocurrency in the wallet itself. Moreover, the simplest operations and Bitcoin transactions don't even require identity verification.

Fast confirmation of transactions (although not instant, of course). It's just that when you compare Coinbase to other crypto wallets, it clearly wins in this regard.

Availability of a mobile application (which works on both Android and iOS platforms).

Funds insurance, which implies the opportunity to reimburse financial losses if funds are stolen.

The chance to take advantage of the "cold storage" protocol (the essence of which we described when explaining what is preferable, cold or hot wallets).

In the case of Coinbase, the rarely used part of the cryptocurrency can be stored on secured technical means, which improves the security of the wallet.

The high reputation of the company. Over the years of its existence, Coinbase has won the loyalty of more than 20 million users.
Coinbase cons:
Despite the possibility of cold storage, Coinbase still belongs to the hot wallets, which means its security is hardly ideal. 

Another disadvantage of the service is the lack of support for some languages.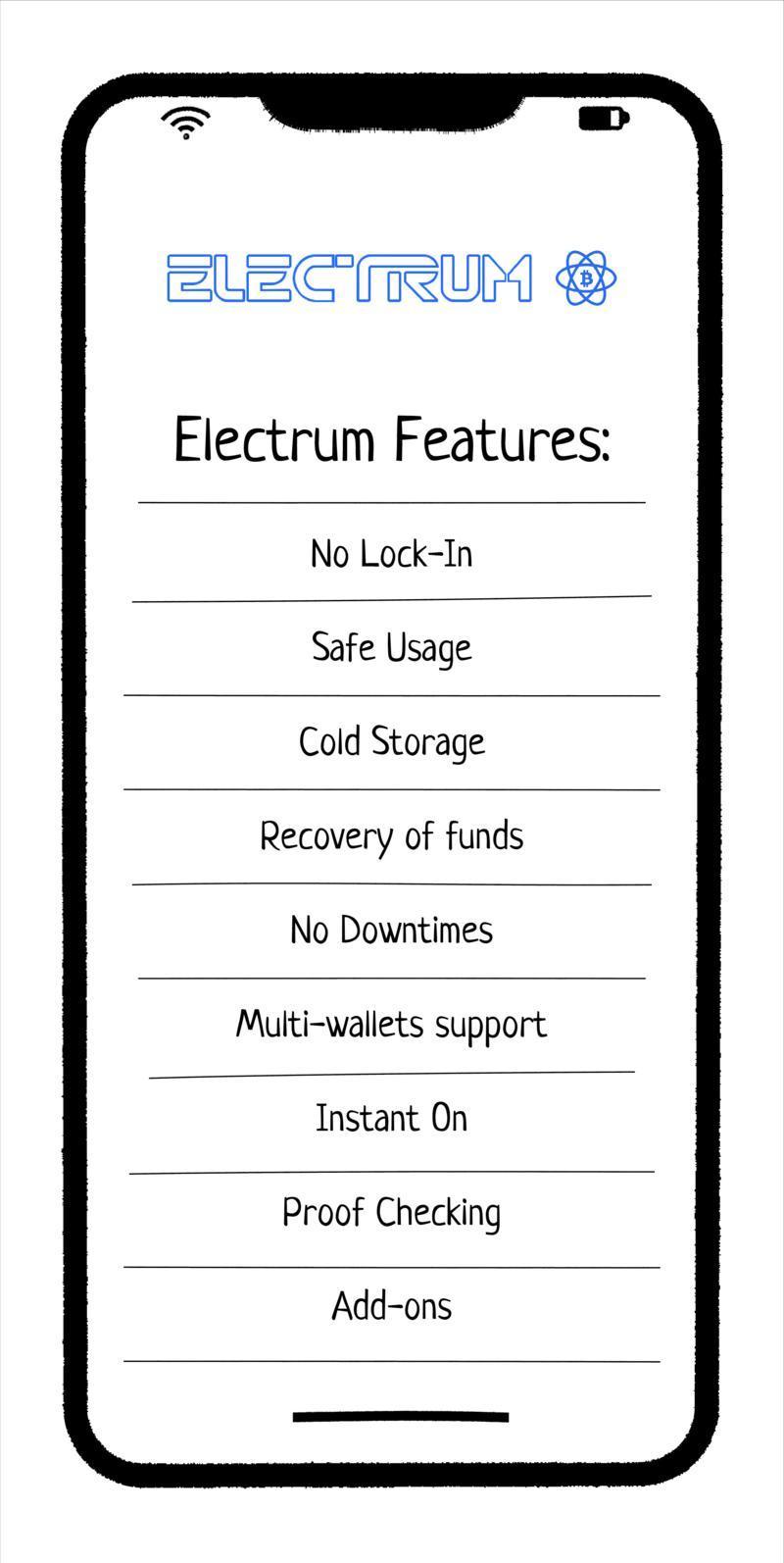 Electrum has been around for even longer than the Coinbase described above. It is one of the first services of its kind, which made it a pioneer and explorer of some sort. 
Electrum was originally a 100% Bitcoin wallet, but today it supports more cryptocurrencies (mainly thanks to the efforts of the developer community, since the current version of Electrum is open-source). 
Electrum has its pros and cons, and we'll discuss them at length below. For now, let's just say the service doesn't require a full blockchain download, which speeds up its operation (while private keys are stored on the user's side). On the other hand, the Electrum UI isn't very creative. The wallet is completely focused on performing its main functions, whether it is sending bitcoins or accessing the history of transactions. The design wasn't given much attention, so it remains minimalist.
History
Electrum appeared at the beginning of winter 2011 and was a real discovery. Before it, there were no services, which allowed storing bitcoin without fully loading the blockchain, so success was inevitable. Quite rightly, Electrum had become one of the best Bitcoin wallets (and is still very popular). Especially since there was almost no competition then.
There was only one cryptocurrency at the time, so it's understandable why the service was focused on Bitcoin. However, later the crypto portfolio was expanded.
Important to know!
Yes, today Electrum is considered a multicurrency service… but there are some nuances you have to know.
The fact is, each Electrum wallet works with just one crypto coin type. So the user has to create several cryptocurrency wallets if he's dealing not only with bitcoin.
Electrum pros
Enhanced security. In particular, the service offers excellent phishing protection.

Convenient work with transactions. Let's say it is possible to make several transactions at the same time. What's more, they can be carried out anonymously.

Managed commission. In other words, the size of the commission is customizable.

Multilingual interface. So it is not necessary to know English to take advantage of the wallet.

A cross-platform approach, which allows you to freely use Electrum.

Integration with popular brands of hardware wallets. Therefore, you're able to work with cryptocurrency from removable media. By the way, this also increases the security of the wallet.

Open-source base. Hence, any developer has the right to access the code.
Now you understand why there are users who believe in Electrum being the best crypto wallet app. But it has disadvantages too, and we'll discuss them now.
Electrum cons
Inability to work with all cryptocurrencies using a single interface.

Paid two-factor authentication (or rather, the sent one-time codes are paid).

Delayed transaction status update.
The creators of Mycelium presumptuously call their product the default Bitcoin wallet. Well, the service is really pretty good: it's easy to use and offers a lot of cool features. But the default product label is a clear exaggeration.
At its core, Mycelium is an Android and iOS application. Some people are frustrated there is no desktop version, but we have a simple explanation. The thing is, developers had no intention of creating desktop and mobile wallets, their task was a product, which is always at hand and can be used on the go. And they reached the target.
BTW!
MyCelium still only supports Bitcoin.
History
The Mycelium company appeared back in 2008. And at first, crypto wallet apps weren't even on the table, so to say, and the team developed another network project. However, a few years later (more specifically, in 2012) they decided to delve into bitcoin technology and create a special ecosystem for working with this cryptocurrency.
They developed a mobile wallet, which became very popular among bitcoin owners. This is how the success story of Mycelium began.
Mycelium pros
Effective work (with a stable Internet).

High reliability and security (Mycelium is perfectly protected).

Open-source basis, allowing other developers to work with the product.

Lots of accounts to create, which might be useful too.

Good reputation. Do you know what makes Mycelium one of the best Bitcoin wallets? The experience of the team, which created it, and the successful history of working on the crypto market.

Hardware wallet support. Mycelium works with well-known hardware wallets like Trezor and Ledger.
Mycelium cons
There is no desktop support, which we've already mentioned. Only iOS and Android apps are available.

The complexity of the program's navigation, especially when it comes to users who have no experience in choosing a wallet to store their crypto coins.
We managed to discuss different types of crypto wallets and provided you with a few real-working examples. But all of them are hot wallets, and now it's time to give you an instance of a cold (hardware) one.
So, we bring to your attention the Ledger Nano X hardware wallet, a new model of the famous French manufacturer (Ledger SAS).
If we compare Nano X with previous similar products from the company, we can say that it is improved with several cool features. These include, among other things, Bluetooth support, a better display, and more memory (simply put, it becomes possible to download more crypto wallet apps to the device).
How to use Ledger Nano X?
First, you need to download the Ledger Live app to any convenient device (Nano X is compatible with all operating systems) and connect the hardware wallet using a special USB cable.

You'll be prompted to come up with a PIN code and a 24-word passphrase. You should remember both passwords.

Next, it remains to install and configure the Ledger Live application to work with the device. 

If you read our article carefully, then you know that Ledger Live isn't the only option, there are other cryptocurrency wallet apps Nano X supports (in particular, Mycelium).
Ledger Nano X pros:
Multicurrency. Ledger Nano X works with a huge number of cryptocurrencies.

Highest security. Like all hardware wallets, the Nano X offers a high level of data protection.

Backup copy. If you lose your Ledger Nano X, you have the opportunity to recover your data using a special passphrase (the one consisting of 24 words).
Ledger Nano X cons:
Yes, hardware services are considered the safest Bitcoin wallets. However, in the case of Ledger Nano X, the Bluetooth feature should also be taken into account. On the one hand, we get greater usability of the device, on the other hand, Bluetooth exposes the wallet to additional cyberattacks (more truly, we increase their likelihood).
Crypterium is a very interesting and original product. In essence, it combines a mobile wallet and a digital bank analog. The company itself says the same on its website.

Crypterium is definitely a worthy addition to our list of the best Bitcoin wallets. But let's discuss it in greater depth.
History
Crypterium has been around since 2017. Originally, the company intended to create a dedicated crypto-banking platform. It was supposed to offer financial services in a banking style, with the difference that cryptocurrency was used instead of the usual one.
The company has since released several related products, including a digital wallet and a special card.
What is Crypterium?
Crypterium is one of the best crypto wallets, at least when it comes to the internal app structure. The point is, it ideally combines functionality and safety of use, and such a balance, believe us, isn't easy to achieve.
Crypterium has a lot of advantages (see the pros list below), one of which is the chance to get the Crypterium crypto debit card of the same name. This card can be used to pay with it in everyday life.
Crypterium pros:
Access to unique banking features (including the creation of an interest savings account).

Ease of use (however, almost all cryptocurrency wallets are intuitive and user-friendly).

Security (thanks to the possibility of cold storage).

AI elements. Artificial intelligence capabilities are used for crypto trading (which means users may buy coins at the best rates (prices)).
Crypterium cons:
The service doesn't have too many drawbacks. According to the complaints of some users, the app lacks an account saving feature. In addition, the low transaction limit is causing people's frustration.
They say the Crypterium service with its crypto cards is able to replace the well-known Visa and Mastercard products. Well, let's wait and see.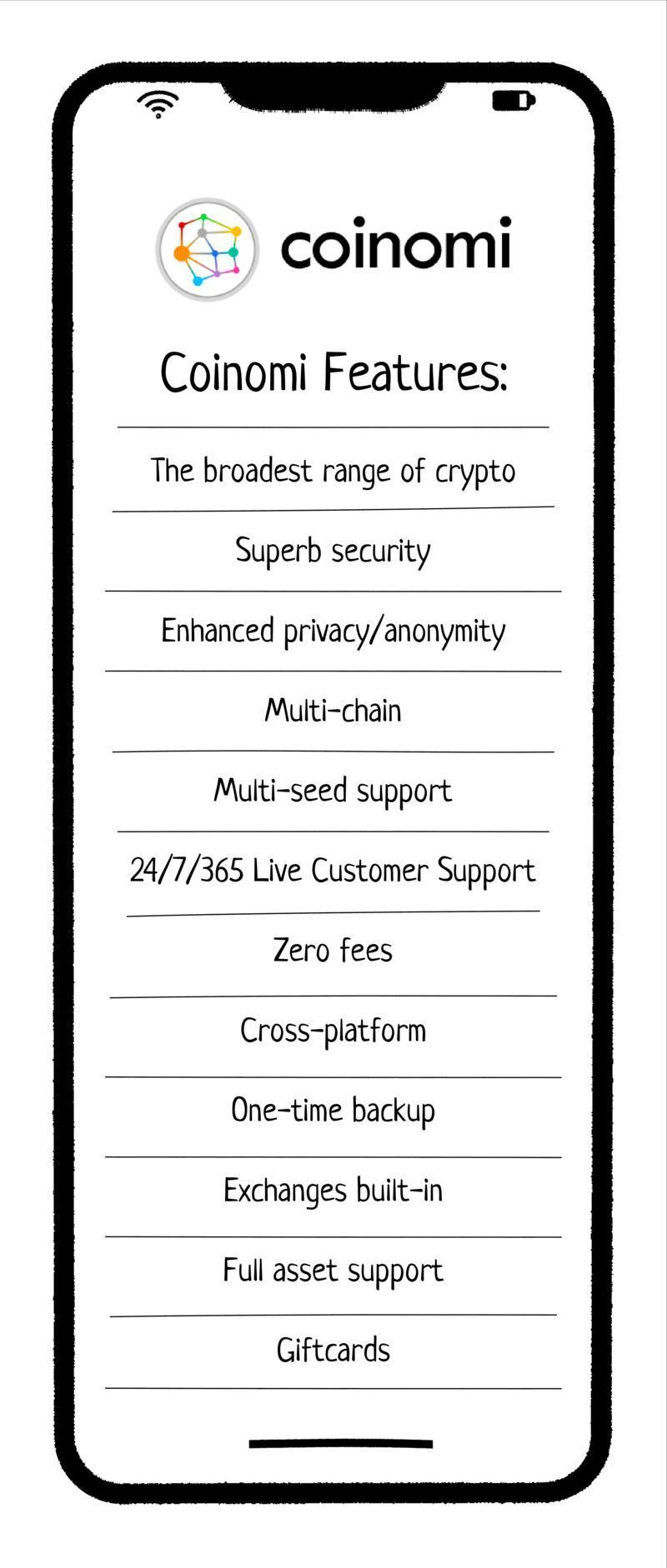 This is the end of our list of the best Bitcoin wallets. It remains to discuss Coinomi, a simple multi-currency service.
Coinomi is a handy mobile wallet. At first, it worked exclusively with the Android platform, but later its creators released iOS and even the desktop versions.
History
Coinomi was launched in 2014. The company that released it is registered in London, but the service works everywhere (or next to everywhere).
Of course, in those days, other similar services already existed, but the future creators of Coinomi were unhappy with them. The market needed a better solution, and the company was ready to do its utmost to provide one.
The path to success was rather rocky. The problem was the limited budget of the company, which forced its founders to save on marketing activities. And the lack of high-quality promotion of a new product led to its low demand. Users just didn't know there was a new wonderful crypto wallet!
Anyway, the company achieved its goal. Coinomi eventually became popular, aided by the added multi-currency feature.
Coinomi pros
Not bad security (but not perfect, as the list of cons shows). The company has gone to great lengths to make the product highly protected. Security is enhanced by such techniques as increased anonymity, data encryption, and hidden IP addresses.

Multilingual support. Moreover, the translations into other languages are quite correct (which isn't always the case).

Multicurrency. In addition, users have a wonderful opportunity to exchange crypto coins among themselves.

Saving device resources. To be precise, Coinomi doesn't require a lot of resources for quality work.

24/7 support, which is an important criterion too.
Coinomi cons
Loss of cryptocurrency. For a long time, Coinomi has been considered the best mobile crypto wallet in regard to security. However, recently, some users started complaining about the loss of cryptocurrency from their personal accounts. 

Requesting personal data, which annoys many users.

The absence of some popular names in the list of supported crypto coins (although this problem will most likely be solved sooner or later).
Summary
Haven't found your perfect wallet? Then we invite you to create your own! It'll fully meet your requirements and wishes.
Rate this article
15 ratings, average 4.80 of out 5