Top 5 Alternatives to Monzo Mobile Banking App
The banking industry has changed forever: we can no longer imagine a bank without its mobile app. It's a tool, which helps to expedite processes and makes the interaction with the bank more convenient. The brightest example of a successful solution is Monzo. In this article, we are going to find out what clients like about its digital banking app. In addition, we'll consider the main alternatives to Monzo.    
What is Monzo?
Monzo is a popular mobile bank, which practices a modern approach to the provision of banking services. The financial company doesn't have branches: all operations are carried out through its mobile application. It allows founders to decrease costs and commissions for clients. 
The general principle of work is the same as in other banking institutions: users make instant transactions, open deposits, take loans, and so on. But all they need to do is just open the application.
The digital banking app of Monzo helps clients enhance their budgeting and organize finances. The most useful features we would like to note are:
User-friendly graphics that allow understanding spending better;

Splitting bills;

Keeping track of who owns the money you sent;

Automatic transferring money to a savings account;

Receiving notifications if certain bills are higher than your set limit;

Scheduling transactions.
The variety of wonderful features is one of the reasons why the bank is so popular. However, there are numerous other players in the market. Let's find out the best alternatives to Monzo.
5 Alternatives to Monzo
Revolut
A perfect solution if your main task is to transfer money with minimum charges. Revolut is operating in 130 countries, so you can easily use its card abroad. Moreover, the bank offers users the opportunity to buy and hoard cryptocurrencies such as Bitcoin, Ether, and Litecoin.
Revolut was founded in 2015 as a fintech startup, so the company is still developing. It explains the presence of certain relevant problems, which will be solved after a while (we hope).
Pros:
Holding money in several currencies;

Ever-expanding set of features (crypto trading added in 2019, virtual cards, and so on);

Premium subscriptions with different perks (for example, travel insurance).
Cons:
Strict security rules (your account may be temporarily frozen without notifications).

Poor client support. Perhaps, the company doesn't have enough resources to provide users with great new features and qualitative support at the same time. 
Anyway, Revolut is one of the best alternatives to Monzo taking into account its mobile application and features offered to users.
Link: Revolut
The credit thing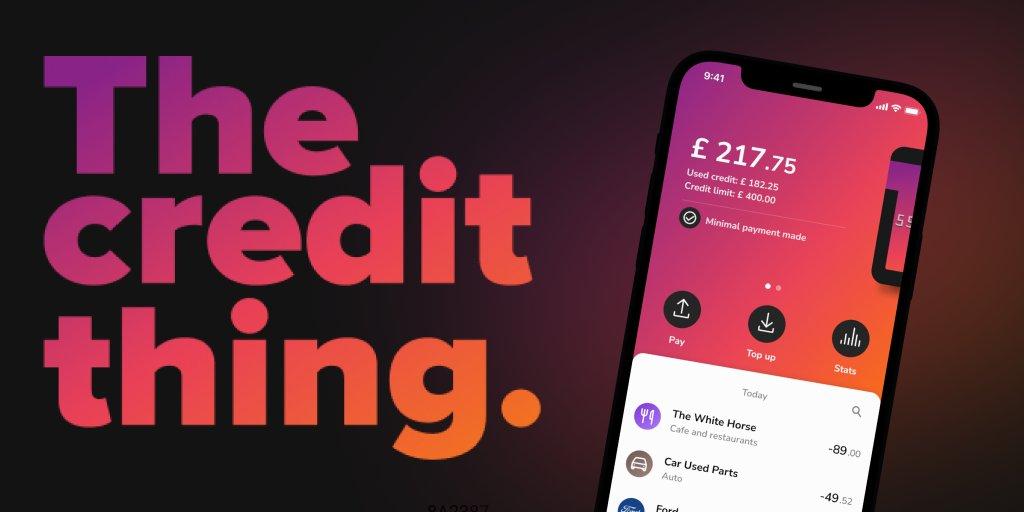 An app-based market player, which features not only the full set of banking services but also its human customer service (unlike Revolut). An important remark: The Credit Thing isn't actually a bank; this is an e-money agent of PrePay Technologies Ltd authorised by the Financial Conduct Authority.
The company appeared in 2020. And it has a good chance to become one of the main alternatives to Monzo.
Pros and benefits:
Protecting money from fraud. If you notice something suspicious, the team of The credit thing is always on hand to help;

Low fees or their absence (even abroad);

Full control over your card in the mobile application;

Excellent customer support (in WhatsApp or iMessage);

Detailed expanses in graphics.
Cons:
A very young startup, so it has enough things to improve.
Link: The credit thing
Starling Bank
The solution for instant payments and other financial operations was launched in March 2017. Today, Starling Bank is serving more than 2 million accounts including 350 thousand accounts of small businesses.
The company has earned the top customer score of 88%. Its services are related to both individual clients and small/middle companies. All transactions are easily performed online with the help of the digital banking app.
Pros:
Good control over your funds (you can restrict or block some payments);

Paperless statements;

Free cash withdrawals abroad;

No foreign transaction fees;

The opportunity to integrate your account with marketplaces.
Cons:
The integration is available on platforms, which Starling bank cooperates with;

Only UK residents are able to open accounts.
Link: Starling Bank
First Direct
It's one of those rare true banks, which operate totally online. First Direct was created in 1989, so it has proven its reliability.
There are several reasons why we have included the financial establishment in the list of the main alternatives to Monzo:
Wide range of services (from current accounts and mortgages to worldwide insurance and ID theft assistance);

Amazing customer support;

Absence of bots (all decisions regarding your account are made by real people);

Convenient, easy-to-use application and website.
However, the bank also has a few drawbacks:
First Direct accepts new clients only with good credit records;

£10 fee if your turnover on your account is less than £1,000 per month.
Thus, we recommend looking up to First Direct because this company has proven the effectiveness of its strategy.
Link: First Direct
Monese
Monese is a digital bank founded in 2015. It's a great option if you wish to set up a UK account without the need to prove your address, credit story, and so on. The number of services is enough for most people (the bank is constantly expanding the range of features). Besides GBP, clients can open a EUR account as well.
Pros:
Quick and simple setup;

Smooth application with an excellent user experience;

Premium subscription options with extra privileges.
Cons:
No deposit guarantee (no a banking license);

Limits on withdrawals, top-ups, and spending money;

Insufficient customer support.
The bank is betting on its application, which, by the way, deserves praise.
Link: Monese
Summing up
Nowadays, the basis of any financial company is a digital banking app. Clients wish to operate completely online: they avoid visiting branches by all means. The best alternatives to Monzo will help you figure out what to improve in your company and mobile app. You can adopt certain tactics and approaches to increase customer loyalty, expand the range of services, and, as a result, boost your development.
Feel free to contact us to discuss your future or existing project. One of our specializations is the financial industry, so we are able to bring to life any of your ideas. Moreover, we'll consult you about must-have features to guarantee your success.
Rate this article
15 ratings, average 4.80 of out 5