The Best ATS for Recruitment Teams
Clear-sighted business owners know the importance of hiring experienced employees. Finding such experts is the task of recruiters... whose work could be simplified and improved with applicant tracking systems (ATS).
The point is, recruiters can overlook important details or spend too much time reviewing and checking each candidate. As a result, you may find that the desired applicant has already been hired by your competitor who made the right decision faster. Isn't it time to automate the whole process? And speed it up a little bit?
The topic is interesting and deserves a detailed discussion.
What Are

Applicant Tracking Systems?

ATS is a state-of-the-art solution to help recruiters and HR managers better fulfill their responsibilities. Its main task is to optimize and increase the efficiency of the recruitment process by automating it. 

ATS carefully filters and sorts incoming applications by keywords, skills, work experience, and education, saves CVs from various sources in a single database, provides access to the candidate and job history, shows performance statistics, and more. Simply put, we're dealing with an applicant management and tracking platform. 

ATS actually kind of reminds a professional recruiter, at least, at first. After all, any HR specialist begins work by checking the compliance of a specific applicant and his CV with the requirements of a certain vacancy. And the ATS online system operates in exactly the same way, with the difference that it can be more productive than a recruiter (who is just a human, as you understand).

Top ATS solutions have long proven their effectiveness. Once implemented, they lead to improvements in such important metrics as time, cost, and quality of recruiting.
From the past to the future
The history of ATS inspires respect and goes back to the 90s of the last century. CRM systems and advanced databases were their early prototypes. And though being better than nothing, they certainly had a lot of flaws. A more perfect solution was needed, which applicant tracking software tools became.
Initially, business owners and HRs were suspicious of them, but later the situation had changed a lot. The first active users of ATS were huge corporations, which found it difficult to cope with an enormous stream of job candidates. So executives took the risk and tried an innovative approach to recruiting, and they benefited from it.
Gradually, however, small businesses had also appreciated ATS benefits. And if 5-7 years ago these programs were being used by only one of three IT companies and one of ten organizations working in other areas, today 65+ % of all businesses take advantage of various kinds of paid and free applicant tracking systems. 
What to expect from

ATS solutions in the future?

As a survey conducted by LinkedIn Talent Solutions showed, 75+ % of hunters believe that the recruiting market will soon see the introduction of AI, RPA, IoT, VR/AR, and other similar technologies. 

There are already attempts to instruct bots to predict the career prospects of candidates or use improved algorithms focused on finding applicants. As they say, the first blow is half the battle!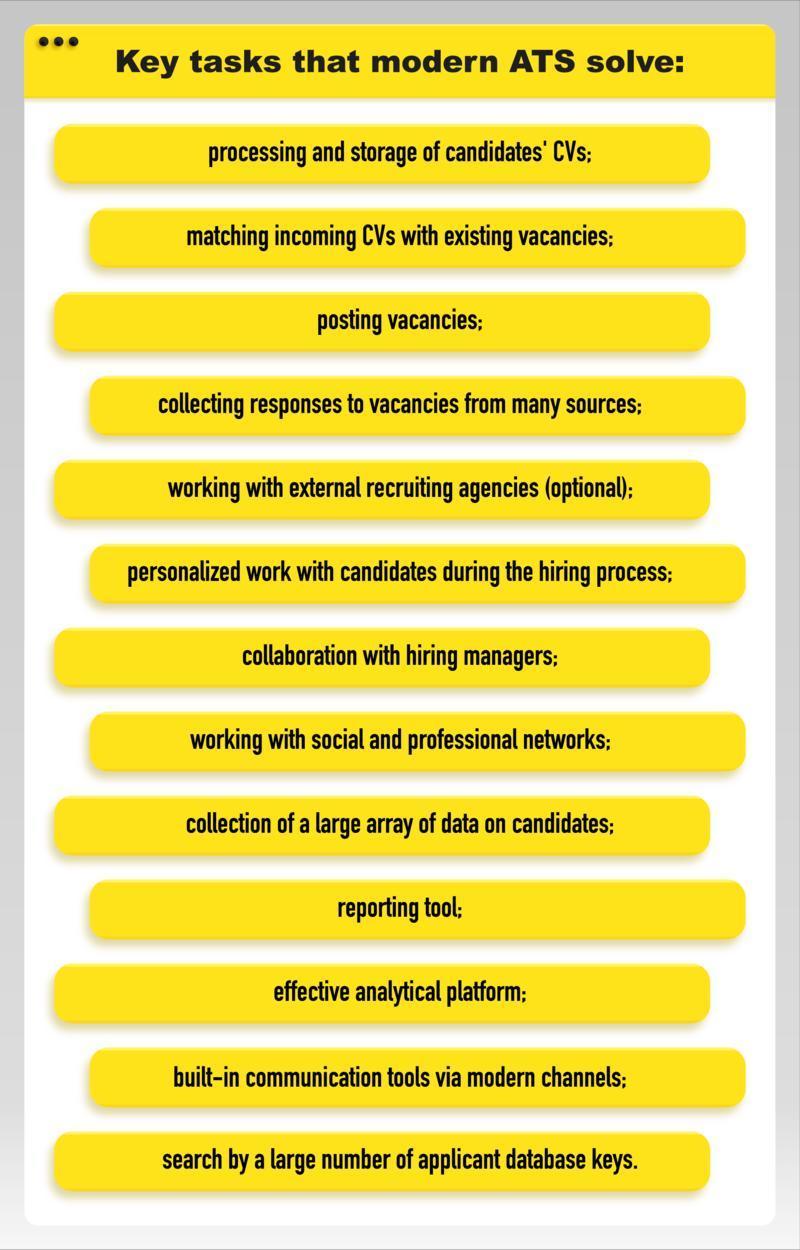 Key types of

applicant tracking software tools
Firstly, ATS can be a classic application or an online service. Actually, it depends on the needs of a particular project.

Also, there are both paid ATS and open-source programs. However, keep in mind that a free applicant tracking system may eventually become paid (partially or completely). Moreover, sometimes a company providing a free ATS solution ceases to exist at all (due to financial obstacles). And the user has to look for other options with the risk of losing his data.

Finally, ATS can be either a module, which supplements a fully-fledged HR platform, or a separate system. Large companies usually choose the first option, while freelance hunters find it more convenient to use software focused exclusively on recruiting and applicant tracking requirements. 
Why Do You Need

ATS Tracking Tools?

Traditionally, recruiters used to search for candidates on job sites manually. They just typed the vacancy title into the search bar to get a list of suitable applicants. The method seems to be correct and effective, but several important factors should be taken into account: 
You cannot completely trust the search engine, since the results it gives out don't always perfectly match your wishes or meet your needs. Some resumes may appear multiple times in search results, while others won't appear there at all.  

Besides, our memory is able to play us tricks, and it's unwise to rely only on it for candidate tracking. The human factor is still the thing.

It's also foolish to limit yourself only to job websites, you should cover other resources either. How about social networks? They could be quite useful! However, imagine the amount of work required… And doing it all without the help of ATS software, just manually, is time-consuming and tedious.

In recent years, new recruiting challenges have emerged, such as:

Increased volumes of information. Recruiters today have to deal with a huge number of incoming candidate CVs, and finding the right one among them isn't an easy task. Routine, repetitive actions lead to tiredness and can greatly reduce the productivity of manual recruiting.

The need for quality networking. Among other things, it's especially important to be able to establish and maintain relationships with applicants who refused your job offer (or didn't get it, which also happens), as well as form your own base of useful contacts. This will allow you to fill new vacancies faster and more successfully in the future.
Using applicant tracking systems in the specified conditions is a critical business advantage, even a must. Indeed, thanks to such software, a recruiter gets access to a list of CVs, carefully filtered by key parameters: work experience, desired position, professional skills, and so on. Still further, the program collects these CVs from numerous resources! That's great, isn't it?
But let's list the main ATS benefits point by point in order to sort the whole thing out.
Applicant tracking system benefits
Reduced hiring time. Agree, the less time a recruiter spends on finding the right employee, the better. And ATS tracking tools can significantly speed up this process by simplifying and automating a number of routine tasks.

Improving the quality of recruiting. Automating internal recruiting processes increases your chances of getting a high-level professional into your ranks while he or she is still unemployed. In addition, applicant tracking software eliminates the subjectivity factor, which is also important.

Reducing the cost of hiring. The longer the position remains vacant, the more funds the company loses. This is due to the costs of promoting a vacancy, half-received profit caused by the absence of the proper specialist, the recruiter's time payment, etc.

Convenient database. You can also store a large amount of data about applicants, have 24/7 access to candidate profiles, and easily navigate them.

No human risk. A recruiter may accidentally delete an important email containing the CV of the right candidate, or miss a promising applicant. With an ATS solution, such a sad outcome is unlikely to happen.

Advanced analytics. The feature helps you analyze the effectiveness of the hiring process and understand how you should improve it in the future. Generating such reports manually is labor-consuming, digital algorithms are much better suited for this job. Also, some ATS systems provide the ability to create candidate scorecards so that HRs could even more influence recruiting.

Improving the employer's brand. All of the above results in an increase in the loyalty of candidates and even partners of the company, as reputation means a great deal.
How Does an

ATS Work?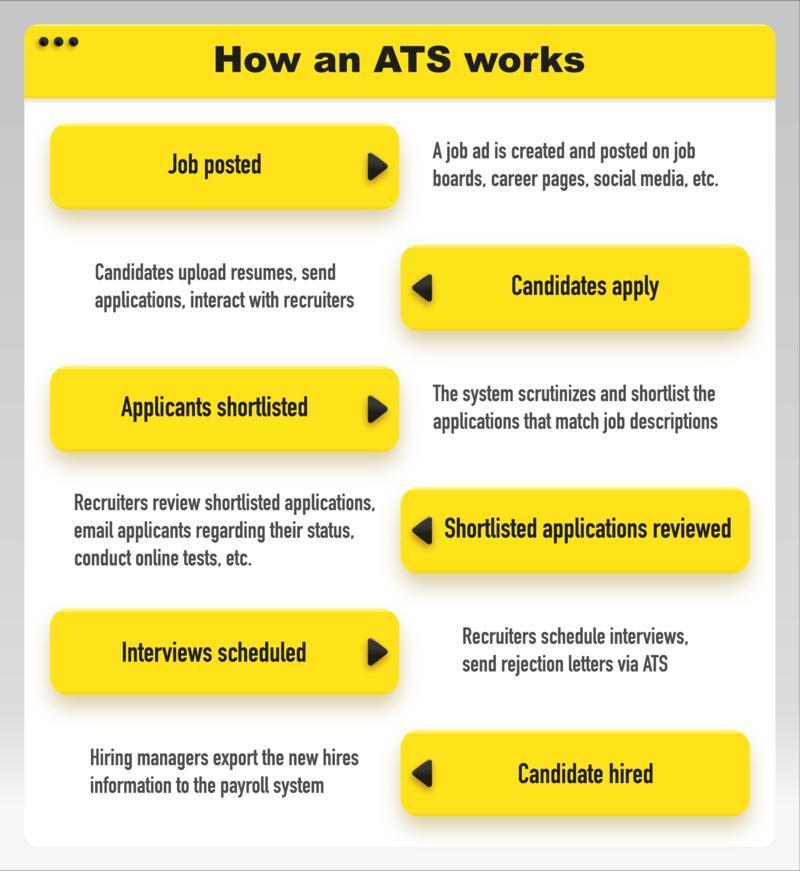 It all starts with ATS collecting CVs submitted by candidates. In addition, the program may use social media and other resources to recruit potential applicants in a better way. So the recruiter, as we've explained above, has access to the most optimized list of candidates.

Of course, the recruiter also posts a vacancy with its detailed description, and the candidate can, if he wants, apply for the position he is interested in.

When recruiting, the HR expert uses specific keywords, which include the required professional skills, needed experience, whatever. Eventually, he or she gains access to suitable CVs with the possibility to view the candidate and job history.

If necessary, ATS is able to scan the whole database gathered by the company over the entire period of its existence. Therefore, the recruiter will definitely find a well-qualified expert the project so badly needs.

Besides, the most popular ATS software provides the ability to schedule an interview with the chosen applicant.

If the interview was successful, the candidate gets a job, and the vacancy can be considered closed.
How to Choose

ATS Software?

The perfect ATS is:
Ease of use, in particular, applicant management and tracking;

Smart search, which is crucial if you have effective recruiting in mind;

Gamification, designed to make the process of finding applicants more fun;

The opportunity to work with different platforms;

Ideally, an online platform has to be supplemented with a full-fledged mobile application;

Inviting and eye-catching UI/UX;

Localization and multilingual support.
What to look at when choosing applicant tracking software?
Establish what kind of recruiting processes you want to automate. These are the functions your ATS should perform. Analyze the features of different systems and make your final choice. 

Determine your recruiting budget. Are you willing to pay to use the platform? If not, you'll have to put up with free applicant tracking systems, but they're at a disadvantage in comparison with the paid options.

Analyze the strategies of different companies and the opportunities they offer. Pay attention to how regularly they deliver updates and stuff.
Now let's list a couple of top ATS solutions. So that you know what to choose from.
The Best Applicant Tracking Systems

List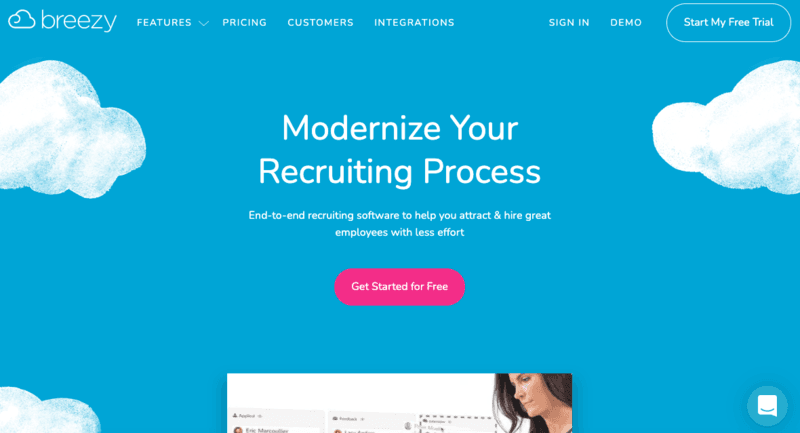 Breezy HR is built to streamline the recruiting process. It allows advertising vacancies and searching for candidates in just a few clicks. What's more, it covers, among other things, such popular resources as LinkedIn and GitHub.
The platform is geared towards businesses of all sizes. If company owners want to modernize hiring effortlessly, then they should look into this service.
Breezy HR Pros:
The processing of candidates' applications is extremely simple and requires minimal effort (and you should thank the Drag & Drop feature!).

Need to schedule an interview with an applicant? Breezy HR makes it really easy!

The system in question allows you to thoroughly analyze each CV, and the system will even tell you if there are any grammatical errors.

Breezy HR integrates with in-demand services like Gmail, Slack, and Office 365.

And of course, the program offers a set of standard features including the @mentioning function, simplified signing of documents, tracking new CVs, viewing the candidate and job history, and more.
Cons:
Breezy HR has no significant flaws, except that some believe its ATS interface lacks intuitiveness; but this is a matter of taste and opinion.
The system offers flexible pricing, and there is even an option of free usage. The most expensive version costs almost $ 400 a month.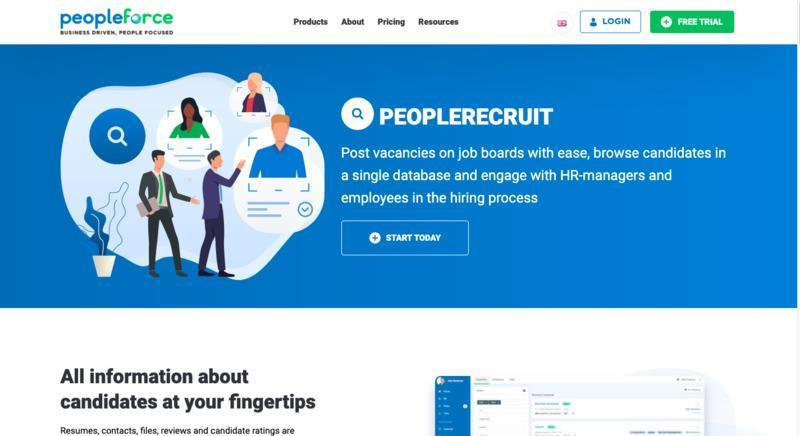 PeopleForce is a complete HR platform, which includes a separate PeopleRecruit module. The latter, as its name implies, is designed to simplify the recruitment process.
The program was created with a focus on the needs of IT specialists who, like no one else, understand the importance of high-quality recruiting. However, this doesn't mean the product in discussion is unsuitable for other areas of activity. On the contrary, a company of any profile is welcome to use such a cool service, which undoubtedly belongs to the best applicant tracking systems.
PeopleRecruit Pros:
a unique PeopleSign eSignature feature, which helps to quickly introduce a new employee into the workflow;

convenient analytics, among other things, reporting customizable for a specific project;

the presence of a mobile application (as we explained above, this is a great instance of applicant tracking system benefits);

a full range of HR features, which aren't directly related to recruiting but are also important. We're talking about high-quality offboarding, convenient time tracking, useful integrations (including with Jira), budget monitoring, and more.
PeopleRecruit Cons:
Actually, the system has no real cons related to recruiting. The only thing that can be considered imperfect in this sense is the fact the system is focused on the specifics of the technical and outsourcing businesses. If your company is of a different kind, you may see it as a disadvantage.
PeopleForce can be used as a free applicant tracking system during the trial period. Then it all depends on the individual needs of your company and the size of the business.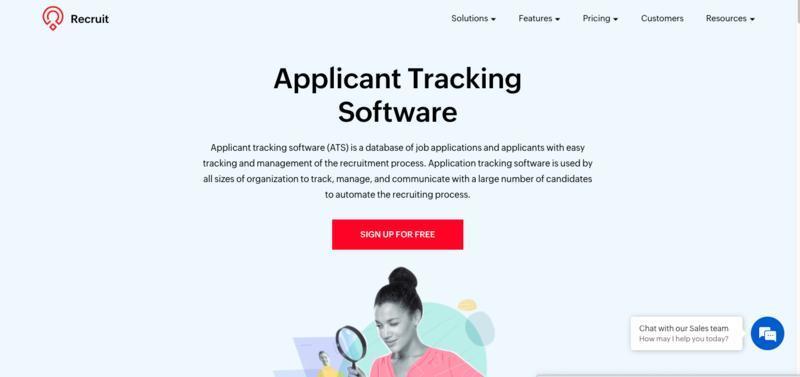 The next platform on our top applicant tracking systems list is a product from Zoho Corporation. It also aims to automate recruitment.
Zoho Recruit Pros:
the system easily integrates with Facebook and has a mobile application;

it can extract CVs from various sources, including folders on your hard drive, E-mail, job search sites, social networks, etc;

the program has a set of features to control interviews;

also, Zoho Recruit works with eGrabber and Rchili;

it offers adaptable reporting and advanced analytics to track recruiting progress;

and finally, the system has a built-in CRM, not to mention other standard features that all top ATS solutions must provide.
Zoho Recruit Cons:
Zoho Recruit is available in English only;

the system doesn't offer multi-factor authentication;

Zoho Recruit in the standard version isn't user-friendly enough.
The platform offers to try features in a free trial period, after which you need to buy a subscription.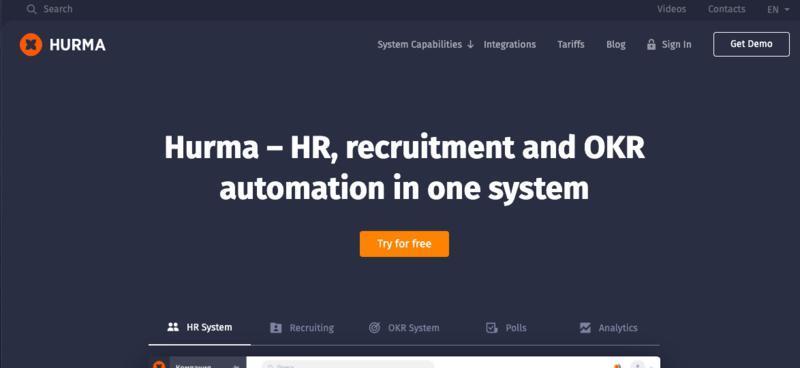 Hurma is another example of great applicant tracking software tools. It appeared on the market several years ago and quickly became in demand. And its popularity is well-deserved!
Hurma Pros:
The program delivers regular updates;

Developers ensure the safety of user data, which is rather critical;

It doesn't matter whether the candidate is ready to cooperate or not, his contacts will remain in the system anyway;

Hurma has a responsive mobile version, which is compatible with any device;

The platform integrates with Google Calendar so that you could easily manage your schedule and timing;

You can not only find a new employee but also monitor him during the trial period using the functionality of the program;

In addition, Hurma has features aimed at managing HR processes.
Hurma Cons:
insufficient number of filters, which complicates the high-quality search for candidates using Hurma's ATS solution;

sorting vacancies also leaves much to be desired and offers only 2 options: by title and creation date.
Prices vary a lot, from $ 70 to $ 360 per month. It all depends on the size of the company and the needs of the project.
SmartRecruiters was released to the market over 10 years ago (in 2009). Over the past period, the system has managed to gain the loyalty of numerous users: tens of thousands of companies around the world have implemented it in their business processes.
In fact, SmartRecruiters is a SaaS-based ATS software, which is being constantly supported by its provider. Users get access to it under certain conditions, not always monetary ones.
SmartRecruiters focuses on small and medium-sized businesses and therefore is financially affordable (however, we discuss the issue of the price below).
By the way, SmartRecruiters have cool clients: what do you think of Marc Jacobs, Informatica, IBM, General Mills? Impressive, right?
SmartRecruiters Pros:
SmartRecruiters offers effective predictive analytics;

The platform has a lot of useful features designed to optimize the recruitment process in all areas;

Optionally, you can get a personalized Hireloop news feed discussing the topic of recruiting and HR issues;

Integration with Oracle, Ultimate Software, LinkedIn, Workday, etc. is also essential;

In addition, there are mobile Android and iOS applications.
SmartRecruiters Cons:
The service is just an ATS with no additional HR functionality. That's why large corporations rarely choose it.
SmartRecruiters is free and being monetized through a freemium model. Besides, the company receives a commission from third-party companies for integrating their services.
Summary
But even the best applicant tracking systems don't always meet the requirements of the project. And then the only solution is to create a platform from scratch, taking into account your own needs. But we'll discuss this issue another time, so keep in touch and follow our blog.
Rate this article
15 ratings, average 4.80 of out 5