How Much Money Do Startups Need for Digital Marketing?
Henry Ford once said: "A man who stops advertising to save money is like a man who stops a clock to save time." You should heed the words of someone as successful as Mr. Ford, don't you think? If you agree, consider investing in advertising or, to be precise, in marketing in general, because it consists of a lot of measures, and advertising is just one of them.
Surely, marketing is especially vital to startups. After all, you can make a great product, but it doesn't mean you'll be able to present it to the public correctly. And a proper set of competent promotions will reduce the risk of failure.
So if you're going to build your startup, draw up the marketing budget. Not sure where to start? We're ready to help you with some useful tips. Of course, it's impossible to give specific numbers, since everything depends on the product, business niche, company location, and target audience, but you'll get a general idea of the best way to approach the problem.
Okay, how to create a marketing budget for your startup? And why bother at all?
Why bother at all?
According to Tommy Walker, a well-known digital marketing expert, a successful startup must attract at least 100 customers in the first month; in that case, it has every chance of rapid development in the next three years. If the project managed to find only 30 clients (or less), you can forget about scaling your business. 
That's why it's so important to pay attention to promotional activities. 
Three pillars of a successful

marketing campaign
A budget, which includes all expense items, from advertising to marketing innovations;

Resources (your team working on the development and promotion of the project);

Possible limitations. You must identify potential pitfalls, which may come your way, and do so at the initial stage.
Let's take a close look at the first item on the above list. Alas, everything always starts with money.
Is it possible to calculate your

marketing budget?

How much do startups spend on marketing? Of course, successful ones? There is no point in considering failing projects, they're off the table, so to say, and shouldn't come into the reckoning.

But jokes aside, let's get serious: what marketing budget should you prepare to make your startup a profitable venture? Is it possible to calculate the required amount of money, at least roughly?

Well, if you're ready to be content with approximate estimates, we're happy to help you. That's the subject we've devoted our article to. Just keep reading.

By the way! There is one important nuance we shouldn't ignore when discussing marketing plan costs.
Increasing your

marketing budget

As statistics show, today's digital marketing pricing has grown significantly (compared to the situation in the 2010s). And while technology has become more affordable, it doesn't help reduce costs.

There are 3 key reasons explaining such price growth:
Increased competition on paid promotion channels, due to the fact that it is really difficult to achieve good results using organic methods.

Banner blindness and ad blockers. About 25% of users take advantage of ad-blocking apps (and the percentage continues to grow) on a regular basis.

Gradual market saturation. Every year, more and more new companies are opening, and each has to compete with other market players. Any marketing techniques are being used, usually costly ones.
Where to start planning your

marketing budget?

Usually, businesses devote 8-10% of their total marketing budgets to advertise their products or services. However, startups have to spend more money: no one knows about them yet, and they have to announce themselves to integrate into the market successfully.

But where do you start planning?
What are your financial capabilities?
Budgeting is very important in the initial stages of marketing. Let's say, Salesforce.com, an American online contact management company, had spent $ 25.4 million on marketing activities in its first year (with total sales of $ 5.4 million). Fortunately, such a bold move has paid off, and today the company is selling billions of dollars annually.
But not all starting businesses might afford the risk of spending a fortune without confidence in the result. Prodigality isn't an option in most cases. Typically, startups must deal with tight marketing budgets and do their best to make ends meet.
Sounds familiar? Then your very first step should be to determine the approximate amount of money you're willing to spend on your promotion campaign. Other activities (competitive analysis, selection of advertising channels, etc.) will come later.
In other words, calculate your key expenses: hiring employees, lease payments, procurement of materials, etc. The rest of the funds should go to marketing.
Well, the topic of money-seeking is too interesting, let's focus on it.
Where to find funds to cover

marketing campaign costs?

Where can you get money for marketing purposes?

We've described the first option in the paragraph above: calculate your main expenses; the remainder belongs to the marketing fund.

If your calculations are very approximate and too inaccurate, resort to another method, which is popular with some companies. They devote a certain percentage of their total revenue to marketing initiatives, including PR, advertising, social media activity, and so on. 

Then again, the disadvantages of the percentage method are obvious: the startup doesn't have sustainable earnings yet, which means there are no funds to promote the product.

Anyway, both ways to get money to cover the costs of marketing activities leave much to be desired. They lack consistency, thoughtfulness. And the ideal option is to create a targeted budget.
Target

marketing budget

If you don't want to be tied to a certain amount of money, which you'll have to somehow distribute among the intended PR activities, try another way and determine your marketing needs. How much money should you have to start promoting the product? 

Found the answer? Then it remains to get the necessary funds. We offer several options, such as:
Self-financing (in case you can afford it).

Financial assistance from relatives and friends. Indeed, why not?

Microloans or bank loans. As a rule, financial companies are reliable investors.

All kinds of investment funds. It's also an opportunity to find allies and like-minded people and even interest potential clients in your project.

Combining multiple funding sources. You can allocate part of your funds and take the rest from investors.
What do

average marketing costs include?

The average cost of the marketing campaign is rather high, but the question is: where will the main expenses go? What marketing channels will you have to invest in?
#1. Competent Analysis
It always begins with research and analysis of the obtained data, which is the only way to achieve success in any field of activity. Otherwise, there is no point in starting a business at all: it won't work out anyway.
Therefore, be ready to spend money on hiring experienced specialists who will conduct a full analysis, including:
market research;

competitive analysis;

creating a portrait of the target audience;

marketing audit.
With this data, you're welcome to move on to the next point, namely, drawing up a marketing strategy.
#2.

Marketing strategy

Your marketers have to develop a strategy, which answers 3 main questions:
What should you do? What actions do you need to take to ensure your project starts making a profit?

What are the best tools and techniques to use? 

How to correctly build the sequence of your actions?
We guess the second point of our shortlist requires a separate discussion.
#3.

Marketing tools

You should also consider the cost of marketing technology and tools. According to Gartner, these tools are the main source of startup expenses. But without them, the experts you hire won't be able to be as effective as possible, especially at the project start.

Among these tools are all sorts of programs and applications aimed at helping marketers implement and facilitate the following activities:
looking for new clients;

rationalization of the advertising campaign;

automation of various marketing processes;

content management;

analytics system.
#4. Content marketing
Of course, you can't ignore content marketing costs either. High-quality selling texts are a great promotional tool. So you have to fork out and hire a good copywriter.
Content Marketing leads to...
Increased brand awareness, which is incredibly important if your product is innovative and unusual;

Providing the consumer with maximum information on the benefits and features of your product or service;

Getting a great chance to tell a beautiful story and captivate the consumer with it.
Effective content marketing includes publications on authoritative resources,  texts for the website (if you have one), PR posts, etc.
#5. Email marketing
The digital marketing pricing strategy should also take into account the expense of email newsletters.
The email marketing tool is being successfully used by thousands of companies around the world. It is an affordable, simple, and effective way to inform potential customers about the release of your product or new useful updates. And most importantly, such mailing doesn't require too large financial investments.
#6. SMM marketing
Social media marketing costs are another important line of spending. In essence, it is about engaging a potential client in an active and friendly dialogue. Using this great tool, you can communicate with your target audience and share helpful information and important news with your would-be clients. What's more, you're free to choose any tone of voice.
By the way, there is no need in creating a page on all popular media platforms, as there are a lot of them: LinkedIn, Facebook, Instagram, Twitter, Tumblr, Pinterest, YouTube, etc. It's enough to choose those social networks that your consumer prefers the most. Here are some tips: Facebook, Instagram, LinkedIn, and YouTube are popular in Europe and America, and Weibo, WeChat, and QQ are being used in China.
#7. Influencer marketing
Also, forward-thinking startups spend money on marketing by partnering with influencers.
The method is quite simple: find popular bloggers on the Internet (those with at least 2,000 - 3,000 subscribers) and agree to place ads on their platforms. The effect will be amazing, believe us.
#8. Contextual advertising (PPC advertising) 
PPC means Pay Per Click. Here we're dealing with a variety of ads presented in a text, image, or video format. They are shown to users in accordance with their online behavior (search queries, likes, interests, etc.). Of course, you cannot create a marketing budget for your startup without taking into account the costs of PPC advertising.
Main contextual advertising options: 
Search advertising (it is shown in search queries);

Ads on websites, in applications, and on other resources of partners of advertising systems;

Google Shopping Campaigns, targeted at e-commerce resources;

Universal mobile app campaigns on Google Ads;

Interactive video ads.
#9. Entertaining tests
An optional but desirable line of expense is engaging your audience through fun tests. The main thing is to choose the right format and placement of your tests.
Say, tests placed on Facebook are peculiarly effective (so it's a kind of social media marketing costs too). You can embed sales within the tests themselves, or use them to collect consumer contact information.
#10. Big Data
Big Data technologies are an excellent solution you may use to find new clients. The Internet is full of information on your consumers, you just have to get it.
A prime example is Red Roof Inn, which uses canceled flight data to send unlucky passengers (those who missed their plane) an offer to spend the night at a hotel. 
#11. Search Engine Optimization
Search Engine Optimization (SEO) is an ongoing process helping you reach customers in organic (unpaid) searches on Google (and other search engines). 
SEO can be reduced to three key tactics: 
Internal SEO, where every web page is optimized to rank for a specific keyword (let's recall content marketing costs; your copywriter must understand the basics of SEO);

External optimization, which ensures that search engines find links to your site from other high-quality, relevant resources;

Monitoring, which is needed to maintain the site at the required level.
#12. Online representation
Of course, any business must have an online representation, but don't rush to build a multi-level web portal. Not every company needs one. Sometimes it's quite enough to have a landing page or a simple business card site.  
You can create a website yourself using ready-made templates or order a unique development with original design and functionality. What to choose is up to you (focus on your business requirements).
#13.

Marketing innovations

And, of course, there's no getting away from the latest innovations! Technology evolves from year to year, which applies to marketing solutions too. And if you don't follow the latest developments, don't even dream of business evolvement.
#14. Marketers
Finally, you'll have to consider hiring experienced marketers to implement the above techniques to promote your business.
Testing & Experiments
The key to a successful marketing investment is continuous development and evolvement. Don't be afraid to experiment; also, be sure to test your marketing techniques.... which is especially true for the first attempts to promote your brand. What if your creativity and the costs it entails won't pay off? Such a failure at the very start of the project can get you down and clip your wings, in a manner of speaking.
Therefore, you have to check the effectiveness of your strategy from time to time. A good option is to take advantage of Google Adwords offering the opportunity to perform A/B testing and see which of the tools you use convert the best. 
And again, don't be lazy and keep updating your marketing campaign plan. Say, why not let your imagination run wild? Marketing creativity (in moderation) is what you need to promote your product in a better way.
Tips on

digital marketing pricing from experts

How much money do startups need to spend on marketing according to market leaders?

Let's start with some statistics.
Research has also shown that… 
over 45% of the promotion budget is usually allocated to digital marketing;

almost 80% of small and medium-sized businesses consider mobile advertising to be one of the most significant promotion channels.
So, as you can see, companies with market experience spend 5-15% of their income on marketing (some almost 20%!). But startups need to win over the consumer and build primary brand awareness, so 15% isn't enough. They should consider investing at least 25% of their starting budget in marketing.
Still further, some major market players advise newcomers to invest no less than 35% in promotion, as the situation gets more complicated every year (see the paragraph on increasing digital marketing pricing).
Examples of successful digital

marketing campaigns

We guess you don't mind exploring a few cool examples of creative marketing solutions. Maybe, they'll inspire you to come up with a couple of interesting ideas of your own!
Atlanta Hawks & 'Swipe Right'
Atlanta Hawks, a renowned professional basketball club in America (Atlanta, Georgia), once decided to resort to digital marketing to promote its brand. 
You've probably heard about the Tinder dating app. So, Atlanta Hawks marketers used this mobile platform to attract a new target audience - the millennials, whose representatives are the most active users of Tinder.
The club fans were invited to play a simple game called Swipe Right Night. To take part in it, they had to become Tinder users. The essence of the game was simple: you choose the person you like from Tinder's user base (the one with whom you don't mind going on a date) and get a chance to win a ticket to the Love Lounges event. In terms of marketing campaign costs, Atlanta Hawks received help from Bud Light, which sponsored the whole thing.
Campaigns with The Dress (Dressgate)
Do you remember the phenomenon of a dress (Dressgate), which was either blue or gold? It inspired many companies to perform all kinds of marketing initiatives.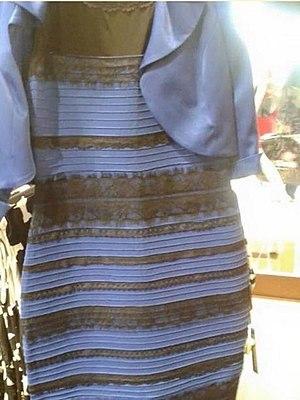 A great instance is Dunkin' Donuts, an international coffee chain (famous for its donuts as the name suggests). The owners of Dunkin' Donuts posted on their Twitter page images of two donuts, white-gold and blue-black, and added an eye-catching caption. Its meaning boiled down to the following: who cares about donut color? It's really tasty, and that's the only thing. which matters.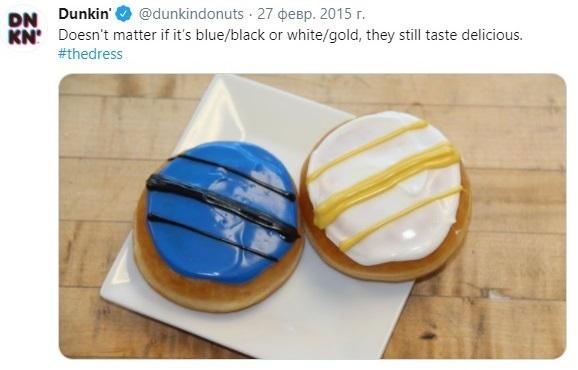 Dunkin' Donuts is a striking example proving to us that even a limited marketing budget is quite enough. Actually, all you need is your wit and creativity, backed up by experience, and then the most low-cost promotion actions would be effective.
What example do sharks in business show?
Of course, startups spend on marketing more than experienced business sharks do (at least, they should spend more), but it's always good to see what future budgeting has to be.
Technology companies:

The glorified Microsoft spends at least 17% of its earnings on sales and marketing measures and generates about 5% of revenue growth (annualized rate);

Let's also mention the monsters of the mobile market, Apple and Google. Apple invests about 7% of its income and has a 6% annualized profit growth. Google invests more (12-12.5%) and gets more (20-20.5%).

Now we should talk about digital marketing pricing in education. Simply put, how much money do world-renowned education companies spend on promotion?

Grand Canyon University typically invests no less than 11-12% of earnings on promotion and gets 12-12.5% ​​revenue growth (on an annualized basis). The Bright Horizons institution spends almost that much (10-11%) and gets about 7-8% of revenue growth.
Summary
Now you've gained a rough idea of how to create a marketing budget for your startup. Let's briefly summarize.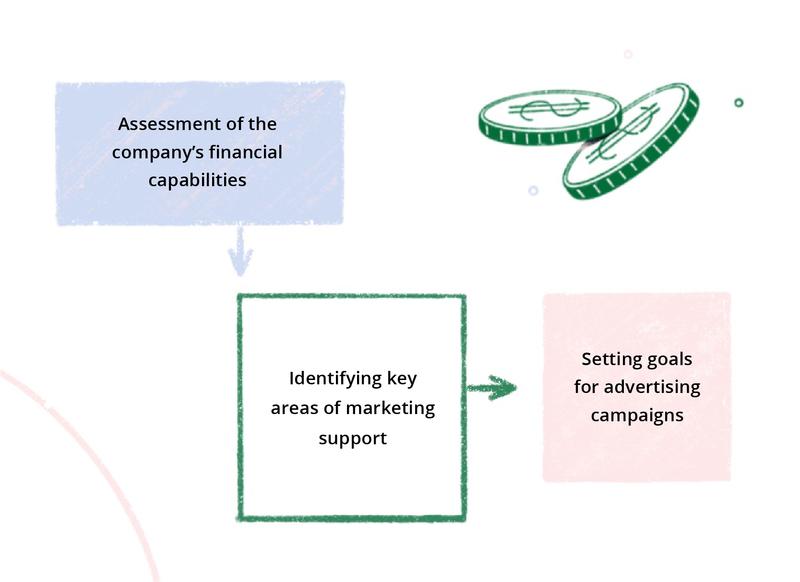 When budgeting, keep in mind a few crucial facts:
companies around the world, including your competitors, are increasing their marketing budgets; and the main focus is on digital marketing;

If the company has been on the market for a while, its total budget for marketing should be from 5 to 15% of the profit value. If you're starting a business right now, be prepared to spend at least 25-35% of your earnings on promotion.
Rate this article
15 ratings, average 4.80 of out 5