How Much Does It Cost to Start the Discovery Phase?
Let's say you've come up with a cool software idea; you definitely want to turn it into a successful startup, right? Therefore, you should include the Discovery activities in your development cycle. That's the best way to avoid failure.
Many already know what the Discovery phase means and why you have to start your project with it. If you're not among them, take some time to read our article where we explain the gist of this concept.
As for now, we'd like to cover another important issue, which, too, worries a lot of people thinking about starting a new project. Simply put, we're going to discuss the Discovery phase cost process. What determines the final price?
Read on to get all the answers you need!
Steps Before Starting

The Discovery Phase

To begin with, the more you understand your business and future product, the cheaper the further analysis. Of course, you can't do without expert assistance at all (if you really intend to succeed), but you're able to reduce the total Discovery phase cost.

What should you know to make the phases of discovery cheaper?
Customers. How well do you know who will be using your product? And when we say "you should know your customer," we don't just mean general information like user sex, age, and the like. We're talking about the pains of your users, their actual needs, and typical behavior scenarios.

Competitors. What about other companies you have to compete with? Do you know who they are, what they represent? What are their pros and cons? "Why should I know their pros and cons?" - you may ask. The answer is: your product must have equally great strengths and be free of these weaknesses (as far as possible).

Features. Have you already considered the functionality of your software product? If not, we'll help you make a list of the must-have features. But bear in mind, improving your early draft is one thing, and compiling a list from scratch is quite another. In the second case, the cost of the Discovery stage rises.

Potential demand for the product. A unique software idea isn't a guarantee the final product would be in demand. So for starters, you should check whether it's able to interest potential users. Perhaps you've already conducted desk research to learn the answer; otherwise, we'll have to do the job ourselves.
Don't worry if you have a rather vague idea about the future product, and you're unsure whether it might work out; believe us, it's not a problem at all. We would be happy to help you look into the matter. However, we'll spend some time and effort getting the answers to the above questions, which is going to affect the project budget (to be precise, the Discovery cost will increase). If you already have some preliminary information and/or an initial business strategy, we'll be able to move on to more complex tasks without any delay.
So, the first thing we look at when budgeting for Discovery is the project scale and your understanding of the final product. But, of course, this is far from the only criteria that matter.
What Affects The

Cost of The Discovery Phase?

Okay, how much does the Discovery phase cost and why? Let's sort the issue out.
#1. Design
Only UI/UX experts can determine what is the best design approach in your particular case (and, of course, they'll discuss their suggestions and ideas with you, for the client comes first).
For example, what about prototypes? What does your project need at the Discovery stage?
Rough sketches, sometimes hand-drawn (though not always). They help in the initial (draft) planning of the design of your future product.

Wireframes. Schematic visualization of your interface design, all its screens (pages). Wireframes give a general idea of what your product should look like.

Mockups: the same as wireframes, but more detailed, showing the color palette of the interface as well.
And it's not just prototypes. Building a user flow (a process in which designers also take part, along with other experts) is, too, influences the final budget and affects the cost of a Discovery project. Let's say that a simple Screen Flow is easier and faster to create while developing a Customer Journey requires much more time (and therefore it's more costly).
To determine the best approach to completing all phases of discovery, UI/UX designers analyze the complexity of your project and your ultimate goal. Based on this, they announce how much time they need (the more working hours, the higher the cost of Discovery).
By the way, it takes at least 30 hours to create a set of low-fidelity and interactive prototypes. And we're talking about working on just one type of product, be it a mobile application or a desktop one. Another would entail additional 30 hours of work.
By the way, in some cases (though quite rarely) the design stage is completely skipped. An example is when a client is only interested in technical discovery because he wants to know the possibility of implementing a particular IT solution.
#2. Business analysis
Of course, one of the key phases of Discovery is business analysis. We've already discussed the importance and role of this stage in our other article, so there is no point in repeating the whole thing again (follow the link and read the main details here).
Let's just say there are many various business analysis techniques. Simple ones taking up to several hours are ideal for one project. And another needs a greater number of research procedures (which also means additional hours to conduct them). And then there are projects that cannot do without a complicated, multistage, long-term business analysis. As you understand, the Discovery phase cost will be different in each case.
Below, you can see a few examples of business analysis techniques.
But in fact, the list of available techniques is much longer and includes such options as Benchmarking & Market analysis, Data Mining & Modeling, Prioritization, Business Capability Analysis, and the like.
#3. Feature list analysis
We've already touched upon the issue of compiling a list of features. The more you understand your future product, the easier (and cheaper) the following stage of the Discovery project is going to be (that is, the lower the final Discovery cost).
So here is our approach, depending on what level of understanding of the product functionality you come with (do you have a rough list of features?):
No feature list (and no idea what it should be). We have no choice but to do everything ourselves, from square one. It's perfectly normal but time-consuming (the Discovery Stage cost increases accordingly).

An approximate idea of product functionality. You've already figured out what the product should be able to do and thrown out some ideas about its possible functionality. Therefore, we have something to work with, which means we'll spend less time compiling a list of features (and less of your money).

A prepared list of features. You may have already compiled a list of features. In such a case, we just need to perform a short analysis and make small adjustments to it to make sure your concept has a chance of market success.
#4. Technical research
Technical research greatly affects the cost of the Discovery phase. And there is no way to avoid this crucial stage, for it determines the fate of the entire project.
Suppose you have an innovative software idea, but you don't know if it's technically feasible. And if the answer is yes, what techniques and methods are needed to bring it to life?
These questions should be answered by a Solution Architect (who may work in conjunction with a technical expert). He researches various IT technologies, programming languages, integrations with third parties (payment systems, etc.) and compiles the most efficient set of solutions and tools to use. And such research can take from 4 hours to several weeks (it all depends on your project).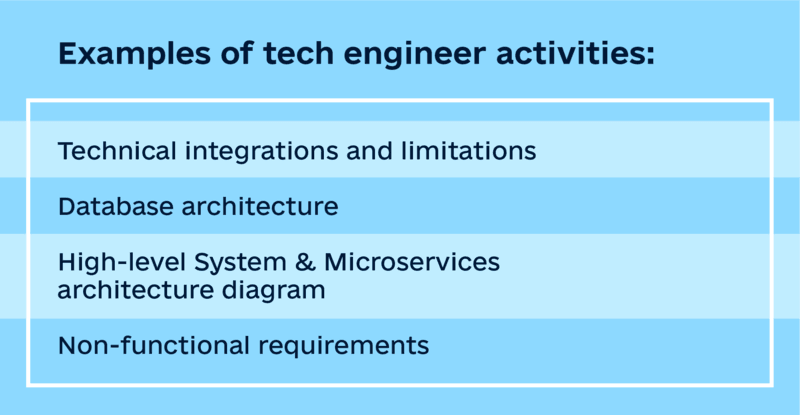 Now it's more or less clear what affects the price of the project... but how much does Discovery actually cost? We cannot give an exact answer, but we're happy to explain how our team approaches budgeting.
How Do We Calculate the

Cost of the Discovery Project?

Our team analyzes your project and draws up a list of required research techniques, specifying how long each might take (and how much money it would require). And before giving you a little specifics, we invite you to discuss a couple of important issues. They'll help us answer the question: "How much does it cost to order the Discovery Phase from us?"
The Discovery Phase

Team

The decision on the Discovery scale is made by a team, which consists of the following experts:
designer(s);

business analyst;

solution architect.
When conducting specific phases of discovery, other experts (say, Tech lead or SME) can join the work process too. However, the cost of the project is determined by the above specialists. They are skilled professionals with a lot of experience. Their expertise allows them to accurately estimate the resources needed to perform high-quality, efficient research.
The

Discovery Phase Cost & Your Business Goals

The price of the project largely depends on your goals. Why are you running a Discovery Phase? What is your end goal?

There are many options, such as:
Discovery focused on your personal needs. That is, you want to know what should be done to make your project successful.

Investors-aimed Discovery. You'd like to raise money for the project, which means you need something to convince investors that your idea is profitable.

Discovery targeting the consumer. Sometimes Discovery is being performed to interest future customers in the project (long before the product launch).
The list goes on, but you get the basic idea, right?
If we conduct a Discovery to convince investors of the profitability of your project, we use a more detailed approach than in the case when only your team needs research data. After all, you can do with just wireframes, and investors need something more persuasive (something like mockups). It'll slightly increase the cost of the Discovery phase but your chances of finding investors and captivating them with your startup's prospects will grow either, which is your ultimate goal.
Agile Approach to

The Discovery Phase

Another factor affecting Discovery's budgeting is how you choose to approach the research process. There are two key options:
Waterfall approach. The research is carried out at the start of the project, which is the end of Discovery. The disadvantages are obvious: by the time the product is launched, the market may change (IT changes quickly), and the data obtained would become outdated.

Agile approach. The name says it all: it's a very flexible approach running in cycles. Each development sprint begins with Discovery to refine and correct the data. Thus, the information is always up to date.
We advise you to go with the Agile approach. The Discovery phase cost remains the same, but you can pay it bit by bit, as the project progresses. Sounds cool, doesn't it?
So What Is the Actual

Discovery Cost?

The Discovery project may last either 2 days or 2 weeks (and even 2 months!). So we're not able to name a specific figure (a specific price). But we can share some useful data.

Probably, we should give a little explanation so that you understand what we're talking about:
Onsite Discovery means that research is done offline (on site, as the name implies). As you understand, onsite methods alone are rarely enough (sometimes Discovery experts live in another country, and the coronavirus makes its own rules too).

Offsite Discovery is a much more modern and convenient way to do the research you need. In this case, we conduct the required activities remotely (which is quite possible in view of developed, innovative IT technologies).
If you want even more specifics, then here it is. Typically, the cost of the Discovery phase is about 10-40% of the entire development project price. The percentage depends on the scope of the required research.
Discovery Phase: a Cost-Effective Way

to Start Your Project

Still wondering why spend money on a Discovery Stage? Then we'll do our best to prove that timely research followed by data analysis is the best way to save your money in the long run.

Okay, why is the Discovery stage a profitable investment?
development of the most demanded features. Discovery experts will tell you which features are likely to be popular with users, which of them will best suit their needs. Thus, you'll have more satisfied users you can monetize. And speaking of monetization...

selection of the best monetization models. After analyzing your project and the market it's going to deal with, we'll be able to list which monetization methods should work out in your particular case.

exclusion of potential risks. But most importantly, the Discovery phase, if performed correctly, will help you avoid many risks and problems (or at least reduce their likelihood and impact on the fate of the project).
As you can see, the costs of the Discovery phase are quite justified; eventually, you'll get back everything you've invested in your project.
Summary
We're always trying to help your business flourish and prosper. And choosing an effective Discovery approach is one way to contribute to the success of your project.
We necessarily ground the need for each stage of Discovery and explain what can be excluded from the process and what research activities are a must. And of course, we listen to your desires and adjust the strategy accordingly.
---
Get in touch
Send us your comments, suggestions, questions, or feedback.