7 Most Important Things Mobile Apps Can Provide to Restaurant Businesses
In our previous article devoted to restaurant app development, we highlighted two types of restaurant apps on the market: 1) restaurant discovery and booking platforms, and 2) branded standalone restaurant apps. We wrote about some successful products out there and made our points in favor of both types of apps.
Now, we're going to outline all major benefits mobile apps for restaurant owners can provide. There are lots of them, so we decided to accumulate these benefits into the seven most important things that will help you enhance your services as you decided to go mobile.
1. Fast and easy customer experience
A mobile app helps restaurant owners establish a fast and convenient customer experience, which means reduced wait time and increased sales.
Table booking is the first feature that comes to mind when you're thinking about a restaurant app. However, as we stated in the earlier article, it's not the best strategy to focus on table reservations only. First, they don't guarantee any ROI for restaurant owners. Second, for big and crowded restaurants or chains online bookings, if not organized right, can lead to a real logistical hell at the restaurant. In a case when a restaurant often has free tables, booking feature is simply unnecessary.
Meal ordering is a more valuable feature, that, unfortunately, is less utilized by restaurant app developers. However, allowing app users to choose and order their meals in advance, thus significantly reducing visitor's wait time, will help not only establish better customer experience at your restaurant but also make the staff's work easier and faster.
You can add even more value to this feature by letting app users browse their order history and store their favorite orders. This will make the ordering process even faster and convenient.
Panera Bread - one of the most popular apps focused on meal ordering functionality
2. Expand your target audience with active mobile users
As the latest surveys suggest, people - especially those between the ages of 25 and 34 - tend to use mobile apps to discover restaurants and make reservations. Furthermore, 25% of respondents have at least one restaurant app installed on their device.
Catching up with this trend will not only make restaurant's services better for the existing customer base but also appeal to young people who seek for a good restaurant mobile service. Finally, to retain this audience you'll need to ensure three things: the app, the restaurant services, and the food.
3. Better discovery
And by discovery, we mean all possible ways a mobile app can make a restaurant more visible to the customers. Mobile technologies help deliver the information on a restaurant location, menu and establish an emotional connection with customers by memorable restaurant app design.
The most obvious thing here is discovering a restaurant's location with the help of mapping services. This feature is a must for restaurant and food discovery apps like OpenTable and Urbanspoon, as well as for large chains' branded apps.
But people need to know not only the restaurant's location. They also need to know what does the restaurant have to offer. A mobile app solves this by providing customers with easy menu access. The menu is more appealing when the meals are illustrated with appealing photos. Just note that the reality must correspond to what people see in the app and vice versa.
In the same fashion, restaurant owners can show off their places providing alluring interior photos or even 3D tours to the restaurants.
Nice photos aside, a thoughtful restaurant app design helps establish a visual communication between restaurant owners and customers, make both an app and a restaurant distinctive and build brand awareness.
Adding social sharing features can help extend the brand awareness to users' friends and followers on social networks like Facebook, Twitter, and Instagram. You can reinforce this feature rewarding users with loyalty points for each share. (We'll touch upon loyalty programs later in the article).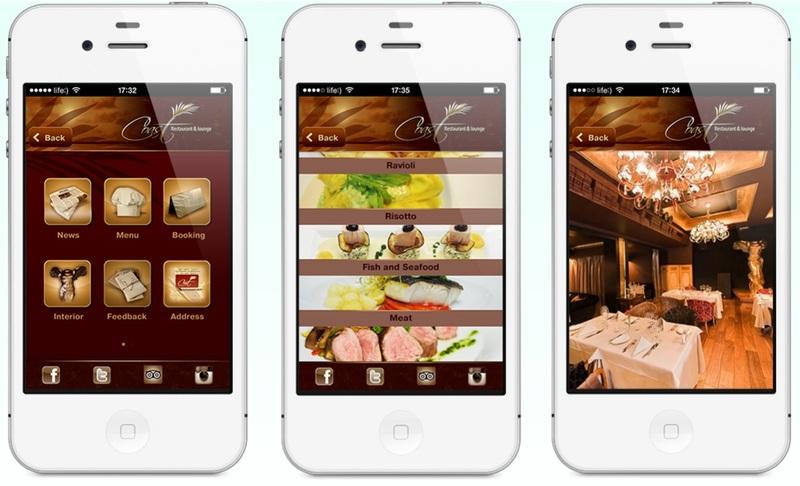 Agilie's Coast restaurant app was among the first on the local market to provide social sharing and 3D-tour features
4. Retain users more effectively
Mobile apps' landscape knows a variety of successful approaches to retaining users.  Among such features that restaurant mobile app developers can adopt are loyalty programs and user notifications.
Loyalty programs. Both table booking services and restaurant apps retain their users mostly thanks to loyalty programs with discounts and rewards. Gift cards and coupons are things customers tend to lose so stubbornly, and mobile loyalty programs are the best solution to this problem so far.
In our previous article, we mentioned the case of Starbucks' app which, thanks to gamification elements and transparent reward system, got a significant rise in user base right after the introduction of the new loyalty program.
Starbucks Coffee Company's app owes its latest success to a new reward program
Notifications. Regardless you want to build your own restaurant app or to provide discovery and booking services, you can keep your app's users informed about the latest deals using email and push notifications. If the deals are regular and fair, and the notifications are personalized, people will anticipate them and, thus, appreciate notifications as a useful service rather than as annoying spam.
5. Delivery
Today, extending a restaurant service with the food delivery feature becomes a reasonable option for restaurant mobile app developers. And while it may not be the primary feature to include in a new app, it's still a prospective direction for restaurant services.
Moreover, there are restaurants that serve their customers only with food delivery using mobile apps and websites for ordering. One of the most successful among the delivery-only restaurants is Ando, a part of a large US-based restaurant chain Momofuku.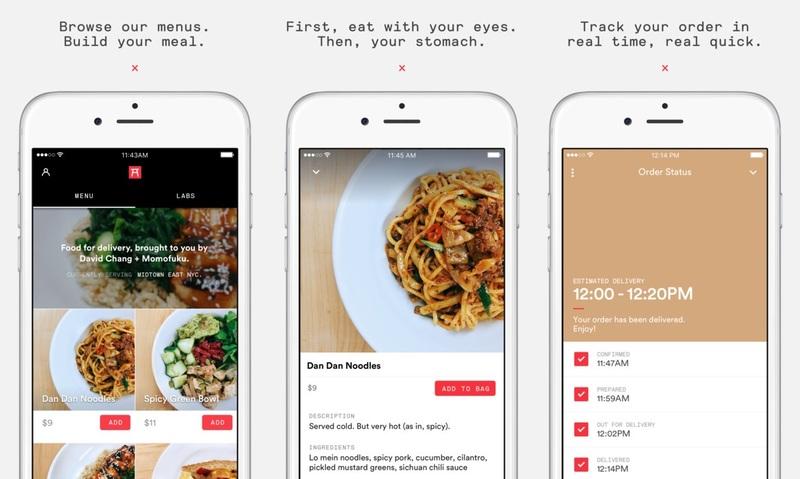 Momofuku's Ando - a delivery-only restaurant operating via an iOS app and a website
6. More payment options
Online payments are a big thing now. All types of digital solutions dealing with commerce have adopted it, so have restaurant apps. 
There are two types of online payments you can adopt as a restaurant app developer to make restaurant services more effective. The first is mobile payments processed via payment gateways such as Stripe or Braintree (a PayPal subsidiary).
However, restaurant owners may dislike this idea if mobile payments service is provided by a booking platform since it would mean more additional fees that may have a negative impact on the ROI.
7. Sufficient feedback
The last for this article but not the least important thing for a business's success is gathering visitor's feedback. Most of the restaurant apps and food discovery platforms provide users with the possibility to leave a review on their restaurant visit.
User reviews play two important roles at the same time. First, as a business owner or/and service provider, you can get feedback on your services to understand how to improve them, thus satisfying your customers even more. But - not less importantly - your visitors' reviews act as additional motivators for other people to visit a certain restaurant. Thus, it may be a logical decision to place user reviews on the apps/restaurant's website and allow people to share their reviews.
Want more insights on restaurant app development for your business? Contact us, and we'll be happy to discuss it with you!
Rate this article
15 ratings, average 4.80 of out 5