7 Best Food Delivery Services To Get Inspired
The only craving after a hard working day is a quick and tasty dinner on your table. Luckily, the modern world offers such an opportunity: a few taps in an application and delicious meals are served. In this article, we would like to consider the best food delivery service apps: their functionality and business models so that you could lay the foundation of your future solution. Moreover, we are going to take a look at the industry as a whole (spoiler: the takeaway market has been growing extremely rapidly over the past few years).
What Is a Food Delivery Service?
Such services involve various business models but the bottom line is the same: companies provide clients with the opportunity to get meals or the necessary ingredients in the shortest possible time. The list of the best food delivery apps can include:
Intermediaries who don't own restaurants or cafes. They launch applications and just gather orders. Delivery is a duty of the partners;

Supermarkets and/or farms, which offer food products without having to leave your warm house;

Restaurants/fast-food owners. They cook meals and then deliver them;

Delivery companies. They are intermediaries but with their own couriers.
COVID-19 has propelled the food delivery industry a few years into the future, as numerous people in lockdown ordered treats online. In 2021, the market of delivery apps was estimated at more than $26,5 billion while in 2015 the amount was approximately $8,7 billion. If you're thinking about entering the industry, you'll want to study the available applications and learn from their success.
7 Best Food Delivery Service Apps
Postmates
This platform is among the best meal kit delivery services, which actually is an intermediator. Its solution has united multiple restaurants, so users can order meals from different places in one app.
Postmates was invented in 2011. Today in 2022, it has 10 million active users, who order five million items a month. The company's vision is to make deliveries fast and convenient. 
Pros:
A section with tips given by customers themselves;

Daily planner;

No rating system (you don't get blamed for restaurant mistakes).
Cons:
Low rate for waiting time ($0.10 per minute);

Slow service (from time to time, it depends on the workload of restaurants).
Munchery
This service takes pride in providing inexpensive, healthy, and professionally cooked meals. Created in 2011, the company has a unique offer: its menu includes both food sets and pre-made meals right to the customers' doorsteps. The unique feature of Munchery is fast 15-minute dishes. Thus, it's one of the best food delivery service apps if you wish to satisfy your hunger in the shortest possible time.
There are two options to buy a meal:
Order as a guest without a discount;

Log in to get a 15% discount.
Pros of Munchery:
Variety of menu daily;

Premade meal options as well as food kits;

Quick cooking (for less than 15 minutes);

Opportunity to schedule deliveries a week ahead.
Cons:
Ready-made meals are being offered in certain states in the US;

No gluten, vegan, or vegetarian options.
Freshly
It's a perfect option for people who are terrified by the prospect of cooking. With Freshly, you get ready-made, gluten-free meals, which are already portioned to enjoy in a single sitting.
The service was founded in 2012. After 5 years of development, Freshly was valued at $950 million and became available in every USA city.
Five simple steps to make an order:
Choose a meal plan;

Enter your address and email to create an account;

Choose your favorite meals.

Get your dishes, which you can put in the refrigerator and then heat them when you want.
Pros of the service:
The appropriate solution for singles and couples;

Taking care of allergy sufferers and people losing weight;

Huge variety of meals;

Simplified meal planning;

Dishes cooked by experienced chefs;

Natural and healthy ingredients.
Cons:
Pretty expensive if you are a family person;

No vegan or vegetarian options;

Small portions.
Thus, it's one of the best meal kit delivery services in the market.
DoorDash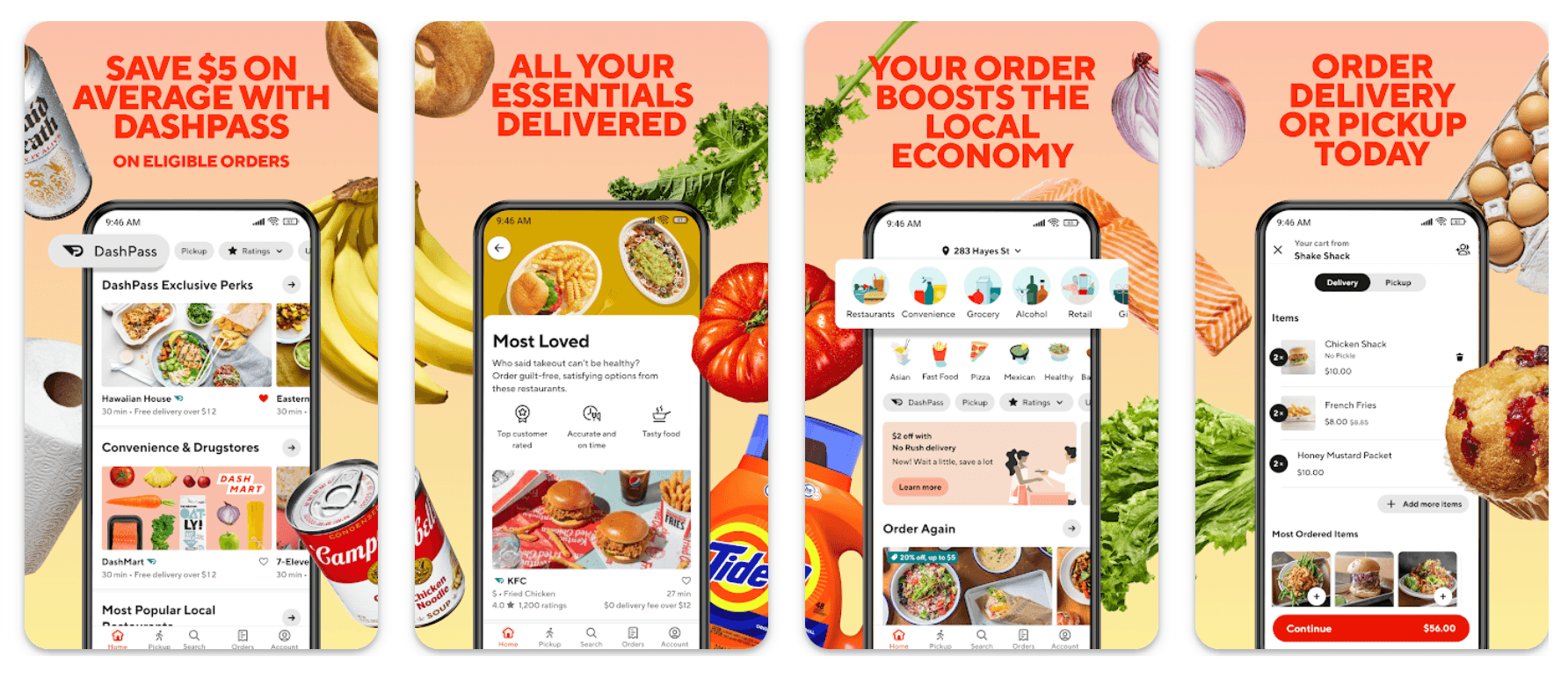 Nowadays, DoorDash is a leader in the USA with 34% of the market share. In 2021, it went public on the New York Stock Exchange with a valuation of $72 billion. The service has more than 25 million users and is doing everything possible to increase their number.
The features, which users adore:
Artificial Intelligence recommendations. People get a set of dishes based on the previous choice;

Live tracking to see where exactly is your courier;

Pre-delivery option so that customers could schedule their orders.
Pros:
High convenience thanks to the modern technologies;

Numerous restaurants in the catalog;

Prevalence in the market that means presence even in small cities.
Cons:
DoorsDash drivers are not accepting small orders or orders that are far away;

Вependence on couriers who have a certain autonomy.
DoorDash has been constantly improving the user experience of the app because it is the basis of its business model. This is why we have included the solution in the list of the best food delivery apps.
Instacart
Since the start of COVID-19, Instacart has become an essential service for millions of Americans trapped at home. It has an estimated 9,6 million active users and over 500 thousand shoppers. Its revenue was $1.8 billion in 2021.
The set of features is similar to DoorDash that guarantees convenience and ease of use.
Pros:
Available throughout the United States and 9 Canadian provinces;

Subscription option to save money;

Partnership with several large grocery store chains.
Cons:
Presence only in middle and big cities;

Delivery and service fees, which are applied at the same time.
ChowNow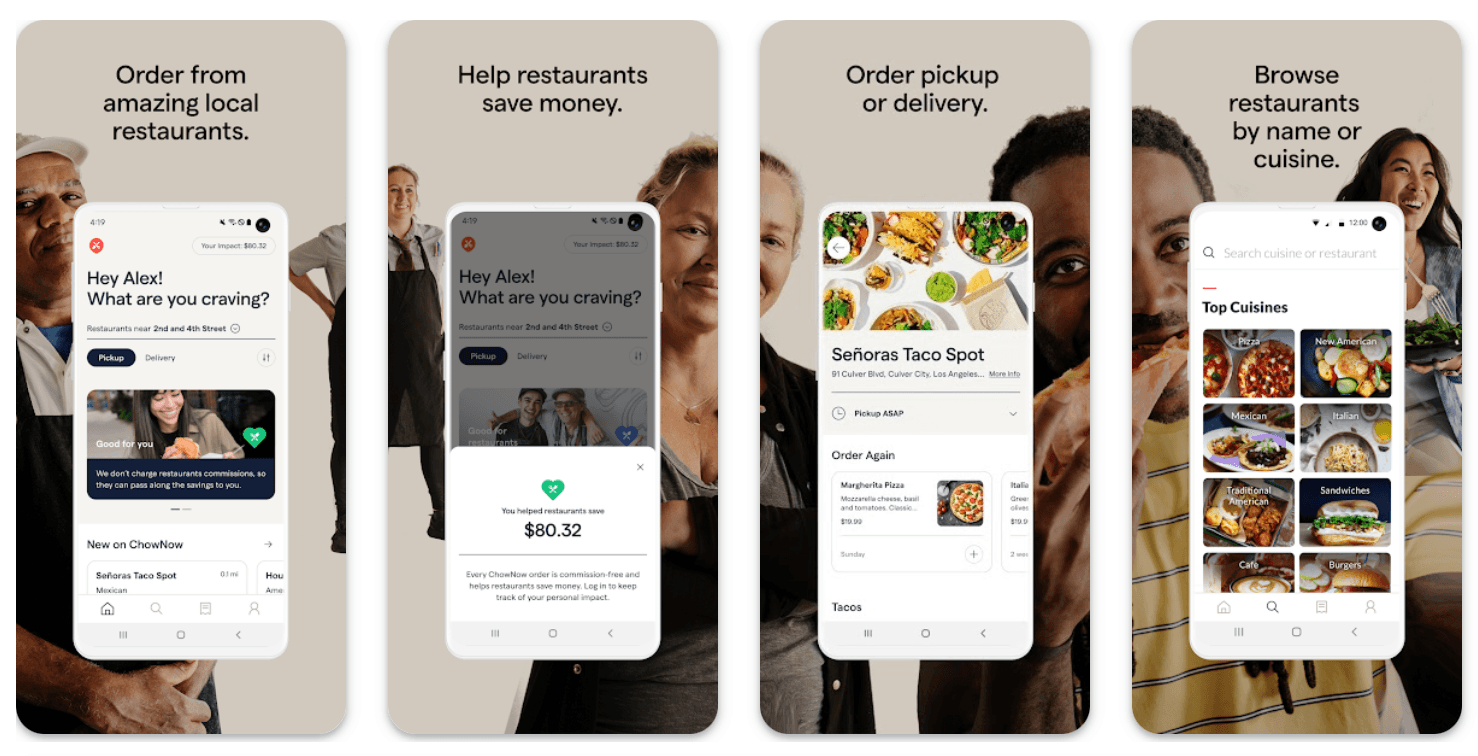 This is a commission-free online ordering platform built for restaurants to connect them with customers. ChowNow is one of the best meal kit delivery services, which makes money from monthly or yearly subscriptions. It's worth mentioning that ChowNow doesn't have couriers.
Thanks to the cooperation with more than 6 thousand catering establishments, ChowNow offers any cuisine imaginable. The company covers more than 12 thousand locations with its software and has about 7 million customers.
Pros:
Special software for the ordering process, which embeds into partners' systems;

Huge variety of different dishes.
Cons:
Mediocre convenience while ordering (a new window opens every time to complete checkout through ChowNow);

No guarantee of fast delivery because it's not the responsibility of ChowNow.
Just Eat Takeaway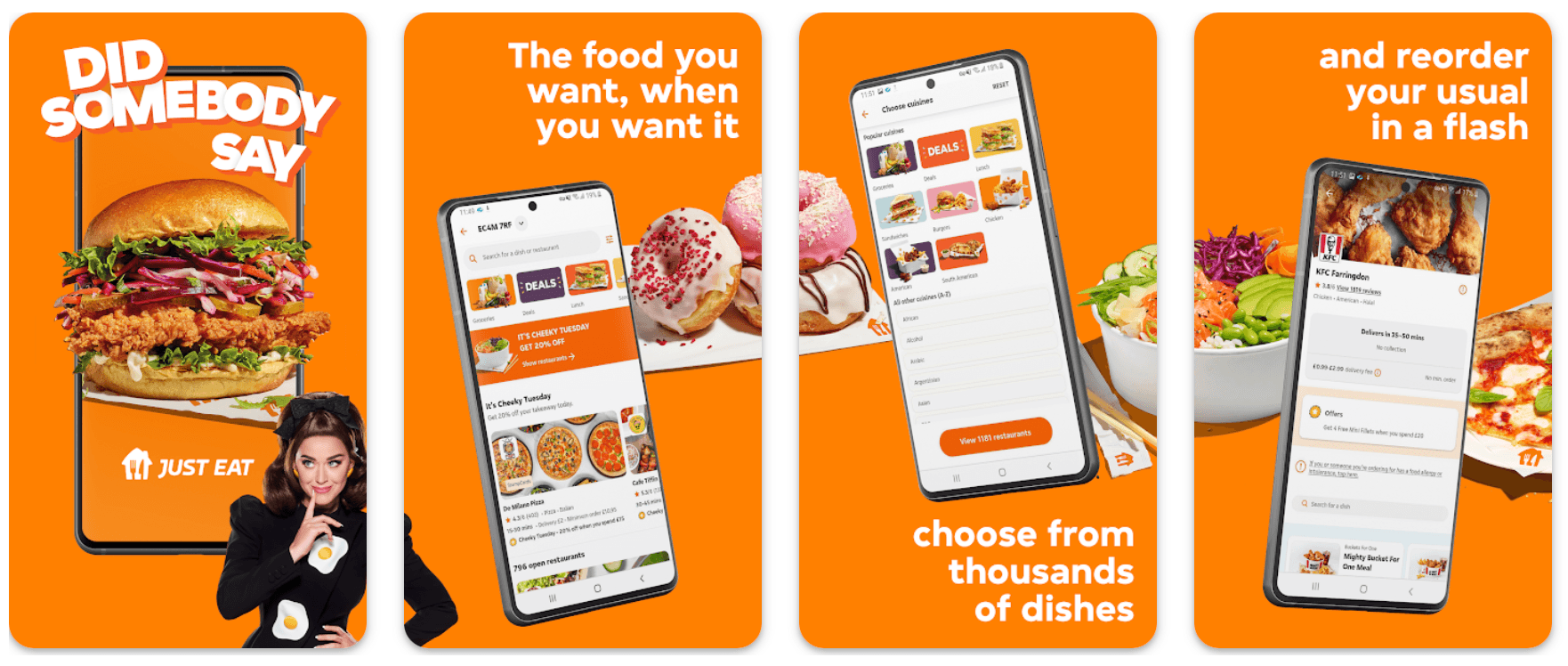 Compared to the vast majority of players in the market, Just Eat was wholly focused on technologies. The company offers special software, which allows connecting businesses in the UK to the Just Eat platform. Despite the advent of certain competitors namely Uber Eats and Deliveroo, Just Eat Takeaway is still extremely popular.
The service generated £4.4 billion in revenue in 2021 (a 37% year-on-year increase). It has about 99 million active users.
Main pros:
Database of numerous great eateries;

Convenient user interface;

Own integration system with companies.
Cons:
Possible delays in delivery (it is a task of restaurants);

Not cheap pleasure (15% is charged from each order).
First Steps to Create a Food Delivery Resource
As you can see, there are different business models for the delivery services. So, the first step to launching your own business is to choose a certain approach to the work. But which one? To decide on the best choice in your market, we offer the Discovery phase. The research will allow you to avoid entering an oversaturated market that usually entails significant unreasonable expenses. The article "Why You Need to Start Your Project with the Discovery Phase?" will help you put in the loop about the Discovery service. Our team will estimate not only the cited list of the best food delivery apps but also other popular solutions.
If you wish to read more about building a food delivery app, please, follow the link: "How to build a food delivery on-demand app like Postmates and Zomato". Don't hesitate to contact us to clarify certain things.
Rate this article
15 ratings, average 4.80 of out 5