5 eCommerce Marketplaces: Sell Online And Boost Your Business
Although online shopping platforms and marketplaces aren't a new phenomenon, their popularity has increased in the last couple of years. There is even an opinion they'll replace usual online stores and completely captivate the e-Commerce market.
Undoubtedly, there is some truth in these predictions, especially given the pandemic and its impact on our lives. In the end, many companies have no choice but to go digital. That's why they create their pages on some of the most popular online marketplaces, which is easier and cheaper than starting their own websites to sell products remotely.
So why not explore the list of market leaders, such as Amazon and eBay? Their example may inspire you to build a similar project… if you're up to the challenge, surely.
"And really, why not?" You probably think so. "But where to start?"
Read on and you'll find out everything you need to know.
What Is an

eCommerce Marketplace?

Marketplaces act as an intermediary between buyers and sellers. Some of these platforms offer their own products too (among them is Amazon), but the main thing is that they allow other companies to sell their items. Of course, they do it not without a motive: in return, merchants pay them a certain amount of money: it can be either payment per transaction, or a fixed membership fee, or both.
The most popular business models
The platform is just an intermediary and nothing else. The order is being processed and executed by you from A to Z;

Assistance with delivery. Many global online marketplaces offer assistance with products shipping, although the delivery service is usually optional;

100% order fulfillment, when the marketplace offers the merchant both the logistics service and their warehouses to store the product.
The future belongs to marketplaces, investment analyst Rami Zaitsman claims. The pandemic makes people afraid to go to real stores, and therefore they choose online shopping: it's safer, easier, more enjoyable. Moreover, customers prefer using websites like Amazon, where they can find anything they want.
Benefits of

Online Marketplaces

If you're a merchant, you know the benefits of selling your products in marketplaces. First of all, you get a convenient sales tool and attract more customers. If you're a consumer, you're aware of your perks too: you can buy everything you need in one place and thereby save time and effort.

But what is your benefit if you're planning an eCommerce marketplace project? We're ready to answer your question:
Passive income, and on an ongoing basis. Monetization models are very easy to implement;

Little overhead. Some marketplaces offer additional services and have their own warehouses, but it isn't a must-have, and you can do without them too;

No need to start production, deal with suppliers, and so on;

An easier way to get to the top of search results (the reason is more activity on marketplaces: there is a constant update of products, registration of new brands, placing orders, filling out feedback forms, etc.)
How to Complete with

the Most Popular Marketplaces?

Amazon, eBay, Walmart Marketplace… Do these names sound intimidating to you? These are the companies you'll have to compete with. 

But don't you worry! We're here to give you a couple of tips to help you overcome your fear of failure and succeed:
Niche approach. You're more likely to create the ideal online marketplace for sellers and consumers if you don't try to wrestle with the big picture from the very beginning. It's much better to choose a certain market niche and get complete control over it.  By acting in this way, you won't be forced to rival such giants as Amazon, the list of your competitors will be significantly reduced. 

By the way, Amazon started as a niche resource too (which we'll tell you about a little later).

Clarity. Do your utmost to explain the ordering steps to buyers and the terms of cooperation to sellers as clearly as possible. All participants in the buying and selling process must understand what they have to deal with when choosing you.

Cool feature set. We won't discuss the usual features inherent in online marketplaces, their list is quite obvious: use account, search bar, product catalog, payment system, order page, etc. But we advise you to include more advanced features as well, including the following:

Product comparison so that the consumer can choose the item at the best price. This will increase purchasing activity several times;

3D vision, allowing viewing the product from all sides: one can rotate it, zoom it in or out. The chances of buying are also increasing;

Chatbots to respond to consumer comments and questions around the clock;

The ability to share a shopping cart to make joint purchases with friends;

Favorites section: if the consumer is unable to buy a certain product now, he'll buy it in the future... if he places it in the favorites section.
Top-ranked

Global Online Marketplaces
Top-Selling Categories of

Products in Marketplaces

Previously, customers visited digital marketplaces to purchase clothes, accessories, gadgets, but now the TOP list also includes goods that people used to buy at supermarkets close to their homes (say, pet food and hygiene items).

Specifically, the following conclusions can be drawn:
The category of clothing and footwear has strengthened its position among the best-selling products;

According to the analysis, people are more likely to buy online all sorts of accessories: hats, scarves, bags, wallets, jewelry, etc.;

Essentials are also selling better on various online shopping platforms. We're talking about such popular products as soap, washing powder, toothpaste, and even toilet paper;

Home appliances have been at the top of popular online products for quite a long time. But if we used to order small household appliances (blenders, coffee makers, etc), now it's time to buy TVs, refrigerators, and the like;

Electronics are in high demand too; modern gadgets (let's say, smartwatches and fitness bracelets) and new models of mobile devices have become especially popular;

In 2020, the eGrocery and ePharma segments were added to the online B2C market either.
Now let's discuss some of the most popular online marketplaces. Their examples cannot but inspire you to create something similar and no less cool (and most importantly - profitable!).
The

Best eCommerce Marketplaces

There is an incredible number of online shopping platforms, and many of them are popular and in demand. However, we'd like to cover just a few of them (the top 5 resources, to be specific).

We'll describe the characteristics of online marketplaces, their pros & cons; also, we'll tell you the story of their creation and development.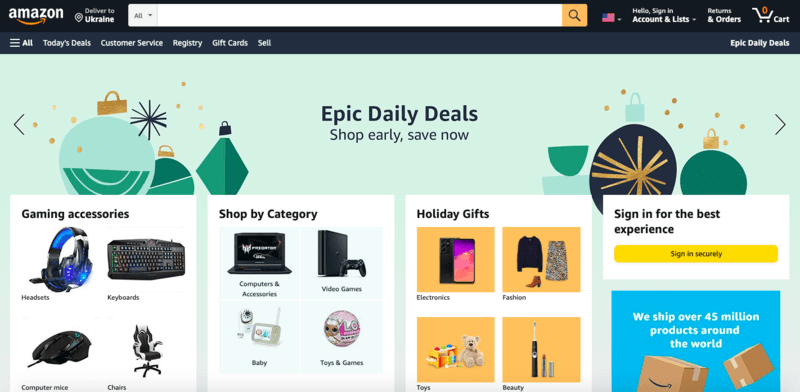 Amazon marketplace is on everyone's lips. You may think you know everything about this popular online store, but we'll do our best to surprise you anyway.
For a start, Amazon offers both third-party merchandise and its own (highly sought-after) branded products. In fact, today Amazon is considered the main sales channel used by medium and large businesses. 
Amazon handles logistics problems on its own; moreover, it's ready to help merchants with the transportation and delivery of their products to the consumer. Besides, the company strictly controls the quality of the goods sold: if the seller has spoiled his reputation in this regard, he'll be removed from the resource.
Amazon in numbers
13%: that's the conversion rate of Amazon, and it's quite high (even by the standards of the most popular global online marketplaces);

5+ million businesses use Amazon to sell 45+ million of their products to over 200 million customers in different parts of the world;

next to $955 billion: Amazon's market cap is impressive too.
By the way, the history of Amazon is no less amazing than the resource itself with all its achievements. And we're happy to share with you such an intriguing story.
Amazon's History
Usually, online shopping platforms are created by people who need something, be it money, a solution to a certain problem, and so on. However, this wasn't the case with Amazon.
Its creator is Jeff Bezos who was very successful and should have been content with his life. He worked on Wall Street, was rich, influential, and authoritative. But Jeff Bezos was striving for more. And it wasn't about money or fame!
Mr. Bezos used to work with internet businesses, which was new in the early 90s of the 20th century. And these projects he had to deal with interested him very much. He was amazed how some of them appeared as if out of nowhere and reached popularity in no time. He was sure that sooner or later an online store should appear, which would sell absolutely all types of goods, delivering them to the door of the buyer. 
"By the way… why don't I create such a site myself?" - he thought one day, after which he quit his job and moved to Seattle to work on the implementation of his idea.
Jeff Bezos had to overcome quite traditional obstacles: limited budget, poor understanding of the eCommerce marketplace environment, lack of investment. To avoid going bankrupt right away, Bezos decided to start with a simple product to sell, namely, books.
So in 1994, he founded the Kadabra company in Seattle. Alas, the name proved to be unpleasant and dissonant, and he changed it to "Amazon" (the source of inspiration was the Amazon River, one of the largest in the world).
Amazon.com went live in 1995, and it didn't have a great start, things were going poorly and slowly at first. But Jeff Bezos wasn't the kind to give up so easily. Step by step, he moved towards success, he was confident that his Amazon would become the most popular marketplace (and such a day did come, as you know!).
The situation changed for the better when Amazon was featured on the homepage of the renowned search engine Yahoo! It was a major achievement, a turning point of sorts. Sales skyrocketed immediately, and Jeff Bezos managed to attract the first investment. Such financial backing for the project allowed him to improve the website and make it even more user-friendly.
In 2000, Amazon's sales exceeded $1.6 billion. By that time, the company had been selling more than just books, of course. The range of goods was gradually expanded and supplemented with new items. And in 2003 the company even created its own IT center.
What does Amazon offer?
There are many types of products on Amazon today (although some of the most popular online marketplaces prefer a niche approach, which has its advantages too, as we've explained to you earlier). The most demanded item categories include electronics, beauty and hygiene products, kitchen equipment, gaming accessories, clothing.
Amazon is focused on maximum user comfort in order to stimulate his desire to make a purchase. Various features are being used to achieve the high-selling effect, including:
An advanced search engine, which makes it possible to quickly find a product using any related word;

Numerous product catalogs with convenient sorting;

The ability to request expert advice, who will explain to you which product is better to choose;

Informing about promotions and news on the product you're interested in;

Postal insurance system;

Access to various payment solutions. 
Now you understand why Amazon is one of the best eCommerce marketplaces, right (after all, the above list can be expanded)?
What about sellers?
Amazon offers its own branded products and spends a lot of time creating them. If you've bought something from the exclusive Amazon line, you know how stylish these items look; in addition, they're of very high quality. 
Other sellers can also use this most-visited eCommerce marketplace to find and interact with buyers, in which case Amazon acts as a guarantor of the transaction. It carefully checks the sellers before they're allowed to register on the site and then monitors them fulfilling their obligations. Among other things, the seller will receive money only if the buyer confirms the receipt of the order (and if the product meets the requirements set).
Amazon partners with sellers on one of 2 order fulfillment methods: 
FBA model (Fulfillment by Amazon). The seller relies entirely on Amazon and the company takes on the task of storing and shipping the product;

FBM model (Fulfillment by Merchant). All stages of order fulfillment depend on the seller himself.
Conclusion
Let's discuss what makes Amazon the ideal online marketplace for sellers and customers:
Reliability and security of the platform. As you already understood, Amazon is trustworthy, as it pays a lot of attention to checking the accuracy of orders.

High traffic. Amazon.com ranks 5th on the list of most visited sites in the United States. Therefore, sellers will get a very popular online platform with a large flow of users.

Ease of order fulfillment. If desired, the merchant can use the FBA model, and Amazon will handle all the logistics.

Support for different payment systems and currencies, which is also a huge advantage.

Analytics and many other tools to improve and simplify your business.
Among the disadvantages of Amazon (although these disadvantages actually mark the reliability of the resource and speak of its popularity) are great competition among sellers, a significant time lag between the sale of goods and receiving payments, and strict requirements for merchants.
Second on the list of the best eCommerce marketplaces is eBay, a website, which offers products both at fixed prices and as part of an online auction.
Initially, eBay was conceived as a resource focused on selling goods between people, from hand to hand. But over time, the site became very popular, and it seemed reasonable to invite manufacturers of goods and online stores to a partnership either.
eBay in numbers
The company's capitalization is almost $ 40 billion.

eBay offers over 1 billion items worth nearly $ 90 billion.

eBay has next to 180 million active buyers, with almost 65% of them from the United States. 

eBay is the second most-visited eCommerce marketplace in the world, right after Amazon. It is also the seventh most-visited site in the United States (if you include not only online shopping platforms in the list). 
eBay's History
eBay was created by Pierre Omidyar. Originally from France (Paris), he lived in the United States from childhood and became interested in computer technology as a teenager. He even worked for Apple for some time.
So it comes as no surprise that in the early 90s of the 20th century, Pierre decided to go into internet commerce. And not just Internet commerce: he wanted to build a real online auction.
His idea didn't come true right away. Only 4 years later, in the 1st days of autumn 1995, Pierre Omidyar added an online auction page to his site and called it AuctionWeb (the site was renamed eBay.com in 1997). Thus began the story of eBay, an online auction and eCommerce marketplace.
Initially, eBay was free, which attracted a lot of users to it and increased its traffic (especially because other Internet auctions worked on the principle of commission). Having reached a certain level of popularity, the company started to cooperate with businesses in addition to ordinary users.
Of course, eBay could not remain free forever, and the moment came when Pierre introduced a six percent commission. Monetization was required in order to further develop the project, which Mr. Omidyar is doing to this day. He adds new features, improves UI/UX, realizing that otherwise, eBay won't remain among the market leaders, famous global online marketplaces.
What does eBay offer?
You can find anything on eBay: electronics, gardening goods, fashion clothes, cosmetics and perfumery, books, music, and more. And anyone can buy and sell what they want here (or put up an item for auction).
Buying on eBay is easy. You're welcome to use the search system, view the categorization of products, or take a look at the best deals (Daily Deals). Have you found something that interests you? To buy it, you don't need to register on the website: a couple of minutes, and the order is placed.
Also, eBay has a special online auction section. Products in this category don't have a Buy It Now button, but they do have an indication of the number of bids. And in order to become the owner of the desired item, you must offer the highest bid.
What about sellers?
Some of the most popular online marketplaces offer various perks and bonuses to newcomers and loyal users, and eBay is no exception. So, the company allows you to publish 50 ads per month for free.
Of course, when it comes to business, 50 ads per month is hardly enough. And each ad over 50 costs about $ 0.35 (in addition, there is a 10-13% tax on the total transaction amount).
By the way, merchants must choose one of two types of accounts:
business account aimed at those who already have experience in selling products on online marketplaces. These companies usually have an established delivery system and know what they are doing.

individual option, which targets novice entrepreneurs and has restrictions on the listing, number of products, etc. But such an account is easier to register.
Conclusion
First, let's see what is so good about eBay:
access to a huge audience, among which you can find buyers for the most non-standard goods;

multilingual support;

sales in a standard format and on an online auction (depending on which format you like best);

cooperation with legal entities and individuals;

ease of registration and listing of lots.
The main disadvantage of eBay is that there is no alternative to PayPal. Alas, not all countries work with this payment solution; besides, having a choice is always a plus, and it's a pity eBay doesn't provide one. 
In addition, the company doesn't participate in order processing, unlike other online shopping platforms (the same Amazon marketplace, for example).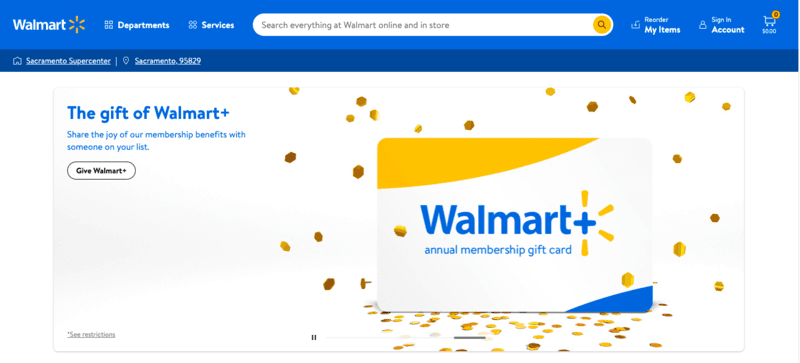 We assume you've heard of Walmart; and you probably think it's just another Western retail chain, a large and famous one, though. And yes, Walmart was originally a traditional international retailer, but later the company launched a special eCommerce marketplace (named Walmart Marketplace) with the aim of increasing its online presence.
Walmart Marketplace in numbers
The Walmart Marketplace has over 100 million unique visits every month, with at least 25,000 (and more) per merchant. 

Walmart Marketplace partners with over 100K merchants, and many of them (more than 30K) joined the resource in 2021 when the company opened it to international merchants.

In early 2021, Walmart reported nearly 80% growth in online sales (not bad, right?).

Walmart also announced its plans to further develop the resource so that it becomes the most popular marketplace. For these purposes, the company plans to allocate special funds (nearly $ 15 billion) in fiscal 2022.
Walmart Marketplace's History
Walmart Marketplace was established over 10 years ago, in 2009. 
The real turning point, however, marking a new start in the e-commerce market, was 2016. It was in this year that the company acquired Jet.com,  the failing project, which was considered unprofitable. The owners of Walmart hoped to create the ideal online marketplace for sellers and shoppers with its help and compete with Amazon on a better level. So Jet.com became part of the Walmart Marketplace. 
The team that previously worked on Jet.com took over the promotion and modernization of the Walmart Marketplace. Among other things, intensive integration of offline and online processes began.
At first, Walmart Marketplace was available only to American merchants, but in 2021 the company decided to cooperate with any sellers if they are trustworthy. And today Walmart Marketplace hosts online stores from 30 countries around the world.
The Walmart Marketplace sells the widest range of products (similar to physical Walmart hypermarkets). And the process of buying and placing orders is extremely simple and no different from shopping in other online marketplaces: enter your request into the search bar, get a list of results, select the desired product, and make a purchase.
What does Walmart Marketplace offer to sellers?
Walmart Marketplace partners with top sellers. And it's not easy to be among them: you have to prove you offer high-quality products at reasonable prices and are able to provide a high level of service. 
To make sure you're trustworthy, Walmart runs a number of activities. First of all, the merchant must have an invitation from the seller who is already cooperating with the Walmart Marketplace. Then he has to go through 5 verification steps. 
You have more chances to be a part of Walmart if you have a successful e-commerce experience.
Other global online marketplaces don't require their sellers to go through such circles of hell, so to say; but Walmart is too careful and not chasing the number of sellers, their quality has a greater value.
As to further cooperation and partnership conditions involved, there are several points we should mention:
you must provide the highest possible level of customer service, including order processing, delivery of goods, etc.

you'll have to work with Payoneer (which is the payment processing system).

Commission rates are 5-20%.
Conclusion
Walmart is hardly the most popular marketplace, at least just yet, but it has prospects of becoming one, and here's why:
Possibility of getting high conversions. Use special features to place your products in a favorable place on the pages of the Walmart Marketplace and make the pages themselves more presentable. Thereby you increase the conversion rate.

Excellent functionality. Walmart offers a ton of cool order management features.

Free account registration. Becoming a Walmart Marketplace seller isn't easy, but you don't have to pay to join the number of lucky ones. Quality is all that the company requires from you.

Affordable advertising. Many online shopping platforms offer overpriced PPC campaigns. Happily, Walmart only charges for the product sold, so you can save a lot on advertising.

Democratic cooperation conditions. In particular, Walmart Marketplace has relatively low commission rates.
Walmart Marketplace has its drawbacks too (and who doesn't?). Among other things, it offers a complex (but free!) registration process and only works with well-known sellers.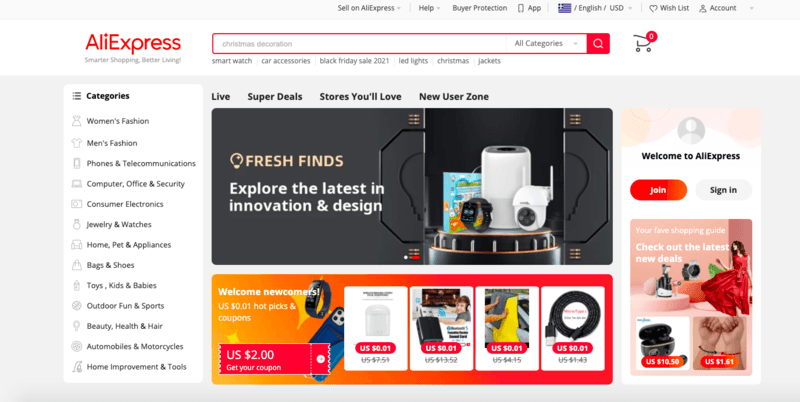 When discussing the best eCommerce marketplaces, one cannot fail to mention Aliexpress. This isn't an American project like, say, Amazon (Aliexpress is a Chinese startup), but it is very popular too: up to 200 million consumers visit the site monthly. People from all over the world buy and sell their goods here. And the audience keeps growing and expanding every day!
Some call Aliexpress one of the most popular eCommerce markets in the world, where you can find almost any product, from bags to electronics. 
Aliexpress's History
Ma Yun, the founder of AliExpress, is one of the richest people in the world today, but it wasn't always so. It was the AliExpress project that made him wealthy and successful.
AliExpress was launched in 2010. Its original purpose was to sell Chinese goods to companies in other countries on a B2B basis. But this wasn't enough to become the most popular marketplace, so subsequently, AliExpress supplemented the previous business approach with B2C and C2C schemes. In addition, in the fall of 2018, the company began cooperating with Turkish manufacturers; a year later it opened its own store in the shopping centers in Barcelona. And AliExpress continues to conquer other countries.
What does Aliexpress offer?
As we said, a wide variety of retail and wholesale products are being sold on AliExpress: women's and men's clothing, children's products, mobile devices, jewelry, household appliances, and much more.
In general, Aliexpress works on the same principle as other online marketplaces; but you need to take into account several important nuances:
100% prepayment. However, consumers shouldn't worry: the seller receives the money only after the buyer confirms that the package has arrived;

inability to return the purchased product. Theoretically, you do can return it... but the task is quite challenging;

paid and free delivery options to choose from (depending on the seller).
What about sellers?
Wanna sell your products through AliExpress? Choose one of the forms of cooperation: legal entity, individual entrepreneur, self-employed person. You'll have to sign an offer agreement and register an account.
A pleasant moment to delight any businessman: AliExpress takes no commission from new sellers. The newcomer has about six months to gain the trust of buyers. Not all online shopping platforms are so generous with merchants.
Of course, you won't be able to work at no cost forever, so be prepared to pay about 5-8% commission from each sale afterward. You also need to figure out the best way to deliver your products. Aliexpress offers 2 main options in this respect:
FBS. The goods are stored by the seller and delivered by AliExpress.

FBA. The seller uses both AliExpress warehouses and the AliExpress shipping system.
Surely, the seller can use his own logistics system, if he thinks it's well-developed. But usually, it's much wiser to resort to the help of AliExpress.
Conclusion
The Aliexpress eCommerce marketplace has many pros, including detailed sales analytics, flexible store settings, cool promotion tools, and, of course, no commission at the start.
Among the platform's cons are strict requirements for sellers and the complexity of registration. Another problem is that merchants from other countries are rarely invited to cooperate.
Etsy belongs to the most well-known online marketplaces, which specialize in niche product groups.
Etsy has chosen a rather unusual product to sell, namely handicrafts, art and vintage items, and creativities. The project was risky, but the game was worth the candle, as it turned out: today Etsy is popular even with celebrities. A prime example is Elon Musk, who once used this site to own a Martian mask for his cat (and his purchase drove other consumers to buy on Etsy even more).
Etsy in numbers
Over the past year, Etsy has been visited by over 80 million consumers from all over the world.

Etsy sellers had made $ 4+ Billion in 2020.

Etsy has over 1.5 million registered sellers worldwide (and the numbers continue to grow).
Etsy's History
One day, photographer Rob Kalin realized there was no ideal online marketplace for sellers looking to make money from vintage items and handicrafts. It was time to create one and he was ready to come up with a proper solution. That's how Etsy was brought to life. More precisely, it happened in 2005.   
Etsy was originally designed as a regular freelance site where creative people could sell their handmade products. And it was quite simple in its functionality.
At first, the project had been developing and evolving rather slowly, without bringing some real profit. The team had to work hard to advertise their startup and make the resource user-friendly and intuitive.
Their efforts paid off, and five years later, in 2010, Etsy's annual income exceeded $ 300 million. And after another 5 years, the number of users reached 50 million people (including 1.4 million sellers).
Today Etsy is clearly one of the best eCommerce marketplaces, but its story didn't begin in a rosy way, as you may have noticed. 
What does Etsy offer?
As we said, among Etsy buyers are those who love exclusive, creative, unusual things existing in a single copy. The site would be your first choice if you're looking for a unique gift.
Using Etsy is easy: 
first, you need to find an item, which suits your taste. You can examine the offered product catalog located on the main page: what if something catches your attention? If the 1st option fails you, resort to the search bar;

then add the product to the cart and go to the checkout page.

it remains to clarify the details related to payment and delivery, and you're golden!

by the by, you can indicate whether the ordered product is planned as a gift; if so, the seller will pack the item in a more festive, appealing way.
What about sellers?
While other global online marketplaces we've described are aimed at sellers of any type, Etsy deals primarily with those whose products are exclusive: it's about vintage, creative, handmade items of all sorts.
Moreover, in addition to offering sellers a place to promote and sell their products, the site helps them solve many technical problems, whether it is processing payments or designing a beautiful online store page. Actually, Etsy wants just one thing from merchants: strict order fulfillment.
Obviously, Etsy is the most popular marketplace in the hand-made market... nonetheless, the company claims to serve only as a kind of intermediary to help buyers and sellers meet, nothing more than that. So the delivery will have to be handled by merchants themselves.
What about money? What is the commission in the case of Etsy?
You'll have to pay $ 0.20 to post one item for a period of 4 months. Extending this period (in case you'd like to get another 4 months) costs the same amount.

You also have to pay 5% of the total cost of the product sold.
Etsy has developed a special system, Etsy Payments, which is, alas, unavailable in some countries.
Conclusion
Let's summarize why Etsy is great:
Financial benefit, because the commission percentage is low;

Prepared audience: people don't visit this site if they aren't interested in hand-made and vintage items, so the chances of a sale are extremely high;

Access to a trial version of Etsy to see how things work.
The disadvantages are the inability to design your page the way you want, and restrictions on the product. Etsy has its own understanding of what can and cannot be sold on its platform.
eCommerce Marketplace

Development: Our Experience

We have vast experience in eCommerce web and mobile development. And we propose to discuss one of our projects of this sort, namely, Bookis. It is of particular interest, and here's why!

The fact is, Bookis is a P2P mobile service working with a niche product (books, as the name implies). It is an easy-to-use, user-friendly application, which allows you to buy, sell, and exchange books. The service library is very extensive and constantly growing.

Unfortunately, the app is aimed at the Norwegian market, but that doesn't make it any less significant or cool. And most importantly, it clearly shows our experience in creating all kinds of online shopping platforms.

We invite you to follow the link and read more about our project. You'll find out what difficulties we faced and what solutions we found.

 
Rate this article
15 ratings, average 4.80 of out 5