7 Reasons Why Your Pharmacy Needs an App: Pharmacy App Development
Surely, everyone who frequents drugstores faces a number of problems: long waiting lines, tedious search for the right medicine, high prices... However, these negative factors should worry not only shoppers but also pharmacies' owners. In the end, all we've listed are ruining your company image and pushing away your potential customers.
And even if your pharmacy is utterly and favorably different from competitors, you still must find a way to report your benefits and prove that your drug-store chain is worthy of people's attention. You need a really powerful marketing tool to gain the trust of customers and tide over the difficulties we've pointed. Of course, we are talking about pharmacy application development.
Read our article to find out more.
Why does your drugstore need

healthcare app development?

"I intend to get what I need here and now, without delay" - that's what most modern consumers think. And why not? IT technologies are able to provide us with a decent level of comfort. In particular, we, people, can buy online whatever we want, and pharmacy products are no exception. And this leads to the issue of medical app development.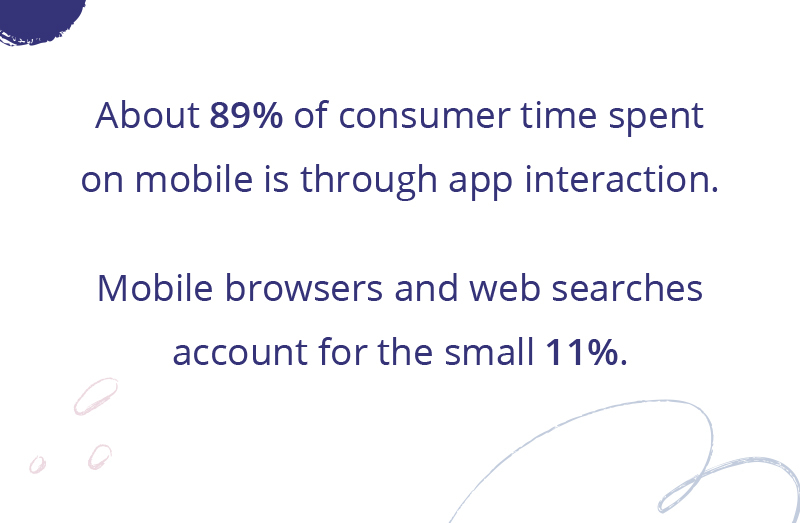 By the way, online pharmacy is beneficial not only to consumers but also to business owners! And your drugstore would profit from it either.
As you'll soon discover, online pharmacy is good at:
attracting more paying customers;

getting user feedback;

increasing your profit;

collecting information on user behavior so that your marketers could take advantage of such data to improve the quality of services provided;

making you, eventually, a market leader.
That's why you need to order online pharmacy app development! Still not convinced? Okay, let's discuss your benefits in more detail.
The

benefits of having a mobile app in pharmacy

There are many benefits of having the pharmacy online, and we'd like to name the main of them.
#1. The effective marketing tool
After ordering medical mobile app development, you're getting a marketing tool that allows you to contact your customers directly. Receiving first-hand information about their needs, you can respond in a timely manner avoiding a lot of pitfalls. In fact, most of the other benefits logically follow from this main one.
#2. High competitiveness
The high competitiveness of the healthcare market, which also covers pharmaceutical companies, cannot be denied. Your task in such a situation is to do your best to attract maximum buyers to your drug-store chain. And among the useful tools to achieve the desired goal, we can safely name pharmacy apps.
#3. Customer loyalty
As we've written, the opportunity to interact with your customers is a huge advantage. You don't just satisfy their desires, you become closer and clearer to them, you are always "at hand." Polite and unobtrusive reminders of your pharmacy app, discount, and promotional offers: all these and many other simple actions will help you win and strengthen customer loyalty.
#4. A strong brand
An application can also be used to create a recognizable pharmacy brand: with its own character, pronounced positioning and personalized design expressed through the interface.
#5. Continuous improvement
Having provided your pharmacy drug app with a special analytic feature, you may study the user's reaction and behavior in order to build an effective development strategy. It means you'll be able to offer your customers exactly what they really need and correct inevitable mistakes in time.
#6. Online sales of medicines
The possibility of online sales will please both you, the owner of the pharmacy, and your customers. The reasons are simple:
your customers would be able to order medicine wherever and whenever they want;

you'll increase the number of sales, which means your profit growth.
As you can see, healthcare mobile app development would have a positive effect on your financial well-being.
#7. High-Level Patient Assistance
Pharmacy apps can have a variety of features that might help you provide assistance to your customers at a higher level. We're talking about drug reference materials, the ability to consult with your staff remotely, and much more.
Though, we'll discuss your opportunities later when describing pharmacy app features at length.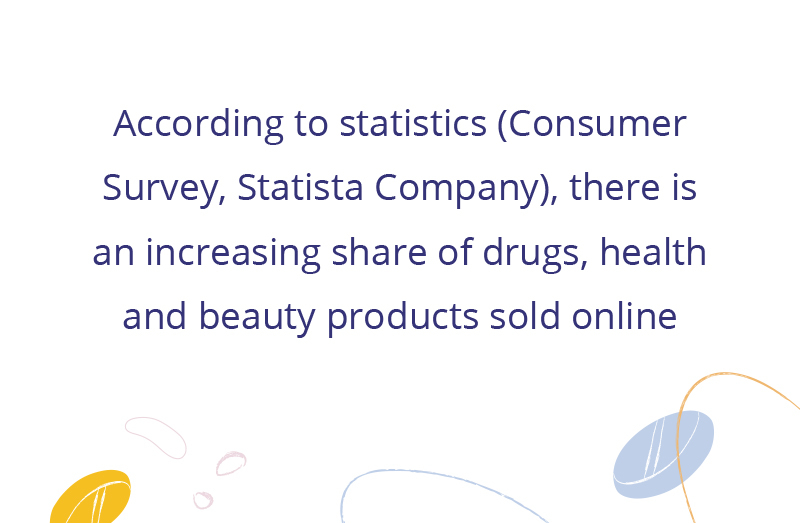 Of course, the list of benefits can be expanded and supplemented with other ones. In fact, there are far more reasons to take advantage of the pharmacy application development. But, hopefully, we've already convinced you of such an urgent need. Now it's high time you thought of what features your mobile app should have in order to interest the maximum number of consumers and get them to download it.
Pharmacy app

features

We suggest dividing the app features into two parts, each of which is focused on a specific group of users.
#1. Buyer-focused Features
Personal user account. It contains all the necessary personal information about a specific user. This data, on the one hand, helps you study the user's behavior and figure out his preferences (therefore, you may offer him the best level of service). On the other hand, the user himself gets personalized access to other pharmacy app features, which we'll talk about below.

A detailed catalog of goods. Such a helpful feature allows a user to study the assortment and prices independently and in comfortable conditions.

Upload Prescription. The user would be happy to have a possibility to upload the doctor's prescription to his personal account. Thanks to this, he can more easily find the medicine he needs in your drug database.

Smart Search. An incredibly important feature, without which no online pharmacy would do. And be sure to equip your search engine with sorting and filtering systems.

Drug Info. Detailed information is needed about each drug, which implies:

the complete description of the drug, including the peculiarities of taking the medicine, dosage, possible side effects, etc. It is also advisable to supplement the text description with the drug image (both in and without packaging)

the ability to leave a review about the medicine. The user can describe his impressions of the purchase made, as well as rate the drug. This will help other consumers make the right choice.

obtaining product information by scanning the barcode with your phone's camera. Thanks to such a feature, the pharmacy shopper doesn't need to enter the name of the drug manually. He may check the barcode placed on the package with his phone's camera and wait for the pharmacy app to recognize it and provide all the data.

Drugs Comparison. Also, the user would appreciate the possibility to compare different drugs (their effectiveness, price range, etc.)... which leads us to the next item.

Substitute Search. Sometimes the required drug is unavailable or too expensive, and in this case, the user needs to be able to find its effective substitute. That's when he needs a Substitute Search tool.

Refilling Prescription. The next example of important pharmacy app features is the opportunity to refill prescriptions. Be sure to include it in your application.

Making an Order Online. It makes no sense to start medicine delivery app development if you have no intention to provide a user with the chance to order drugs remotely. It means the customer can fill his virtual "basket" with medicines he needs without losing time in the waiting lines.

Order Tracking. It's not enough to place an order. The consumer would definitely want to be aware of what stage the order is at.

Payments & Special Offers. Ordering drugs using a pharmacy app implies the need for remote payment. Provide several payment options and make sure the transaction process is secure. Another good idea is to offer promotional codes and loyalty programs to users.

Smart Notifications. Stay in touch with users via push notifications, which must be of the following types:

Medicine Reminders: a reminder to the user to drink the medicine, buy more drugs, refill the prescription, and more.

Notice of sale. If the drug the user was trying to find was unavailable, you can send him a notification when the situation improves (of course, with his consent).

Discounts and promotions. Let's say your online pharmacy offers a good discount on a drug that a particular user has bought in the past. So why not inform him of the great opportunity to purchase the same medicine much cheaper?

Social Media Integrations. The feature would be handy in many ways, such as:

simplified user registration. The consumer doesn't need to fill out the fields of your questionnaire, all he has to do is to indicate his account in the FB (or another network), and the data would be obtained from there;

sharing and promotion tool. The user can share impressions about your service through social networks, which can be especially helpful to promote your pharmacy drug app.

Feedback. Instead of attempts to find a request book, a client expresses his desires or shares problems with just a few clicks by using a pharmacy drug app. Customers may complain about the level of service in a particular pharmacy or the quality of goods (and so on).

In-app Consultation. Special mobile chat allows users of pharmacy apps to contact representatives of your drugstore directly and ask questions they are interested in.

Location. The feature includes an interactive map with an automatic determination of the pharmacy location (so that the user has no problem when planning his route).
#2. Admin Features
Previous features were targeted at drug buyers, however, there is another group of users either, namely the pharmacy staff. Your employees should be able to manage application content, update data, and perform other similar functions.
Control Center. The first item on the list is focused on total control over pharmacy app features and your business processes. This is the web-based admin panel, the main control center, so to speak.

Inventory Management. As the name implies, the feature helps pharmacy staff manage inventory. It includes numerous aspects, such as the ability to add incoming drugs, control reserves depletion, register the remnants of goods, change prices, and more.

Pharmacist Management. Here we're talking about the creation of a large manageable network of experienced pharmacists.

Order Management, or, more precisely, a single system designed to manage orders placed by users.

Customer Management. Of course, you'll need a client database to store personal information about each user.

Logistics Integration. Healthcare app development includes the stage of integration of logistics systems. The goal is to simplify your business processes to a greater extent.

Payments & Offers. As you remember, this feature is on the customer-oriented list either. Though, your staff must also have access to it.

Content Management. Content refers to such sections as information about your company, Frequently Asked Questions, and more.

Reporting & Analytics. We've already mentioned the analytics feature. Its main role is to help you analyze user behavior and, if necessary, adjust your business strategy. Besides, it'd be useful to add the possibility to create custom reports.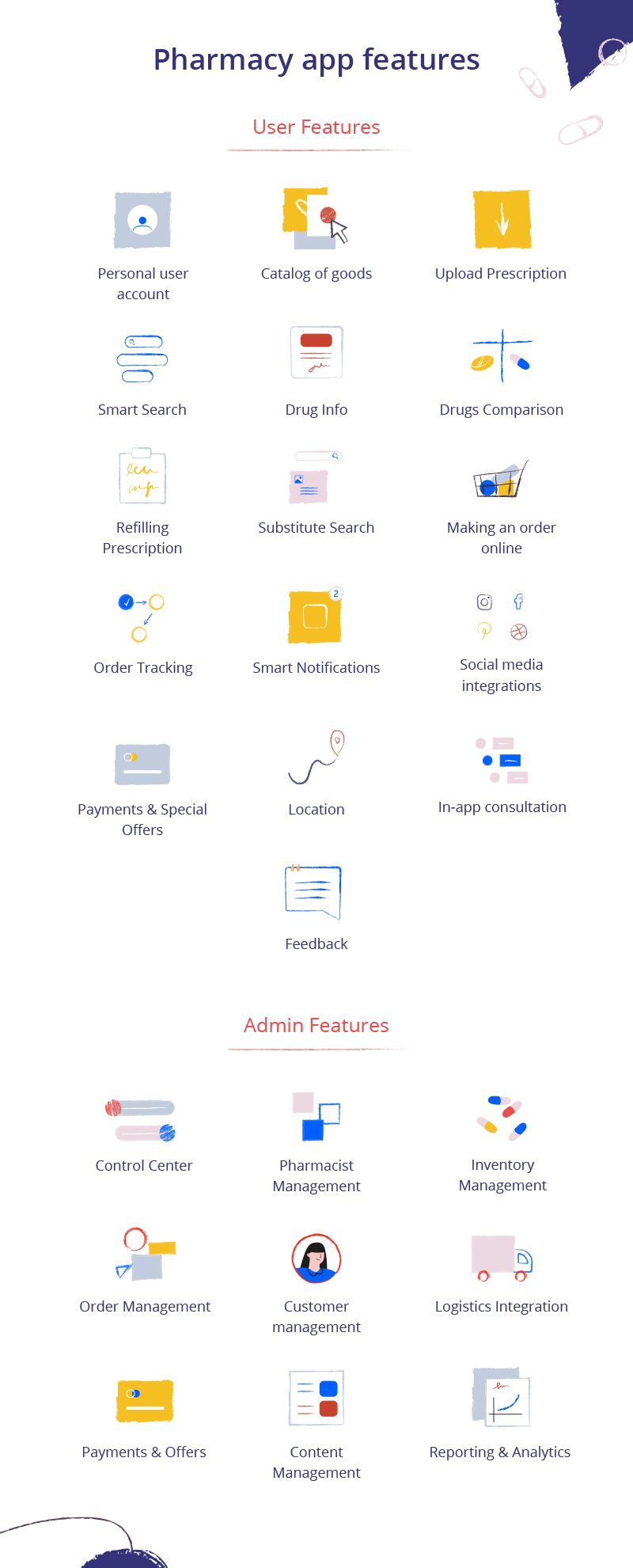 Pharmacy app

user retention

If you managed to convince a consumer to download your pharmacy app, it's only half the battle. And now your task is to prevent the user from deleting it.

We'll give a few pieces of simple but effective advice:
User-friendly interface

(below, we'll explain how your app interface should look like)

Compatibility with different platforms

. You need to have pharmacy apps for Android and iOS, because you never know which devices your customers prefer.

Always new.

Users love updates, so be ready to offer them new interesting features on a regular basis (or, at least, make every effort to improve old ones).

Security

. Security plays a huge role in creating any type of application, and pharmacy app development is no exception.
Pharmacy app development

stages

We've discussed in detail the benefits of building your mobile app, talked about the most important features of the online pharmacy, and shared with you our secrets that may help attract and keep your users. It remains to discuss the last important topic, which is the pharmacy app development process.

It includes the following stages:
Task definition

. Awareness of what exactly you want to receive as a final product.

Requirement collection

. The second stage is the collection of your requirements regarding the application. Usually, it means meetings and detailed discussions with the participation of specialists from the technical and design departments.

Discovery phase

. And in nowise miss the Discovery phase! Such a stage is crucial and involves a lot of activities including conducting market research, analyzing competitors, studying needs of pharmacy customers, and so on (we write more about the Discovery phase in another article).

Prototyping

. When future product features are defined, we create an interactive app prototype that shows how users will see your pharmacy drug app and interact with it.

Full UI/UX design

. The pharmacy app design is aimed at creating a user-friendly intuitive interface meeting the latest UI/UX trends.
iOS & Android development. At this stage, mobile developers are being engaged to work on the project. You'll need iOS developers to create an application that works on Apple platform and Android experts to build a program compatible with Android devices.

Backend development

. We've reached a rather delicate stage of medical mobile app development. It implies the creation of the server-side of the application, and you'll need expert help from high-skilled backend developers.

QA testing

. The purpose of the next stage is to guarantee the error-free operation of the pharmacy app. Only a qualified team QA can perform all necessary testing processes.

Upload to store

. It's not enough to create a pharmacy app for patients. You need to launch your online pharmacy properly and support its successful life afterward.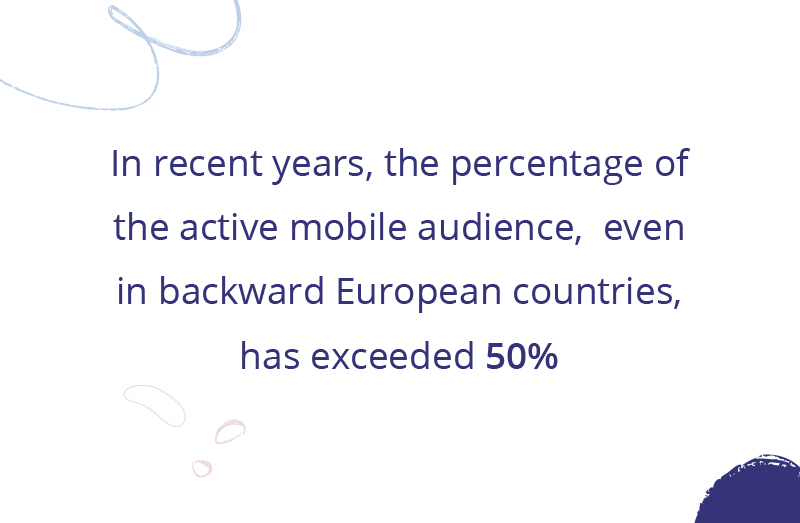 As you see, the pharmacy app development requires a highly qualified approach. You're unlikely to cope with the difficulties you may face on your own. The best way is to hire an experienced team whose members know all the details of such an uneasy process.
Contact us if you want to be sure of your mobile application effectiveness. We have a lot of experience in the app development, and this is the best guarantee that you'll get a stable pharmacy app that has a predictable visual response and works exactly as your users expect.